This Air Fryer Chicken Thighs recipe is so quick, easy, and simple. You only need a few ingredients (bone-in chicken thighs, oil, and seasonings) to cook juicy, crispy chicken in the Air Fryer. Dinner will be ready in under 30 minutes!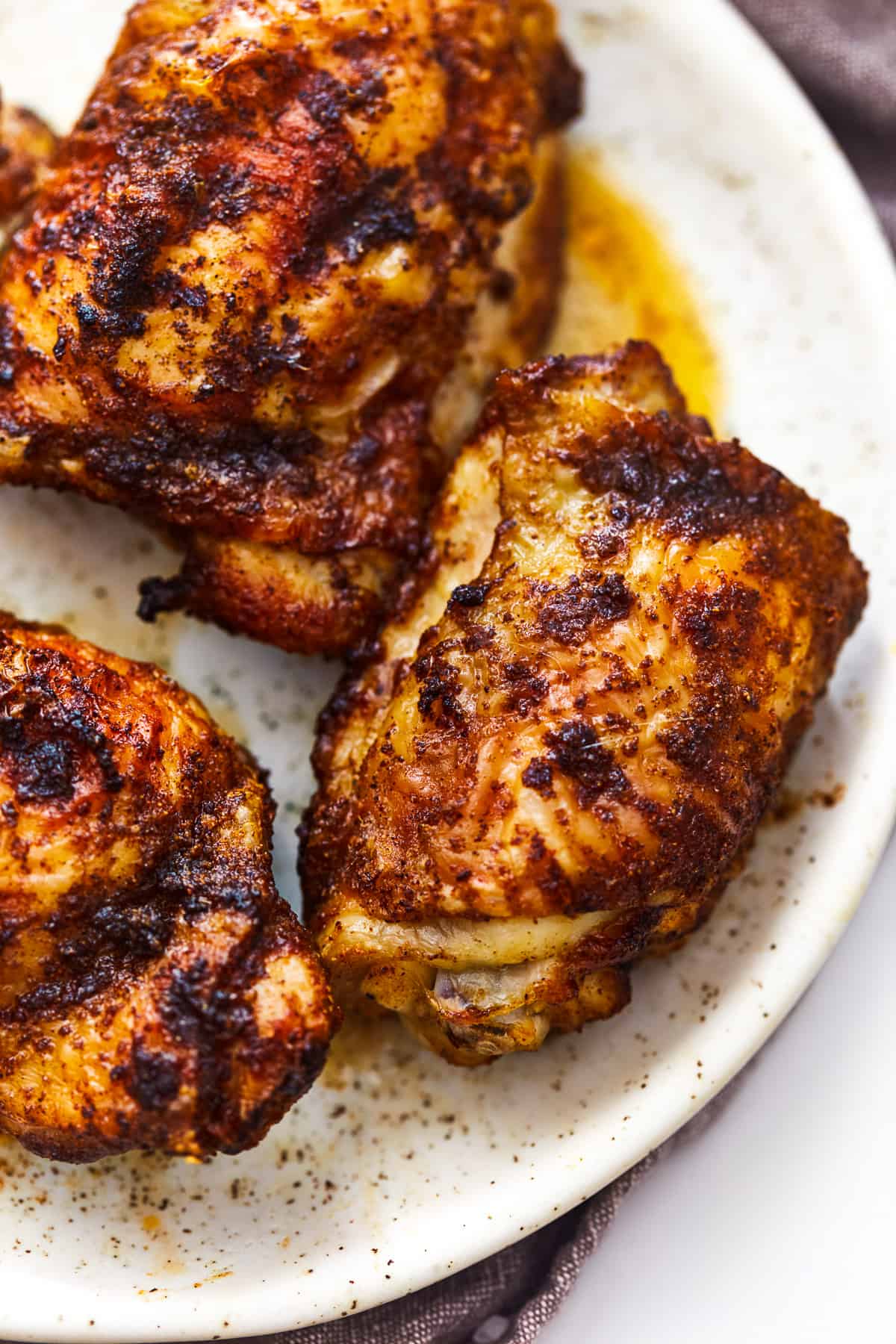 What's in Chicken Thighs in the Air Fryer?
All you need to cook chicken thighs in the air fryer is some oil and seasonings. So quick and easy!
Chicken Thighs: This recipe uses bone-in, skin-on thighs. This is the best option for juicy, crispy chicken!
Oil: Olive oil is used to coat the chicken to help crisp up the skin.
Seasonings: Use a mix of salt, white pepper, paprika, garlic powder, onion powder, and black pepper.
Pro Tip: Let the thighs warm to room temperature before putting them in the Air Fryer. I take them out of the fridge about 30 minutes before I start cooking dinner so they're ready to go.
Variations on Air Fryer Bone in Chicken Thighs
I love the simple seasoning mix in this chicken thighs recipe, but there are plenty of other ways to spice things up. And since you'll want to be making this Air Fryer recipe week after week, a bit of variety will be nice.
Lemon Herb: Add lemon zest and your favorite dried herbs, like rosemary, thyme, mint, or this Italian seasoning blend.
Creole-style: Rub in this creole seasoning for a deliciously savory flavor.
Ranch Chicken: Rub a dry ranch mix into the skin of the chicken.
Buffalo Chicken Thighs: Slather on buffalo sauce before air frying, or just brush it on for serving.
Parmesan: Mix grated Parmesan in with the listed seasonings, and rub on to coat the chicken.
Extra Spicy: Mix in cayenne pepper–the spicier the better!
KFC Thighs: Use the "secret" seasoning mixture from this KFC copycat recipe.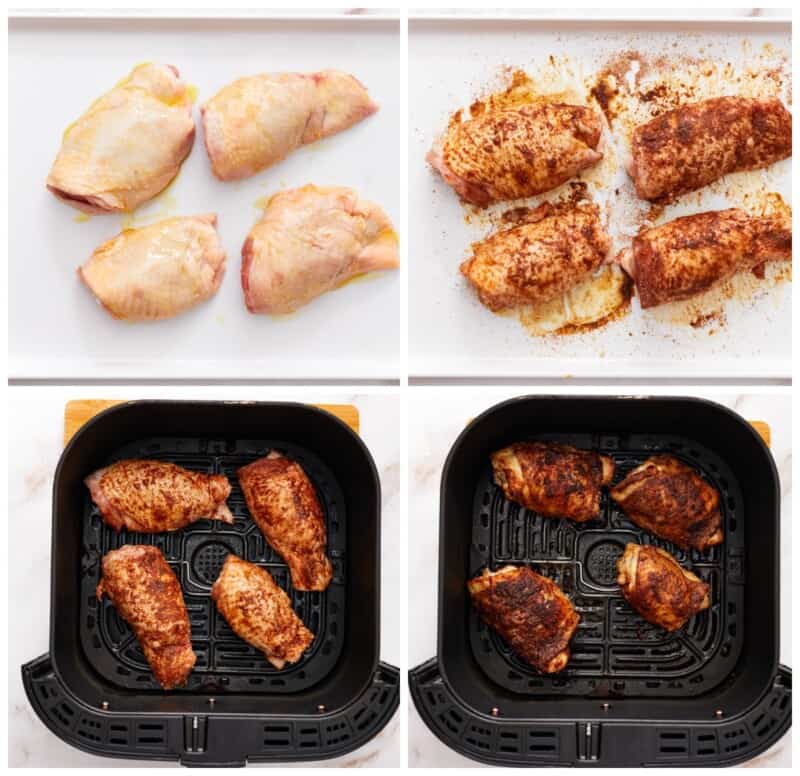 How long do you cook bone-in chicken thighs in the Air Fryer?
These bone-in, skin on chicken thighs will take about 15-20 minutes to cook in the Air Fryer.
Can I use boneless or skinless thighs instead?
Yes you can, just know that skinless thighs won't get as crispy. Boneless thighs will cook through faster, so check the temperature about 5 minutes earlier.
What temperature should I cook chicken thighs in the air fryer?
Set the air fryer to 400°F. Chicken should be cooked to an internal temp of 165F.
Can I make crispy chicken thighs ahead of time?
These thighs will be at their crispiest if served fresh out of the Air Fryer. If you want to cook them ahead of time, check the storage and reheating info below.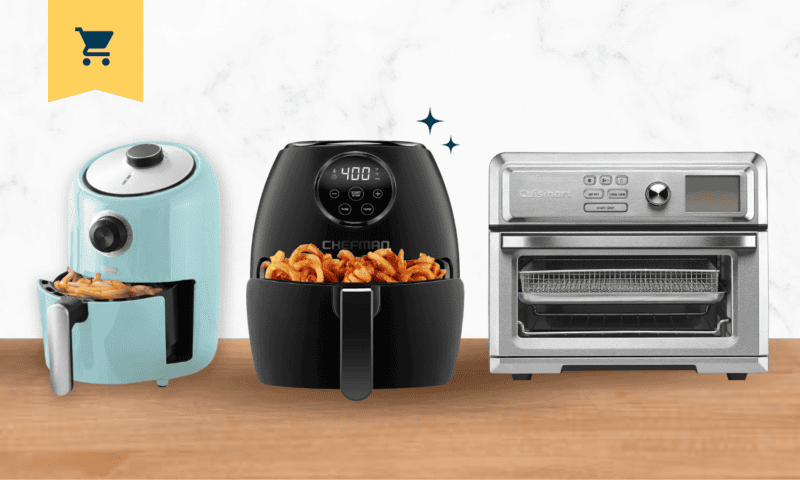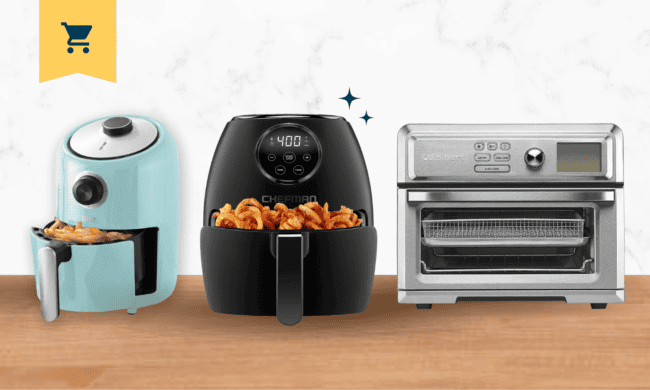 Best Small Air Fryers
We have reviewed our top 6 Small Air Fryers! Get reviews, pros, cons, and prices!
Top Small Air Fryers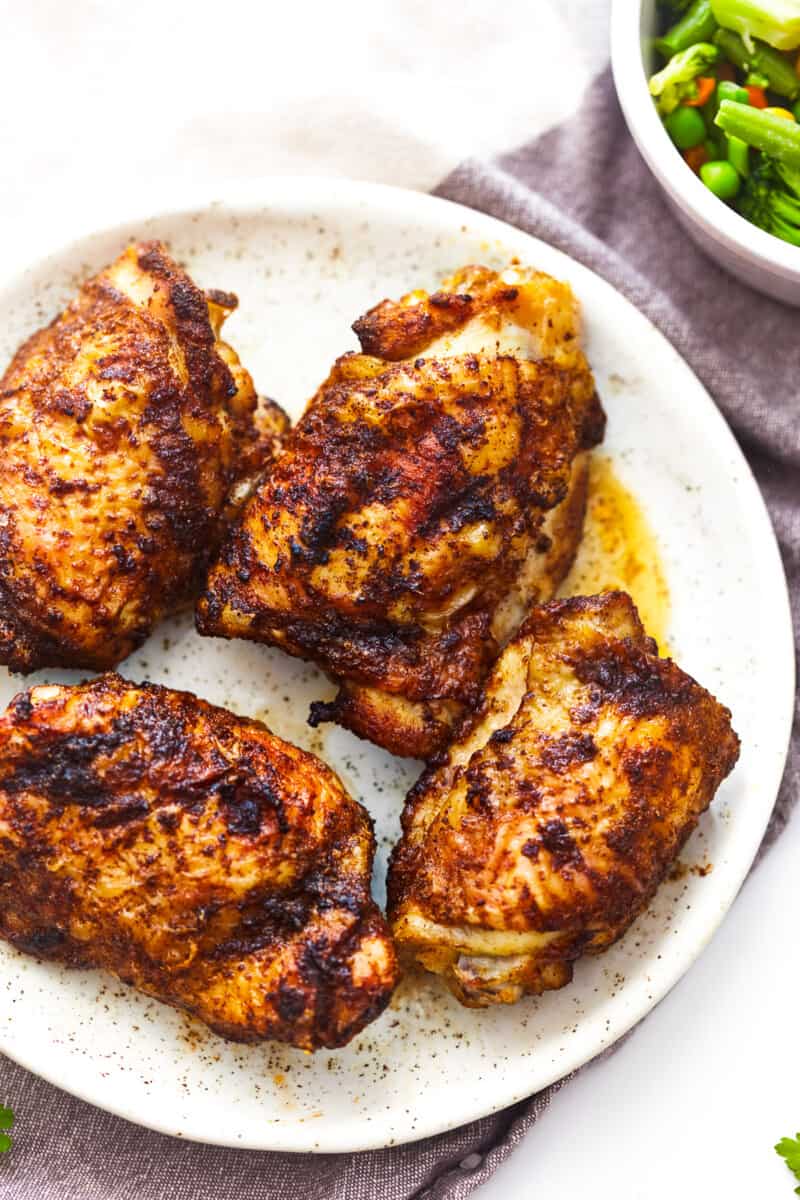 How to Store and Reheat Crispy Air Fryer Chicken Thighs
Store leftover chicken in resealable bags or airtight containers, and keep in the refrigerator up to 3 days. I like to wrap each thigh separately in foil to help keep moisture off the skin.
To reheat, you can warm through in the Air Fryer or oven. Make sure the internal temp reaches 165°F again when reheating.
How to Freeze Air Fryer Bone-in Chicken Thighs
Wrap thighs in foil and place them in a freezer-safe resealable bag. Freeze up to 3 months. Thaw in the fridge overnight before reheating.
What to Serve with Chicken Thighs in an Air Fryer
These simply-seasoned, crispy thighs make the perfect main dish for any meal. They go well with everything from creamy mashed potatoes and au gratin potatoes, to corn casserole and cheesy broccoli and cauliflower.
They also go well with corn on the cob (air fried), Southern-style cornbread, and garlic Parmesan sweet potato fries.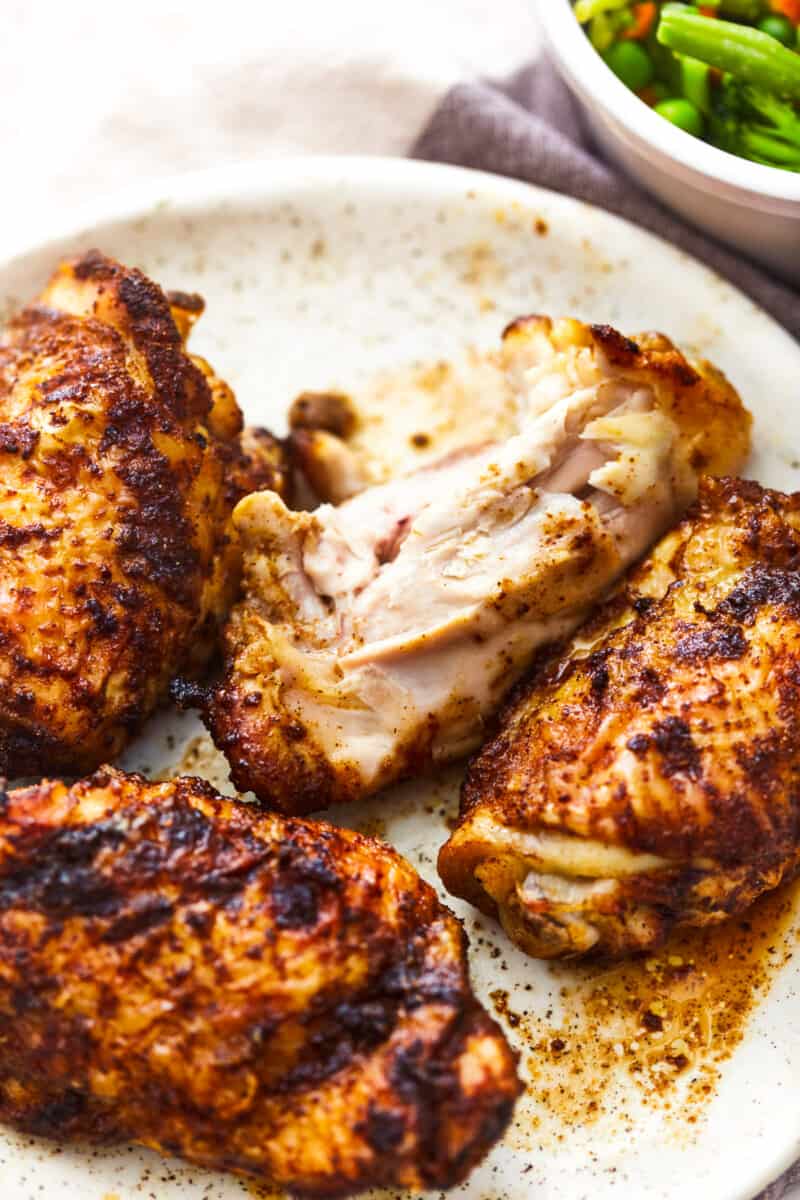 More Air Fryer Chicken Recipes we Love