Easy to make Air Fryer BBQ Chicken is the BEST quick fix for a protein-packed weeknight dinner! Chicken breasts are seasoned with a mouthwatering medley of spices before being air fried to juicy perfection. Oh, and you can't forget the BBQ sauce, of course!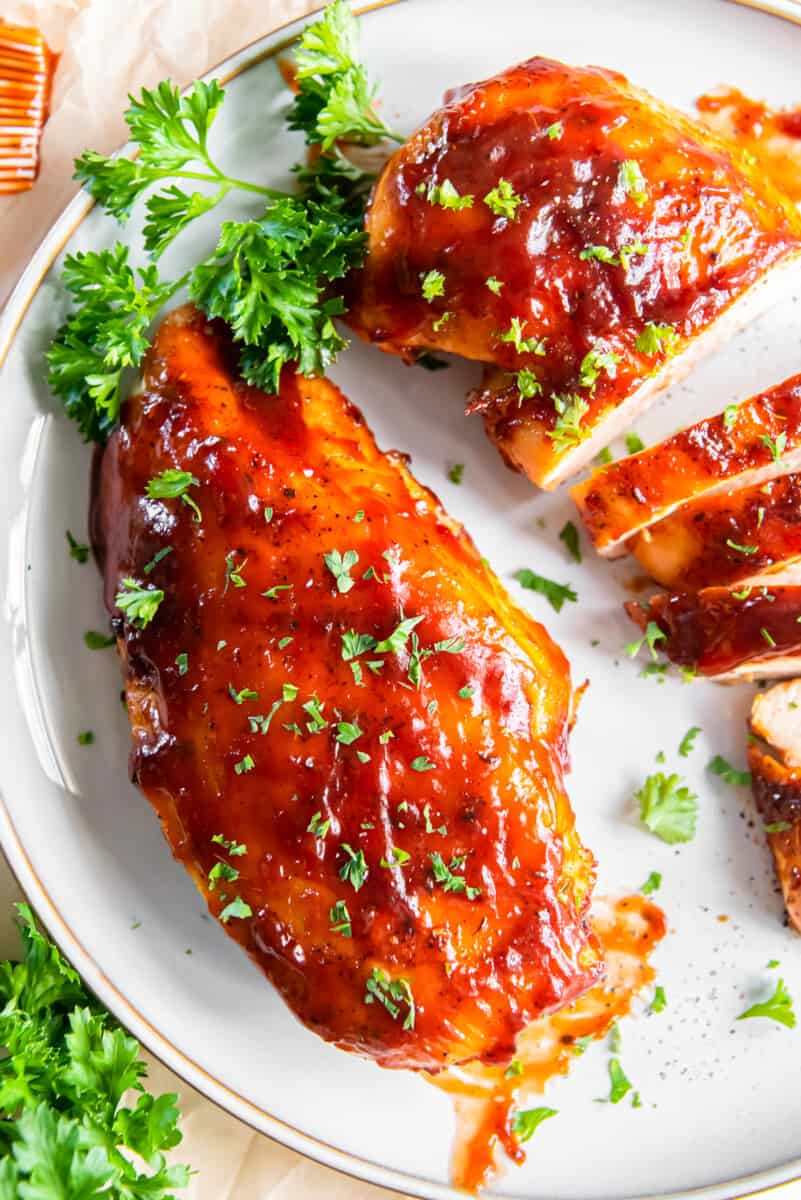 Easy BBQ Chicken Breasts
At the end of a long day, there's nothing quite easier than tossing dinner into the air fryer. I don't know what we used to do without these things! When I first got my air fryer, I was amazed at how perfectly it could cook a chicken breast without drying it out. Now, I'm obsessed with making new chicken recipes for it all the time!
This BBQ chicken recipe is currently at the top of my list of favorite air fryer recipes, and let me tell you – that's a hard list to top. When made with my list of simple ingredients and cook time though, your chicken breasts will ALWAYS turn out flavorful, juicy, and fully cooked. Plus, this recipe is mega kid friendly, so it's a great way to get your little ones to eat their dinner.
Why You'll Love this BBQ Chicken Recipe:
KID FRIENDLY: Simply put, this BBQ chicken will be their new favorite dinner. Just smother it in a few McDonald's BBQ sauce packets and tell them it's from the drive-thru… It'll be our little secret.
FILLING: Just like with any good chicken breast recipe, this meal is wonderfully filling! The protein from the chicken breast is sure to keep you full for hours after you're done eating.
EASY: Season it, cook it for just a few minutes, and enjoy it. Thank you, air fryer!
I don't know what the best part of this recipe is – how quick and easy it is, or how delicious it always turns out.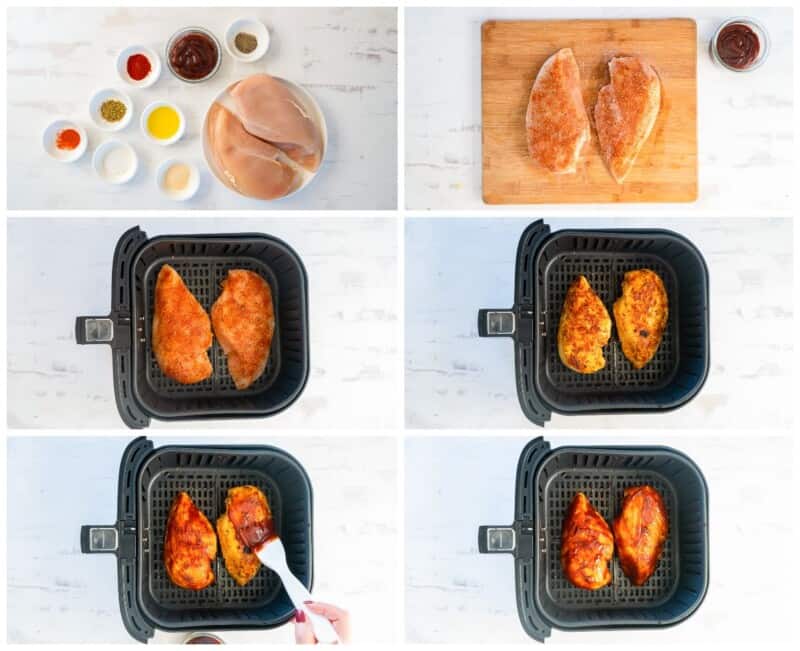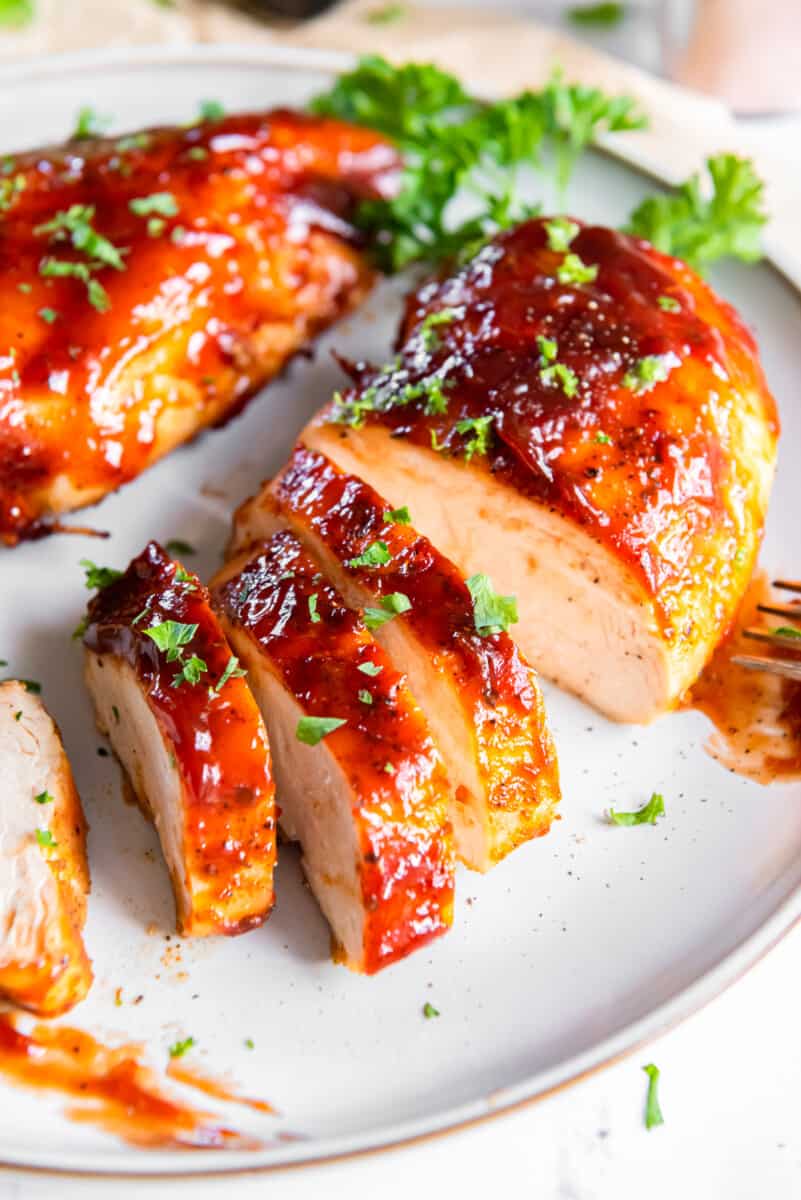 How to Make Air Fryer BBQ Chicken
You can jump to the recipe card for full ingredients & instructions!
Preheat the air fryer to 390°F.
Pat the chicken breasts dry with a paper towel.
Mix together all of the seasonings.
Brush each chicken breast with oil.
Season the chicken.
Spray the basket of the air fryer, then place the chicken in a single layer inside.
Cook for 8 minutes, then flip and cook for an additional 8-10 minutes.
Transfer the chicken to a cutting board and coat with BBQ sauce.
Cook for another 2 minutes in the air fryer.
Let the chicken rest for 5 minutes, then enjoy!
Recipe Notes
If your chicken breasts are uneven in size, pound them with a mallet.
Letting the chicken rest for 5 minutes prior to slicing helps to keep it juicy.
Chicken is only safe to eat once it reaches 160°F-165°F.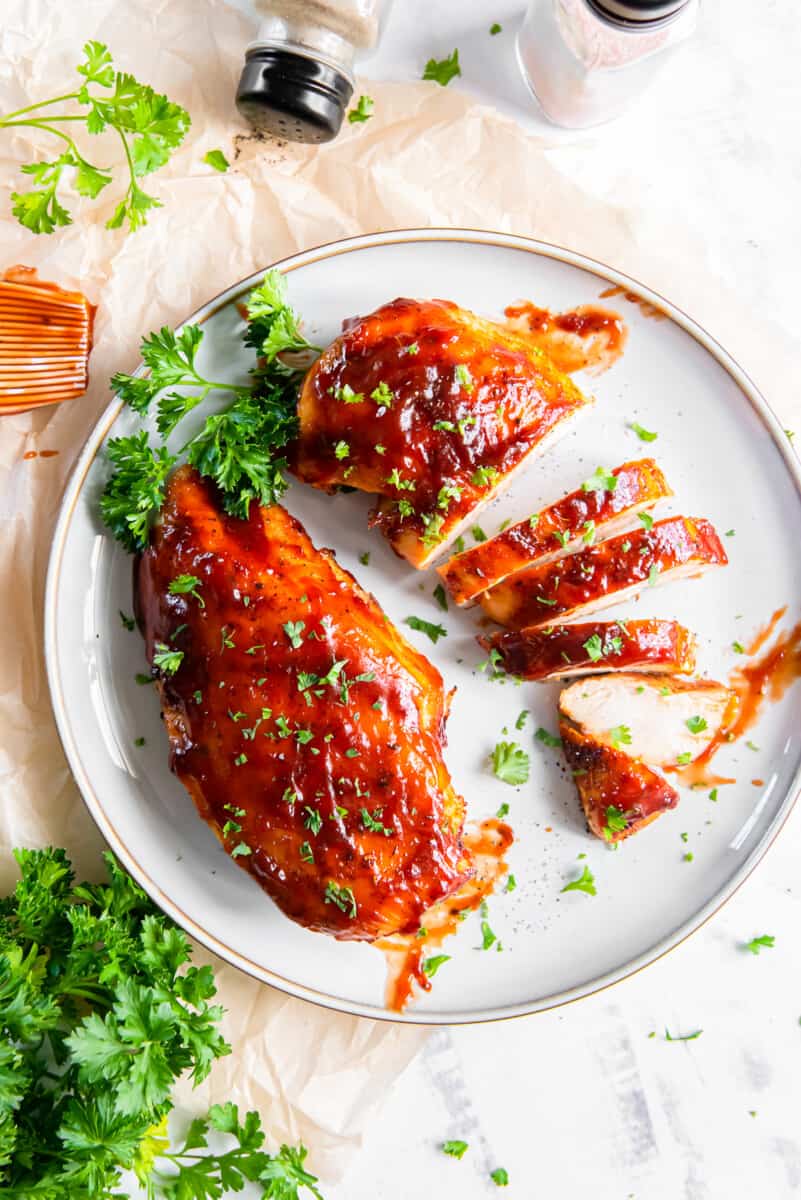 Can I use frozen chicken breasts?
Yes, but they'll need to be thawed first. Let the frozen chicken thaw in your refrigerator for about a day prior to cooking.
Can I use bone-in chicken breasts?
Yes! Just alter the cooking time to 25 minutes, flipping halfway through.
Can I make this recipe with another cut of chicken?
Bone-in chicken thighs are also a tasty choice! Cook them at 400°F skin side up for 15 minutes, then flip them skin side down and cook for another 3-4.
Can I make this BBQ chicken in a Crockpot?
Here's the thing – in the Crockpot, the chicken will slow cook to become a more tender consistency that's great for shredding. If you'd like to cook the breasts on low for 6-8 hours with BBQ sauce to make pulled chicken sandwiches, go for it!
Is this recipe gluten free?
Yes, it is!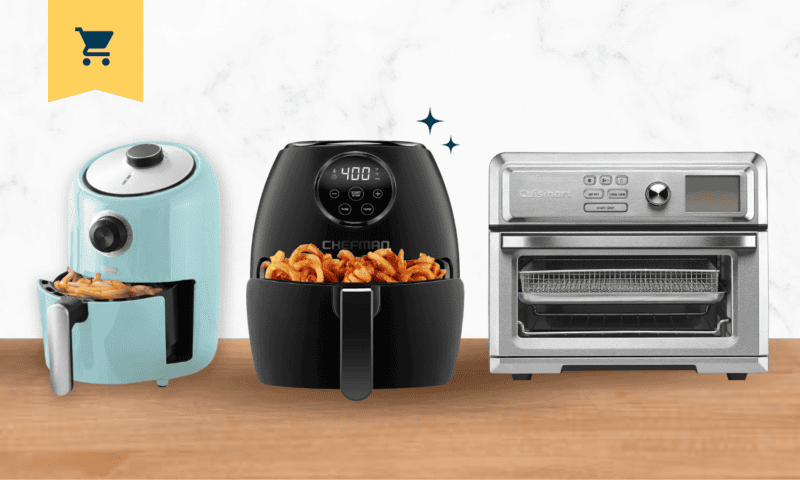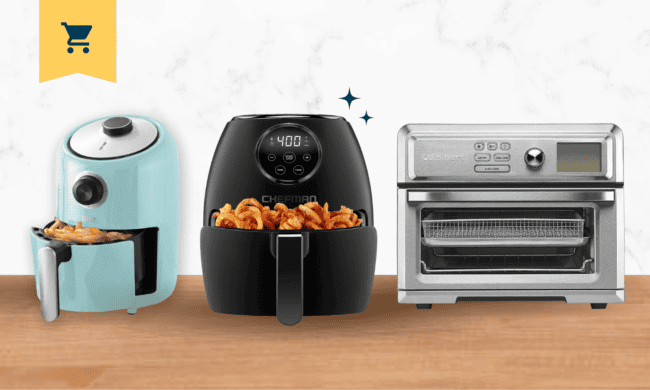 Best Small Air Fryers
We have reviewed our top 6 Small Air Fryers! Get reviews, pros, cons, and prices!
Top Small Air Fryers
Serving Suggestions
Plate this chicken dinner with some of my favorite kid-friendly sides.
If you're craving BBQ but it's nowhere near summertime grilling season, this recipe is perfect for you!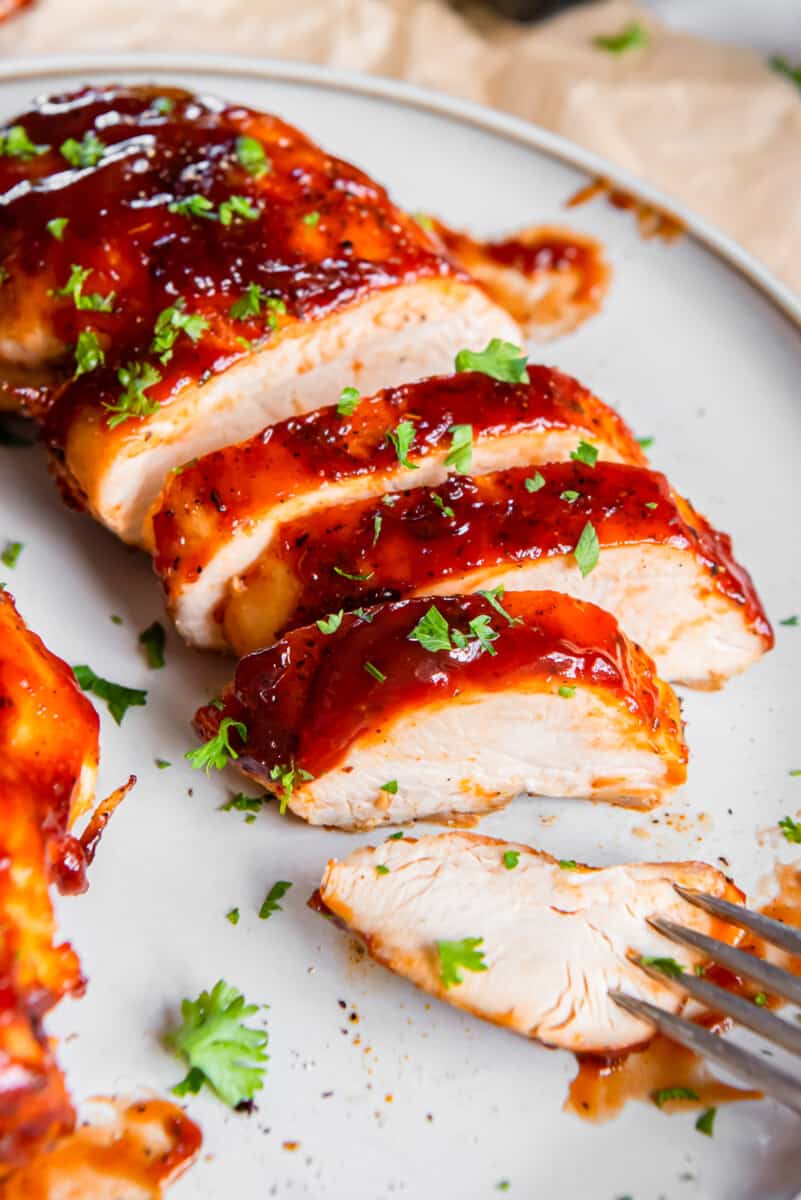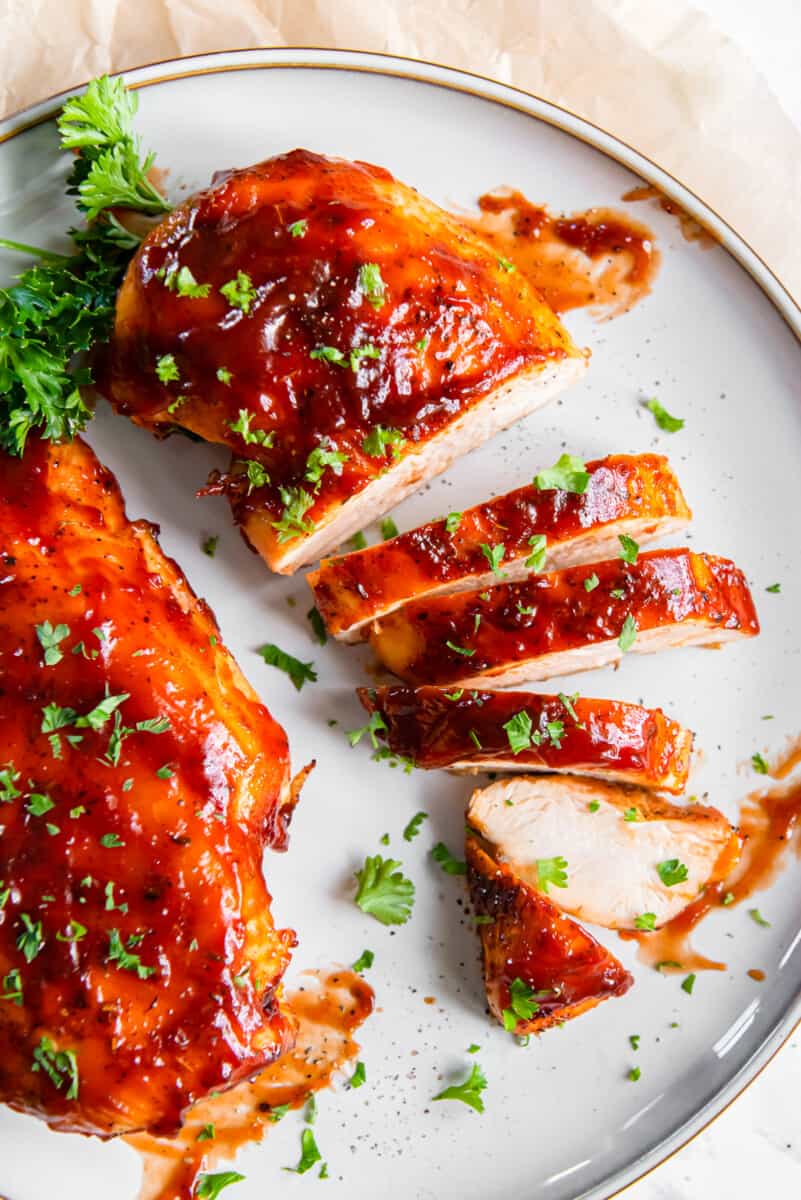 Tips!
Remember to flip your chicken after the initial 8 minutes of cooking so it cooks evenly all the way through.
For added heat, double up on the cayenne pepper and sprinkle in some crushed red pepper to your spice mix.
Always use a meat thermometer to check the doneness of your chicken! Once it's 160°F-165°F at the thickest part of the chicken, it's safe to eat.
Easy, perfectly cooked, and downright delicious!
What barbecue sauce should I use?
Any brand will get the job done, but if you really want a sauce that'll knock your socks off, try my favorite Homemade BBQ Sauce!
Can I leave out the cayenne pepper?
You sure can! However, keep in mind that with the amount of cayenne pepper I've called for, it's really not spicy. It's just added flavor.
Can I double this recipe?
Yes, but make sure to cook the chicken in batches so you don't overcrowd the air fryer.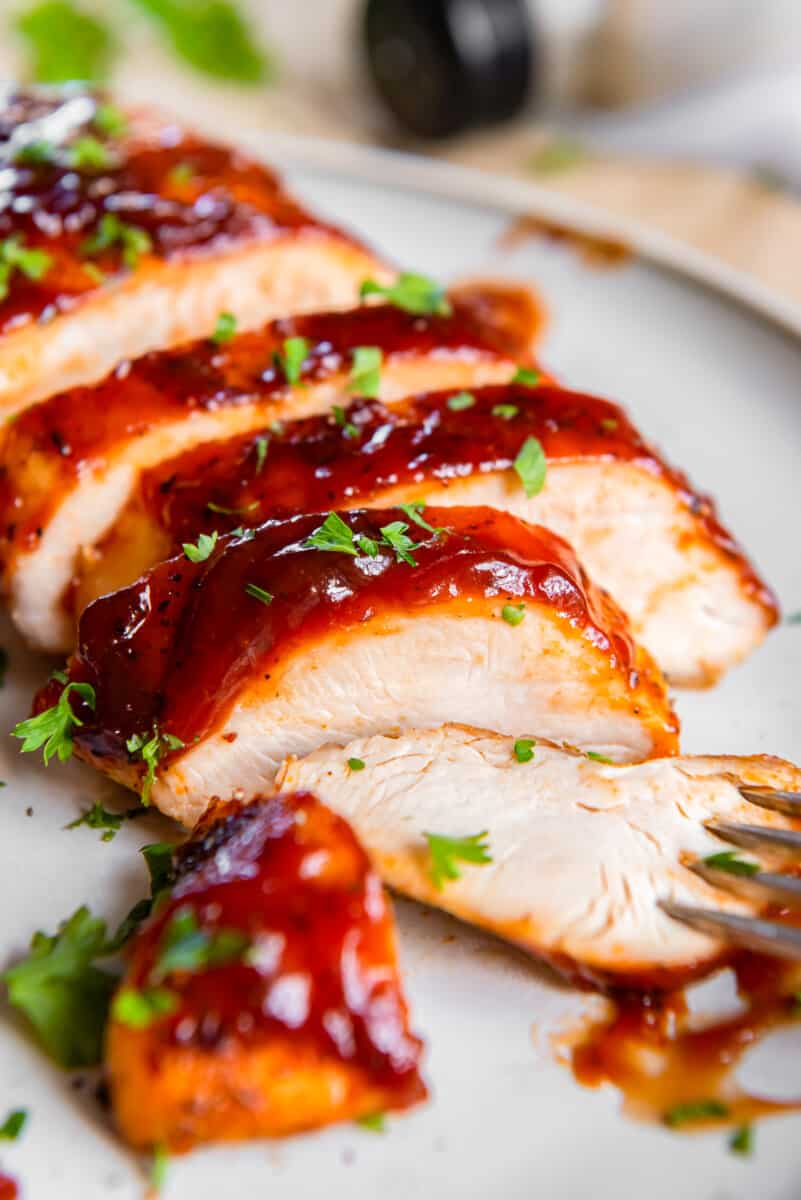 Air fryers might just be my favorite kitchen tool that's come out in the last few years. They're dependable, and always yield deliciously easy chicken dinners like this one!
If you make this recipe be sure to upload a photo in the comment section below or leave a rating. Enjoy! You can also jump to recipe.