Air Fryer Corn on the Cob is the easiest way to make this timeless side dish! You can have the very best corn on the cob that tastes like it's fresh off the grill in just 15 minutes using your air fryer. Dress it up with butter, salt, and whatever else your heart desires!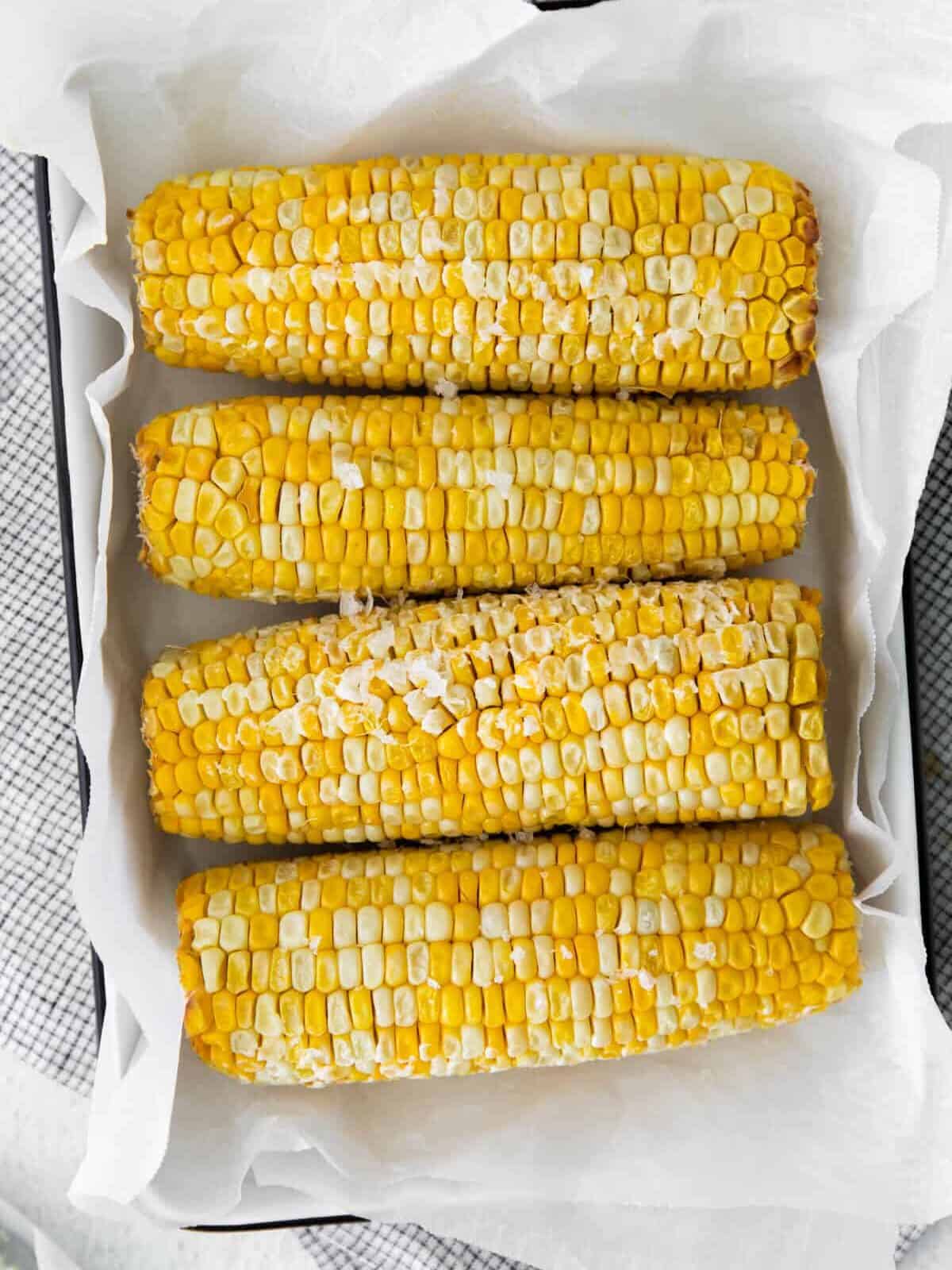 What's in this Air Fryer Corn on the Cob Recipe
All this recipe really needs is corn on the cob, olive oil, salt, pepper, and butter. There are so many ways to customize it beyond those ingredients, but keeping it simple is always good too!
Corn: Make sure the corn is fully shucked and all of the silks are removed.
Olive Oil: Olive oil spray also works well.
Salt: Salt is the most simple seasoning you can toss onto your corn. Feel free to experiment with all different kinds of seasonings and spices!
Butter: For spreading on your cooked corn, of course! Use room temperature butter for the easiest spread.
Pro Tip: For easier clean up, line the air fryer basket with aluminum foil!
Variations to Try
Have fun adding your favorite toppings and seasonings! Here are a few of my favorite air fryer corn on the cob variations:
Garlic Parmesan Corn: After adding the butter in step 4, sprinkle corn with ¼ teaspoon garlic powder and 2 tablespoons freshly grated Parmesan cheese.
Elote Corn: Skip the butter in step 4 and spread 2 tablespoons of mayonnaise or sour cream on top. Sprinkle the corn with ¼ cup crumbled cotija cheese, ½ teaspoon chili powder, 1 teaspoon lime juice, and chopped cilantro.
Spicy Corn: After adding the butter in step 4, sprinkle corn with red pepper flakes, hot sauce, or cayenne pepper to taste.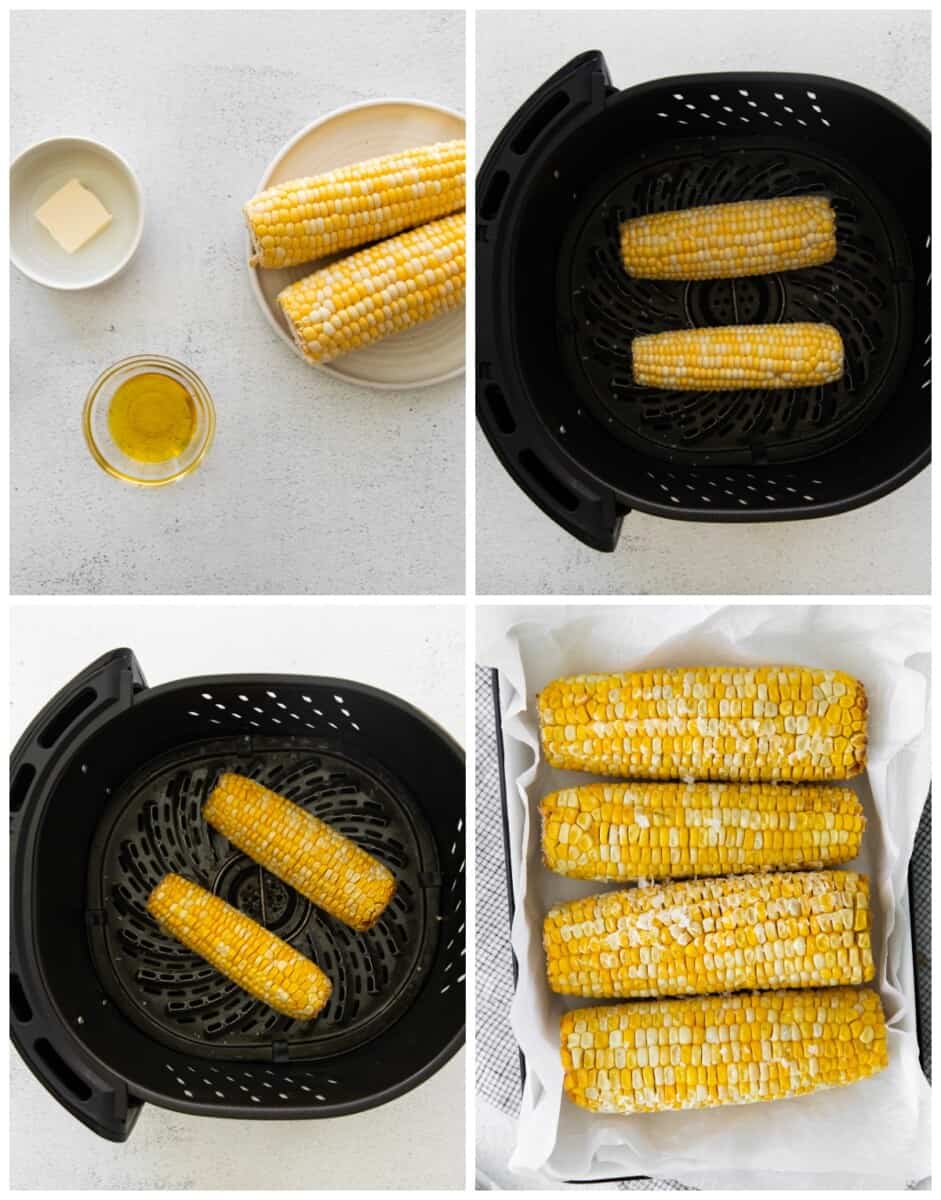 Can I use frozen corn on the cob?
Fresh corn on the cob is best, but frozen corn on the cob works in a pinch. If using frozen corn on the cob, let the corn thaw for 30 minutes and add 2-3 extra minutes to the cook time.
Can I make more than 2 ears of corn at a time?
Yes, feel free to cook more than 2 ears of corn at a time if your air fryer is large enough. Place the corn in a single layer with space between each.
What kind of corn should I use?
Use whatever variety of corn on the cob looks freshest at the store! I used "bicolor" corn for this recipe, but all yellow or white corn would also work great.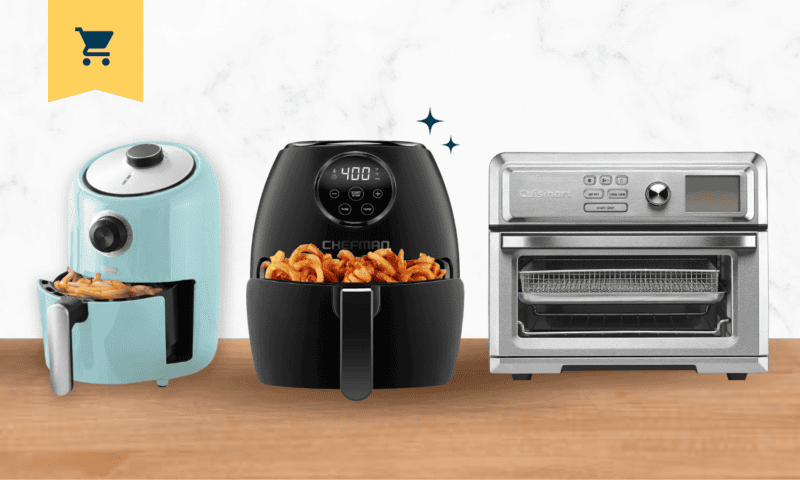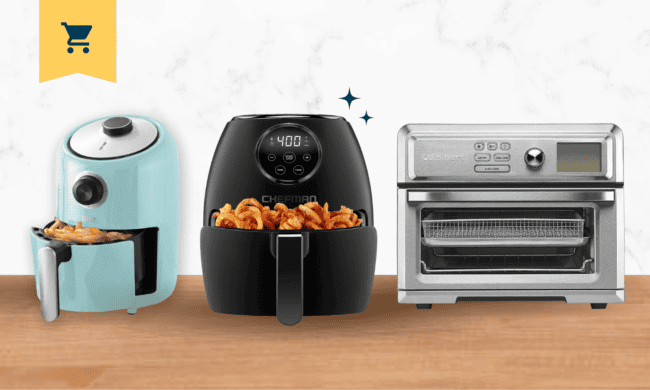 Best Small Air Fryers
We have reviewed our top 6 Small Air Fryers! Get reviews, pros, cons, and prices!
Top Small Air Fryers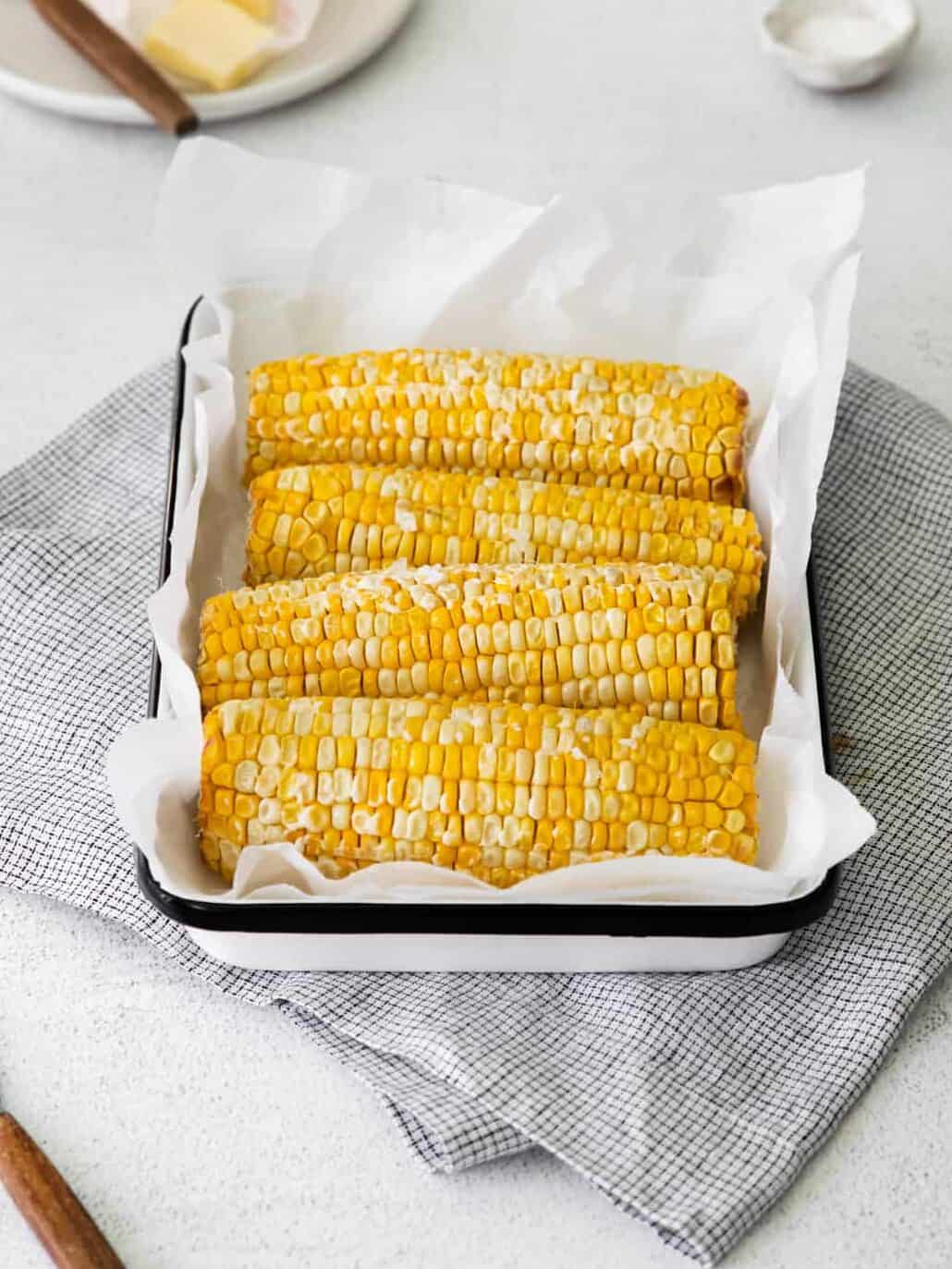 How to Store and Reheat
Store leftover corn in an airtight container in the refrigerator for up to 2 days. To reheat, just pop it back in the air fryer for a few minutes to warm back up!
Serving Suggestions
Complete any dinner recipe with air-fried corn on the cob. I love serving corn with:
More Air Fryer Side Dish Recipes We Love