Made with 3 cups of fresh corn, this homemade Cornbread recipe is hearty, moist, and flavor-packed. Serve squares of from-scratch cornbread with soup or chili, or as a side dish for any holiday dinner.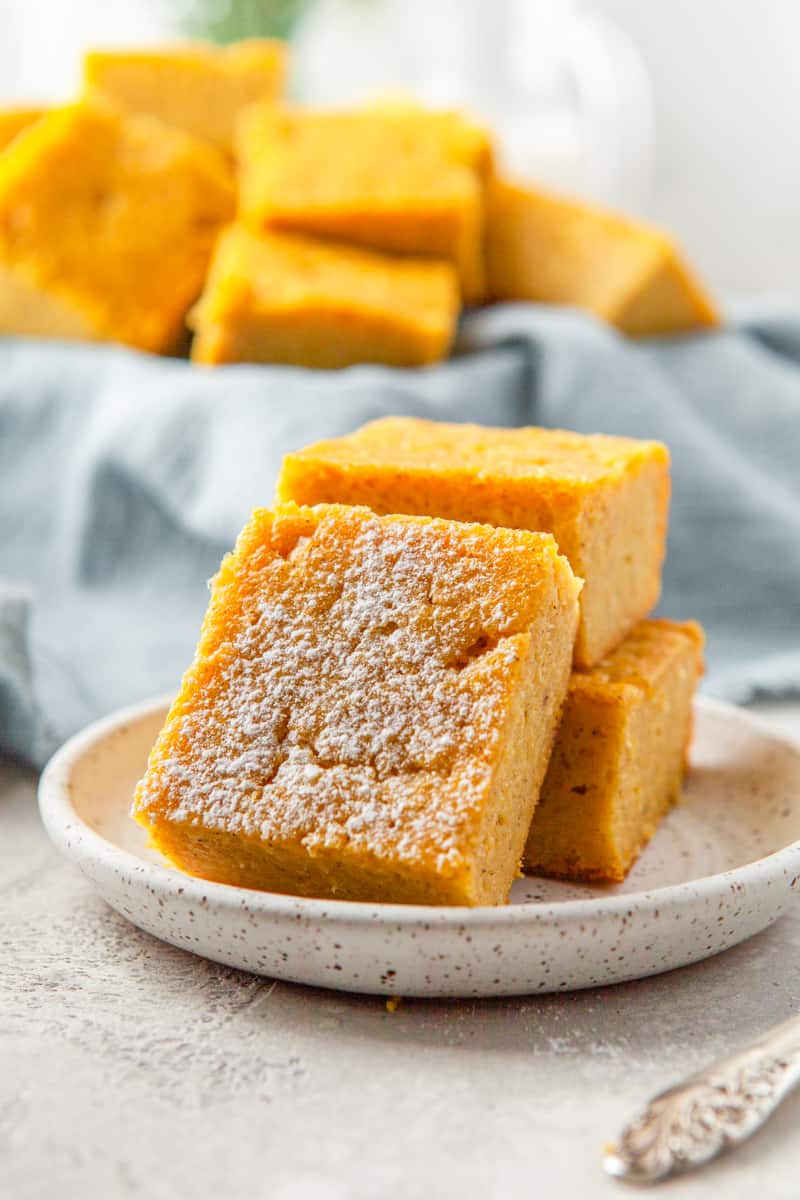 Homemade Cornbread
There's nothing quite like a warm, buttery piece of homemade cornbread. It's one of my favorite bread sides – a little sweet, a little savory, and goes with just about anything.
Instead of cornmeal, this from-scratch recipe is loaded with fresh corn (3 cups!) for a unique twist on traditional cornbread. Featuring warm cinnamon and a combination of milks, this is a sweet cornbread everyone will love!
Be sure to try my Loaded Cornbread Casserole and Cornbread Muffins, too.
Why You'll Love this Sweet Cornbread Recipe:
HOMEMADE: No boxed cornbread mix here! This bread is made completely from scratch with fresh corn and basic baking ingredients.
MAKE AHEAD: This is a wonderful make-ahead recipe! Store cornbread at room temperature for a couple of days or in the refrigerator for up to a week.
If you've never made homemade cornbread before, give this recipe a try. You'll love it! It's a great dish to bring to a BBQ potluck to share.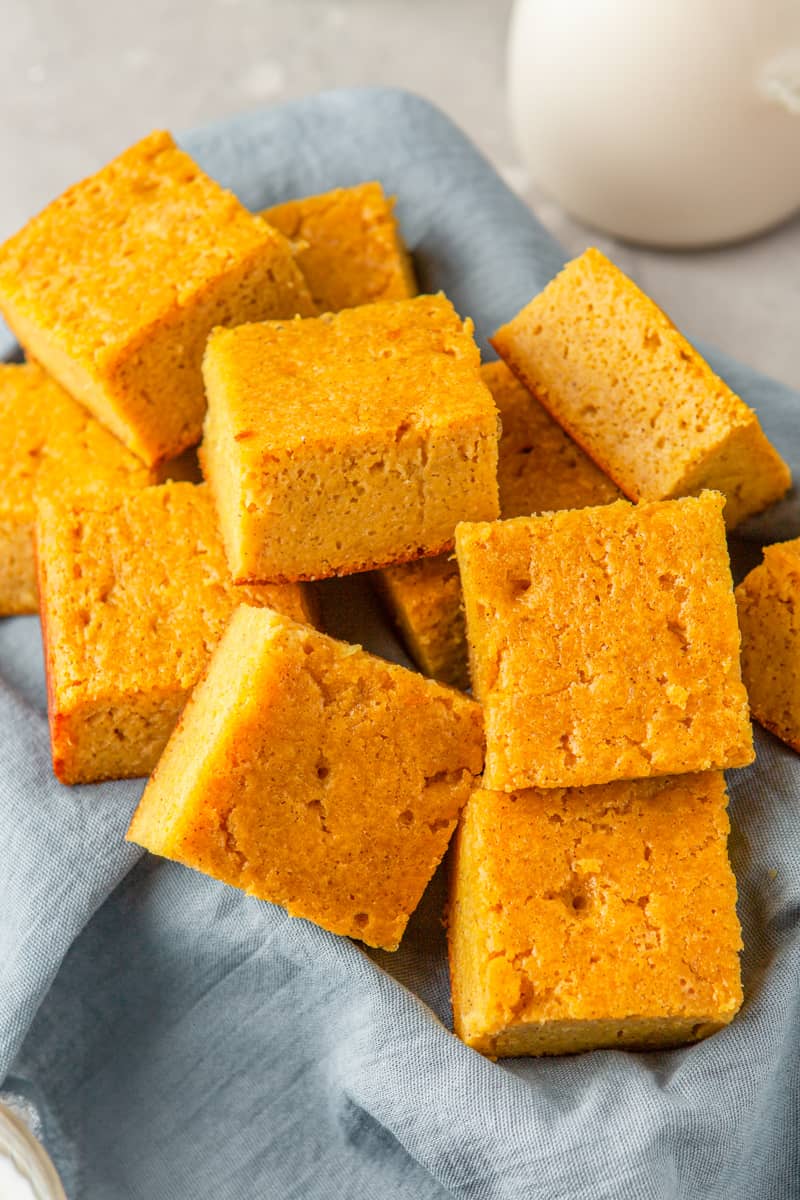 How to Make Cornbread
You can jump to the recipe card for full ingredients & instructions!
Blend the corn and evaporated milk together.
Cream the butter. Add the eggs, condensed milk, and vanilla.
Pour in the corn mixture.
Add the dry ingredients.
Bake and serve.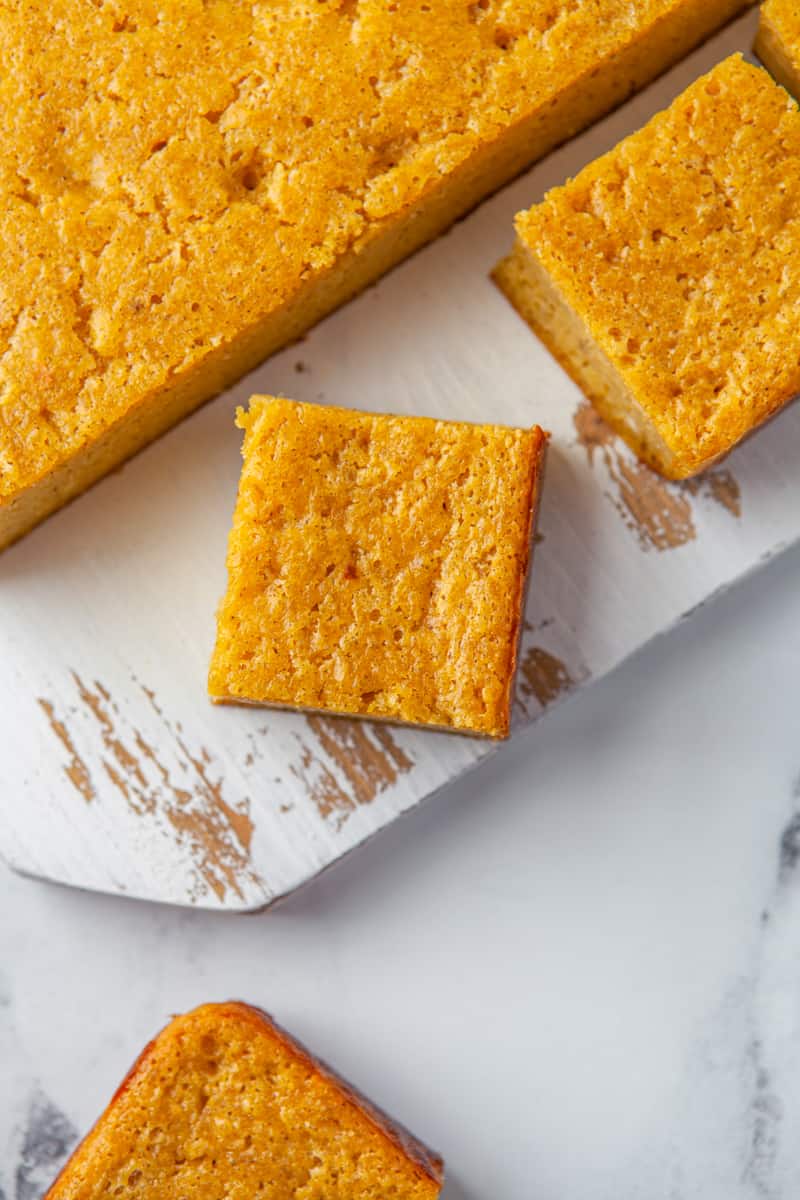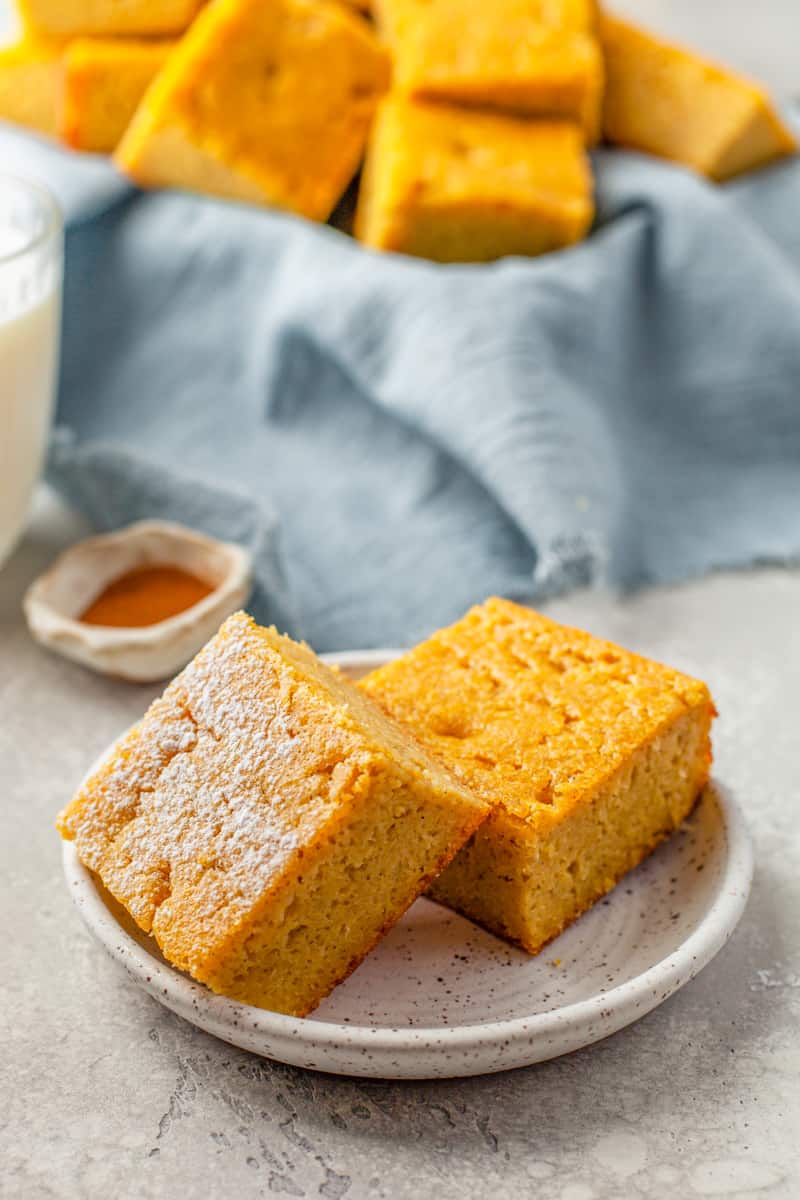 What pan is best for cornbread?
For best results, bake this recipe in a 9×13-inch pan. To bake cornbread in an 8- or 9-inch pan, divide a full batch into 2 pans or halve the recipe and bake it in one pan. Keep an eye on the bread as it bakes – it may need a little longer in the oven. If you use a slightly larger pan, the bread may need less time as it will yield a thinner cornbread. For something different, try baking cornbread in a greased cast iron skillet!
Can I use cornbread for stuffing?
Yes! This cornbread is a delicious addition to any Thanksgiving or Christmas stuffing.
Can I use bread flour instead of all-purpose flour?
For quick breads, I like to use all-purpose flour. You can use bread flour, but bread flour has a higher protein content than all-purpose flour, which can lead to a dense, heavy cornbread.
What toppings go well with cornbread?
While delicious on its own, top cornbread with butter, jam, or a drizzle of pure maple syrup.
Serving Suggestions
This cornbread is a great side dish for almost any meal, and is especially delicious with chili, soups, and stews. Try it with:
I can't think of anything more comforting than a big bowl of chili and a square of cornbread on a cold day.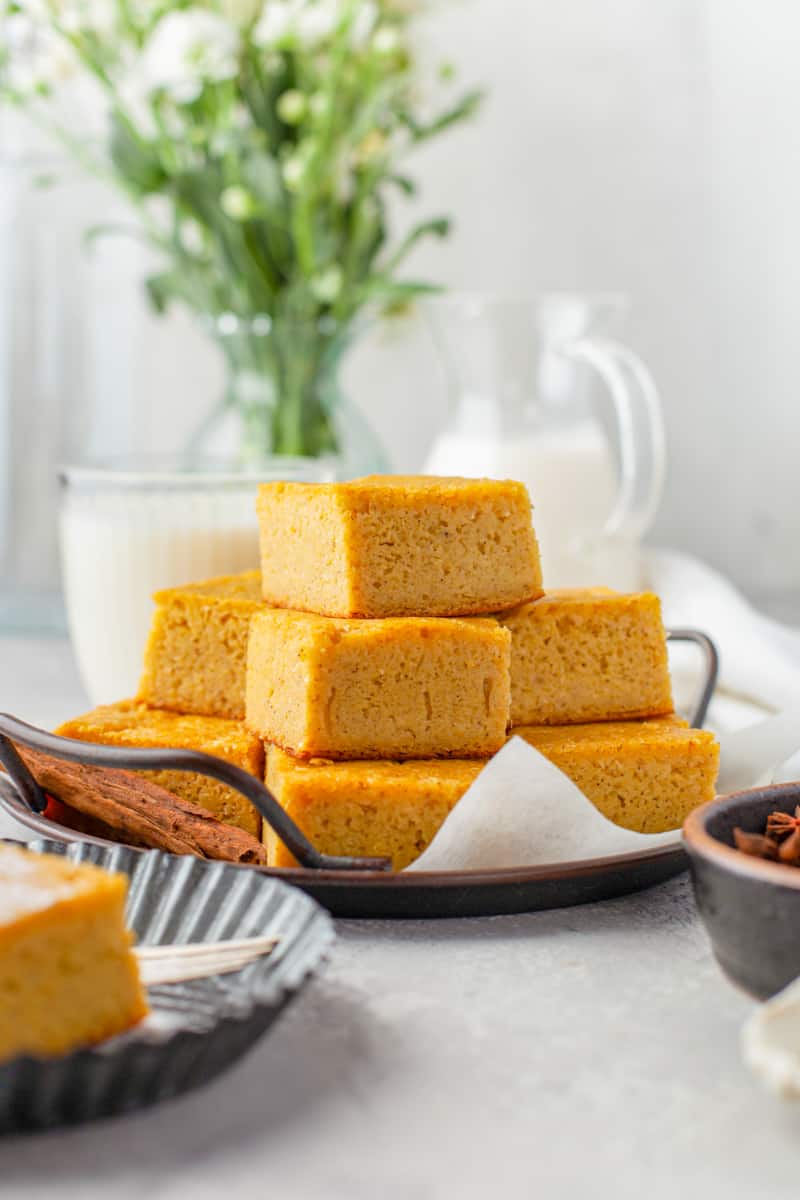 Tips!
Try not to over-mix the batter when incorporating the flour. This can cause the gluten to overdevelop, resulting in a dense cornbread.
Keep an eye on the cornbread while it bakes. It takes about 40 minutes at 350°F, but it's ready when the edges are slightly browned and an inserted toothpick comes out clean.
Cornbread freezes beautifully! Wrap squares of cornbread in plastic wrap, place in an airtight container, and freeze for up to 3 months. Thaw before serving.
One bite of homemade cornbread and you'll really taste the difference!
Can I use canned corn?
Absolutely. Instead of fresh corn, use the same amount of canned corn. Be sure to drain the corn before adding to the blender.
Can I make this cornbread without a blender?
Because this recipe uses whole corn kernels, you need something to break down the corn. A blender is ideal, but a food processor also works.
Can I add jalapeños to this cornbread recipe?
Yes! For jalapeño cornbread, add 1-2 diced jalapeños into the batter and place sliced jalapeños on top before baking.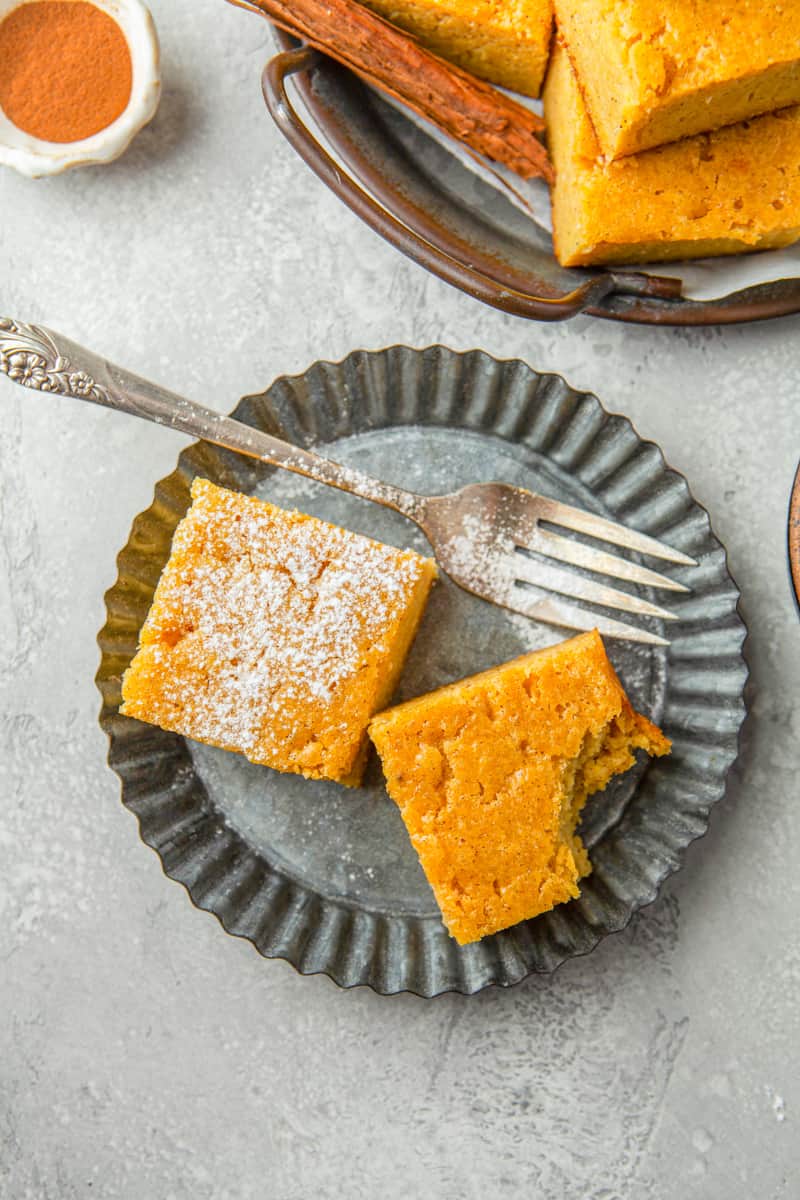 This cornbread is moist, easy to make, and feeds a crowd. It's my favorite thing to bring to a potluck, and it's a must for chili night. It's the only cornbread recipe you need!
More Classic Recipes to Try
If you make this recipe be sure to upload a photo in the comment section below or leave a rating. Enjoy! You can also jump to recipe.