Tender bite-sized pieces of chicken are coated in savory, crispy, crunchy breadcrumbs and air fried to perfection. Simple and easy to make, these nuggets are perfectly tender with the most delicious crispy coating!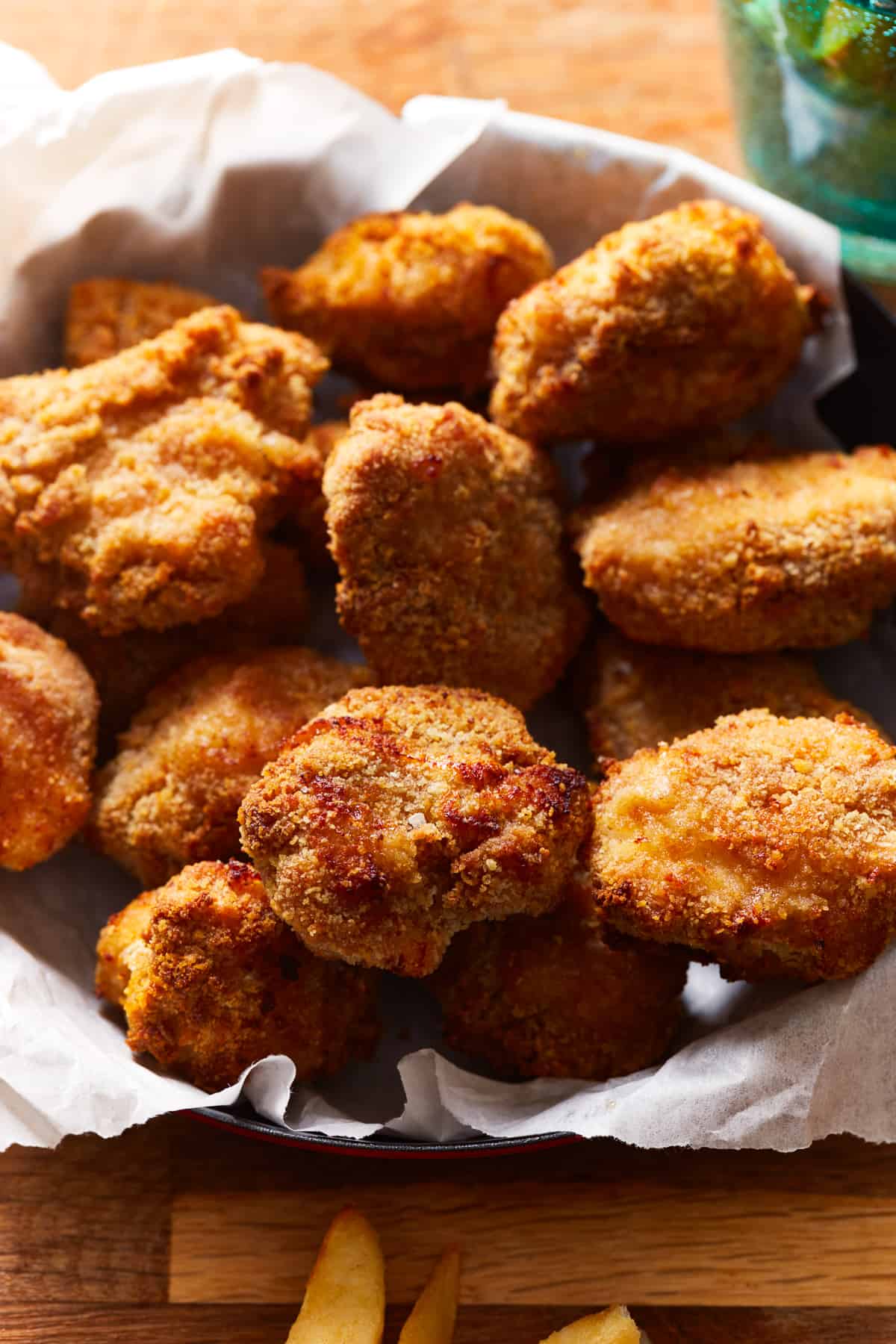 What's in Homemade Air Fryer Chicken Nuggets?
Crispy and tender, these air fryer chicken nuggets are quite simply the best! Coated in seasoned breadcrumbs and so quick and easy to make, they are the perfect appetizer!
Chicken: I love to use boneless, skinless chicken breasts for this recipe, but thighs will also work.
Flour: Helps create a batter so that the seasonings stick to the chicken nuggets.
Milk: Helps create a batter so that the seasonings stick to the chicken nuggets. I like to use whole milk or buttermilk for a bit of tang, but you could use any milk you have on hand, including plant-based milk!
Seasonings: Salt, pepper, and paprika season the nuggets. You could use smoked paprika for a smokier taste or hot paprika for spicier nuggets.
Breadcrumbs: I used traditional plain breadcrumbs for my nuggets. I also tried Panko breadcrumbs, and they worked too! They have a different texture, and I liked the plain breadcrumb texture better.
Oil: I like to use olive oil to help my nuggets crisp up in the air fryer, but you could use vegetable oil instead. Cooking oil spray also works well here.
Pro Tip: For gluten-free nuggets, swap the flour for gluten-free flour and the breadcrumbs for gluten-free breadcrumbs!
Spicy Chicken Nuggets in the Air Fryer
These nuggets are so delicious just as they are. If you've got adventurous eaters, you can try making spicy nuggets. Add a few dashes of hot sauce or chili powder to the milk and seasonings mixture. To go the extra mile, toss the cooked nuggets in Buffalo sauce for my take on boneless wings!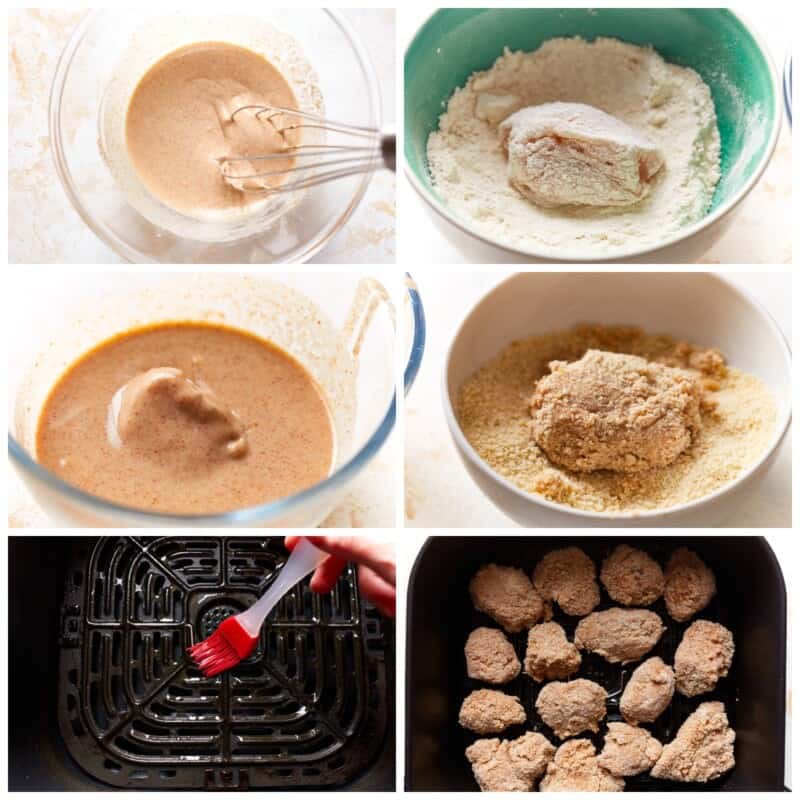 What's the best chicken to use?
Hands down, chicken breast is the best cut to use for these nuggets. They stay perfectly juicy and tender. Thighs will take longer to cook, so you run the risk of undercooked chicken or a burnt coating. If you have them, chicken tenders will also work well for this recipe
How long do chicken nuggets take in the air fryer?
These nuggets take just about 15 minutes to cook in the air fryer! They make a great last-minute snack for hungry kiddos!
What temperature should I air fry chicken nuggets at?
I like to set my air fryer to 380°F. This ensures the nuggets get nice and crispy but don't burn!
Can you make them ahead of time?
These chicken nuggets are best served as soon as they are made, but you can bread them a few hours ahead of time and keep them covered in the fridge. Any leftovers will keep well for up to 3 days.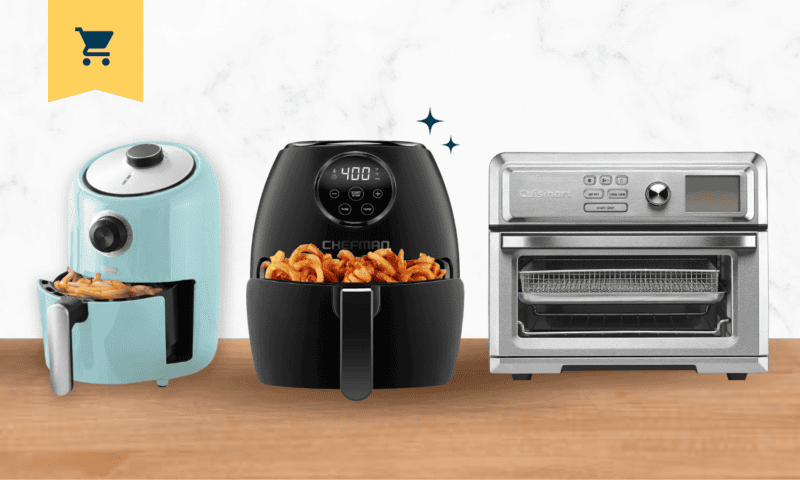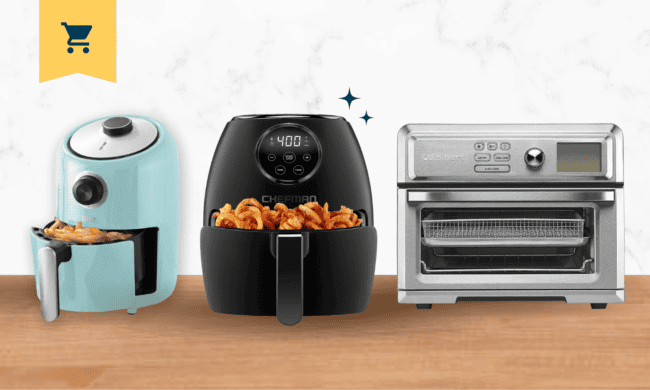 Best Small Air Fryers
We have reviewed our top 6 Small Air Fryers! Get reviews, pros, cons, and prices!
Top Small Air Fryers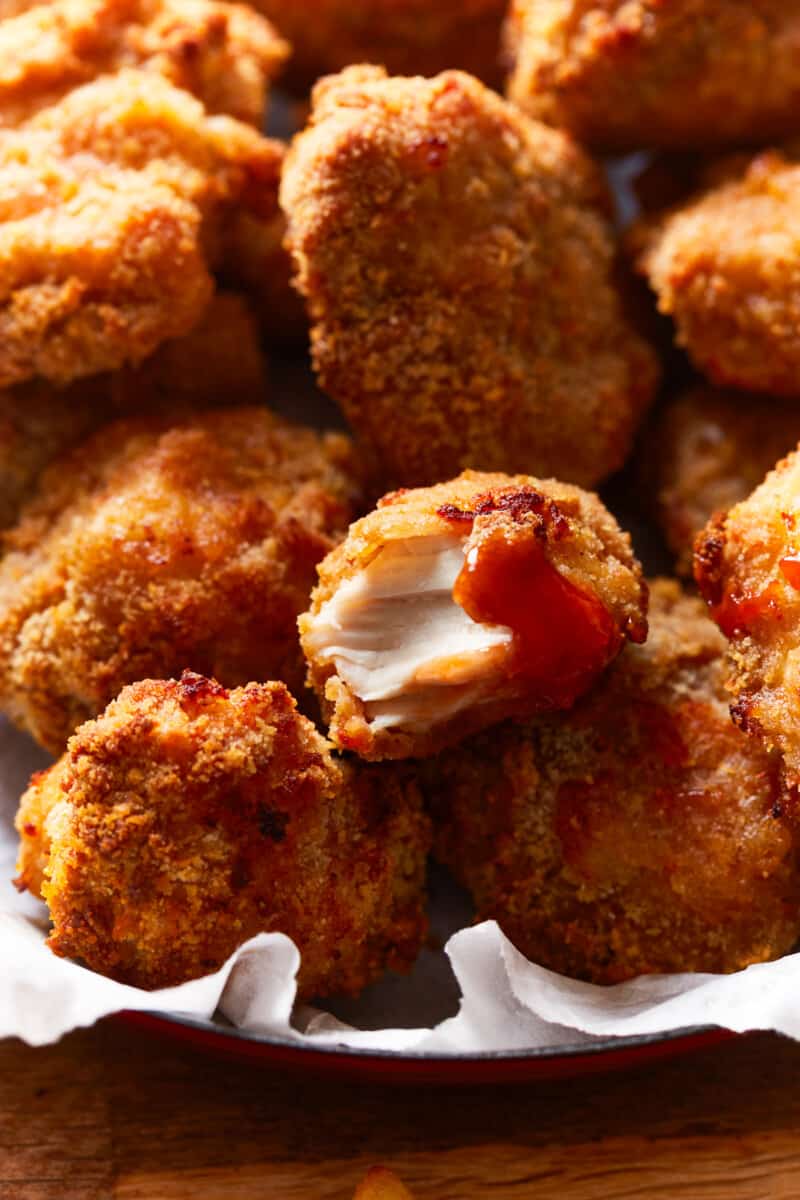 How to Store and Reheat Chicken Nuggets in an Air Fryer
Store leftover air fryer chicken nuggets in an airtight container in the refrigerator for up to 3 days. Reheat in the air fryer at 350°F for 3 minutes, until warmed through.
How to Freeze Air Fryer Homemade Chicken Nuggets
Freeze air fryer chicken nuggets in a single layer on a lined baking sheet until solid, about 1-2 hours. Transfer to an airtight container or Ziplock bag to store for up to 3 months. Reheat directly from frozen at 250°F for 5-6 minutes, until warmed through.
What to Serve with Easy Air Fryer Chicken Nuggets
These air fryer chicken nuggets are great to serve as an appetizer with your favorite dips (don't forget the chick-fil-a-sauce), or as a main with your favorite veggie and potato sides. Try them dipped in fry sauce, homemade ranch, Buffalo sauce, or sweet and sour sauce. Serve them with a side of baked sweet potato fries, shoestring fries, or my personal favorite, bacon cheese fries. Whip up some air fryer broccoli for a complete meal!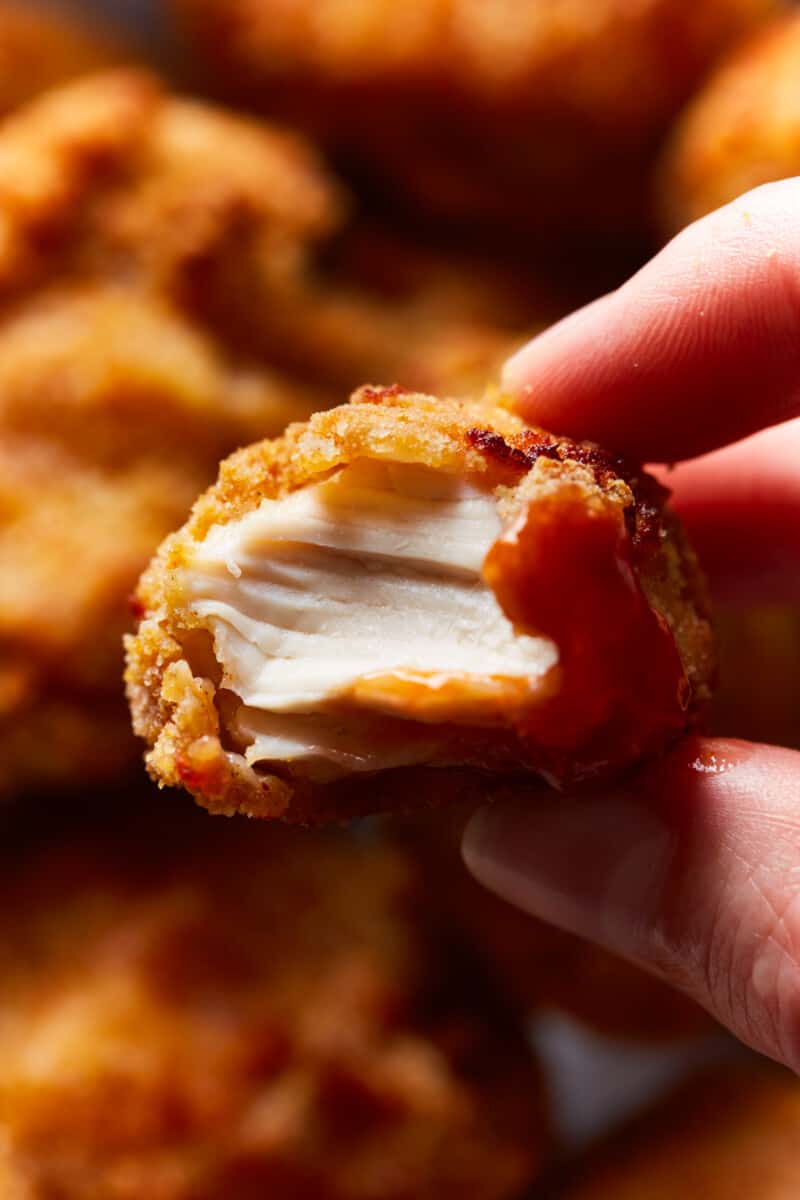 More Breaded Chicken Recipes We Love