Make the most delicious egg salad quickly and effortlessly in your air fryer. Perfectly creamy and seasoned, pile it high in sandwiches for an easy lunch.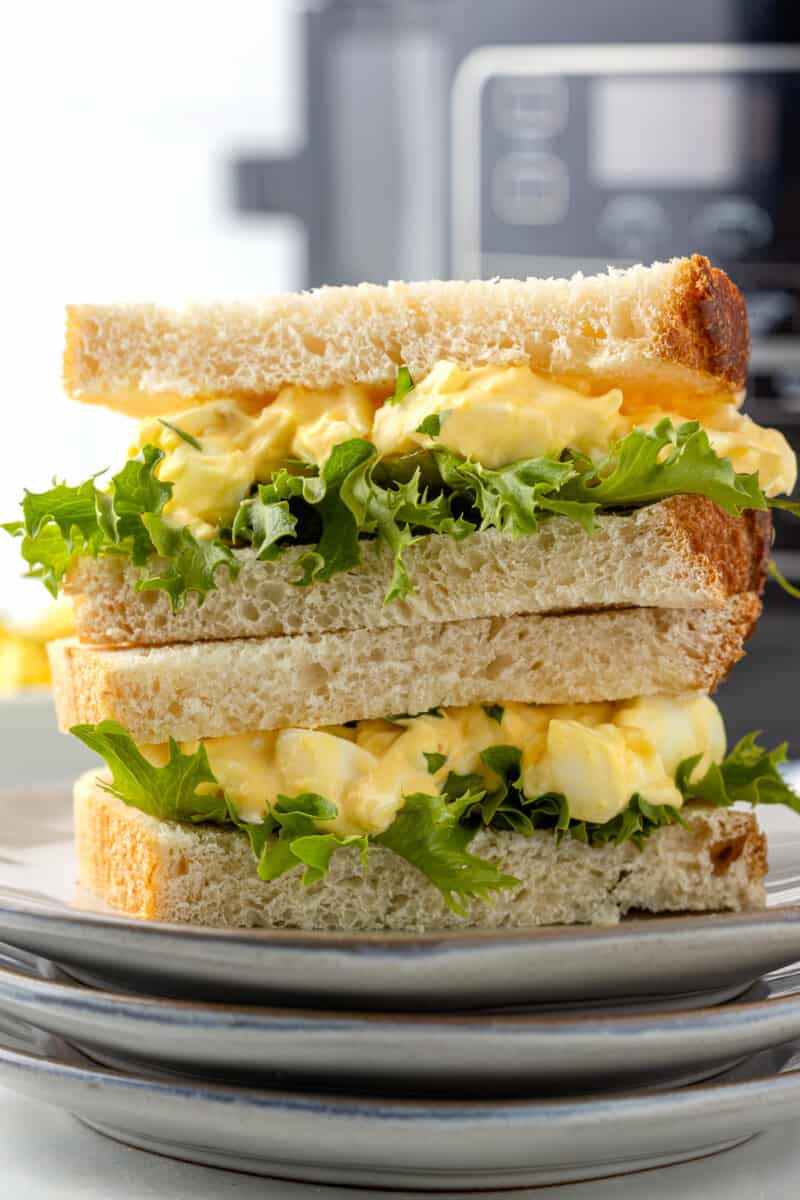 Air Fryer Egg Salad Sandwiches Recipe
I will never grow bored of egg salad sandwiches, so quick and easy to rustle up and they are a perfect meal for the whole family.
Mixed with mayonnaise, mustard and a little salt, this air fryer egg salad is super creamy with just a hint of tanginess. Perfect when put between two pieces of bread and some fresh lettuce.
Be sure to try my Instant Pot Egg Salad and Avocado Egg Salad too!
Why you'll love this Air Fried Egg Salad recipe:
QUICK: Ready to enjoy in around 20 minutes, this recipe requires minimal prep.
SIMPLE INGREDIENTS: You just need a couple of every day ingredients to make this creamy egg sandwich filling.
KID-FRIENDLY: Egg salad sandwiches are a great simple meal that the whole family will love. Eggs are a great source of meat-free protein, vitamins and minerals.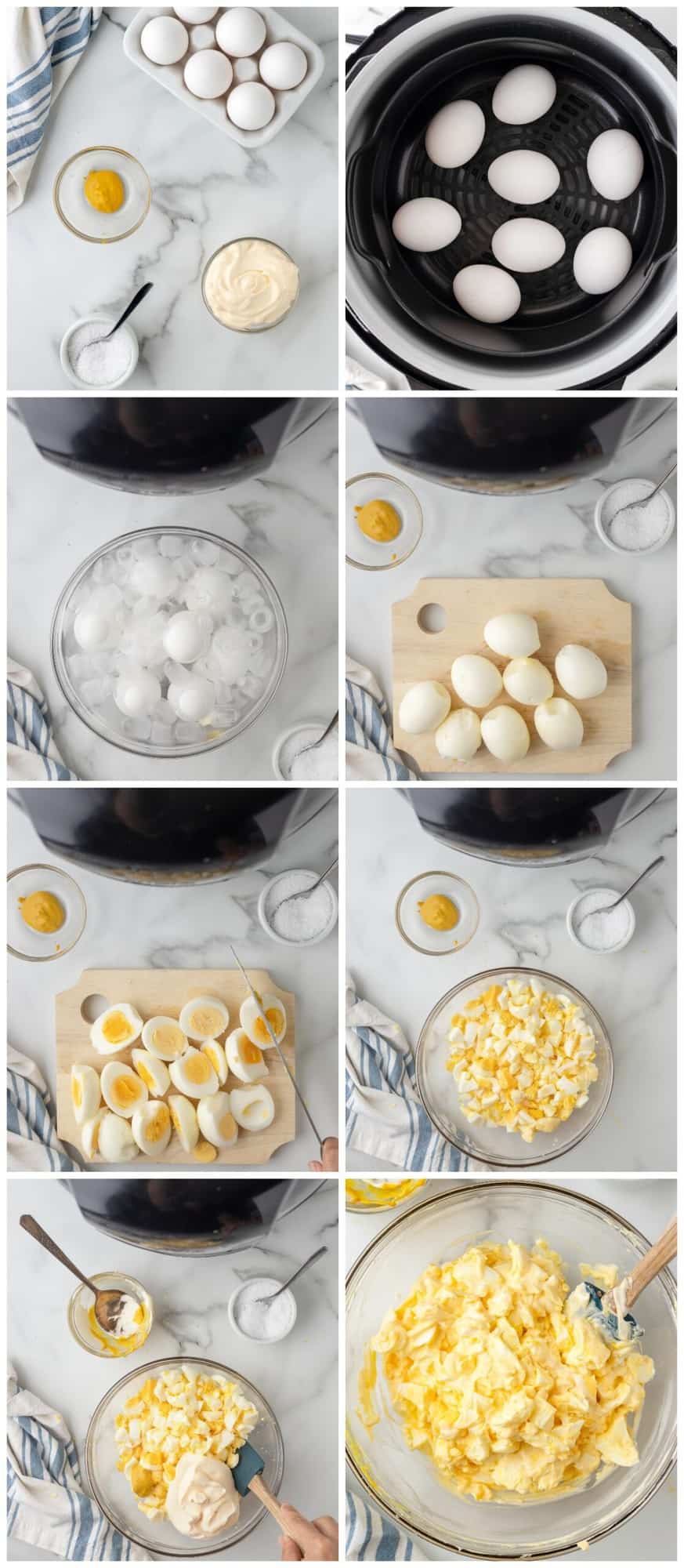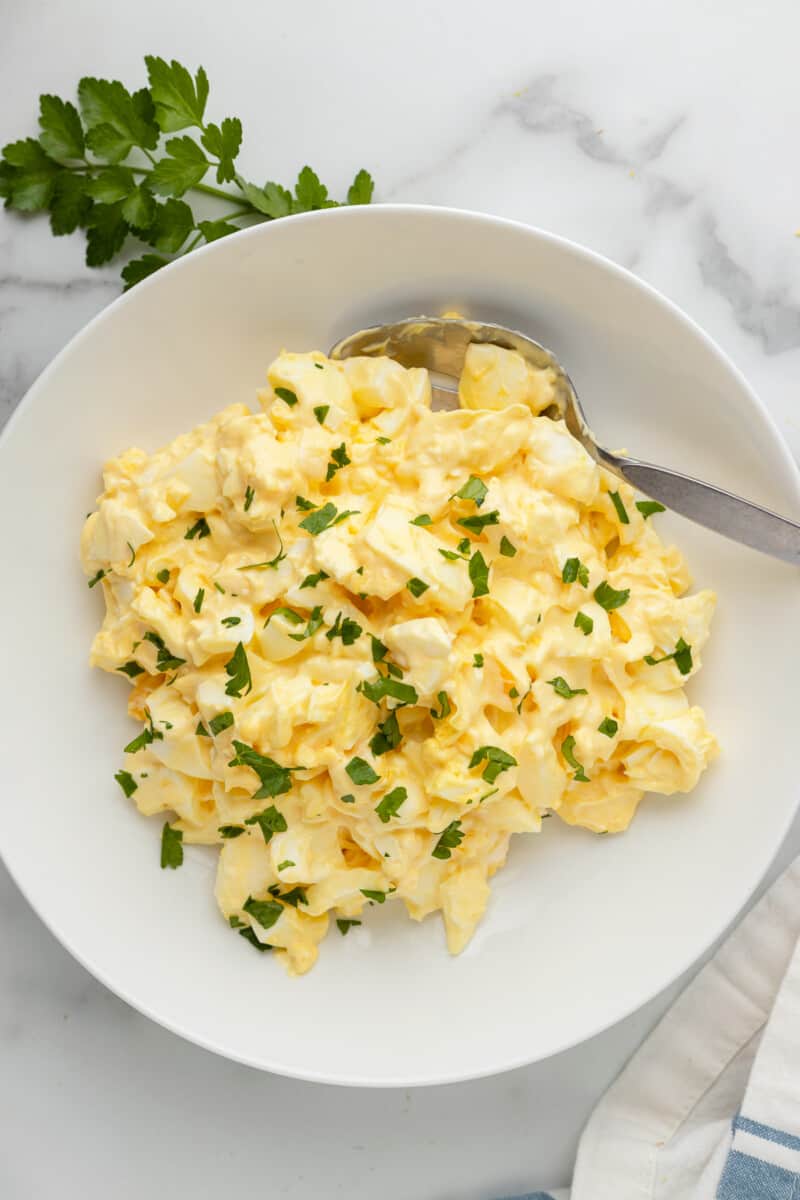 How to make Egg Salad in an Air Fryer
You can jump to the recipe card for full ingredients & instructions!
Place the eggs in the air fryer and cook.
Place in iced water to cool.
Peel and chop the eggs.
Mix with the mayonnaise, mustard and salt.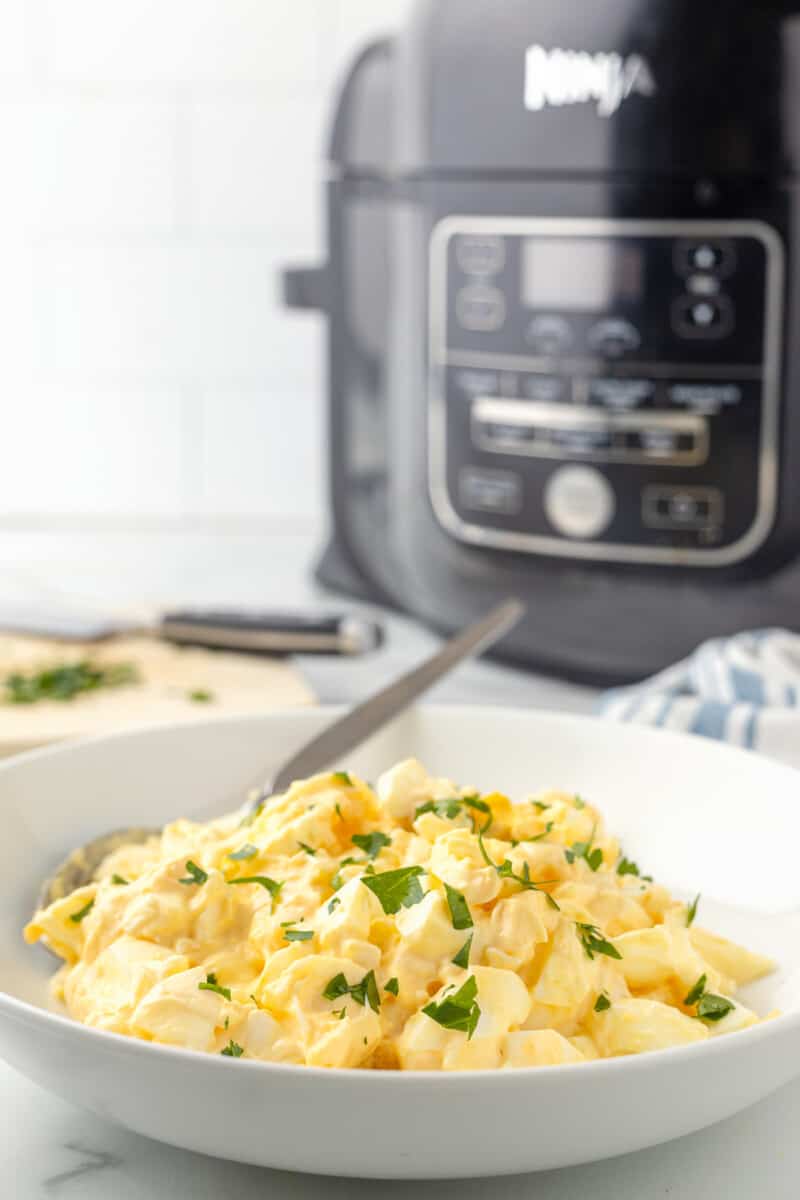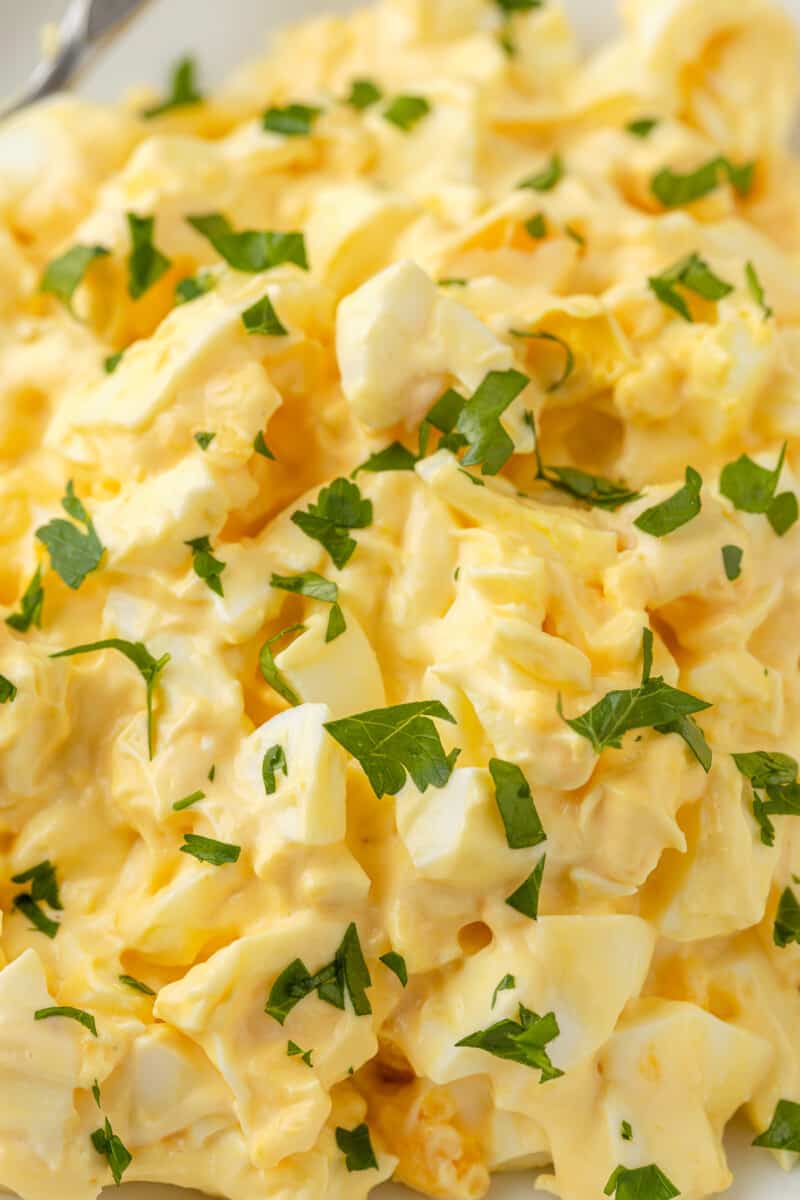 Why cook eggs in the air fryer?
I know that hard boiling eggs isn't rocket science, but let me tell you, cooking eggs with this method makes them so easy to peel. It's the go to way I cook them now! You can also cook quite a few in one go.
You don't need to add any water, just pop the eggs in and set the timer. I love how effortless this method is and you don't need to keep an eye on them.
How long does it last?
This air fryer egg salad will keep well for 3 to 4 days in the fridge. Place in a container of covered with plastic wrap to keep it fresh. Because this salad contains mayo, don't keep it out at room temperature for more than two hours.
What do you serve it with?
Hands down, my favorite way of enjoying this creamy egg salad is as a sandwich with whole grain bread with some fresh and crispy lettuce. It's perfect to serve it lettuce wraps for a low carb meal. It's great as a side dish too too, or place onto a fresh salad as a topping.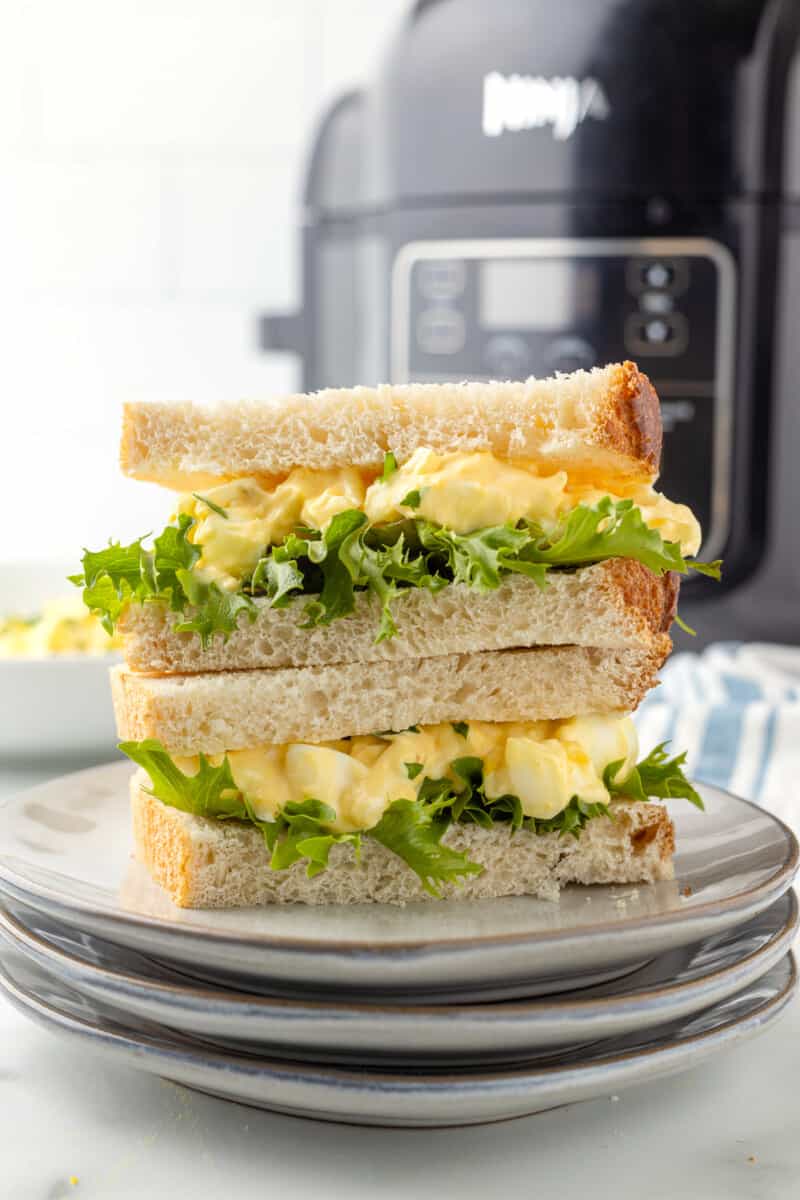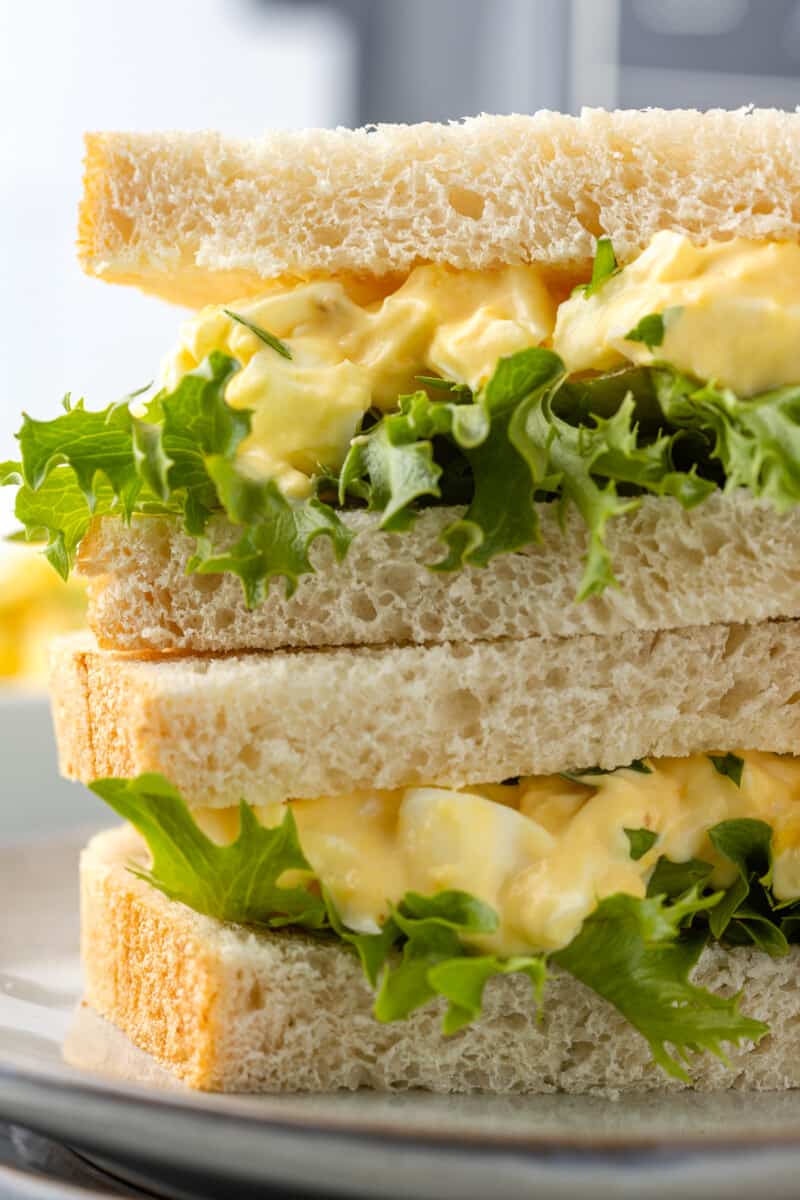 Tips!
Don't let your eggs touch in the air fryer basket. This will allow them to cook evenly through.
While your eggs are cooking, fill a large bowl with water and ice to place the cooked eggs in. This helps to cool them quickly so you can handle them, and also stops the cooking process so you have perfect hard boiled eggs.
I prefer the flavor and texture of full fat mayonnaise, but you can use reduced fat or vegannaise if you prefer.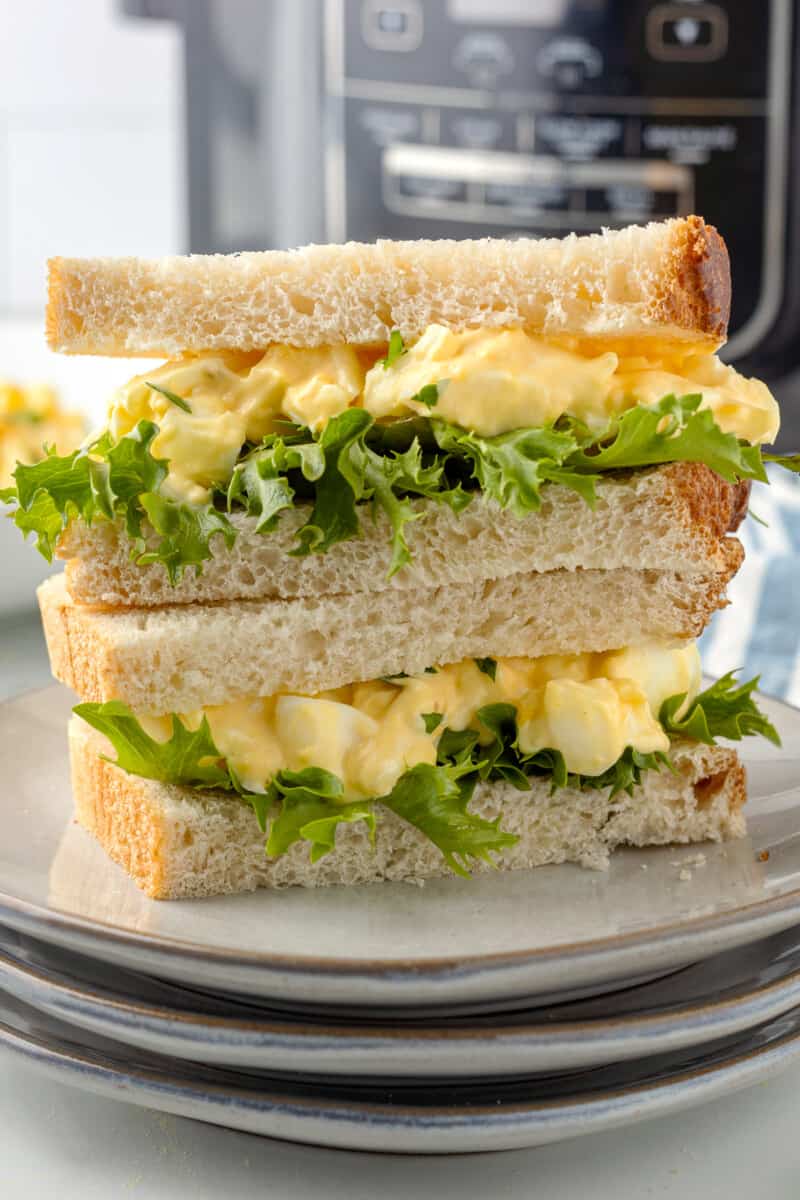 This air fryer egg salad has become a favorite in our house. So quick and simple, and I am seriously in love with how easy the eggs are to peel! Enjoy!
If you make this recipe be sure to upload a photo in the comment section below or leave a rating. Enjoy! You can also jump to recipe.