Air Fryer Burgers are a quick and easy dinner you can make any night of the week! These tasty homemade hamburgers cook in the air fryer so fast, and they come out juicy and delicious. Make them cheeseburgers if you prefer–either way, these burgers are ready to serve in 15 minutes!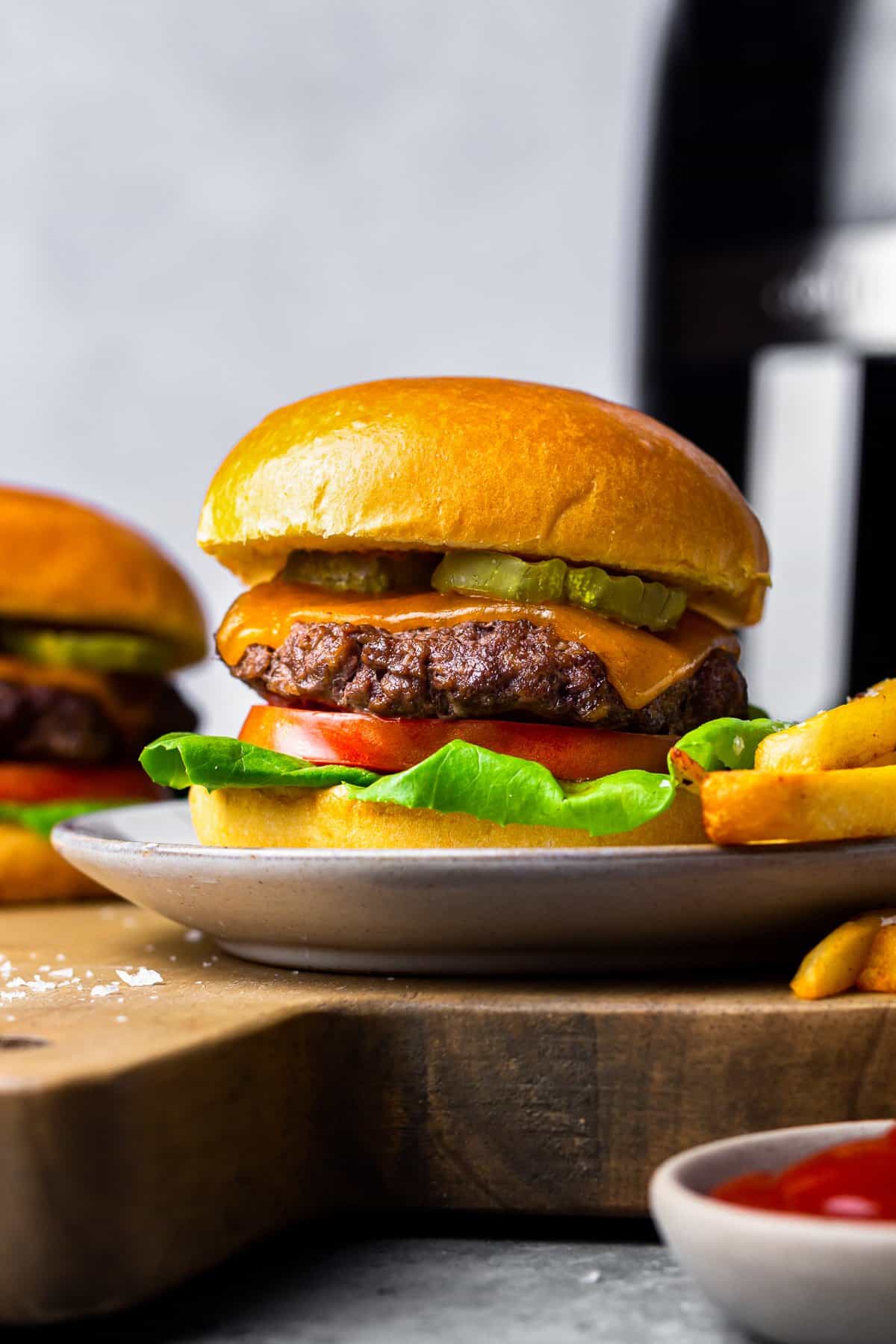 Air Fryer Burgers
Let's be honest, there's never a bad time to enjoy a burger, and when they are this quick and easy to make there's no excuse!
These air fryer hamburgers are so perfectly juicy with a nice crispy outside and they are big on flavor. Serve with your favorite toppings and the best French fries, or make fries in the Air Fryer too! Just add a slice of cheese to make cheeseburgers if you prefer!
Why you'll love this Air Fryer Cheeseburger recipe:
HEALTHIER: Because these burgers are cooked in the air fryer, they are healthier than pan frying them as you aren't adding as much additional oil.
SIMPLE INGREDIENTS: You only need a handful of ingredients to make these awesome homemade burgers.
QUICK: Ready to serve in 15 minutes and they can easily be made ahead of time.
For more burger inspiration, be sure to check out my Pimento Cheeseburgers and Cheeseburger Sliders.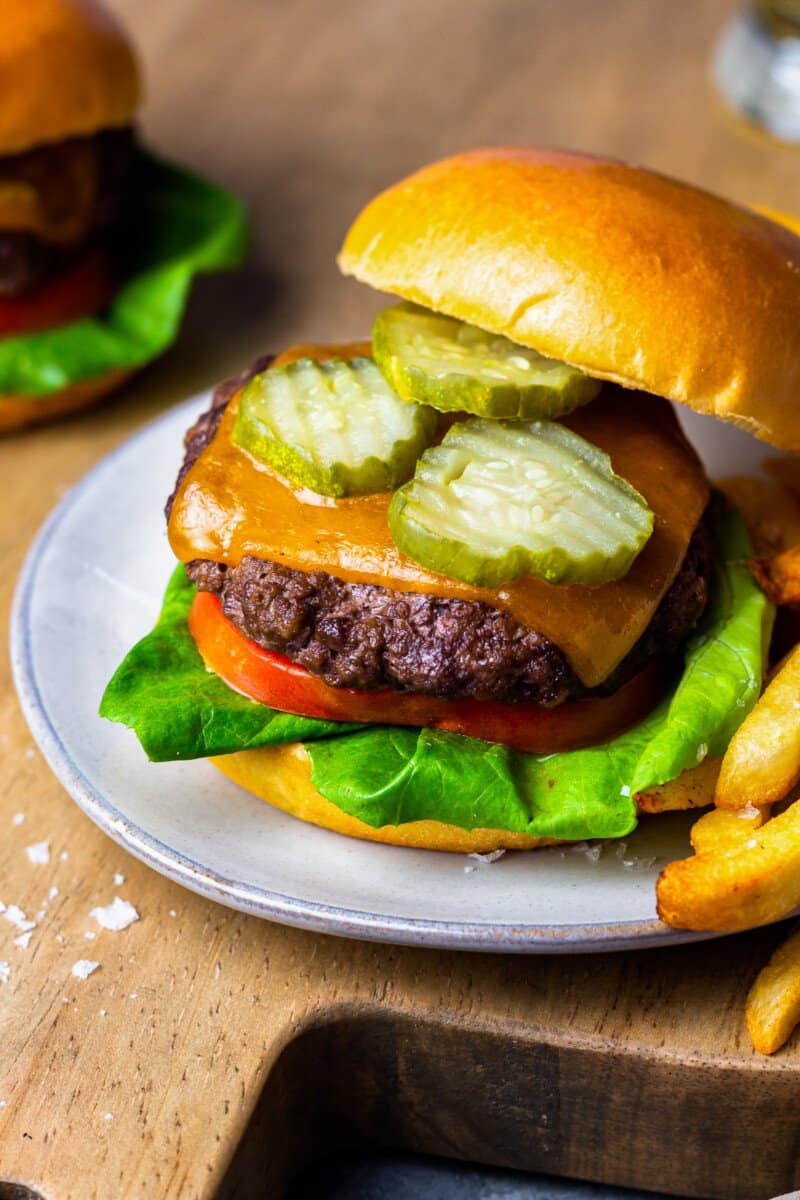 How to make Hamburgers in an Air Fryer
You can jump to the recipe card for full ingredients & instructions!
Combine the ingredients for the burgers.
Shape into four patties.
Place in the air fryer to cook.
Add cheese to the burgers and cook for an extra minute.
Serve on buns with your favorite toppings.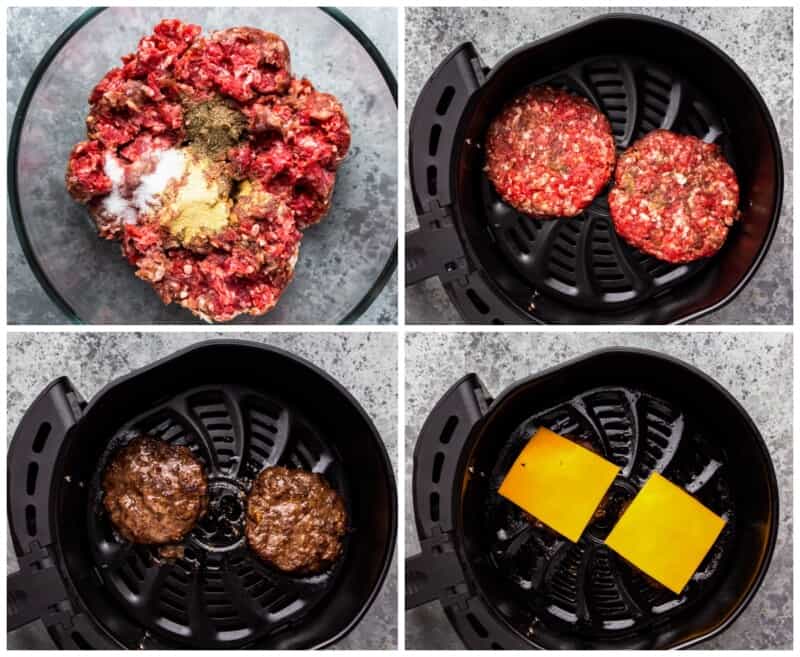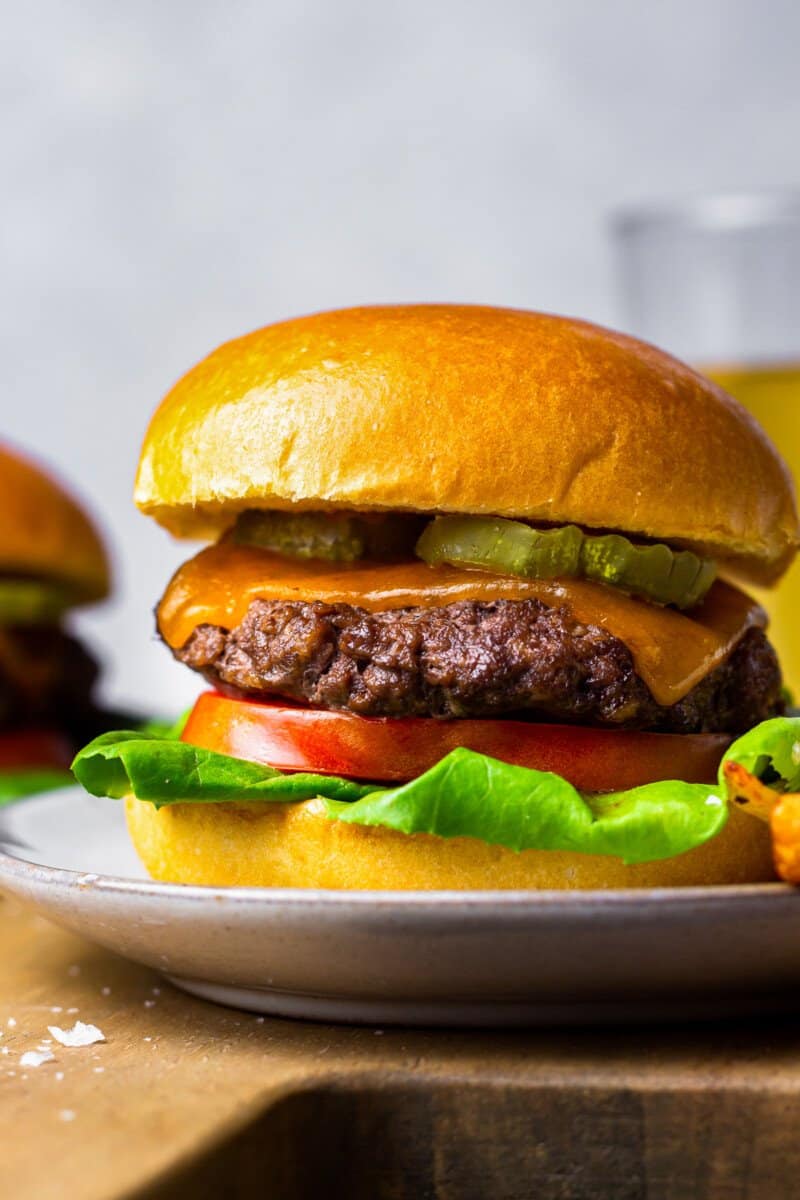 When do you add the cheese for cheeseburgers?
If you want to make air fryer cheeseburgers, add a slice of cheese at the very end. Just pop them back into the fryer for about 1 minute to melt the cheese.
What ground beef is best for burgers?
I always recommend 80/20 ground beef (80% lean/20% fat). This percentage creates deliciously juicy burgers!
What temp are these air fryer burgers cooked to?
This recipe should give you a nicely cooked medium burger. Feel free to check the internal temp to make sure it's cooked to your liking.
What are the best burger toppings?
I like to keep these simple, with crisp lettuce, a slice of tomato, and some pickles. But you can add anything you like, including red onions, mustard or ketchup, mayo, etc.
What do you serve them with?
I like to serve these air fryer hamburgers in a nice soft sesame seed bun with fresh toppings like lettuce, tomato, red onion and pickles. You can also keep them low carb by serving them in a lettuce wrap.
Serve these burgers with your favorite sides like…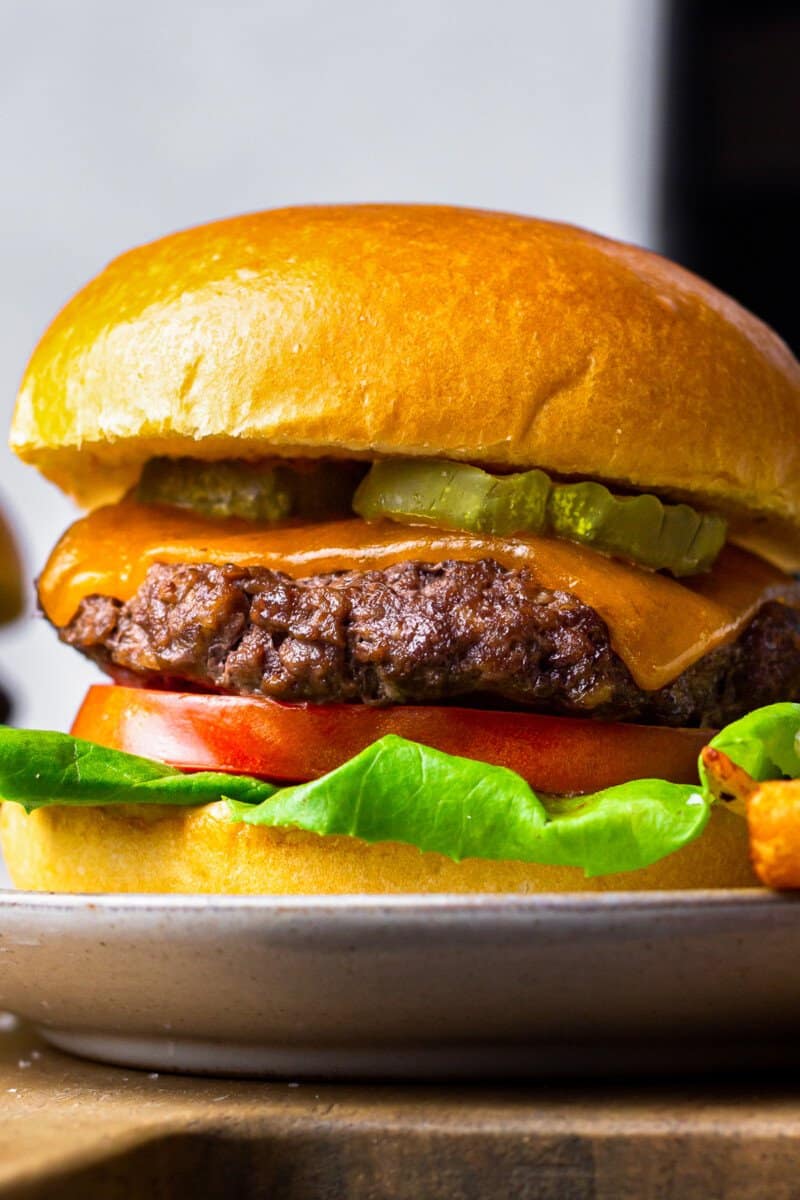 Tips!
Preheat your air fryer before adding the burgers so that they cook through evenly.
Don't overwork the burger mixture with your hands as this can cause them to become tough and chewy.
Let the burgers rest for a couple of minutes before serving so the juices redistribute.
Can you make air fried hamburgers ahead of time?
Yes! You can make the burger patties up to 3 days ahead of time and keep them stored, covered in the fridge. Air fried burgers will keep well for around 2 days and can be reheated in the air fryer at 400F for 3 to 4 minutes.
Can you freeze air fryer burgers?
You can freeze cooked or uncooked burger patties. Cooked burger patties will keep well for up to 4 months and uncooked will keep for up to 6. Separate the burgers with parchment paper and place in an airtight container.
Thaw frozen burgers at room temperature before reheating.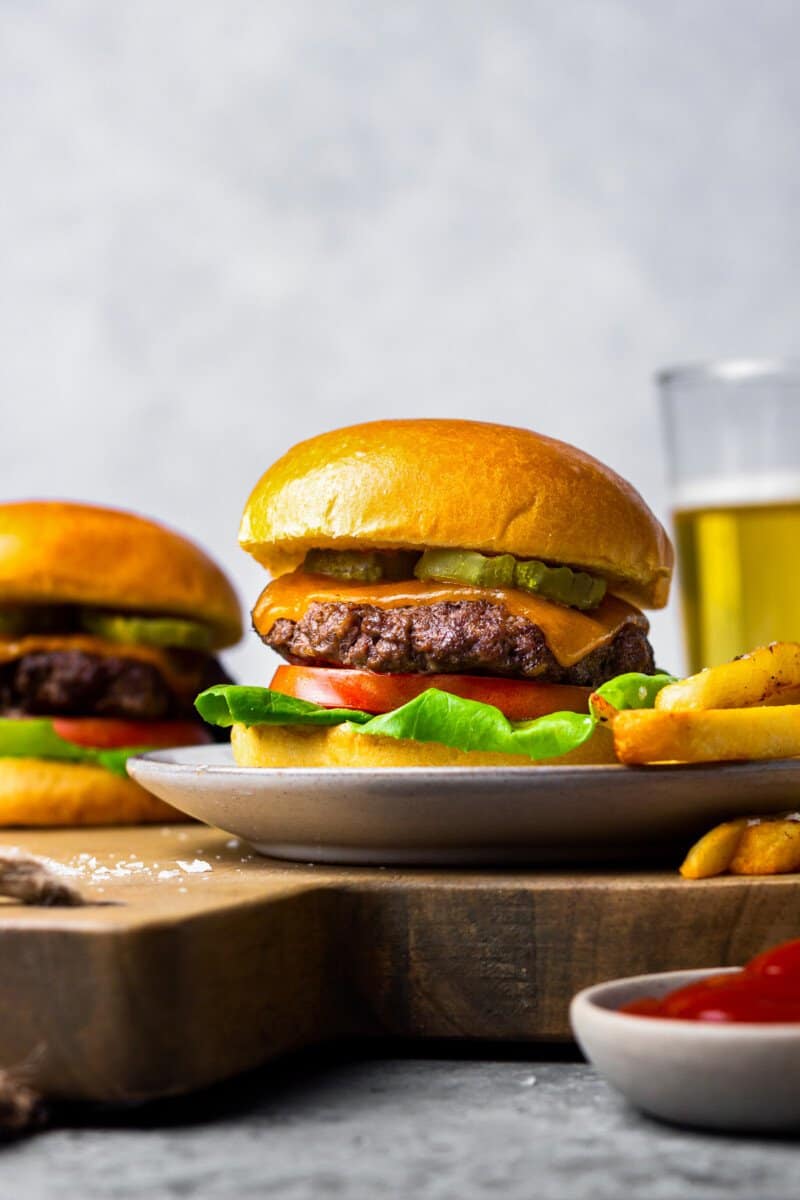 These air fryer hamburgers are truly delicious and you are guaranteed to get awesome results every single time. I can't wait for you to give this a go!
If you make this recipe be sure to upload a photo in the comment section below or leave a rating. Enjoy! You can also jump to recipe.