These spicy jalapeño popper deviled eggs make the best appetizer or side dish for parties and holidays. What could be better than deviled eggs with bacon, jalapeno, and cheese?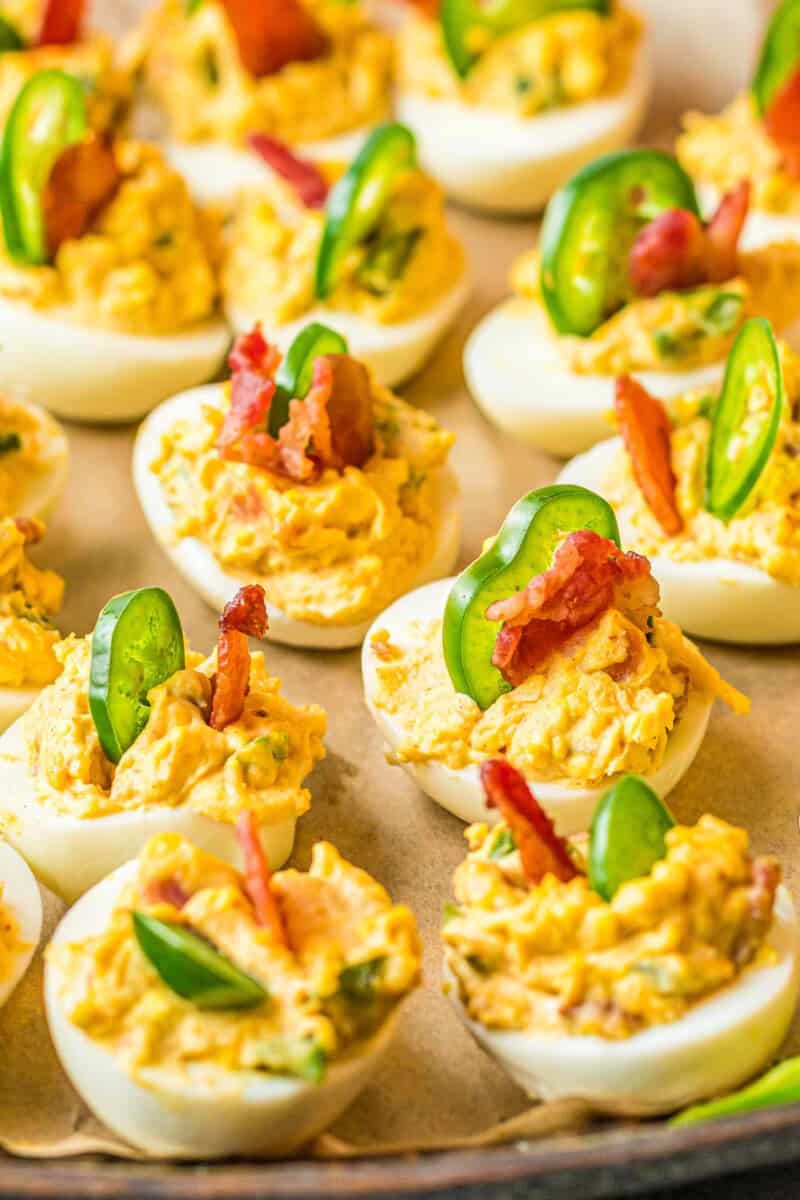 Jalapeno Popper Deviled Eggs Recipe
Deviled eggs are a classic dish that are always welcome at parties and on holidays. They're easy to make, delicious, and the perfect size for an appetizer.
Inspired by jalapeno poppers, this spicy deviled eggs recipe is filled with cheese, jalapeno, and bacon. Yum! Just as easy to make as the classic version, but the added flavor will impress all your guests.
Make these eggs for Easter, Christmas, or any party. This is a great recipe to bring to pot lucks since you can prep it ahead of time.
Why you'll love this Spicy Deviled Egg recipe:
SPICY: Add a little spice to a classic recipe by adding jalapenos.
MAKE AHEAD: You can partially prepare this recipe ahead of time so that it's easy to make before serving.
EASY APPETIZER: These jalapeno deviled eggs are easy to make as an app for any occasion.
If you love jalapeno, be sure to try this Jalapeno Popper Pasta Salad and these Kielbasa Jalapeno Popper Bites.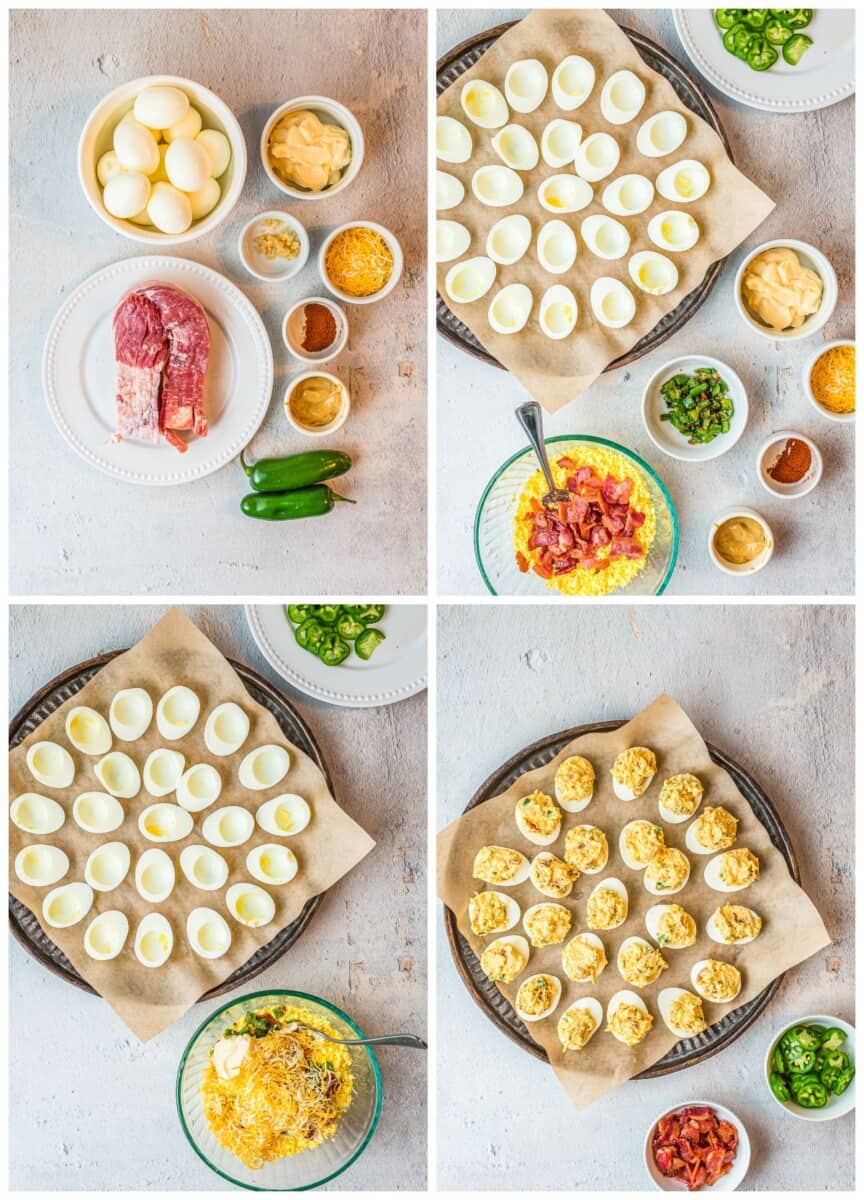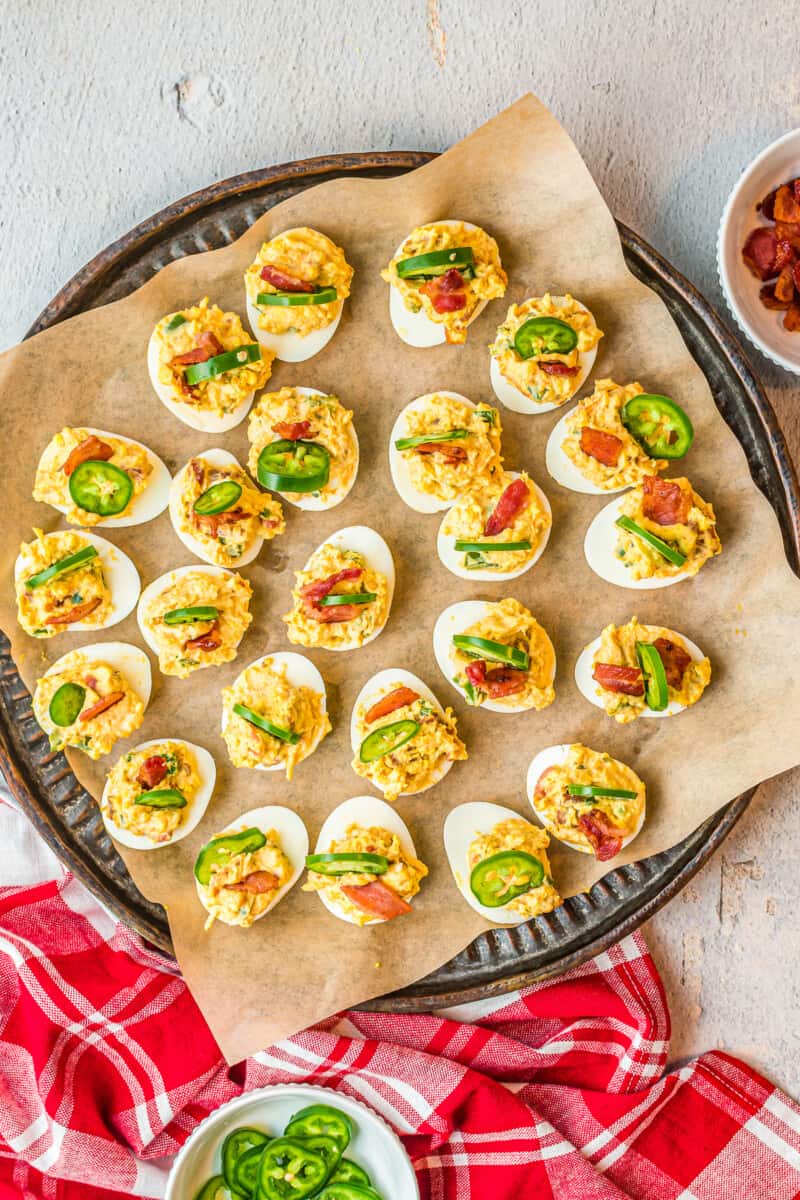 How to make Jalapeno Popper Deviled Eggs
You can jump to the recipe card for full ingredients & instructions!
Hard-boil the eggs and peel them.
Cut the eggs in half, scoop out the yolk, and add them into a bowl.
Add jalapeno, garlic, mayo, mustard, paprika, and cheese into the bowl of egg yolks, and mix to fully combine.
Scoop the yolk mixture into each egg white, and top with jalapenos and bacon.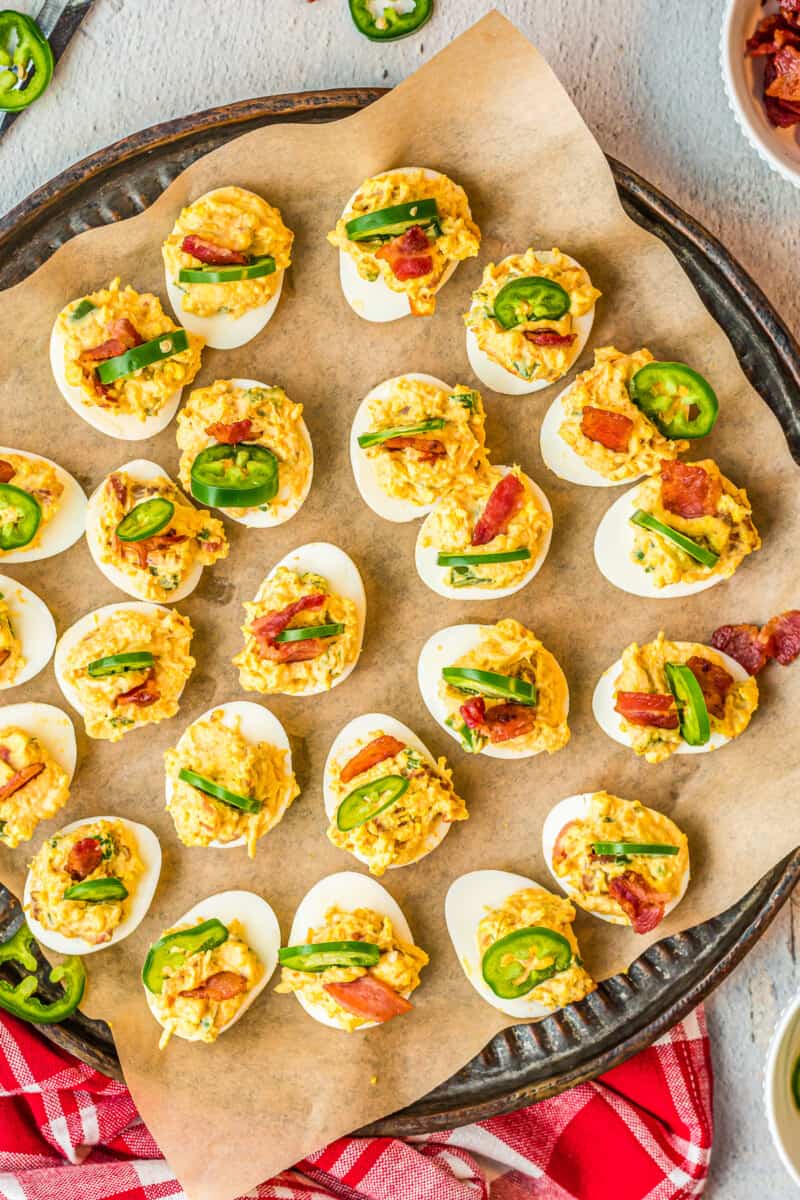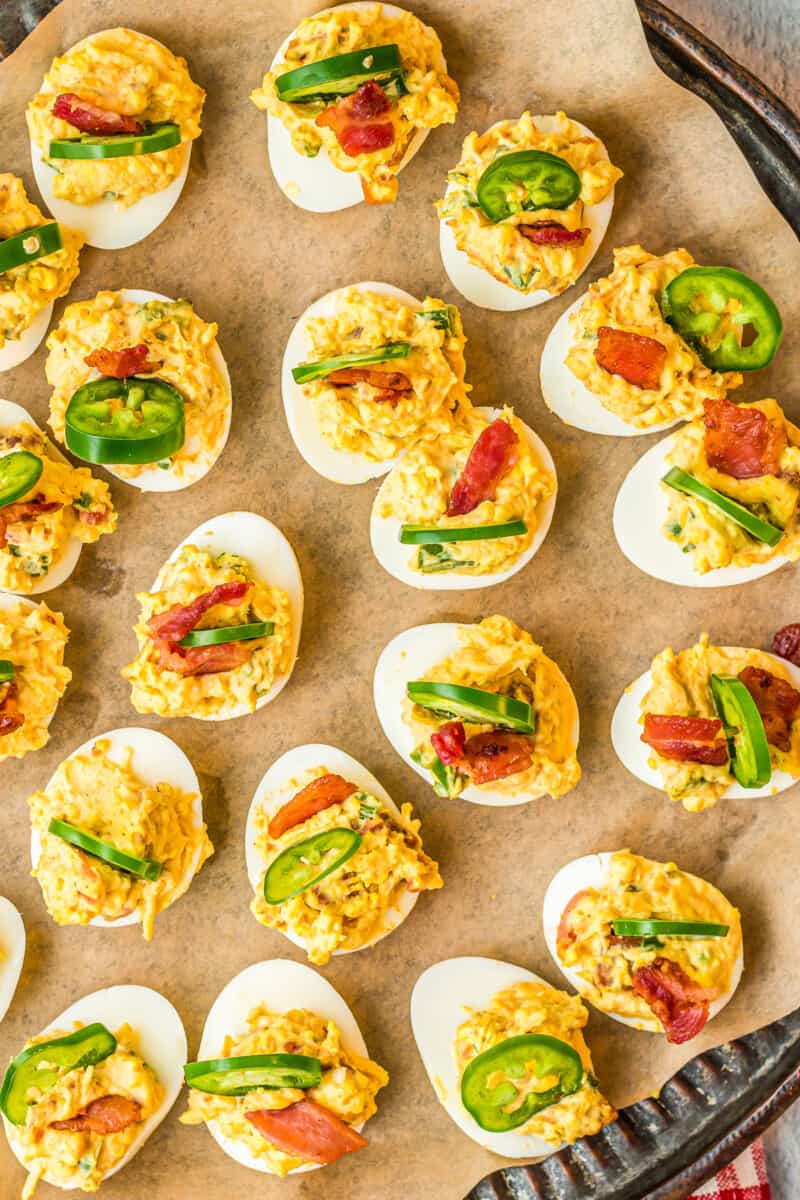 How do you peel hard-boiled eggs?
Here's the easiest way I've found to peel them:
Keep the eggs in the cold water you used to cool them. Crack the ends of the eggs, and while still under water, roll the egg with the palm of your hand so that it continues to crack.
The water slips under the egg shell, helping it to release easily so that the shell comes off in larger pieces. Peel under water and rinse.
Can you make deviled eggs ahead of time?
Yes! You can either make these fully ahead of time, or partially prepare them so that it's easy to finish the day of serving.
I recommend boiling and peeling the eggs ahead of time. Store boiled eggs in the fridge, then you can finish them and serve within 48 hours.
Another option is to boil, peel, halve the eggs, and make the yolk mixture. Store the egg whites and yolk mixture separately, in the fridge. Then assemble the deviled eggs when you're ready to serve.
How do you store these spicy deviled eggs?
As mentioned above, there are a lot of options for making these ahead of time. You can pretty much store them at any stage in an airtight container or covered in plastic wrap.
Once they're fully assembled, you can save leftovers up to 2 days.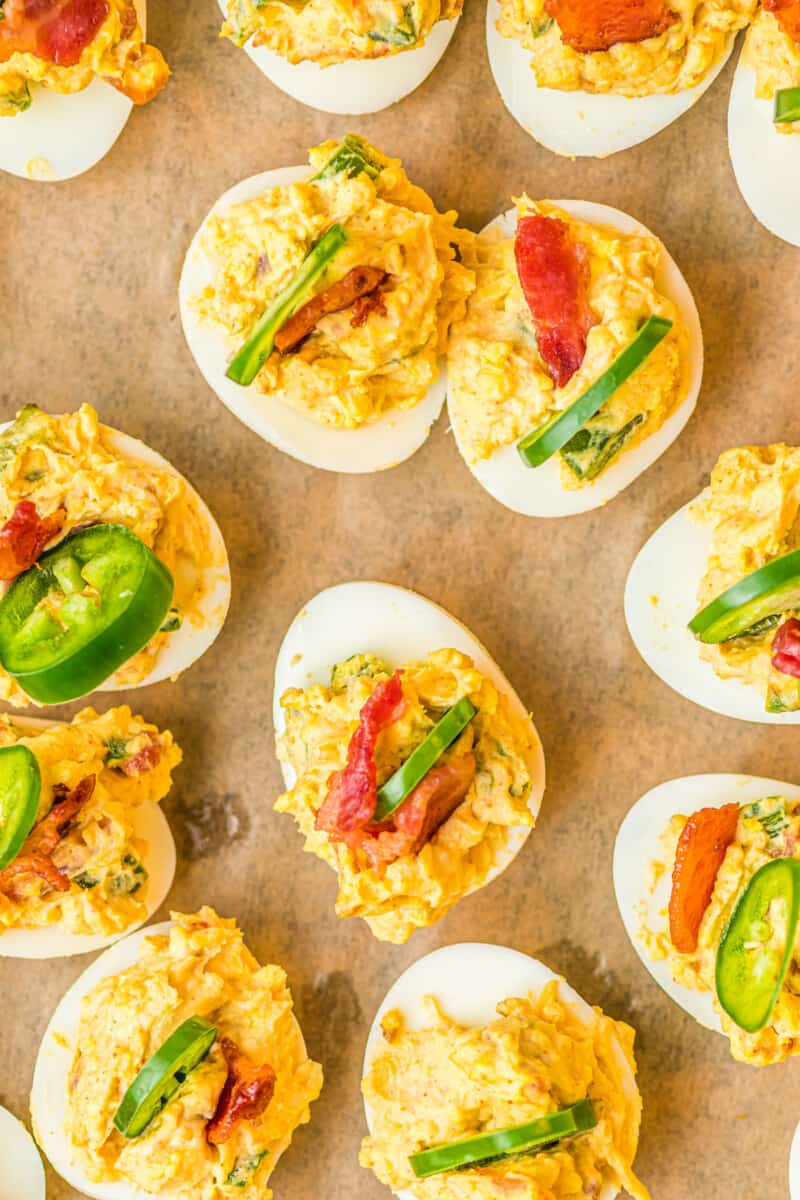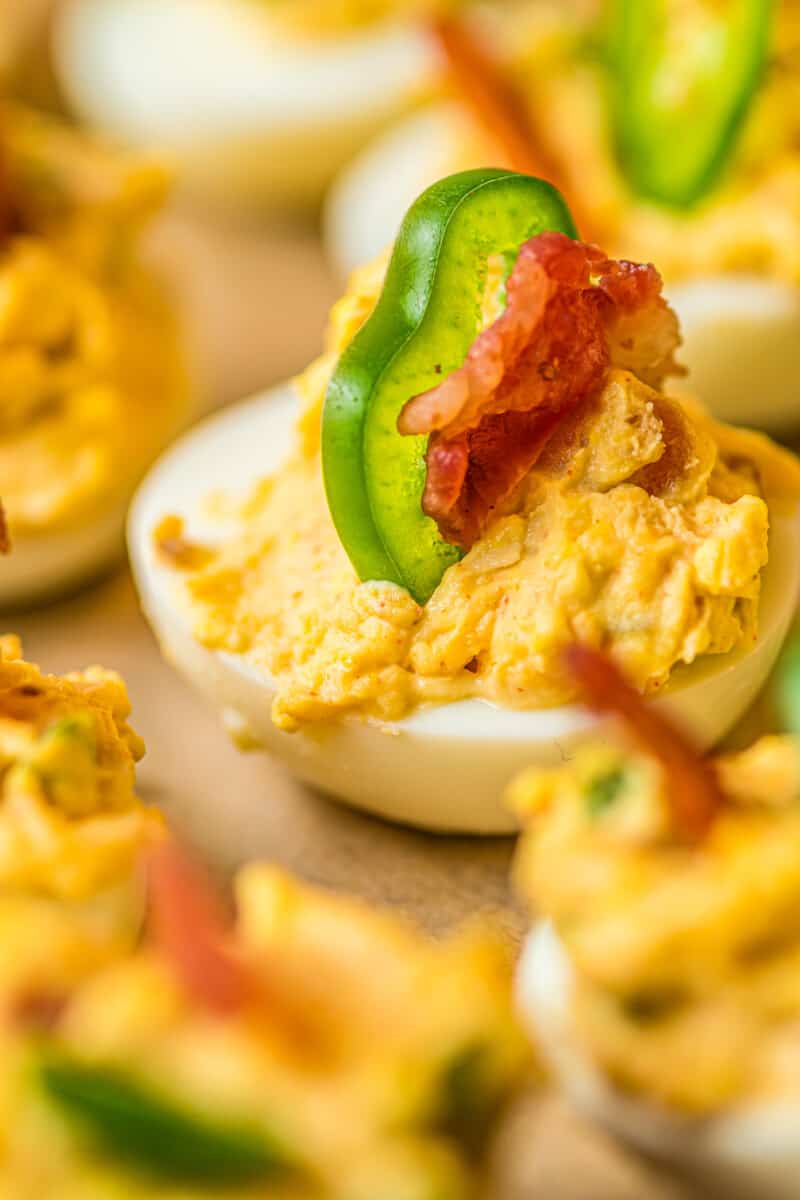 Tips!
If these sound a little too spicy for you, skip the jalapeno in the yolk mixture. You can then just top them off with some jalapeno slices to still get a kick of heat.
Hard-boil the eggs the night before making these to cut down on prep time.
Check the recipe card for the best method to hard-boil eggs.
These are any easy appetizer for Easter, Christmas, or any holiday or party that needs some delicious finger foods.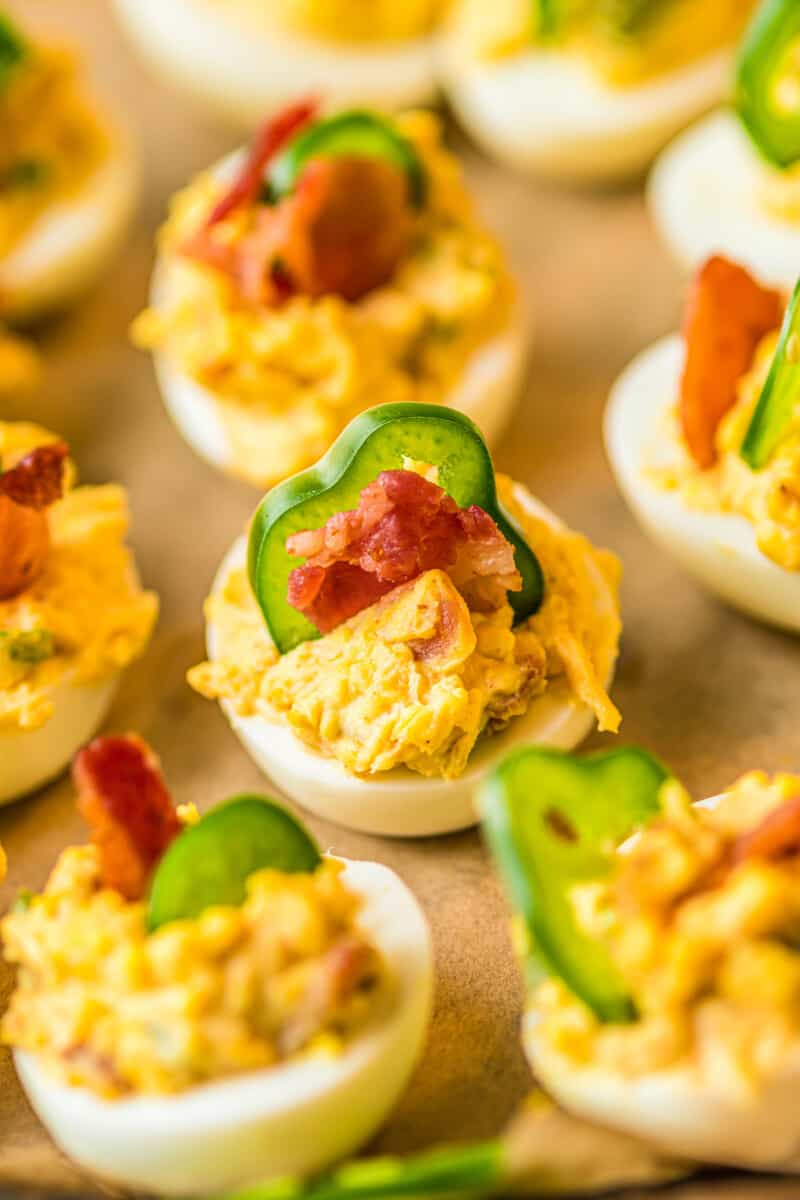 Everyone's going to love these spicy deviled eggs! They have the perfect amount of heat and they look beautiful on any party platter or holiday table.
If you make this recipe be sure to upload a photo in the comment section below or leave a rating. Enjoy! You can also jump to recipe.