This breakfast tacos recipe is perfect for a crowd. Baked Steak Tacos with eggs, cheese, pico de gallo and more are just so delicious! Turn a steak and eggs breakfast into easy to make and eat tacos that everyone will love!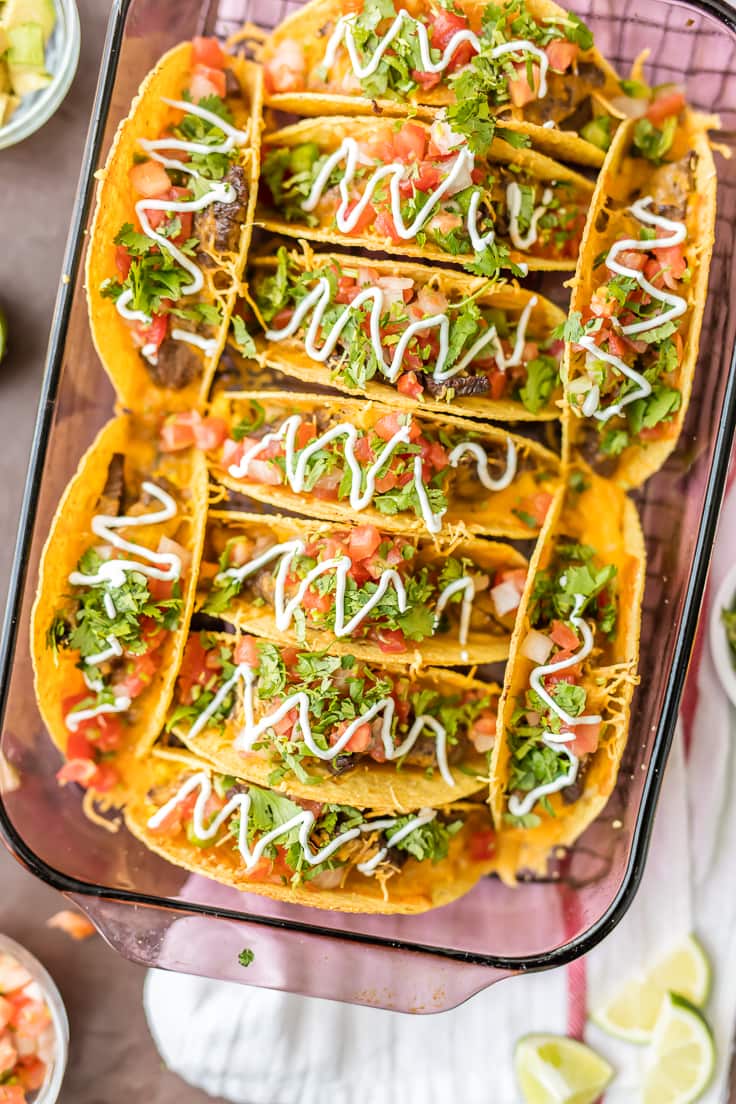 Breakfast Tacos
Breakfast tacos are the perfect breakfast for a crowd. These baked tacos are filled with steak and eggs, and they're just so tasty!
When I posted my Baked Chicken Tacos recipe,they quickly became one of the most popular recipes on the site. After that I realized that people a) LOVE TACOS, b) want easy ways to make them in bulk, and c) LOVE TACOS. Wait, did I already say that?
Well lucky for us all, I happen to love tacos too (who doesn't?). And I want them to be easy, fool proof, and quick for a crowd! Since I also have a thing for good breakfast food, I thought I'd whip up an easy breakfast tacos recipe, and here we are!
These Oven Baked Steak Tacos with Eggs are SO DELICIOUS, so simple, and so full of flavor. They're baked to cheesy melty perfection in the oven! You are gonna LOVE THESE!
Make a delicious steak and eggs breakfast in taco form! These breakfast tacos are going to be a huge hit!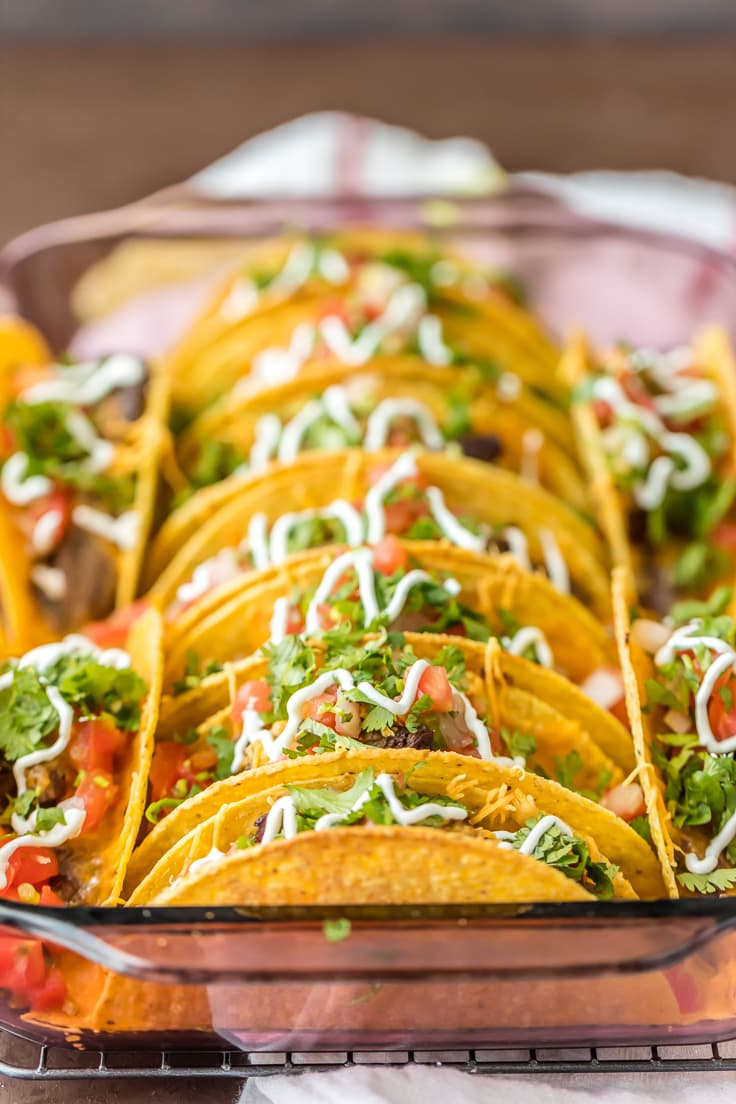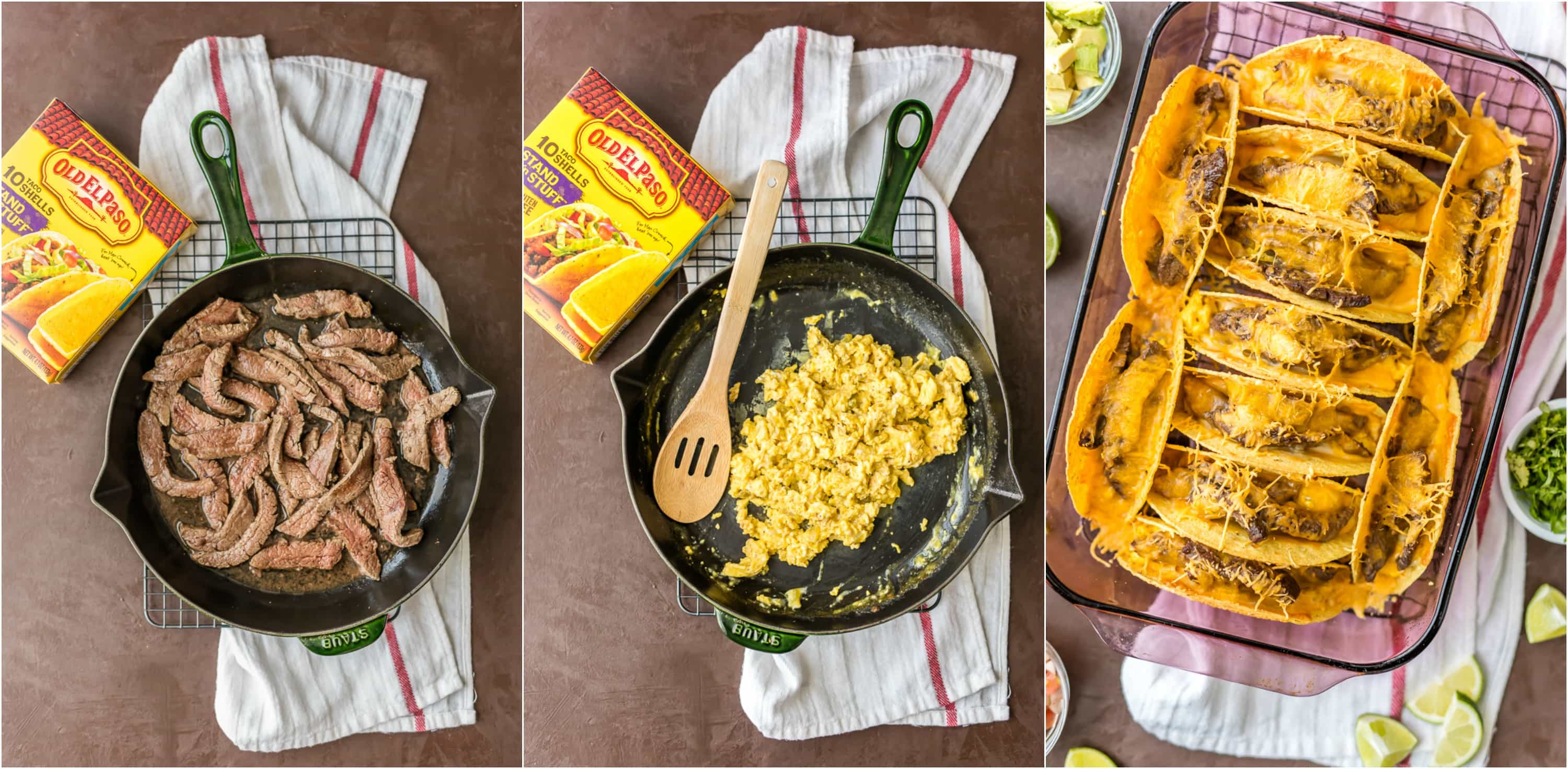 Steak and Eggs Tacos
I had the idea for these Baked Steak and Eggs Breakfast Tacos while down in Jacksonville for St. Patrick's Day. At brunch with friends, I saw Steak and Egg Nachos on the menu.
Of course I ordered it, but…it was pretty disappointing to be honest. Something about picking up the bits of scrambled egg with a chip, the lack of cheese (THEY MUST HAVE CHEESE), and just the overall set up wasn't quite right.
I loved the classic steak and eggs flavor combo (along with the other tex mex flavors), but I wanted to switch up the presentation. By baking everything together in a taco shell, you can pack in the cheese, scrambled eggs, steak, pico de gallo, cilantro, sour cream, and it comes out just right!
This is my favorite breakfast tacos recipe because you get that breakfasty feeling with the eggs, but it still tastes like a truly great Tex Mex taco!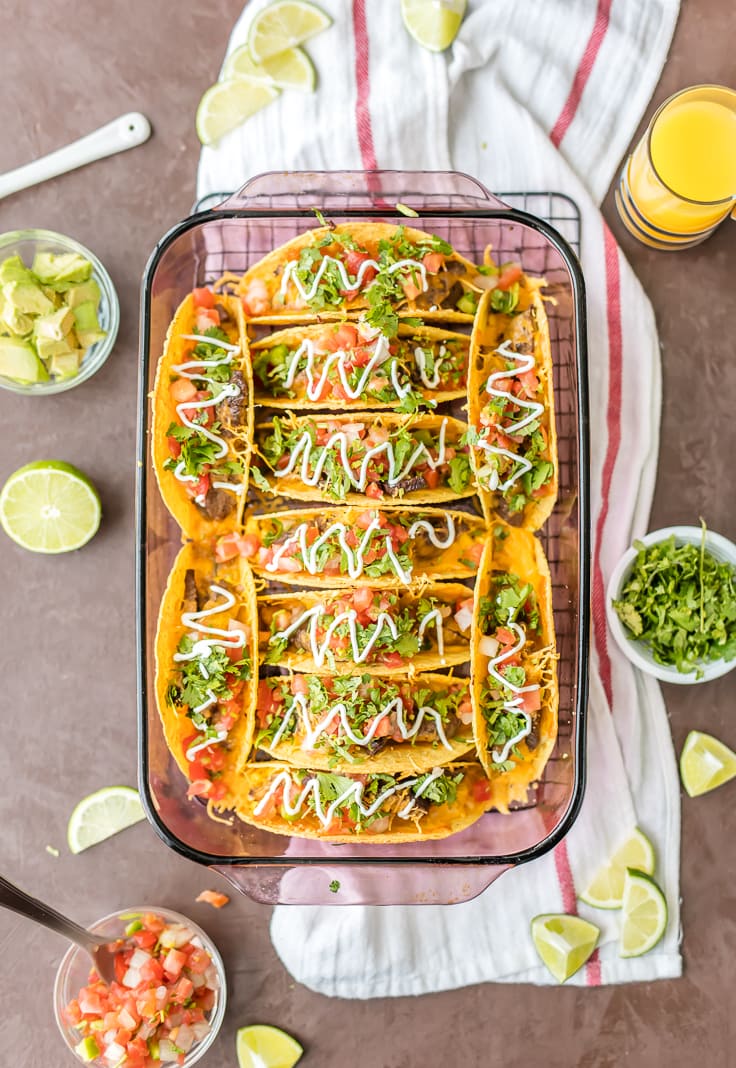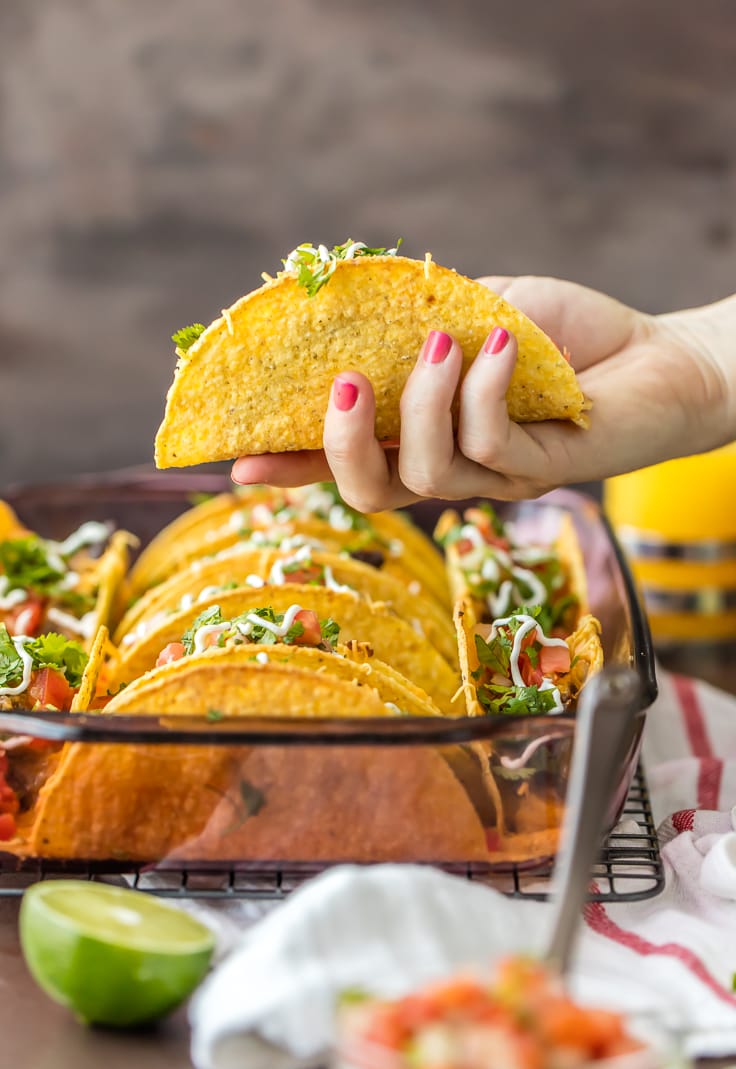 How to Make Breakfast Tacos
This recipe for breakfast tacos for a crowd is truly the best! Baking the tacos together in a baking dish makes it really easy to make a lot of tacos, for a lot of people, without hassle.
Cook Ingredients: Start by cooking the steak on the stove, then cook the eggs with green chiles. This preps the ingredients for baking.
Assemble Tacos: Place taco shells in a baking dish, then fill with cheese, eggs, steak, and a little more cheese.
Bake Tacos: Bake the steak and egg tacos for 12-14 minutes at 400°F. Cheese will melt and the shells should look a little toasty.
Top and Serve: Once they're done baking, top each taco with pico de gallo, sour cream, and cilantro. You can switch out the toppings for avocado, tomatoes, or whatever you prefer.
Be sure to read the recipe card for the full, detailed instructions.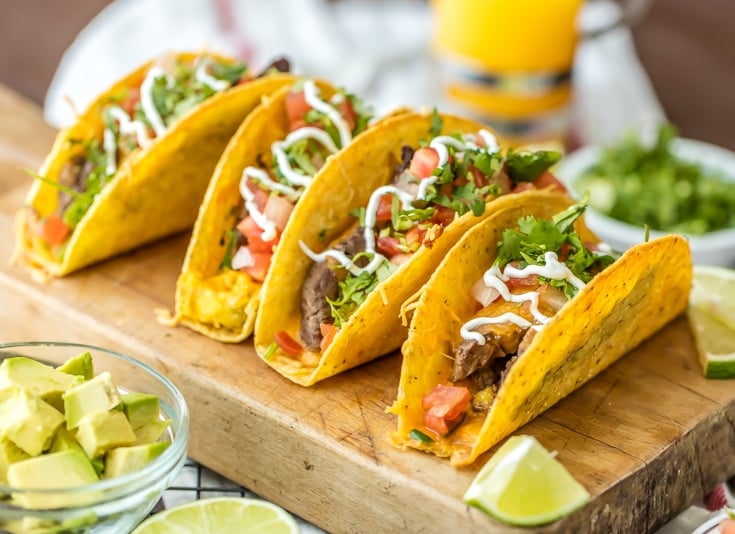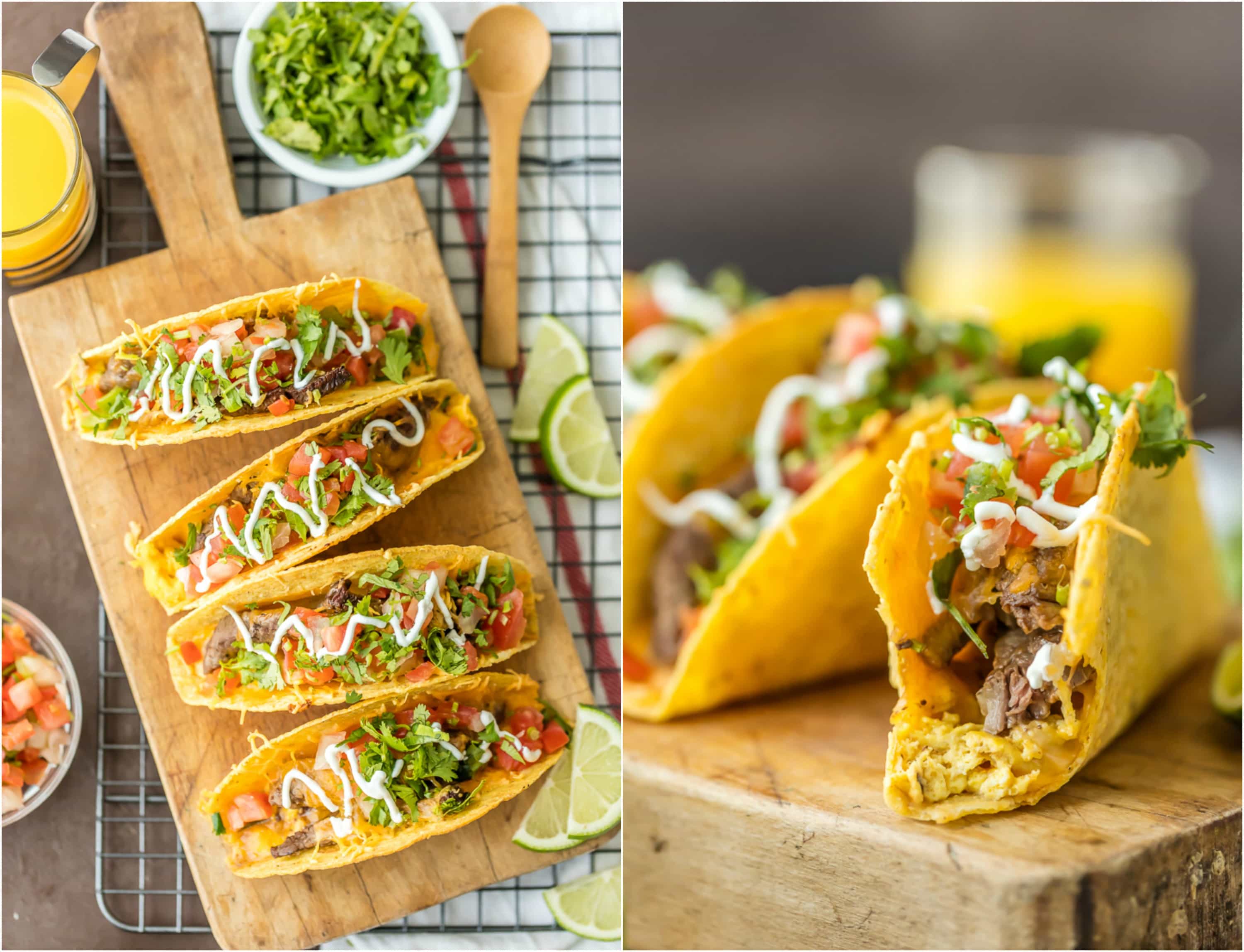 Breakfast Tacos Recipe – Variations
If steak and eggs isn't your thing, you can follow the basic recipe but switch up the ingredients.
Use chicken or pork instead of steak.
Skip the meat and make them vegetarian tacos.
Add different toppings, like avocado, cotija cheese, taco sauce, or salsa.
If you want to up the breakfast flavor, try mixing in some potatoes (steak, eggs, and potatoes sounds so good!).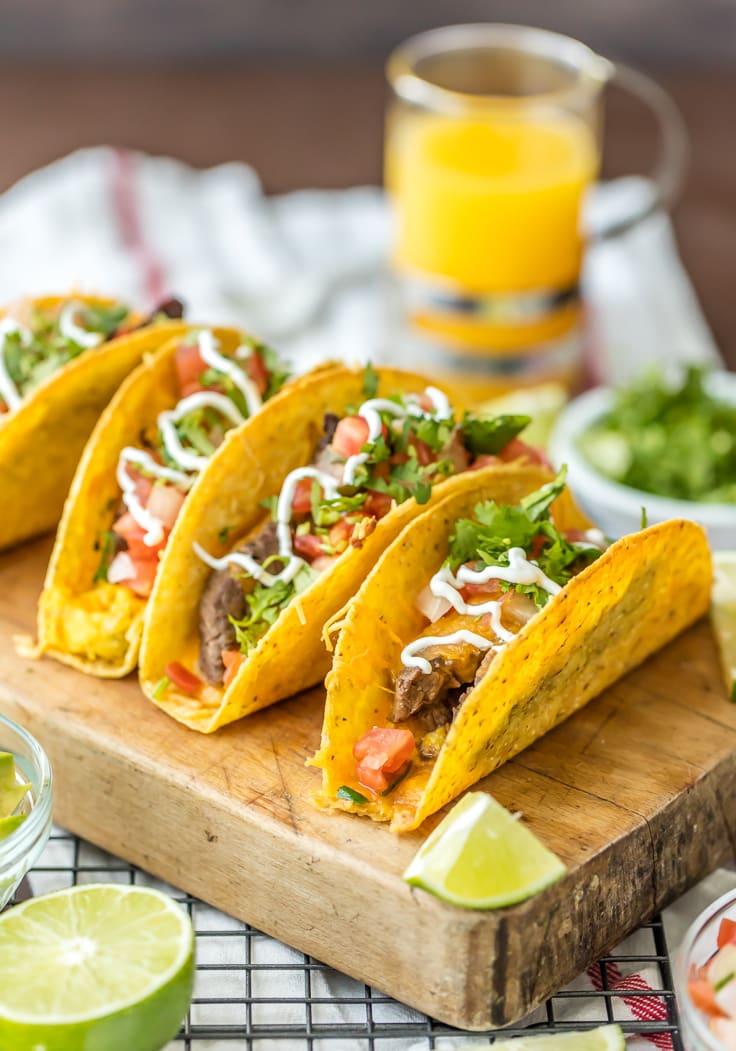 I hope you love these Baked Steak and Eggs Breakfast Tacos as much as we do. Perfect for a crowd, or also great heated up for all day eating! Easy recipes for the win!
See the recipe card for details on how to make this Breakfast Tacos recipe. Enjoy!
Be sure to try these other breakfast recipes:
And if you want more tacos, check our Taco Tuesday Guide!