Baked Steak and Eggs Breakfast Tacos are perfect for a crowd! Baked Tacos are a super easy breakfast recipe, melty, cheesy, and delicious!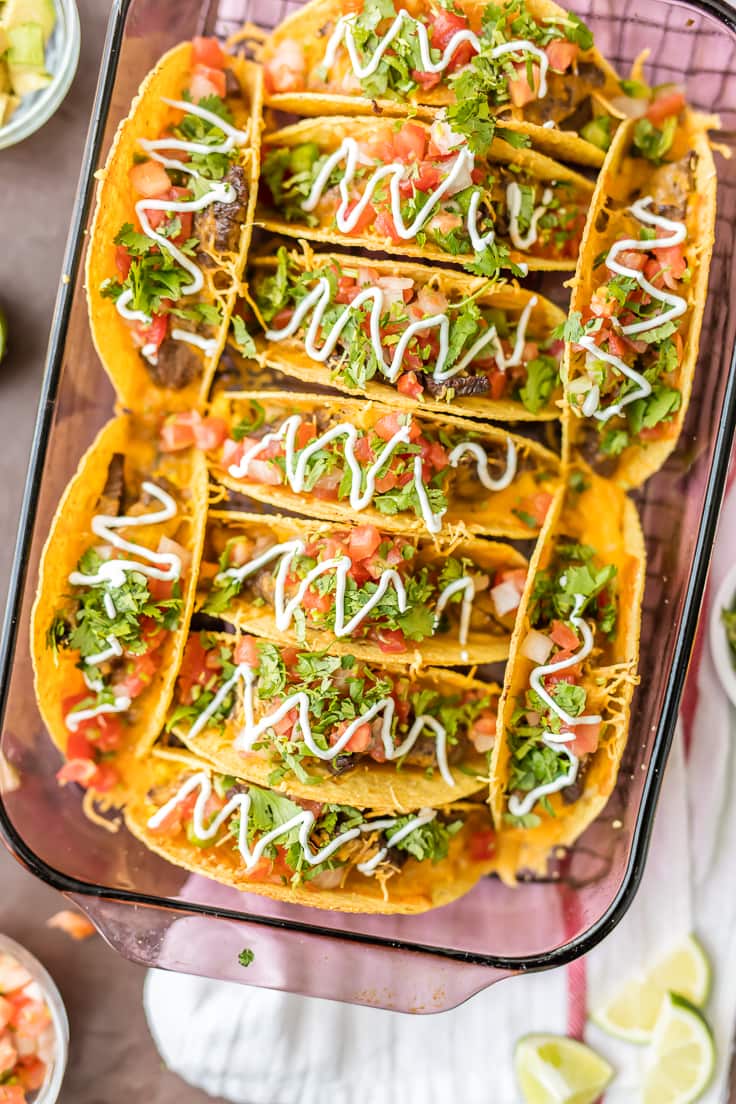 At the end of December, I posted Easy Oven Baked Spicy Chicken Tacos and they quickly became one of the most popular recipes on the site. To be honest, most recipes don't take off. With over 700 recipes on the site, you guys have your favorite top 20 or so that get most of the love. Well the Chicken Tacos got a lot of love really fast, and I realized that people a) LOVE TACOS, b) want easy ways to make them in bulk, and c) LOVE TACOS. Wait, did I already say that?
Well lucky for us all, I happen to love tacos too. And I want them to be easy, fool proof, and quick for a crowd!! Since I also have a thing for good breakfast food, I thought I'd whip up a breakfast taco version!
These Oven Baked Steak and Eggs Breakfast Tacos are SO DELICIOUS, simple, and full of flavor.
Oh and they're baked to cheesy melty perfection in the oven! You are gonna LOVE THESE!!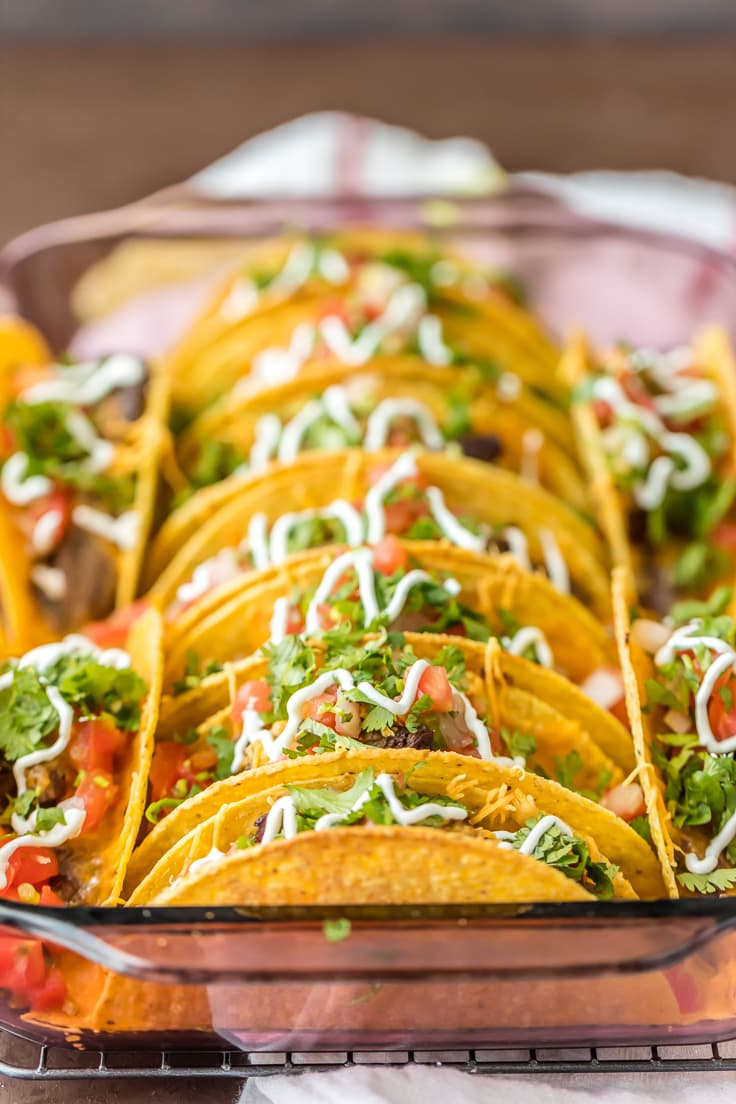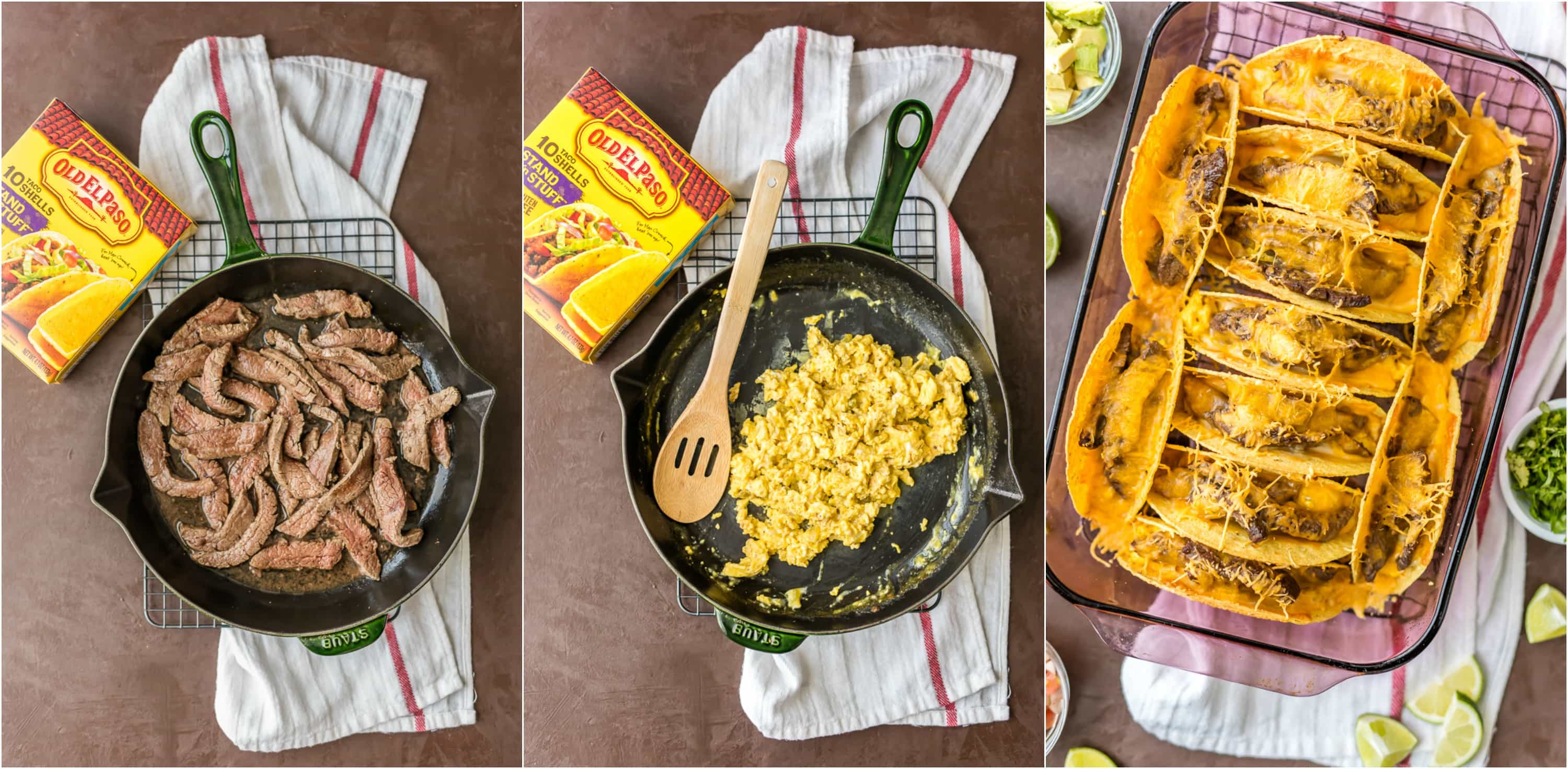 I just signed on to work with Old El Paso for another year and I could not be more excited. Their products make creating easy recipes so easy. I know that's repetitive but it's also SO TRUE! Their spices, green chiles, stand and stuff shells, all some of my favorites. The possibilities are endless. The perfect way to add flavor and variety into your favorite dishes!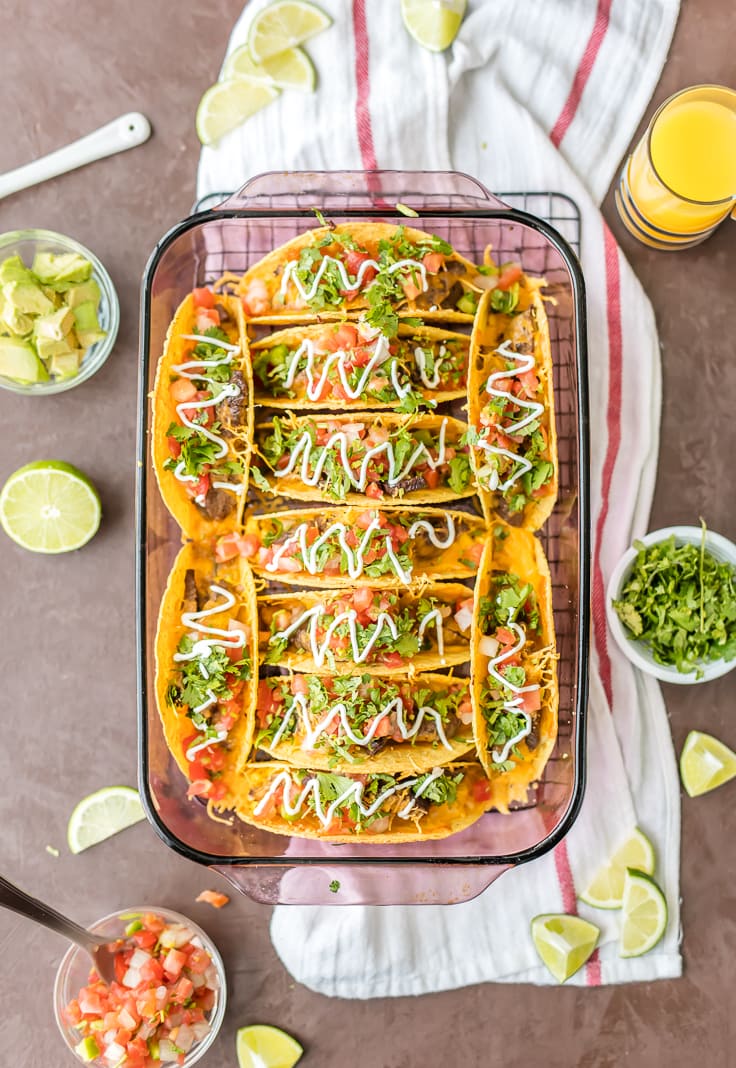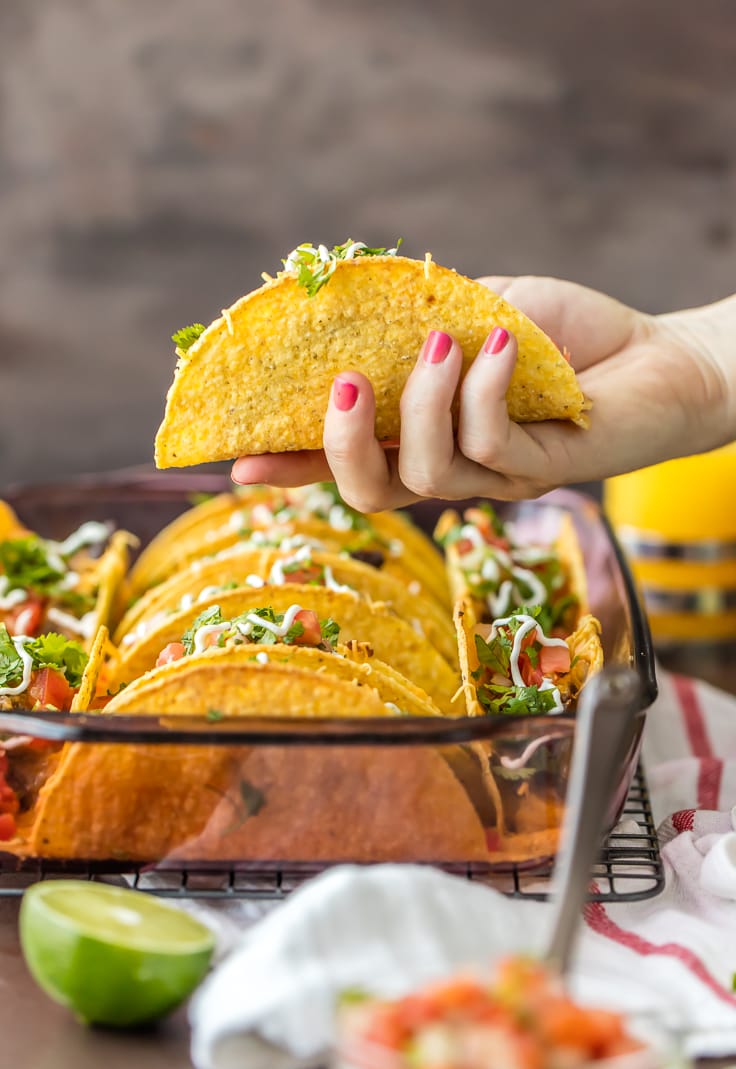 I had the idea for these Baked Steak and Eggs Breakfast Tacos while down in Jacksonville for St. Patrick's Day. At brunch with friends, I saw Steak and Egg Nachos on the menu. Of course I ordered it. And…was pretty disappointed. Something about picking up the bits of scrambled egg with a chip, the lack of cheese (THEY MUST HAVE CHEESE), and just the overall set up wasn't quite right.
I loved the flavor combo, but needed to switch up the presentation. By baking everything in a taco shell, you can pack in the cheese, eggs, steak, pico, cilantro, sour cream…ALL THE FIXINS. So right. So delicious.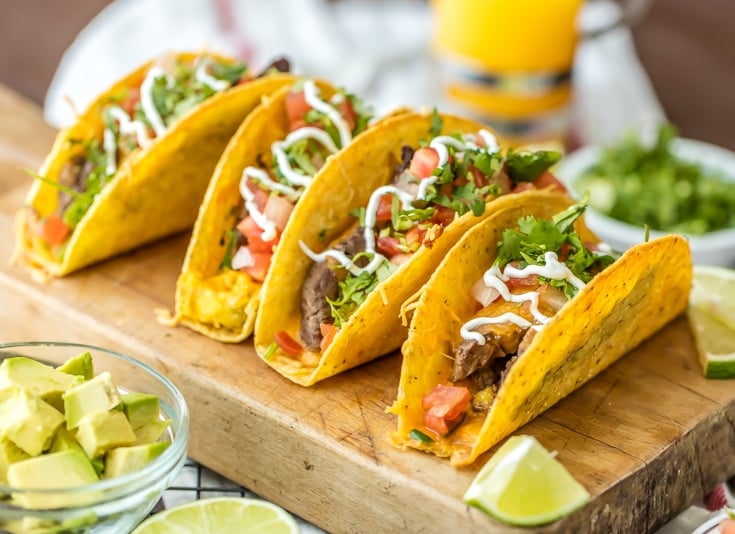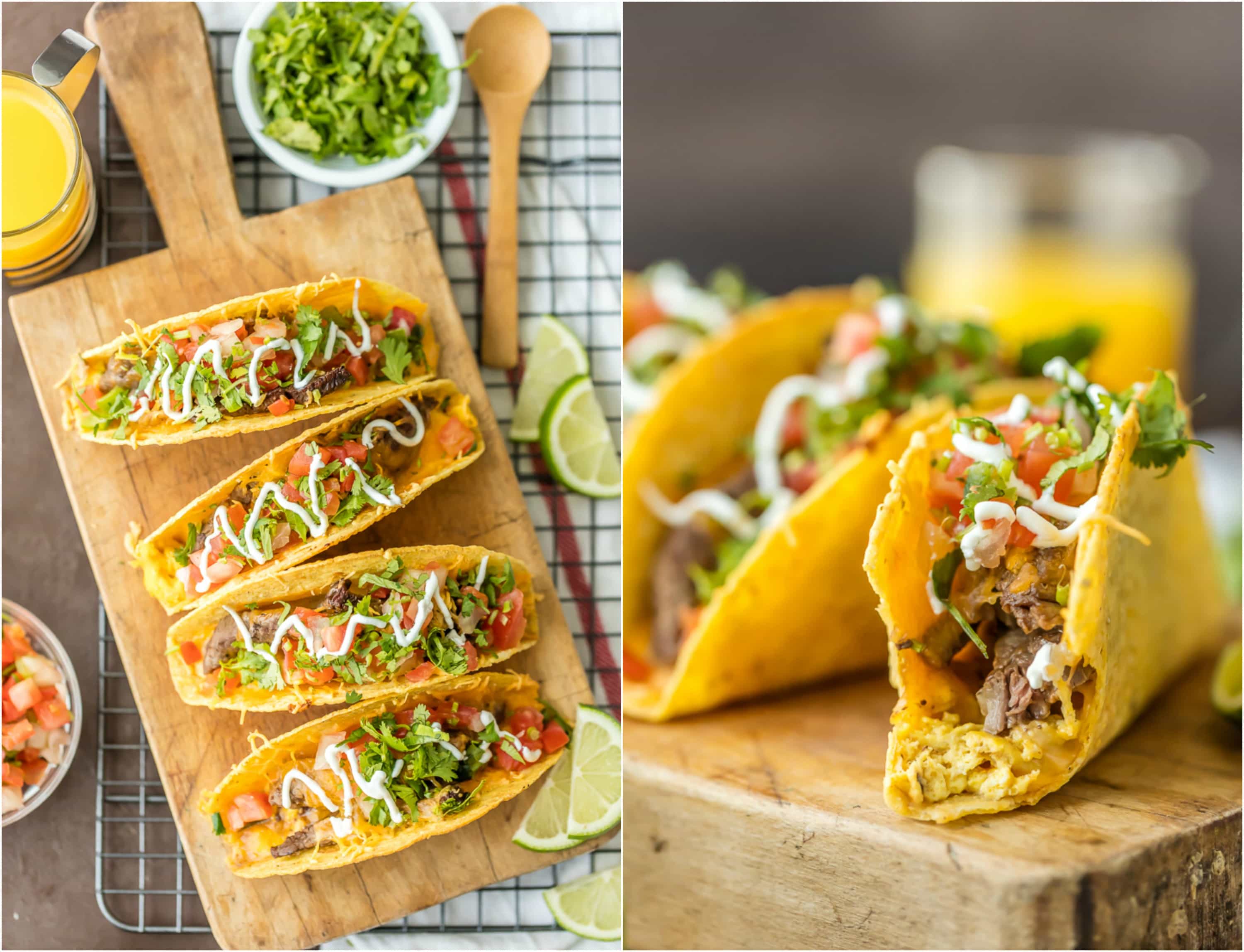 I hope you love these Baked Steak and Eggs Breakfast Tacos as much as we do. Perfect for a crowd, or also great heated up for all day eating! Easy recipes for the win.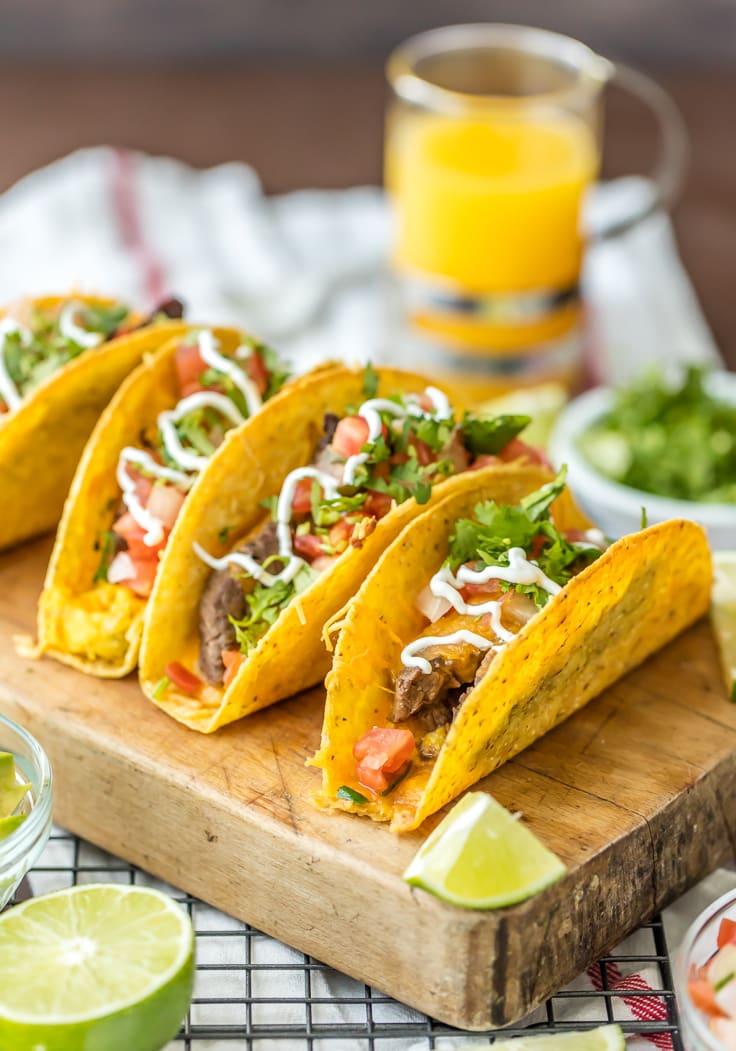 Get more ideas for Taco Night with our Taco Tuesday Guide! Find more tips, ideas, and taco recipes.
Enjoy!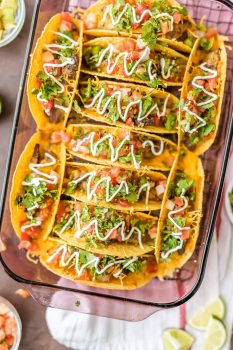 Oven Baked Steak and Eggs Breakfast Tacos
Ingredients
1

pound

Skirt Steak

thinly sliced (about 1/4 inch thick)

1

tablespoon

olive oil

salt and pepper to taste

2

teaspoons

minced garlic

8

Eggs

lightly whisked.

2

tablespoons

Butter

1/2

can

2 ounces Old El Paso Green Chiles

11

Old El Paso Stand and Stuff Taco Shells

11

slices

pepper jack cheese

or your favorite flavor

1

cup

cheddar cheese

shredded

1

cup

fresh pico de gallo

1

cup

cilantro

chopped

sour cream for garnish
Instructions
Preheat oven to 400F. Spray a 9x13 inch baking dish with nonstick spray and set aside.

Preheat a skillet over medium/high heat. Add olive oil and garlic and saute for about 2 minutes.

Season the steak with salt and pepper to taste and add to the skillet. Grill until medium, about 3 minutes. Be sure to flip the steak to grill both sides. Remove from the pan and set aside.

Drain the pan of oil and return to the heat. Add the butter.

Add the eggs and green chiles to the skillet and stir to combine. Use a spatula to scramble the eggs while the cook. Once soft curds form, remove from the heat. Sprinkle with salt and pepper to taste.

To assemble the tacos, fill the prepared baking dish with the stand and stuff tacos. My 9x13 inch dish fit 11 taco shells.

Place a slice of cheese into the bottom of each shell (folding to have the cheese come up the sides). This will help the shells not to get soggy while baking.

Top each slice of cheese with some egg and then 2-3 slices of steak.

Top each taco with a bit of the shredded cheese

Bake for 12-14 minutes or until all the cheese is melted and the shells are toasted.

Remove from the oven and garnish with pico, cilantro, and sour cream.

Enjoy!
This post has been sponsored by Old El Paso. All opinions are 100% mine. Thank you SO much for supporting the brands that help support The Cookie Rookie!