One Pan Apple Butter Pork Chop Skillet…the perfect ONE PAN recipe for Fall and Winter! And bonus…only ONE SKILLET to clean!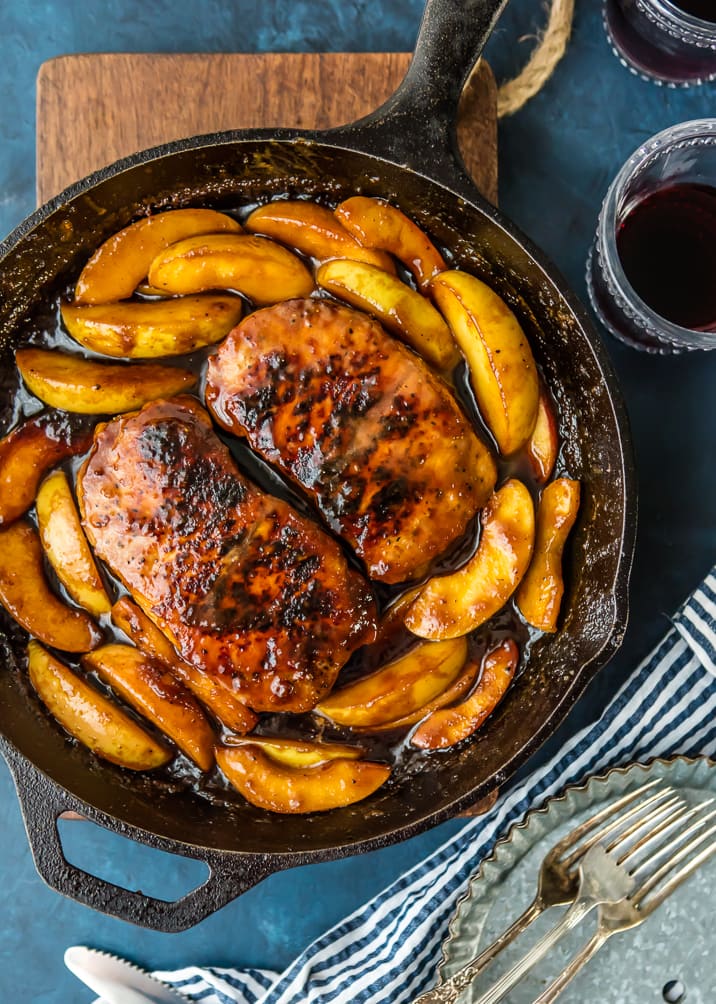 This APPLE BUTTER PORK CHOP SKILLET was originally posted in November 2016, and continues to be a favorite! Enjoy!
Two One Pan Skillet Meals in less than a week (Click HERE to see the other one!)?? That's just how I roll. Easy breezy beautiful. Wait, that's a different motto. Mine is "Easy recipes are the best recipes!" It doesn't have the same ring, but it's SO true. Less time slaving away, less cleanup, more time to enjoy with family. So pull up a seat because today's recipe is a serious winner. ONE PAN APPLE BUTTER PORK CHOP SKILLET! Heaven.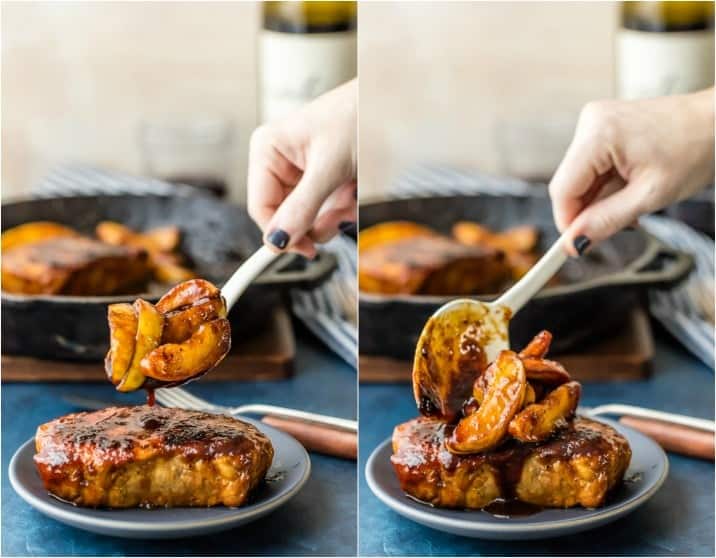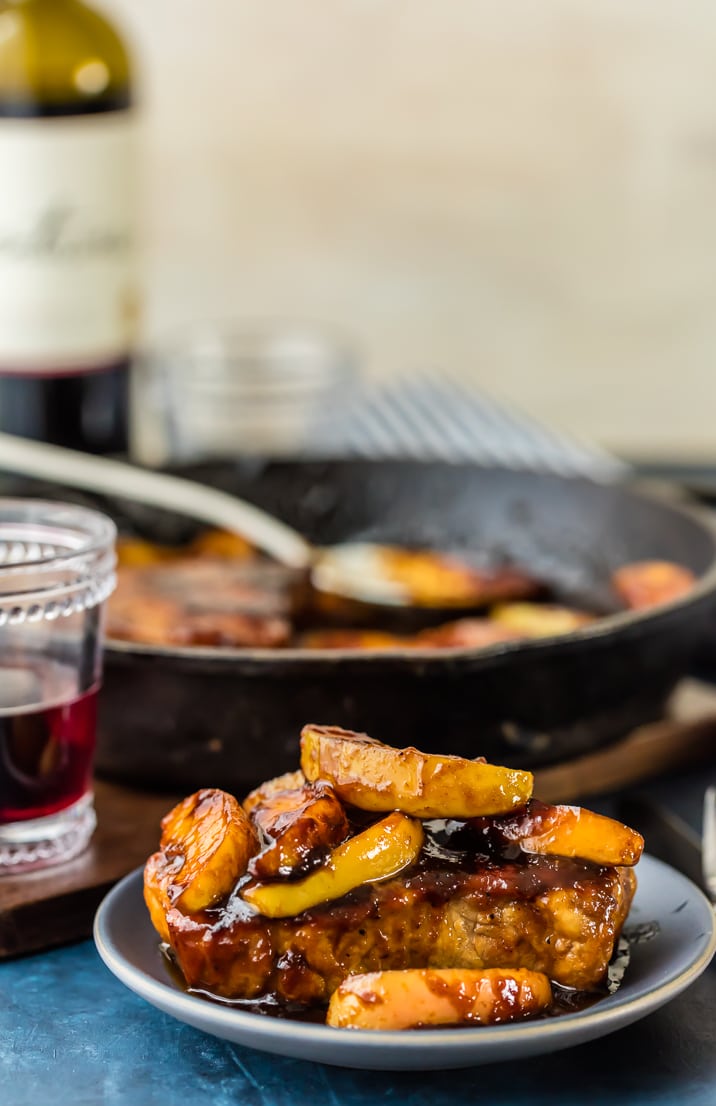 I had a reader recently ask me on Twitter how she could use an extra jar of Apple Butter. My first inkling was to respond "um…eat it with a spoon like I do!" but I realize not everyone is quite as addicted to Apple Butter as me. So I started brainstorming and googling. I saw a beautiful recipe from Ali at Gimme Some Oven (my fave!) for Apple Cinnamon Pork Chops and it got my mind working. What if I made some swaps and used tons of Apple Butter…could it work? Yep. It works. It more than works. It's perfection!
How to Make One Pan Apple Butter Pork Chop Skillet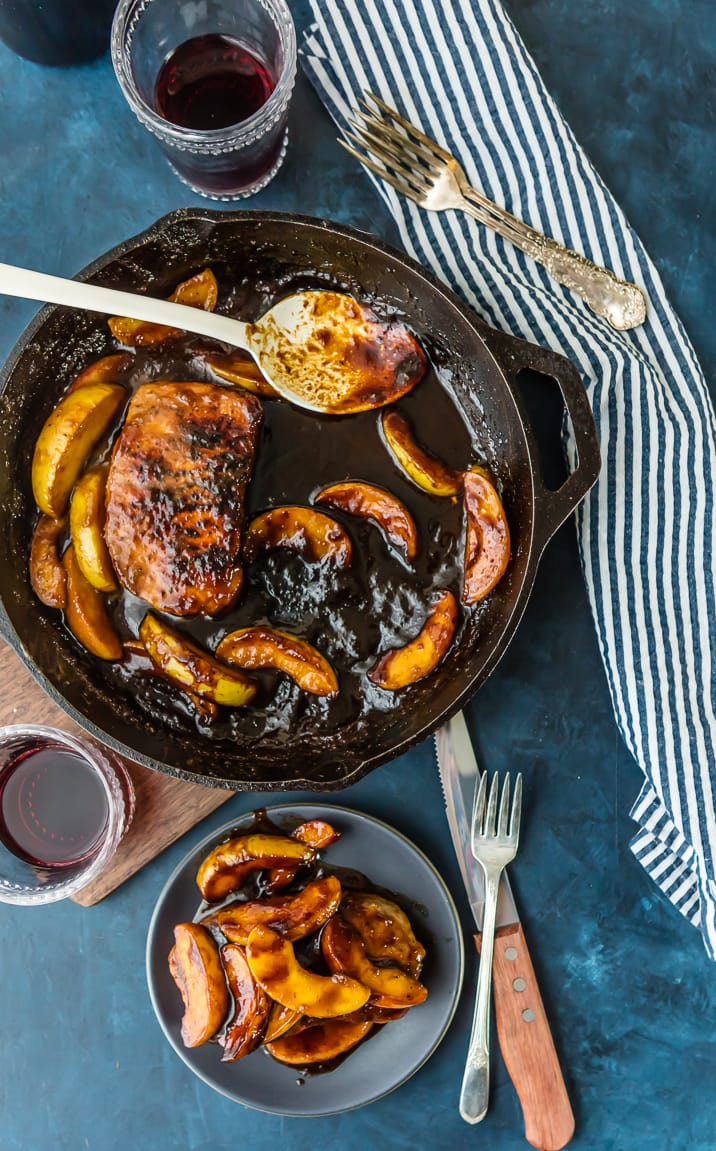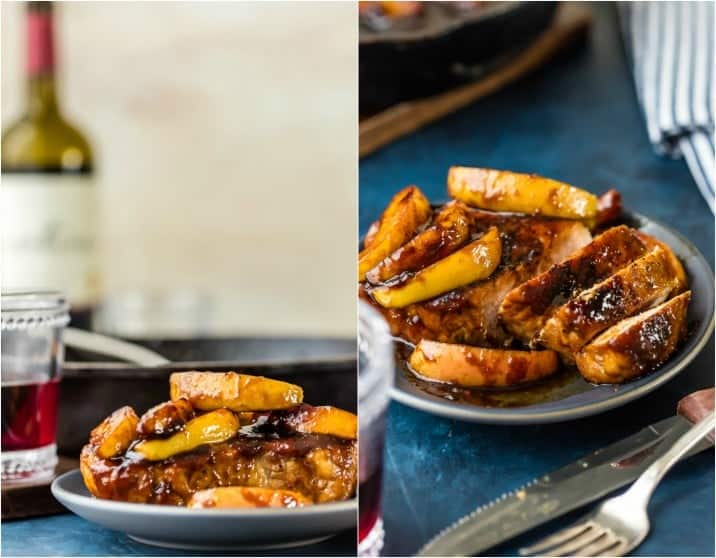 I used a jar of my mom's homemade Apple Butter (mmmmmmm) but you can easily use store-bought. I saw that Smucker's has started making it recently.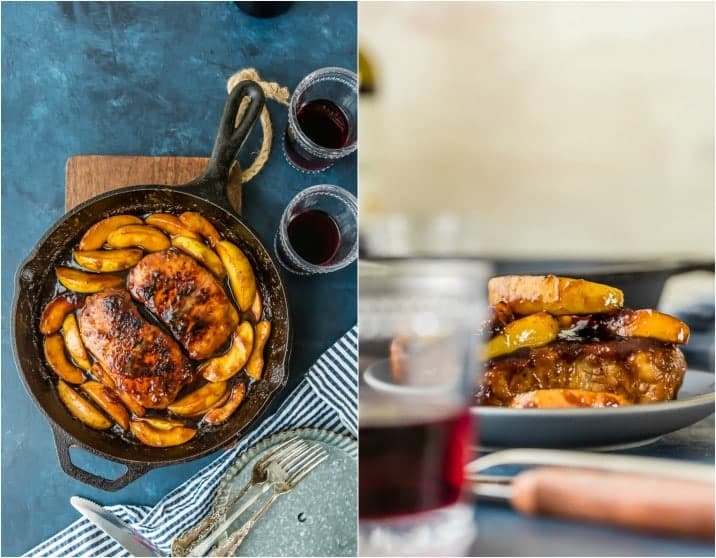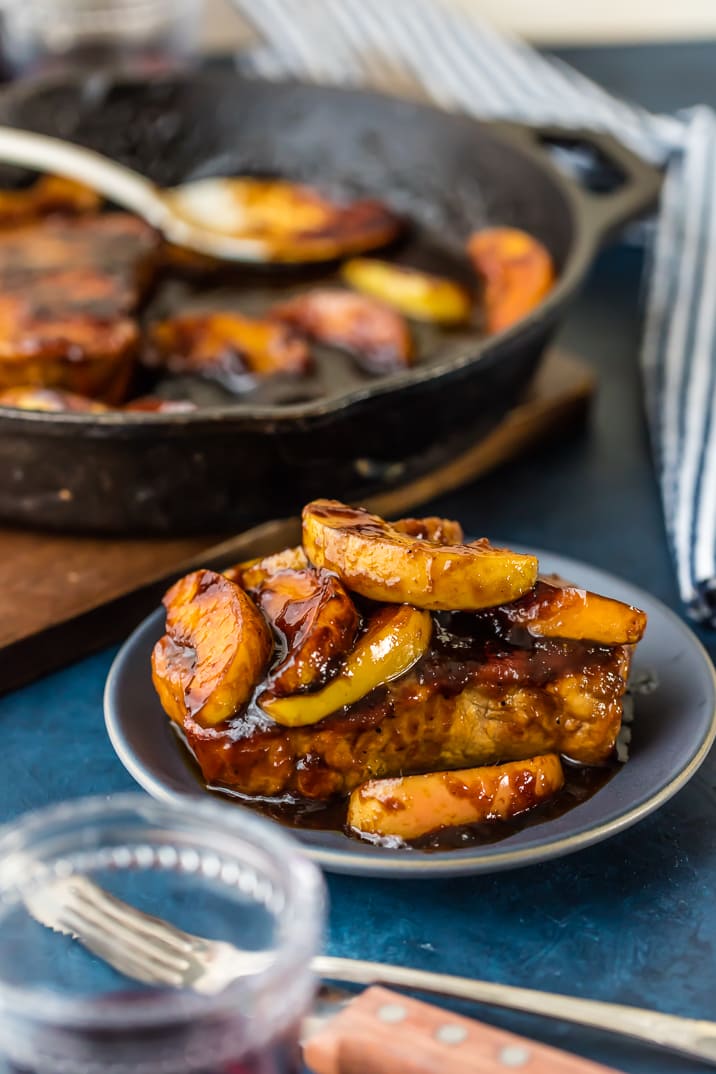 I'm so obsessed with these one pot/pan meals. It might be all I make going forward :). Enjoy!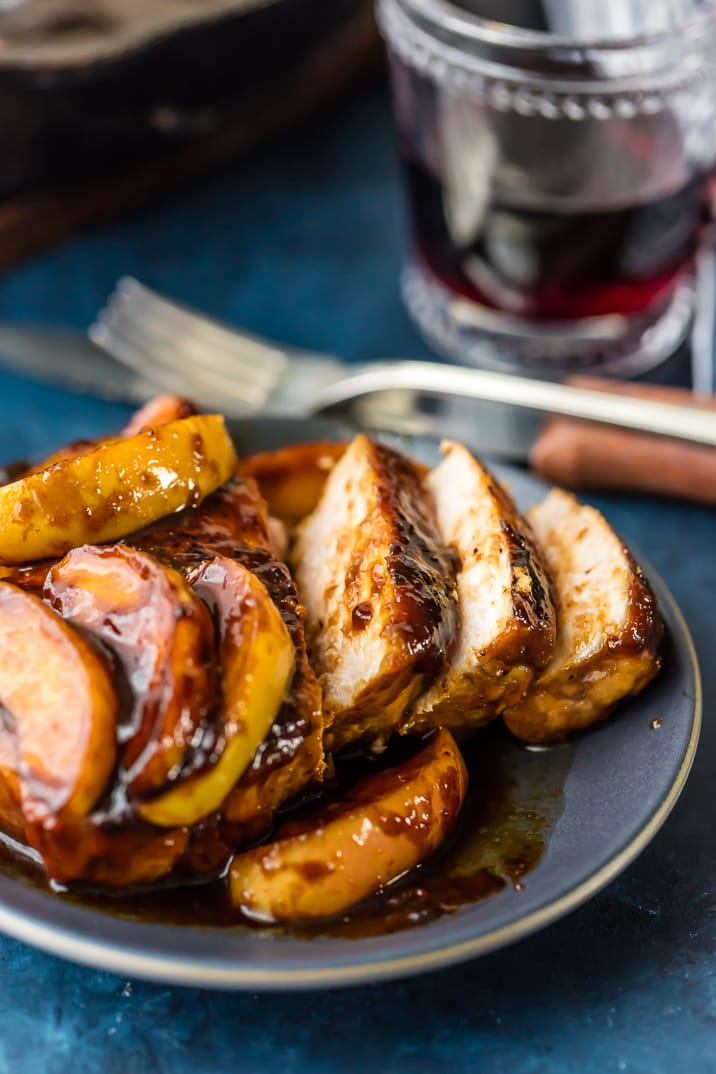 One Pan Apple Butter Pork Chop Skillet
10 minPrep Time
25 minCook Time
35 minTotal Time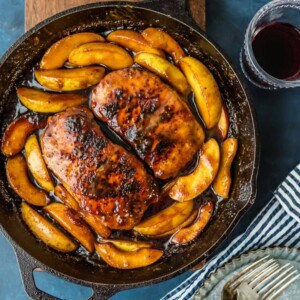 5 based on 1 review(s)
Ingredients
2 pork chop filets
Salt and pepper
3 tablespoons butter, divided
15 ounces (1/2 jar) apple butter, divided (more if desired)
2 apples, cored and sliced. No need to peel them.
2 tablespoons packed brown sugar
1 teaspoon ancho chili powder (or just chili powder)
1/3 cup heavy cream
Instructions
Season both sides of each pork chop with salt and pepper.
Melt 2 tablespoons butter over medium high heat in a large skillet. Add the pork chops and cook each side for 3 minutes. Place pork on a plate and allow to rest while you cook the apples.
Using the same skillet, melt the remaining 1 tablespoon of butter. Add the apple slices and allow to cook until soft, about 5 minutes. Pour in 1/4 of the jar (7 1/2 ounces) of apple butter (you can use a bit more if you want, but it does get pretty sweet), brown sugar, and chili powder. Stir to combine. Add in the cream and continue to stir. Bring to a light boil.
Add the pork chops, pushing aside the apples to make sure the bottoms of each pork chop are touching the skillet. Spoon a tablespoon of apple butter onto each side of each pork chop as you cook.
Cook each pork chop for about 4 more minutes or each side, adding a tablespoon of apple butter to each side as you cook. Cook until pork is cooked through to your liking.
Serve hot with the apple mixture spooned over the pork.
Enjoy!
Serve the chops with the apple mixture spooned on top
7.6.7
1912
https://www.thecookierookie.com/apple-butter-pork-chop-skillet/