Apple Butter Pork Chops are the perfect ONE PAN recipe for fall and winter! These skillet pork chops with apples are so juicy and flavorful when cooked in the apple butter, and it's just so delicious. And as a bonus, there's only ONE SKILLET to clean!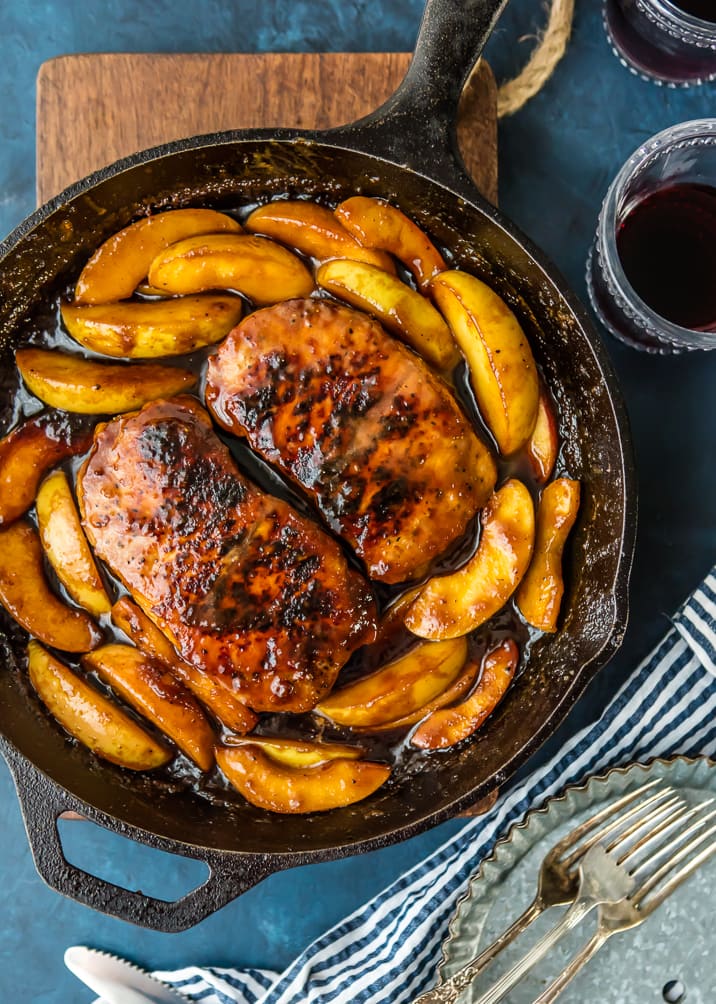 One Pan Skillet Pork Chops with Apples
Skillet Pork Chops with Apples is the perfect fall dinner recipe. This one pan apple butter pork chops recipe is filled with flavor!
I'm always searching for One Pan Meals because they are so dang EASY. That's just how I roll: Easy, breezy, beautiful…Wait, that's a different motto. Mine is "Easy recipes are the best recipes!" It doesn't have the same ring to it, but it's SO true. Less time in the kitchen, less cleanup, and more time to enjoy with family. That's why I love these One Pan Skillet Pork Chops with Apples!
You get juicy apple butter pork chops AND apple slices, all in one pan. It's a beautiful a delicious dinner that's perfect for any night of the week. Everything is cooked in the apple butter, so it's absolutely filled with flavor. You're going to love how easy the recipe is, and you'll love the easy clean-up even more!
This savory apple recipe is such a great way to use up the fall favorite fruit!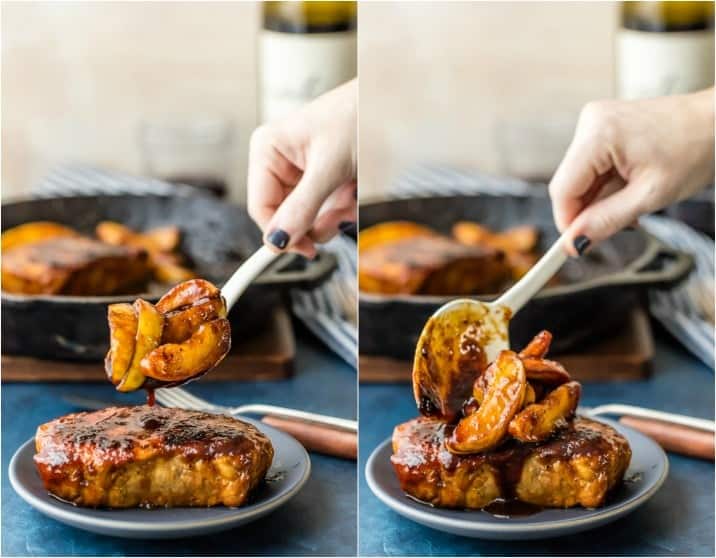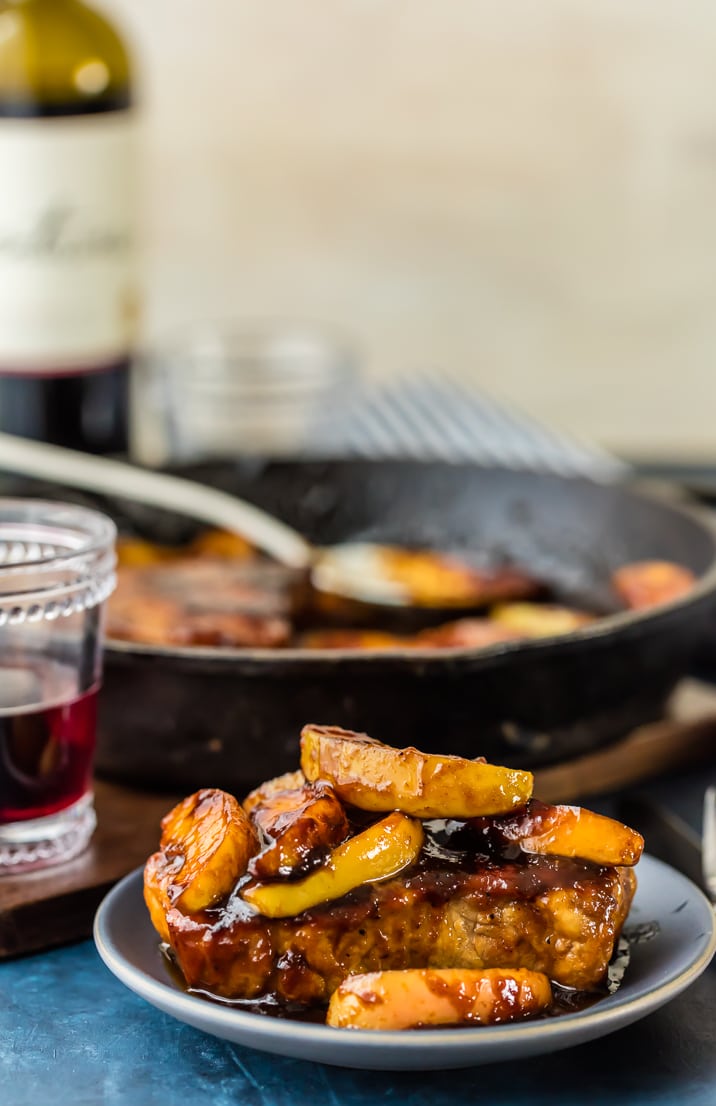 Apple Butter Pork Chops
Recently, a reader asked me on Twitter how she could use an extra jar of Apple Butter. My first inkling was to respond "um…eat it with a spoon like I do!" but I realize not everyone is quite as addicted to Apple Butter as me. So I started brainstorming and googling to find an answer.
I saw a beautiful recipe from Ali at Gimme Some Oven (my fave!) for Apple Cinnamon Pork Chops and it got my mind working. What if I made some swaps and used tons of Apple Butter…could it work?
The answer is YES, it works. These Apple Butter Pork Chops are actual perfection! I used a jar of my mom's homemade Apple Butter for this pork chops and apples recipe, but you can easily use store-bought. (I saw that Smucker's has started making it recently.)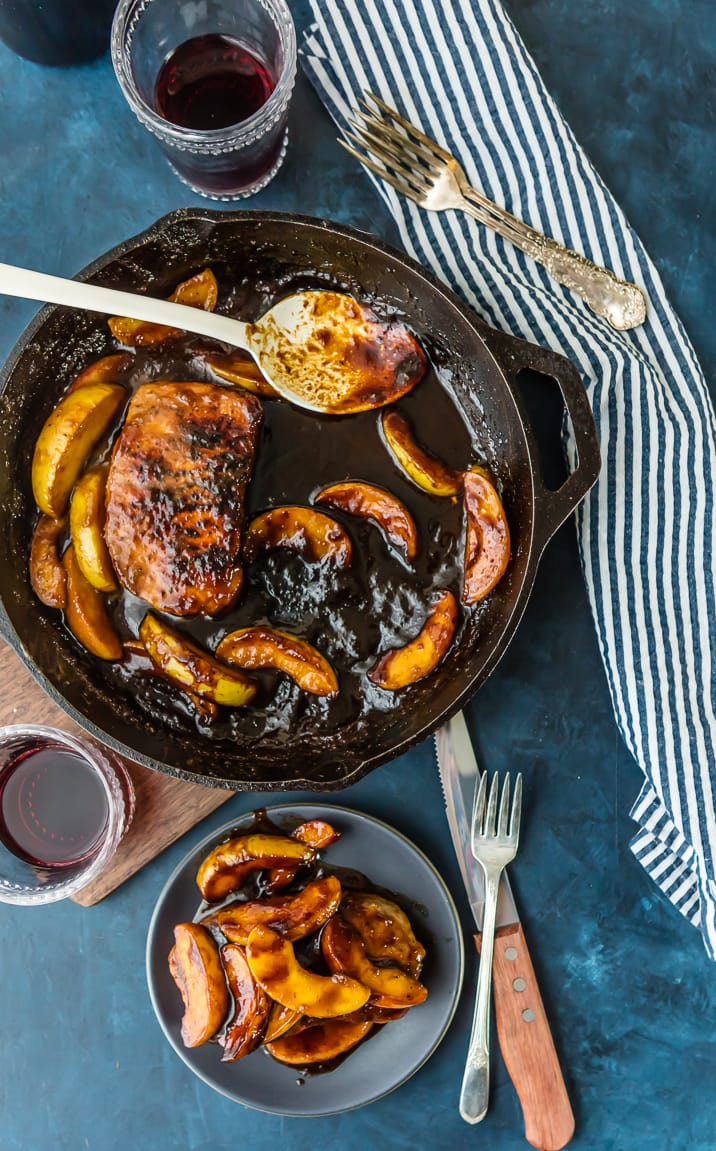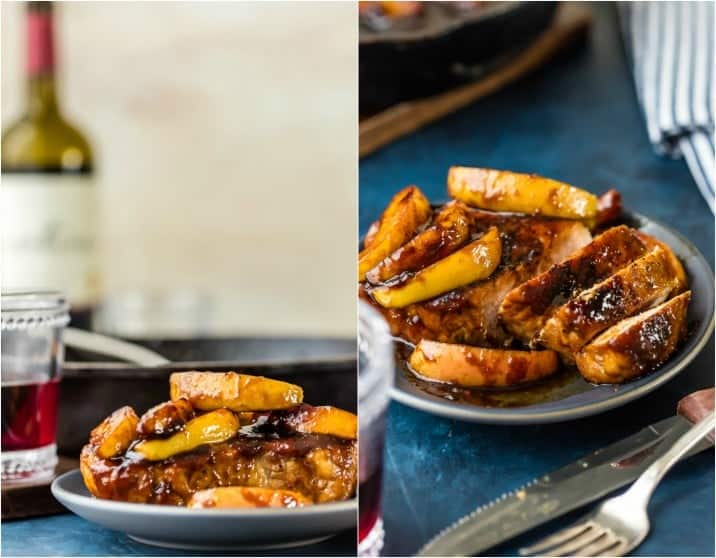 Pork Chops and Apples Recipe
Nothing goes together quite like pork chops and apples. Something about the sweetness of the apples mixed with the pork REALLY works. A lot of people eat pork chops with applesauce, so let's take it up a notch. Cook the pork chops in apple butter, and add on a side of apple slices. THAT is the ultimate way to eat pork chops with apples.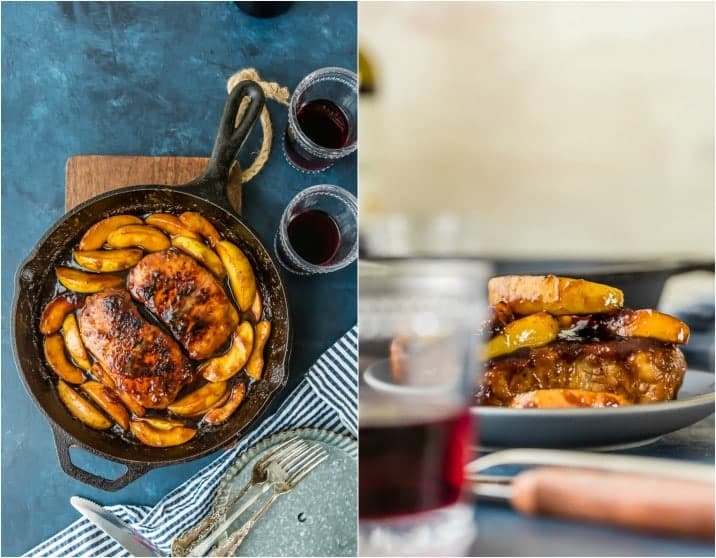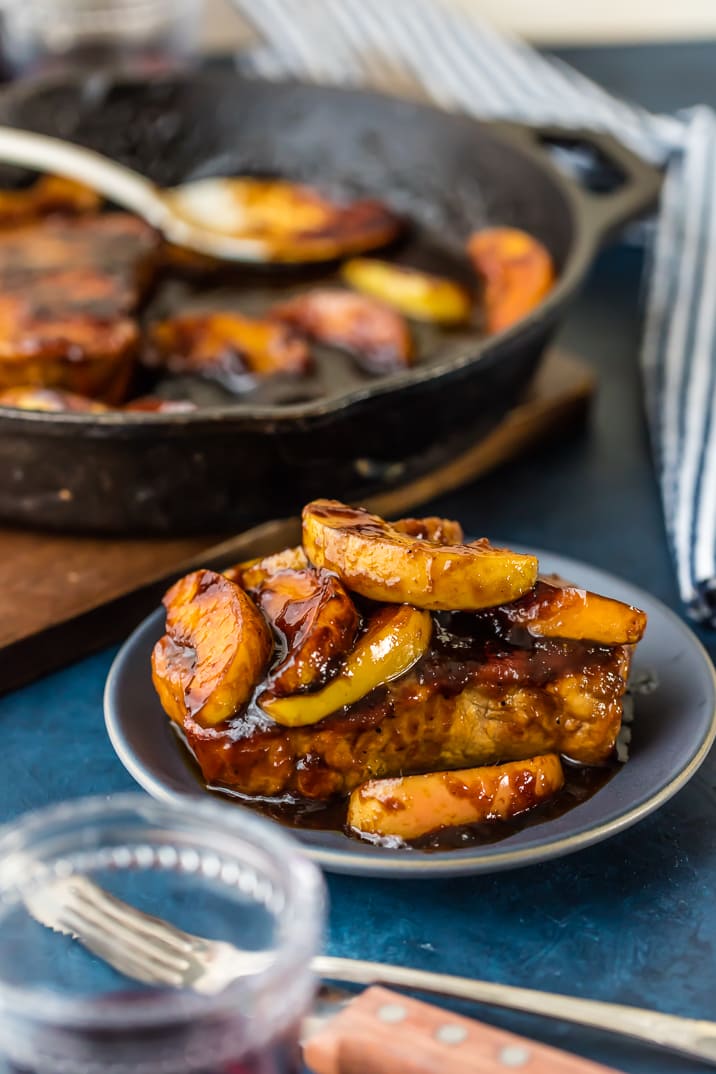 How to Make One Pan Skillet Pork Chops with Apples
This one pan skillet pork chops with apples recipe is so simple! All you need are some pork chops, a jar of apple butter, a couple of apples, butter, brown sugar, chili powder (a little kick of spice), butter, and heavy cream. And your cast iron skillet, but that's the only dish here!
How to make these:
Melt the butter in the skillet, then cook the pork chops for 3 minutes on each side.
Set pork chops aside while cooking the apples.
Melt more butter in the skillet and cook the apple slices for about 5 minutes.
Pour in about 7/12 oz apple butter, plus the chili powder & brown sugar. Then add in the heavy cream and stir together, bringing the mixture to a light boil.
Add the pork chops back in and cook 4 minutes on each side, adding a tablespoon of apple butter to each one as they cook.
To serve, place the apples on to of each pork chop. The flavor of these apple pork chops is amazing! See the recipe card below for detailed instructions.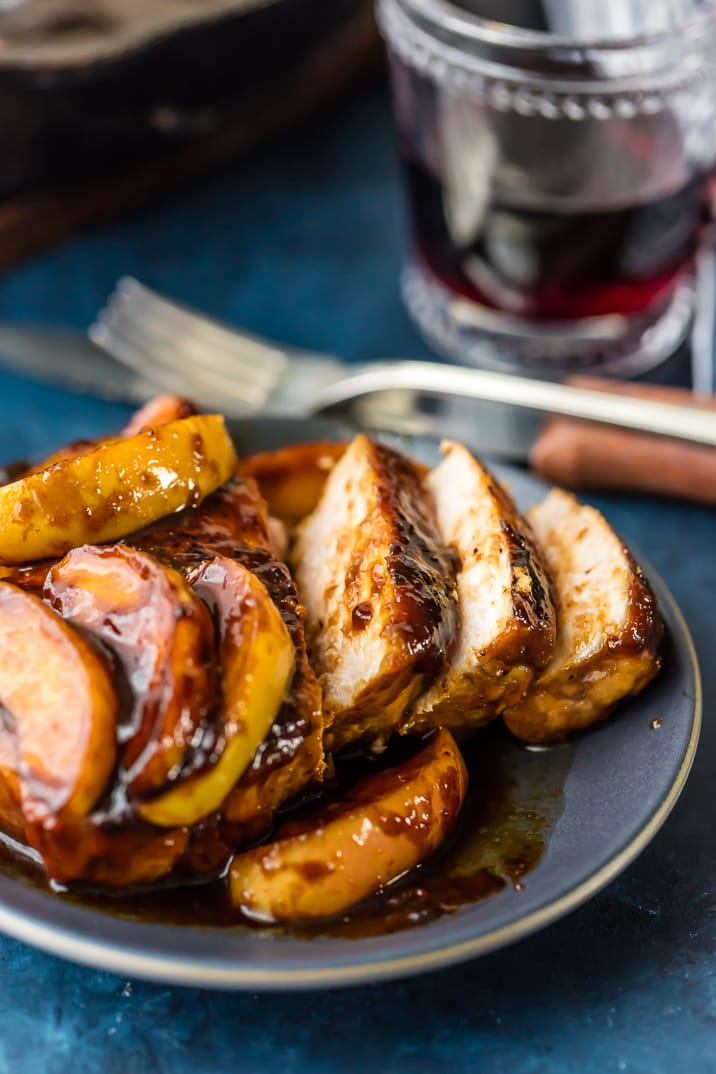 I can't wait for you to make these One Pan Skillet Pork Chops with Apples! I know you'll love them as much as we do. There's just so much flavor. Apple Butter Pork Chops are a real winner!
Watch the Video and See the recipe card for details on how to make One Pan Skillet Pork Chops with Apples. Enjoy!
If you like this pork chops and apples recipe, you'll love these other pork recipes too: