Smothered Pork Chops are what's for dinner tonight! This easy to make entree is flavor-packed and oh so satisfying. Pork chops are cooked to golden brown tender perfection on your stovetop before being smothered with the most mouthwatering creamy sauce.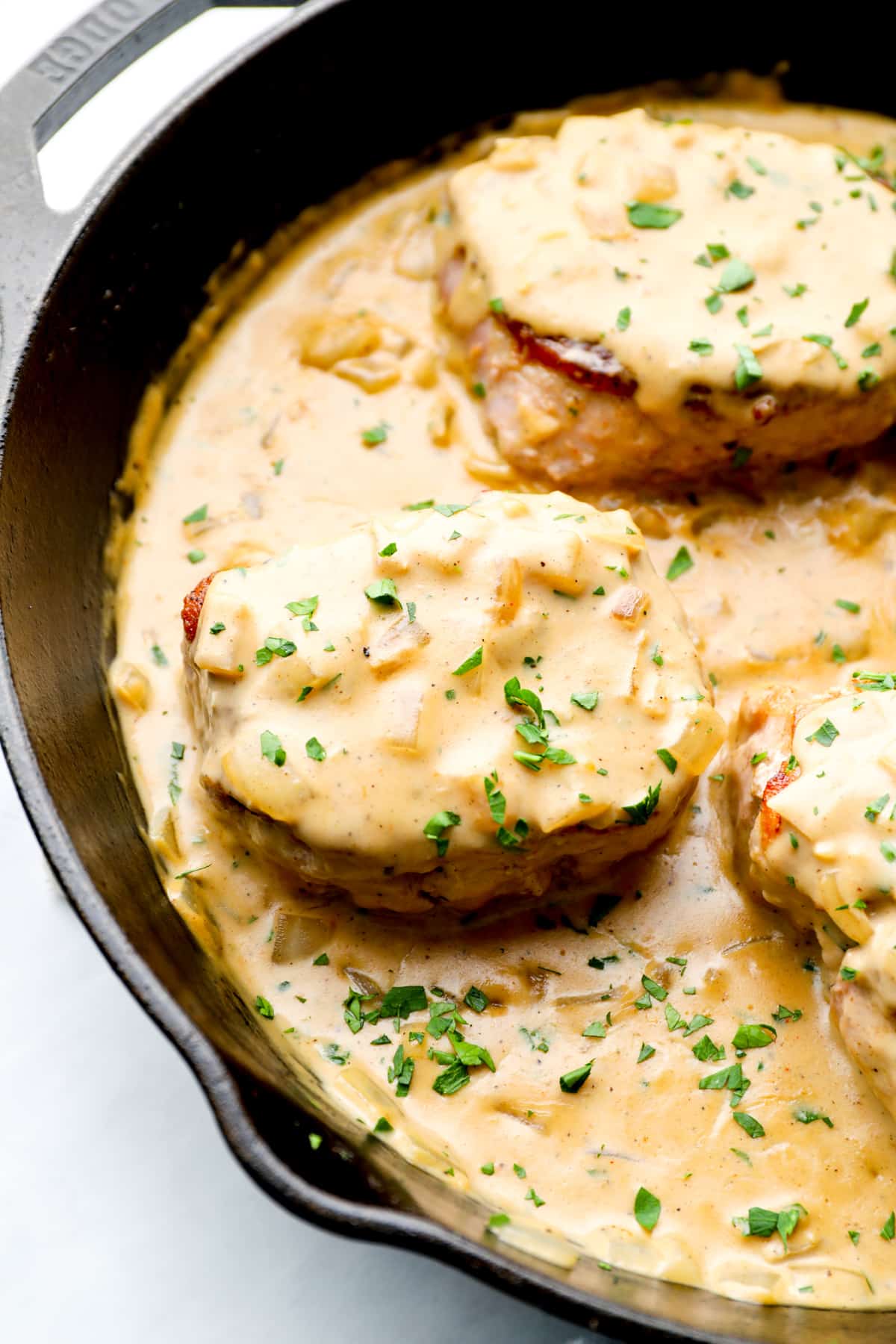 Southern Smothered Pork Chops
There's really nothing more comforting than a serving of Smothered Pork Chops with mashed potatoes! This easy to make Southern staple is a perfect weeknight dinner for just about every family. It's filling, flavorful, and picky-eater approved.
The pork chops are dredged before being pan-fried to create that signature golden brown exterior while still being plenty tender and juicy. As tasty as the meat is all by itself, the real star of the show here is the creamy sauce! It's so rich with flavor and the consistency is what dreams are made of. That's why I always serve this entree with mashed potatoes, so none of that sauce goes to waste.
Why You'll Love this Smothered Pork Chops Recipe:
FILLING: Pork chops are protein-packed and super filling. No one's leaving the dinner table still hungry when this is for dinner!
SO CREAMY: The flavorful, thick sauce that smothers the pork chops is so very creamy.
EASY: This weeknight dinner is quick and easy, which is how every family dinner should be on those crazy busy evenings!
Whether you make this comforting dinner in the dead of winter or on a chilly fall evening, you'll love every warm, creamy, tender bite! If you prefer chicken, try this Smothered Chicken Breast too.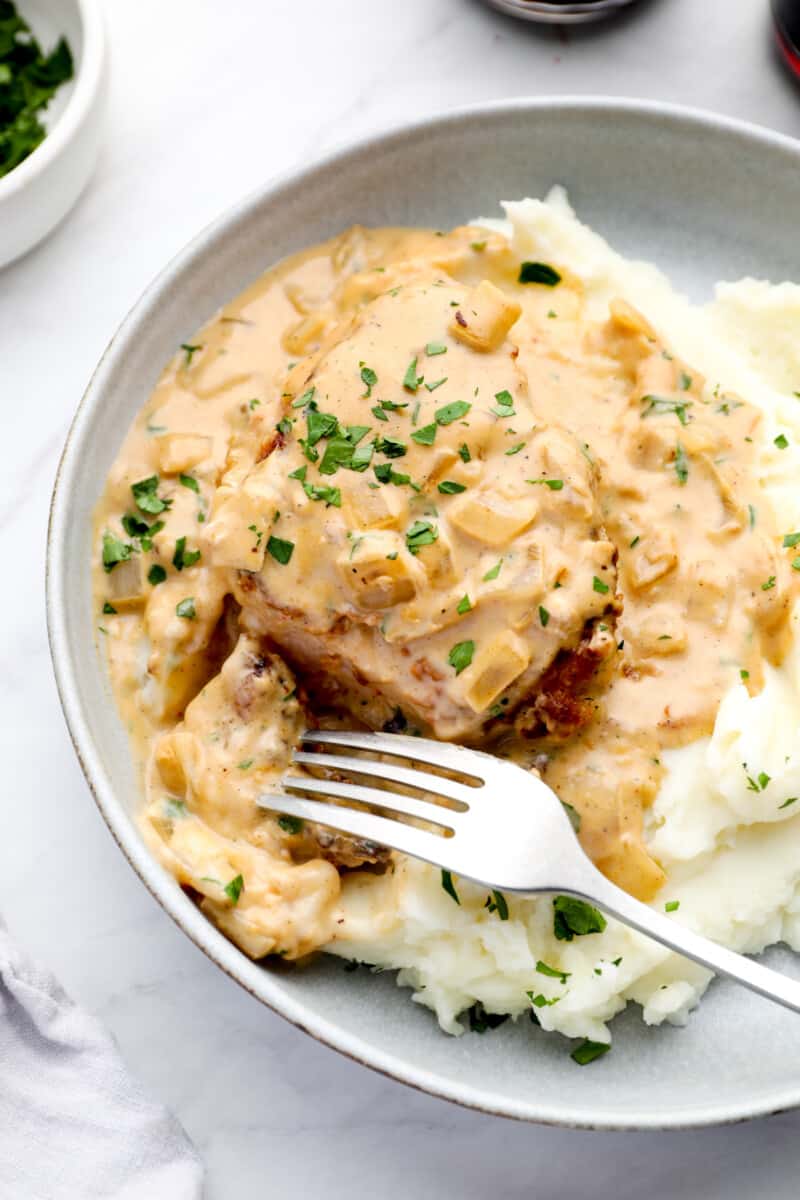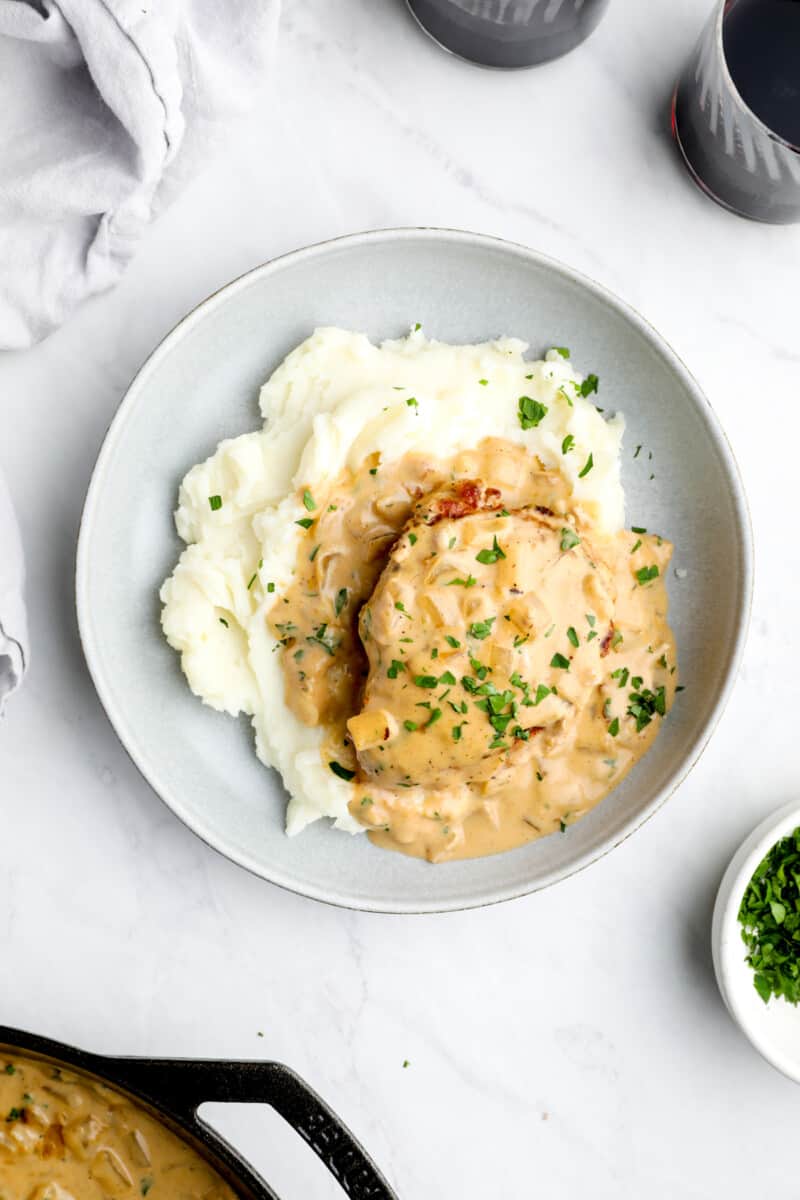 How to Make Smothered Pork Chops
You can jump to the recipe card for full ingredients & instructions!
Dredge the pork chops.
Cook the pork chops until golden brown in your skillet. Set aside.
Sauté the onions and garlic.
Whisk in the flour and broth.
Stir in the cream, worcestershire, and parsley.
Add the pork chops back to the pan and let them cook through.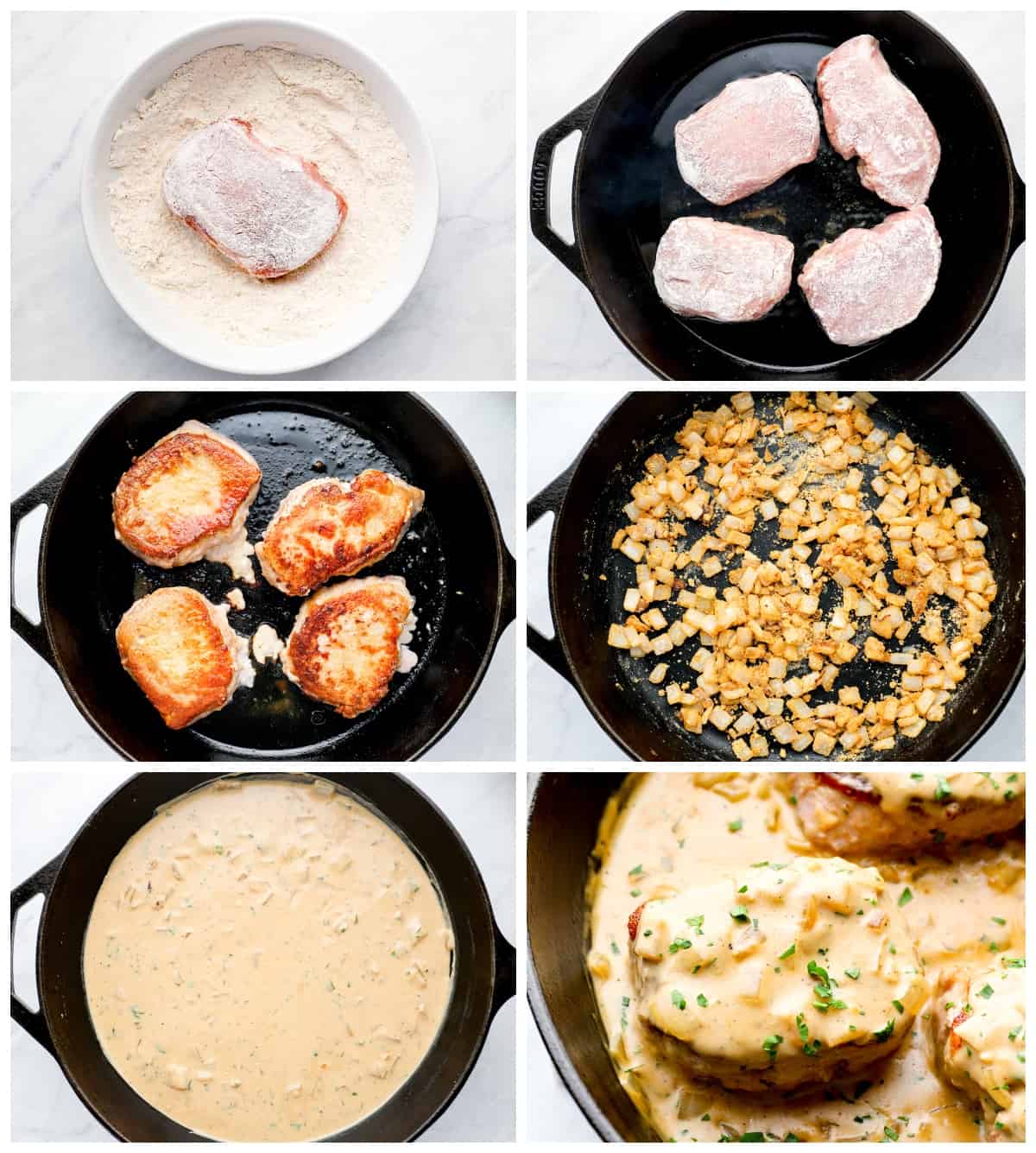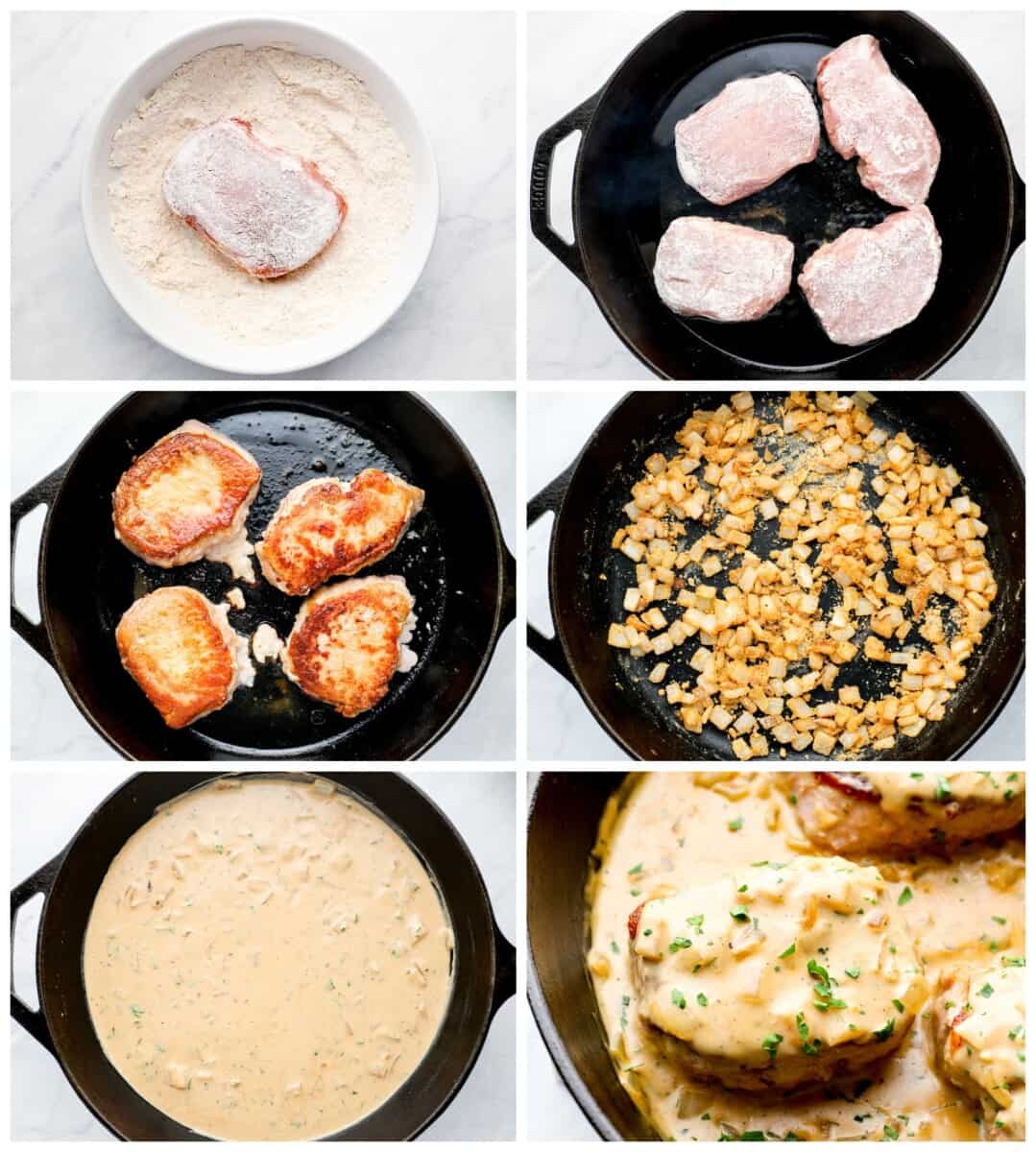 What are smothered pork chops?
Smothered pork chops is a Southern recipe consisting of fried or baked pork chops coated in thick gravy.
What kind of pork chops are best for smothered pork chops?
There are 4 cuts of pork chops available: rib chop, loin chop, boneless chop, and shoulder chop. I recommend boneless chop for this recipe, but if you'd like a bone-in chop, I recommend rib chop, as it is the most tender. Loin chop and shoulder chop are more difficult to work with and often have more gristle.
Can I use bone-in pork chops to make smothered pork chops?
Yes! I recommend using rib chops. Bone-in pork chops may take a few minutes longer to cook than boneless.
Should I soak my pork chops in milk before cooking them?
Soaking pork chops in milk helps to tenderize the meat and prevent overcooking. Because this recipe cooks the chops relatively slowly and with the sauce as an insulator, you do not need to soak the chops before cooking them. If you would like to, you certainly can soak your chops; just be sure to pat them dry before using them.
Can I make smothered pork chops in a crockpot?
You sure can! Place the pork chops in the bottom of a crockpot and top with the seasonings. Omit the flour. Add the onions, garlic, beef broth, and Worcestershire sauce and cook over low heat for 6-8 hours, or until the pork reaches 145°F internally. Stir in the cream and serve.
Can I bake smothered pork chops in the oven?
Yes, but I don't find this method easier because you still need to pan-sear the chops and veggies before adding everything to the oven. If you do want to bake smothered pork chops in the oven, sear the pork chops in a Dutch oven, then remove them and sauté the onions and garlic. Preheat oven to 375°F and add the broth to the Dutch oven. Bring to a boil, then simmer for 2-3 minutes. Stir in the heavy cream, then add the pork chops, cover with sauce, cover the Dutch oven with the lid, and bake for 20-25 minutes, or until cooked through.
Why are my smothered pork chops tough?
The most common reason pork chops go tough is that they are overcooked. Pork chops are incredibly lean and cook much faster than expected. Be sure to use an instant-read thermometer to check for doneness, and remove them from the heat as soon as they reach 145°F.
What side dishes go with smothered pork chops?
These pork chops can be served with any number of starches, such as rice or mashed potatoes. Cornbread, biscuits, or dinner rolls would be great gravy-soakers. For veggies, keep it simple with roasted broccoli, green beans, or asparagus.
Southern style pork chops with extra creamy sauce is the ultimate comfort food that no one can resist!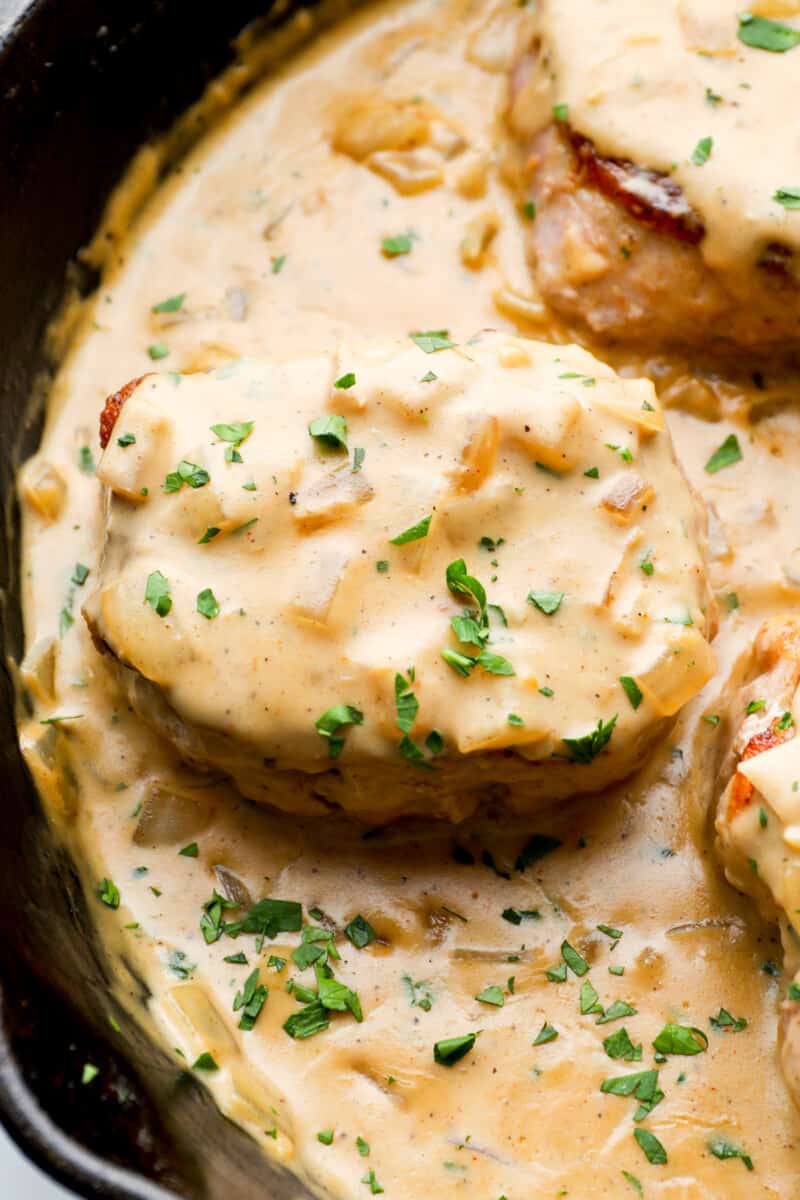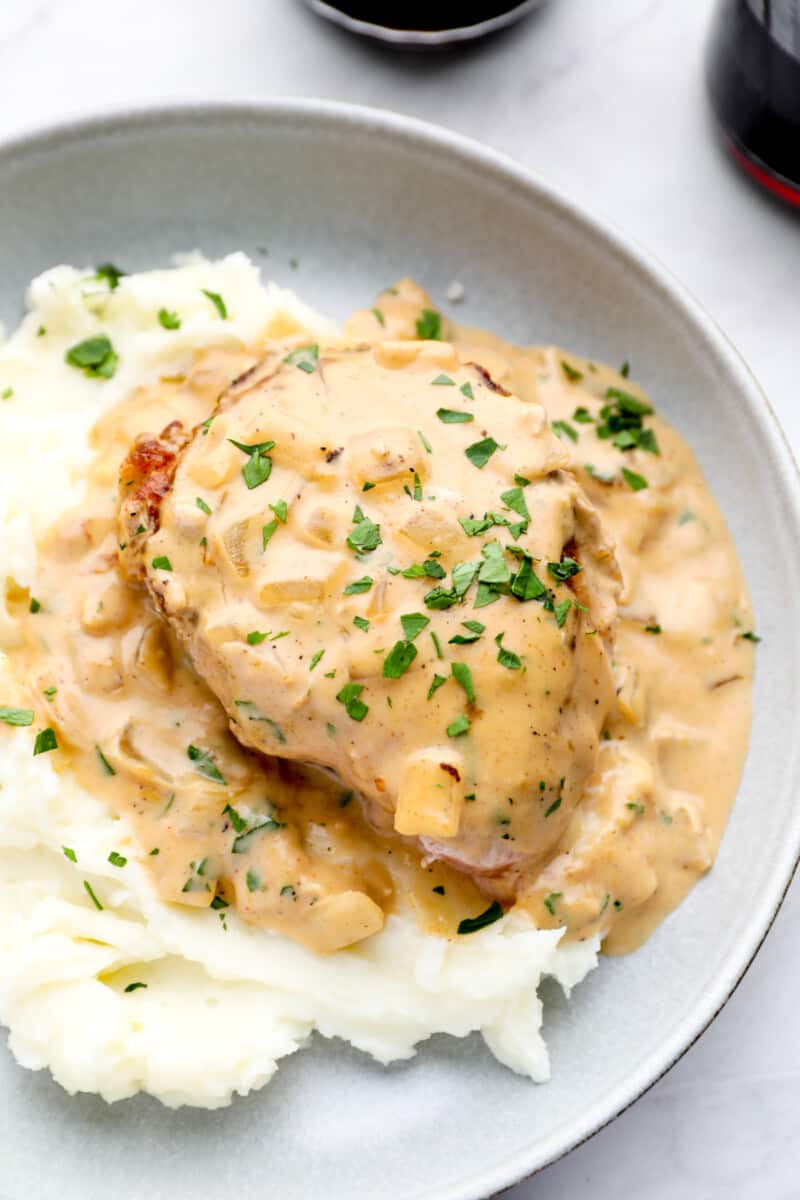 Storage Instructions
Store leftover smothered pork chops in an airtight container in the refrigerator for up to 3 days. Reheat covered in a 350°F oven for 10-15 minutes, or until heated through.
Freezing Instructions
Freeze smothered pork chops in an airtight container or Ziplock bag for up to 3 months. Let thaw overnight in the refrigerator before reheating.
Substitutions
This recipe can be made with bone-in pork chops. You may need to cook the pork longer to ensure it is cooked through. I recommend using rib chops.
Low-sodium chicken broth can be used in place of the beef broth.
You can use any neutral oil in place of the olive oil.
You can use half-and-half, whole milk, or coconut milk in place of the heavy cream, but the gravy will not be as creamy.
Feel free to add the mushrooms of your choice to this recipe. Simply cook them with the onions.
Tips for the Best Smothered Pork Chops
I recommend using ¾-inch to 1-inch thick-cut pork chops with some fat on them for the most tender results.
I recommend cooking smothered pork chops in a seasoned cast-iron skillet for the most even heating, but you can also use a nonstick skillet.
Generously season both sides of the pork chops before cooking.
Use room temperature heavy cream for the creamiest gravy.
If your gravy becomes too thick, thin it out by adding more beef broth.
Once simmering in the gravy, check the internal temperature of the pork chops with an instant-read thermometer. Remove them from the heat as soon as they reach 145°F internally.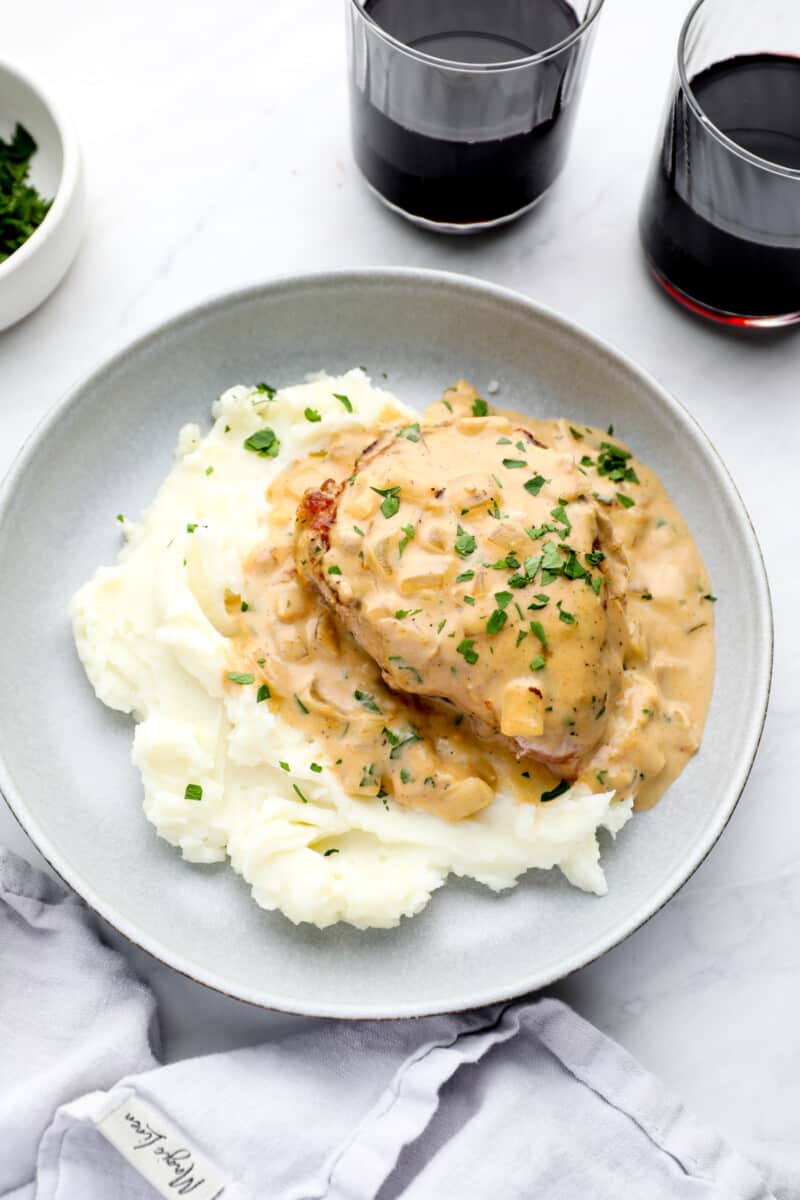 Next time you need a hearty, classic, and easy dinner on the table that's just as comforting as it is delicious, make some Smothered Pork Chops! This family favorite dinner is a staple in my weeknight recipe routine and it's sure to become one in yours as well.
If you make this recipe be sure to upload a photo in the comment section below or leave a rating. Enjoy! You can also jump to recipe.