PARMESAN PORK CHOPS with CREAMY PARMESAN GARLIC SAUCE are so delicious! These creamy garlic parmesan pork chops are made in ONE PAN, making it a super easy one pan recipe you can make any night of the week. This pork chops recipe is the ultimate comfort food!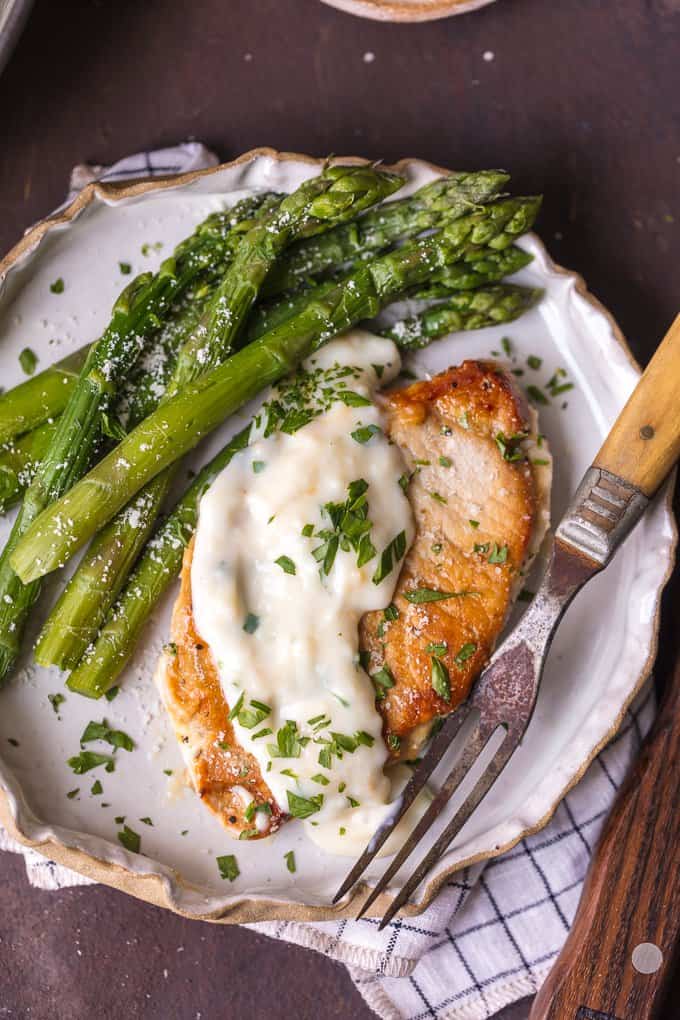 Parmesan Pork Chops Recipe
Parmesan Pork Chops are a delicious and easy recipe to prepare any night of the week. And the creamy parmesan garlic sauce is to die for!
Parmesan Pork Chops are such a great dinner recipe. I have realized I don't cook enough pork chops around here, but every time I cook them, I love them! One of my favorite recipes for Fall are my Skillet Apple Butter Pork Chops and I have another amazing Autumn recipe coming your way soon. The Creamy Parmesan Garlic Sauce on this pork chops recipe is just so tasty, creamy, and amazing.
These CREAMY GARLIC PARMESAN PORK CHOPS hold a special place in my heart. Mostly because…garlic and Parmesan. A flavor match made in heaven packed into this OH SO EASY dinner recipe. Pork can be intimidating but this recipe is fool proof. What's even better is that this is an easy One Pan recipe. Less dishes, less clean up!
Get your skillet ready and prepare yourself for an amazing and simple meal ready in under 30 minutes!
Parmesan Pork Chops with Creamy Parmesan Garlic Sauce is one of my favorite dinner recipes. This One Pan Recipe is just so creamy and delicious!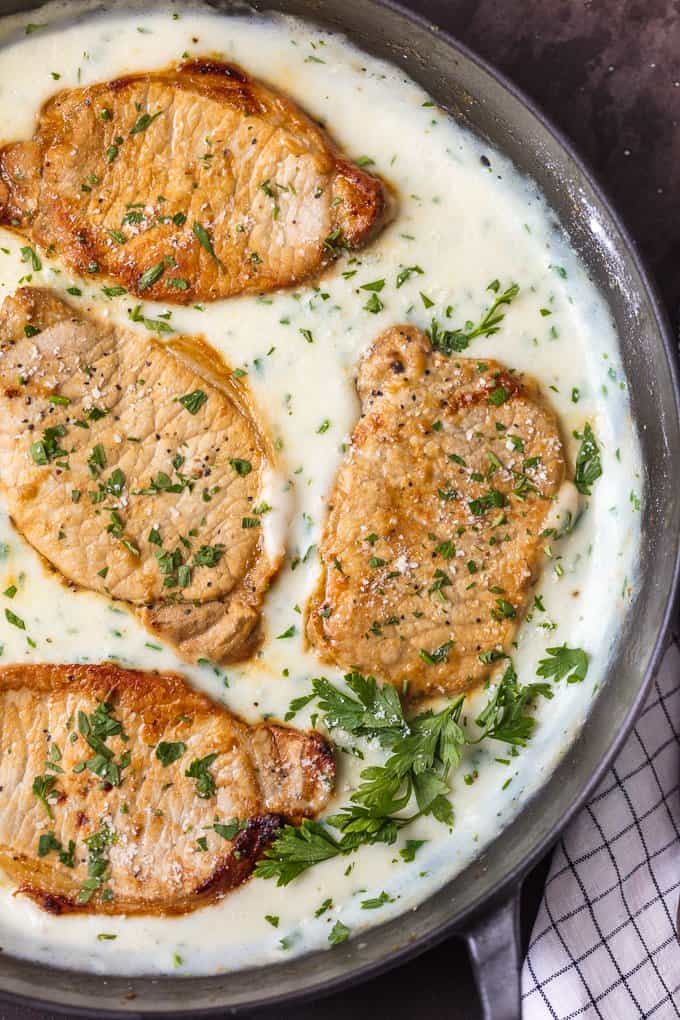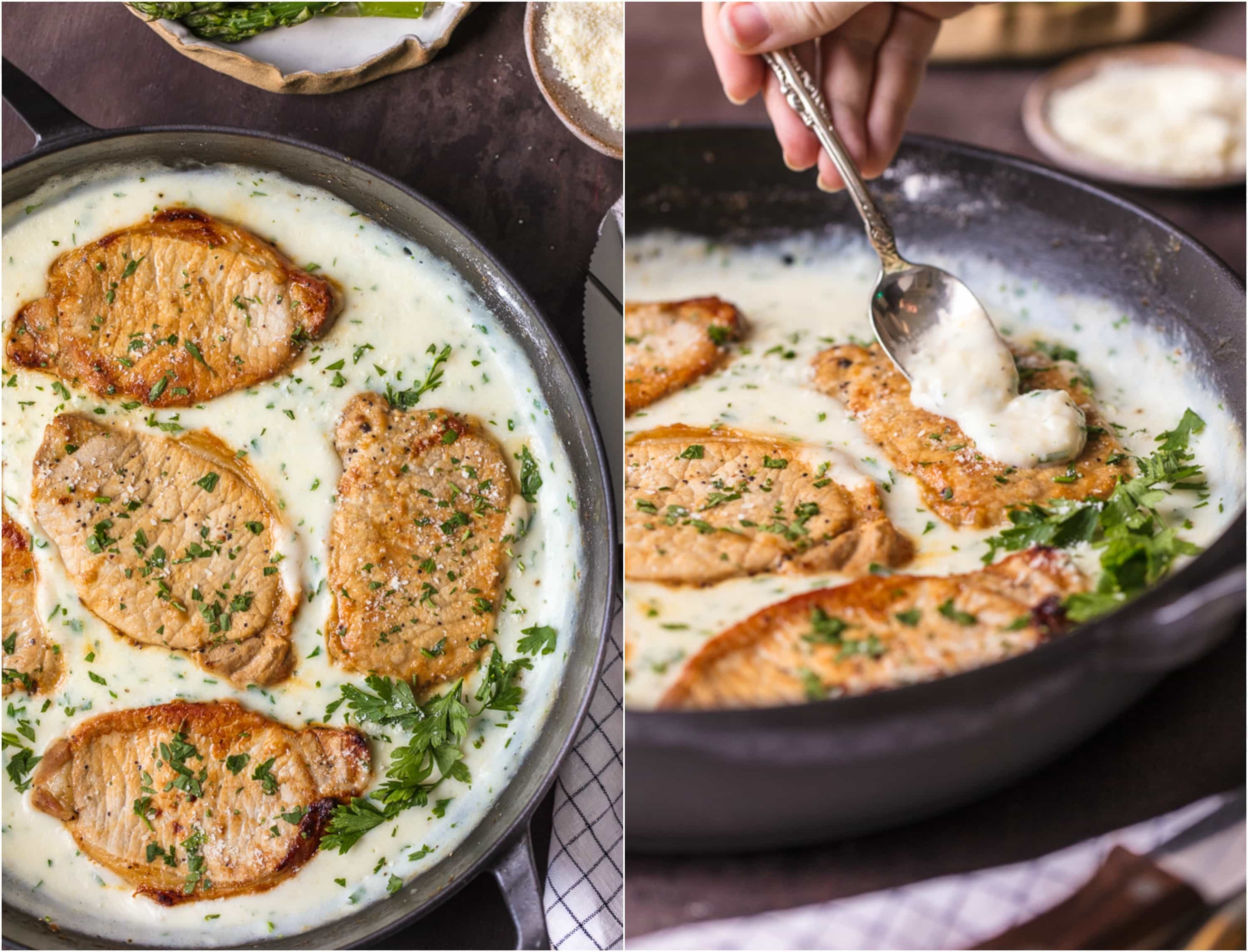 Creamy Parmesan Garlic Sauce
I'm so obsessed with this Creamy Parmesan Garlic Sauce! It makes the Pork Chops EXTRA flavorful and it's easy to make too. It's all made one one pan, so you'll be making the sauce right along with the parmesan pork chops.
Creamy Parmesan Garlic Sauce Ingredients:
Butter
Garlic
Heavy Cream
Parmesan
These tasty ingredients mix together to create the best sauce ever to go along with your pork chops.
One Pan Pork Chops Recipe
If you haven't already noticed, I have a major thing for one pan meals. They're just so easy and if you're like me, you hate doing dishes. Win win! You'll want to eat this creamy parmesan garlic sauce with a spoon, so there might be some extra silverware to clean but that's about it.
We paired these garlic parmesan pork chops with simple parmesan asparagus and it was such a flavorful and easy dinner. They also heated up easily and made for a great lunch the next day. WOO HOO! This one is a keeper.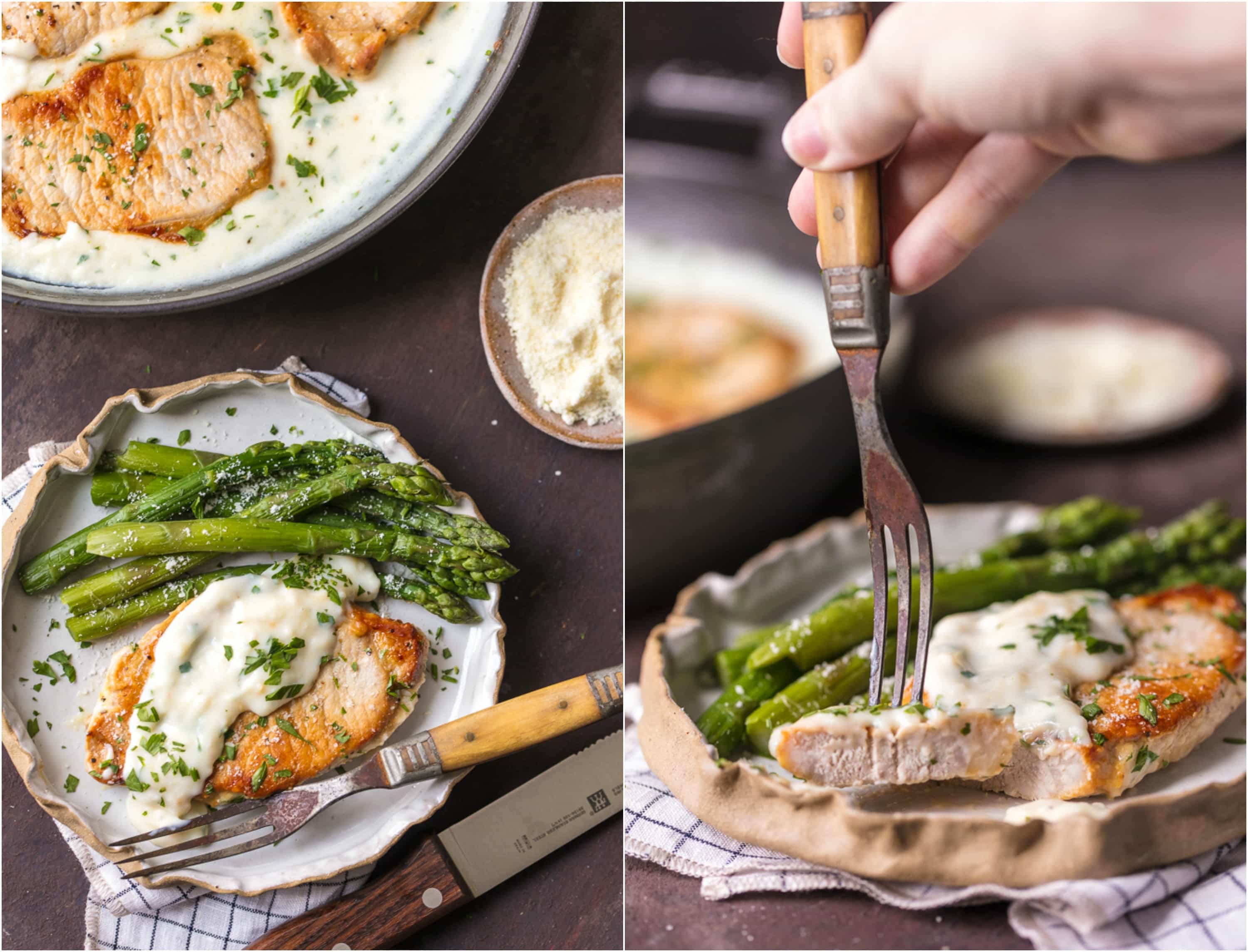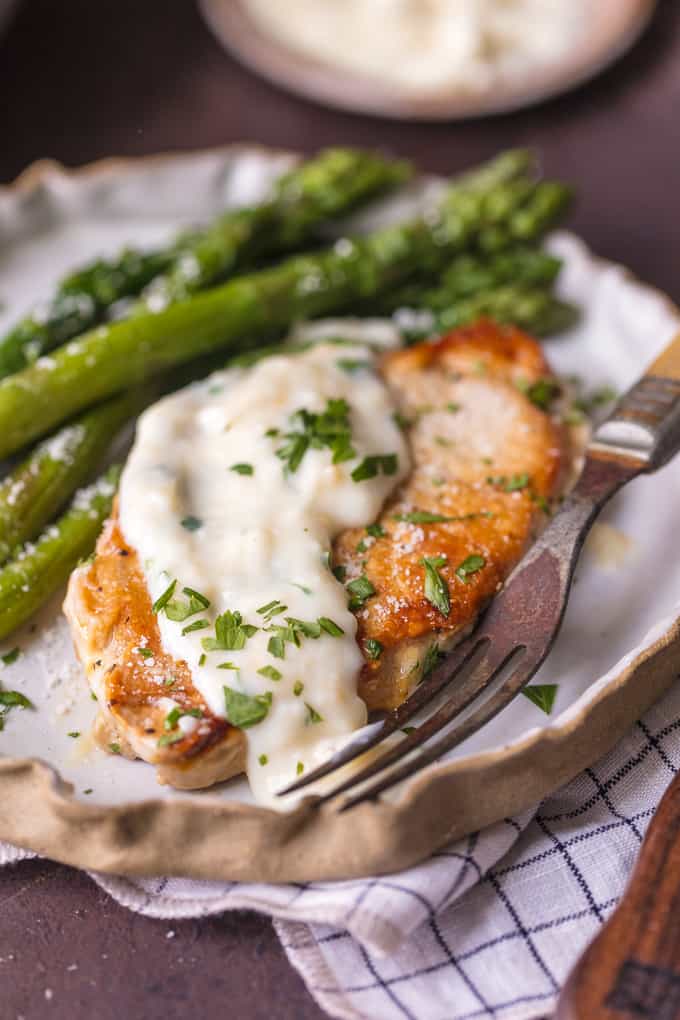 Creamy Garlic Parmesan Pork Chops
There's just something about garlic, parmesan, and cream that make my stomach happy. I'm pretty easy to please. Just give me a one pan meal that's simple to prepare and loved by all and I'm a happy mama. Pork Chops are definitely going to be making a more frequent appearance at our house I'm pretty sure. These Creamy Garlic Parmesan Pork Chops are just sooooo tasty and I can't get enough!
What is the internal temperature for Pork Chops
We recommend cooking pork medium rare or medium for the juiciest bite. I always cook my pork to 145F. So many people think pork is difficult to cook and tastes like cardboard…simply because it's overcooked. Don't fall into that trap! Pork can be delicious, juicy, and easy! Invest in a Digital Meat Thermometer (about $25) and watch your temps closely. Here are how the internal temperatures for cooking pork chops break down:
Medium Rare: 145-150F
Medium: 150-155F
Medium Well: 155-160F
Well Done: 160F (TOO COOKED :)
What are good side dishes to serve with Parmesan Pork Chops
These Creamy Garlic Parmesan Pork Chops have so much flavor on their own, you don't really need too many side dishes. We like to keep things simple with roasted veggies or simple bread. Here are some of our favorite side dishes to serve with pork chops: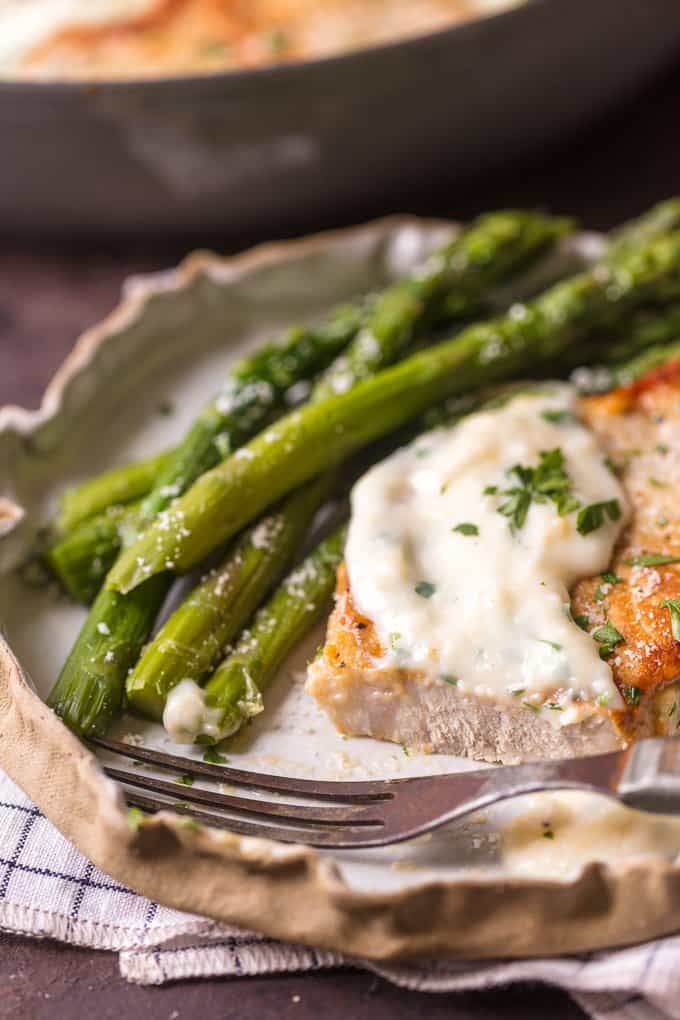 If you're like us and looking for simple dinners, this Creamy Garlic Parmesan Pork Chops Recipe is for you. I hope you love these Parmesan Pork Chops with Creamy Parmesan Garlic Sauce as much as we do! I'm pretty sure you will. So yum. Happy Wednesday, friends! Enjoy.
See the recipe card below for full details on How to Make Garlic Parmesan Pork Chops. Enjoy!
If you liked these parmesan pork chops, try these other pork recipes: