Apple Dumplings are the perfect fall treat! I love eating anything apple during autumn, and this apple dumpling recipe is a classic. They have the best texture and just the right amount of sweetness. This easy apple dumplings recipe is so good fresh out of the oven with a scoop of ice cream!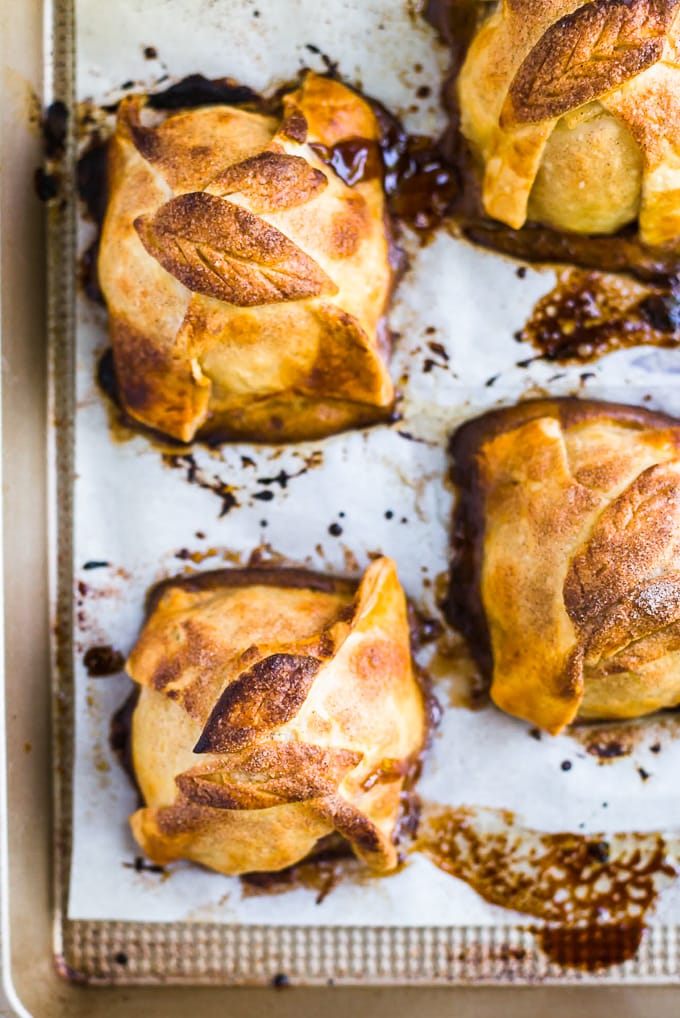 Apple Dumpling Recipe
This Apple Dumpling Recipe is the BEST autumn dessert. There's nothing better than one of these fresh out of the oven, served with a scoop of ice cream. It's such a comforting food and the flavor is amazing!
I really love anything apple. You'll find an endless list of apple recipes here, and this classic needs to be on that list. This easy apple dumplings recipe is something I enjoy making on chilly fall afternoons and sharing with the family. It brings everyone together, because NO ONE can resists these!
This recipe might look fancy and complicated, but I'm making it as easy as possible, because I want you all to be able to enjoy these too! Apple dumplings are so comforting and so delicious. I can't wait to for you to try them!
Make this easy Apple Dumplings Recipe this fall season. Serve them hot out of the oven with a scoop of ice cream and everyone will love them!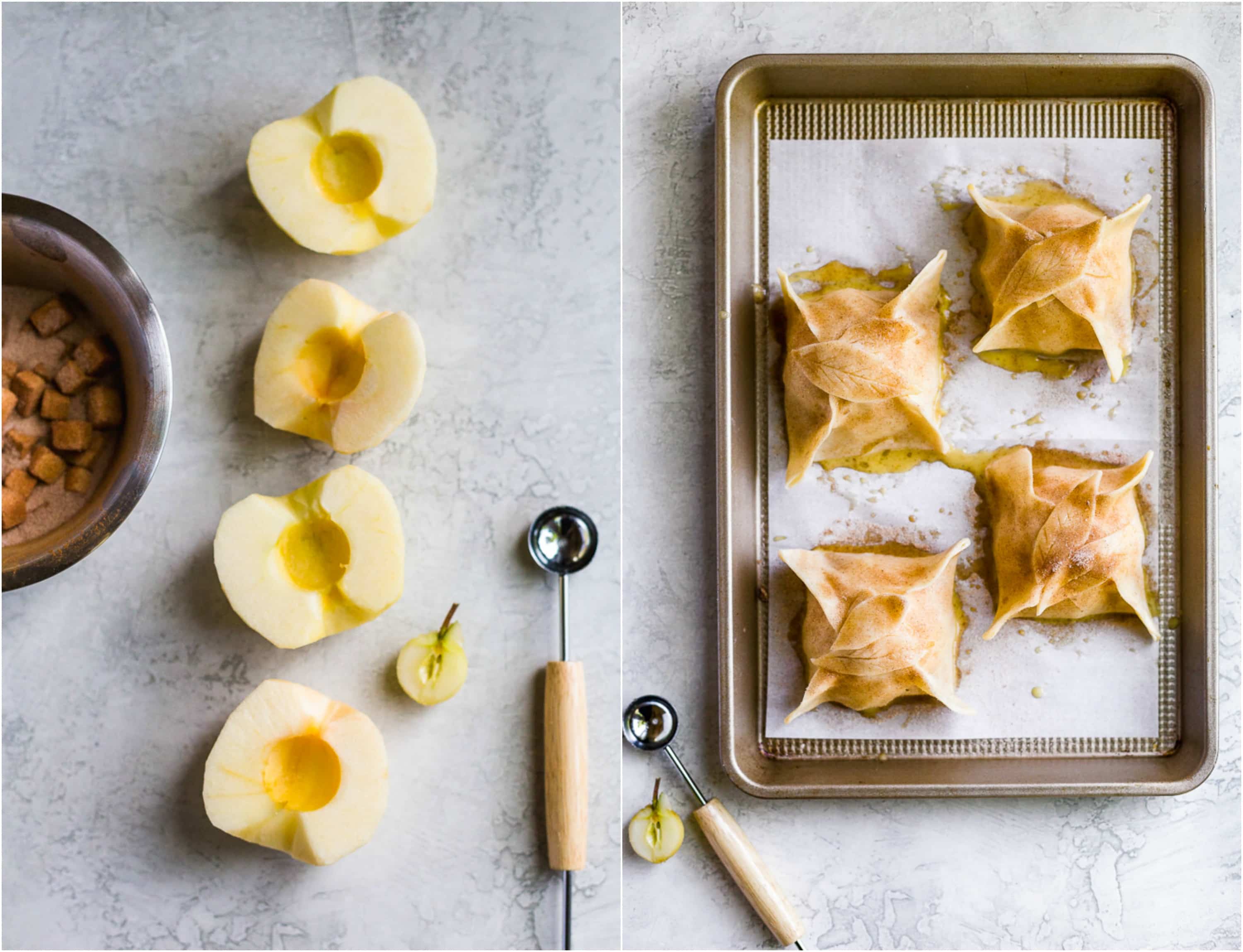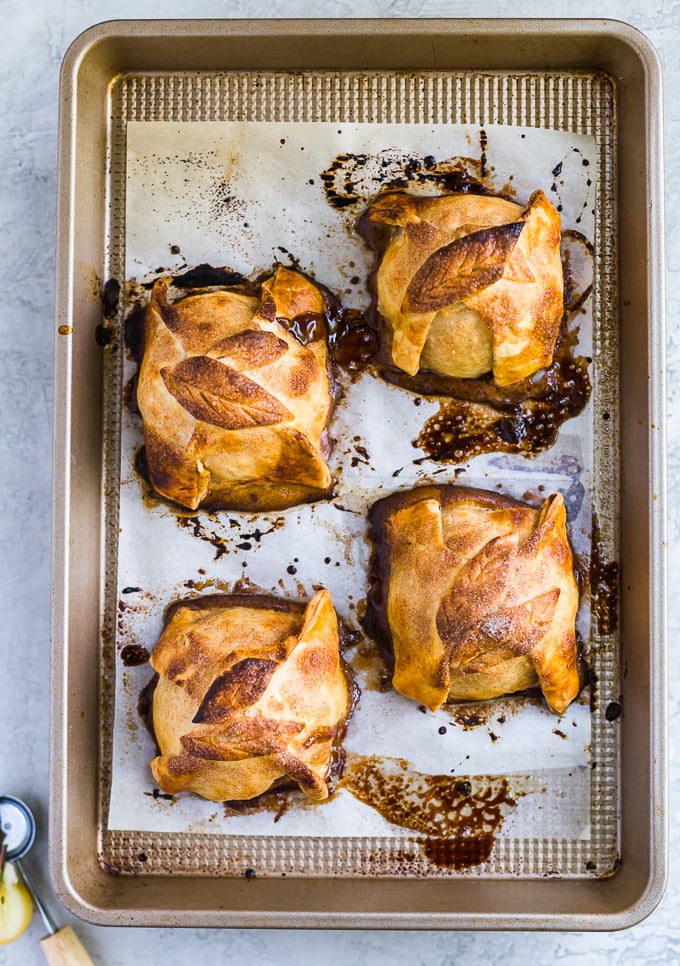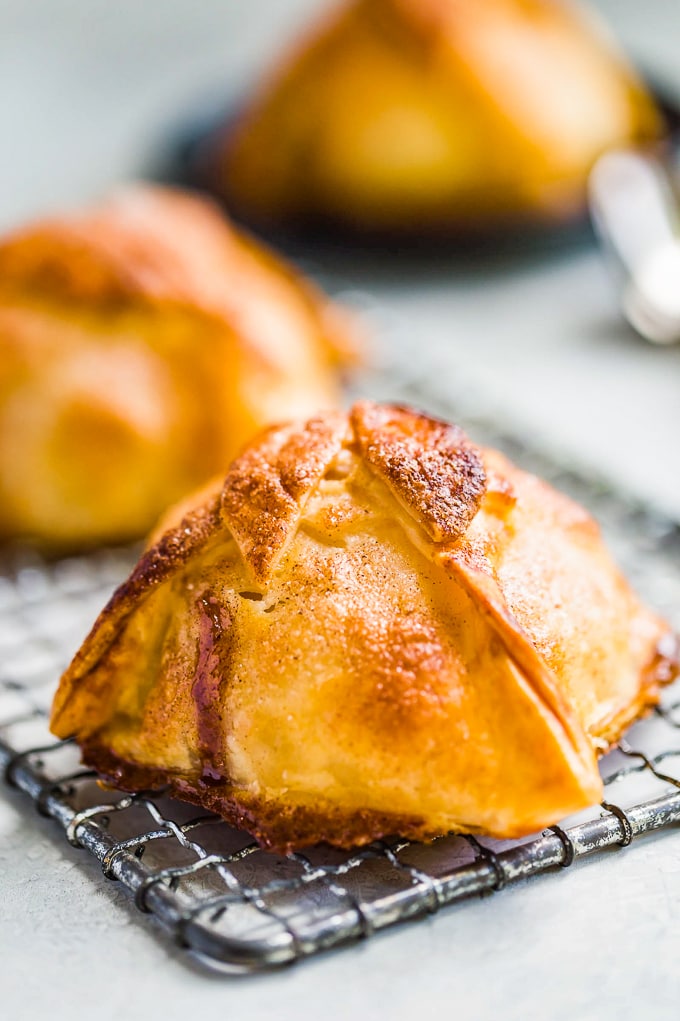 Easy Apple Dumplings
I know these look super complicated, and before I made them, I would have been a bit nervous just by looking at them. BUT this easy apple dumplings recipe shouldn't scare you! In the detailed instructions below, you'll see that although this recipe is not to my normal level of 'easy'…it truly is pretty simple.
We're using pre-made dough (pie crust dough, puff pastry, whatever you prefer), which helps cut down on prep time. And I know those leaves look fancy, but they're really easy to make! Just cut out the basic shape from the dough, add some leafy lines, and attach them to the dumpling before baking.
There are a lot of steps in this apple dumpling recipe, but I'm breaking it down so you can easily follow along. If I can do it, you can do it too!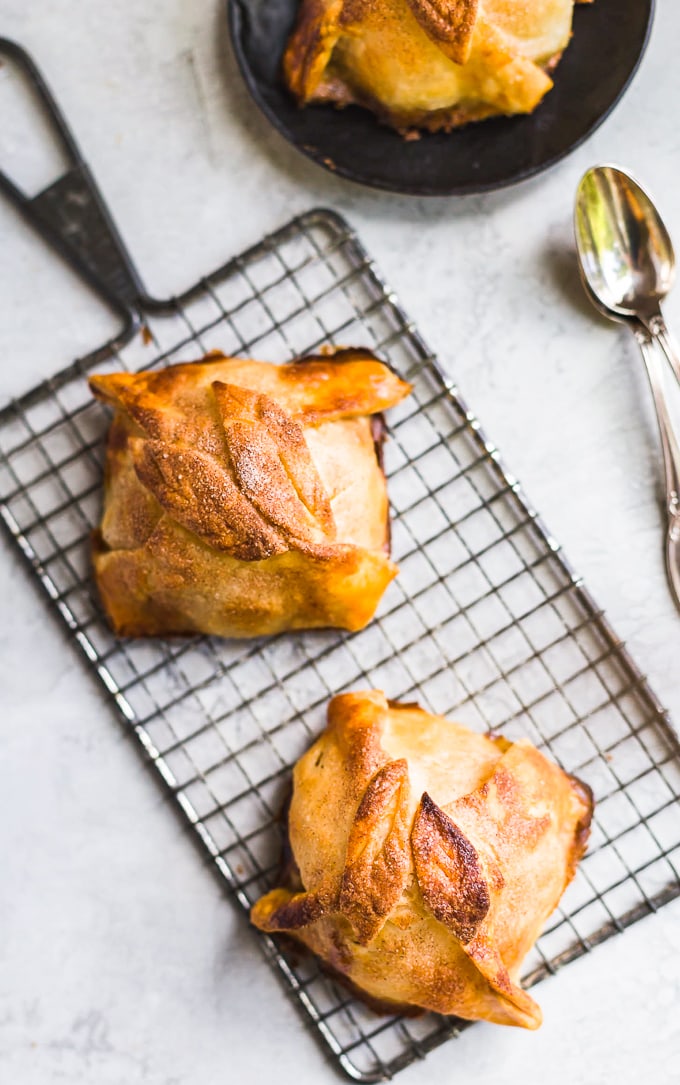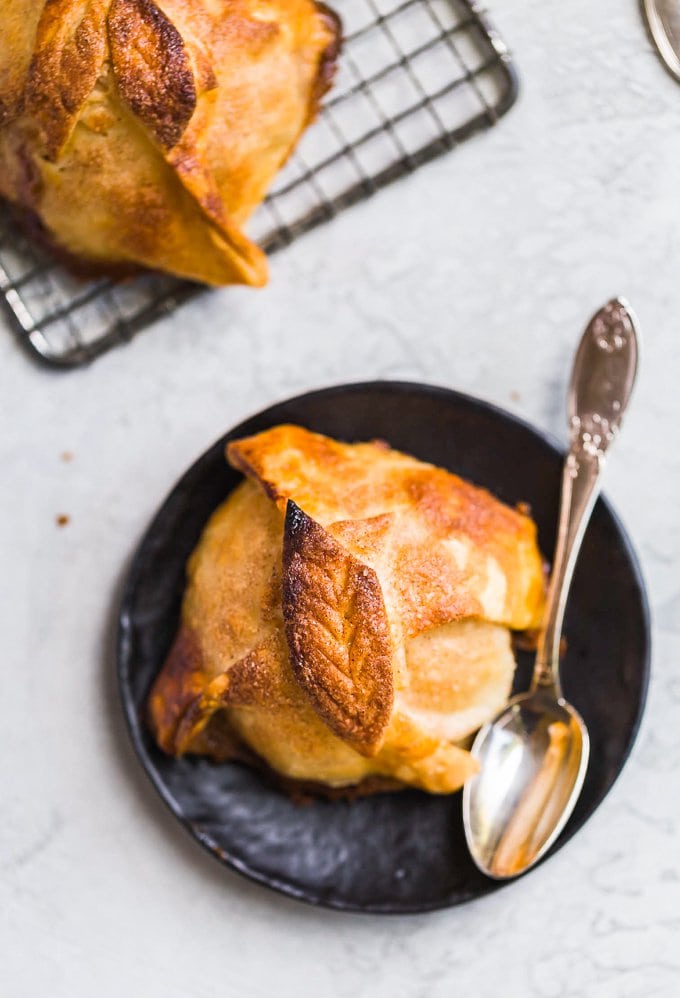 How to Make Apple Dumplings
Like I said before, there are a lot of steps to this apple dumpling recipe…but don't worry, it will all come together and make sense! You can read the full instructions in the recipe card below, but I'll give you a few tips to help make this easy.
Since the dough is already prepared, start by making your little leaves. They don't need to be perfect, just use a knife to cute out a basic shape. Then use the back of the knife to create the vein details. You'll be adding these on top of the apple dumplings later, but keep them in the refrigerator until then.
When prepping the apples, start by peeling them. Then remove most of the core (and all of the seeds) from the center of the apple, but don't poke all the way through the apple. You want a little bit of the bottom left in tact on the apple. Then cut them in half lengthwise.
If you want to prepare this apple dumplings recipe ahead of time, you can cut the apples, fill them with the butter and cinnamon-sugar, then cover them with pastry dough. At this point, you can keep them on a baking tray in the refrigerator until you're ready to bake.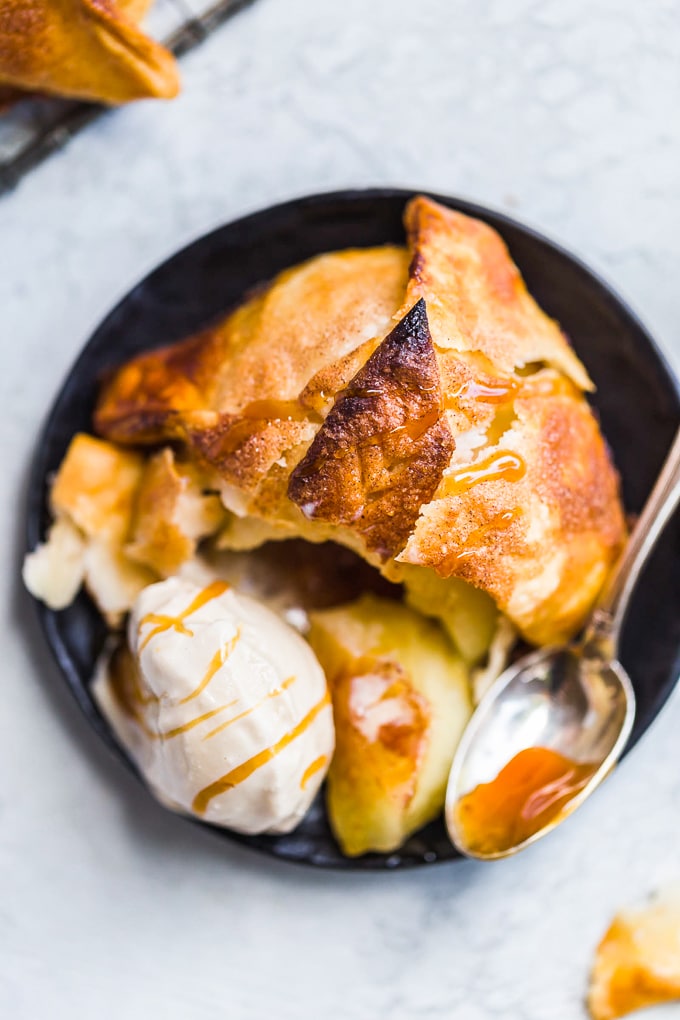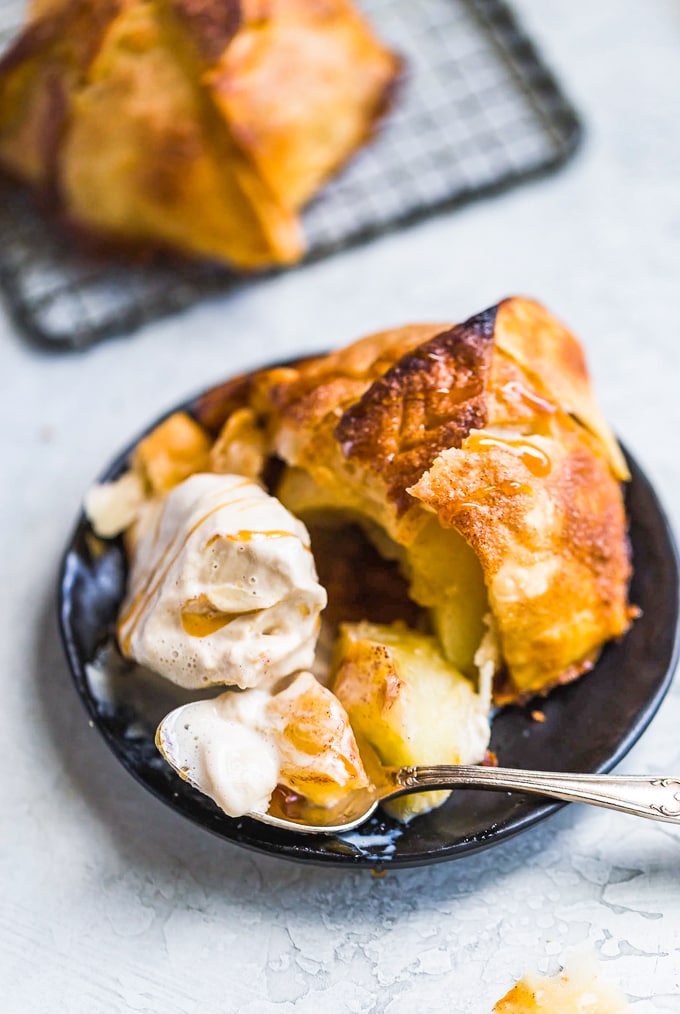 Can you freeze apple dumplings?
Yes! Once your apple dumplings are baked, let them cool completely, and then wrap each one plastic wrap. You can then store them together in a freezer-safe bag or container. They should keep for up to a couple of months. To reheat, let them thaw in the refrigerator or defrost in the microwave. You can then bake them in the oven or just heat them in the microwave for a few minutes.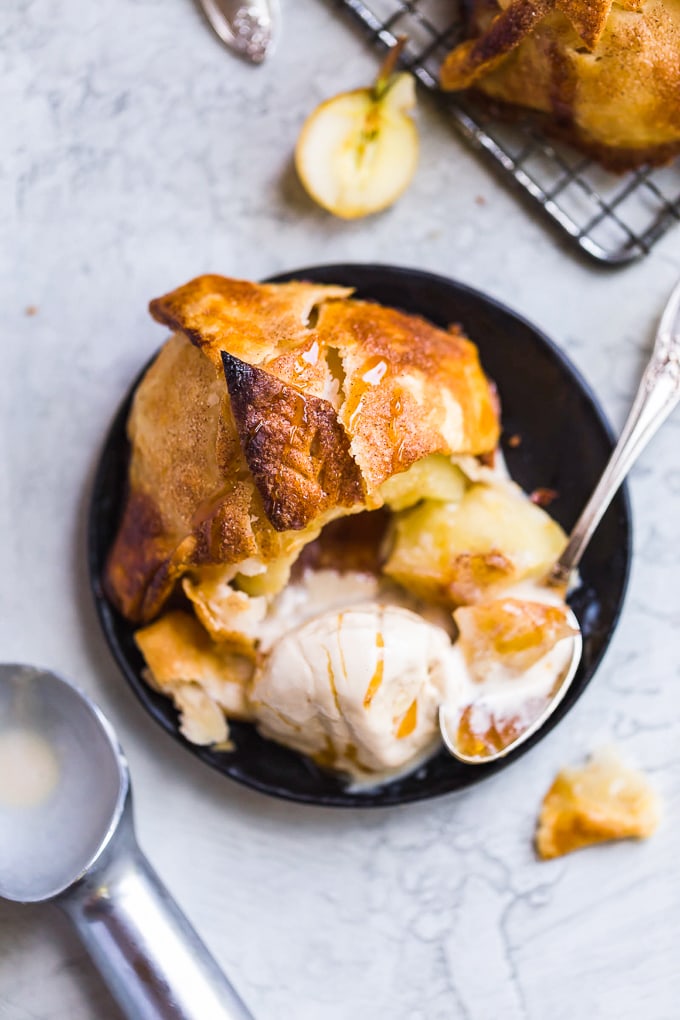 I can't wait for you guys to try this easy apple dumpling recipe! It's so delicious, you won't be able to stop eating these. Serve with ice cream and enjoy!
More Apple Recipes We Love:
If you make this recipe be sure to upload a photo in the comment section below or leave a rating. Enjoy!