This rustic Apple Tart recipe features a thin layer of spiced apples on a flaky crust, and it's so easy to make for any holiday or occasion. The brown sugar, cinnamon, and fresh apple filling is delectable, and making this beautiful rose design is really simple.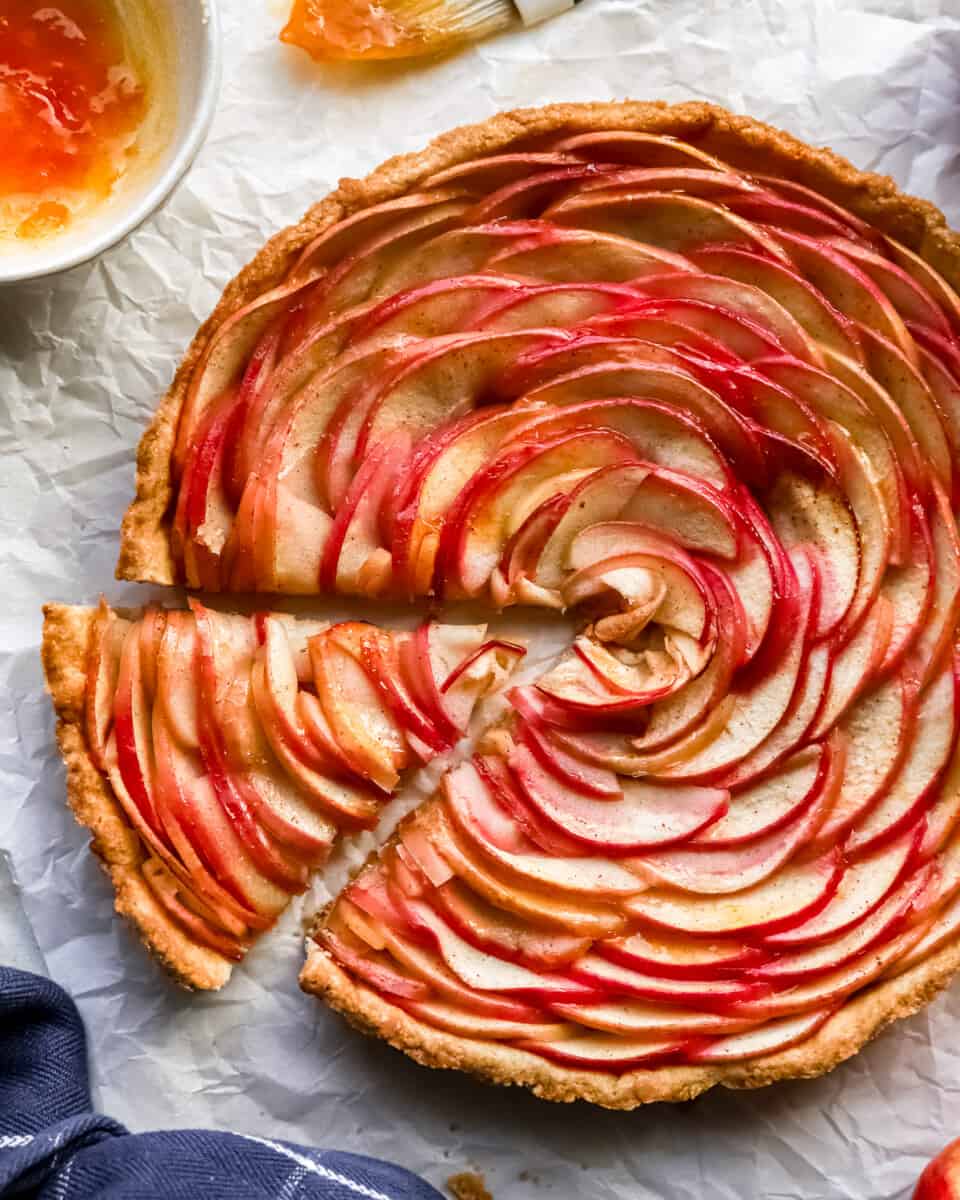 Why We Love This Easy Apple Tart Recipe
This stunningly delicious apple tart is made even more beautiful by carefully arranging the apples into a rose shape. While not necessary for a delicious tart, it doesn't take too much longer to do, and it's sure to wow your guests.
Variations on an Apple Rose Tart
There are quite a few modifications you can make to this recipe if you're missing certain ingredients. You can swap the butter for vegetable shortening, and the apricot preserves for another flavored jam. In place of the apples, you could also use pears!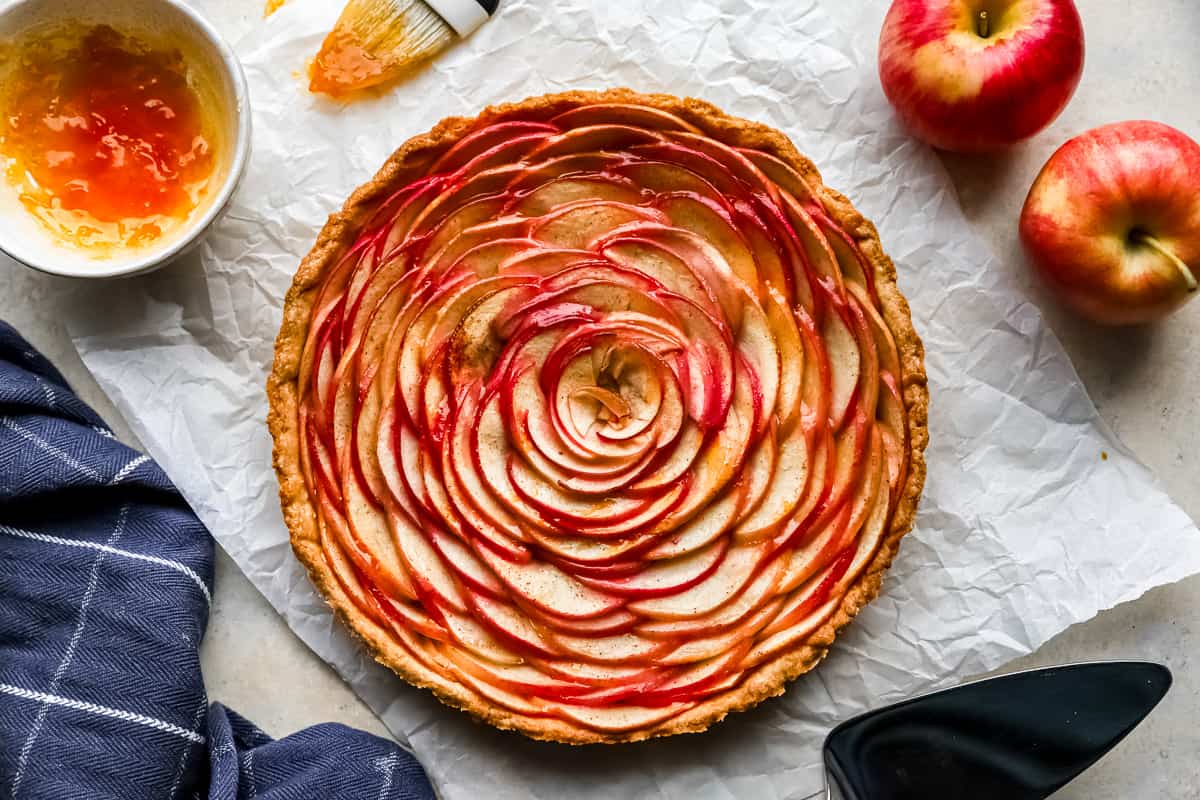 How to Store and Reheat
Store leftover apple tart in an airtight container at room temperature for up to 2 days or in the refrigerator for up to 4 days. Enjoy at room temperature or gently warmed in the microwave.
How to Freeze
Freeze apple tart slices tightly wrapped in 2 layers of plastic wrap and 1 layer of aluminum foil for up to 3 months. Let thaw overnight in the refrigerator before enjoying.
Serving Suggestions
Make this gorgeous apple rose tart the centerpiece of your next gathering. Serve it with scoops of pumpkin ice cream, dollops of whipped cream, or a drizzle of caramel sauce.
What's the difference between apple pie and apple tart?
Apple pie has a thin and smooth crust, whereas tarts are made with a thicker and crumblier crust.
What are the best apples for tarts?
The best apples for tarts are firm and crisp varieties, like Granny Smith, Gala, or Honey Crisp.
Do you eat apple tart hot or cold?
This tart should be served warm or at room temperature for the best flavor.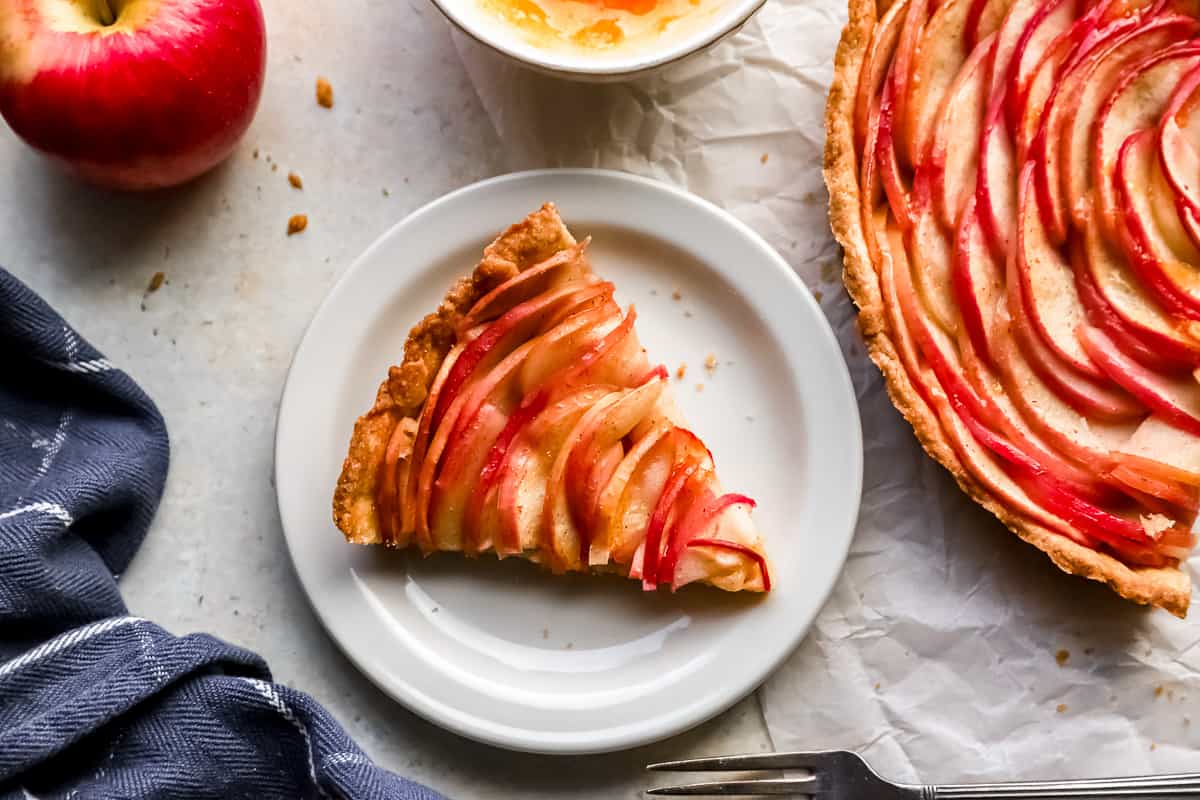 More Apple Dessert Recipes To Try
How to Make an Apple Tart Step by Step
Make the Dough: Preheat your oven to 375°F. Add 1½ cups of all-purpose flour, ¼ cup of granulated sugar, and ½ teaspoon of kosher salt to a food processor. Process for a few seconds until combined. Add in ½ cup of cubed unsalted butter, and pulse until the mixture resembles crumbs. Add in 1 large egg and ½ teaspoon pure vanilla extract. Continue pulsing until the mixture forms larger wet crumbs.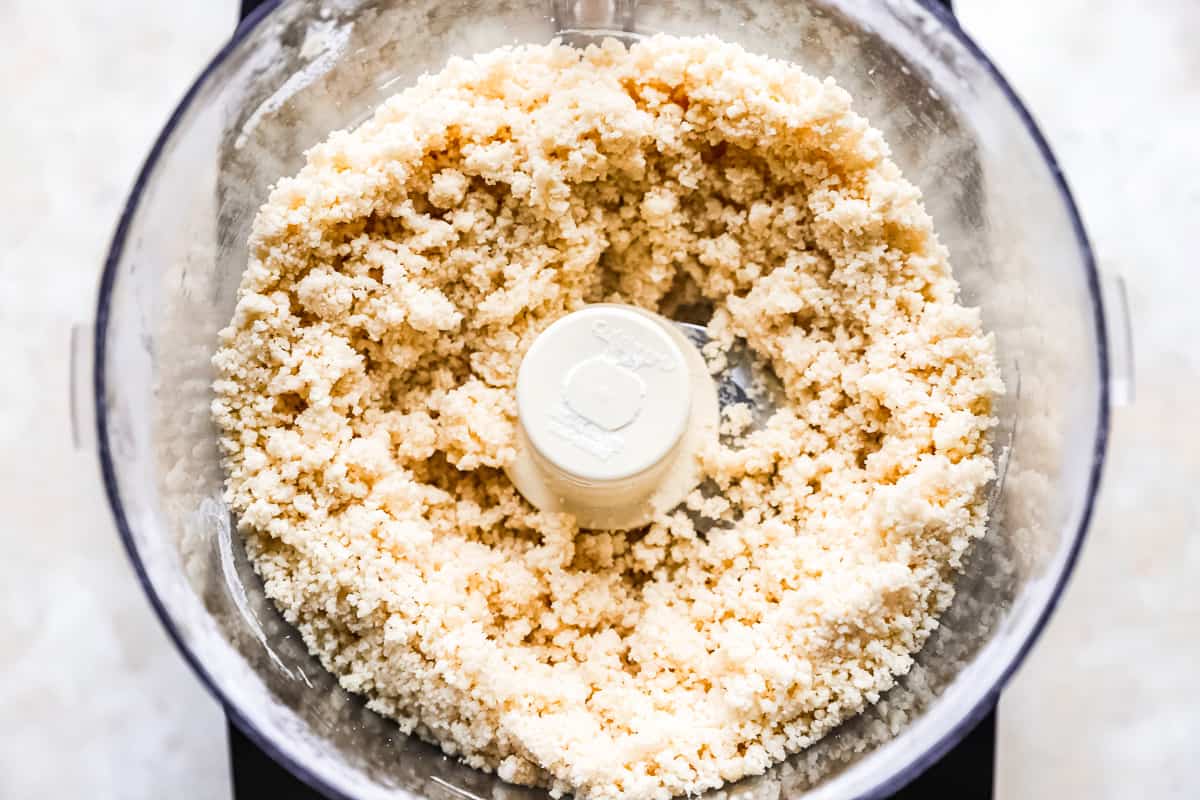 Shape the Dough: Turn the dough out onto a floured surface, and form into a ball.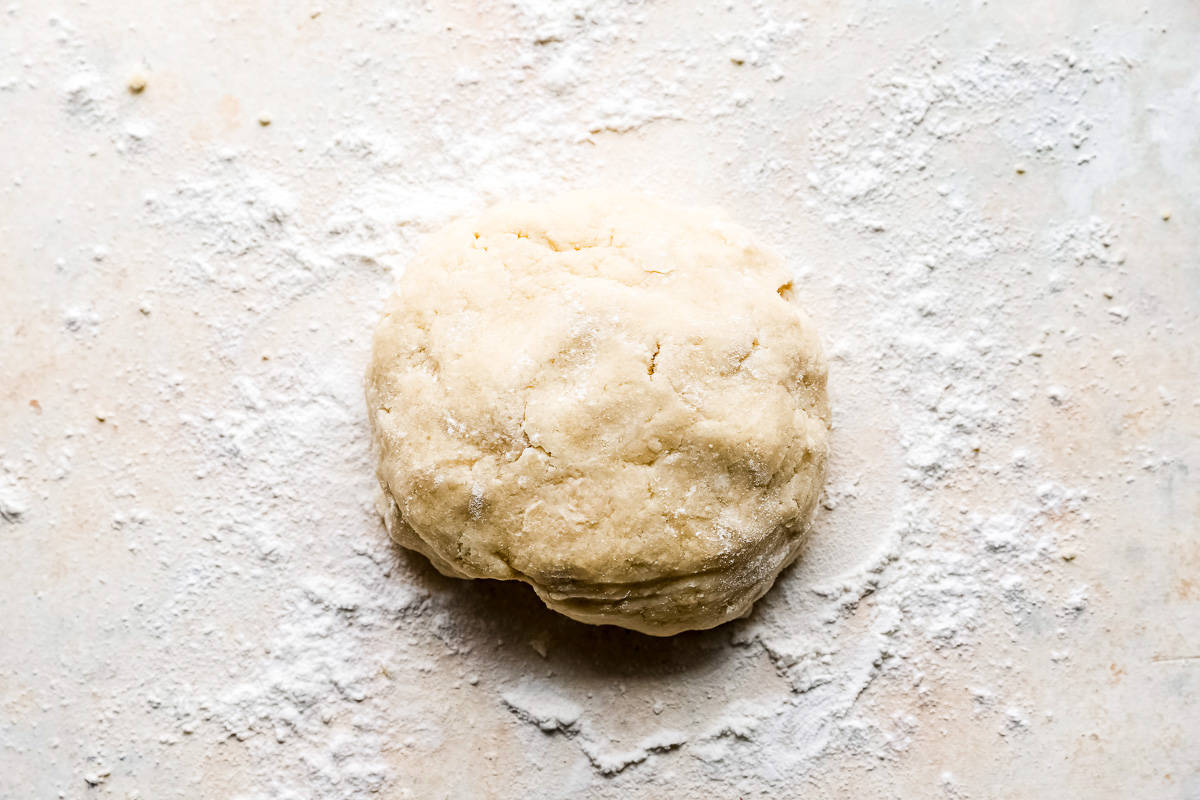 Roll and Trim: Roll out the dough into an even layer. Transfer the dough to a tart pan, pressing it into the bottom and sides of the pan. Trim the excess dough that spills over the top of the pan. Freeze the crust for at least 30 minutes.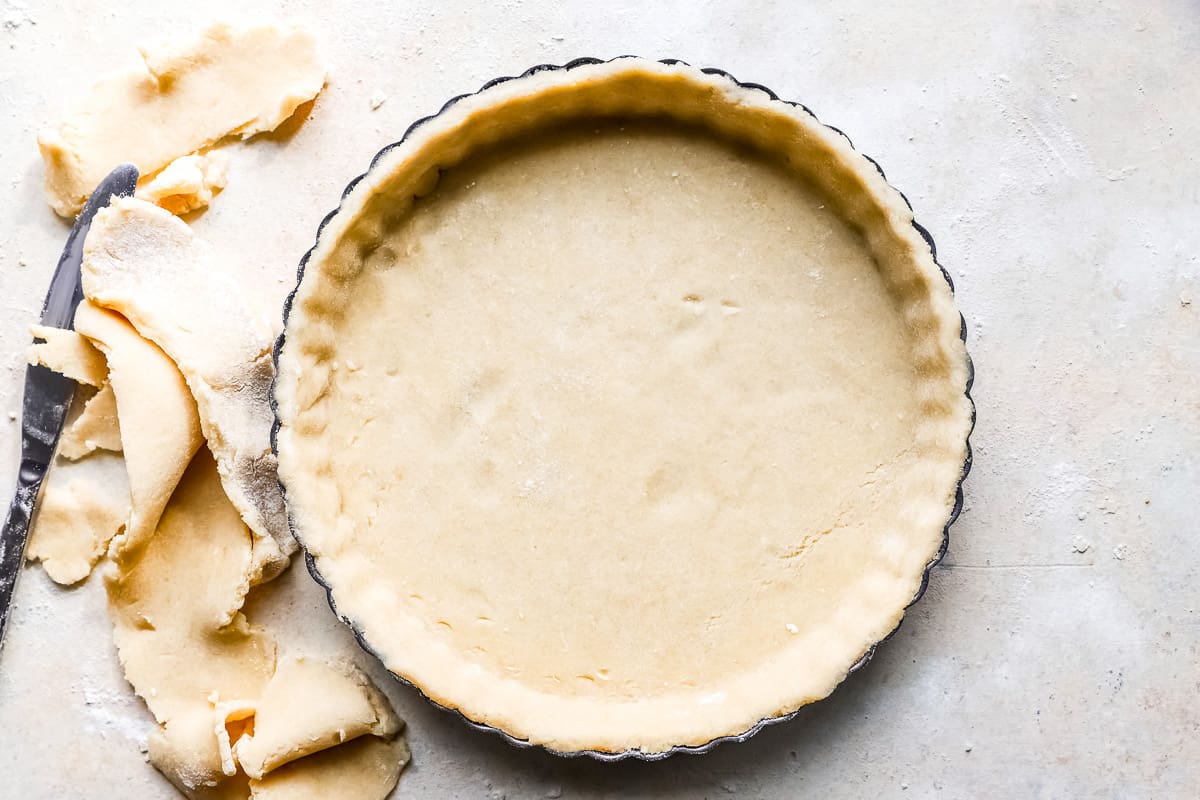 Blind Bake: Place a piece of parchment paper or tin foil over the top of the crust, gently pressing it into the sides and middle of the crust. Fill with pie weights, dried beans, dried rice, sugar, or popcorn kernels. Bake in the preheated oven for 20 minutes.
Slice the Apples Thinly slice 4 large apples using a mandoline slicer. If making a rose design, be sure to reserve 3-4 paper-thin apple slices to coil up in the middle of the tart. Combine the apples, ½ cup of brown sugar, 1 tablespoon of lemon juice, ½ teaspoon of ground cinnamon, and 1 teaspoon of pure vanilla extract in a large bowl.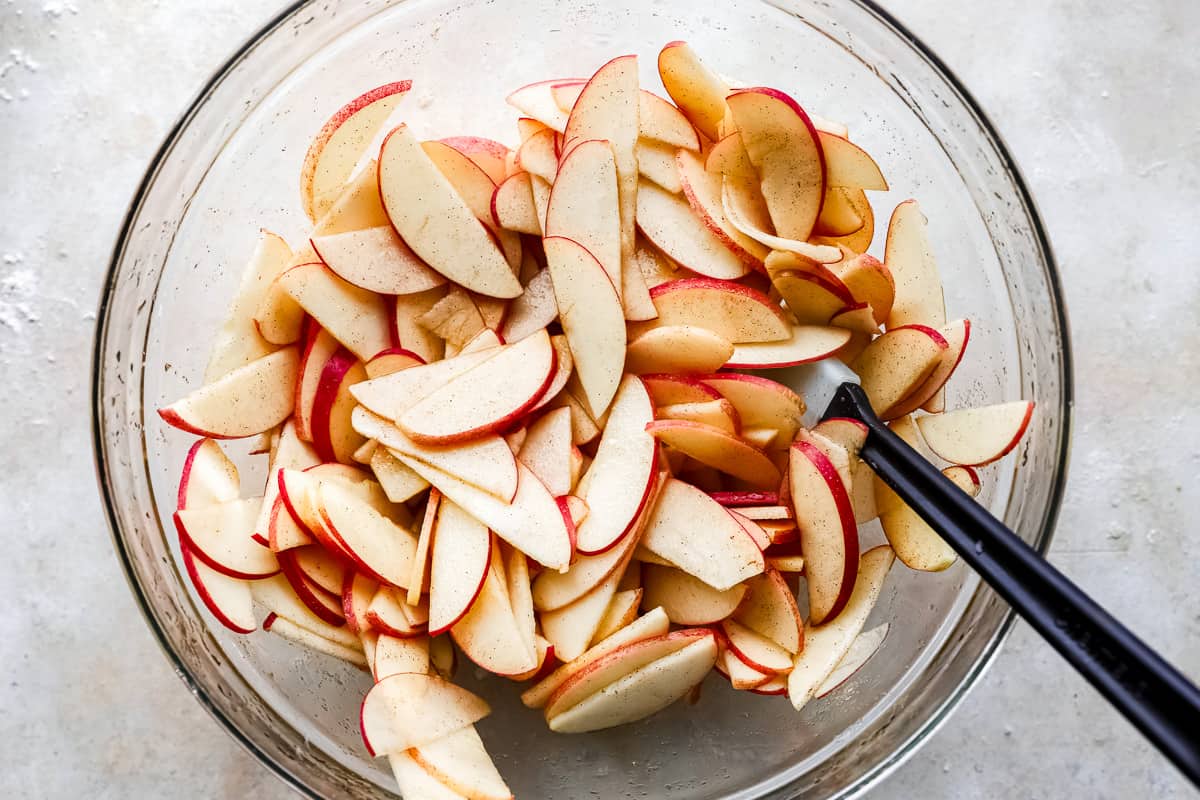 Make the Rose Design: Arrange the apples in an even layer over the dough. To make a rose design, begin by placing the apples in an upright position along the crust and staggering as you work around the circle. Continue until you reach the middle of the tart. Take the paper-thin apple slices and gently coil them into a rose and place it in the middle of the tart.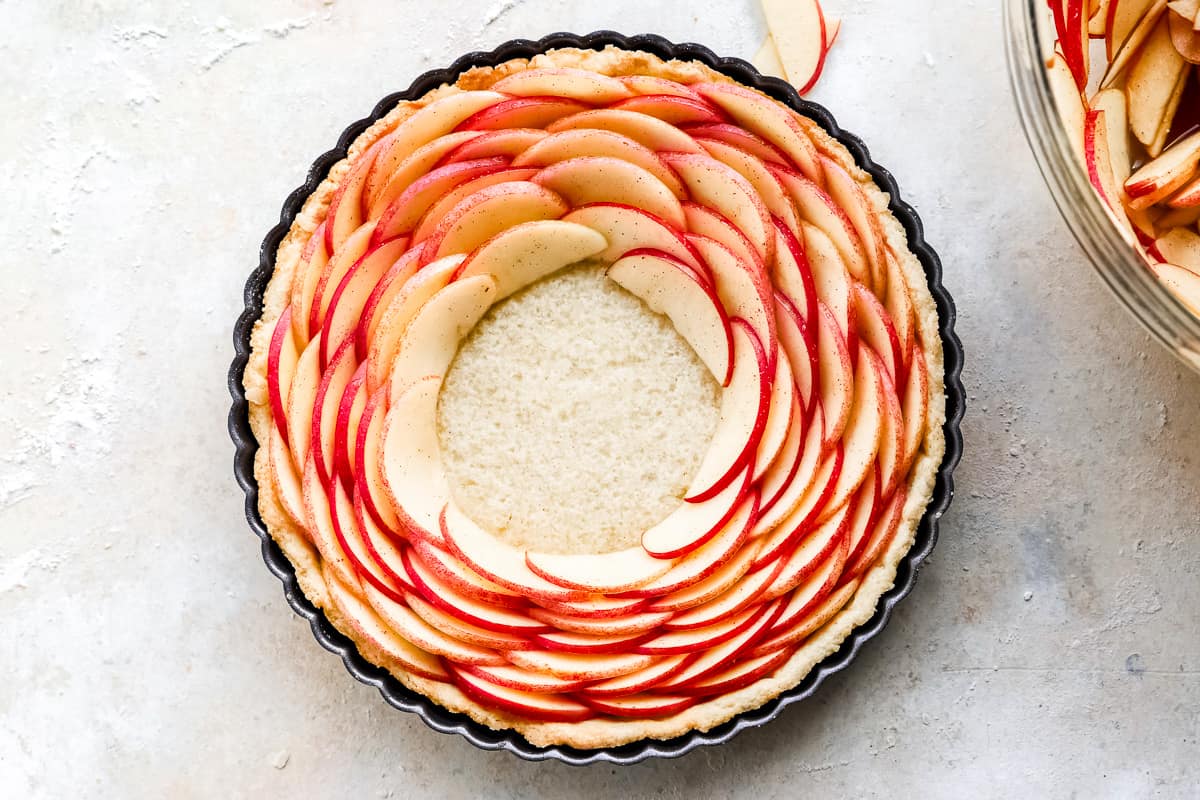 Bake the Tart: Bake for 45-55 minutes. Brush the apples with apricot preserves before serving.