This Dutch Apple Pie recipe has a flakey pie crust, warm apple filling, and a sweet, buttery crumble topping. Made completely from scratch, this warm and cozy apple crumb pie is sure to wow holiday guests. And don't worry, it's easier to make than it seems!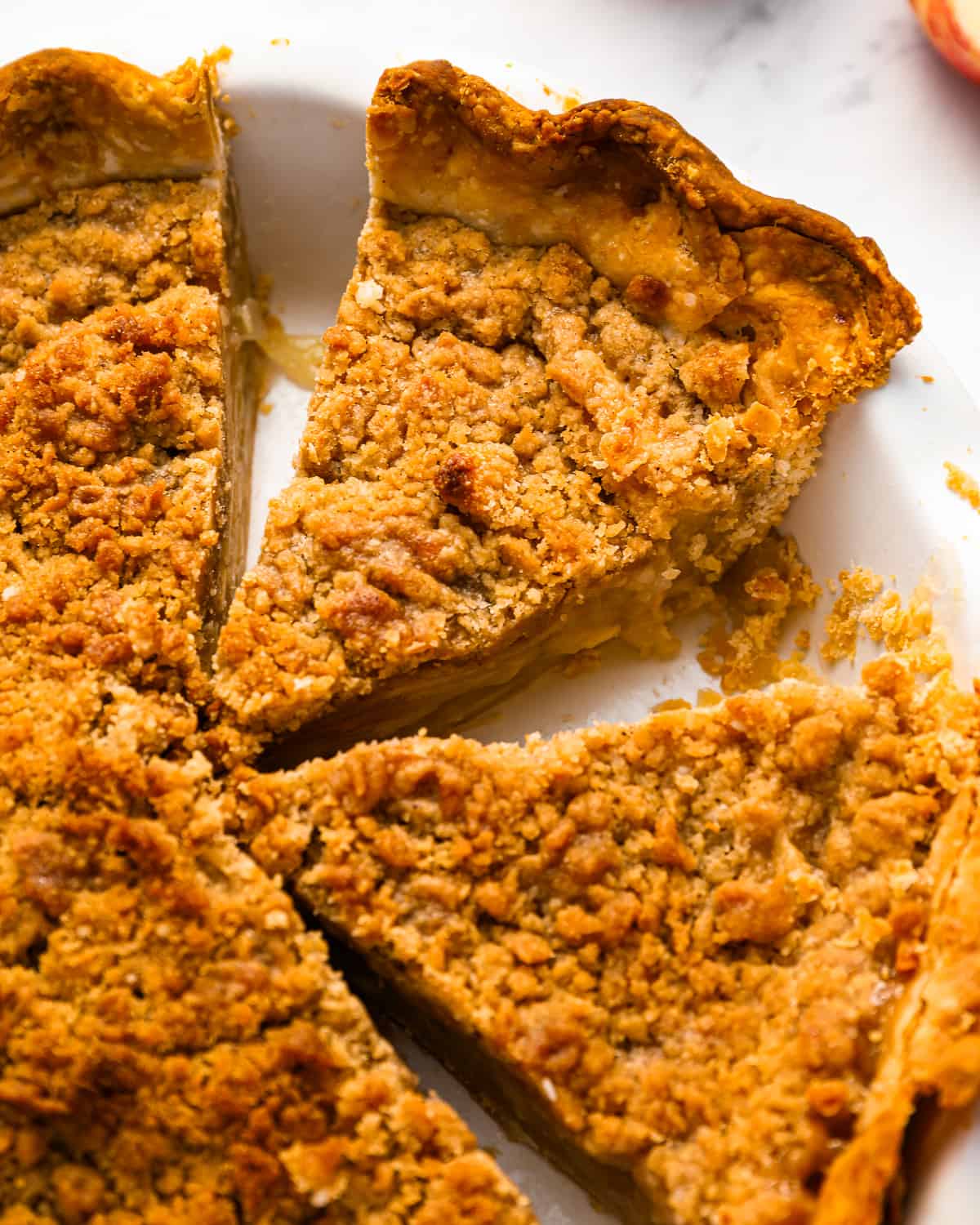 What's in this Dutch Apple Pie Recipe?
Turn traditional apple pie on its head with this fun and easy apple crumb pie recipe! Swap that top crust for a rich salty and sweet crumble!
All-Purpose Flour: Gives structure to the pie crust and topping, and helps thicken the filling.
Sugar: Granulated sugar sweetens the crust and the filling, while brown sugar sweetens the topping.
Kosher Salt: Enhances the natural flavor of the crust and the crumb topping.
Unsalted Butter: Makes the crust and crumb tender.
Shortening: Helps the crust hold its shape.
Ice Water: Adds moisture and keeps the butter from melting before the crust is baked.
Ground Cinnamon: Adds a warm, spiced flavor to the topping.
Apples: I like a mixture of a few different kinds, like Honeycrisp, Braeburn, and Granny Smith.
Lemon Juice: Keeps the apples from browning.
Pro Tip: You can leave the skins on the apples for more color.
Variations on Apple Crumb Pie
This Dutch apple pie can be made with any kind of apples you'd like to use. For a tart filling, opt for Granny Smith, Northern Spy, Cortland, or Gravenstein. For a sweeter filling, go for Honeycrisp, Jonagold, Fuji, or Golden Delicious.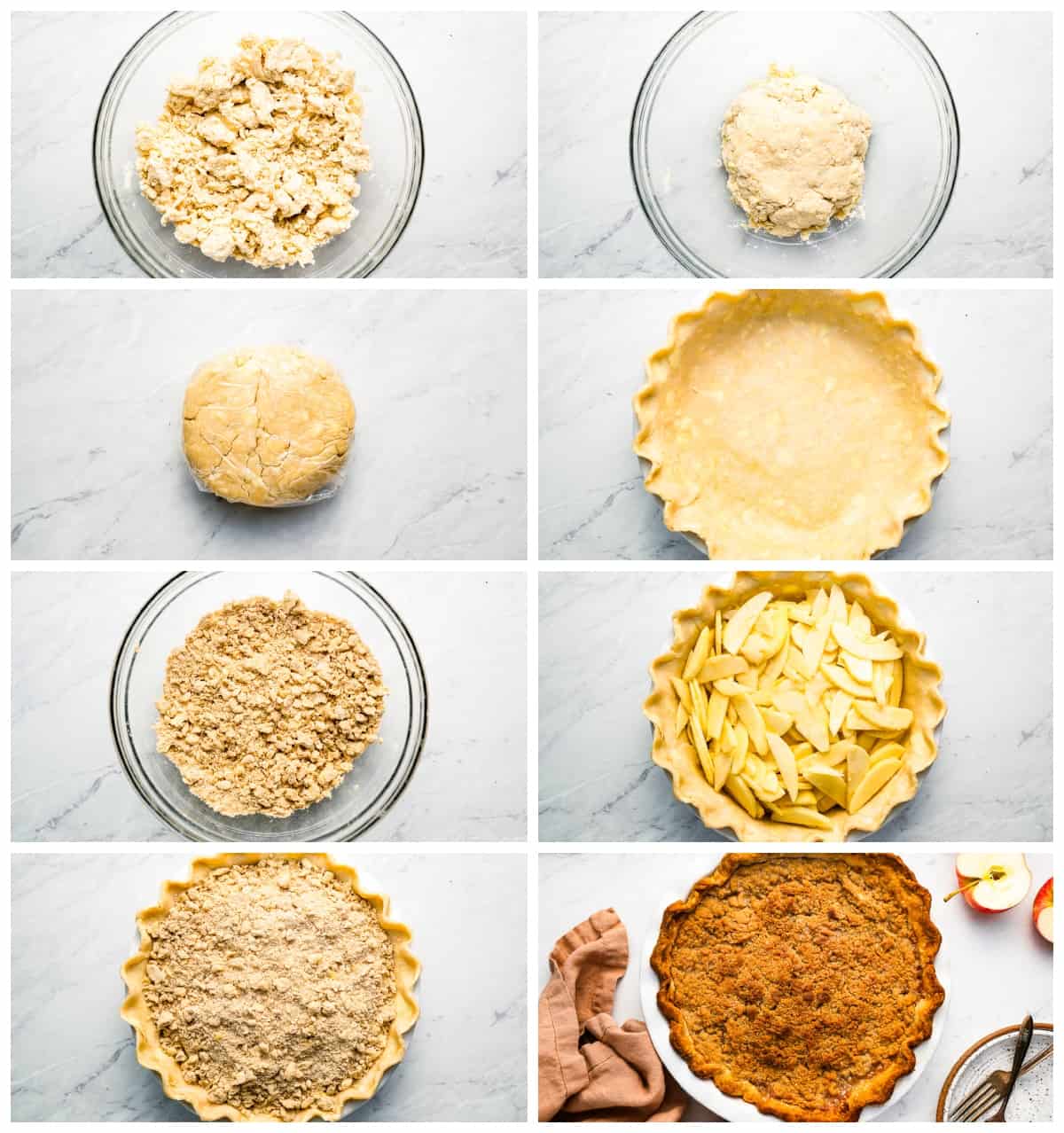 What's the difference between apple pie and Dutch apple pie?
The main difference is the topping. Traditional apple pie has a top crust, while Dutch apple pie has a crumb topping.
Should you peel apples for Dutch apple pie?
That's totally up to personal preference! I peeled mine, but you could leave the skin on if you prefer.
How do you cut apples for Dutch apple pie?
I like to core, peel, and cut my apples into thin slices. I think this gives a nice appearance and helps them cook through evenly.
Should you cook your apples before putting them pie?
There's no need to cook the apples before adding them to this pie, but you certainly can if you like a more caramelized flavor.
How do you keep dutch apple pie from getting soggy?
I find that this recipe bakes up well as written. However, if you notice your crust is turning out soggy, try brushing the crust with a beaten egg before adding the filling or pre-baking the crust just long enough to firm it up (not brown it) before adding the filling.
Does Dutch apple pie need to be refrigerated?
Nope! It'll keep well at room temperature for up to 2 days.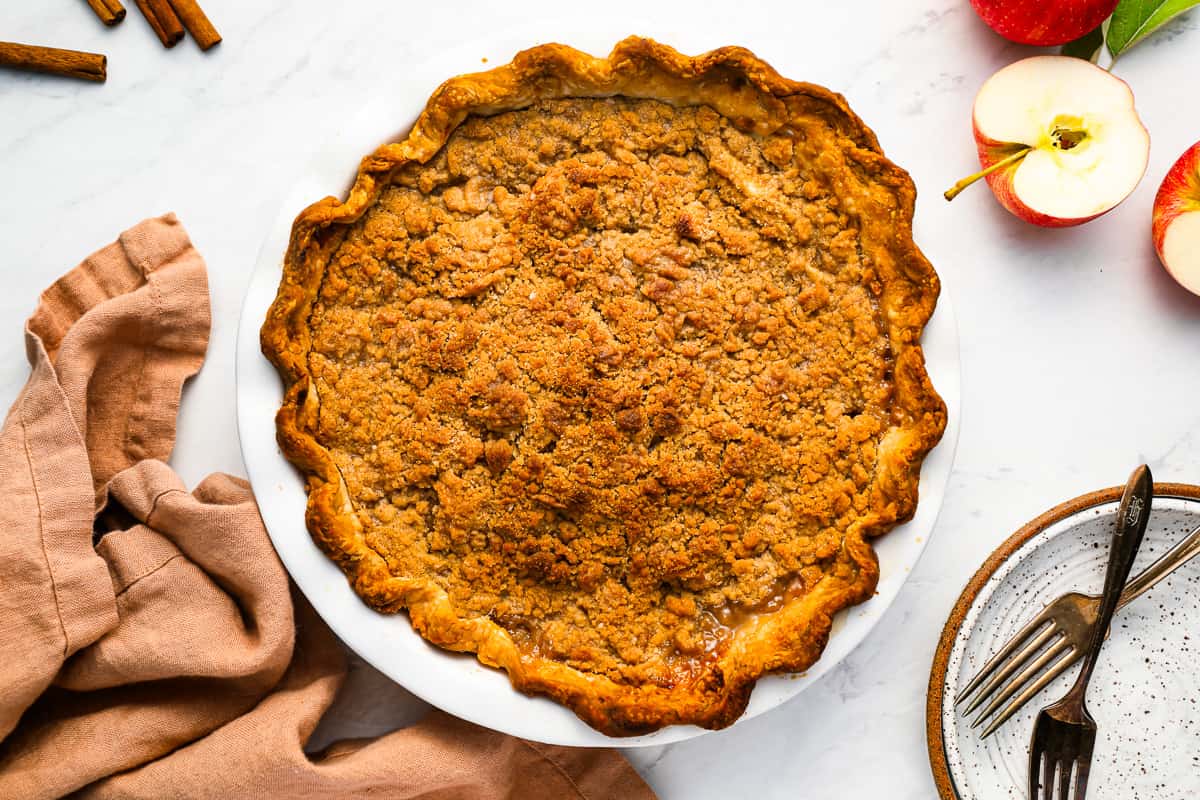 How to Store and Reheat
Store leftover Dutch apple pie covered with plastic wrap or aluminum foil at room temperature for up to 2 days, or in the refrigerator for up to 4 days. Enjoy cold, at room temperature, or gently warmed in the microwave.
How to Freeze
Freeze Dutch apple pie with crumb topping whole, or cut into individual slices, tightly wrapped in 2 layers of plastic wrap and 1 layer of aluminum foil, for up to 3 months. Let thaw overnight in the refrigerator before reheating.
Serving Suggestions
Serve this apple crumb pie with a scoop of vanilla or pumpkin pie cream and a dollop of whipped cream (or try pumpkin spice whipped cream!). For a sweet-and-savory take, melt a slice of cheddar cheese on top.
Enjoy a slice with some caramel apple cider, an apple crisp macchiato, caramel apple sangria, caramel apple hot toddies, or an apple butter old fashioned.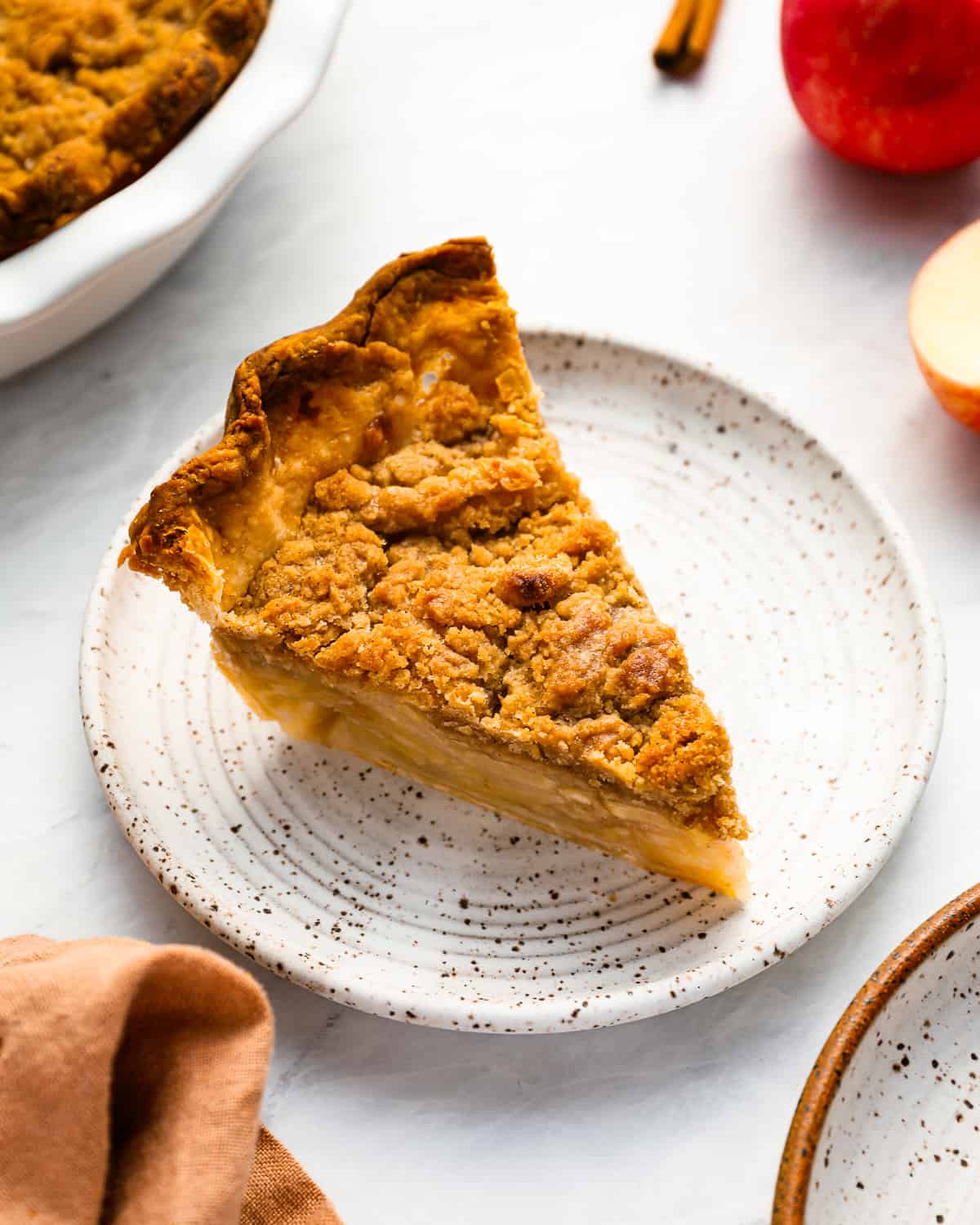 More Apple Dessert Recipes We Love