This cinnamon apple cake is filled with sweet, tart apple slices and topped with a crumbly cinnamon sugar crust. Serve it with a scoop of vanilla ice cream, and this will be one of your new favorite apple desserts!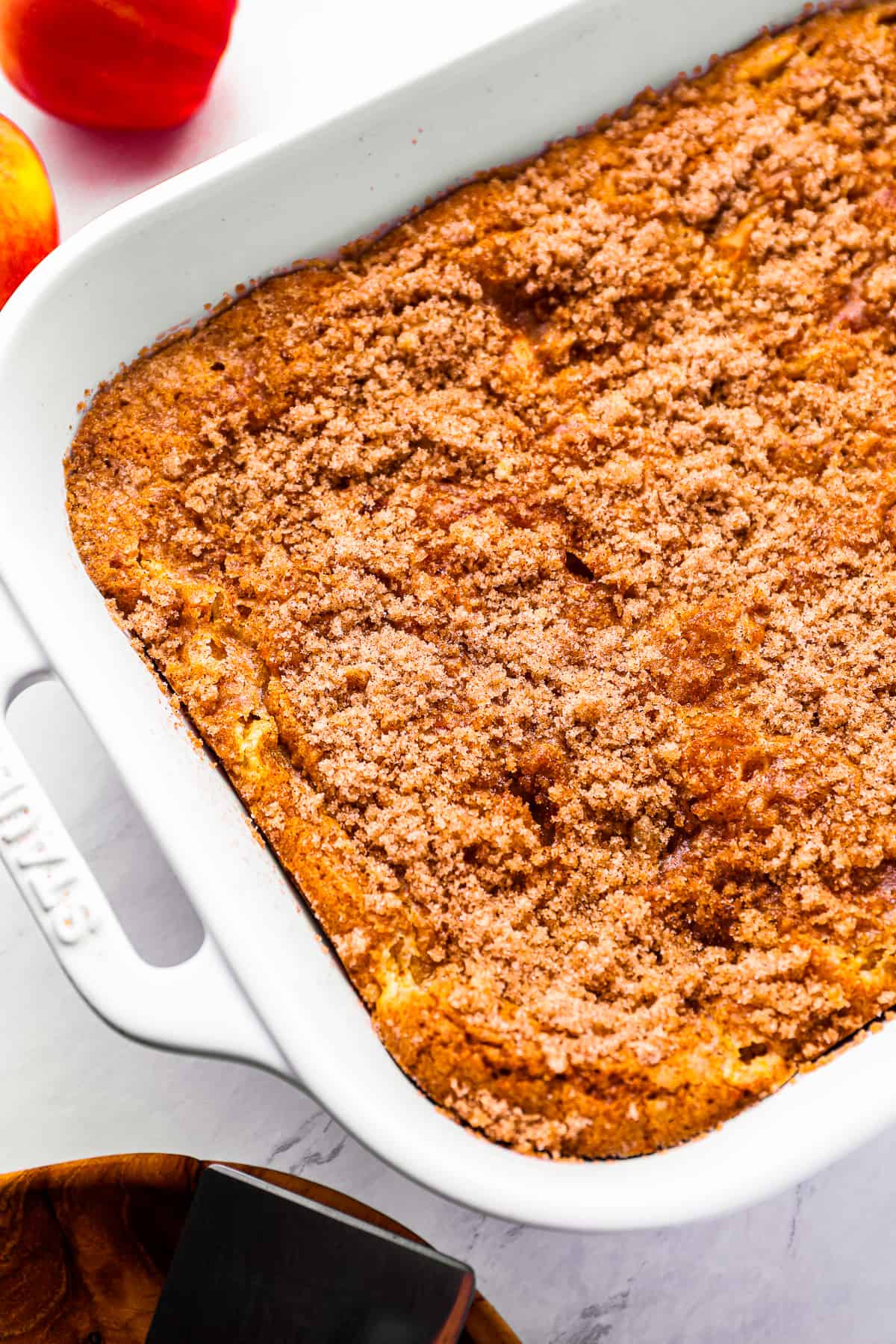 Fresh Apple Cake
Why fight over cake or pie when you can have both? This easy apple cake recipe gives you the taste of apple pie, but in cake form! What's more, it's cooked all in one baking dish, leaving you with less mess and more yum.
Serve this moist cake for dessert at your next holiday gathering, potluck, or dinner party. Everyone will adore the nostalgic taste of fall that comes with every bite.
Why You'll Love this Apple Cake Recipe:
Simple Recipe: This apple cake is cooked all in one dish, uses the most basic ingredients, and can be made in under an hour!
Fall Treat: Nostalgic flavors of apples and cinnamon make this cake recipe an ideal treat for the fall season.
Next Level Taste: The combination of spices like nutmeg, cinnamon, and ginger pair so well with the sweetness of the apples. Yum!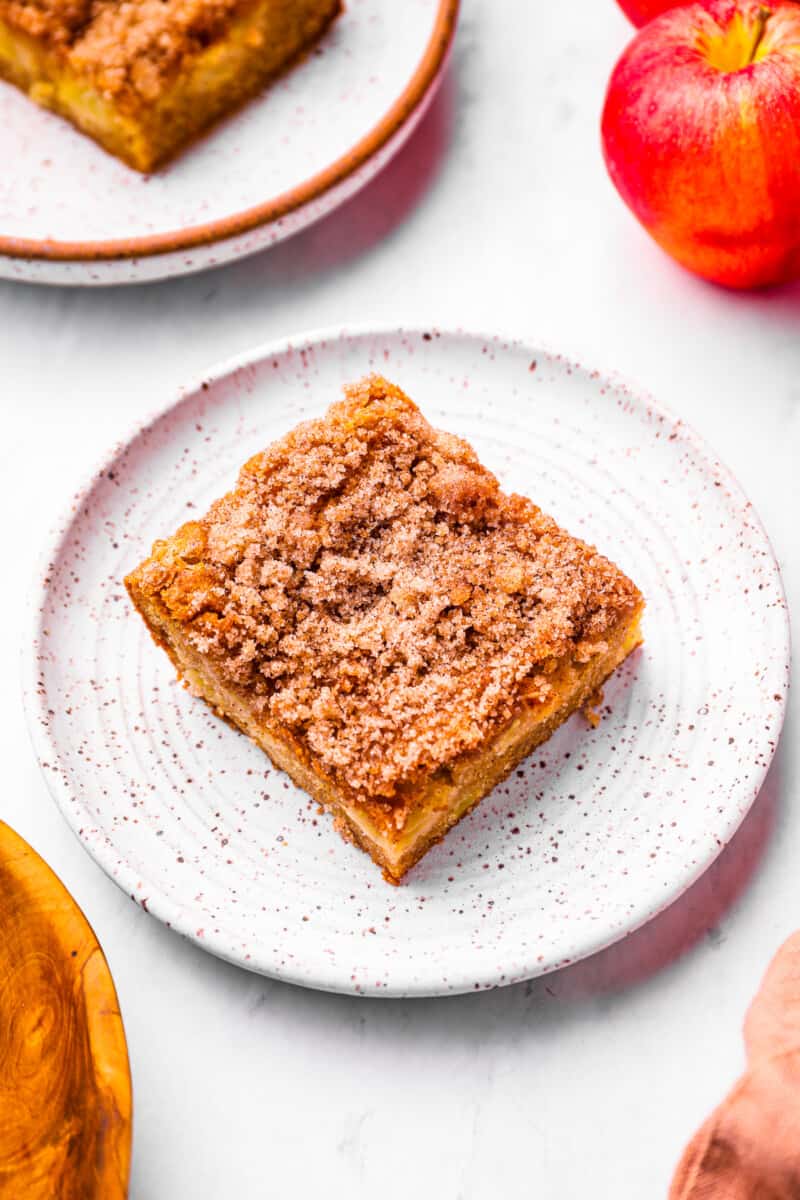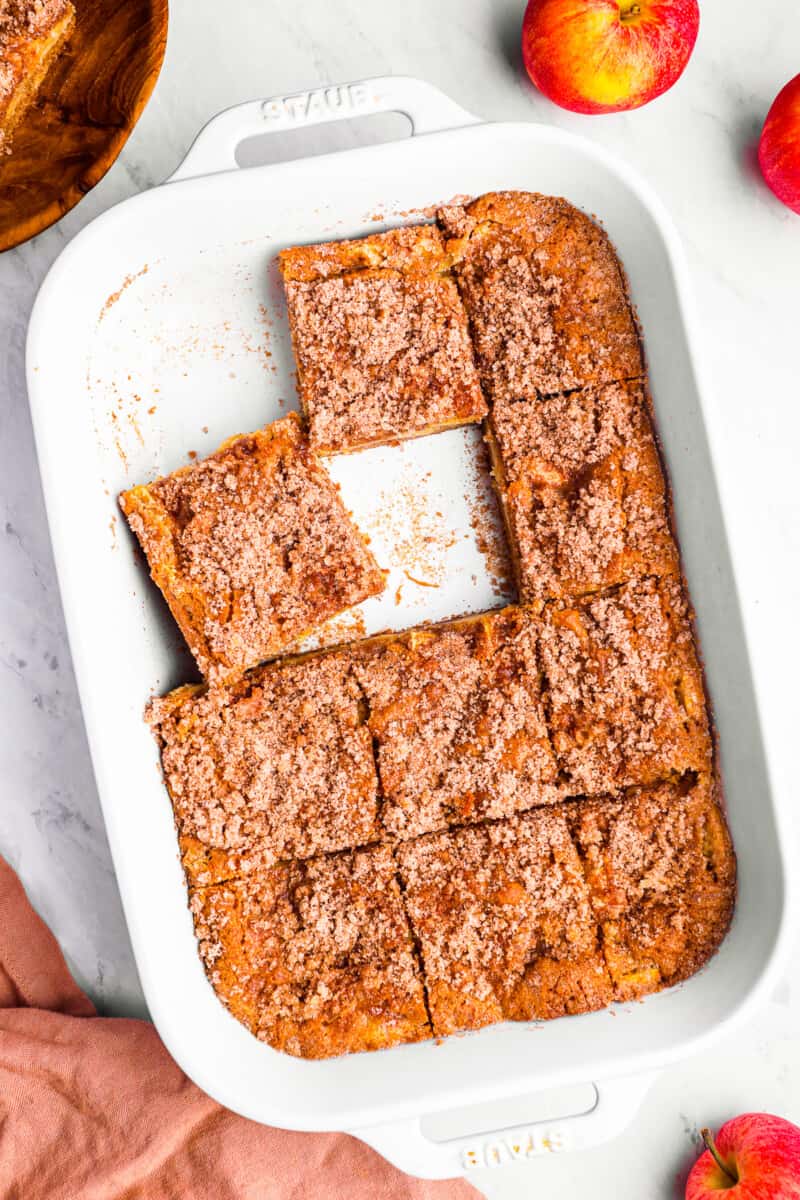 How to Make Apple Cake
You can jump to the recipe card for full ingredients & instructions!
Combine cake ingredients to make the batter, then fold in the apples.
Next, transfer the batter to your prepared dish and smooth it into one even layer.
In a medium bowl, stir together the sugar, cinnamon, and melted butter to make the crumble topping. Sprinkle over the top of the cake.
Bake, cool before slicing, and serve. Enjoy your apple cake!
Recipe Notes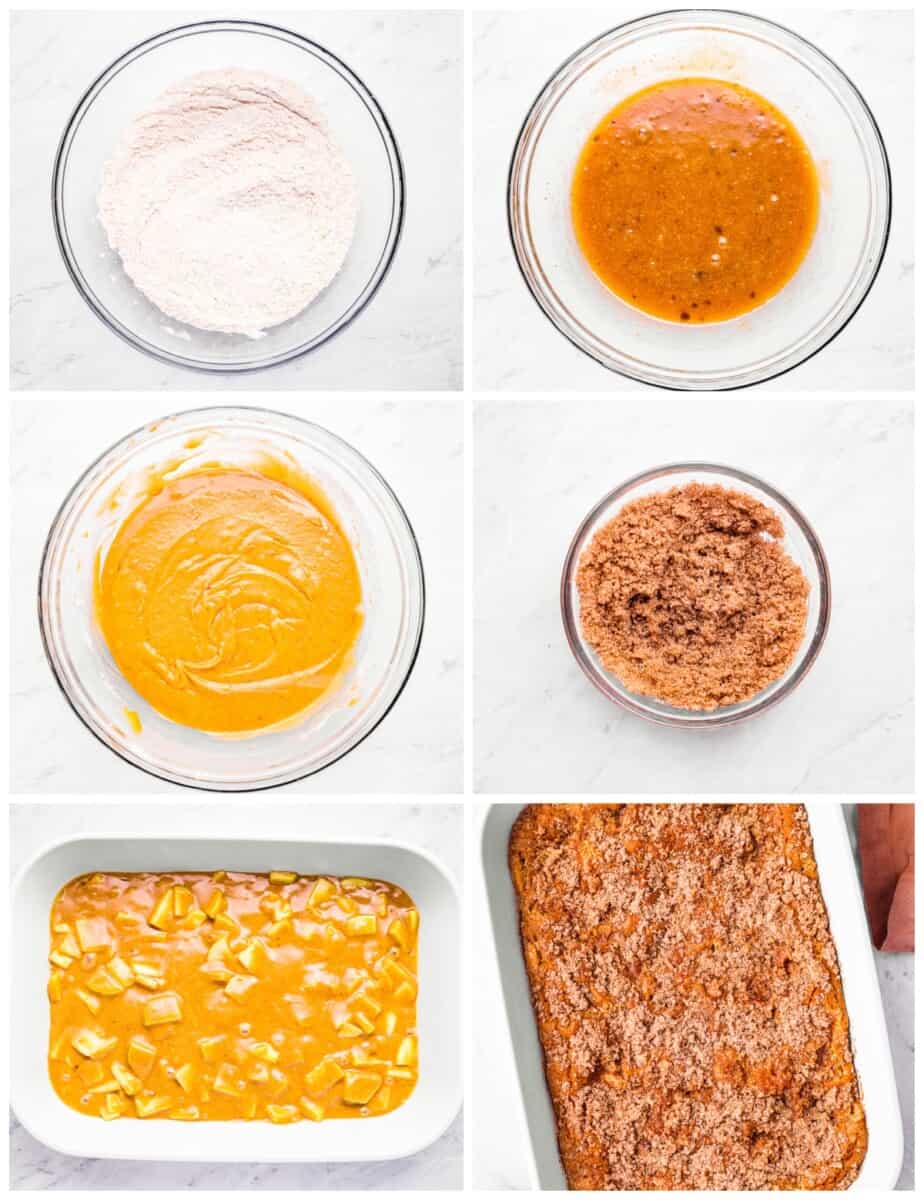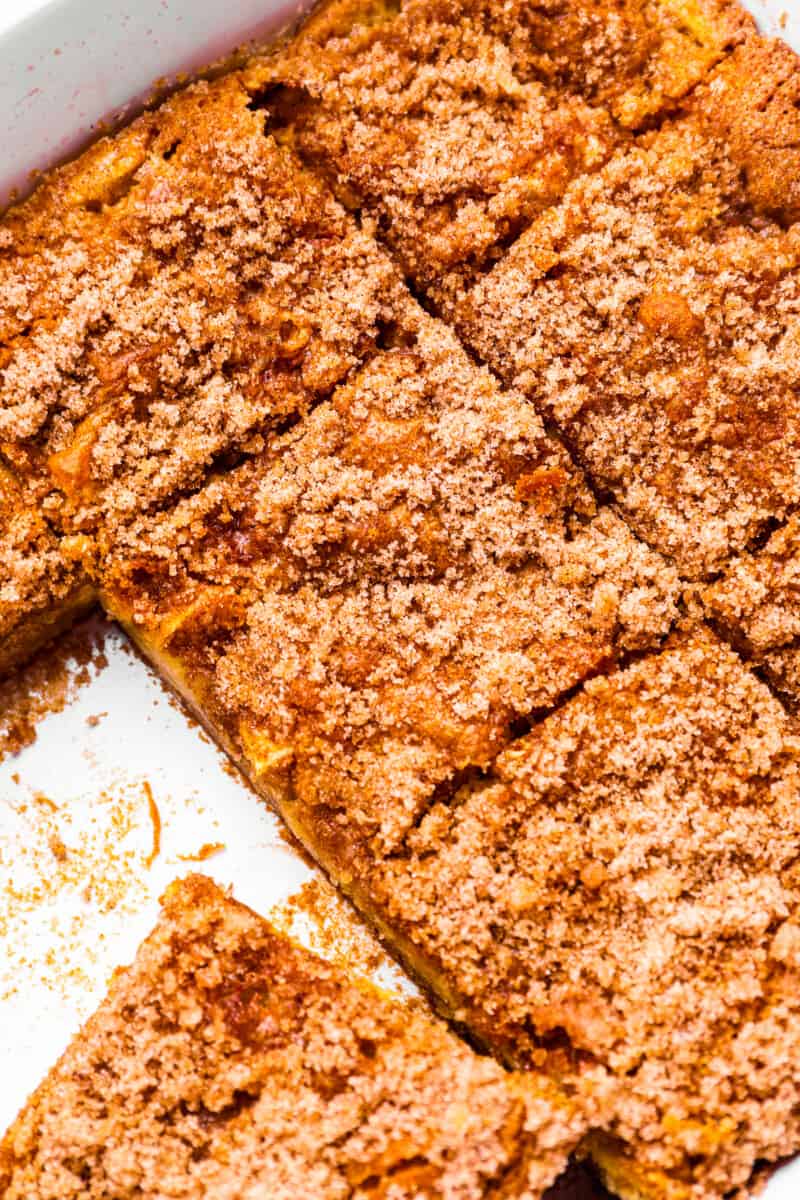 What is apple cake?
Apple cake is a moist, delicious spiced cake with real apples folded in. It is topped with sweet cinnamon butter for a decadent dessert!
What are the best apples for apple cake?
The key to a great apple cake is to use a mix of sweet and tart apples. For tart apples, try Granny Smith, McIntosh, Cortland, or Pink Lady. For sweet apples, try Gala, Golden Delicious, Honeycrisp, or Fuji.
Why didn't my apple cake rise properly?
If your apple cake is a bit flat, that's most likely because you didn't add enough baking powder and/or baking soda. Also, be sure to check the expiration date on your baking powder/soda! If they are expired, they just won't do the trick.
Why is my apple cake dry?
A dry cake can be caused by 2 things. You may have measured the ingredients incorrectly, or you might have overmixed the batter. It's important to spoon and level your ingredients if you're not using a scale, and it's important to have a light hand when mixing the batter.
Does apple cake need to be refrigerated?
Yes! The apples add a lot of moisture, which can cause the cake to spoil quickly if left out for too long at room temperature.
Recipe Tips and Tricks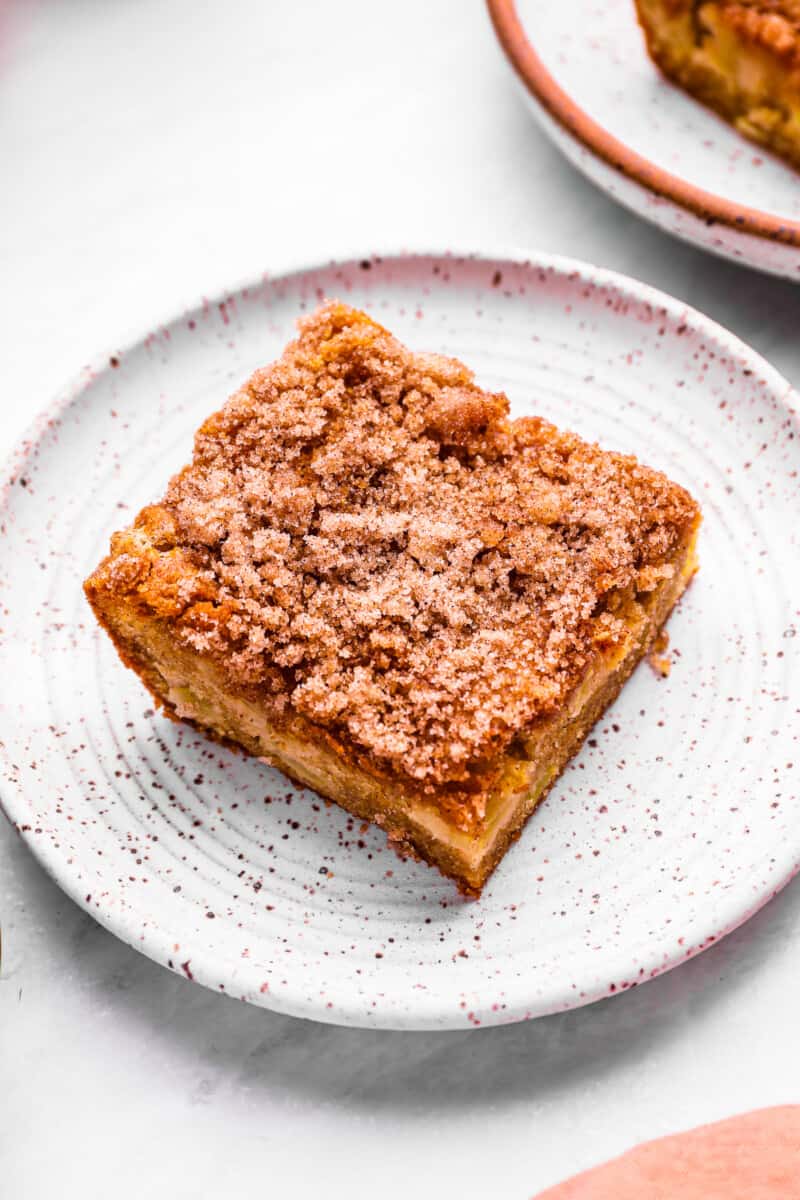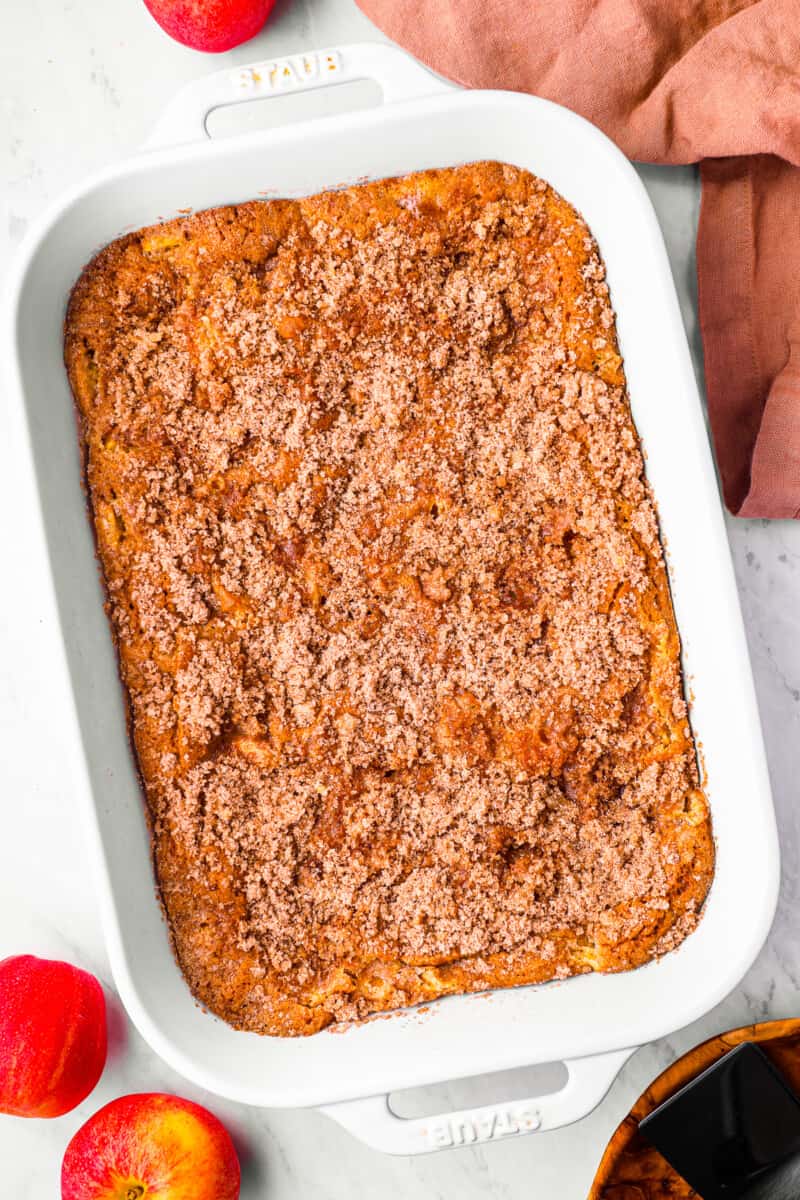 Make Ahead Instructions
This apple cake can be made up to 1 day ahead and stored in an airtight container in the refrigerator until ready to serve.
Storage Instructions
Store leftover apple cake in an airtight container in the refrigerator for up to 2 days. Let come to room temperature before serving.
Freezing Instructions
Freeze apple cake whole or in individual slices tightly wrapped in 2 layers of plastic wrap and 1 layer of aluminum foil for up to 3 months. Let thaw overnight in the refrigerator before enjoying.
Substitutions
For a gluten-free apple cake, replace the all-purpose flour with gluten-free 1:1 baking flour.
In place of the spices, you can use a pie spice mix.
For a lighter flavor, you can use light brown sugar instead of dark.
In place of the vegetable oil, you can use any other neutral oil, such as avocado, coconut, or canola, or try melted butter!
Instead of apples, try this recipe with pears or peaches!
Tips for the Best Apple Cake
Use a mix of sweet and tart apples for the best flavor!
Gently tap the pan on the counter before placing it in the oven to help the apples settle and to remove any trapped air bubbles.
If the top is browning too fast, cover the pan loosely with aluminum foil for the remainder of the baking time.
Let the cake cool completely before slicing.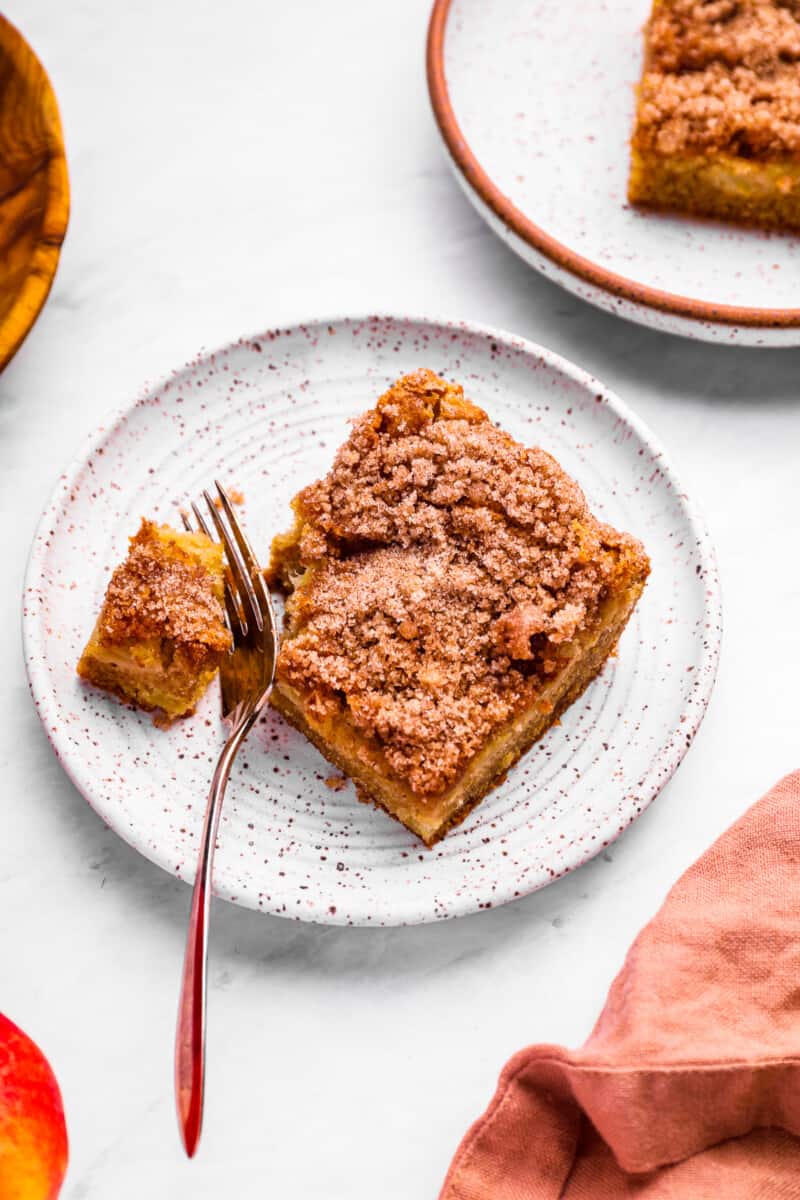 This delicious cinnamon apple cake is great for the fall but can be enjoyed any time of year. Now go stock up on apples because you'll want to make this recipe again and again!
If you make this recipe be sure to upload a photo in the comment section below or leave a rating. Enjoy! You can also jump to recipe.