Make this warm, delicious Apple Bundt Cake recipe to celebrate fall! This easy cake is filled with fresh apples, a healthy dose of cinnamon, and rich brown sugar, then finished with a sweet cinnamon sugar topping. Everyone will love the simple flavor of this seasonal dessert!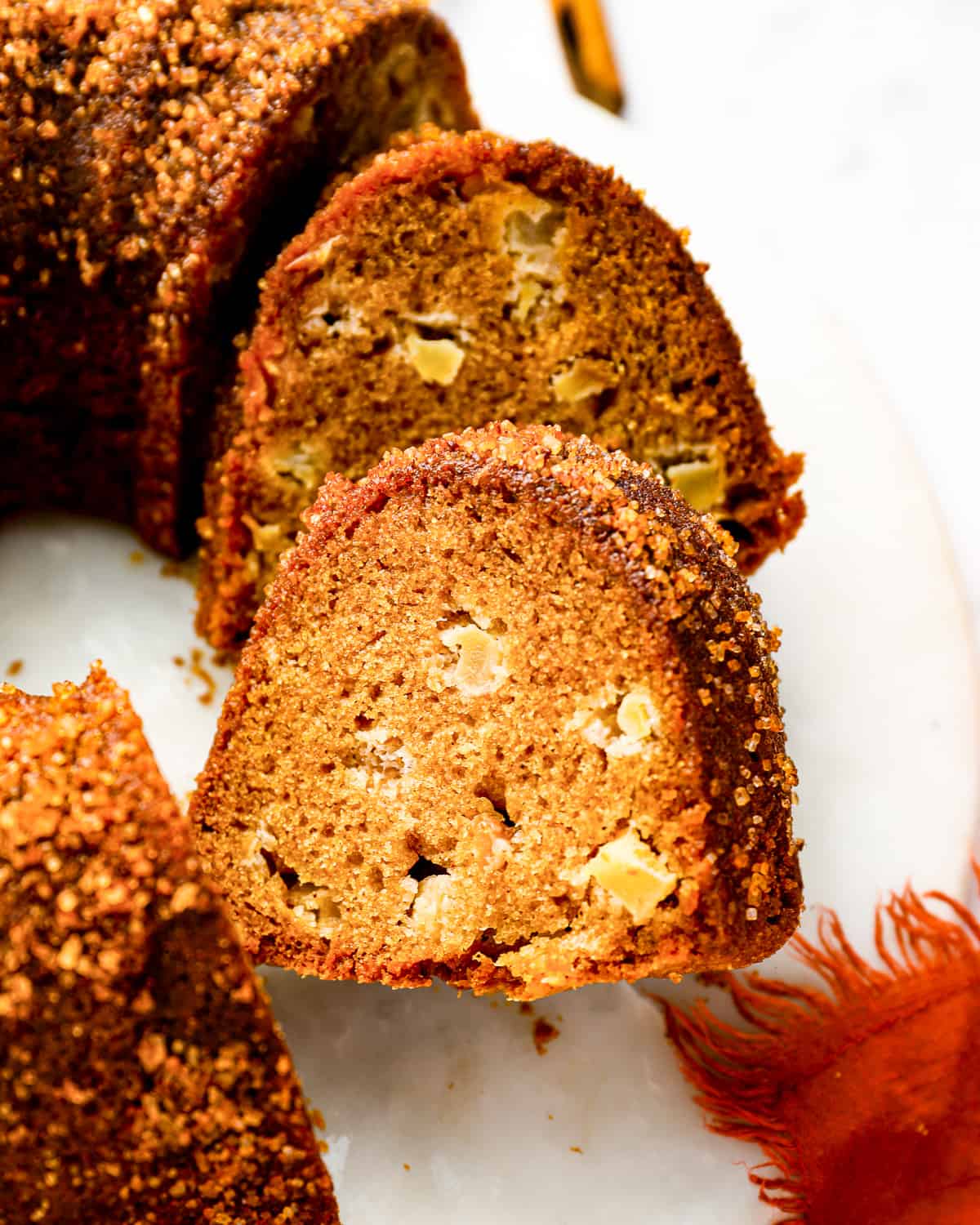 What's in this Apple Bundt Cake Recipe?
This moist, rich bundt cake is studded with apples and topped with cinnamon sugar!
Vegetable Oil: Makes this cake moist and tender.
Sugar: A combination of brown and granulated sugar sweetens the cake, while turbinado sugar creates a crunchy topping.
Eggs: Give the cake structure and add richness.
Sour Cream: Infuses the cake with lots of moisture!
Vanilla Extract: Adds a subtle vanilla flavor that enhances the sweetness of the cake.
All-Purpose Flour: Gives this cake structure.
Baking Soda: Helps the cake rise in the oven.
Kosher Salt: Enhances the overall flavor of the cake and balances the sweetness.
Cinnamon: Adds a warm, spicy flavor to the cake and the topping.
Apples: I used Granny Smith apples, but you can use any firm apples you like!
Unsalted Butter: Helps the topping stick to the cake.
Pro Tip: Try browning the butter for the topping for even more flavor!
Variations on Apple Cinnamon Bundt Cake
You can use any firm apple in this bundt cake recipe, or try swapping out the apples for pears or peaches! For even more autumnal flavor, swap out the cinnamon for pie spice.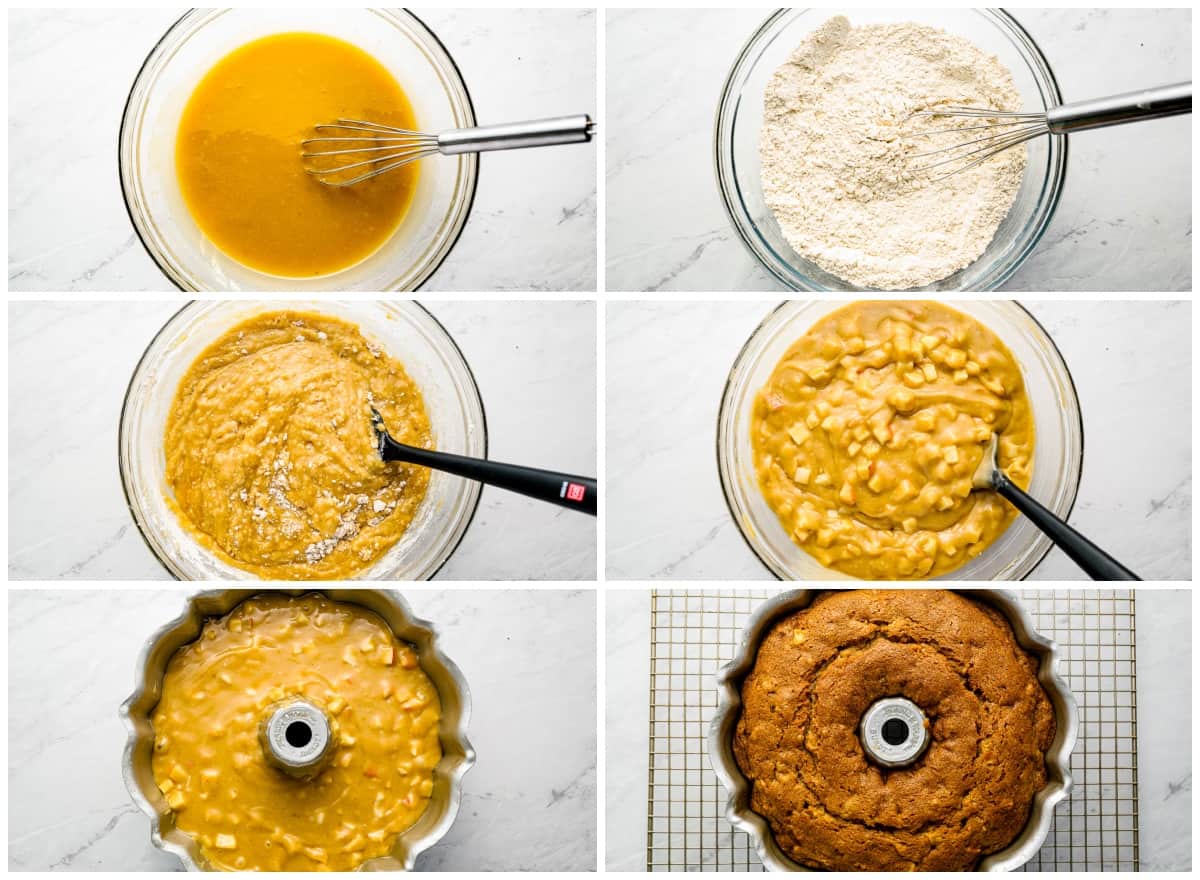 What are the best apples to bake in a cake?
I recommend firm-tart apples, like Granny Smith, Northern Spy, or Pink Pearl; or firm-sweet apples, like Ginger Gold, Golden Delicious, Jonagold, and Pink Lady.
What makes a bundt cake different from regular cake?
A bundt cake is baked in a special bundt pan with a hole in the middle that allows for better airflow in the oven. This causes the cake to bake up thick and moist!
Why are bundt cakes so moist?
Bundt batter needs to be extra moist to compensate for the additional heat that is touching more of the cake, so that is why they tend to be much more moist and dense than a traditional cake.
Do bundt cakes take longer to bake?
Yes, bundt cake usually take quite a bit longer to bake than regular cake layers.
How long should you wait to flip a Bundt cake?
For this recipe, I recommend waiting an hour for the cake to cool before unmolding it. This is due to the additional moisture from the apples that could make the cake stick to the pan if you try to turn it out while it is still hot.
Can you add icing to this cake?
You sure can! I love the cinnamon-sugar topping, but if you're looking for something a bit sweeter, try icing this cake with vanilla frosting or a simple icing made from powdered sugar and milk!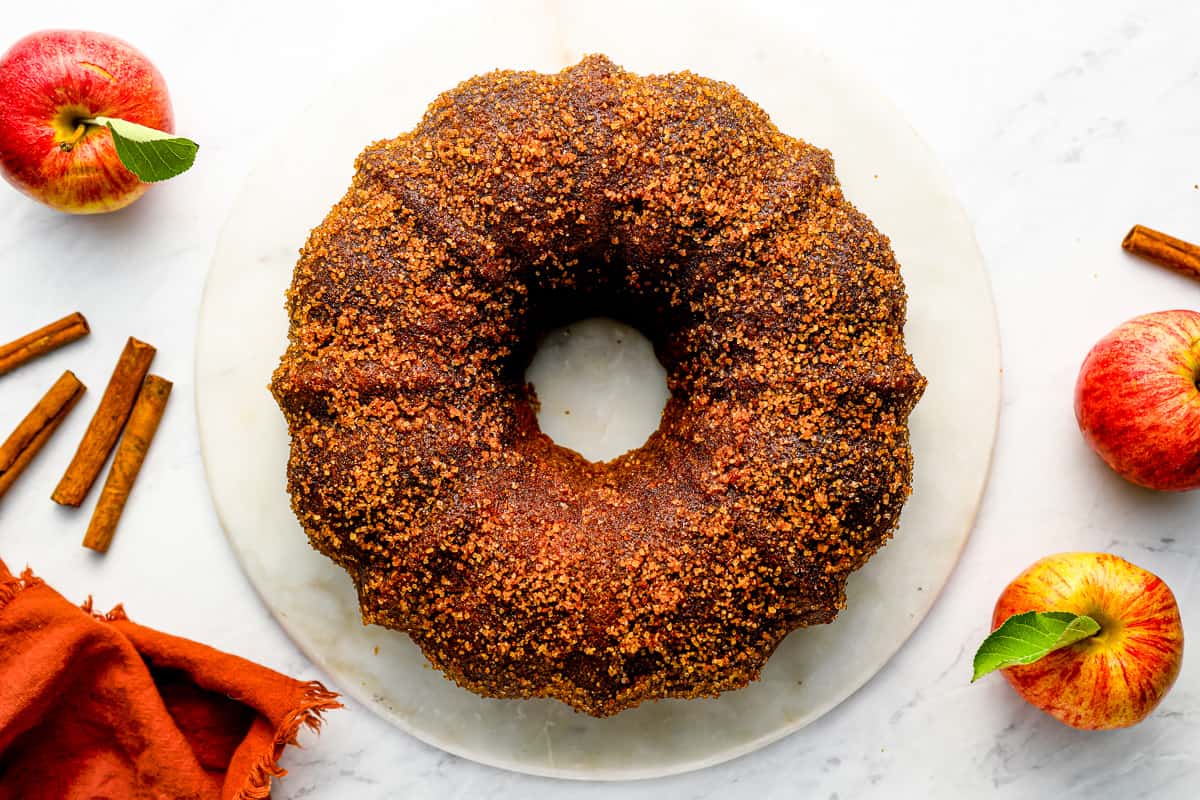 How to Store
Store leftover apple bundt cake in an airtight container in the refrigerator for up to 3 days. Let come to room temperature before enjoying.
How to Freeze
Freeze this fruity apple bundt cake whole, or cut into individual slices, tightly wrapped in 2 layers of plastic wrap and 1 layer of aluminum foil for up to 3 months. Let thaw overnight in the refrigerator before enjoying.
Serving Suggestions
This bundt cake is one of my favorite apple recipes for fall. Serve slices with a side pumpkin spice ice cream and a drizzle of caramel sauce. Some whipped cream or pumpkin spice whipped cream would also be delish!
For a beverage, try a chai tea latte milkshake, spiced pear cider, apple cider mimosas, or an apple crisp macchiato.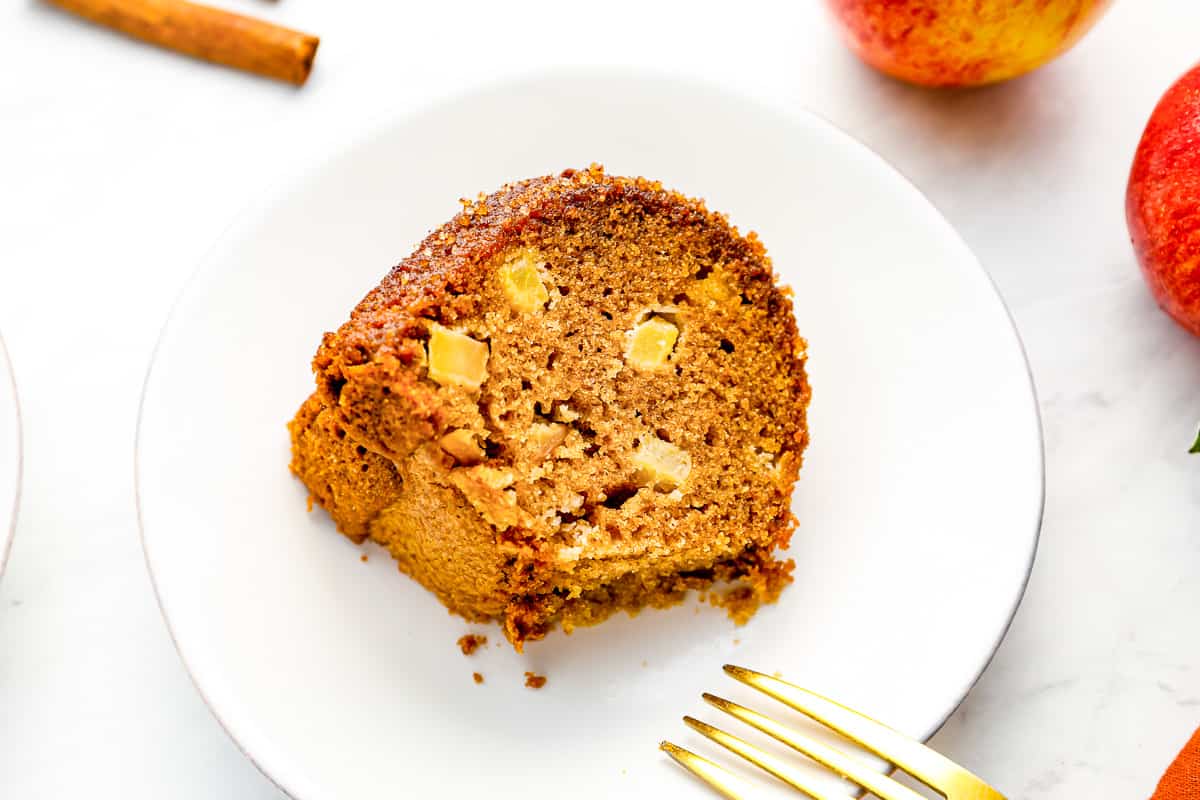 More Bundt Cake Recipes We Love