Time for a quick and easy appetizer recipe! Bacon Wrapped Pineapple is such a great finger food to serve to guests at parties with the perfect mix of salty and sweet flavors. This pineapple appetizer can be served hot or cold and is made with just four ingredients!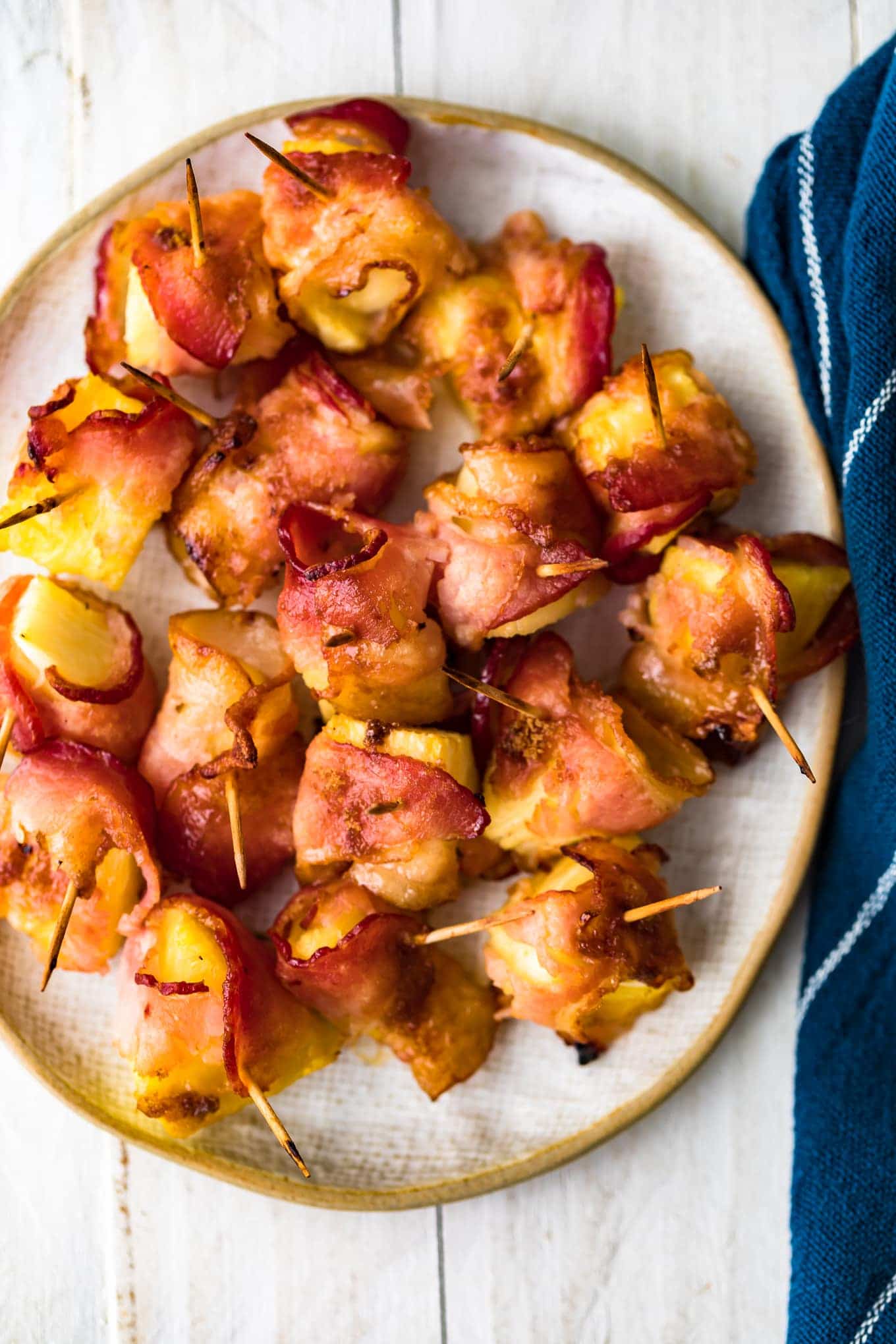 When it comes to parties, I'm firmly in the camp of wanting to spend more time with my guests and less time in the kitchen! Finger foods at casual parties don't need to be complex – this recipe is made with just four ingredients but is so yummy! I love that these can be served hot or cold, so no excuses not to mingle!
How to make Bacon Wrapped Pineapple with Brown Sugar – step by step
Preheat oven to 400F

Wrap each chunk pineapple in 1/2 slice bacon and secure with a toothpick. Place on a bakings sheet fitted with a baking rack.

In a small bowl, stir together the brown sugar and soy sauce.

Brush each bacon wrapped pineapple in the brown sugar mixture.

Bake for 25 minutes or until the bacon is crispy.

Serve hot or cold.

Enjoy!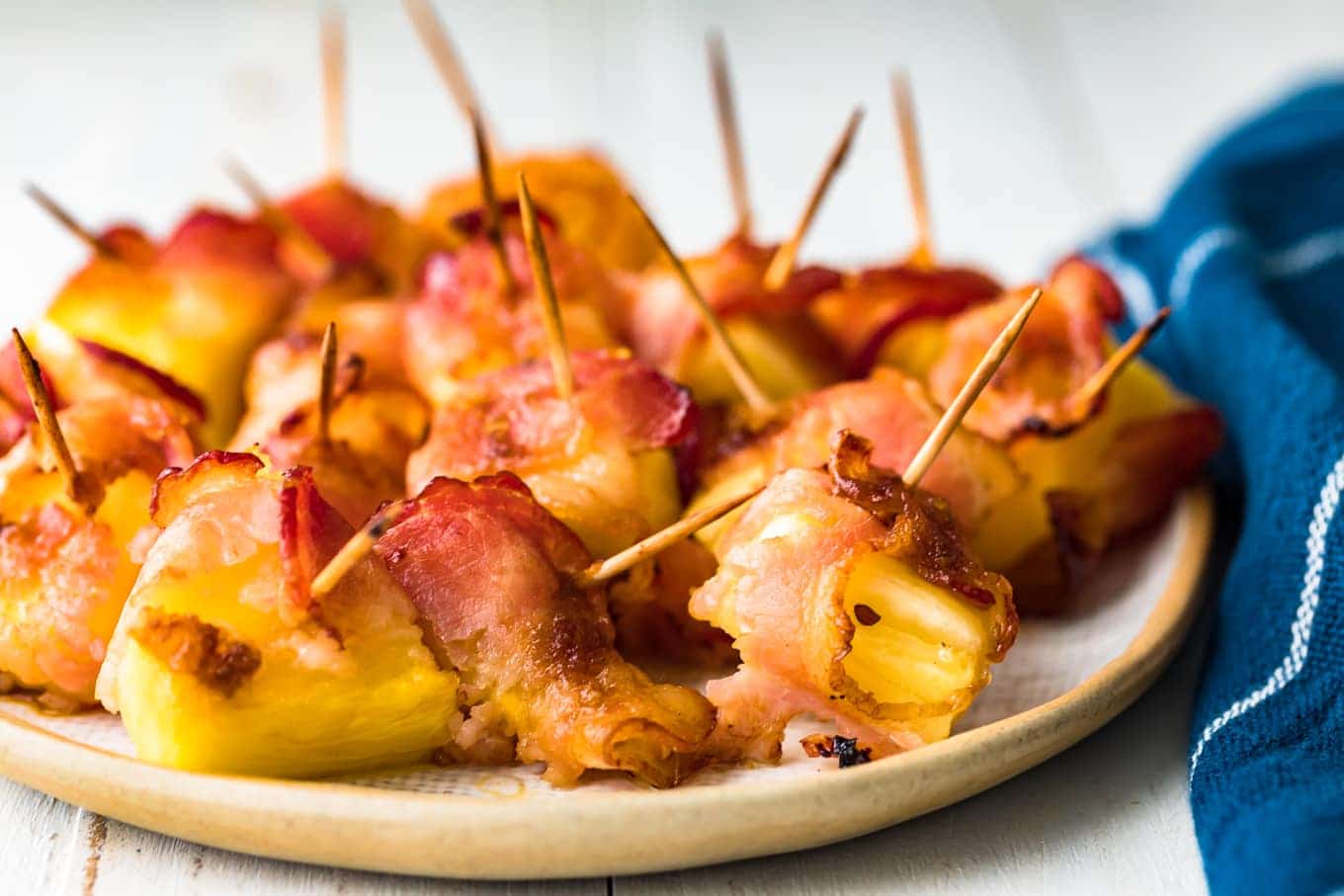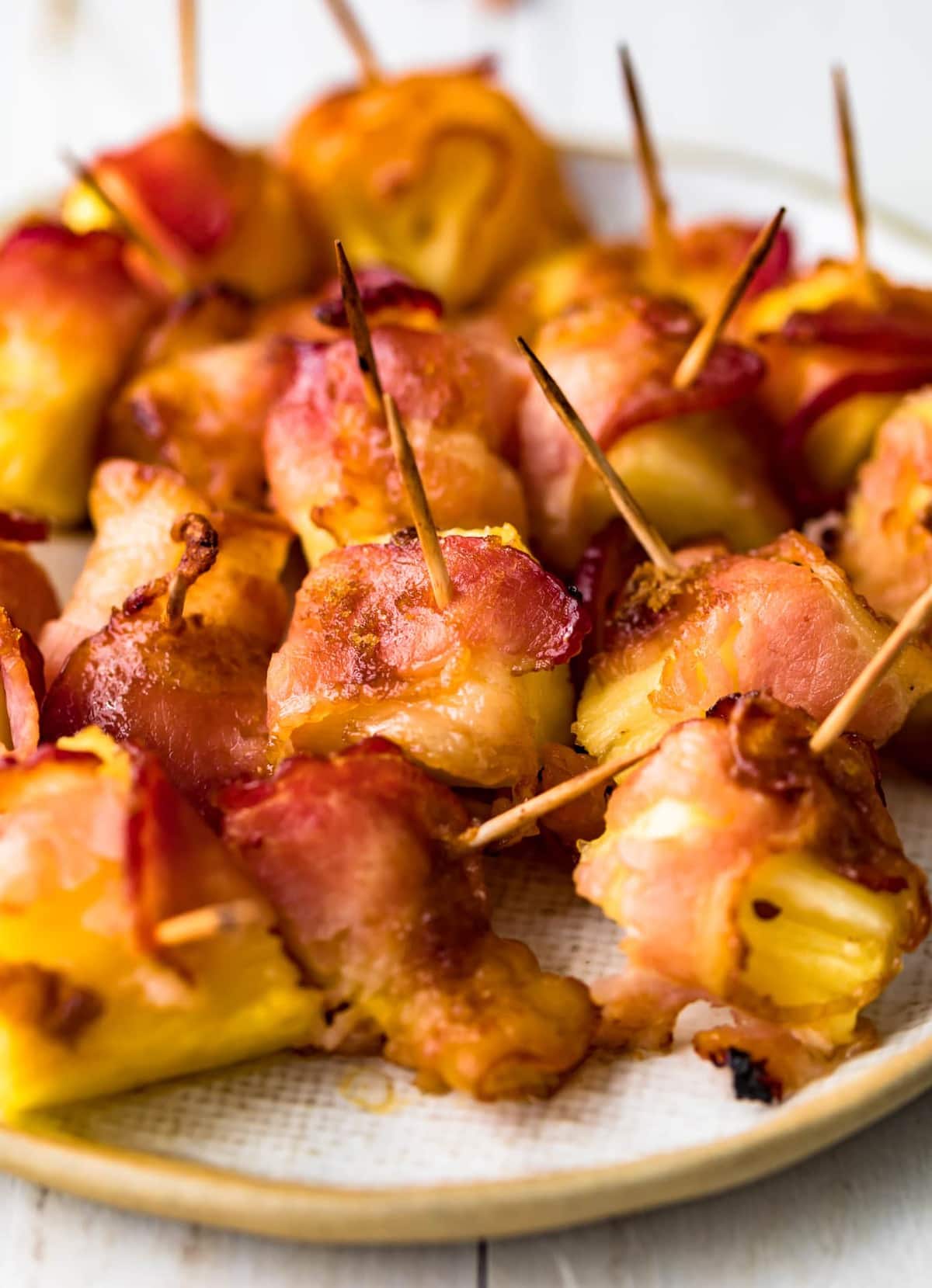 Hot or Cold Pineapple Appetizer
At parties, I love being able to just put out a few trays of goodies so people can help themselves. Some finger foods work better than others! These cute bacon wrapped pineapple chunks are really delicious straight out of the oven, but they still keep all of their flavors at room temperature! Pop out a tray and let the guests do their thing!
Pineapple Appetizers on toothpicks
I love serving appetizers on tooth picks, they're easy for guests to pick up and keep their fingers clean in between sips of wine. The beauty about these, is that the tooth picks are inserted before cooking to keep the bacon in place, so once they are cooked, all you need to do is transfer them to a serving plate. It couldn't get easier!
Bacon Wrapped Pineapple is the perfect sweet and salty party food!
Anything sweet and salty is always a winner with me, and this appetizer has the perfect balance! Sweetness from the pineapple and brown sugar combined with the saltiness of the bacon and soy sauce creates an addictive flavor combination. Maybe you should make a double or triple batch!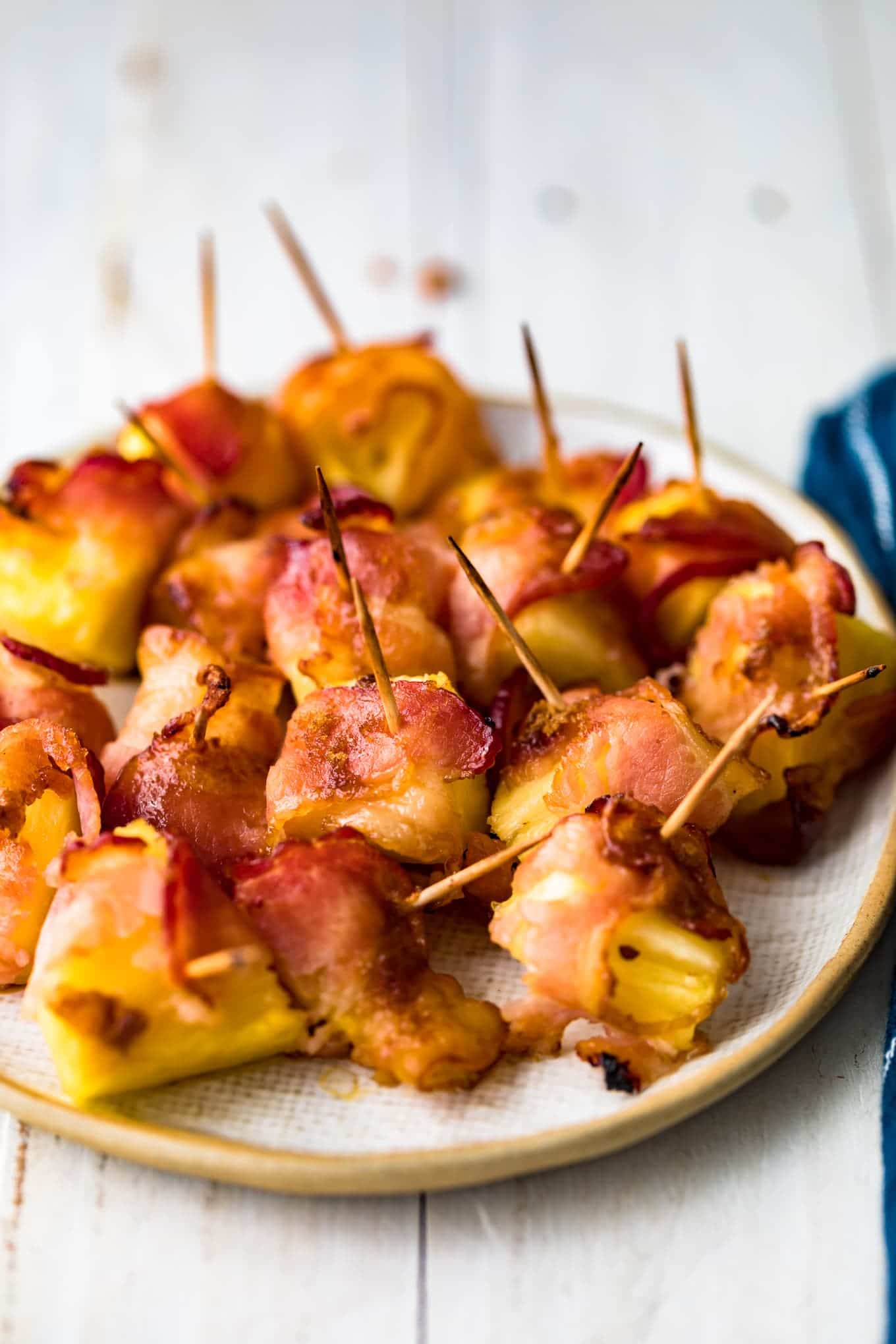 Top tips for making Bacon Wrapped Pineapple
Be sure to use dark brown sugar – it contains more molasses for a more complex flavor.
Use canned pineapple for convenience, but feel free to use fresh and cut your own!
Use a high quality bacon.
Use a low sodium soy sauce – regular will be too strong.
Prep these appetizers ahead of time and keep covered, then pop them in the oven just before your guests arrive.
Serve with some refreshing cocktails like Mojito Pitcher, Spicy Cucumber Margarita or a Ginger Raspberry Crush Cocktail.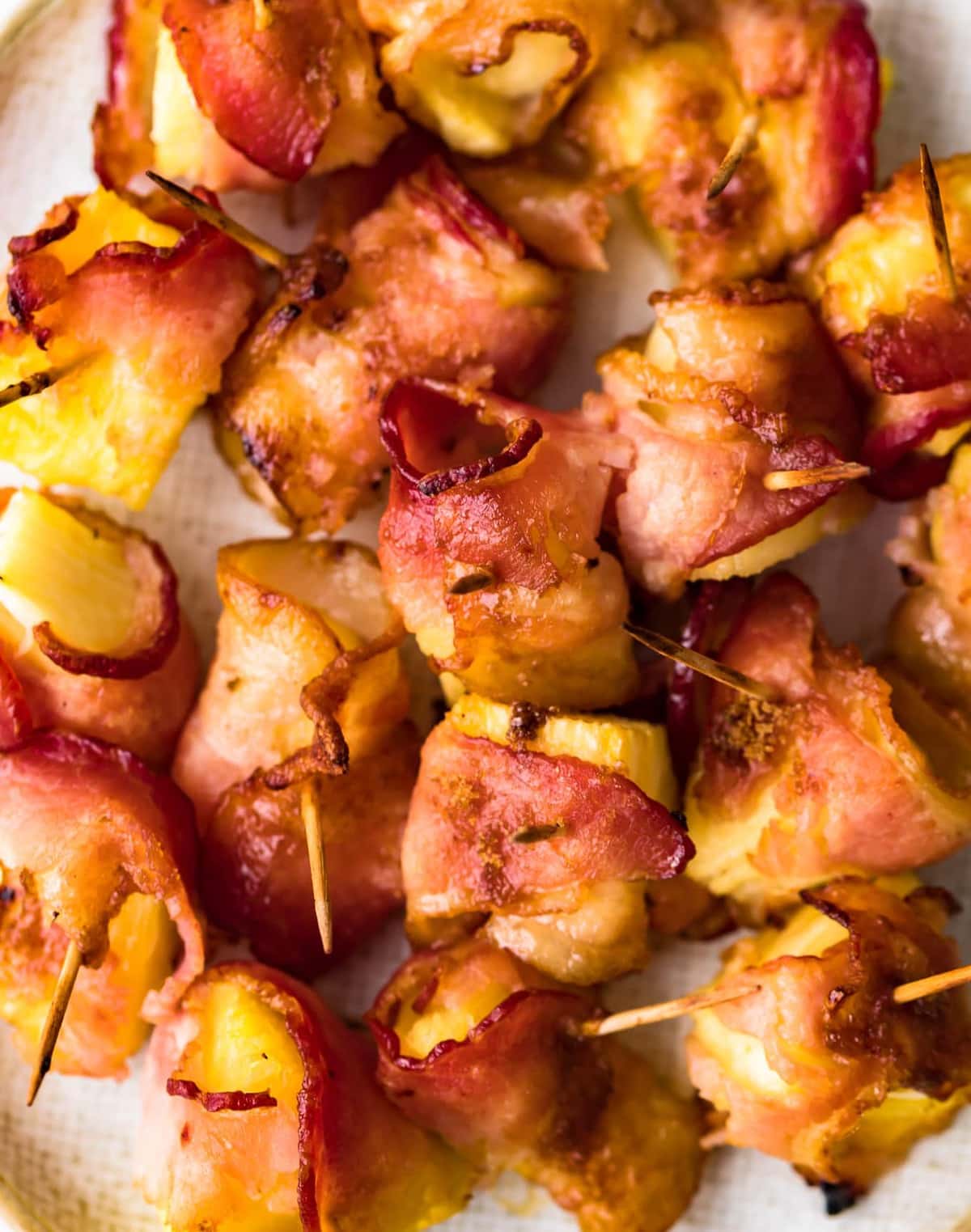 Be sure to try these other delicious bacon wrapped appetizers – perfect for all your party needs!