Slow Cooker Chicken Tacos are our favorite easy family dinner recipe! Made with shredded honey BBQ chicken, mango salsa, cilantro, black beans, and cheese for the perfect BBQ Chicken Tacos.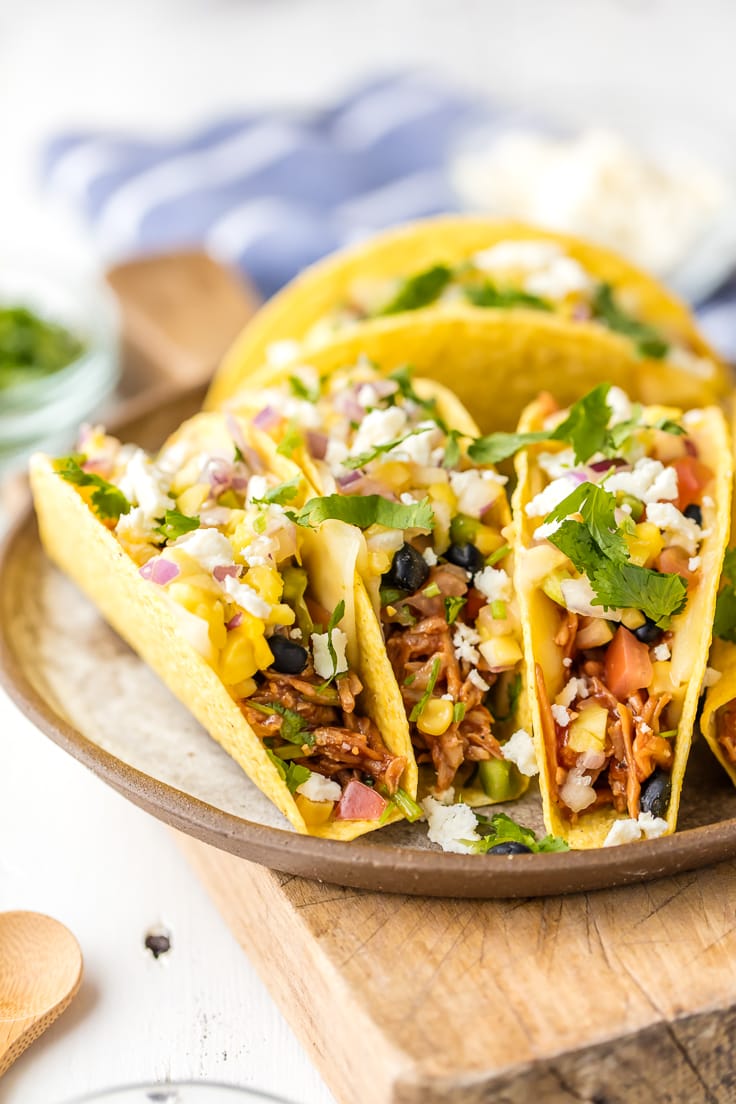 Slow Cooker Chicken Tacos
These slow cooker chicken tacos are the easiest meal for weeknights, parties, and game day. It's easy to make A LOT of chicken for everyone's tacos.
One of the most popular recipes on The Cookie Rookie are my spicy baked Chicken Tacos (they're so good!). Ever since I made them, I've wanted to come up with more flavors for even more tacos!
Making these honey BBQ chicken tacos in a slow cooker is a game changer. You can easily make lots of this delicious chicken, shred it up, then make your tacos for family or guests. There's plenty for everyone!
Now these slow cooker shredded chicken tacos make a regular appearance around our house, and at all our parties. People just love them! The mango salsa on top adds a fresh, fruity twist. It's such a tasty flavor combo.
This is one of those easy slow cooker recipes that can be heated up easily, requires very little cleanup, and is great for both kids and adults. Win win win!
These slow cooker BBQ chicken tacos are a crowd favorites, and so easy to make. What's not to love?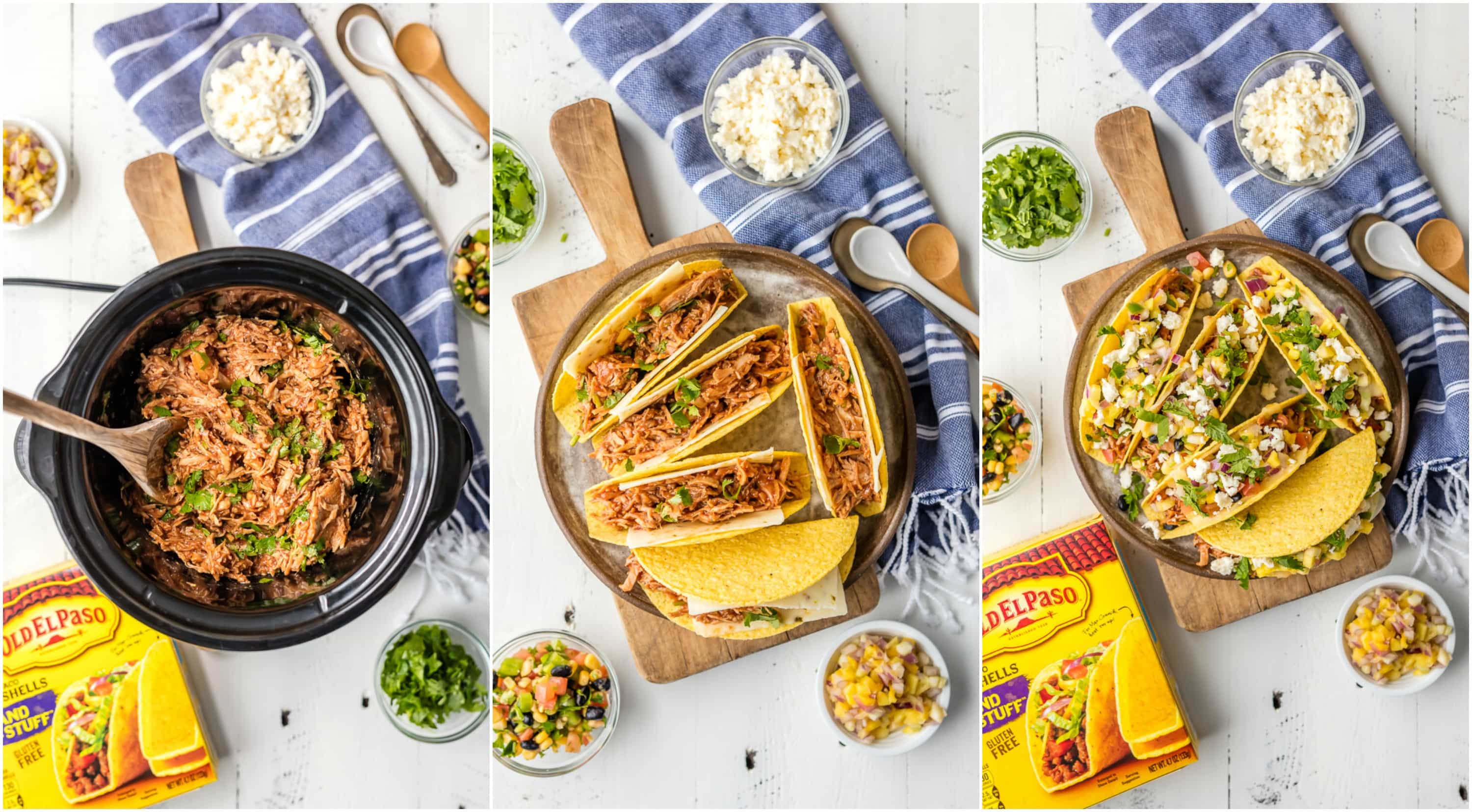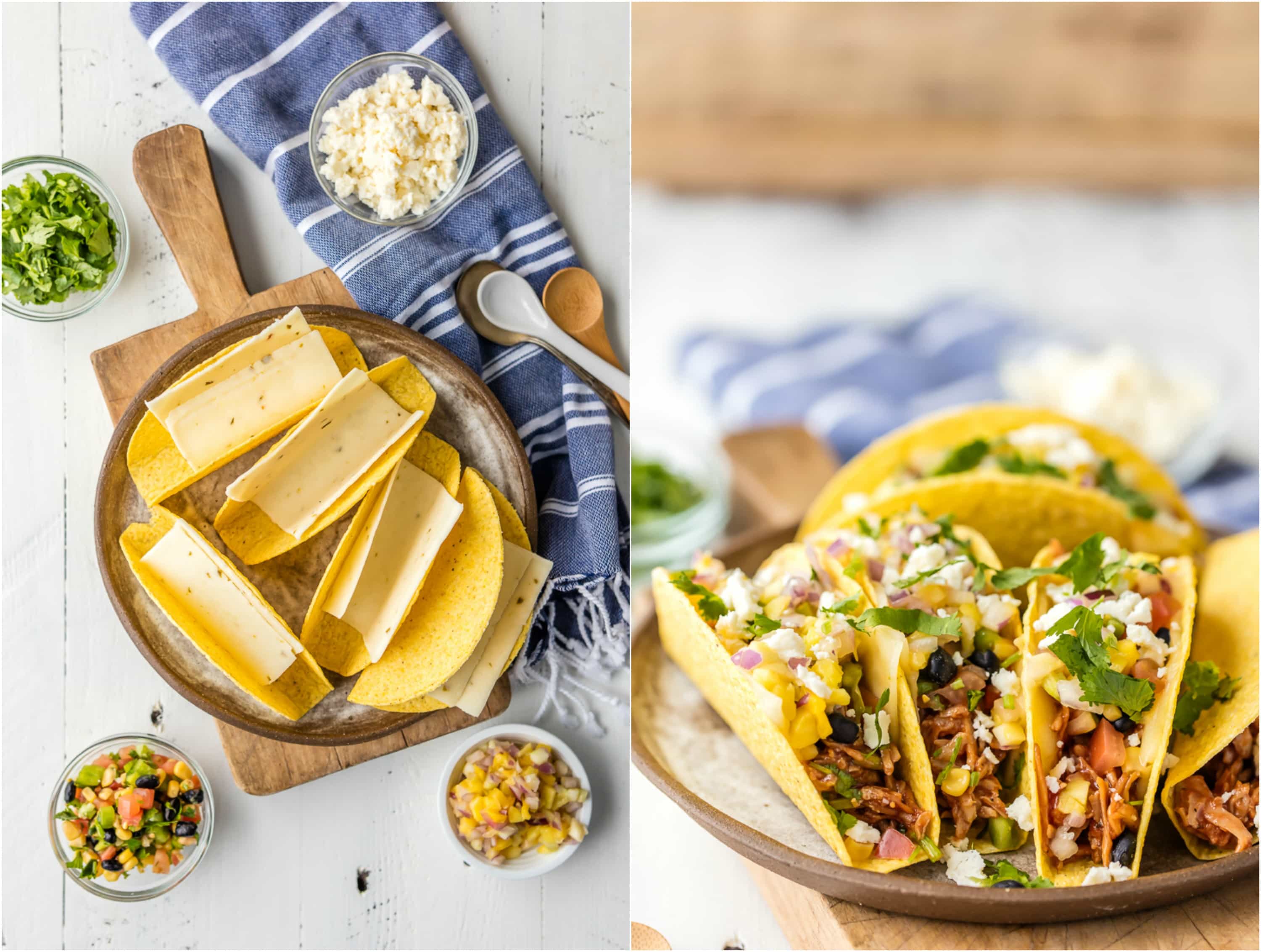 Honey BBQ Chicken Tacos
Leading up to Cinco de Mayo, this is one of my favorite easy recipes perfect for my favorite holiday! Topped with cilantro, mango salsa, and cheese (of course). Tacos just don't get better than these Slow Cooker Chicken Tacos! Delish to the max!
The honey bbq chicken is such a great flavor for tacos, and so unique. It's really complemented by the black beans, corn, and salsa. I could eat that shredded chicken on so many things (like nachos!), it's just so good.
Make these Honey BBQ Chicken Tacos for Taco Night! Check out the full Taco Tuesday Guide for more tips, ideas, and recipes.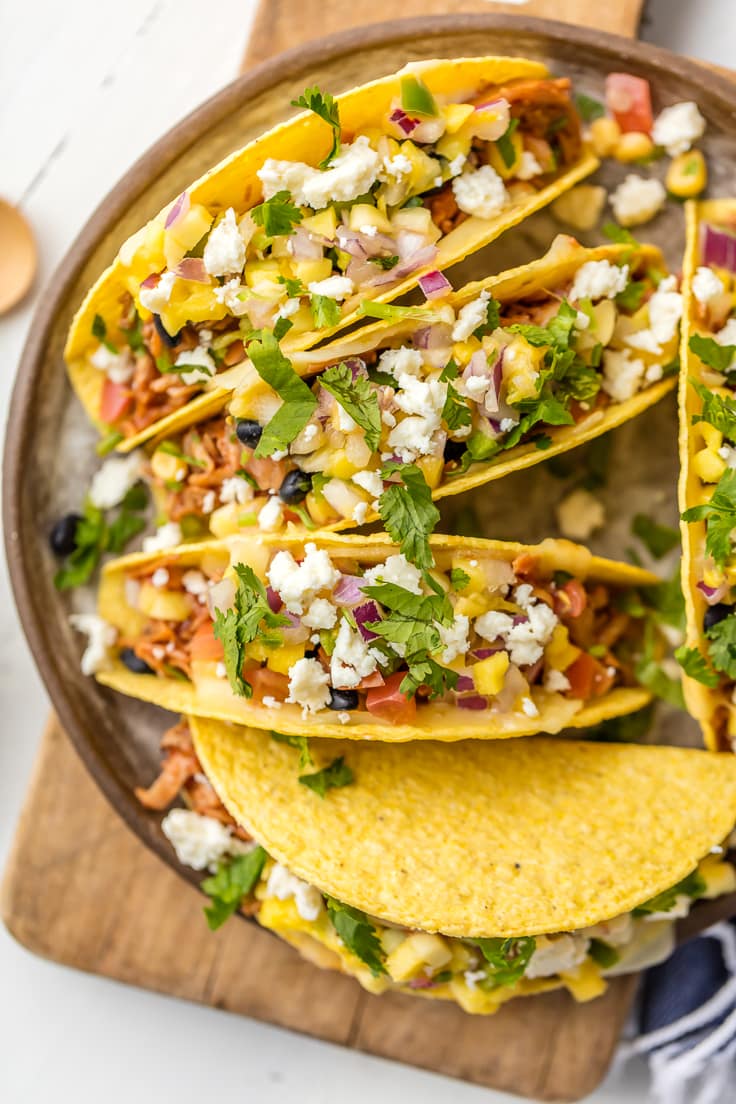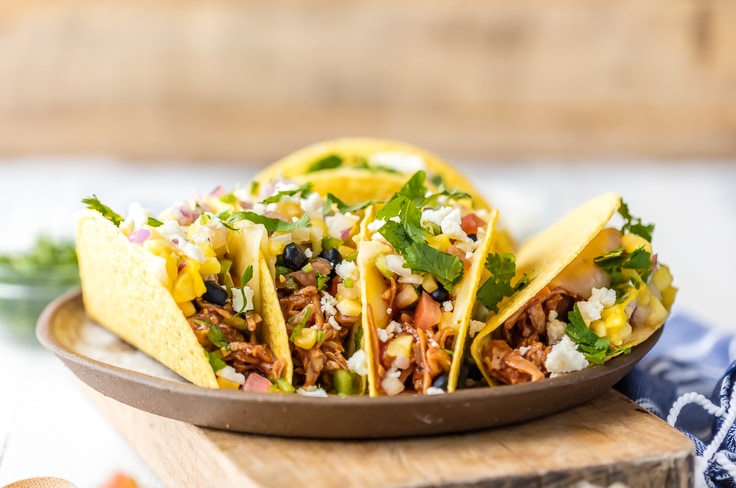 How to Make Slow Cooker Shredded Chicken Tacos
Making the shredded honey BBQ chicken in the slow cooker is so easy. Once it's done cooking, you can just assemble your tacos!
Mango Salsa:

Combine all the ingredients for the salsa and refrigerate in a sealed container.

Honey BBQ Chicken: Place chicken in a slow cooker.

In a small bowl, combine bbq sauce, honey and brown sugar.

Pour sauce over the chicken and cook on low for 7-8 hours or high for 3 1/2 hours, covered.

Use two forks to shred the chicken.

Tacos: add one slice of cheese to the bottom of each taco shell. This will help to keep them crispy.

Spoon 3-4 tablespoons chicken into each shell. Top with a tablespoon of corn, beans, and then 2 tablespoons of the mango salsa. Top with cojito and cilantro and serve!
One of the things I love about this recipe is that you can use the same process for any flavor of shredded chicken tacos you want. If honey BBQ isn't your favorite, you can make other flavor combinations to make slow cooker chicken tacos however you like.
How do you shred chicken?
The easiest way to shred chicken for these tacos is to let the chicken breast cook whole, then use two forks to pull and shred it into pieces. You'll have one fork in each hand, hold one steady, then pull the other through the chicken until it shreds. Really simple!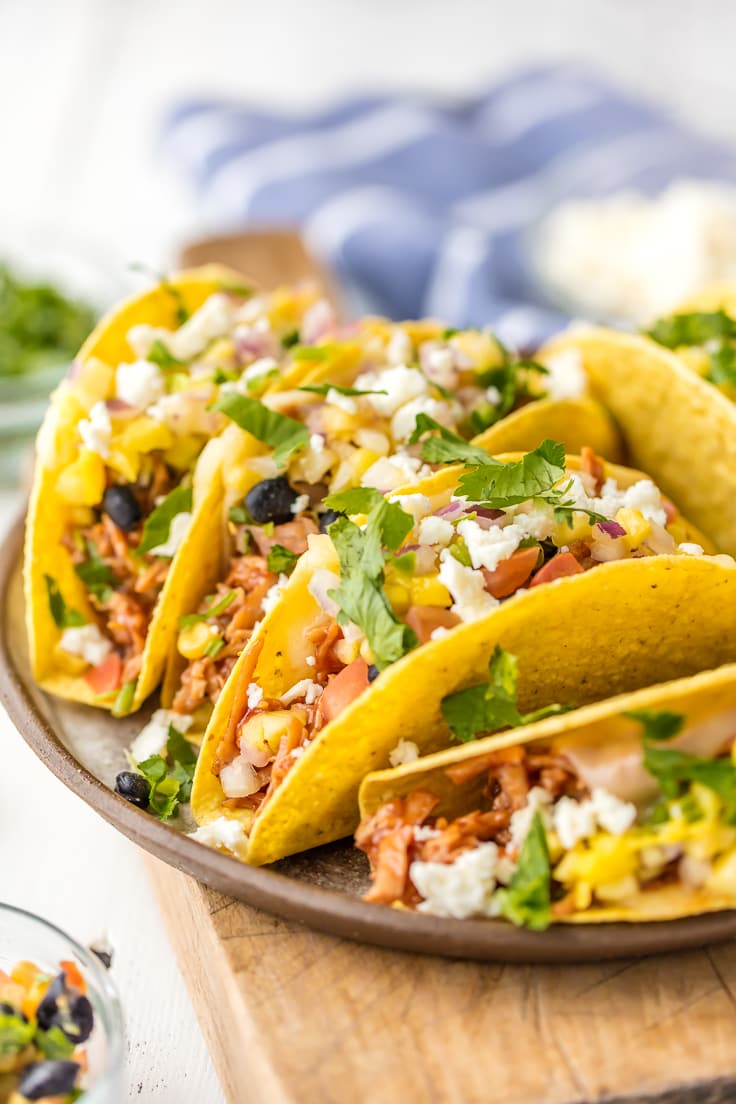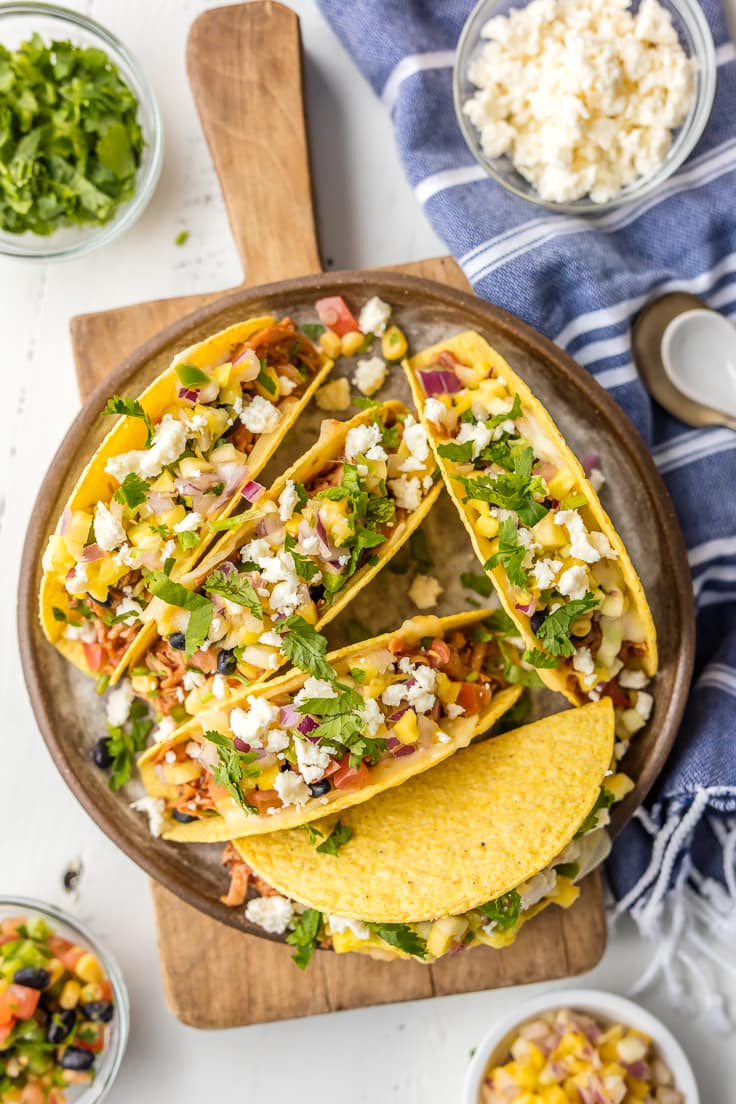 Happy Cinco de Mayo! I hope you love these slow cooker shredded chicken tacos as much as we do. BBQ Chicken Tacos are exactly what you need to celebrate this holiday (along with some margaritas! and queso!).
See the recipe card for details on how to make slow cooker chicken tacos. Enjoy!
Don't forget to try these other tasty tacos for Cinco de Mayo and beyond!