Slow Cooker Honey BBQ Chicken Tacos are our favorite easy family dinner recipe! Top with mango, cilantro, black beans, and cheese for the perfect BBQ Chicken Tacos.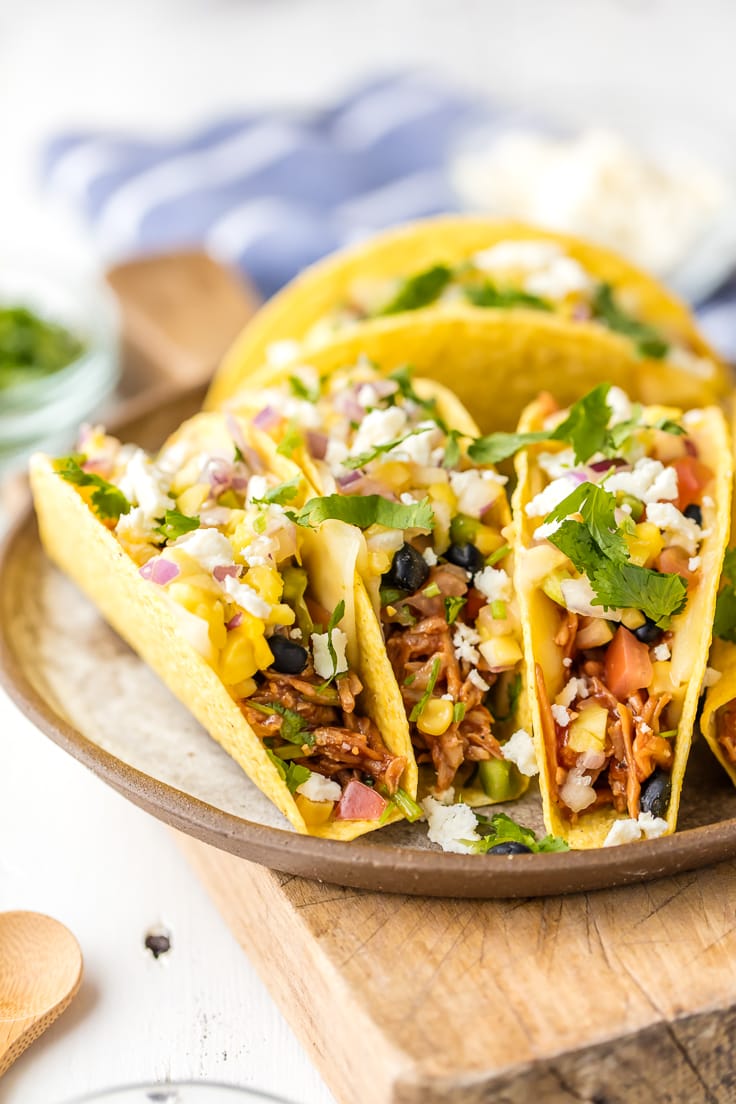 With how much I love tacos, you would think I would be able to post on #TacoTuesday once in a while! The most popular recipe on The Cookie Rookie are these Chicken Tacos…and ever since I made them I've wanted to come up with more flavors! But alas…I miss it every time! That's okay because this recipe could be satisfying any day of the week. So delicious, so simple, and loved by all!
Slow Cooker Honey BBQ Chicken Tacos make an appearance at our house on the regular, Taco Tuesday or not!
It's one of those easy slow cooker recipes that can be heated up easily, requires very little cleanup, and is great for both kids and adults. Win win win!
Making Honey BBQ Chicken Tacos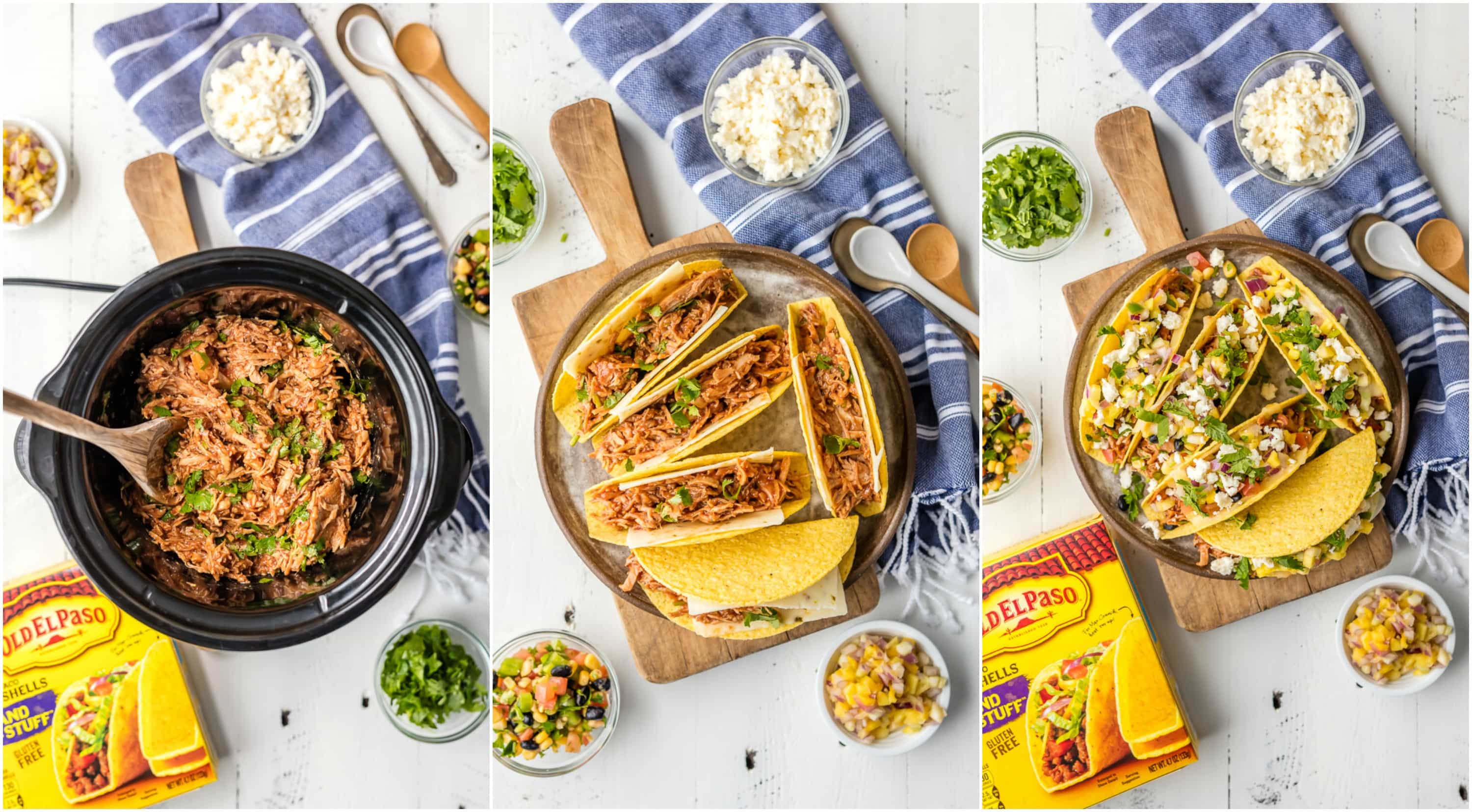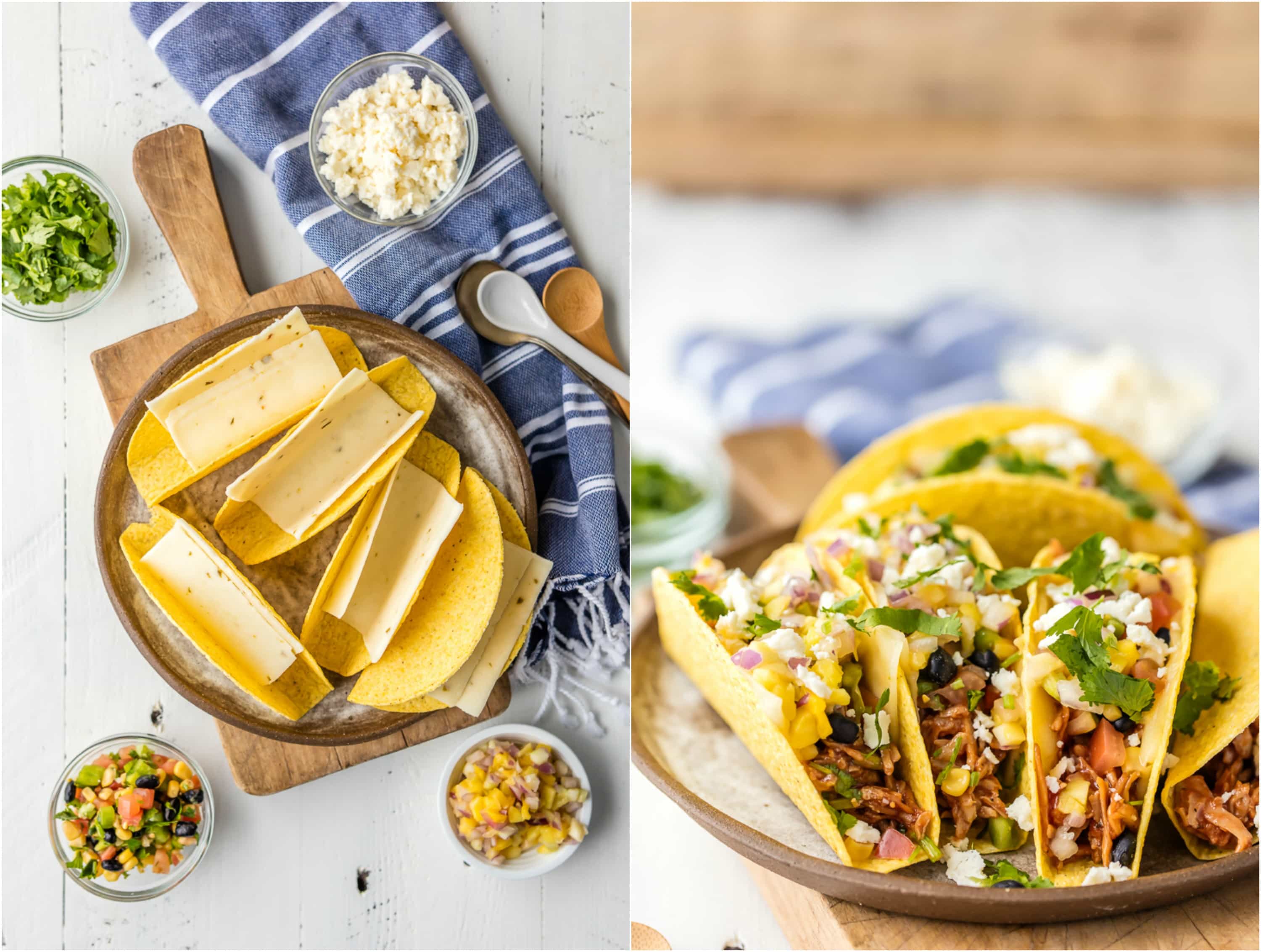 You guys know I've LOVED working with Old El Paso this year. Such an honor to create recipes with such a quality and versatile brand. My favorite place to shop for all my (pantry full of) Old El Paso products? Target of course! I love that I can shop for home goods in one aisle, clothing just a stone's throw away, and all my grocery items just down the hall. Genius.
With Target's Cartwheel app I can stay up to date with all the latest deals in an easy and convenient way, right on my phone while I'm shopping. Again, GENIUS. Be still my heart. I got these Old El Paso Stand and Stuff Taco Shells at Target and I ALWAYS have them on hand at our house. You never know when I might whip up some Slow Cooker Honey BBQ Chicken Tacos!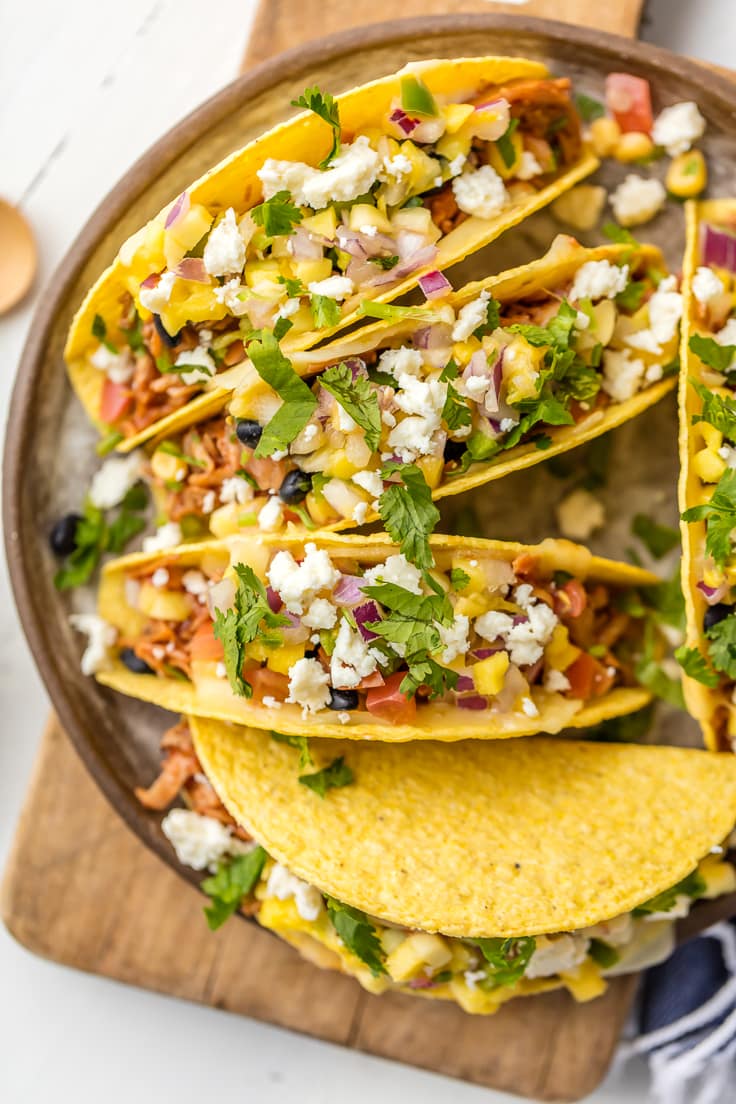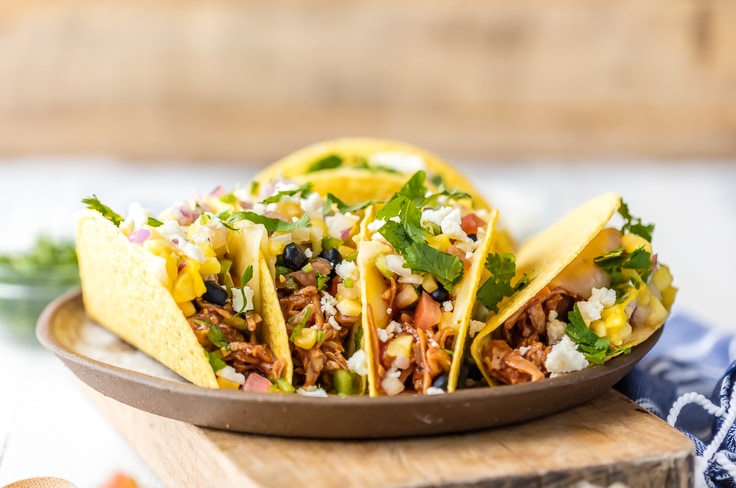 Leading up to Cinco de Mayo, this is one of my favorite easy recipes perfect for my favorite holiday! Topped with cilantro, mango salsa, and cheese (of course).
Tacos just don't get better than these Slow Cooker Honey BBQ Chicken Tacos! Delish to the max!
Make these Honey BBQ Chicken Tacos for Taco Night! Check out the full Taco Tuesday Guide for more tips, ideas, and recipes.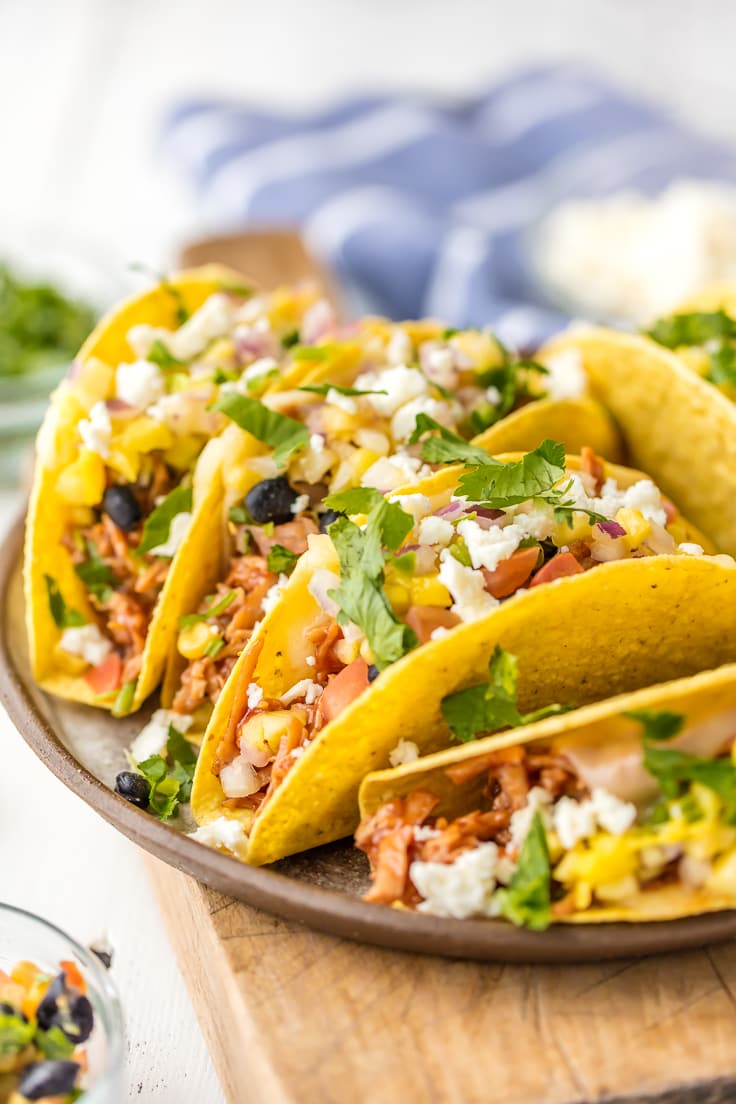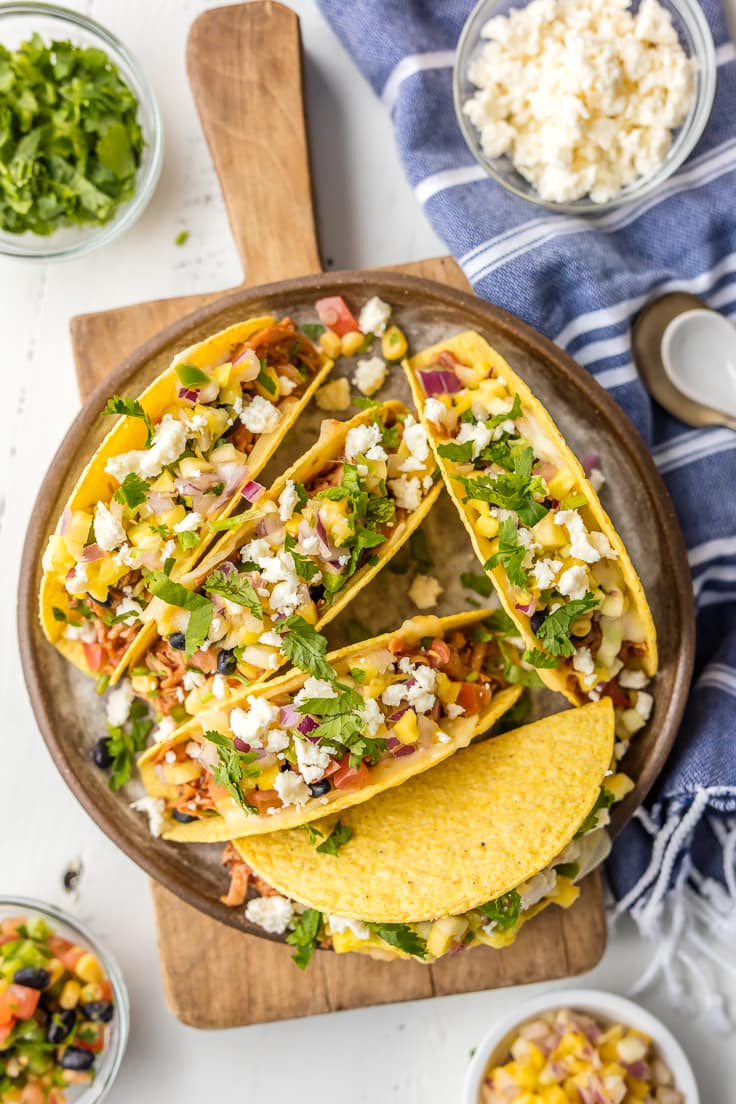 Happy Cinco de Mayo! I hope you love these tacos as much as we do! Be sure to check out the Target Cartwheel app, where you can find all the best deals on everything from clothing to Old El Paso! Click HERE to learn more. AND…be sure to hop over to Instagram where I'm hosting a quick $100 Target gift card GIVEAWAY!!! Good luck!
Honey BBQ Chicken Tacos Recipe:
This post has been sponsored by Old El Paso and Target. All opinions are 100% mine. Thank you SO much for supporting the brands that help support The Cookie Rookie!