Crockpot Chicken Tacos are our favorite easy family dinner recipe! These slow cooker tacos are made with shredded honey BBQ chicken, mango salsa, cilantro, black beans, and cheese. They're so easy to make, perfect for Taco Night or Cinco de Mayo. These are the best BBQ chicken tacos!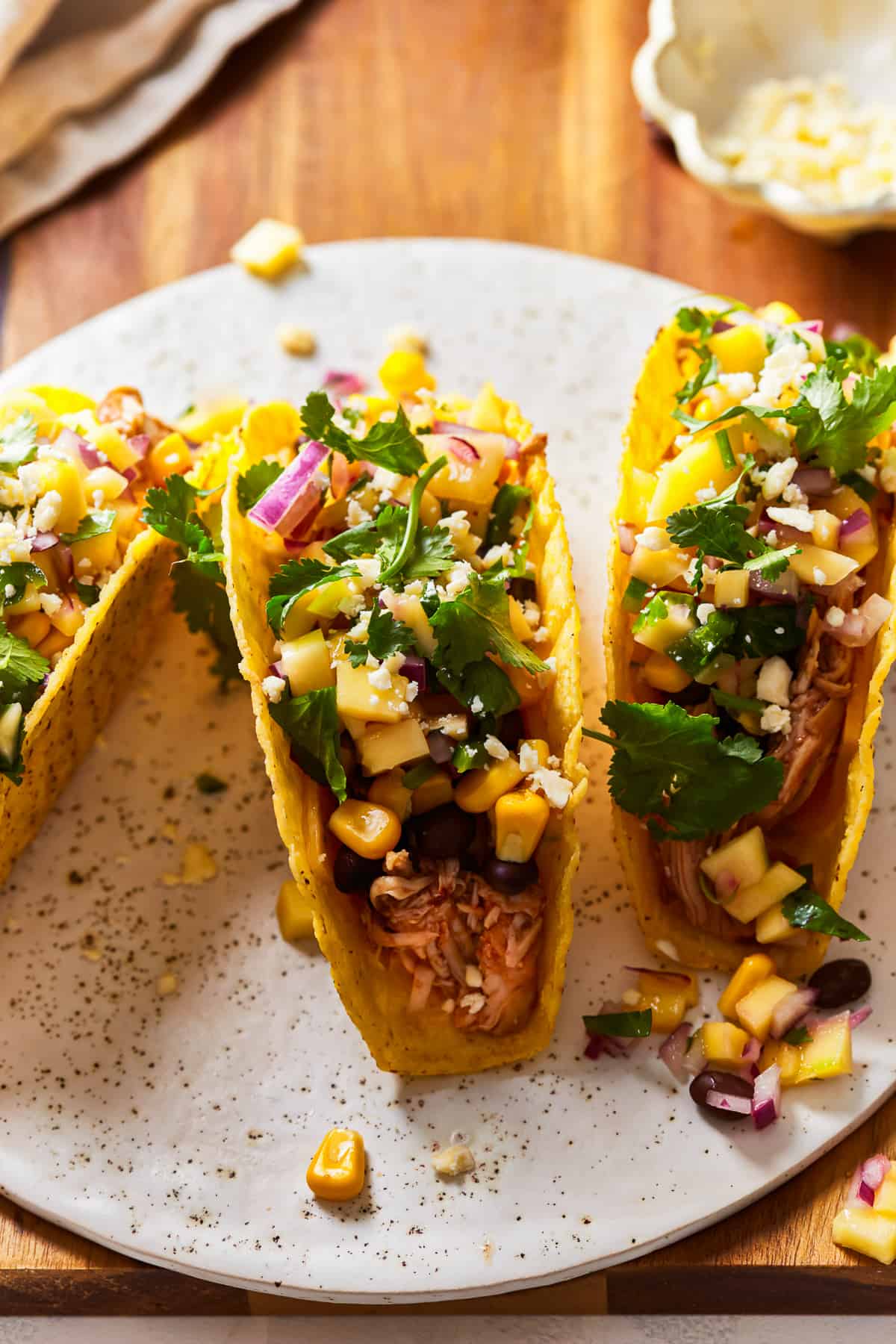 Slow Cooker BBQ Chicken Tacos Recipe
These crockpot chicken tacos are the easiest meal for weeknights, parties, and game day. This recipe makes it easy to make plenty of shredded BBQ chicken for a crowd!
Making these honey BBQ chicken tacos in a slow cooker is a game changer. You can easily make lots of this delicious chicken, shred it up, then make your tacos for family or guests. There's plenty for everyone!
Shredded chicken tacos are definitely a favorite in our house. The mango salsa on top adds a fresh, fruity twist to the honey BBQ. It's such a tasty flavor combo!
This is one of those easy slow cooker recipes that can be heated up easily, requires very little cleanup, and is great for both kids and adults. Win win win!
Why You'll Love this BBQ Chicken Tacos Recipe:
HONEY BBQ: The sweet BBQ sauce is such an addicting flavor for these tacos! And it goes so well with the mango salsa.
CROCKPOT RECIPE: Making shredded chicken tacos in a crockpot is SO simple. Just let the meat cook, then assemble your tacos.
TACO NIGHT: These recipe is a great addition to any taco night, Cinco de Mayo, or game day.
These slow cooker BBQ chicken tacos are a crowd favorite, and so easy to make. What's not to love?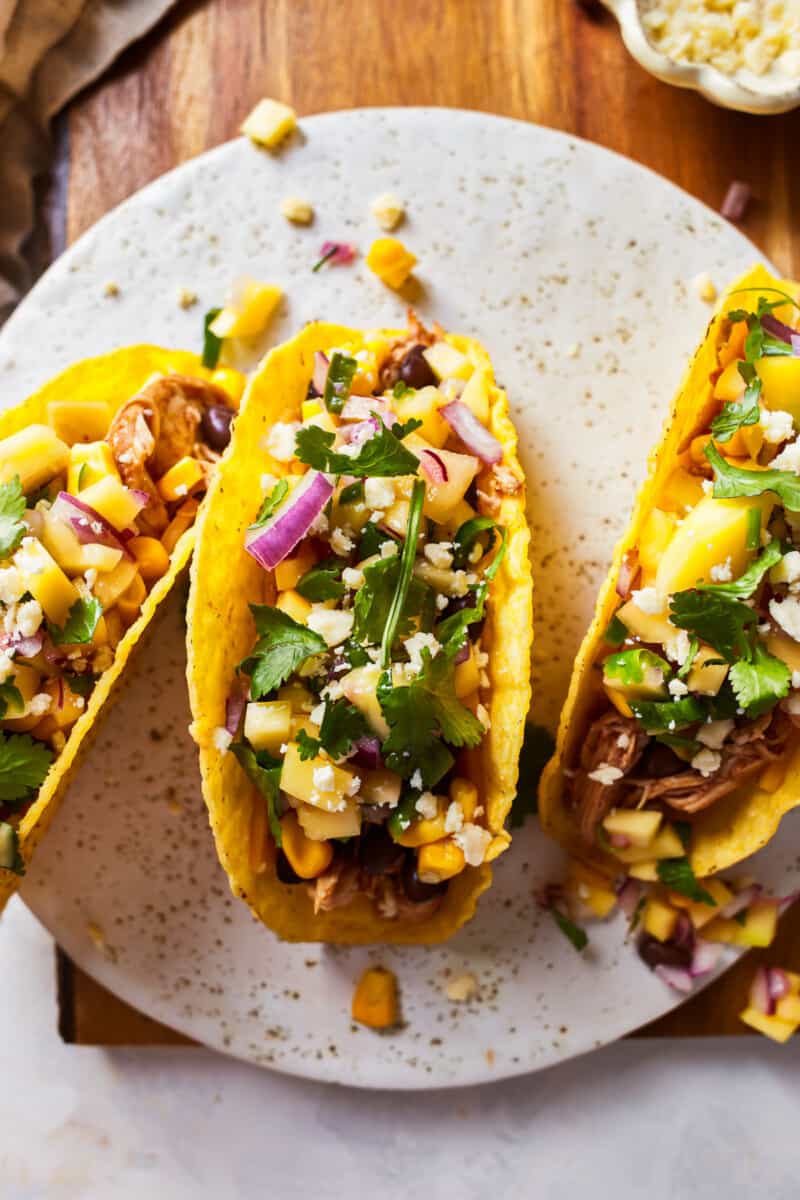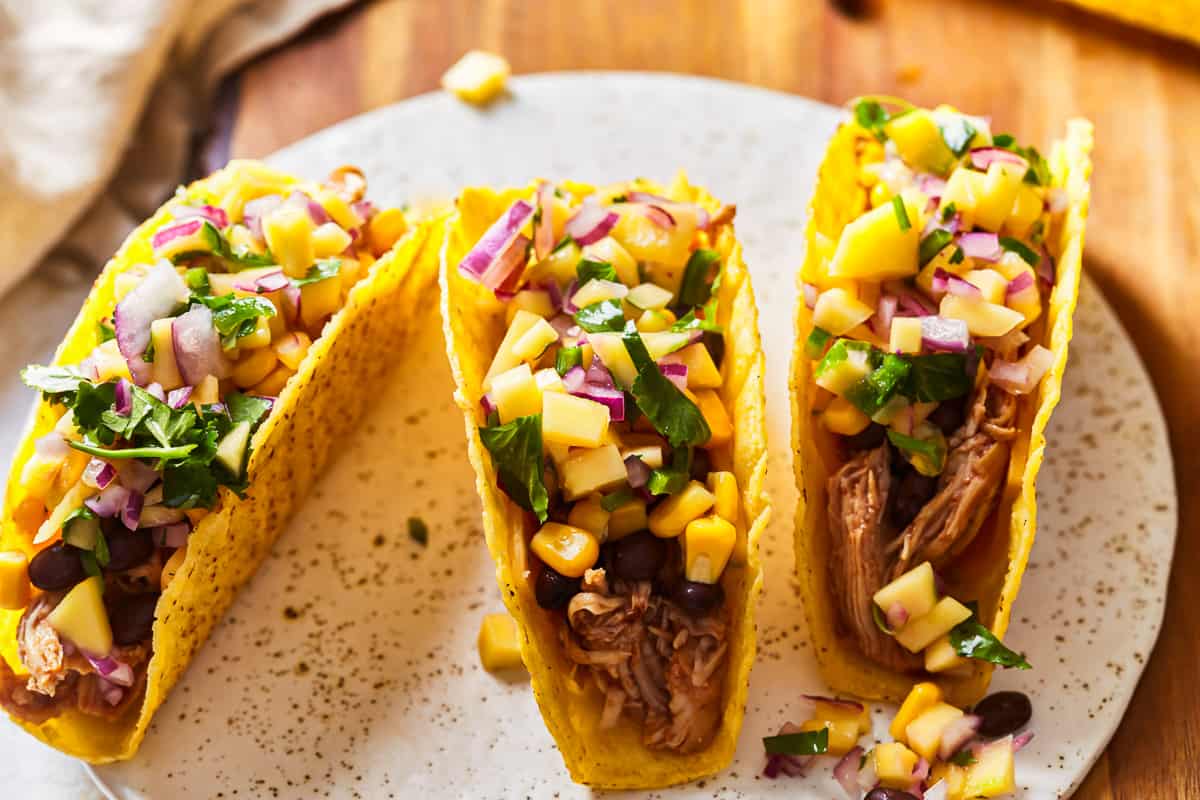 Honey BBQ Chicken Tacos Ingredients
BBQ Sauce (plus honey and brown sugar)
Taco Shells
Pepper Jack Cheese
Corn
Black Beans
Cojita Cheese
The honey bbq chicken is such a great flavor for tacos, and so unique. It's really complemented by the black beans, corn, and salsa. I could eat that shredded chicken on so many things (like nachos!), it's just so good.
How to Make Crockpot Shredded Chicken Tacos
Be sure to see the recipe card below for full ingredients & instructions!
Mango Salsa: Combine all the ingredients for the salsa and refrigerate in a sealed container.
Honey BBQ Sauce: Combine BBQ sauce with honey and brown sugar.
Slow Cooker Chicken: Place chicken breast in a slow cooker, add the BBQ sauce, and cook.
Shred Chicken: Use two forks to shred the chicken.
Assemble Tacos: Add a slice of cheese to the bottom of each taco shell. Then add chicken, corn, beans, and mango salsa. Top with cojito and cilantro and serve!
Making the shredded honey BBQ chicken in the slow cooker is so easy. Once it's done cooking, you can just assemble your tacos!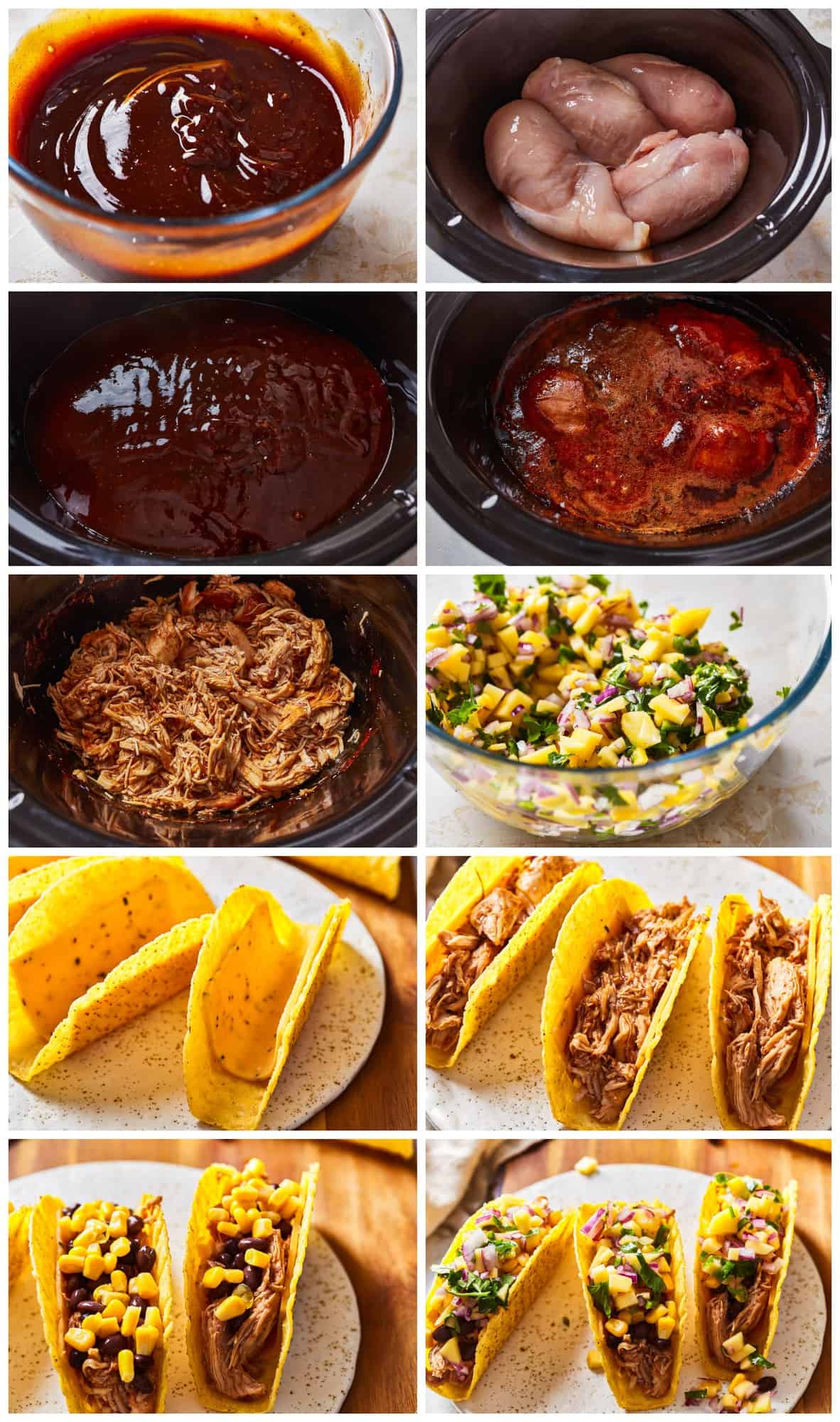 One of the things I love about this recipe is that you can use the same process for any flavor of shredded chicken tacos you want. If honey BBQ isn't your favorite, you can make other flavor combinations to make crockpot chicken tacos however you like.
What kind of chicken should I use for these tacos?
You can use skinless, boneless chicken breast or chicken thighs.
Can you make these ahead of time?
Yes, you can make the shredded BBQ chicken and store it in the fridge.
How long do you cook shredded chicken in a crockpot?
It takes 7-8 hours to cook on LOW, or 3½ hours on HIGH.
What kind of BBQ sauce should I use?
You can use any kind of BBQ sauce you like for these chicken tacos! Remember we're adding honey and brown sugar to make it sweet, but you can skip that if you prefer.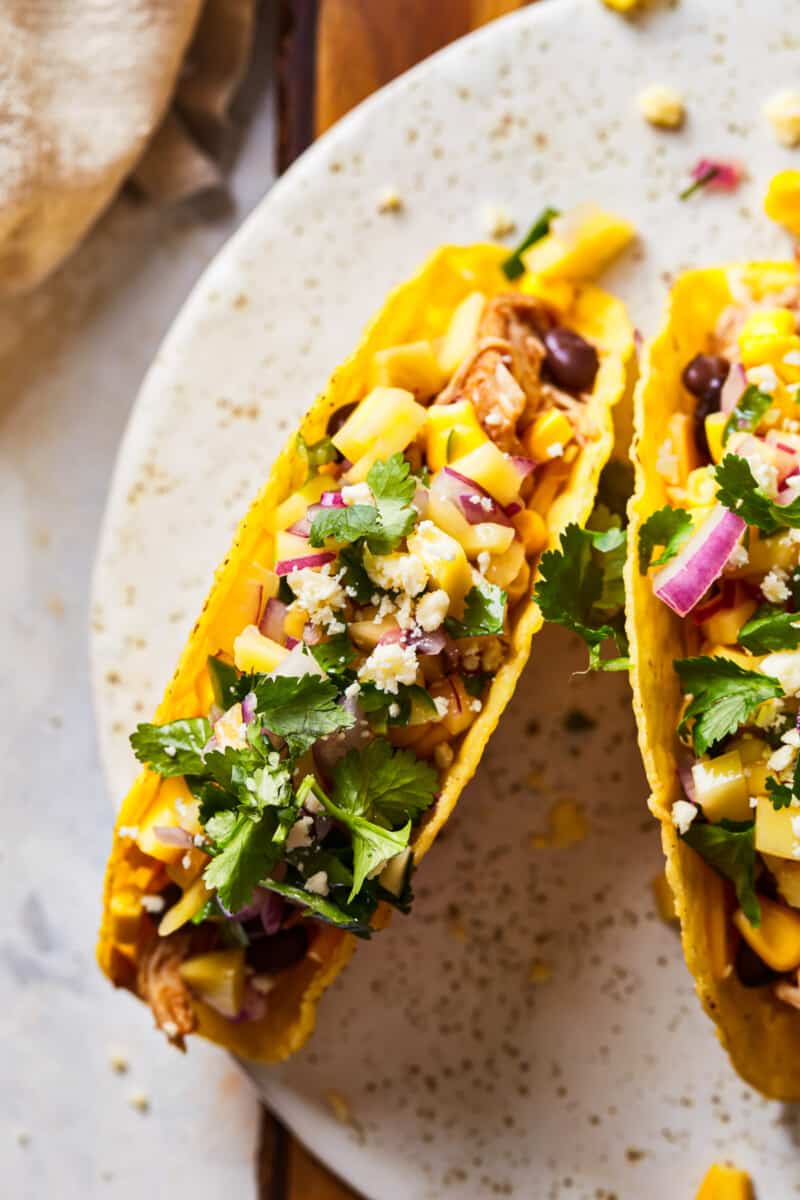 Tips!
This crockpot shredded honey BBQ chicken is perfect for hard taco shells. But you can also use it to make soft tacos, burritos, nachos, and more!
The mango salsa is fresh and fruity. It's great as a dip with chips too.
Place a slice of cheese in the bottom of the taco shells before adding the chicken. It creates a barrier between the sauce and shell, so they stay crispy.
Keep chicken on the warm setting in your crockpot while serving!
If you have a large enough slow cooker, double the recipe to make enough chicken for a party.
Store chicken in an airtight container in the fridge, up to 4 days.
How do you shred chicken for tacos?
The easiest way to shred chicken for these tacos is to let the chicken breast cook whole, then use two forks to pull and shred it into pieces. You'll have one fork in each hand, hold one steady, then pull the other through the chicken until it shreds. Really simple!
What toppings are good for BBQ chicken tacos?
We're adding corn, black beans, mango salsa, and cotija cheese to top off these crockpot chicken tacos. It's a great flavor mix with the sweet honey BBQ sauce.
You could also add shredded lettuce, a different type of cheese, sour cream, or jalapenos.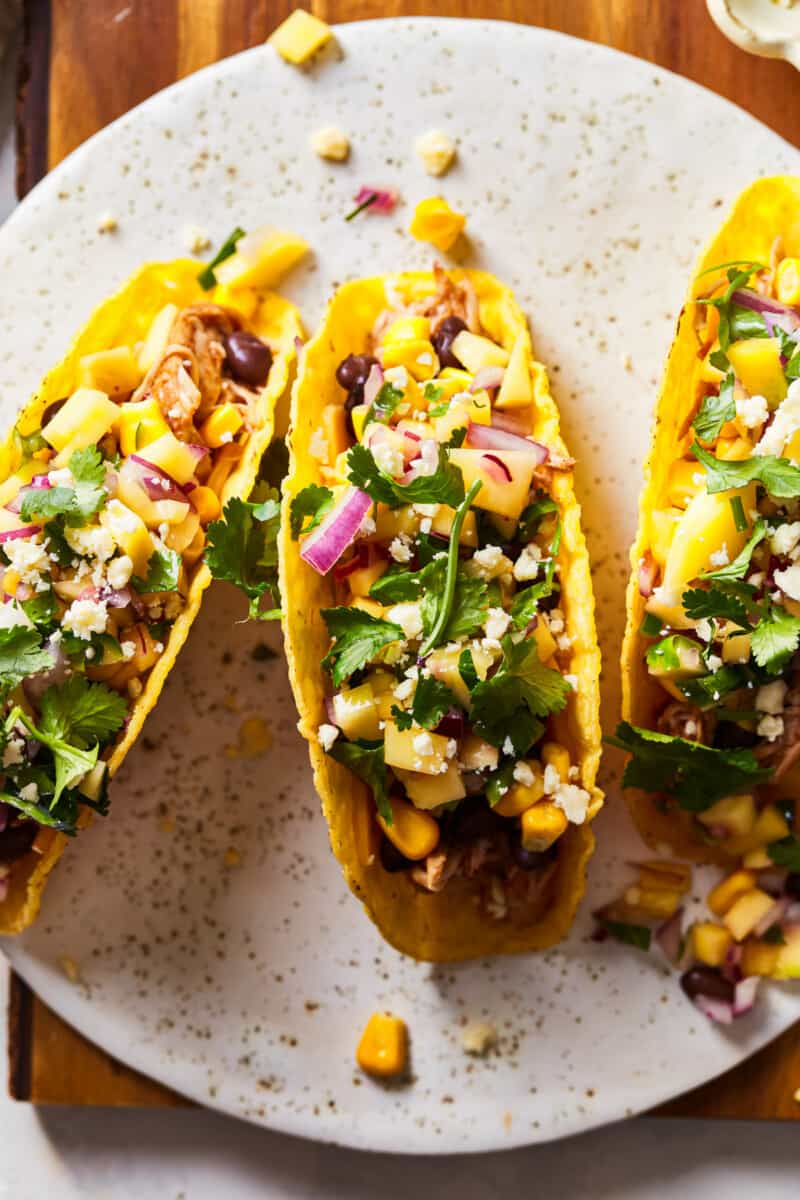 I hope you love these Crockpot shredded chicken tacos as much as we do. Making BBQ chicken tacos in a slow cooker is so simple, and they turn out so tasty. This the recipe you need for Cinco de Mayo, or any taco night at home.
If you make this recipe be sure to upload a photo in the comment section below or leave a rating. Enjoy!