Esquites is a popular Mexican street food snack that consists of creamy, flavorful street corn in a cup (Elote en vaso). Fresh corn is mixed with mayo, crema, lime, and chili to create a cheesy corn salad that is unbelievably delicious! You only need a few ingredients and a few minutes to make this fun party appetizer for Cinco de Mayo.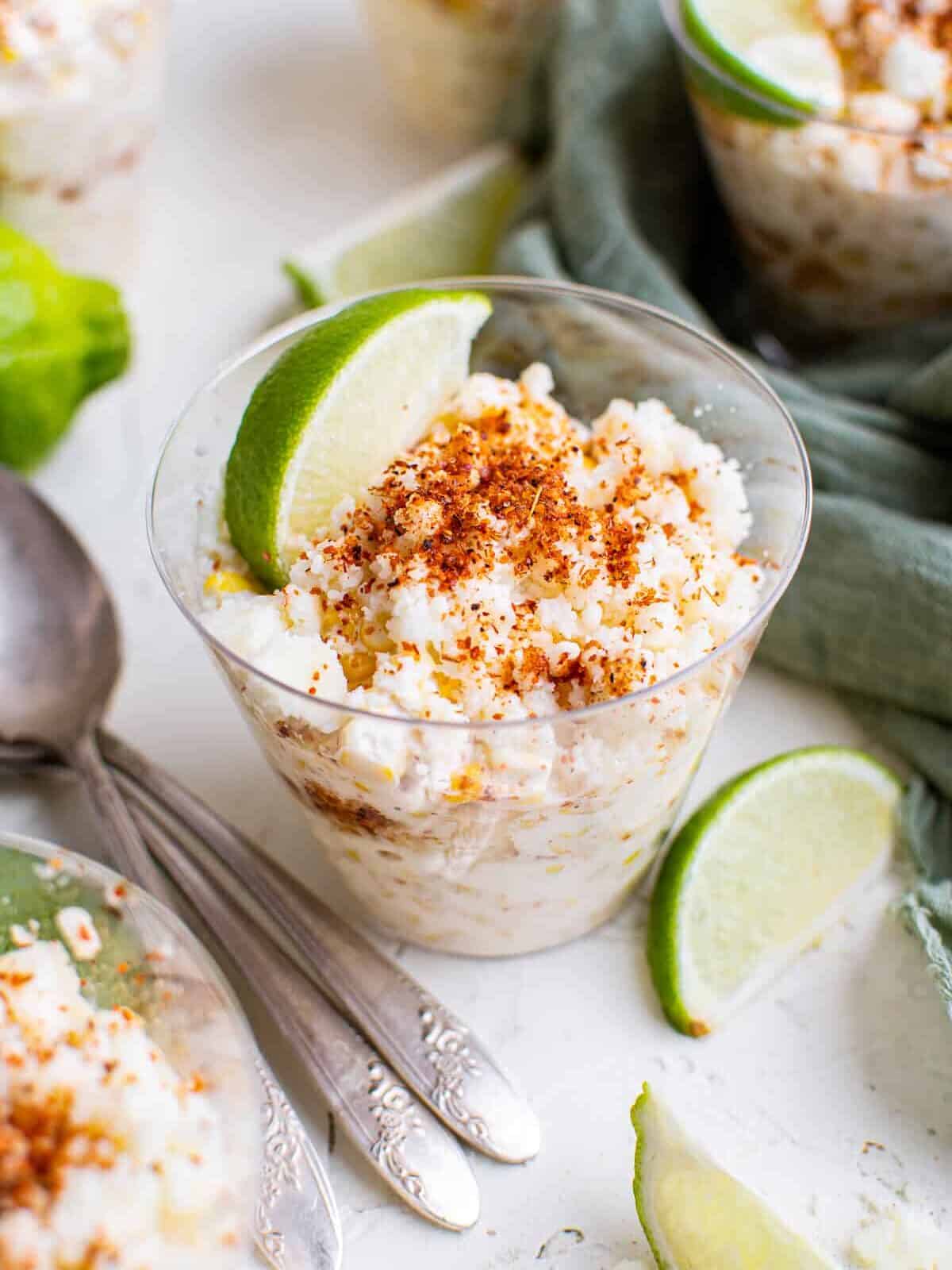 What's in this Esquites recipe
This Mexican street food recipe is creamy, cheesy, and so easy to make. Corn, mayo, crema, and lime are traditionally served in a cup for easy snacking, but you can also serve it simply as a side dish.
Corn: I recommend using freshly-cooked corn on the cob, or grilled Mexican corn, and cutting off the kernels. This creates the best, freshest, most delicious flavor. But you can use canned or frozen corn for a quicker option.
Mayonnaise: Mayo creates a really creamy texture and holds all the ingredients together. You can use plain Greek yogurt for a lighter version.
Crema: Mexican crema adds more tang and has a nice consistency that works well in this corn salad. You can substitute sour cream, but it will give you a slightly different result.
Lime Juice: Freshly-squeezed lime juice adds bright acidity for the perfect flavor.
Queso Fresco: This is a tangy, crumbly white cheese that adds more texture. You can use Cotija cheese or feta crumbles as a substitute.
Chili Powder: This adds a little bit of heat. You can also use Tajin seasoning.
Pro Tip: Turn this corn and mayo salad into an easy-to-eat party appetizer by layering the Esquites into cups with the queso fresco and chili powder. Top with lime slices and serve with a spoon!
What else can I add to Mexican street corn salad?
The simplicity of this traditional esquites recipe is part of its appeal, but you can add more ingredients to spice things up!
Mix in jalapeno slices, scallions, or red onions. Add garlic powder, cumin, red pepper flakes, or taco seasoning. Top off each cup of corn with lime wedges, taco sauce, or hot sauce.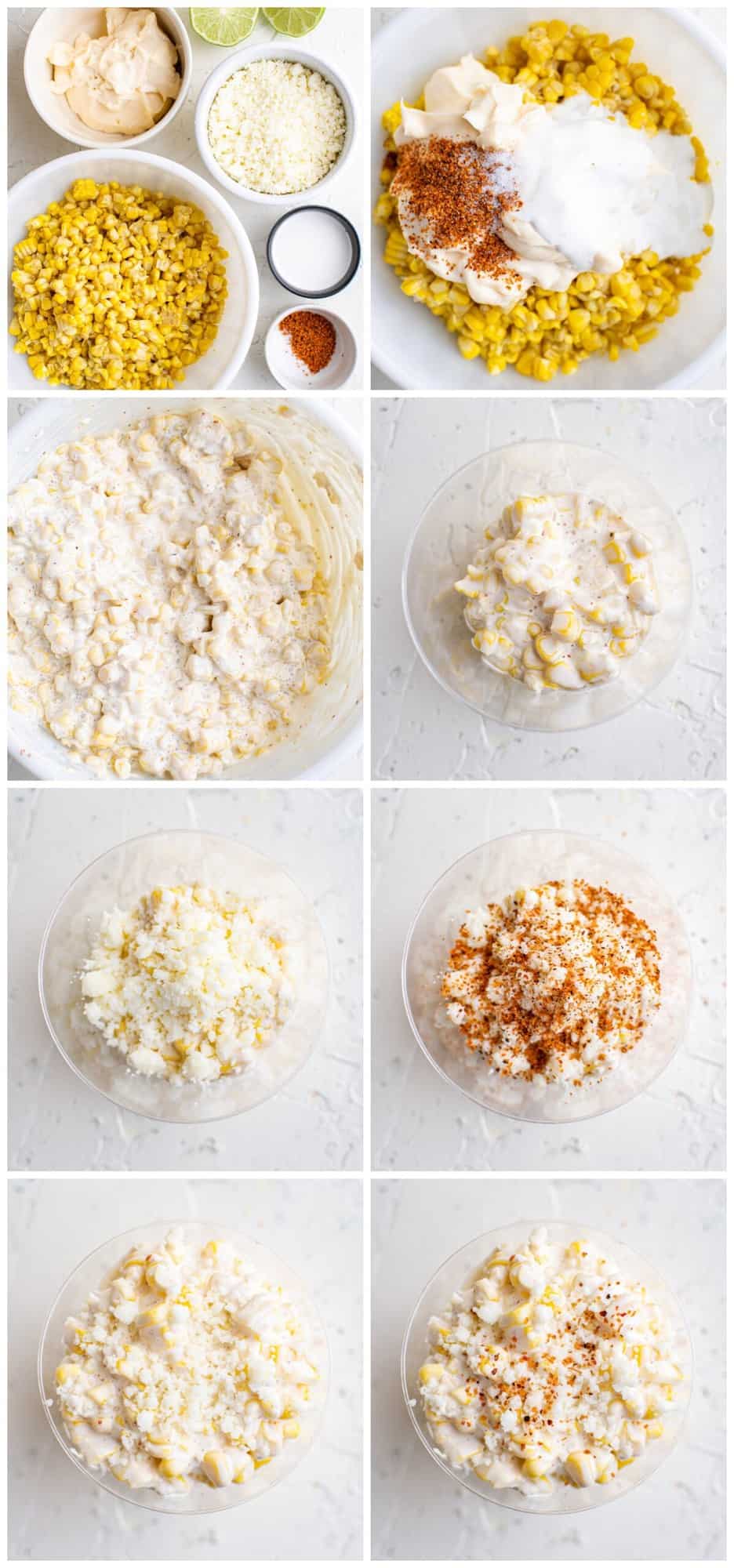 What's the difference between Elote and Esquites?
Elote is grilled street corn slathered with a creamy mayo sauce, and topped with chili and lime. The difference is that Elote is served on the cob, while esquites is served in a cup (off the cob), more like a salad.
What's the best corn to use for esquites?
Freshly cooked corn on the cob works best for this Mexican street corn salad. You can cook corn on the cob by adding them to boiling water for 5 to 7 minutes. You can also cook it on the grill to get it nice and charred. In a pinch, you can use canned or frozen corn. If using canned, be sure to drain the kernels well before using, and if using frozen, thaw and pat dry before mixing with the other ingredients.
Is esquites served hot or cold?
It's typically served warm in a cup, but it can be served cold as well.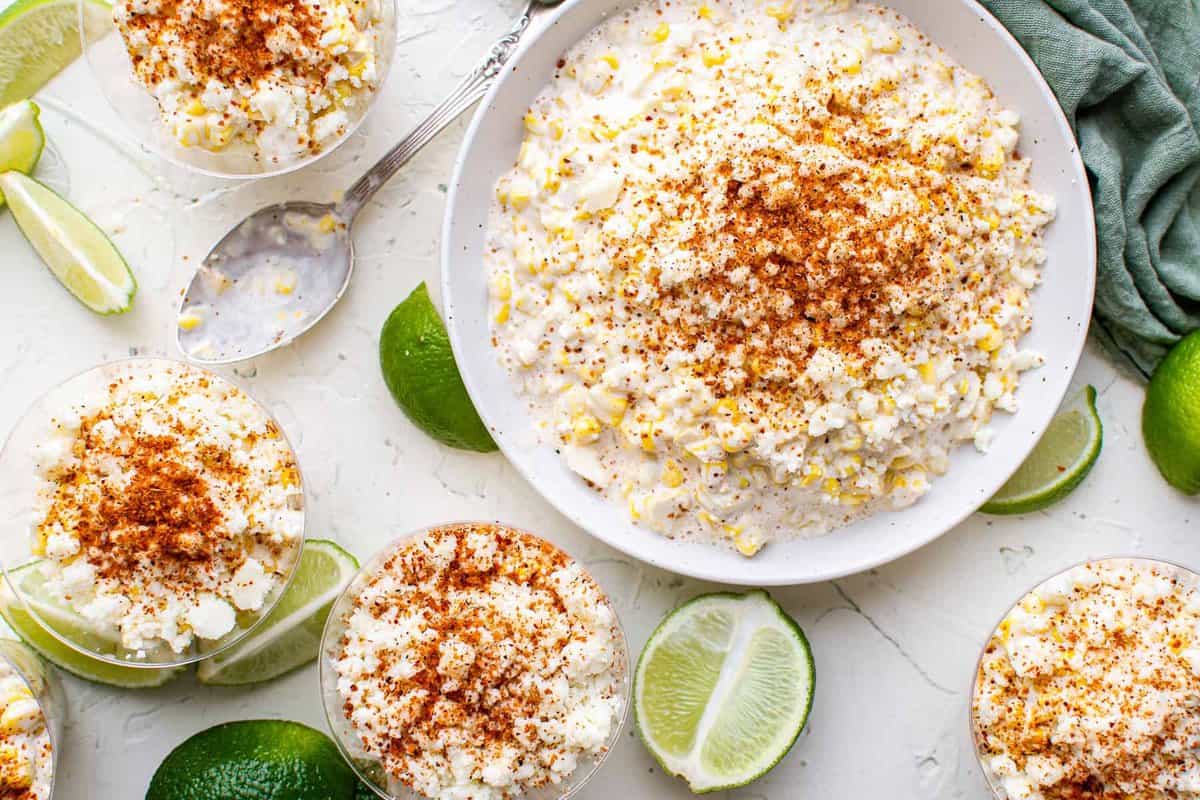 How to Store and Reheat
Store leftover Mexican corn salad in an airtight container, and keep it in the refrigerator up to 5 days. You can eat it cold, or gently warm it in the microwave, or in a skillet over low heat.
How to Serve Esquites
Since it's a Mexican street food, authentic esquites corn is served in a cup with a spoon for easy snacking on the go. This makes them great Cinco de Mayo appetizers that are easy to serve and share along with tortilla chips, fun taco recipes, and margaritas.
It's also delicious with other Mexican snacks, like chicken nachos, crispy taquitos, a Crunchwrap Supreme, 7 layer dip cups, churros, or enchilada cups.
Finish everything off with refreshing mangonadas, homemade Horchata, or Pineapple Agua Fresca.
If you make this recipe be sure to upload a photo in the comment section below or leave a rating. Enjoy! You can also jump to recipe.
More Mexican Street Corn Recipes We Love