Beer Cheese Buffalo Chicken Dip is a fun and flavorful twist on a classic party recipe. This buffalo chicken dip with blue cheese and beer is perfect for tailgating–because nothing goes better together than football, wings, and beer (and cheese)!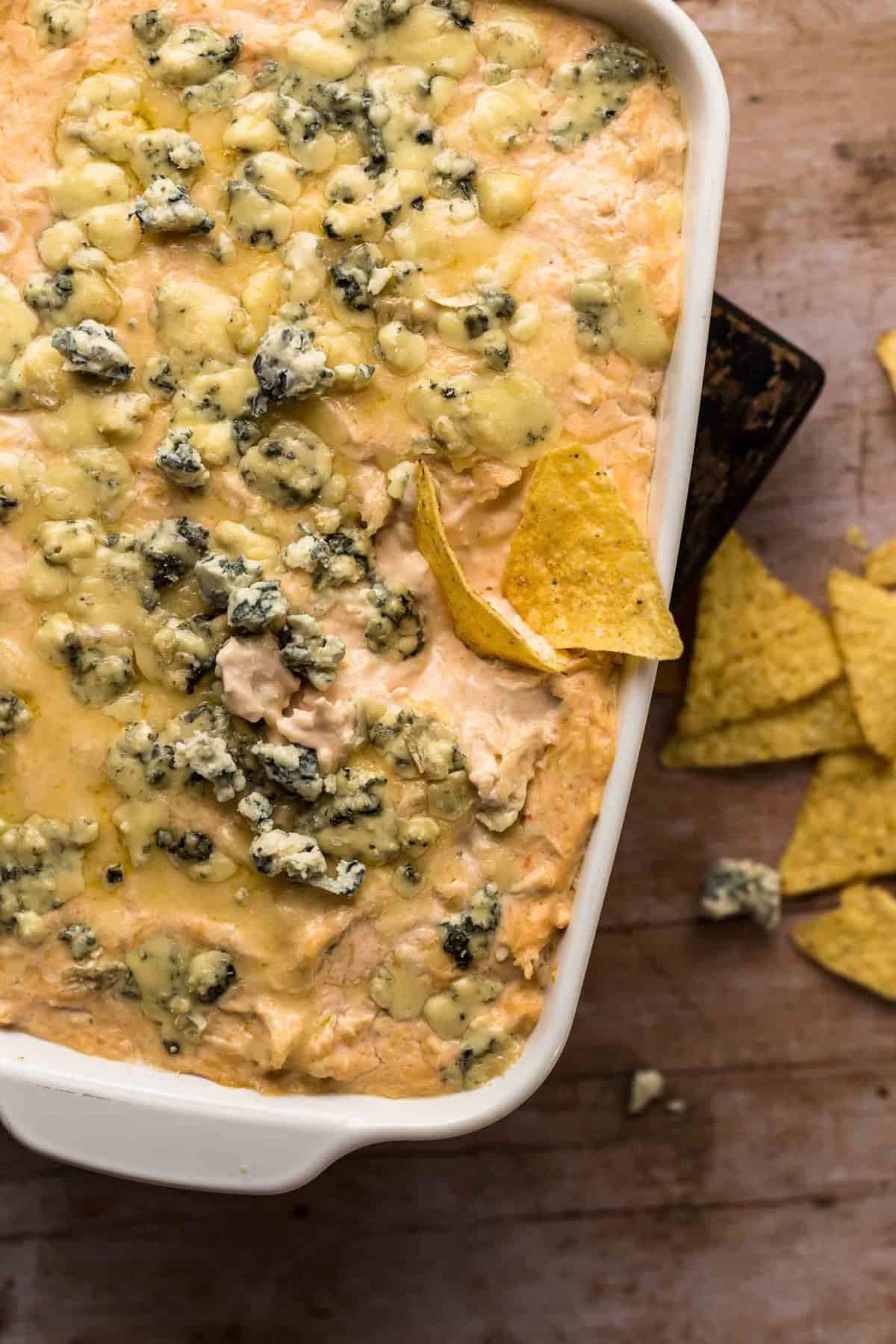 Beer Cheese Buffalo Chicken Dip
Chicken wings and beer were made for each other. They're like culinary soulmates. A match made in heaven.
This hot dip is filled with chicken, buffalo sauce, blue cheese, beer, and even more cheese…it's the ultimate hot dip for tailgating, game days, and the Super Bowl!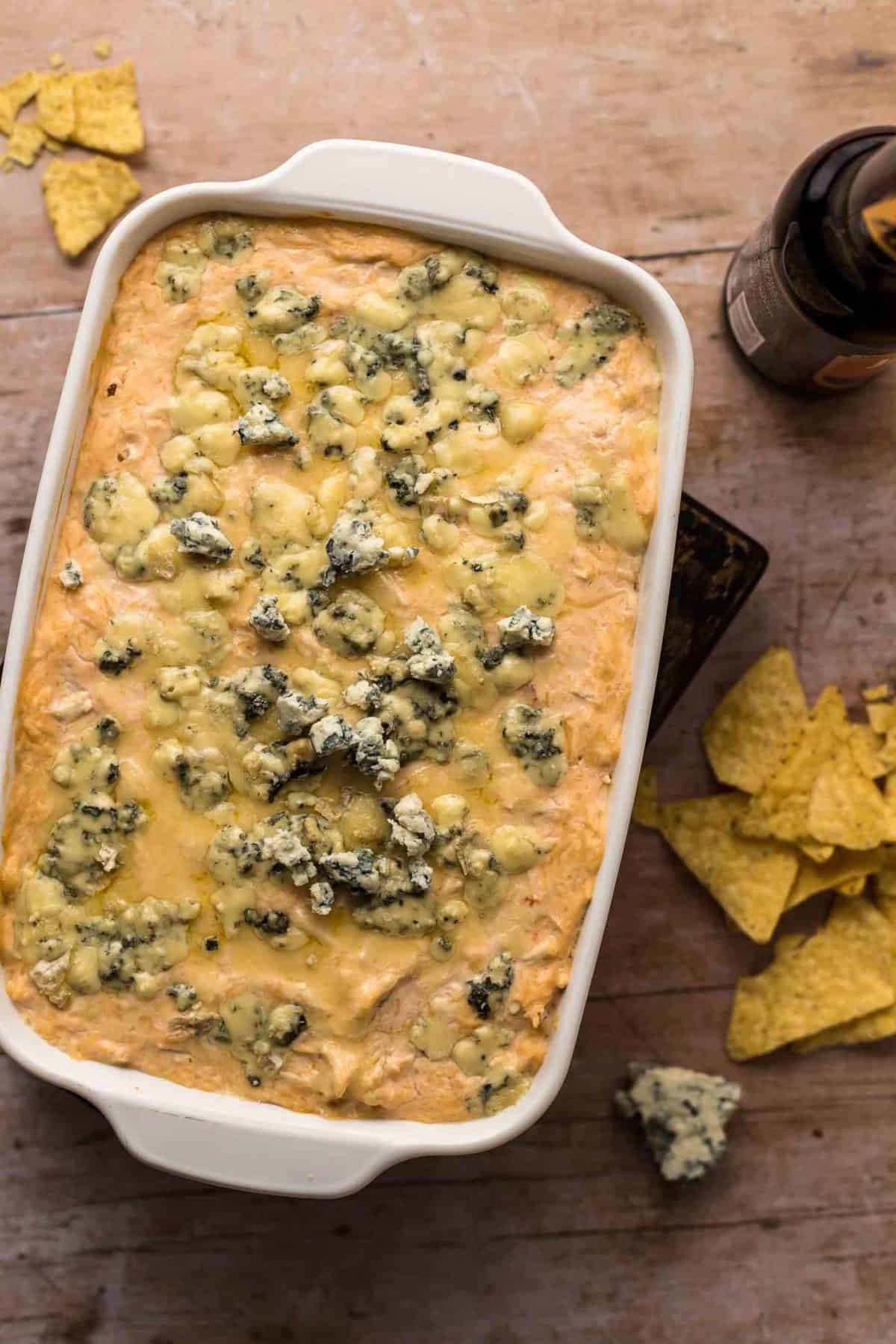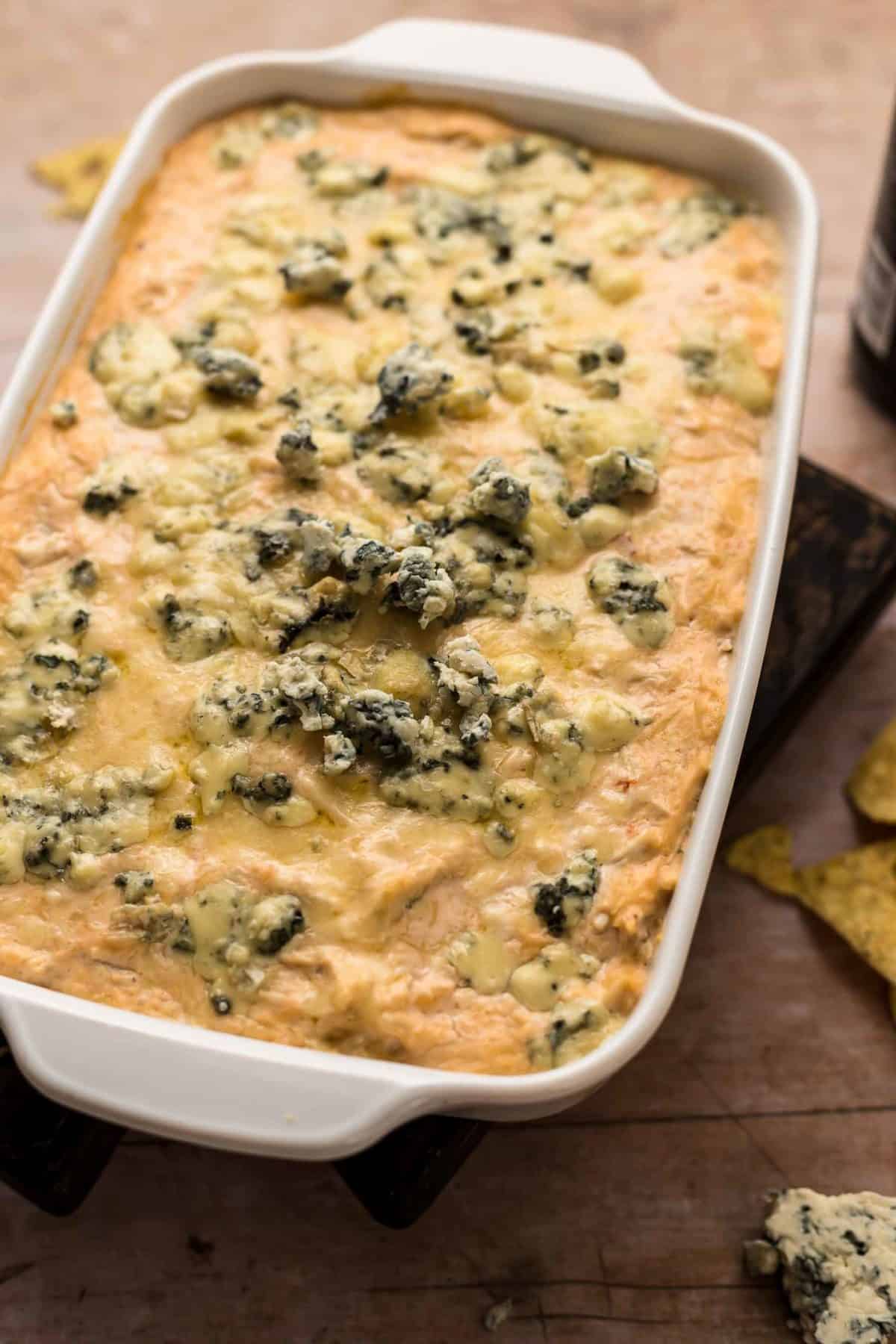 Easy Buffalo Cheese Dip
Blue cheese isn't for everyone. Buffalo sauce isn't for everyone. Heck, beer definitely isn't for everyone. But if you like those three things, you will love this buffalo cheese dip. I sincerely hope I can stop myself from devouring the entire thing during the Superbowl.
Someone needs to come over to save Pat and me from eating all of this on our own. This is my cry for help!
What's the Best Beer for This Dip?
I recommend using an IPA–whichever you prefer–for this beer cheese dip.
We used Schlafly's American IPA in our dip, and it was delicious. I love Schlafly; It's a St. Louis company, and we are so proud to call them our own! If you're in the area, you have to check out their taproom. It's so much fun, and I love taking out-of-town friends there!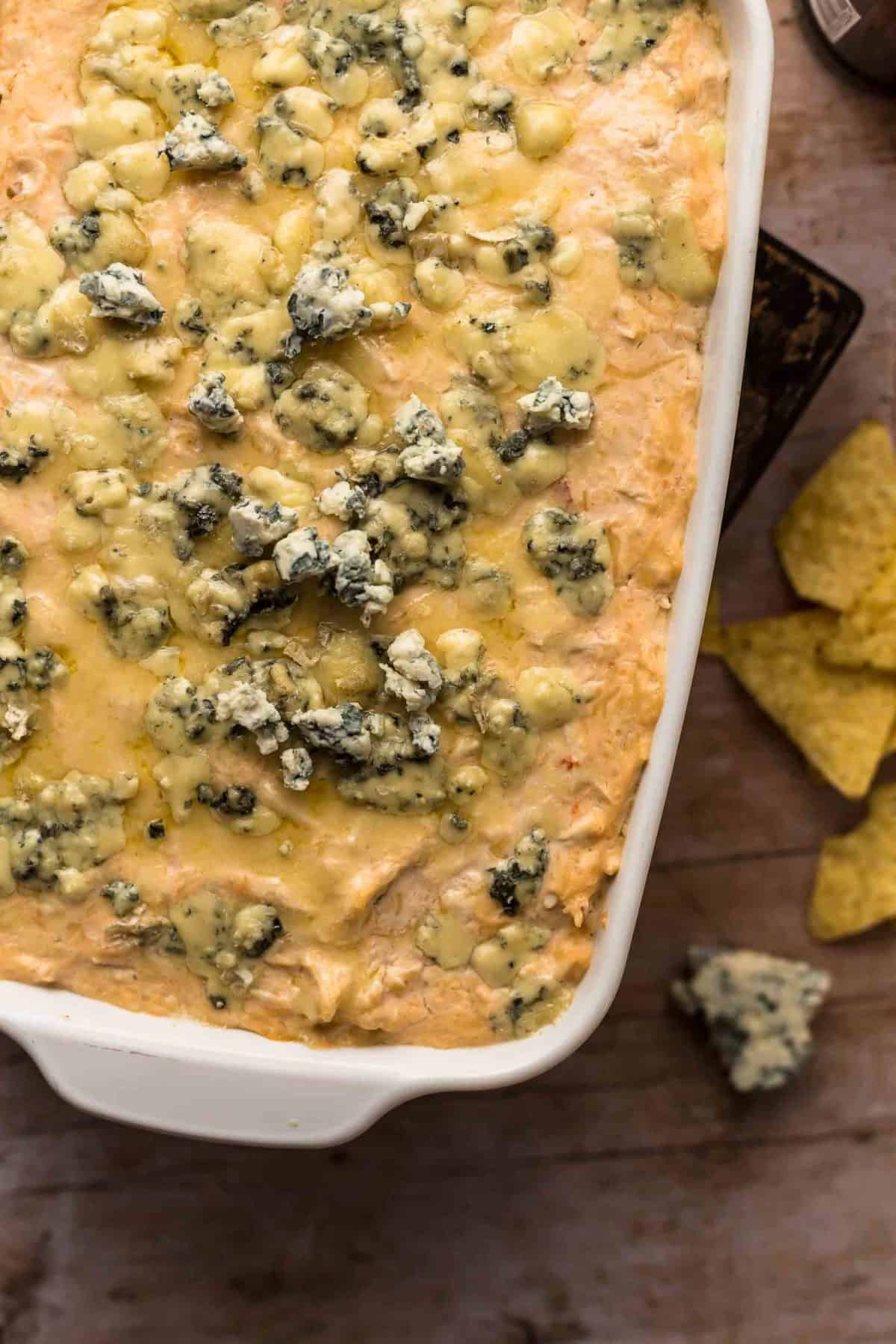 Why you'll love this Beer Cheese Buffalo Chicken Dip:
It's easy yet impressive: All those flavors mingling together looks like something that took hours to make–and that can stay our little secret!
It's a football favorite: Nothing goes with football season like buffalo wings, beer, and cheese. This recipe puts them all together.
Warm and Savory: Football weather is cold weather. A hot recipe will beat the chill every time.
Ingredients in Beer Cheese Buffalo Chicken Dip
Shredded chicken (Cook before adding to the dip. I like using a rotisserie chicken to save time.)
Sour cream
Cream cheese
Mozzarella cheese
Monterrey jack cheese
Buffalo Sauce (Here's my homemade buffalo sauce recipe! Or just use a store-bought version.)
IPA beer (your favorite brand)
Blue cheese crumbles
How to Make This Amazing Dip
This dip is so easy to make, and it's sure to be a crowd pleaser! It's great for tailgate parties, too, because so many people bring cold snacks to share–a hot one is sure to get plenty of attention!
Combine all ingredients (except chicken and blue cheese) in a mixing bowl. Gently stir in the shredded chicken.
Spread the mixture in a baking dish, top with blue cheese crumbles and bake until hot and bubbly
To Serve: Beer Cheese Buffalo Chicken Dip can be served with any of your typical dippers. It's great with tortilla chips (especially when they're warmed), hearty crackers, toasted bread, or pretzels.
Be sure to see the recipe card below for full ingredients & instructions!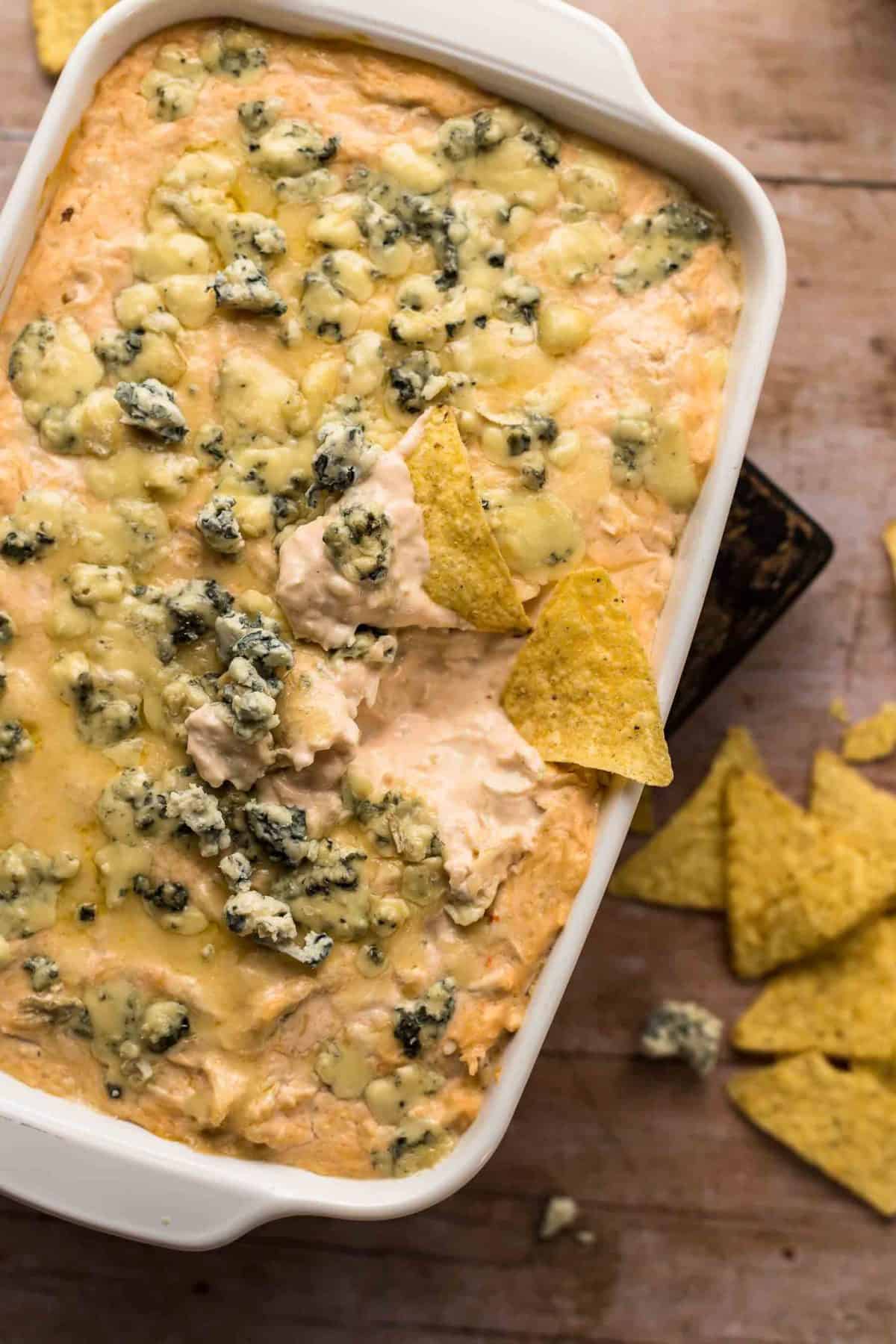 What if I Don't Like Blue Cheese?
You can leave off the blue cheese and the recipe will still turn out fine. To compensate, add a bit more Monterrey jack cheese on top.
How Do I Take This Hot Dip to a Party?
If you're driving to the party, you sure don't want cheese and buffalo sauce all over your floor mats!
Find a cardboard box or a cooler to hold the baking pan; wrap in newspaper or towels to hold in the heat. It really doesn't take that long to bake, so you may want to bake it onsite.
Isn't it a Lot of Work to Cook and Shred the Chicken?
The quickest way to get the shredded chicken is to buy pre-shredded rotisserie chicken at the grocery store. Problem solved!
However, if you're making a chicken dish during the week, make a bit extra, and save it to use in this dip.
More Hot and Cheesy Dips
This Buffalo Beer Cheese Dip recipe will be the MVP of the Superbowl Appetizers, and score extra points when you serve it (no matter who wins). Once you've mastered this recipe, try some of our other hot, cheesy dips!
Loaded Rotel Dip with Velveeta
If you make this recipe be sure to upload a photo in the comment section below or leave a rating. Enjoy!