Beer Cheese Buffalo Chicken Dip is a fun and flavorful twist on a classic party recipe! This buffalo chicken dip with blue cheese and beer is just perfect for tailgating. Nothing goes better together than wings and beer (and cheese)!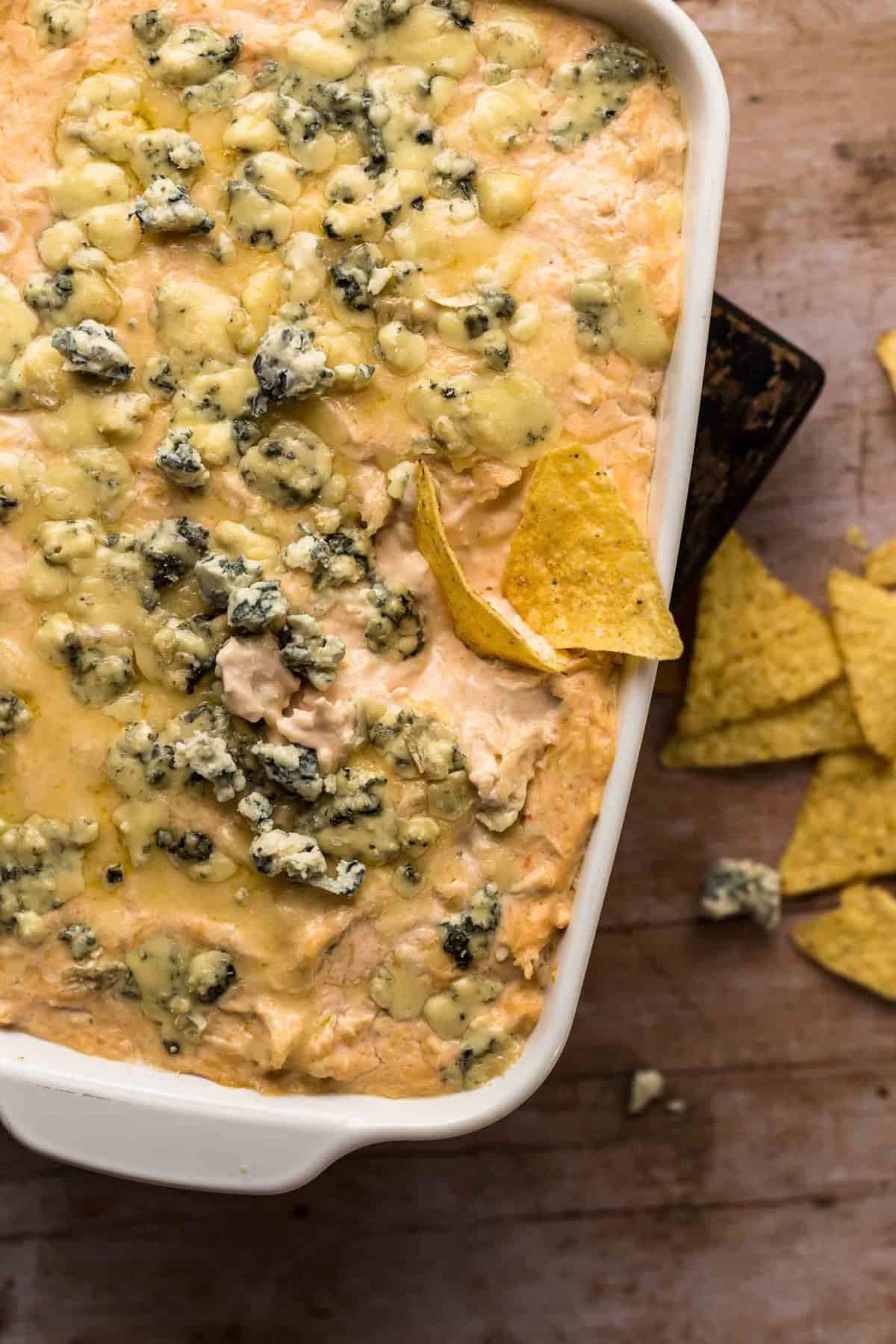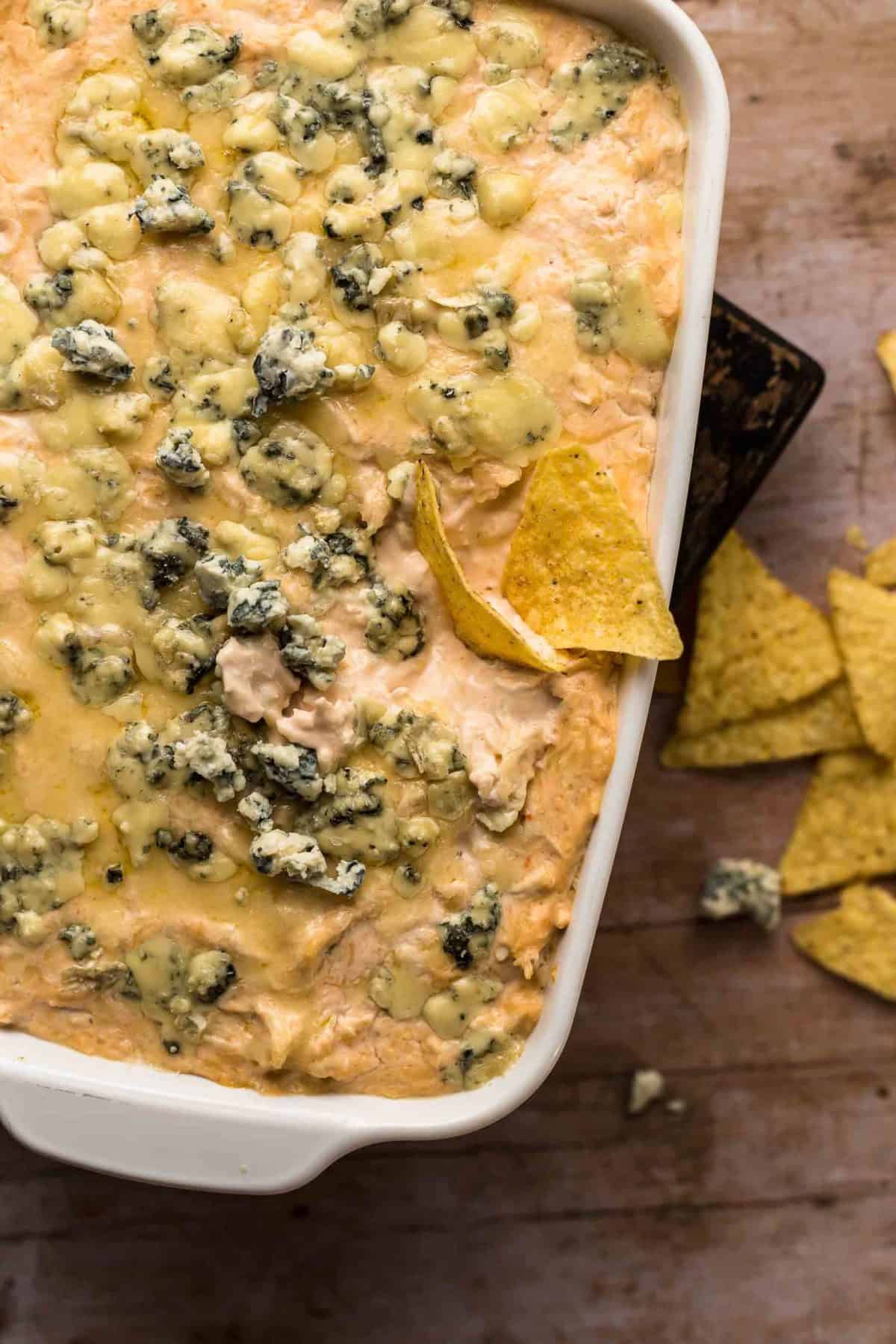 Buffalo Chicken Dip with Blue Cheese (and Beer!)
This buffalo cheese dip is filled with chicken, buffalo sauce, blue cheese, beer, and lots of other types of cheese…it's the ultimate hot dip for tailgating, game days, and the Super Bowl!
Are you ready to try my all-time favorite dip? Beer Cheese Buffalo Chicken Dip! It's AMAZING. You can eat this dip any day of the week! Chicken Wings and Beer were made for each other. They're like culinary soul-mates. A match made in heaven.
This is basically like my Buffalo Chicken Dip and Beer Cheese Dip had a baby…and made the most amazing game day dip ever!
Eating this cheesy dip is basically like a trip to Buffalo Wild Wings all in one dish. It's such an easy dip to make, and it really is perfect for parties. I'm obsessed!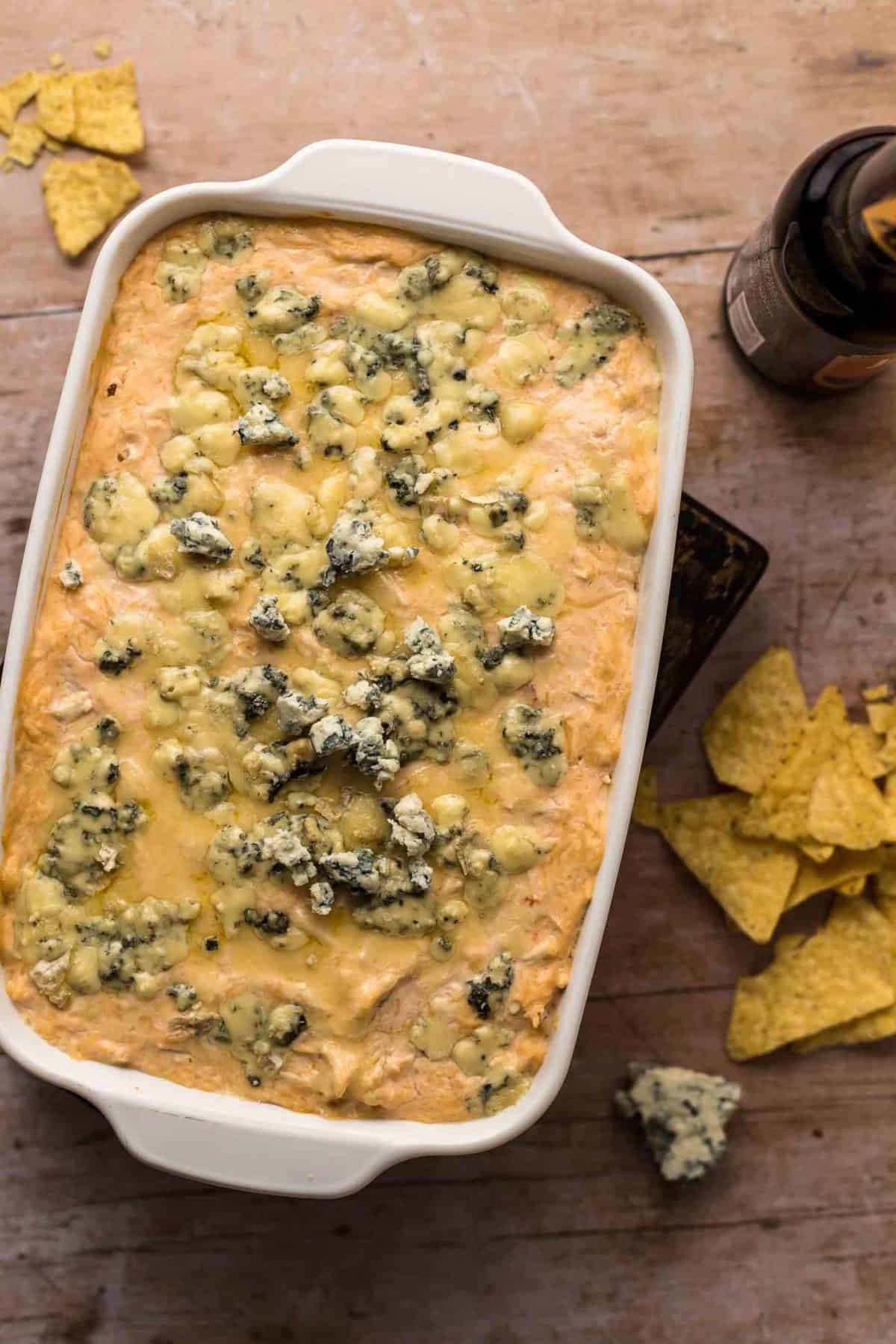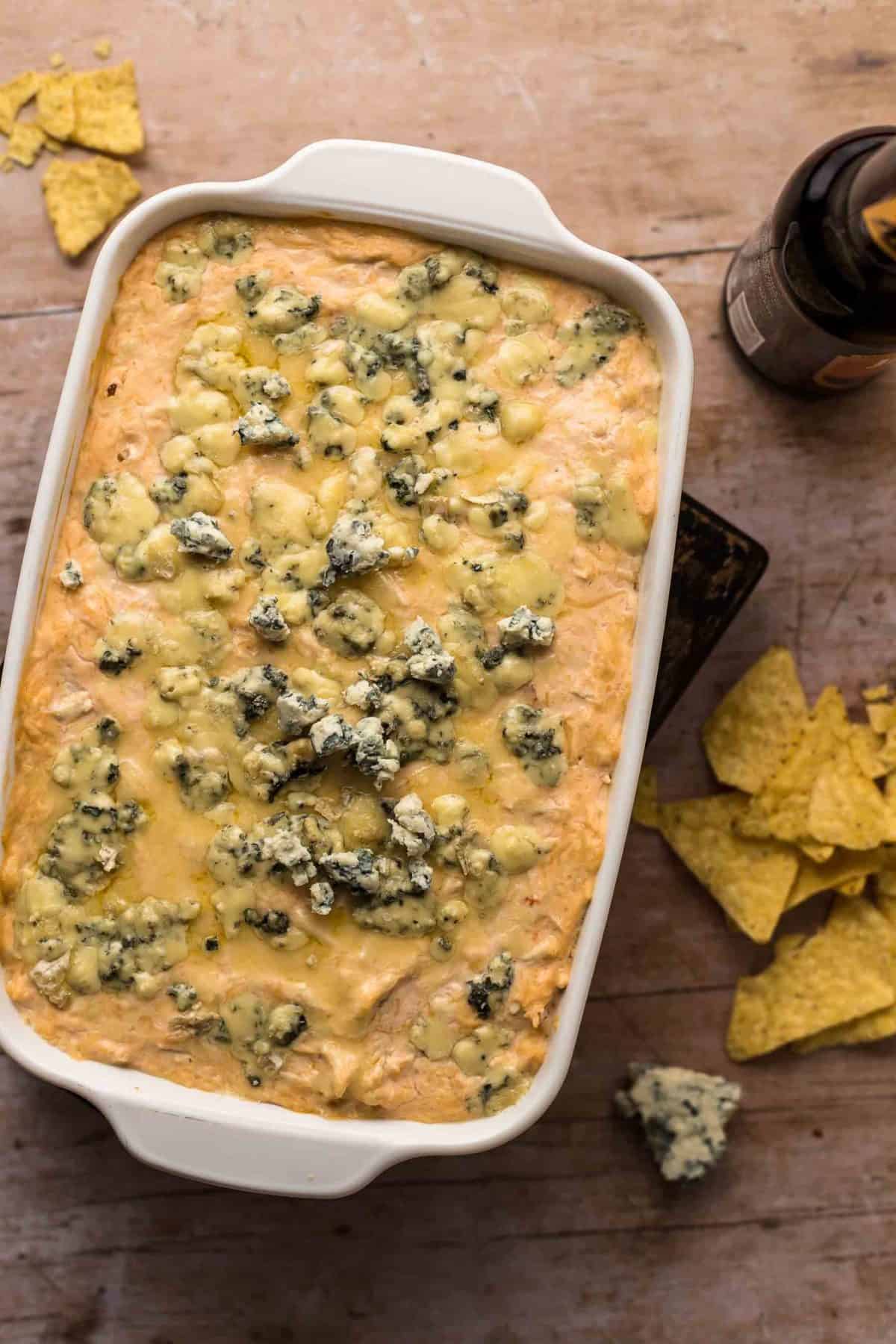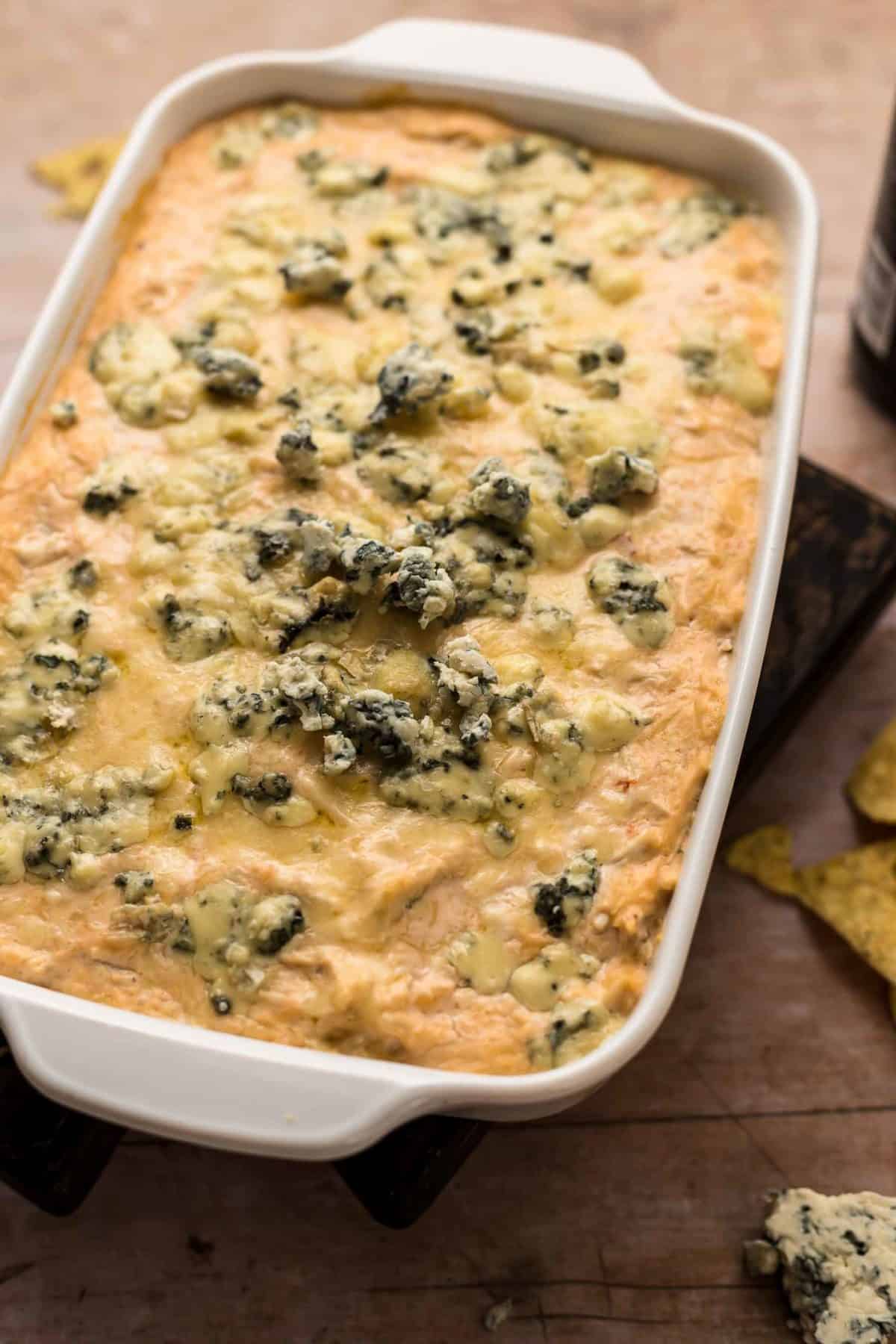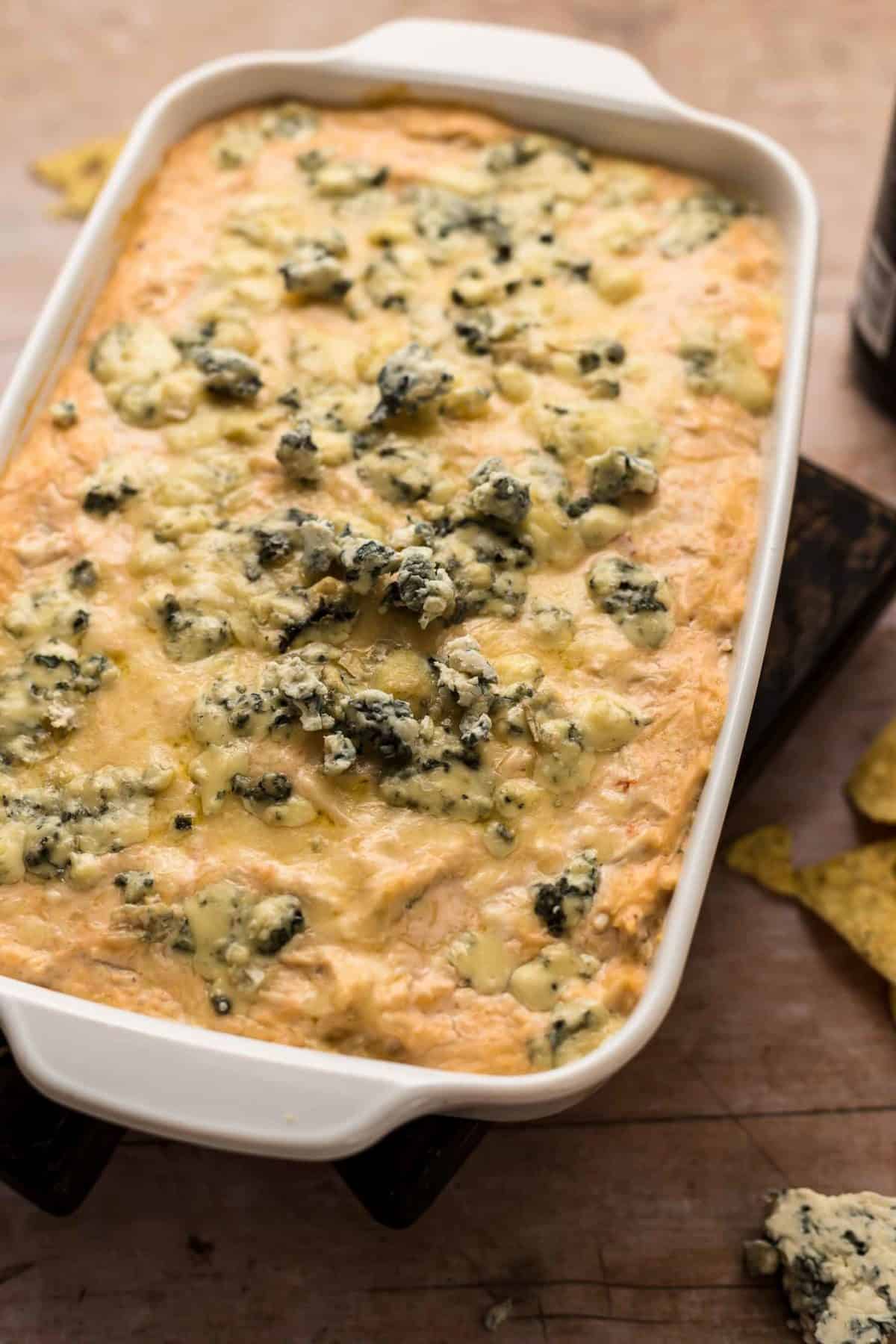 Easy Buffalo Cheese Dip
Blue Cheese isn't for everyone. Buffalo Sauce isn't for everyone. Heck, Beer definitely isn't for everyone. But if you like those three things, you will LOVE this buffalo cheese dip. I sincerely hope I can stop myself from devouring the entire thing during the Superbowl.
Someone needs to come over to save Pat and me from eating all of this o our own. This is my cry for help!
What's the best beer for this beer cheese dip?
I recommend using an IPA for this beer cheese dip. Anyone you prefer.
We used Schlafly's American IPA in our dip, and it was delicious. I love Schlafly; It's a St. Louis company, and we are so proud to call them our own! If you're in the STL area, you have to check out their Taproom. SO fun. I love taking out of town friends there!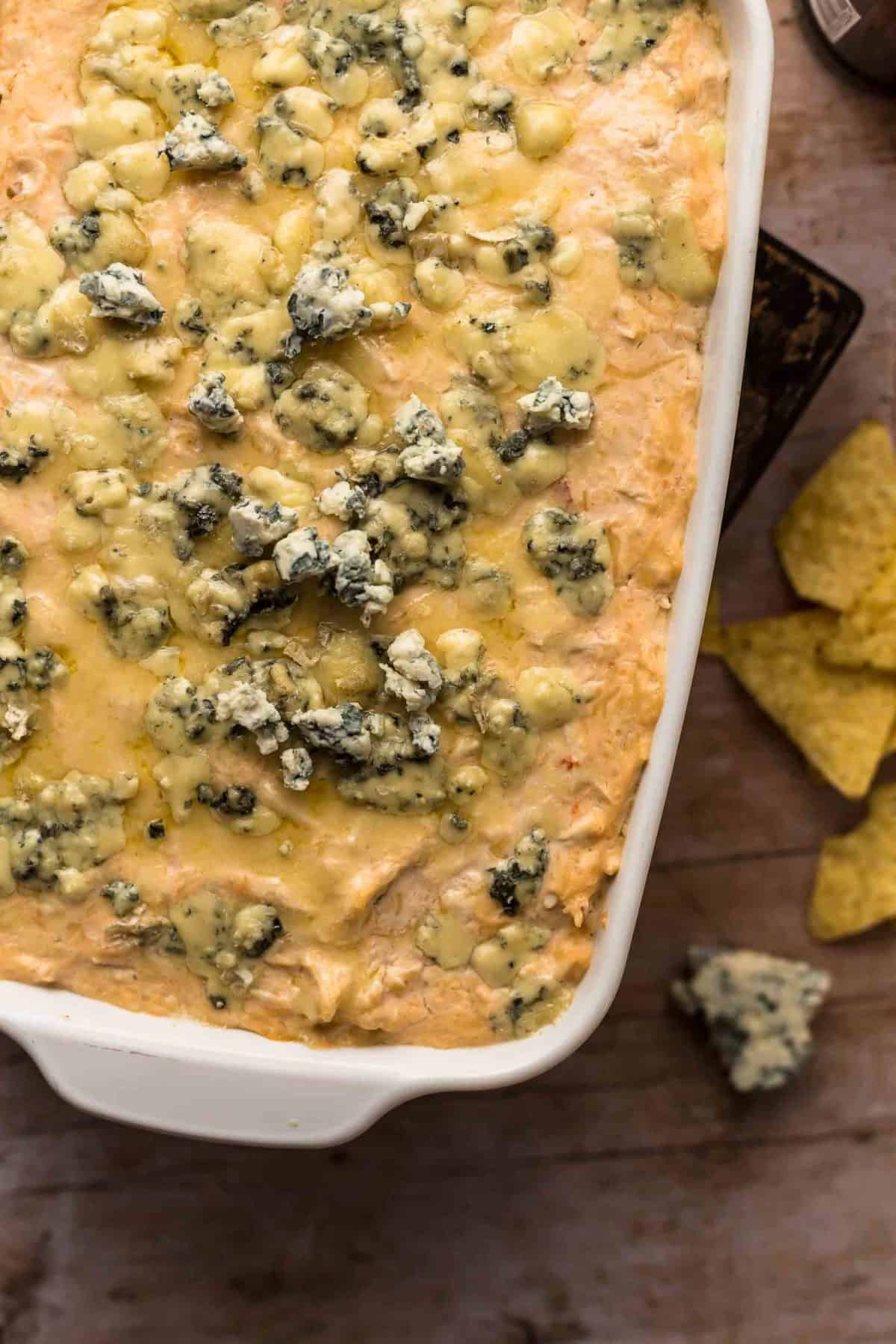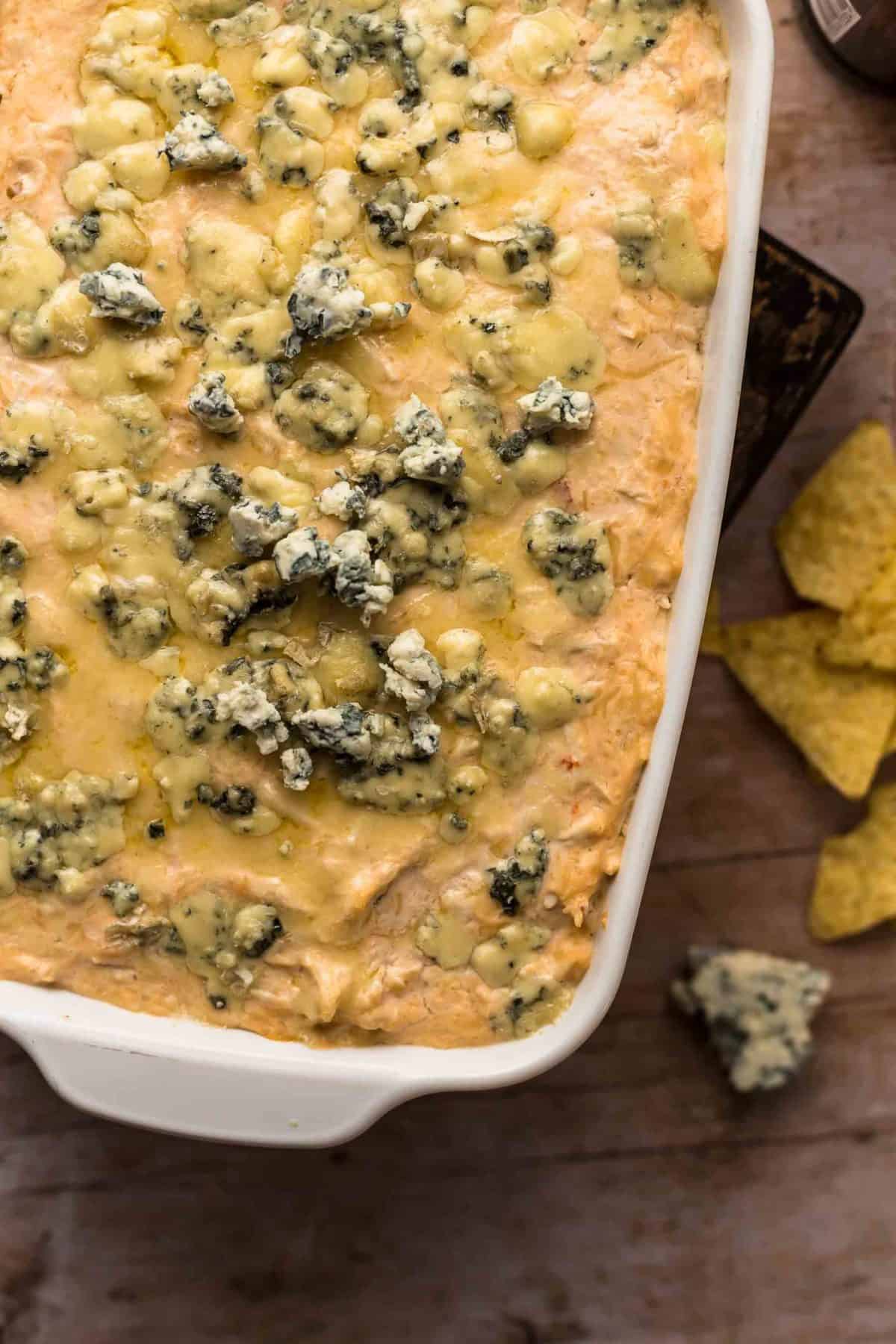 How to Make Buffalo Chicken Beer Cheese Dip
This buffalo chicken dip with blue cheese is so easy to make, and it's sure to be a crowd pleaser!
Ingredients:
Shredded Chicken (Cook before adding to the dip. I like using a rotisserie chicken.)
Sour Cream
Cream Cheese
Mozzarella
Monterrey Jack Cheese
Buffalo Sauce (Here's my homemade buffalo sauce recipe! Or just use a store-bought version.)
IPA Beer
Blue Cheese Crumbles
How to Make it:
Preheat oven to 350°F and cover baking dish with non-stick spray.
Combine all ingredients (except chicken and blue cheese) in a mixing bowl.
Once everything is fully mixed together, THEN gently stir in the shredded chicken.
Pour the cheese dip into the baking dish, and sprinkle on the blue cheese crumbles, and some extra Monterrey Jack.
Bake for 20-30 minutes at 350°F (until it's hot and bubbly).
To Serve: This buffalo beer cheese dip can be served with any of your typical dippers. It's great with tortilla chips (especially when they're freshly warmed), hearty crackers, toasted bread, or pretzels.
Be sure to watch the video to see how to make beer cheese buffalo chicken dip (step by step!).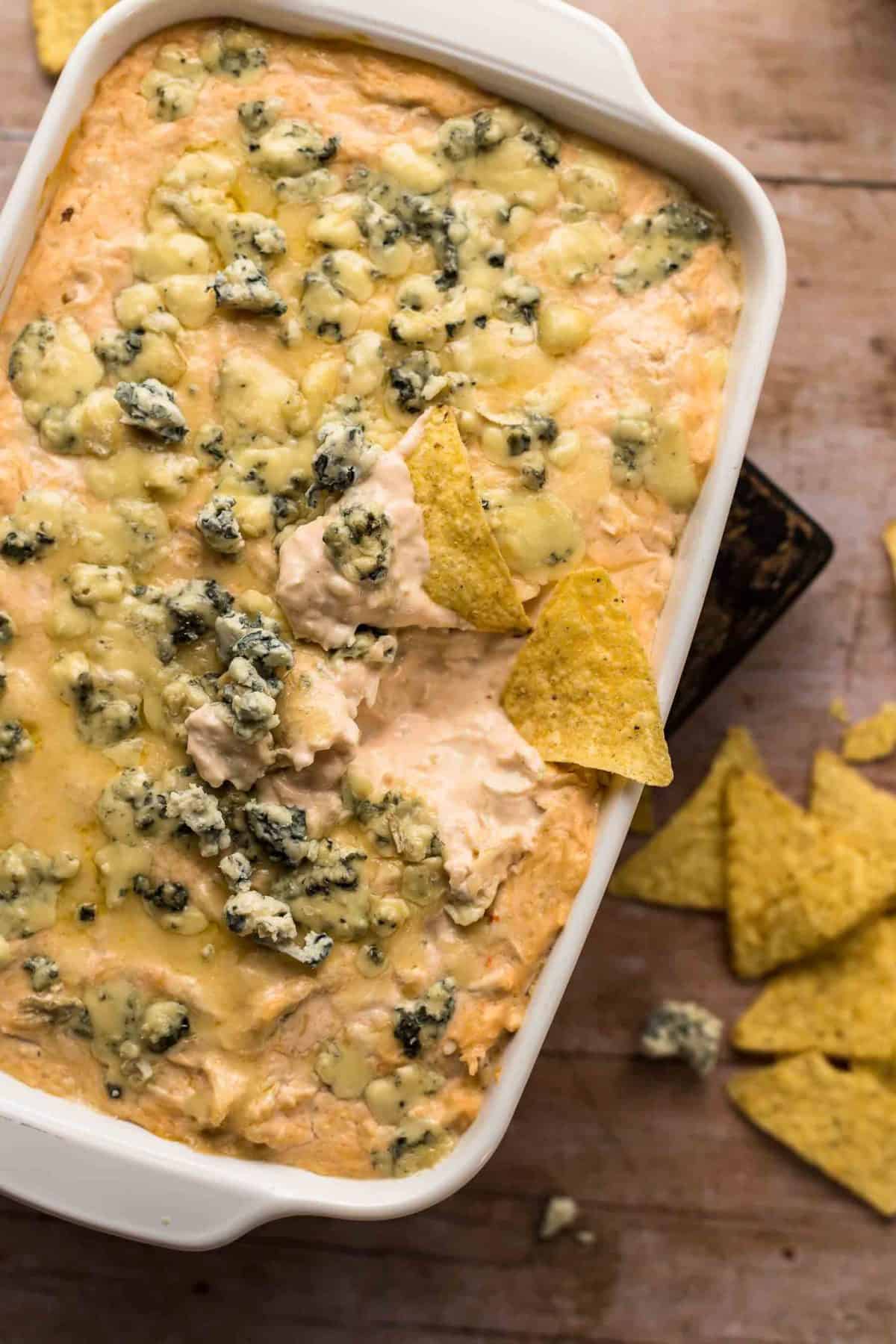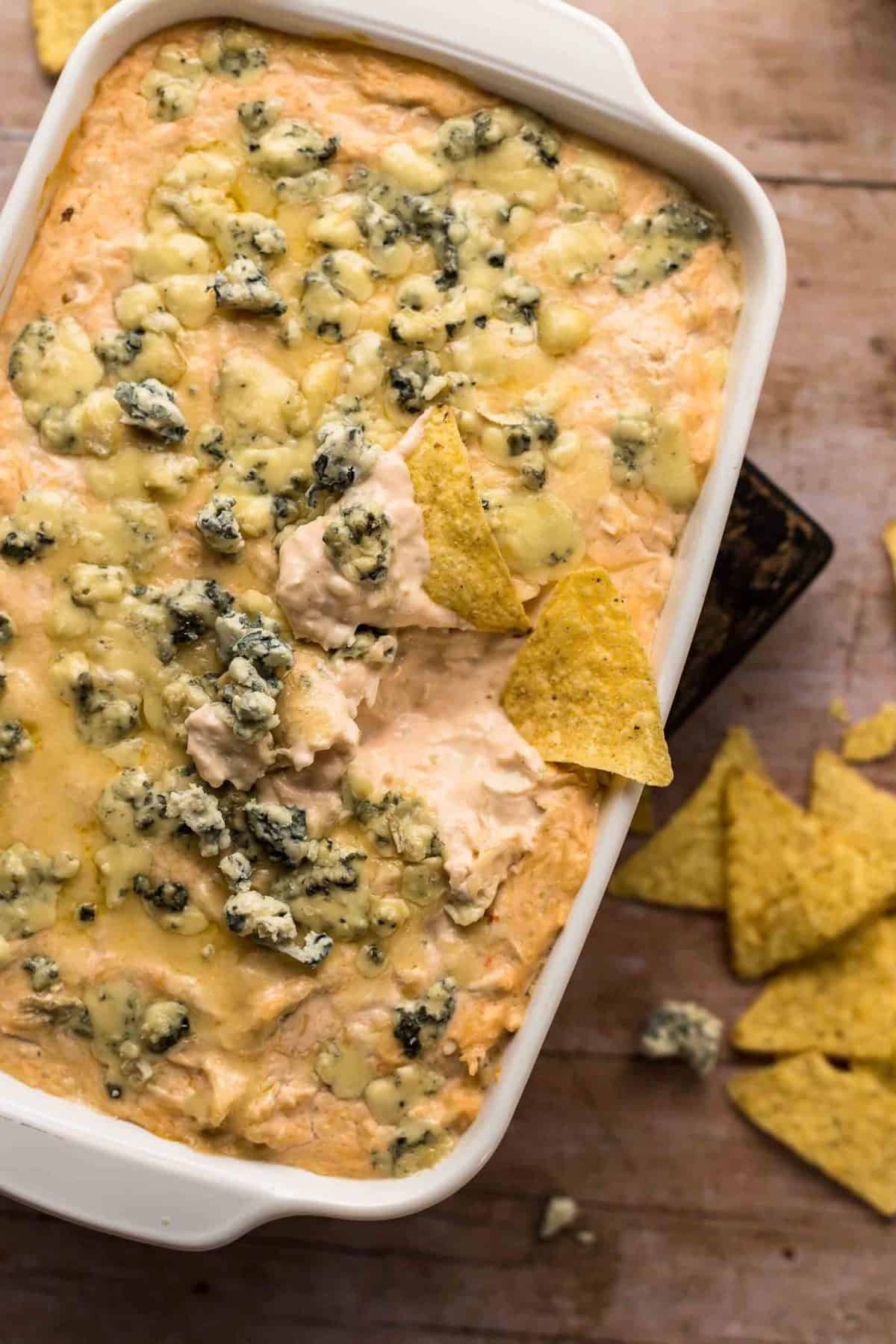 This Buffalo Beer Cheese Dip recipe will be the star of the Superbowl Appetizers, and will surely make any game day a big hit (no matter who wins).
Watch the Video and see the recipe card for details on how to make this buffalo cheese dip recipe. Enjoy!
We've got plenty of cheesy hot dips to go around!