Home Fries are the perfect side dish for any meal, whether it's breakfast, lunch, or dinner. Crispy Breakfast Potatoes are a hearty way to start your day along with eggs and toast. And of course you can devour this savory Homes Fries recipe for a little snack. These tasty potatoes go with just about everything, and they're oh so delicious!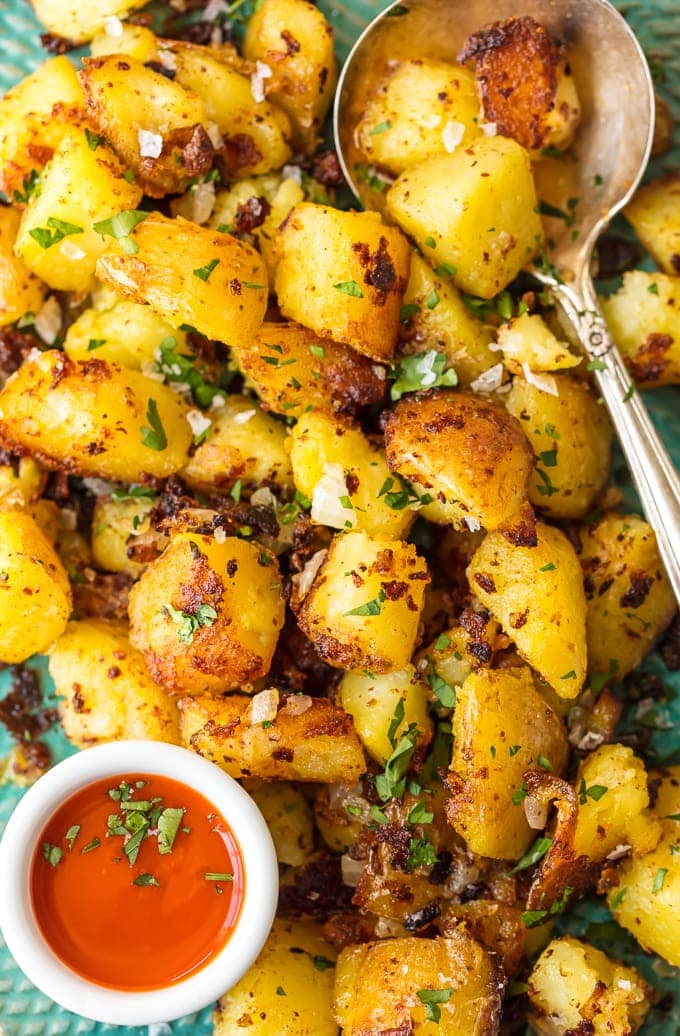 Home Fries Recipe
This home fries recipe goes with every meal, even breakfast. Start your morning with these crispy breakfast potatoes!
This Home Fries are just too good. They're crispy, savory, and full of flavor. And you can never go wrong with potatoes! I mean, who doesn't like potatoes? They're absolutely delicious, and they seem to go perfectly with every meal.
Eat them with burgers, your favorite chicken recipe, or even eat them first thing in the morning. These Crispy Breakfast Potatoes will be the best addition to the breakfast table!
We're no stranger to great potato recipes around here. I could probably eat potatoes in some form or another for every meal, and I've shared all of the best recipes with you here.
More Potato Recipes
This Home Fries Recipe is in good company. Here are a few of my other favorite potato recipes.
This Home Fries Recipe is savory & delicious! They're the perfect side dish for any meal AND they are the best Crispy Breakfast Potatoes.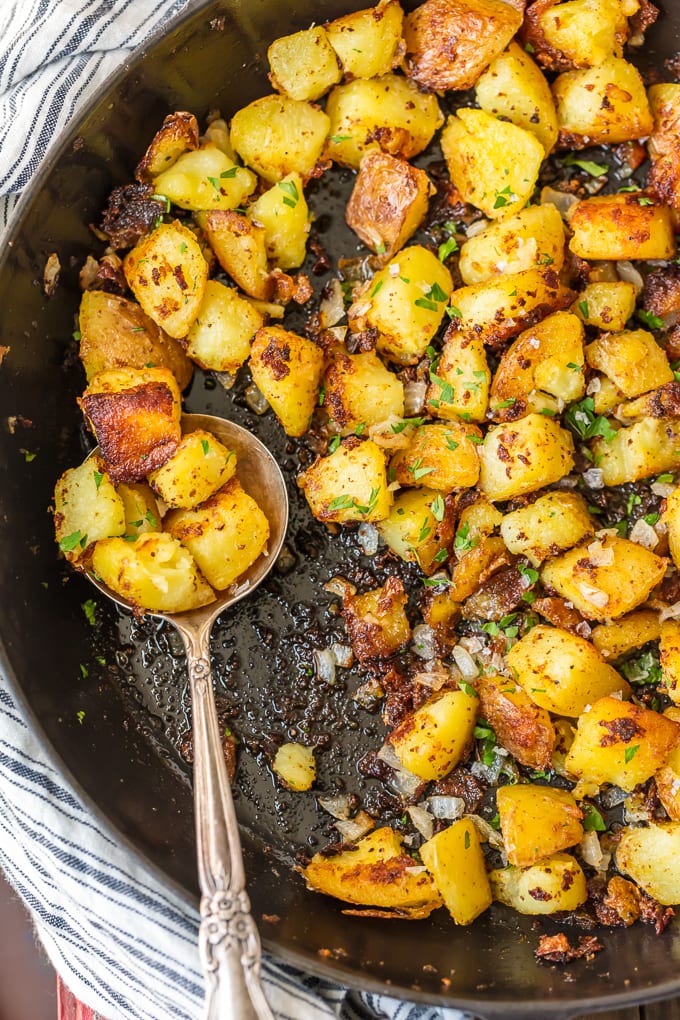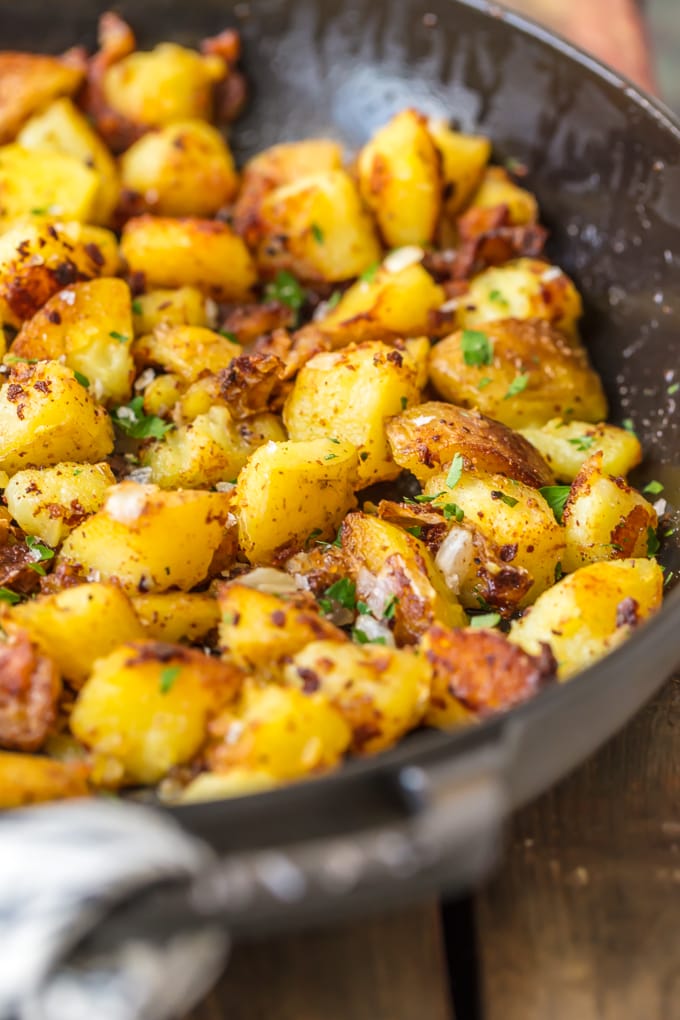 Crispy Breakfast Potatoes
Having something light and sweet for breakfast is nice some mornings, but I really love having a good, hot, savory breakfast.
These Crispy Breakfast Potatoes are my ideal way to wake up. They're super flavorful and very filling. They go well with eggs, toast, bacon, even pancakes or french toast.
We also love this Home Fries Recipe for Christmas morning! They're such an easy way to make breakfast extra special.
Pair these home fries with:
I love cooking up home fries for breakfast as a side dish for some of these other tasty breakfast recipes:
People always say that breakfast is the most important meal of the day, so add these crispy breakfast potatoes to the menu and start your day off on the right foot.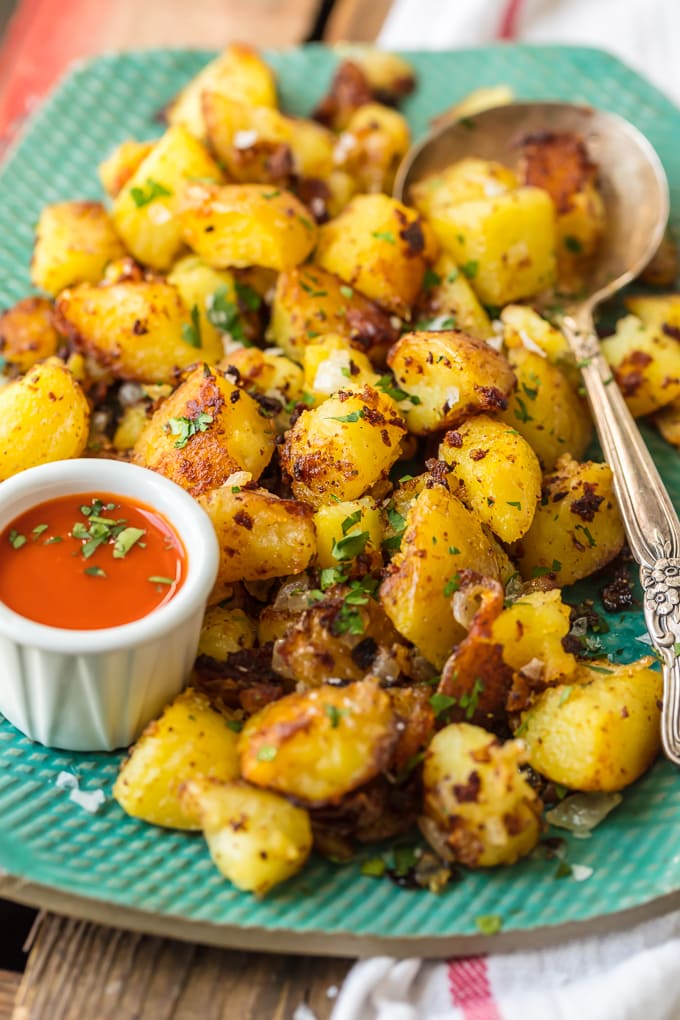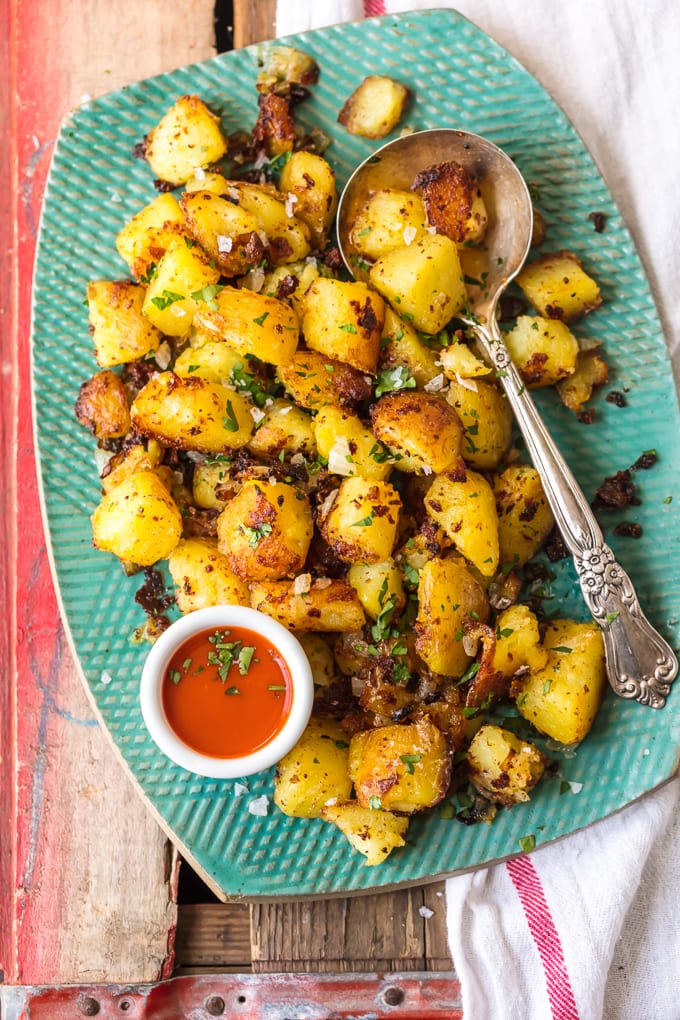 How to Make Home Fries – Step by Step
Want to know how to make home fries? Don't worry, it's easy!
Homes fries are such a simple dish and they taste good with absolutely everything. It's such a great recipe to have at hand whenever you need to whip up a quick side dish.
This home fries recipe is full of seasonings (so it's extra tasty), and it's easy to prepare. You don't even need an oven!
Be sure to see the recipe card below for full ingredients & instructions!
How to Make Home Fries:
Place peeled potatoes in a large pot of water and boil for about 5 minutes
Drain the potatoes, let them cool, & cut them into quarters
Cook onions in a skillet while potatoes boil
Heat oil & butter in skillet, then add potatoes
Season the potatoes and cook until crispy & lightly browned
Add onion, thyme, & other herbs/seasonings to the potatoes
Serve 'em up nice and hot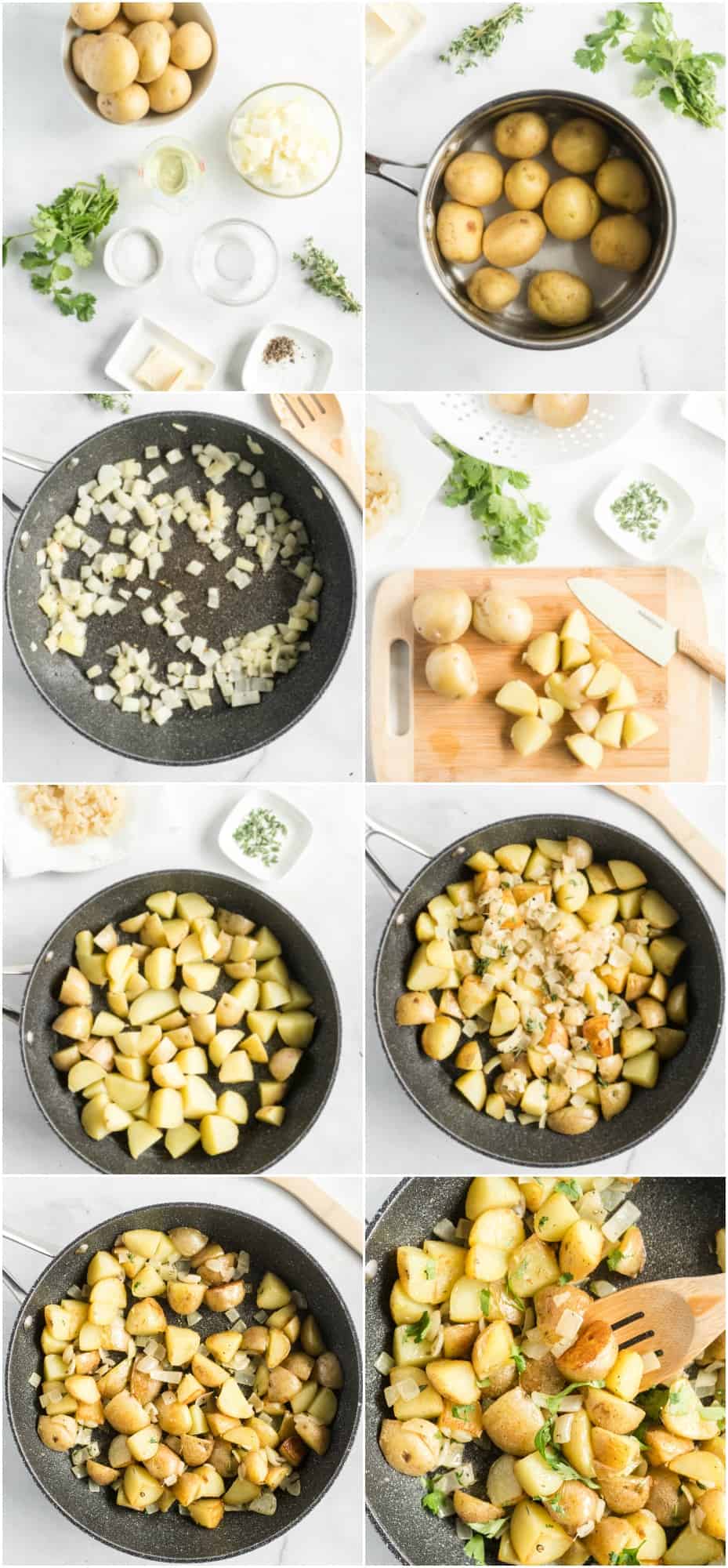 This easy home fries recipe is SO GOOD and it can be used for crispy breakfast potatoes too!
See the recipe card at the bottom of this post for full instructions.
What kind of spices do you use to make home fries?
You can use any type of herb or spices you like when making home fries. Salt & pepper are the most basic seasonings to add, but sometimes simplicity is best.
For this homes fries recipe, we added sweet onion and thyme into the mix, plus we cooked the potatoes in butter & oil for an extra crispy, full flavor. You can also add in parsley, chives, or cilantro. You could even try adding in some bacon bits if you really like it savory.
And if you're looking for something to dip these home fries in, you can never go wrong with ketchup, sour cream, or hot sauce.
Do you have to boil potatoes before frying them?
If you want the perfect potatoes, then yes, you need to boil potatoes before frying them in a pan or skillet. The main reason for doing this is to remove the starch.
If you put raw potatoes directly in a skillet, it will be very tough to cook them evenly. Because of the starch, the outside will likely burn before or become brown before the inside gets cooked.
Make sure you soak or boil the potatoes first. Boiling them will also help to soften the potatoes so they can fry up nicely in the skillet.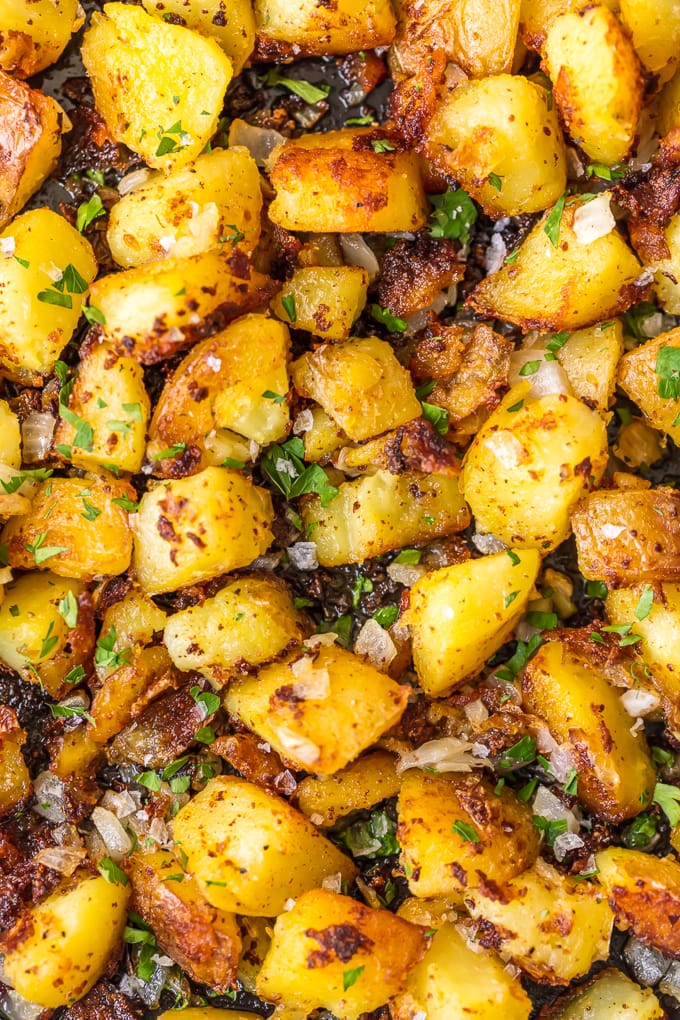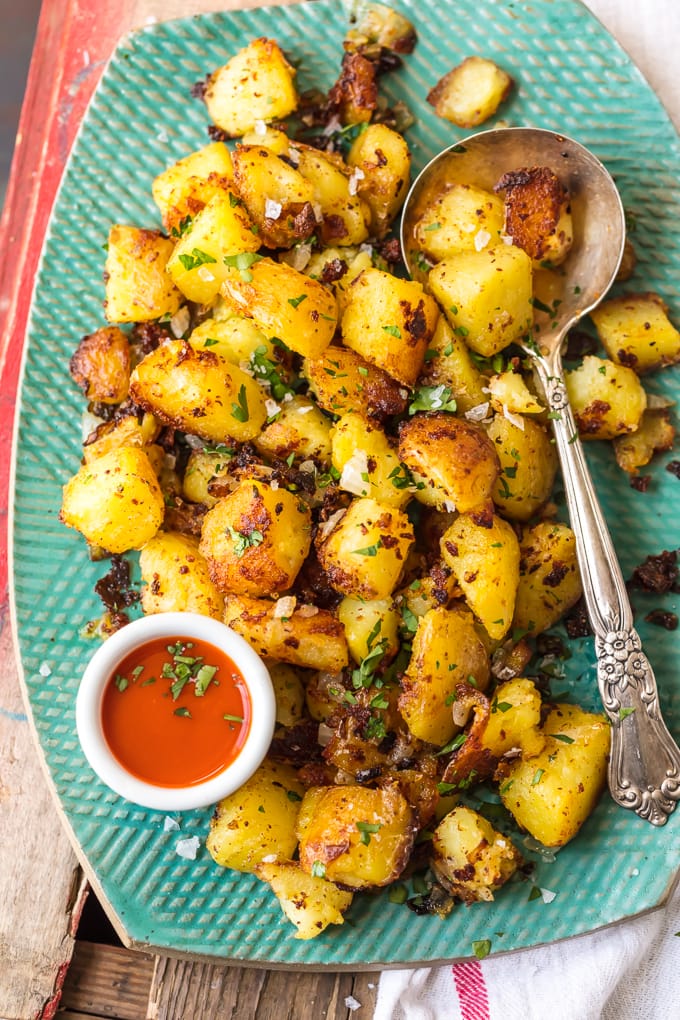 This Home Fries Recipe is one of my favorite potatoes dishes now. Cook them up with burgers, as a side dish, or make Crispy Breakfast Potatoes.
No matter how or when you eat them, you're going to love that you learned how to make home fries!
If you learn how to make home fries, please be sure to upload a photo in the comment section below or leave a rating. Enjoy!