This cherry whiskey sour recipe uses roasted cherries and homemade sour mix to create a delicious and festive cocktail recipe. We love this variation of a classic drink!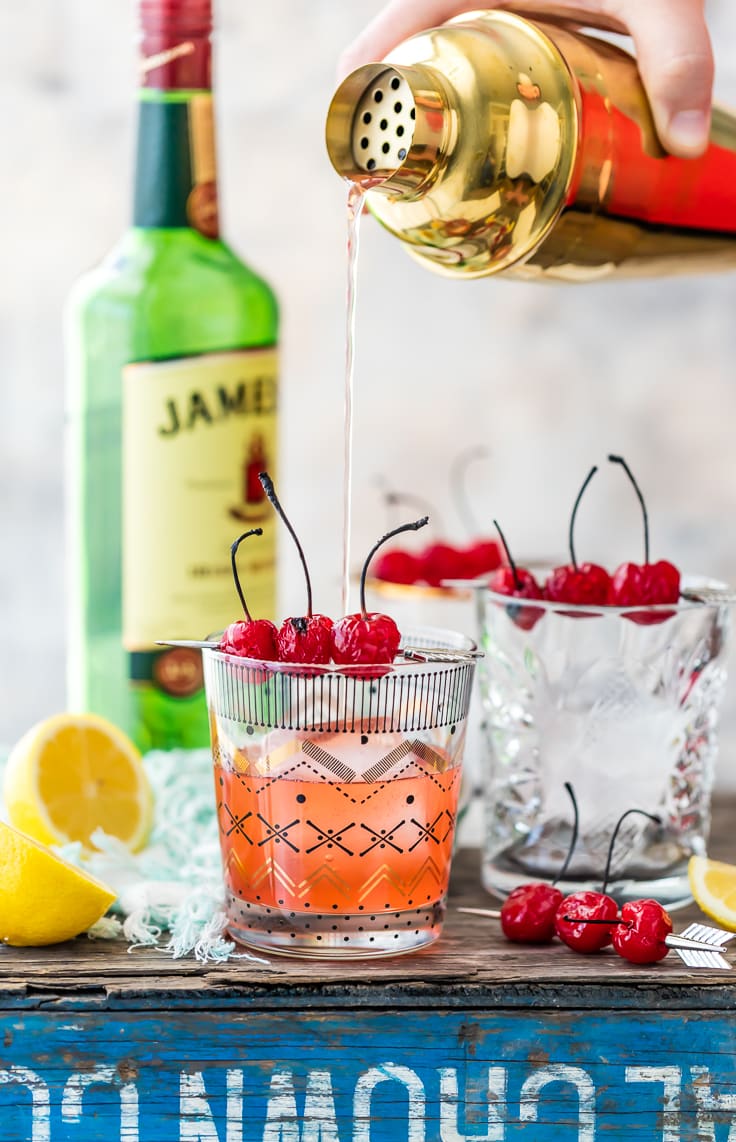 Cherry Whiskey Sour
This Broiled Cherry Whiskey Sour is one of my favorite whiskey cocktails. It has the wide-spread appeal of a classic drink, with the deliciously fruity flavor to liven things up.
This variation on the whiskey sour cocktail is basically made from scratch, full of flavor, and quite pretty to look at! Serve it up for happy hour at home, or make a batch for St. Patrick's Day.
Why You'll Love this Fruity Whiskey Sour recipe
EASY: This cherry cocktail is so quick and easy to make. It won't take more than a few ingredients and a few minutes!
DELICIOUS: The added cherry flavor is so delicious, and balances out the sour perfectly.
WHISKEY COCKTAIL: This is one of my favorite drinks using whiskey. Easy and delicious!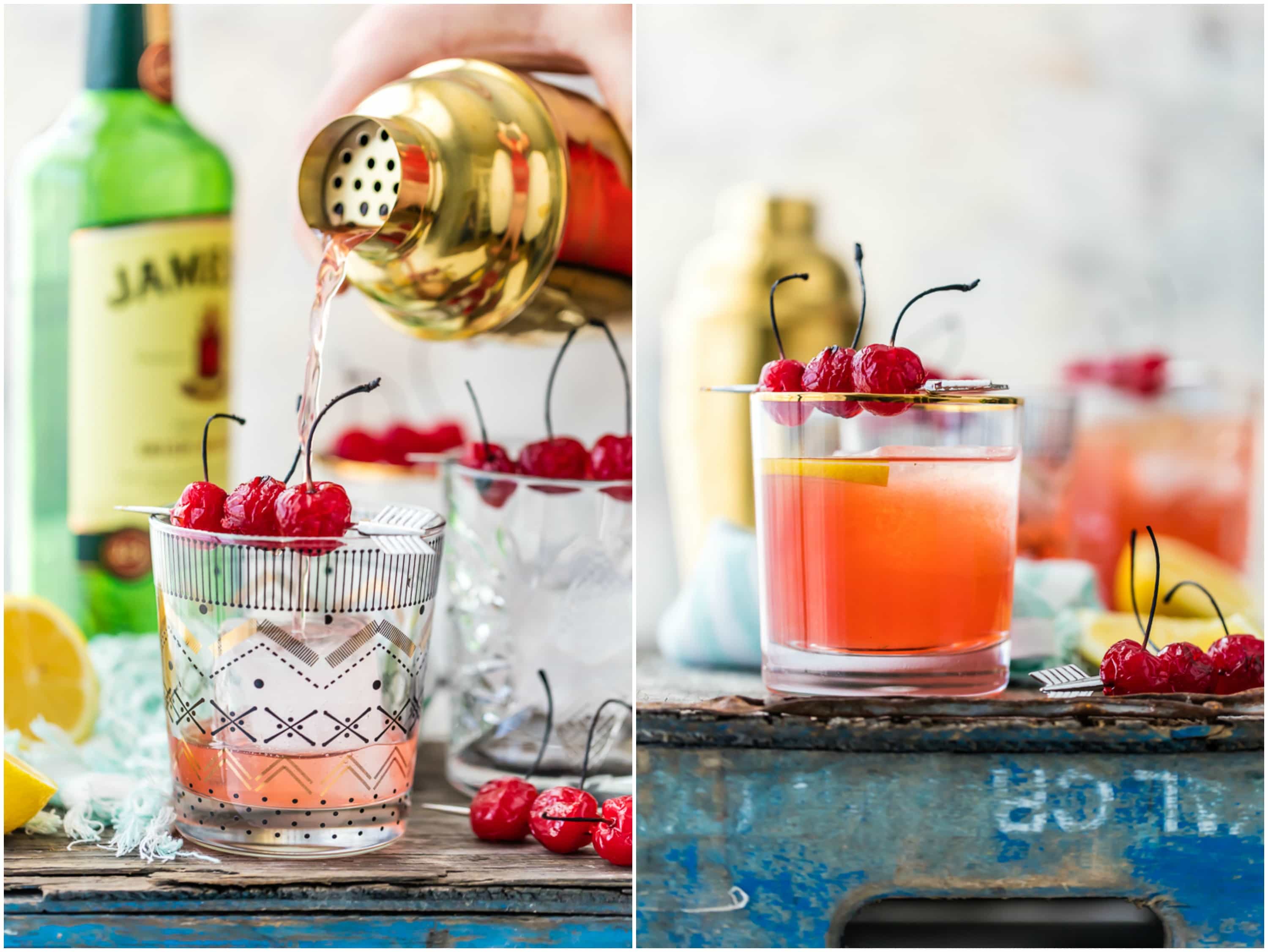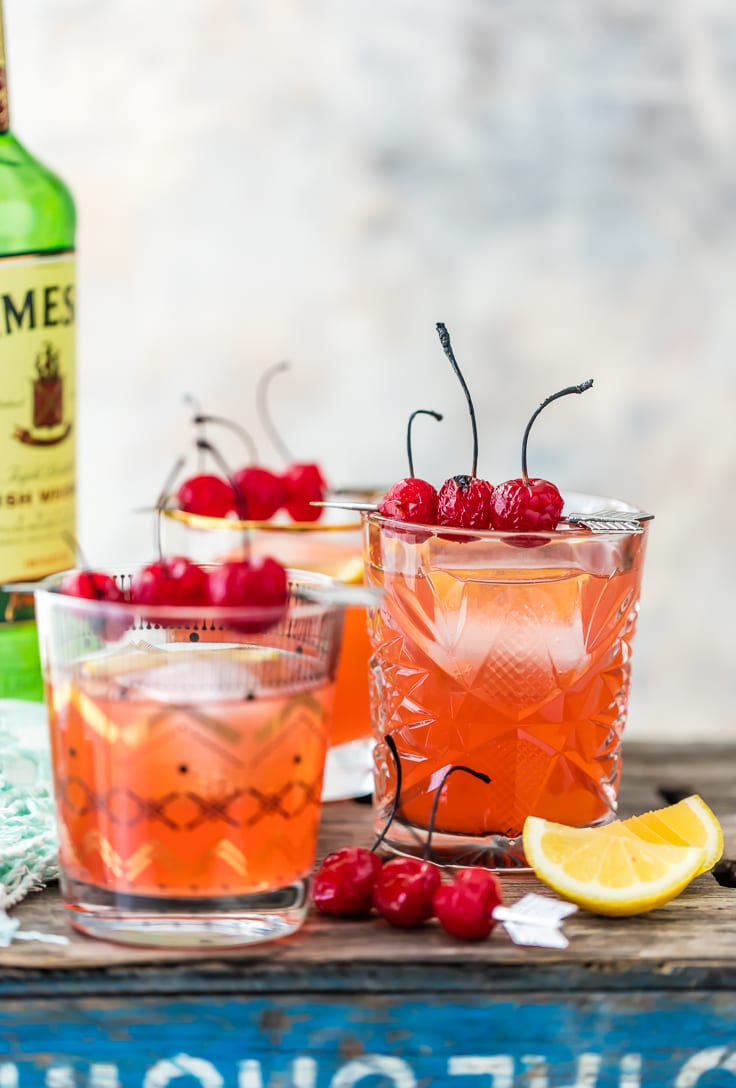 How to Make a Cherry Whiskey Sour (from scratch)
*Be sure to check the recipe card below for a printable version of the full recipe and ingredients list.
Broil cherries then set aside while you make the drinks.
Heat sugar and water in a saucepan, and stir to fully dissolve the sugar.
Combine the sugar water with lemon juice and cherry juice.
Mix the sour and whiskey together with ice in a cocktail shaker.
Pour drink over ice and garnish with broiled cherries.
Drink and Enjoy!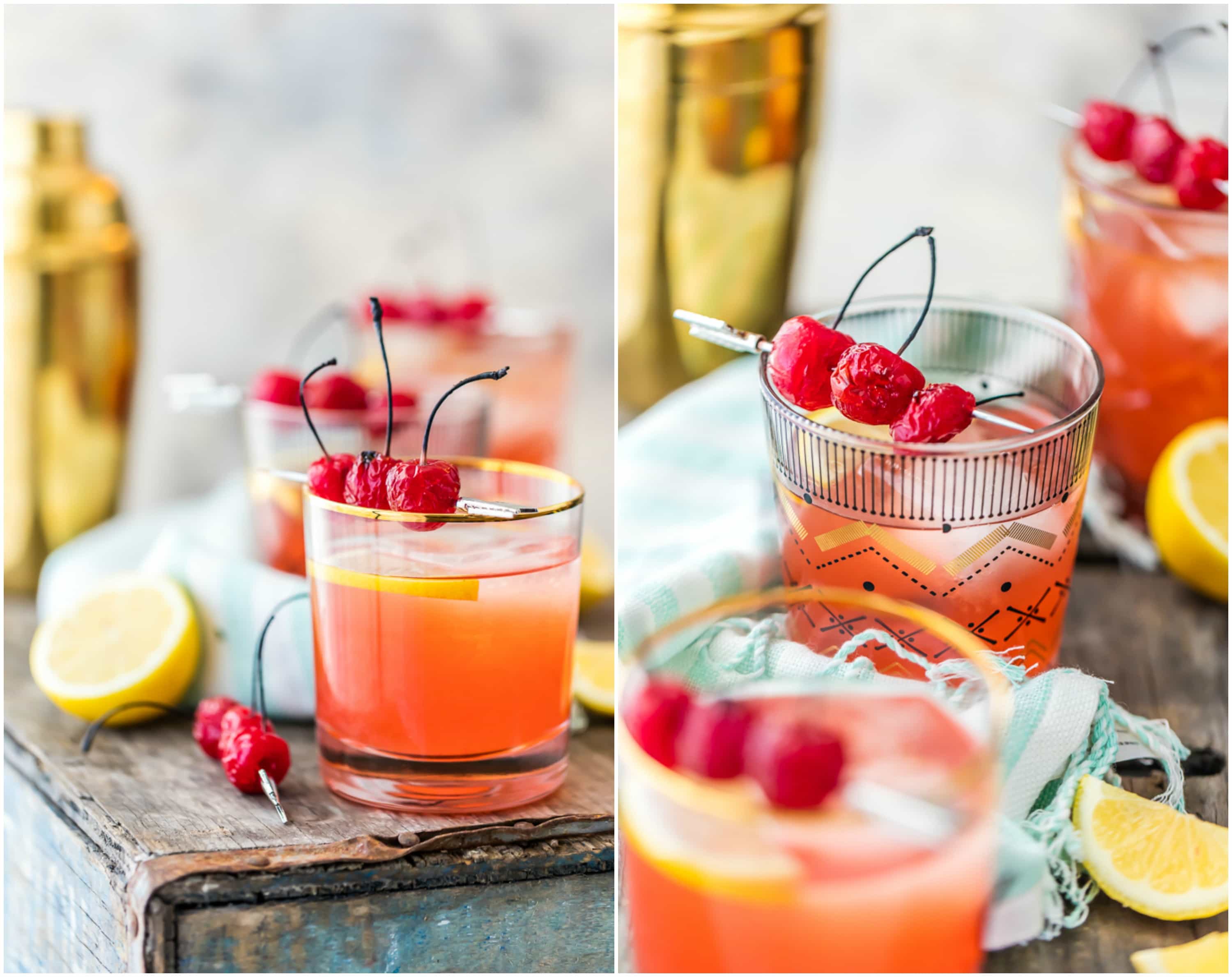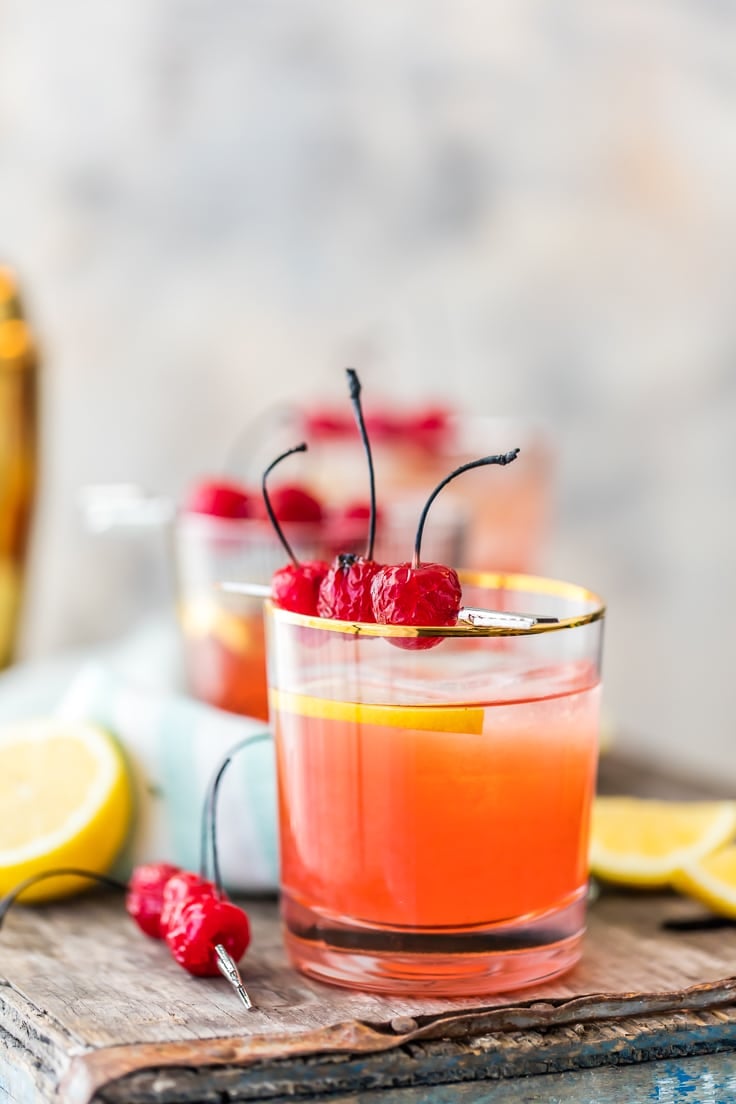 What is a whiskey sour?
A classic whiskey sour is made with whiskey and a sour citrus mixture. So the name pretty much describes it perfectly. A good recipe balances the ingredients so it's not too sour, sweet, or heavy on the whiskey.
This variation on that classic cocktail uses cherry juice (in addition to lemon) to add a new flavor into the mix!
How do you make sours from scratch (for cocktails)?
Don't let "from scratch" scare you. Making a homemade sours mix is super easy. Just combine sugar with water, then add lemon and cherry juices and heat on the stove. It only takes a few minutes.
Can I use store-bought sour mix instead?
Yes. If you prefer, you can use a store-bought sour mix for this cherry whiskey sour recipe. Either look for a cherry-flavored option or add cherry juice into a lemon-lime mix.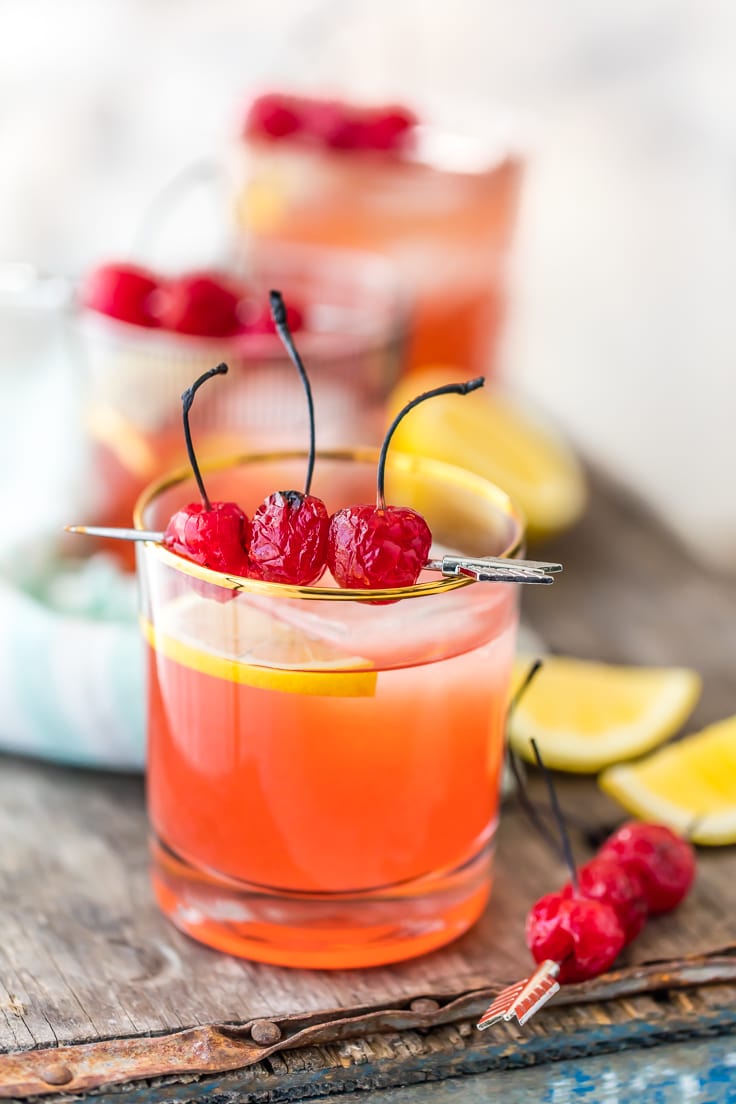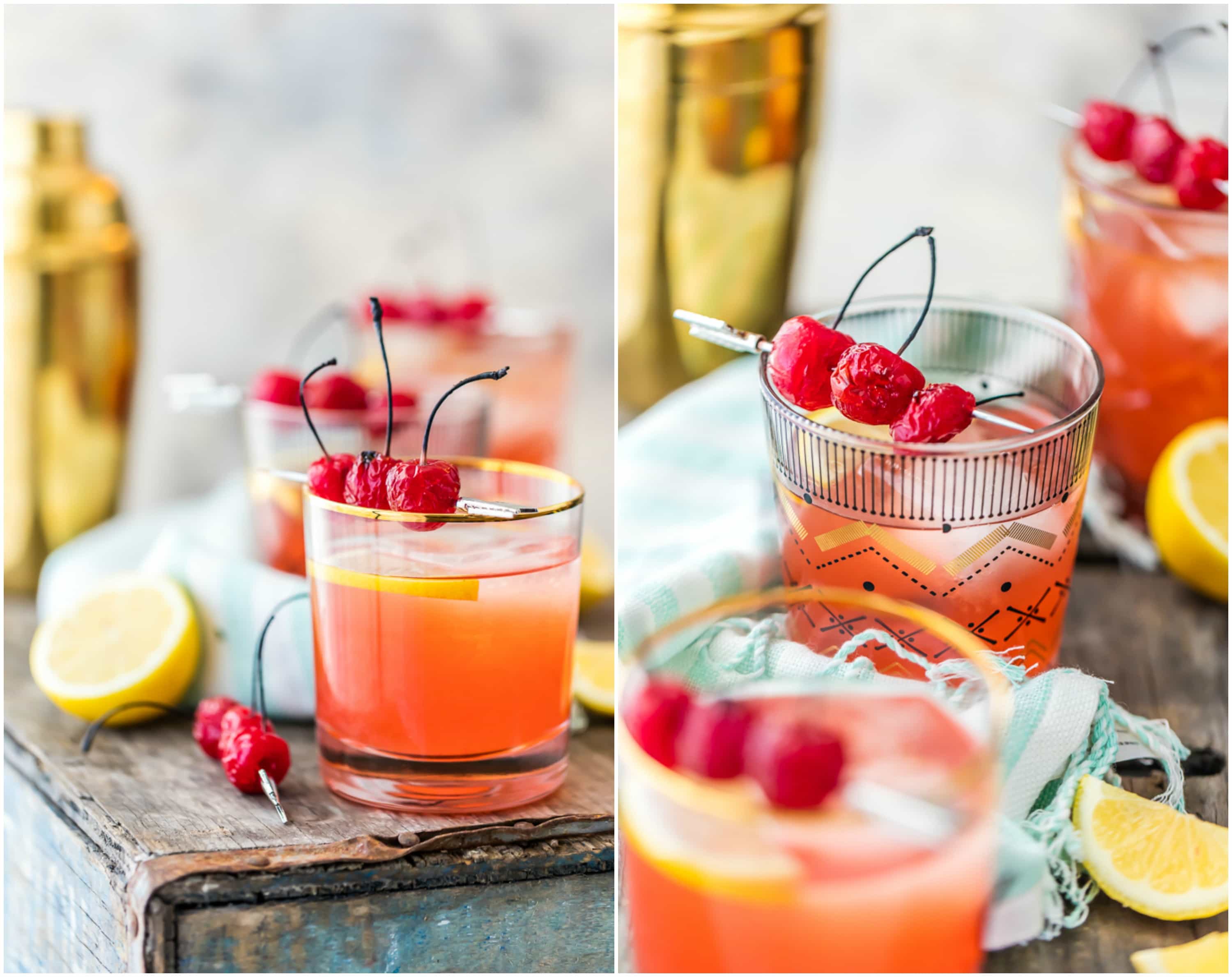 Recipe Tips and Notes:
Broil maraschino cherries in the oven for the perfect cocktail garnish!
I highly recommend making your own sour mix for this recipe. It's easy and delicious!
This recipe makes four cocktails.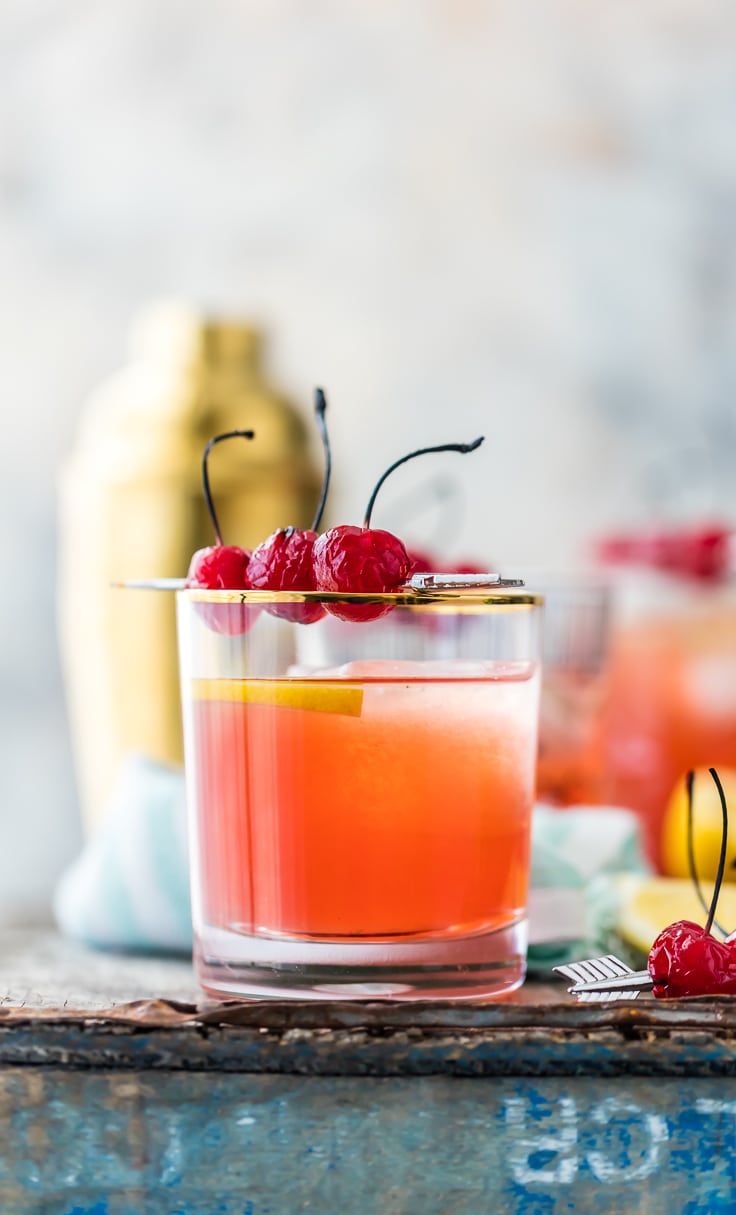 Everyone will love this broiled cherry whiskey sour! It's a great cocktail to serve any time. My preferred version of the classic drink!