SAUTEED ASPARAGUS is the perfect side dish for any meal, and the Pancetta makes it even better! The leeks, garlic, and pine nuts add so much flavor to this dish…it just might be the Best Asparagus Recipe I've ever had. This Sauteed Asparagus Recipe with Pancetta is good enough to eat on its own, but it pairs well with other pork recipes.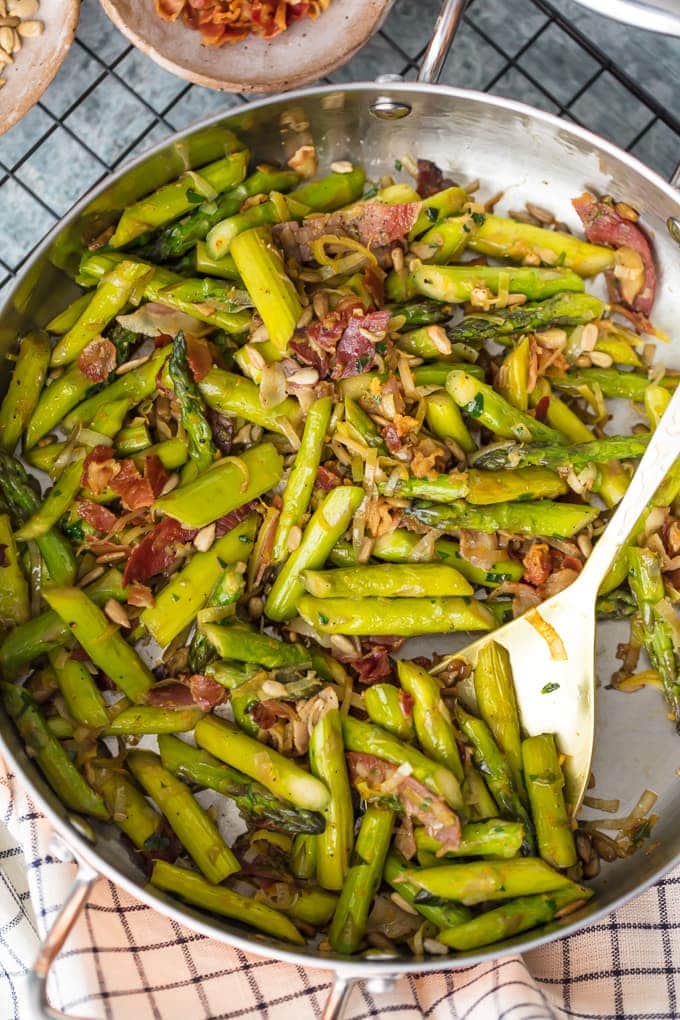 Sautéed Asparagus with Pancetta
This delicious sautéed asparagus recipe might just be the BEST asparagus recipe ever!
There's an art to side dishes. We focus so much time on the main dish when we're cooking, but the right side dish can make or break a meal. I guarantee this Sautéed Asparagus Recipe will definitely make the meal.
Asparagus is a pretty classic side dish, but this recipe is better than any you've had. It's filled with so many amazing ingredients, like thinly sliced Pancetta, garlic, leeks, pine nuts, and a little bit of citrus zest. All of that sautéed together to mix the flavors…this is by far the Best Asparagus Recipe I've ever had!
This Sautéed Asparagus with Pancetta is savory, but it also feels so fresh. It's a great side dish recipe for Easter, Thanksgiving, or Christmas, but it tastes just as good any time of year.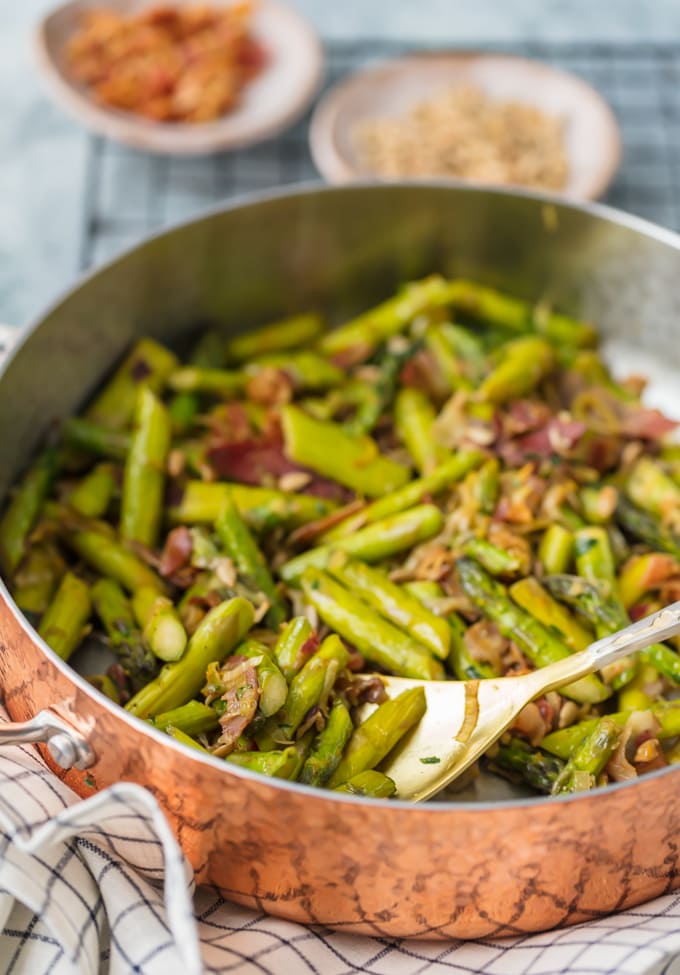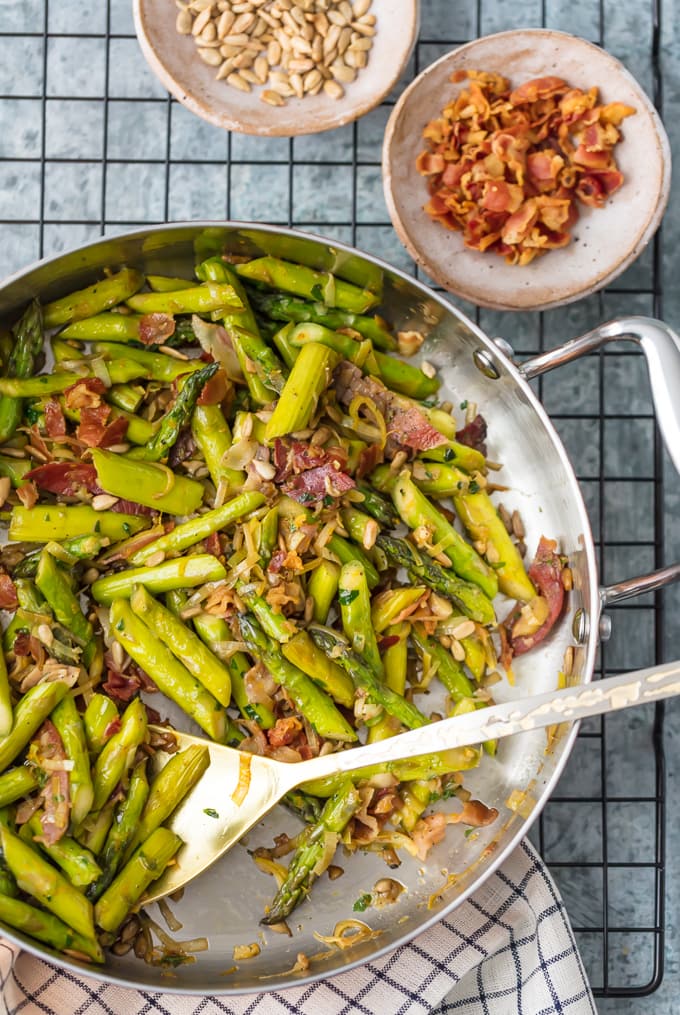 This Sauteed Asparagus Recipe is the ideal side dish
I love side dishes that mix fresh, healthy vegetables with extra flavorful ingredients. It's the easiest way to make sure you're packing in plenty of nutrients into your meals. I especially like this dish because there's such a variety of stuff in here, and that Pancetta really knocks it out of the park.
This sauteed asparagus recipe is the perfect addition to holiday festivities, because it seems like there's never enough food on the table! This asparagus is both fresh and savory. It won't weigh you down like other holiday dishes because it's so light (but not light on taste).
Serve it with:
How do you saute asparagus?
To "saute" means to fry in just a bit of oil. Sautéed Asparagus is a quick and easy side dish to make with your meals. To make simple sautéed asparagus, just add oil or butter to a skillet on medium heat. The asparagus will only take about 5 minutes to cook. Just watch for them to turn bright green and start getting tender–that's how you know they're ready. Add salt and pepper or any seasoning you like as they cook.
How do you trim asparagus spears?
Asparagus is an easy veggie to prepare for cooking. To trim asparagus, just bend the bottom part of the stem and it will easily break off where it starts to become woody. You can also use a knife to chop off the ends, just check for the really tough part and make sure you get all of that off.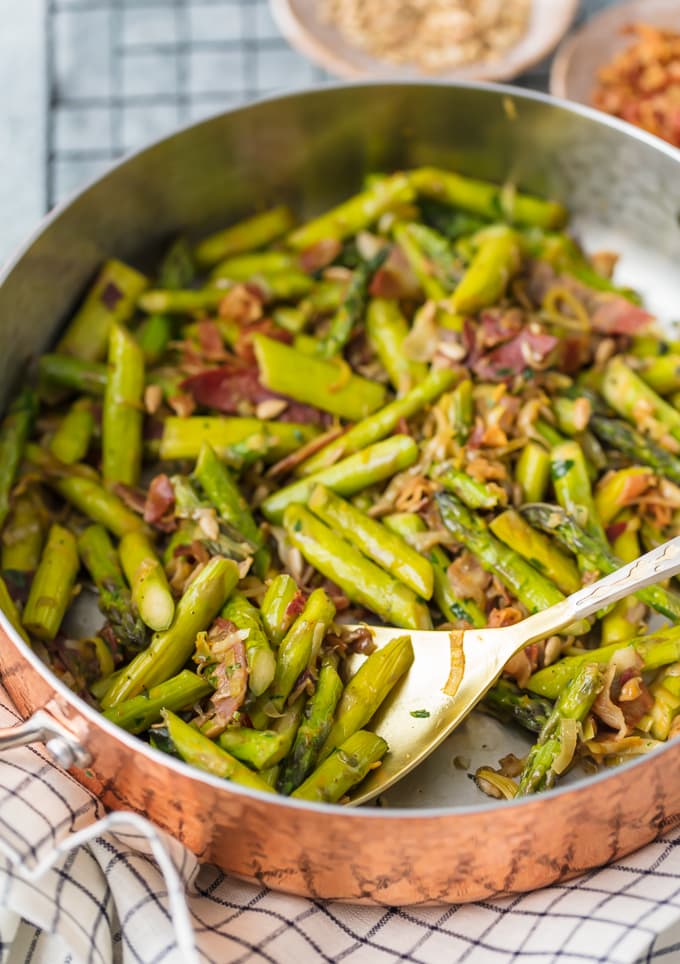 The Best Asparagus Recipe
I know I might be going out on a limb when I say this, but I'm willing to do that because I believe it's true. This is by far the BEST Asparagus Recipe ever!
Asparagus is a great vegetable, and I've cooked it in many ways over the years. A classic sauteed asparagus, grilled asparagus, it's all so delicious. But the Pancetta just adds so much flavor to this recipe, and it's the perfect flavor combination. The toasted pine nuts add a little crunch, lemon juice adds zest, and the leeks just add more hearty, healthy goodness.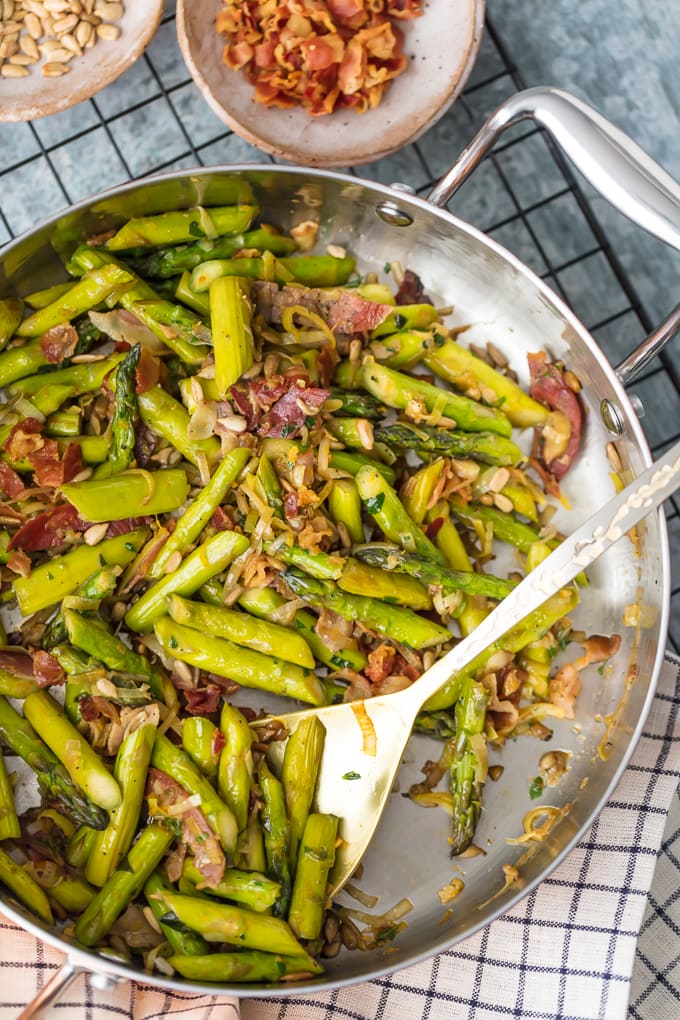 We absolutely love this Sauteed Asparagus with Pancetta and I know you will too! Cook it up as a side dish for your next meal and enjoy!
If you're looking for some more asparagus recipes, try our Grilled Lemon Butter Asparagus or this Three Cheese Asparagus Gratin.
See the recipe card below for details on how to make this Sauteed Asparagus with Pancetta. Enjoy!