Sauteed Asparagus is the perfect side dish for any meal, and the Pancetta makes it even better! The leeks, garlic, and pine nuts add so much flavor to this dish…it just might be the best asparagus recipe I've ever had. This sauteed asparagus with pancetta recipe is good enough to eat on its own, but it pairs well with other pork recipes.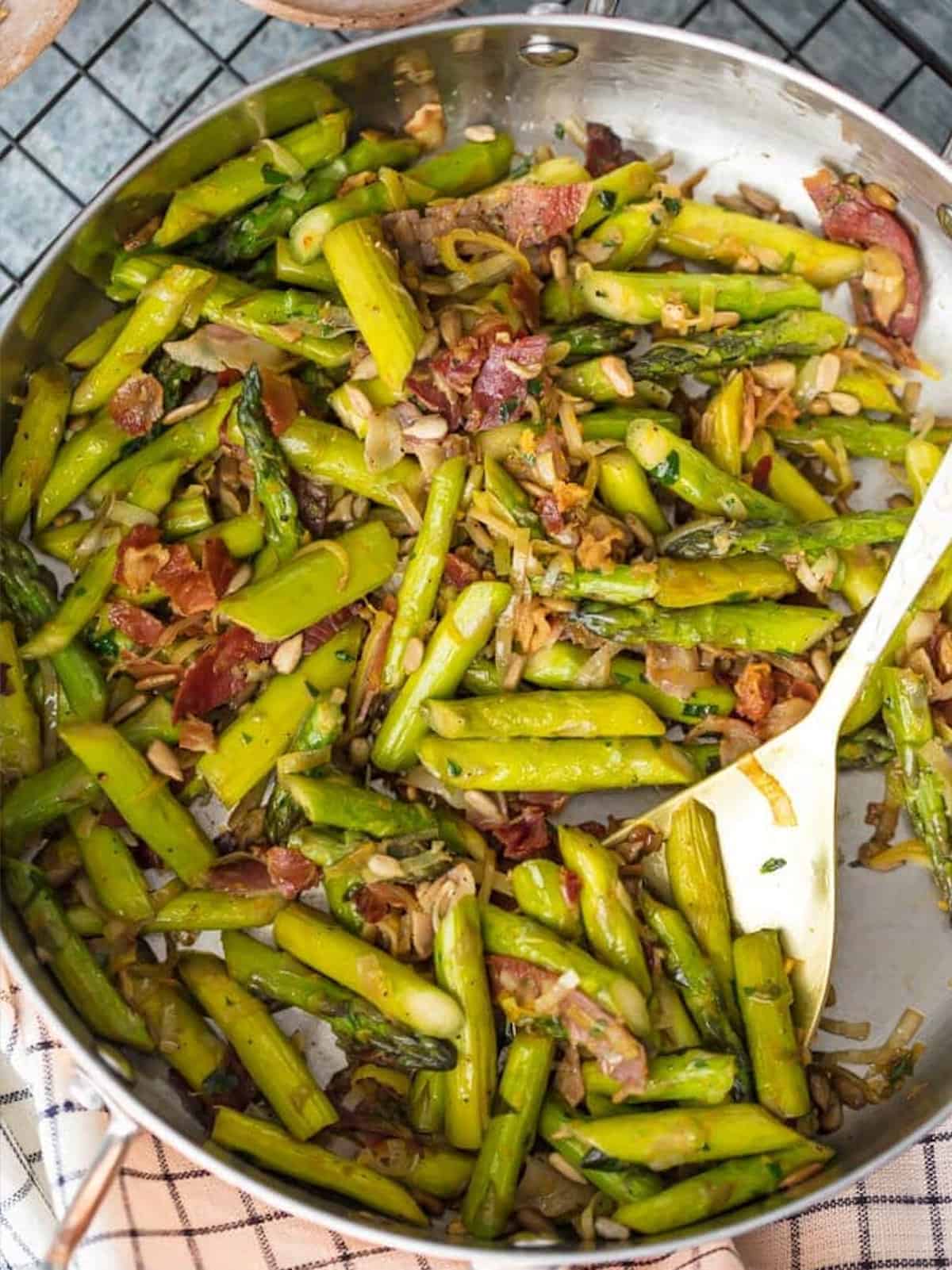 Why We Love This Sauteed Asparagus Recipe
This is one of our favorite ways to prepare asparagus for years! It's simple and the pancetta adds saltiness and flavor.
Fresh. Asparagus, leeks, and garlic are crisp, tender, and delicious. Plus, lemon, orange zest, and parsley provide a bright and refreshing contrast to this rich dish.
Flavorful. Pancetta adds a rich, salty, and savory flavor to the asparagus, and toasted pine nuts add a delightful crunch and buttery flavor to the dish.
Easy. This dish comes together in just 15 minutes!
Variations on Sauteed Asparagus with Pancetta
If you can't find pancetta, bacon or prosciutto both make great substitutes. Fresh chives or shallots make great substitutes for the leeks as well.
You can change up the flavor profile of this asparagus dish by adding different herbs and spices. Some Italian seasoning or herbs de Provence would both work well, or try adding a pinch of brown sugar for a sweet and savory taste.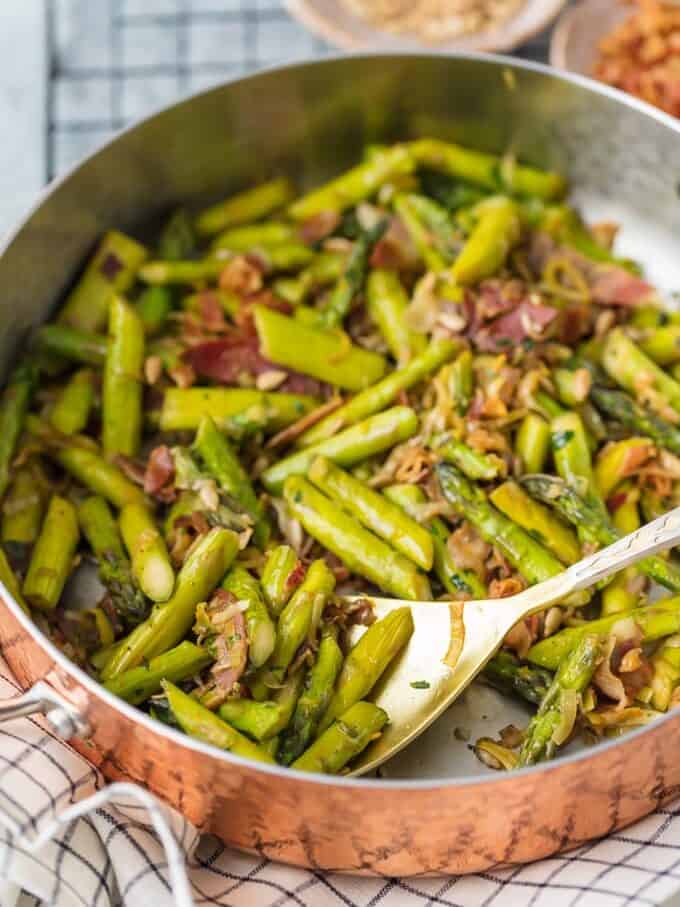 How to Store and Reheat
Store leftover sauteed asparagus with pancetta in an airtight container in the refrigerator for up to 4 days. Reheat in a pan set over medium-low heat or in the microwave until warmed through.
How to Freeze
Freeze sauteed asparagus in an airtight container or Ziplock bag for up to 3 months. Let thaw overnight in the refrigerator before reheating.
Serving Suggestions
This sauteed asparagus recipe is the perfect addition to holiday festivities, because it seems like there's never enough food on the table! It's both fresh and savory, and it won't weigh you down like other holiday dishes because it's so light. Serve it with Stuffed Pork Loin, Air Fryer Meatloaf, Instant Pot Garlic Turkey Breast, or Lemon Chicken with White Wine.
How do you trim asparagus spears?
Asparagus is an easy veggie to prepare for cooking. To trim asparagus, just bend the bottom part of the stem and it will easily break off where it starts to become woody. You can also use a knife to chop off the ends, just check for the really tough part and make sure you get all of that off.
Do I need to blanch asparagus before cooking it?
There's no need to blanch this asparagus. It'll cook all the way through in the pan.
Do you season asparagus before or after cooking?
I prefer to season my asparagus after cooking because the pancetta adds quite a bit of salty flavor to begin with.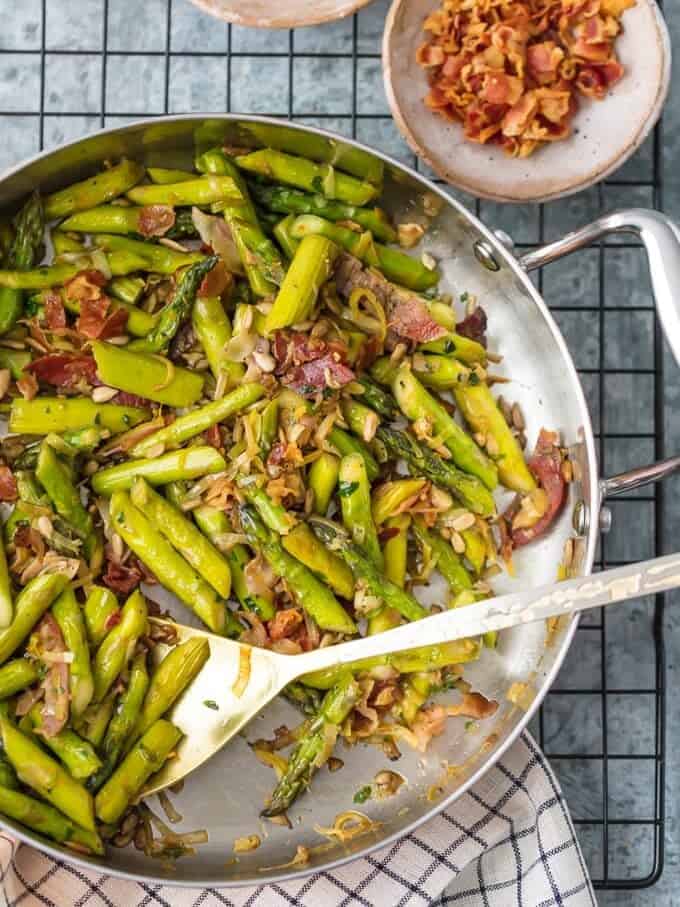 More Asparagus Recipes To Try
How to Make Sauteed Asparagus Step by Step
Cook the Pancetta: Place 4 ounces of sliced pancetta in a large skillet set over medium heat. Cook until crisp and light golden brown.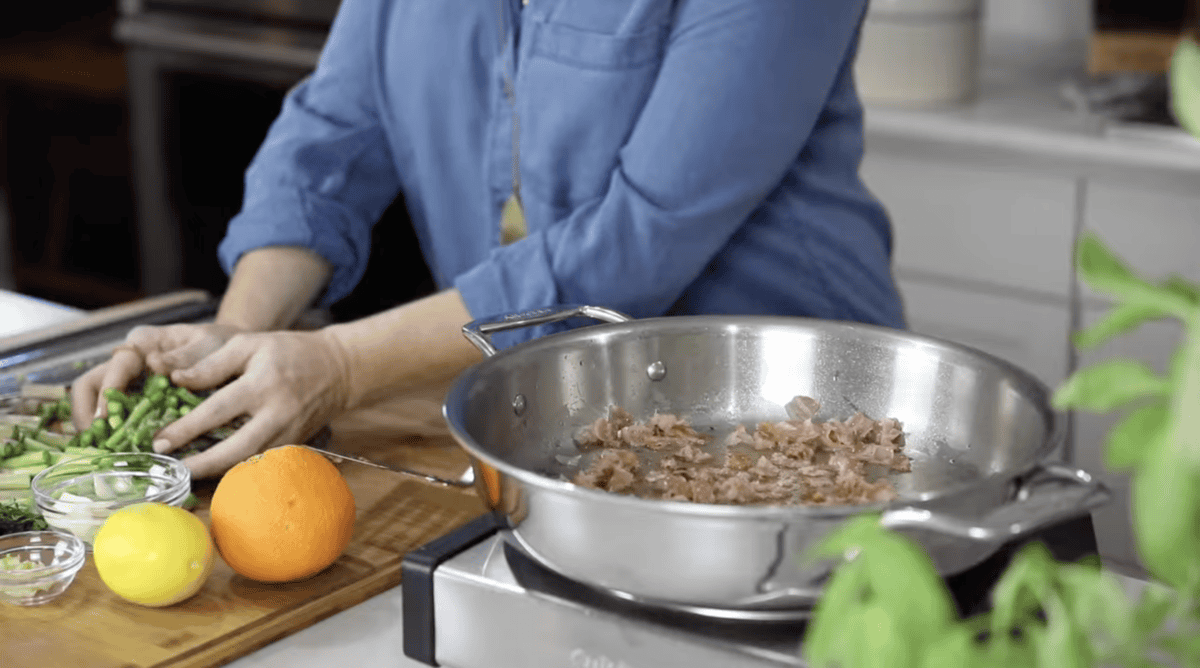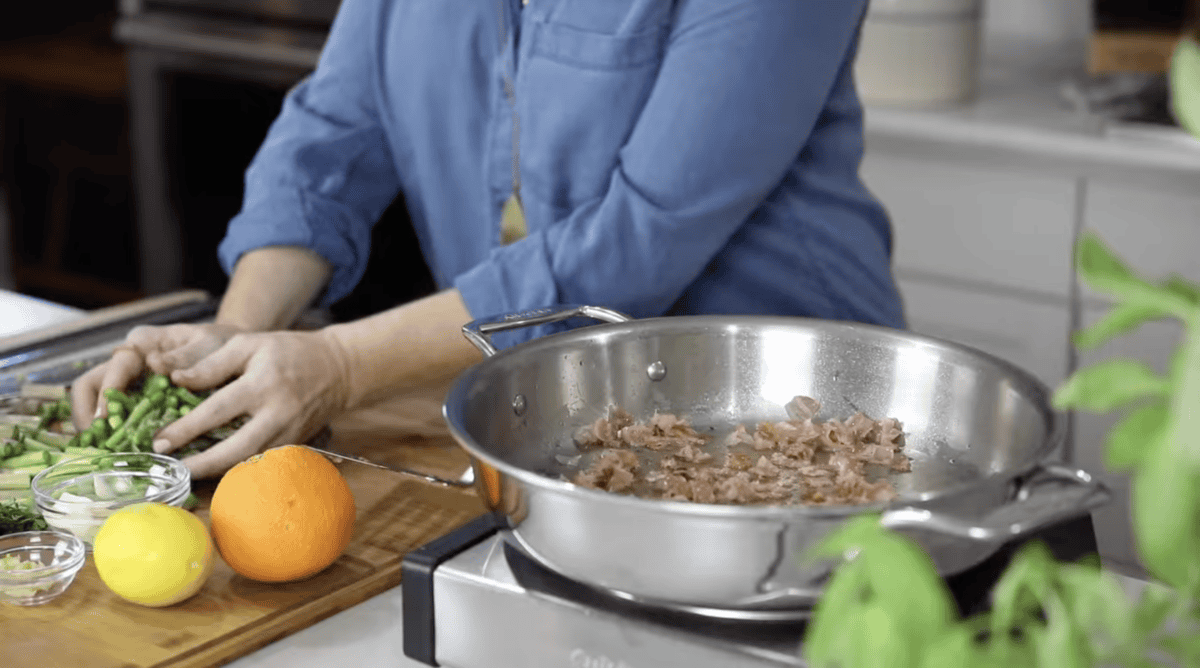 Sauté the Asparagus: Add 1 tablespoon of unsalted butter, 1 pound of trimmed asparagus sliced into 2-inch pieces, and 1¼ cups of sliced leek. Sauté for 3-4 minutes, or until the asparagus is tender and crisp.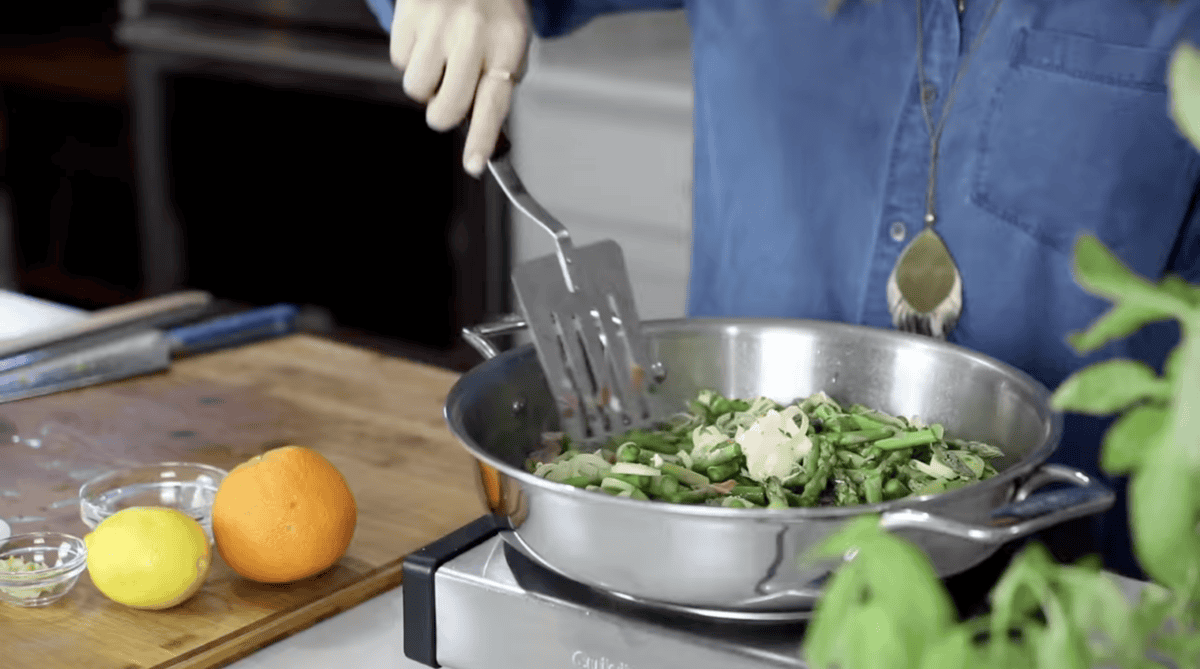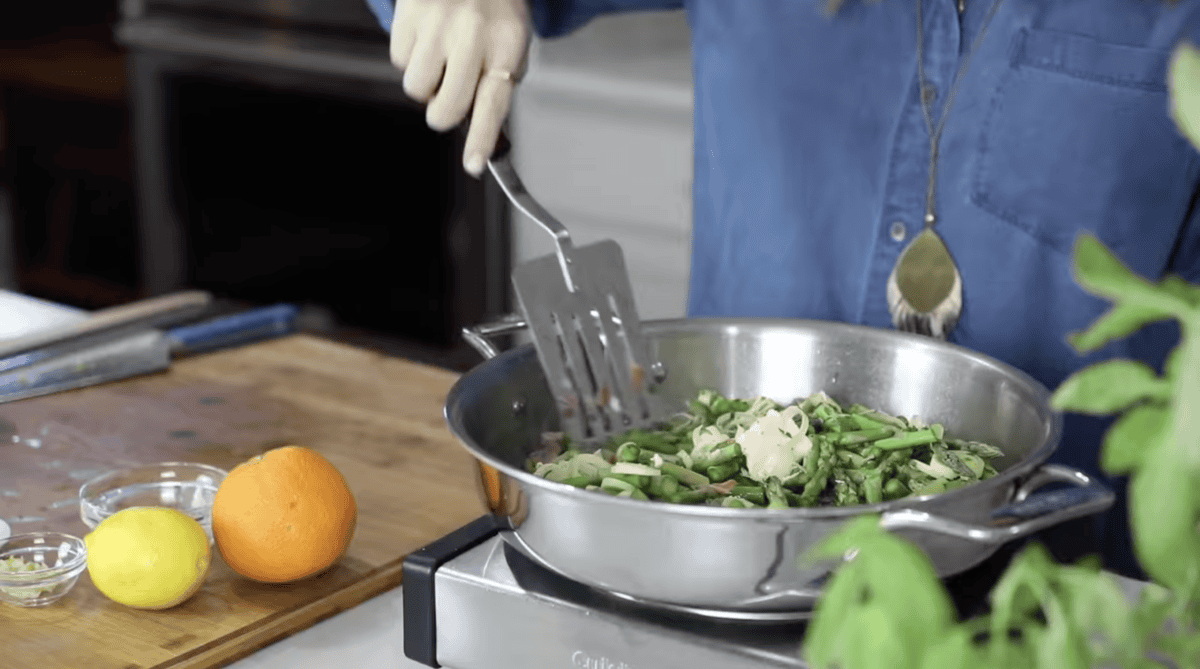 Add Aromatics: Add 2 minced cloves of garlic, 1 tablespoon of lemon zest, 1 teaspoon of orange zest, 2 tablespoons of toasted pine nuts, and 1-2 tablespoons of chopped fresh Italian parsley. Sauté for 1 minute.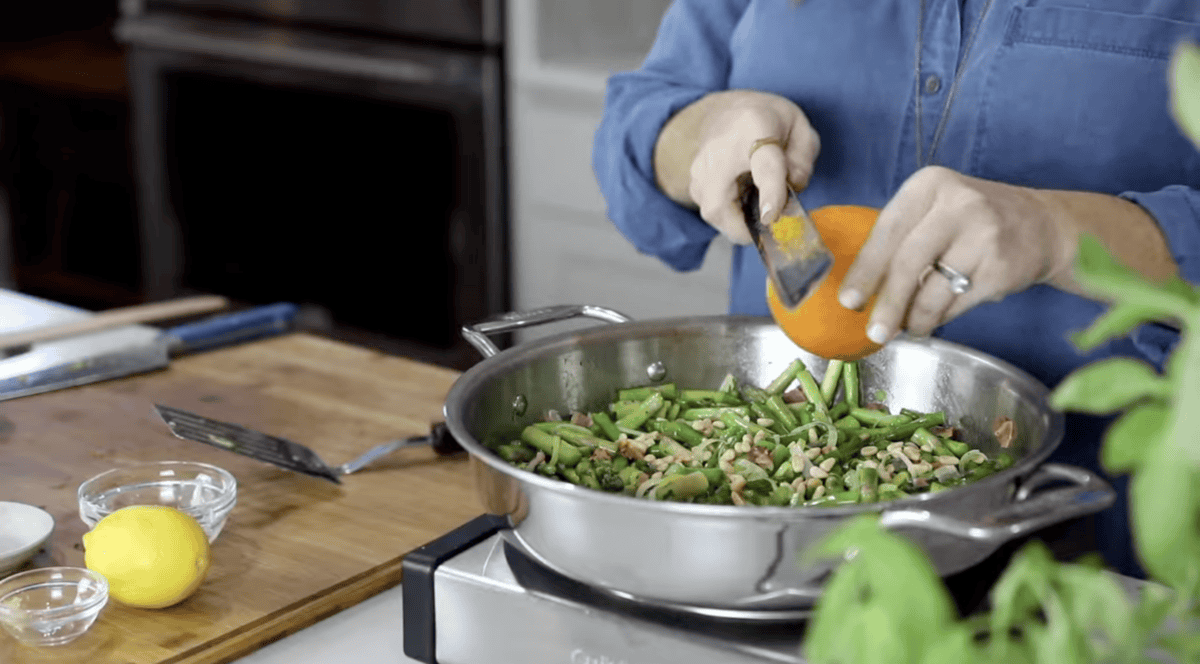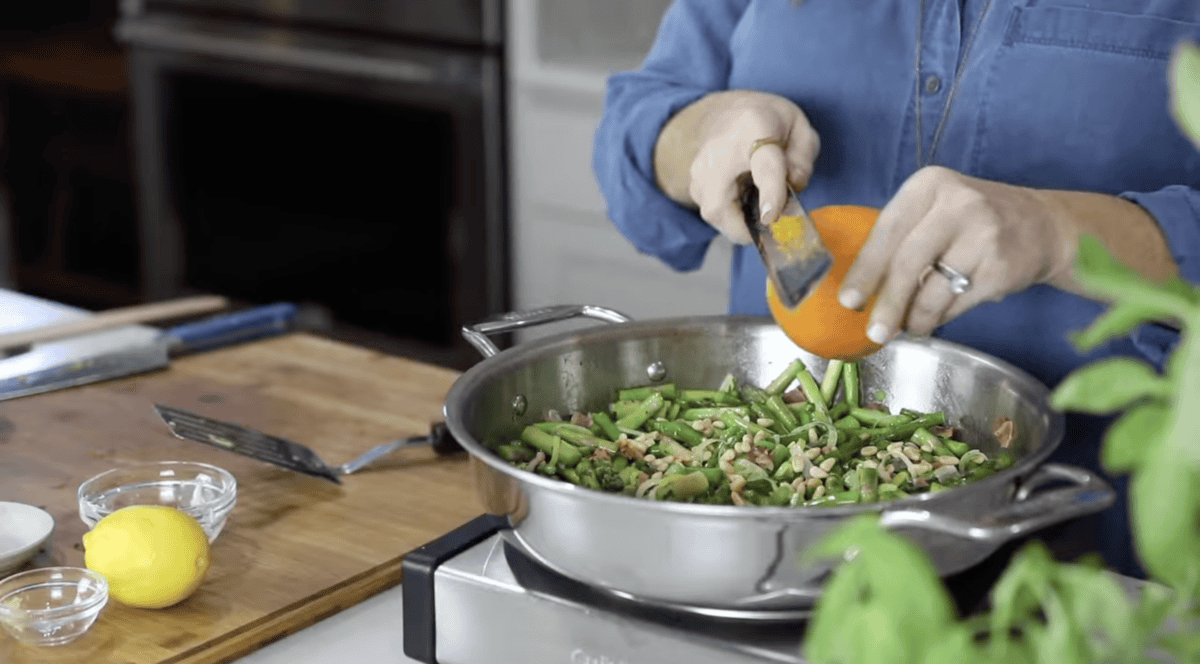 Season and Serve: Season, to taste, with salt and freshly ground black pepper and serve immediately.