If you want to make a delicious curry at home, this easy Indian butter chicken recipe is for you! Start with a perfectly-spiced yogurt marinade, then cook up juicy chicken in a creamy, buttery, tomato sauce in just 30 minutes! The sweet, buttery chicken melts in your mouth, and the sauce is pretty mild, so your entire family will be able to enjoy it.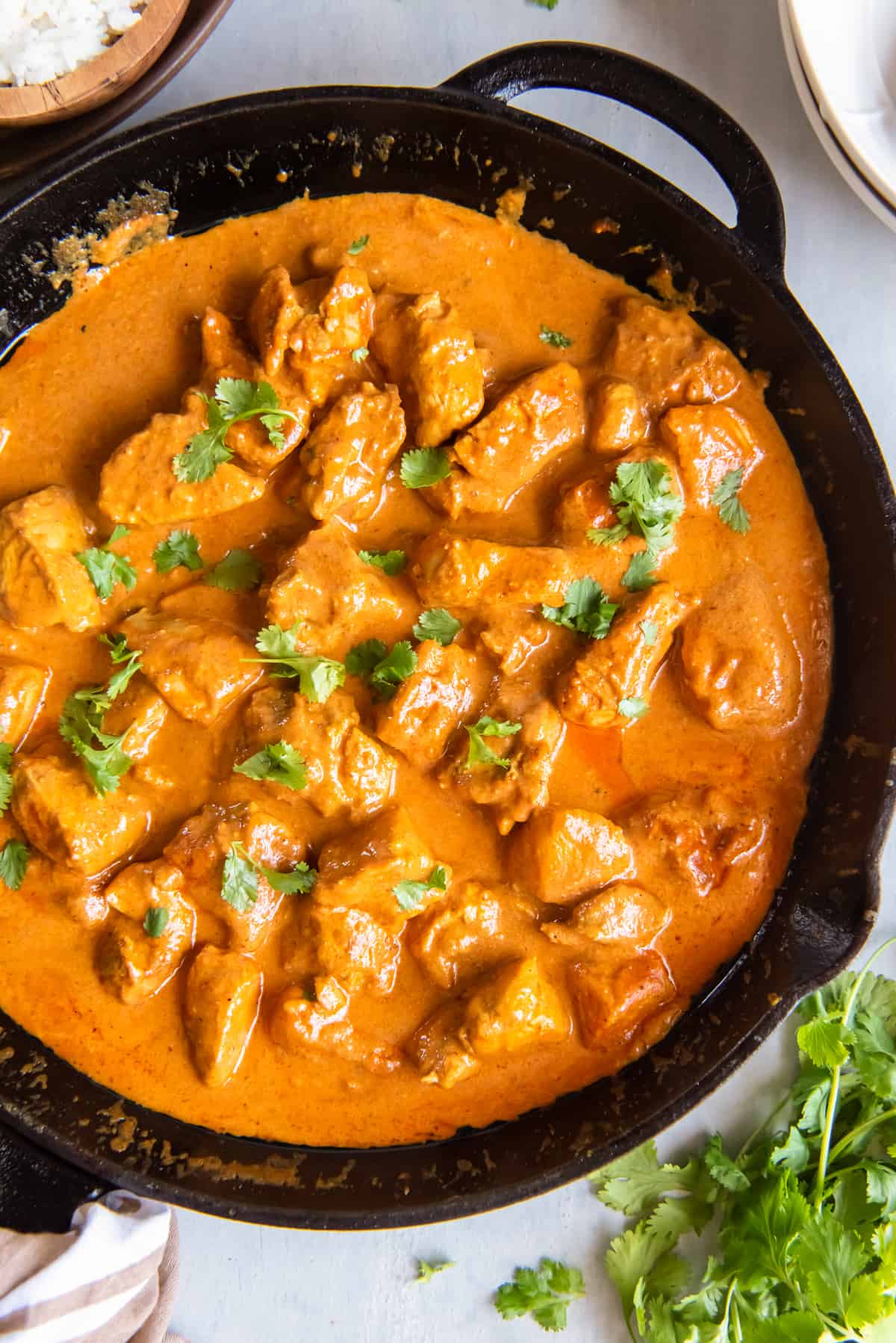 What's in this Easy Butter Chicken Recipe
Gather your ingredients and make this Indian Butter Chicken in just one pan. The chicken will need some time to marinate, but cooking time is less than 30 minutes!
Chicken: Chicken thighs work best for this recipe because they stay super tender, juicy, and flavorful. Use boneless, skinless thighs, and cut into bite-sized cubes. You can substitute chicken breast if you like.
Yogurt: A full-fat plain yogurt creates the base for the yogurt marinade. Greek yogurt works great!
Butter: You'll need about 3 tablespoons of butter to cook the chicken in. You can use Ghee as a substitute. If you want a richer sauce, stir in more butter at the end.
Spices: There are so many delicious spices in butter chicken, including a garam masala blend, turmeric, cumin, and cayenne pepper.
Tomato Sauce & Paste: Use both for the base of the tomato curry sauce.
Heavy Cream: This adds a creaminess to the sauce. You can use half and half instead of heavy cream.
Make this Butter Chicken Ahead of Time
This simple Indian butter chicken needs at least 3 hours to marinate in the fridge, but you can let it marinate longer (up to 24 hours). So the easiest way to prep this dish ahead of time is to make the marinade (step 1) and let it sit overnight. That way it's ready to cook at dinner time!
You can also freeze it for up to a month. When ready to cook, allow it to thaw and reheat it in a saucepan over medium-low heat for best results.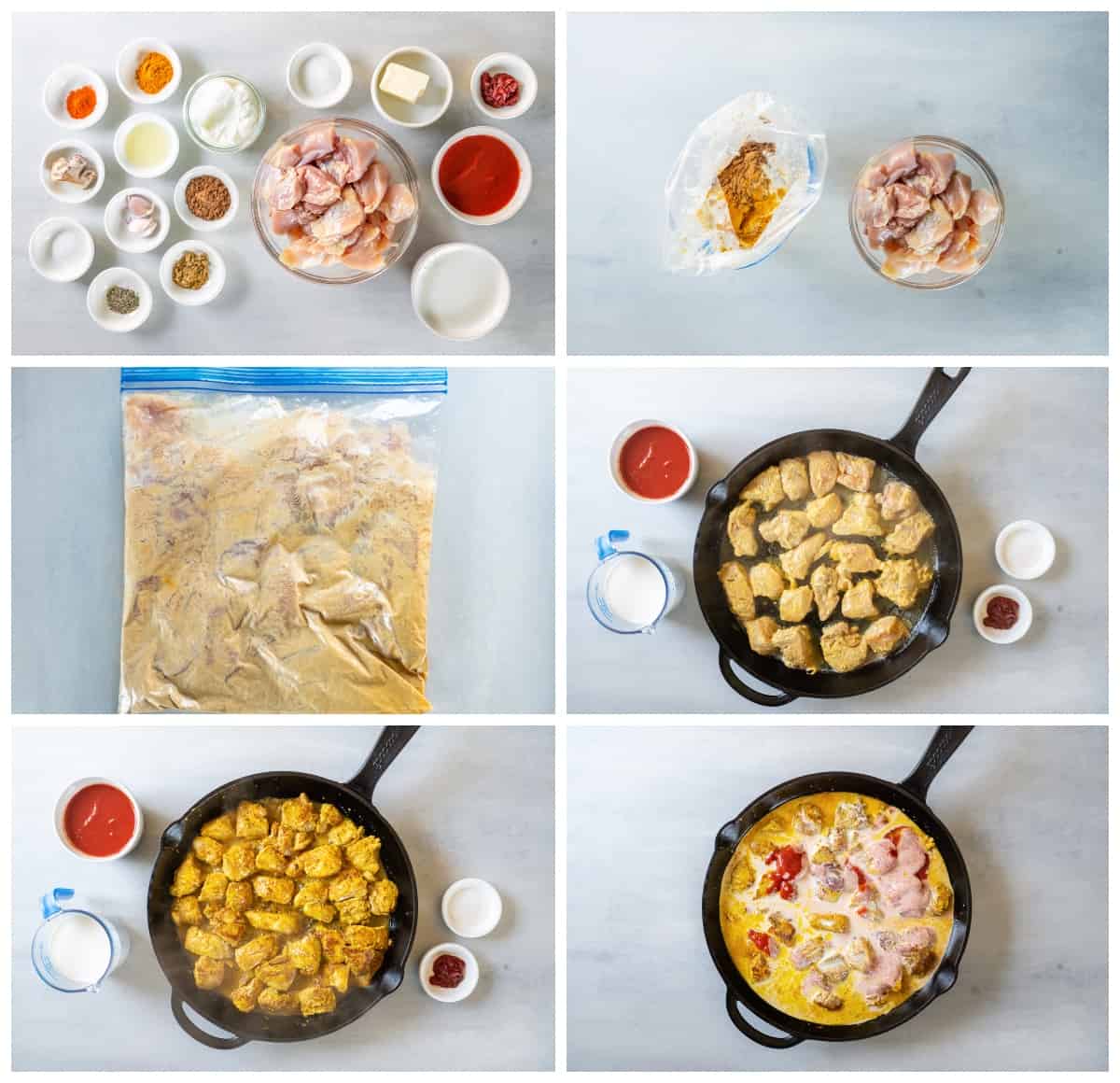 What is butter chicken?
Butter chicken, also known as murgh makhani, is an Indian dish made from chunks of chicken cooked in a spiced tomato and butter sauce.
What's the difference between butter chicken and chicken tikka masala?
Butter chicken and chicken tikka masala are very similar. However, tikka masala tends to be a bit spicier and juicier, whereas butter chicken tends to be more mild and creamy.
Is butter chicken spicy?
Nope! Butter chicken is a very mild, yet flavorful dish! There is a little bit of cayenne pepper, but you can leave that out if you're concerned about it being too spicy!
What is garam masala?
Garam masala is an Indian spice blend that includes cinnamon, peppercorns, cardamom, mustard seeds, coriander seeds, cloves, mace, and nutmeg. You can find it in the spice aisle of most grocery stores.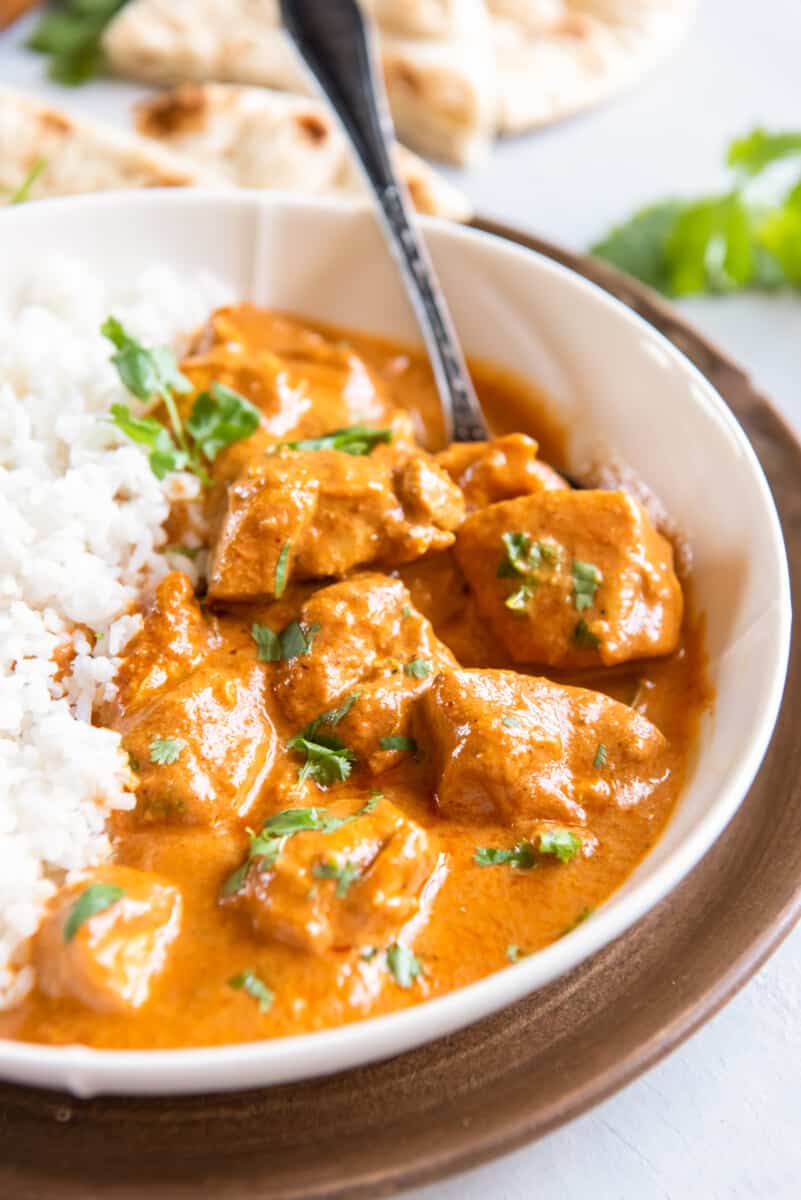 How to Store and Reheat
Store leftover Indian butter chicken in an airtight container in the refrigerator for up to 3 days. Reheat gently in the microwave or on the stovetop.
How to Freeze Butter Chicken
Freeze leftovers in an airtight container for up to 3 months. Let thaw overnight in the refrigerator before reheating.
What to Serve with Indian Butter Chicken
Tender chunks of chicken is the most delicious, creamy butter sauce is a great way to start a meal. It's best served with rice to soak up the curry sauce, and some fresh naan to scoop it up.
If you want to add some veggies, make cauliflower fried rice, mashed sweet potatoes, or crispy Air Fryer broccoli.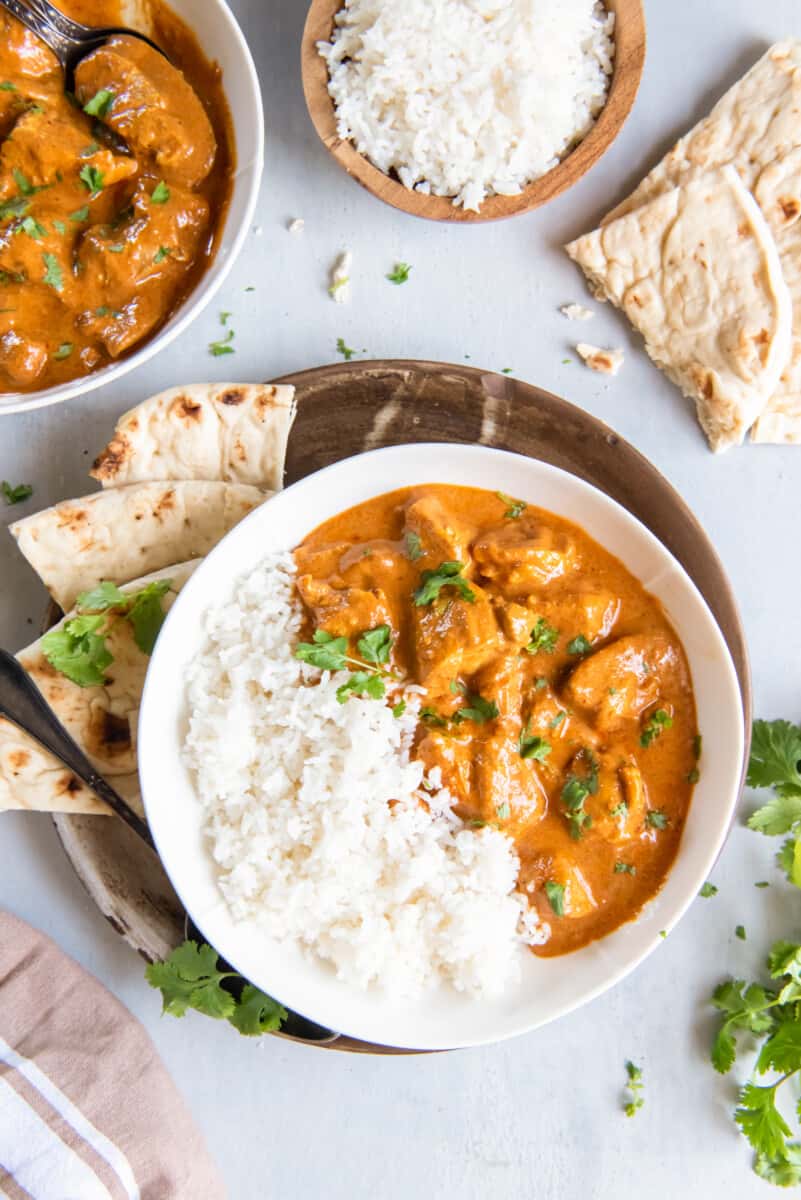 If you make this recipe be sure to upload a photo in the comment section below or leave a rating. Enjoy! You can also jump to recipe.
More Indian-inspired Recipes We Love