What is more fun than Funfetti Cake Batter Martinis?! This is one delicious way to celebrate a birthday! This fun and flirty cocktail tastes just like white cake with funfetti icing, and is super cute to boot. What's not to love?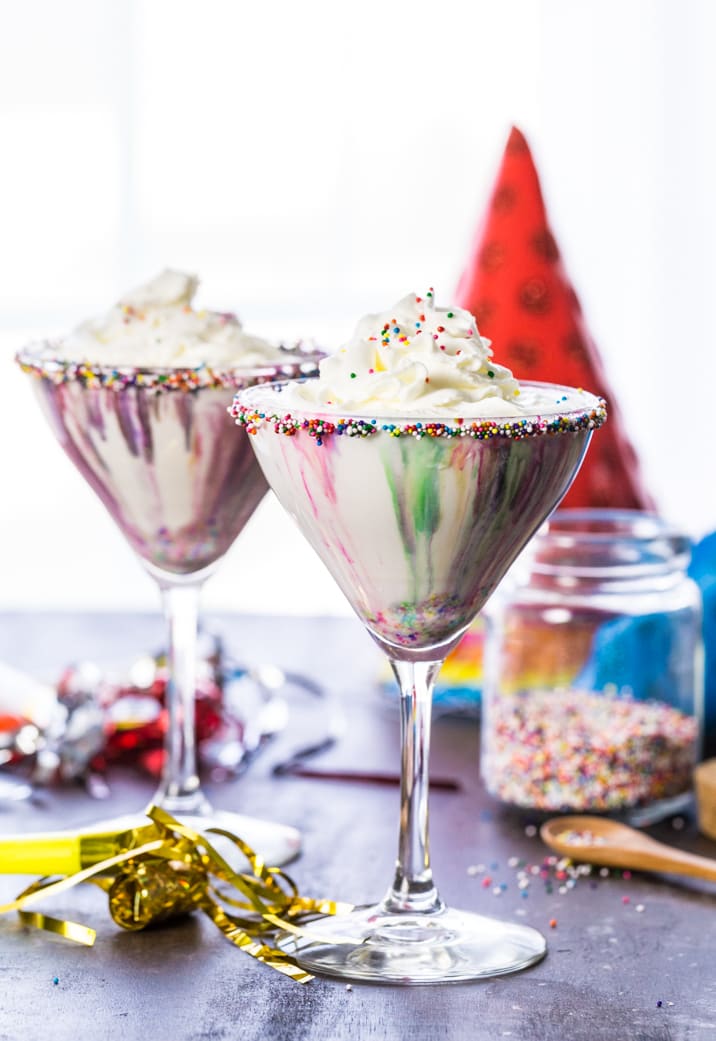 Funfetti Martini Recipe
Funfetti treats are not just for kids and cake batter is DEFINITELY not just for kids! In fact, Funfetti Cake Batter is one of my favorite things!
My birthday is in August, but is it really ever too early to celebrate? I've always been a person that loves half-birthdays…as well as quarter-birthdays…daily-birthdays…always room for a celebration!
Fun, festive, colorful, and of course delicious! These cute Funfetti Cake Batter Martinis are perfect for any adult bday party…Cheers!
Be sure to try my Gingerbread Martini and Gooey Butter Cake Martini too!
Why you will love this recipe!
Quick and easy: It only takes about 10 minutes to make a batch of these show stopping birthday cocktails.
Great for a crowd: This recipe makes enough for six funfetti cake batter martinis, and it's easily doubled if you are hosting more.
So delicious! This is one tasty drink and so fun to serve! Enjoy your funfetti birthday cake with some added vodka!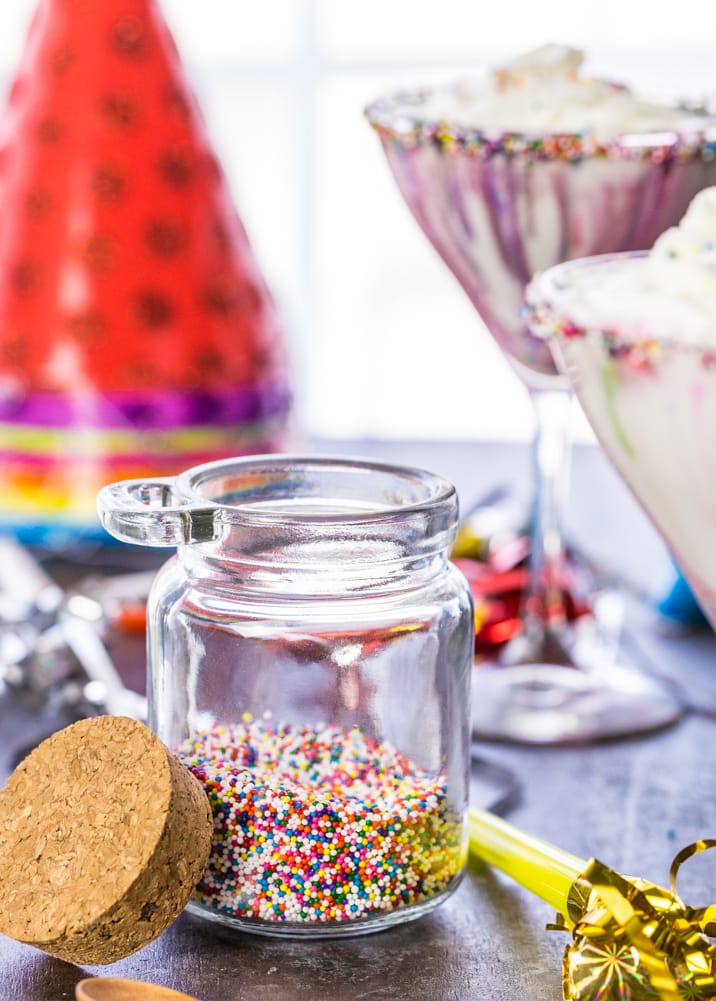 How to make a funfetti cake batter martini
Be sure to scroll down for the full recipe!
Rim the glass with sprinkles.
Place some sprinkles in the bottom of the glass.
Stir together your ingredients for the cocktail.
Pour into the glass and top with whipped cream and more sprinkles.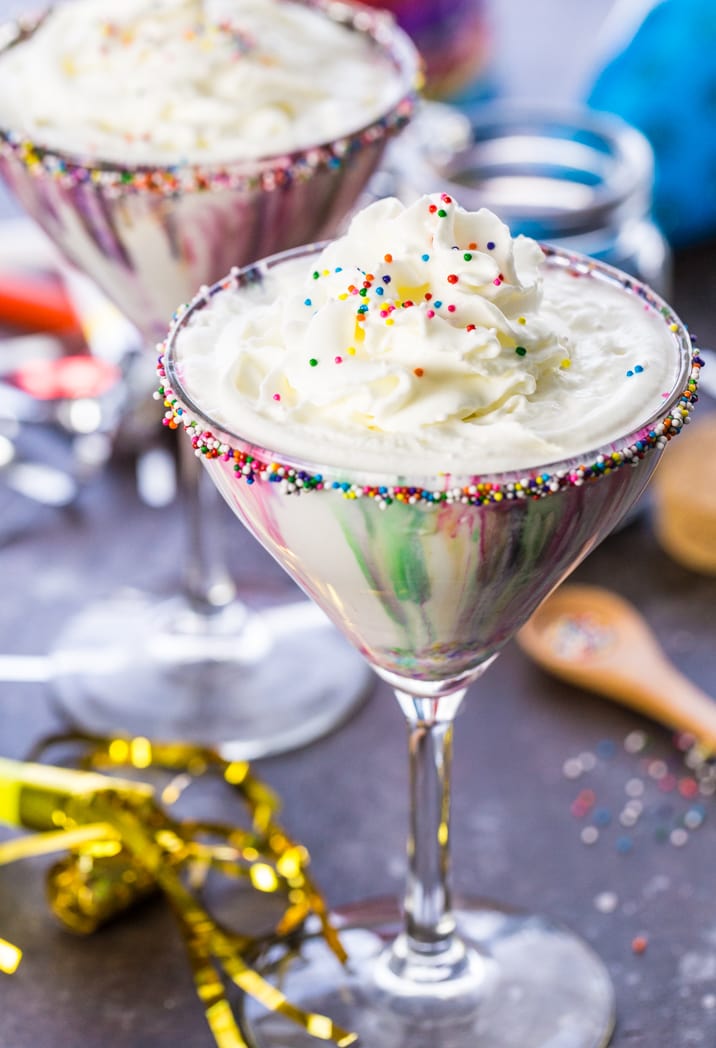 Do you shake or stir?
James Bond was wrong. A martini should always be stirred rather than shaken. This is an alcohol forward cocktail shouldn't be shaken with ice, which can dilute the flavors. Stir it for a rounded and silky flavor.
Can you make it ahead of time?
These drinks are best served as soon as they are made for the best and brightest flavors. To get ahead of things, you can rim the glasses ahead of time, but the cocktails are best stirred and served when you are ready to drink them.
Perfect for any occasion
These funfetti cake batter martinis are perfect for birthday parties, but you can easily mix up the sprinkles to make them suit any occasion. Use orange sprinkles for Halloween, pastel colors for Easter and red white and green for Christmas!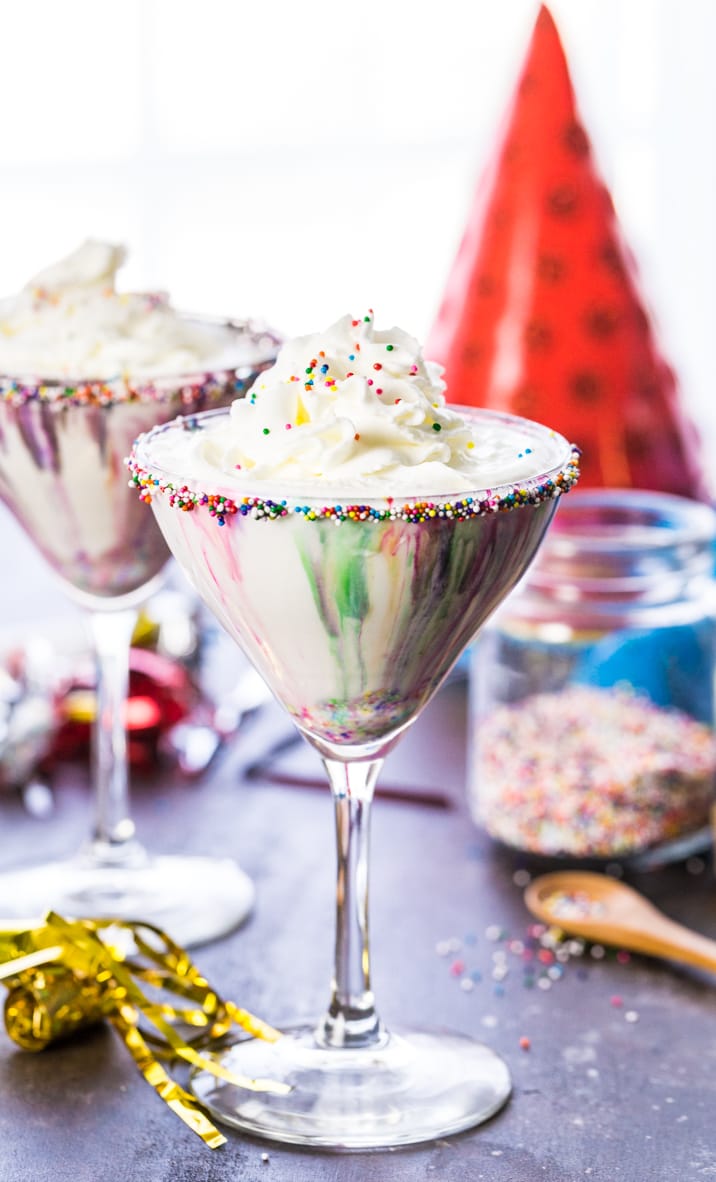 Recipe Notes and Tips
I used Wedding Cake vodka to get that delicious cakey flavor, vanilla would also work well, or you can use plain.
Stir don't shake!
Enjoy and drink responsibly – these martinis pack a punch!
These funfetti cake batter martinis are one of my favorite creations! They are so fun to serve, they are a sure fire way to impress!
More Cocktail Recipes