This CAPRESE STUFFED SALMON with BALSAMIC ROASTED TOMATOES will be your new favorite sheet pan dinner! This easy one dish salmon meal is loaded with flavor and oh so easy. Sure to please!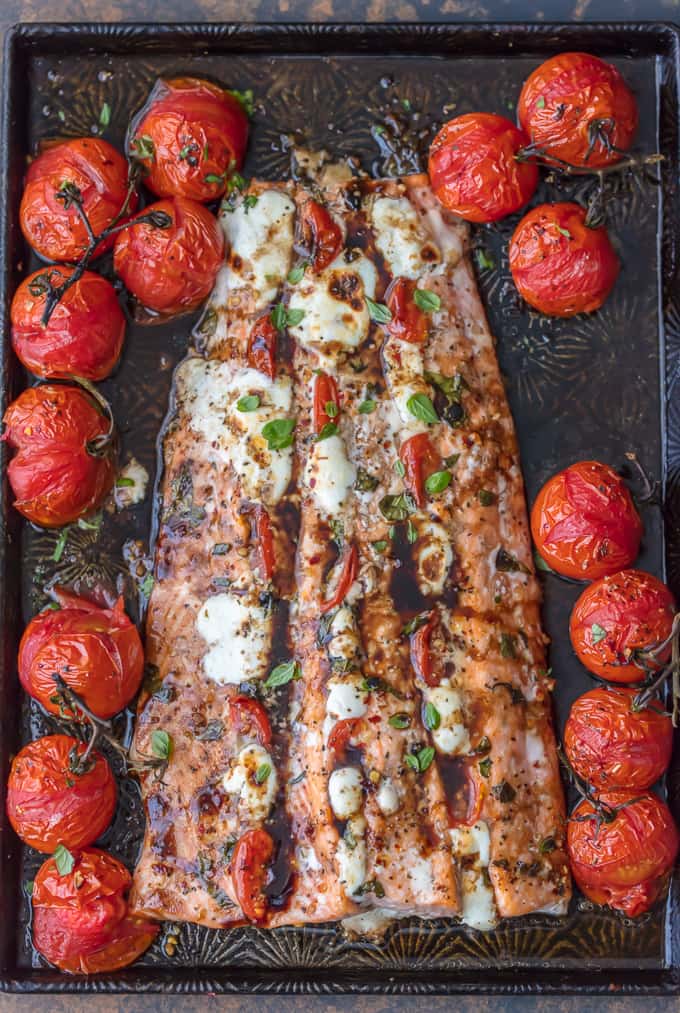 I have a lot of recipes photographed and ready to post for you, but I was so excited about this one that I moved it up to the front of the line. Today I'm combining two of my very favorite types of recipes, salmon and caprese!! Oh and to make it even better its all baked on a sheet pan! That's right, the most amazing one pan meal is coming your way and I cannot wait for you to try it. Roasted salmon, balsamic reduction, brown sugar, tomatoes, mozzarella, and fresh basil! SO GOOD!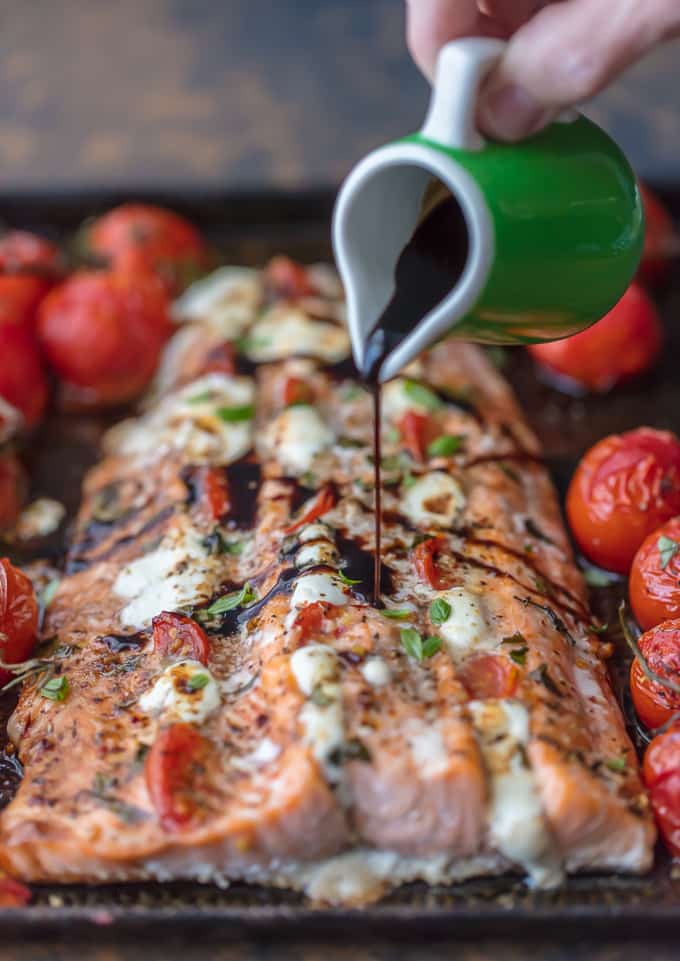 This Caprese Stuffed Salmon is the ultimate show stopping sheet pan meal. It's gorgeous and delicious, just perfect for when you're entertaining at home. You stuff your salmon, cook it with the tomatoes all on one dish, and then cut and serve. Each serving of salmon is full of balsamic, tomatoes, mozzarella, and basil. SHHHH, don't tell anyone how easy this is!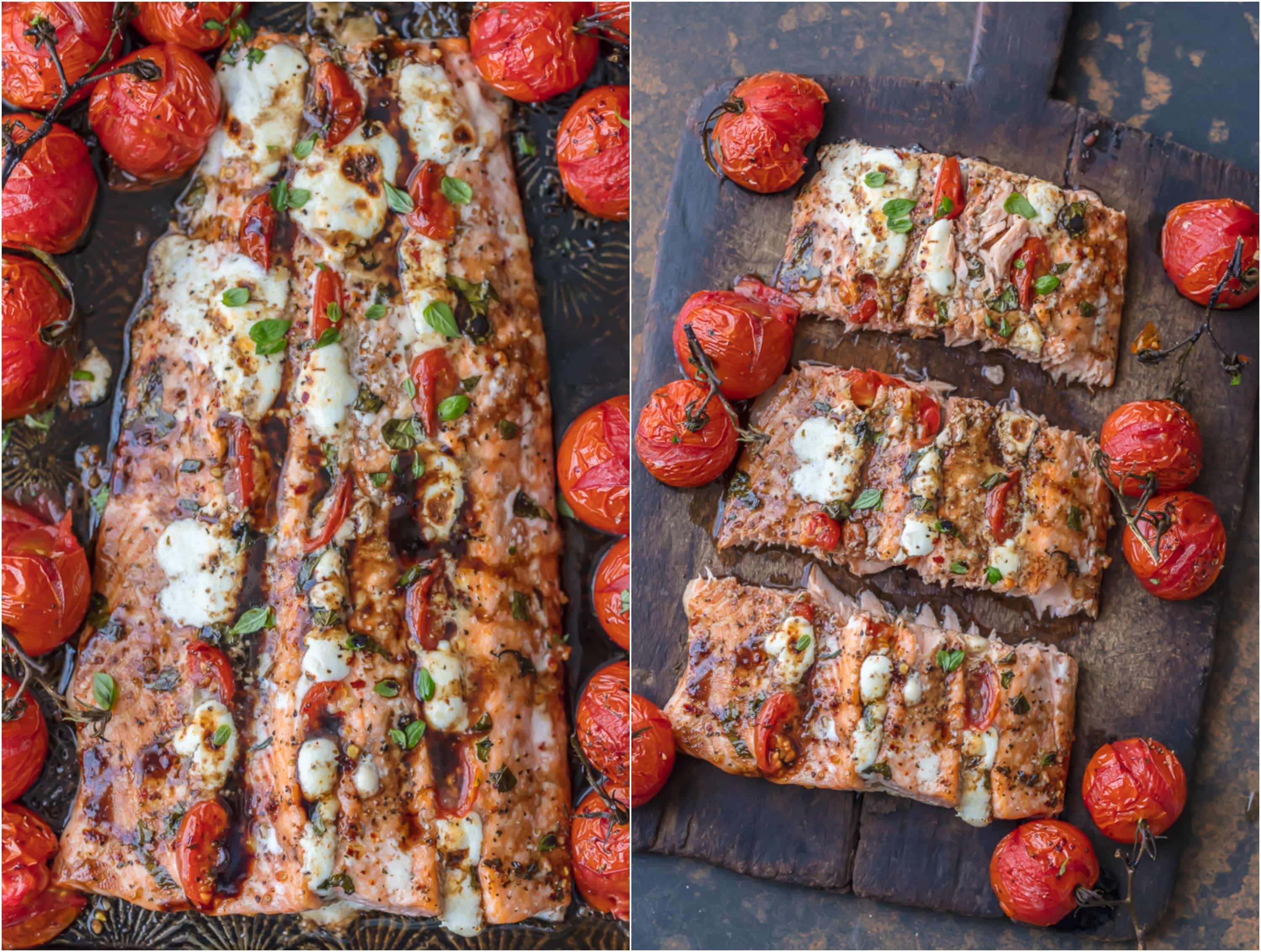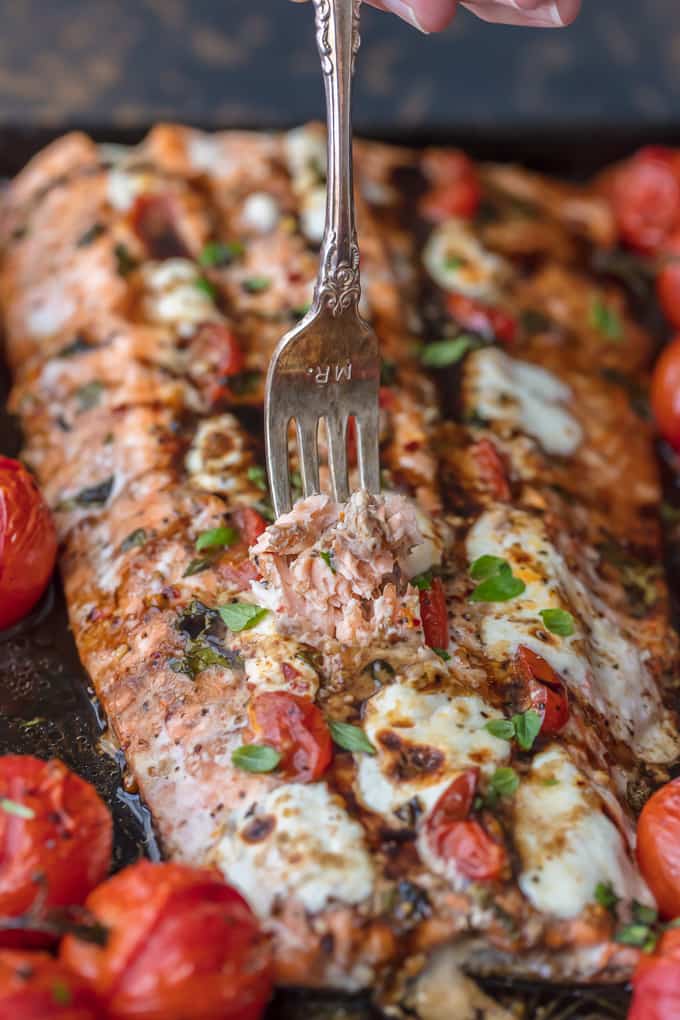 I knew I wanted to make a caprese salmon but I pictured tossing everything together on the sheet pan and then baking. It was my Mom's idea to stuff it this way and wow was she on to something. We were both so excited when we made it last week. Then we ate way too much of it. Can you blame us?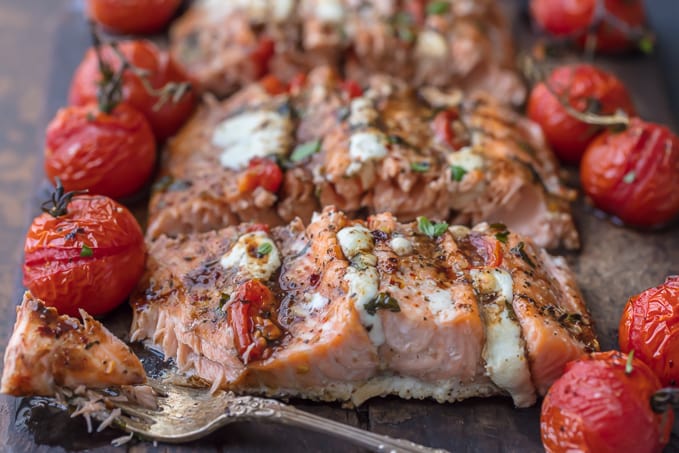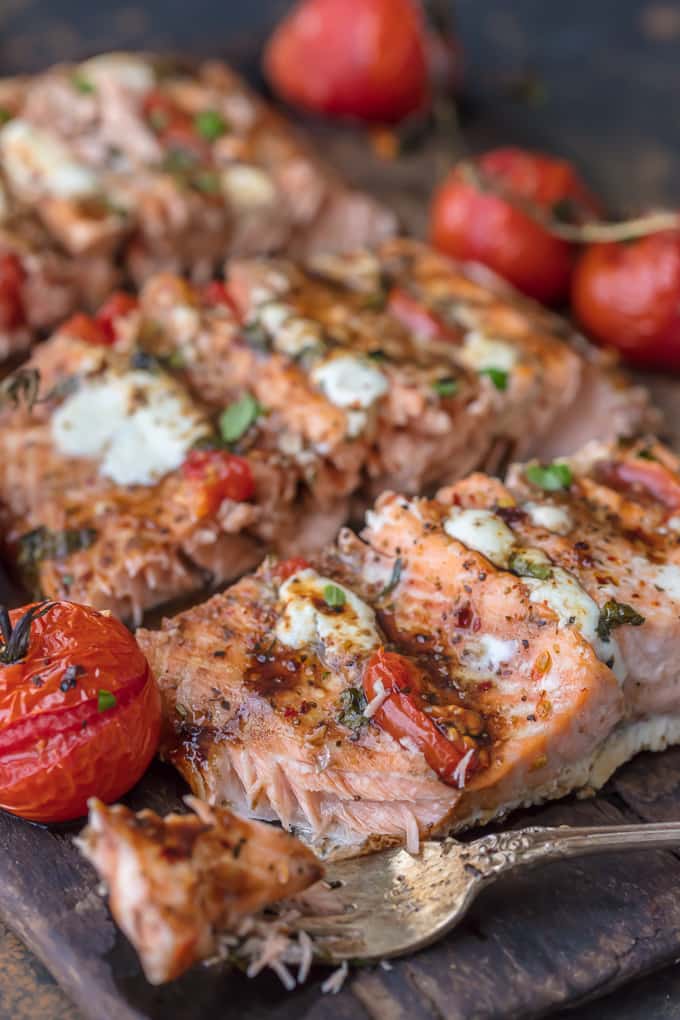 I have had lots of favorite caprese recipes before; caprese stuffed chicken burgers and chopped caprese salad just to name a few. On top of that, my Salmon with Avocado Salsa is the #1 recipe on The Cookie Rookie. So these flavors really are my favorite. Combined, this recipe is quickly one of the ones I'm most proud of. I hope you love it as much as we do!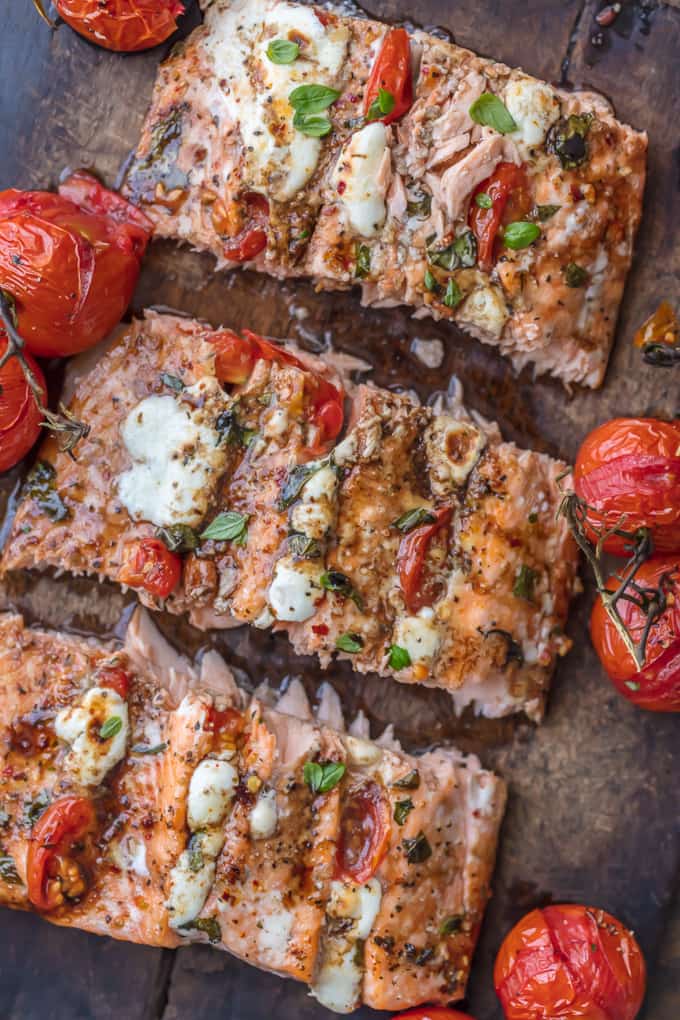 Enjoy!
Caprese Stuffed Salmon with Balsamic Roasted Tomatoes
15 minPrep Time
30 minCook Time
45 minTotal Time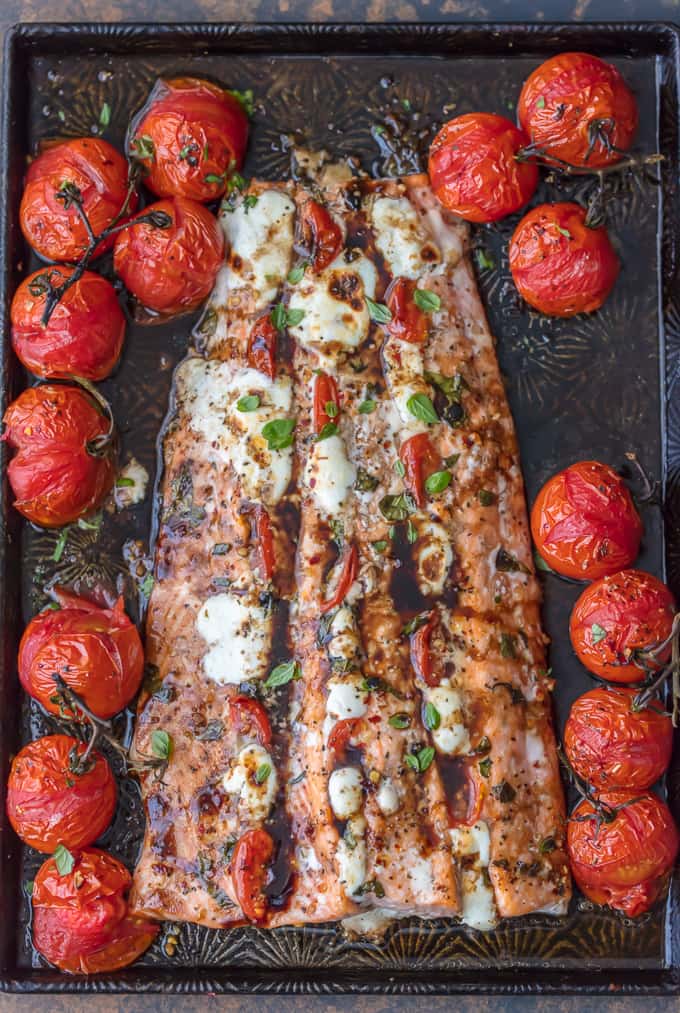 4.7 based on 11 review(s)
Ingredients
½ cup Balsamic Vinegar
½ cup dark brown sugar
1 (1½ -2 lbs) Salmon fillet bones removed
Kosher salt
Black pepper, freshly ground
1-teaspoon Italian herb seasoning, opt.
Fresh tomatoes or roma tomatoes, cut into ½" slices then each slice cut in-half
Fresh Mozzarella, sliced into ½x½" rectangular sticks
2 tablespoons dark brown sugar
Fresh basil leaves, chopped & whole
8-12 Campari Tomatoes, still on the vine (if possible) or Roma tomatoes, halved
Instructions
Preheat oven to 275F.
In a small saucepan, combine the Balsamic Vinegar and brown sugar, bring to a boil, reduce heat to low and simmer until sugar has dissolved and reduction has thickened. Set balsamic reduction aside until ready to use.
Brush a baking dish or baking pan (a little larger than length and width of salmon) with 2 teaspoons extra virgin olive oil and place the salmon, skin side down, in the dish. Place the tomatoes, still attached to the vine, on each side of the salmon. Sprinkle the salmon and tomatoes with salt, pepper, favorite herb seasoning, 2 tablespoons brown sugar and the chopped basil. With a sharp knife, make three cuts (½" deep) along the length of the salmon. One down the middle and one down the middle of each half. The cuts should NOT go all the way through the salmon.
Drizzle the salmon with olive oil then stuff the tomato and mozzarella slices into the cuts of the salmon, alternating between the tomato and mozzarella slices as you go down the salmon.
Drizzle the salmon with the balsamic-sugar mixture.
Bake the salmon at 275F for 30 minutes or until tender when a fork is inserted in the thickest part (or when a meat thermometer registers 115F in the thickest part). The salmon may look a little underdone – this happens when baked slowly.
Leave the salmon in the oven and turn the temperature to BROIL.
Broil 2-3 minutes, or until the salmon begins to get a little color. Watch closely.
Check the temperature of the salmon with a meat thermometer. The finished salmon should register 120F-125F.
Remove the salmon from the oven and sprinkle with fresh basil leaves.
Enjoy!
7.6.7
2419
https://www.thecookierookie.com/caprese-stuffed-salmon/