Chopped Caprese Salad is the perfect easy side dish for any BBQ. Simple, delicious, and healthy! Tomato, Mozzarella, Basil, and Balsamic Vinegar. A family favorite! This Caprese salad with cherry tomatoes is my go-to side dish for everything Summer!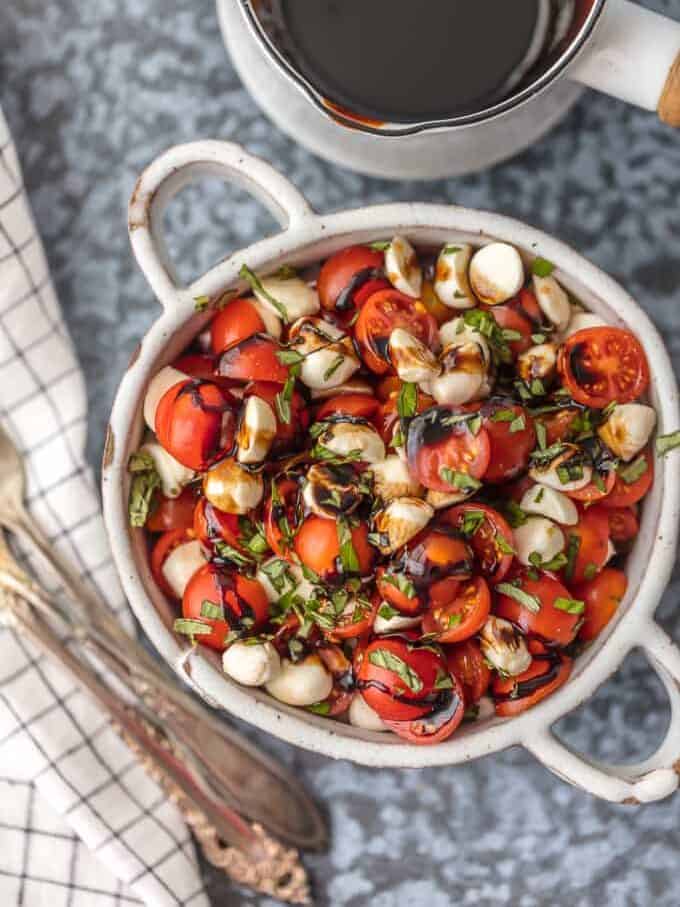 What's in this Caprese Salad Recipe?
The fact that this cherry tomato Caprese salad is low-carb and gluten-free makes it the ultimate recipe to bring to any occasion. I love that almost anyone can enjoy it, regardless of special diet.
Balsamic Vinegar: Adds a sweet, fruity, and acidic taste to this salad.
Honey: Adds a touch of sweetness to the balsamic and helps to thicken it into a rich glaze.
Cherry Tomatoes: The perfect bite-sized tomatoes for this chopped salad. You could also use grape tomatoes or chop up a regular tomato.
Mozzarella Ciliegine: These whole milk fresh mozzarella balls or "pearls" are the perfect size for a chopped salad, but you could also dice up a larger mozzarella ball.
Fresh Basil: Adds a pop of freshness and color to the salad.
Salt + Pepper: Enhances the natural flavor of the tomatoes and cheese.
Pro Tip: You can also add 1 tablespoon of olive oil if you'd like the added flavor, but it's not necessary.
Variations on Chopped Caprese Salad with Cherry Tomatoes
If you can find heirloom cherry tomatoes, they are a great addition to this salad, as each color has a unique taste! I even like to use my herb marinated mozzarella to add just a little extra something! If you're looking to spice things up just a bit, you could try sprinkling on some Italian seasoning or crushed red pepper flakes.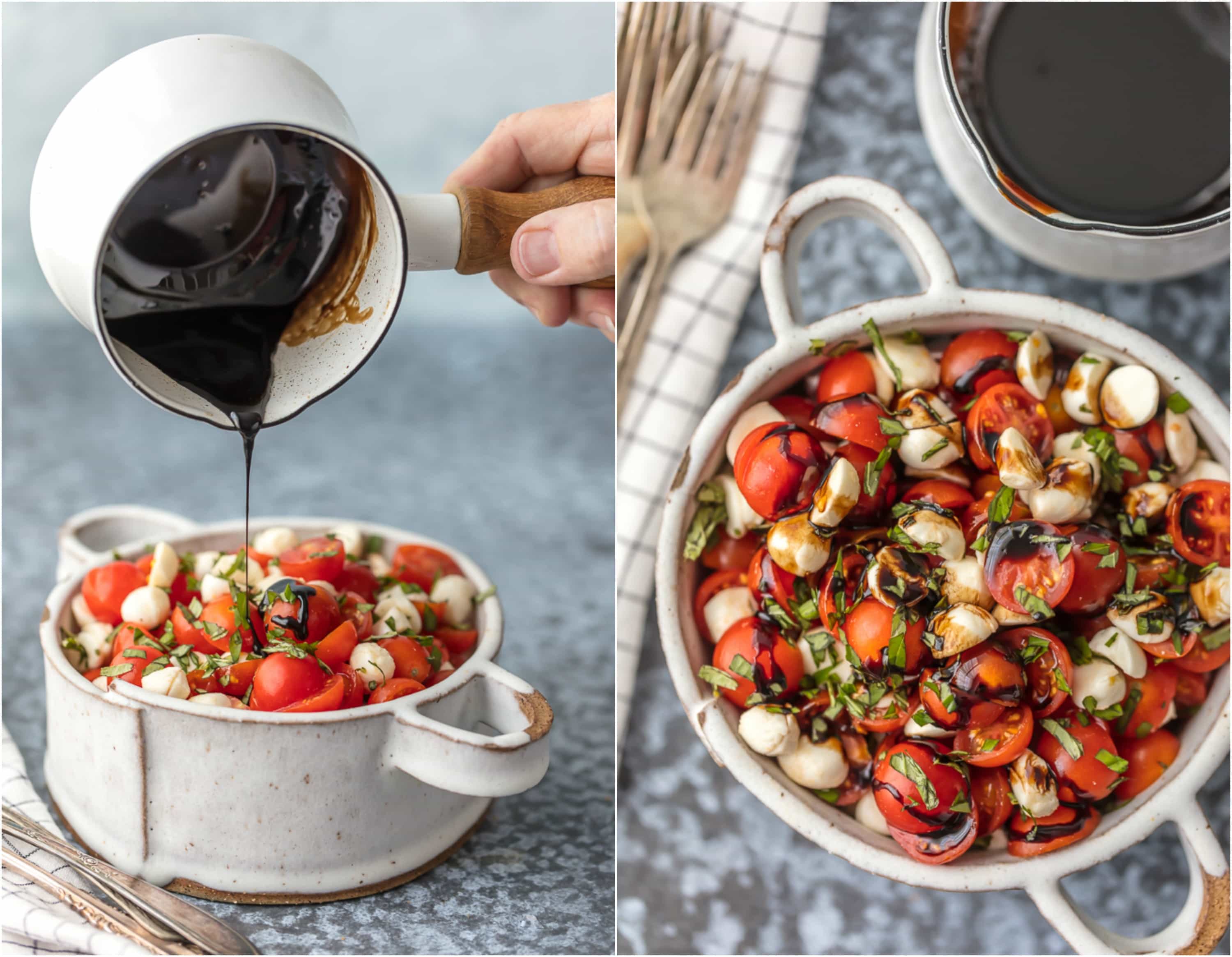 What is Caprese Salad?
Caprese Salad is a salad originating in Capri, Italy that is traditionally made with tomato, mozzarella cheese, fresh basil, and balsamic dressing. We have changed things up a bit but kept it classic. It's one of my very favorite recipes on the site!
Is Caprese salad healthy?
Yes, this Caprese salad with cherry tomatoes is very healthy! It's high in protein, vitamin C, and calcium. The mozzarella is a bit high in saturated fat, but overall this dish has a good balance!
How do you cut tomatoes for Caprese?
For this chopped Caprese salad recipe, we simply cut cherry tomatoes in half. For ease, you could place your tomatoes between two plates and slice horizontally to cut a bunch all at once!
How do you keep cut tomatoes from getting soggy?
The best way to keep tomatoes from getting soggy is to eat them right away! The longer they sit, the more juice they will release, so you may need to drain the salad if you're saving it for later. You could also wait and add the tomatoes just before serving.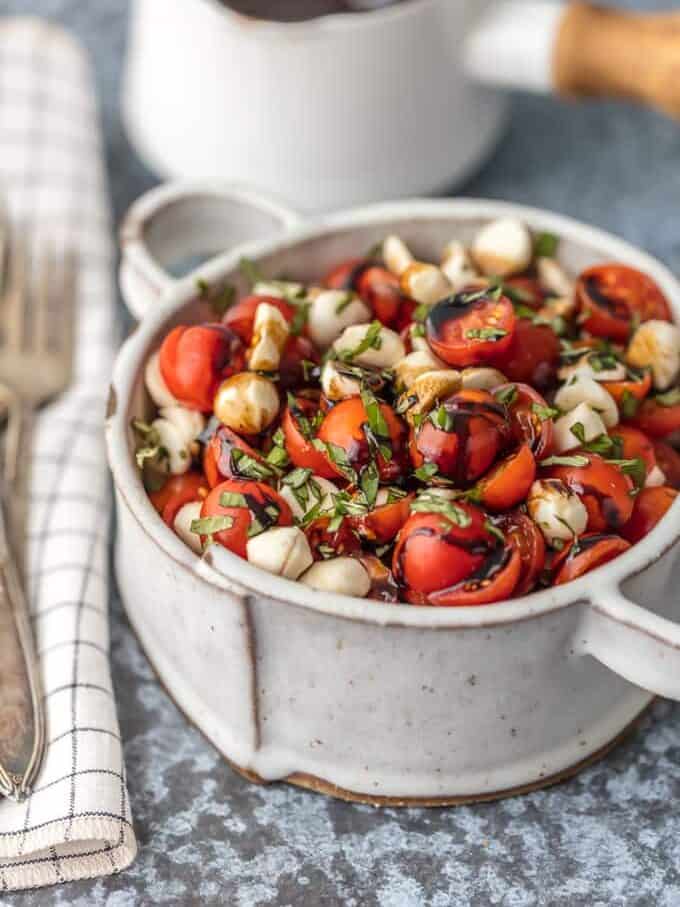 How to Store
I recommend eating within 24 hours, but this chopped Caprese salad will stay good in the refrigerator for 2-3 days. It can get a bit juicy, so drain before serving. It's always better the fresher you can serve it, but we do love this as leftovers. No shame in your game!
Serving Suggestions
This Caprese salad with cherry tomatoes is great on its own or even used as a fresh salsa for chicken, fish, or homemade fresh pasta! Save some of this and throw it on a burger, or simply enjoy it with some cheese focaccia.
We love to serve it with Italian classics, like Grandma's homemade meatballs, stuffed shells, lasagna, cacio e pepe, baked ziti, chicken tetrazzini, shrimp scampi, beef bolognese, or crispy chicken Parmesan.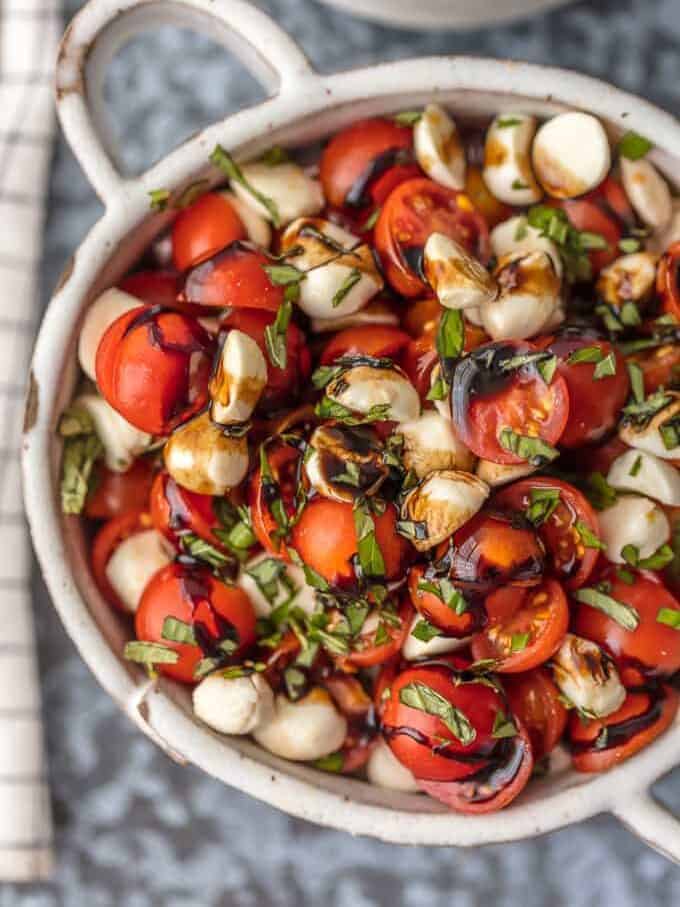 5-Star Review
"Had this at a restaurant a few years ago and it was delicious. Had a craving for it tonight it was wonderful and quickly made!" – Tywanda Lowe
More Caprese Recipes We Love