Chopped Caprese Salad is the perfect easy side dish for any BBQ! Simple, delicious, and healthy! Tomato, Mozzarella, Basil, and Balsamic Vinegar. A family favorite!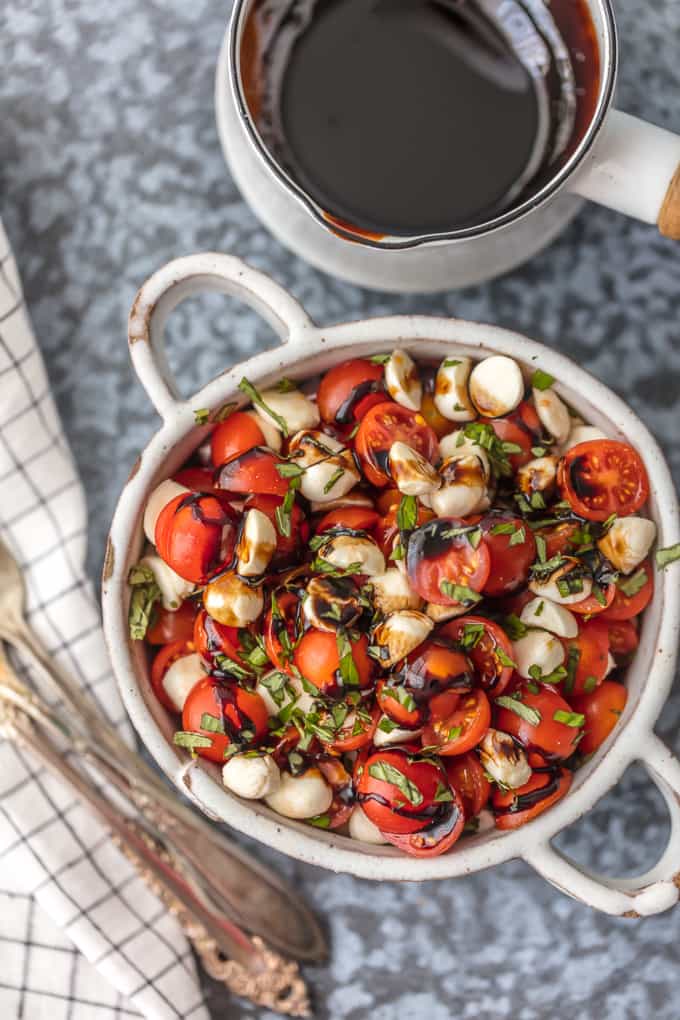 A unique and Easy Caprese Salad that is as easy to make as it is delicious! Win win!
I'm kind of embarrassed to admit how many dinners at our house consist of tomatoes, basil, and fresh mozzarella.  (Some of our favorites are Stuffed Caprese Chicken Sandwich, White Chicken Caprese Lasagna, and Cheesy Caprese Dip!) Pat and I both LOVE the flavor combination, and more often than not, our evenings are pretty simple.
You would think a food blogger cooks every night, but this food blogger loves the simple things, and this super easy Chopped Caprese Salad is a favorite at our house! I've dressed it up just a smidge by using a quick and easy balsamic reduction drizzled on top. You just can't go wrong with this favorite salad recipe.
This Caprese Salad Appetizer can also be served as a main course if you're in the mood for a fresh and simple dinner or lunch. It's one of Pat's favorite things to take to work!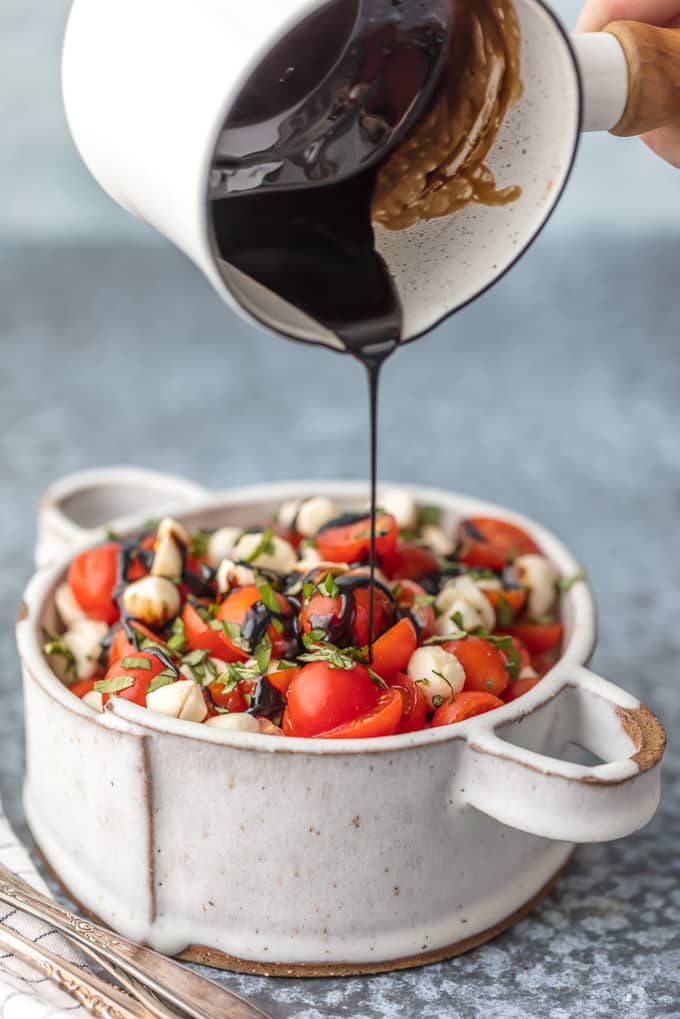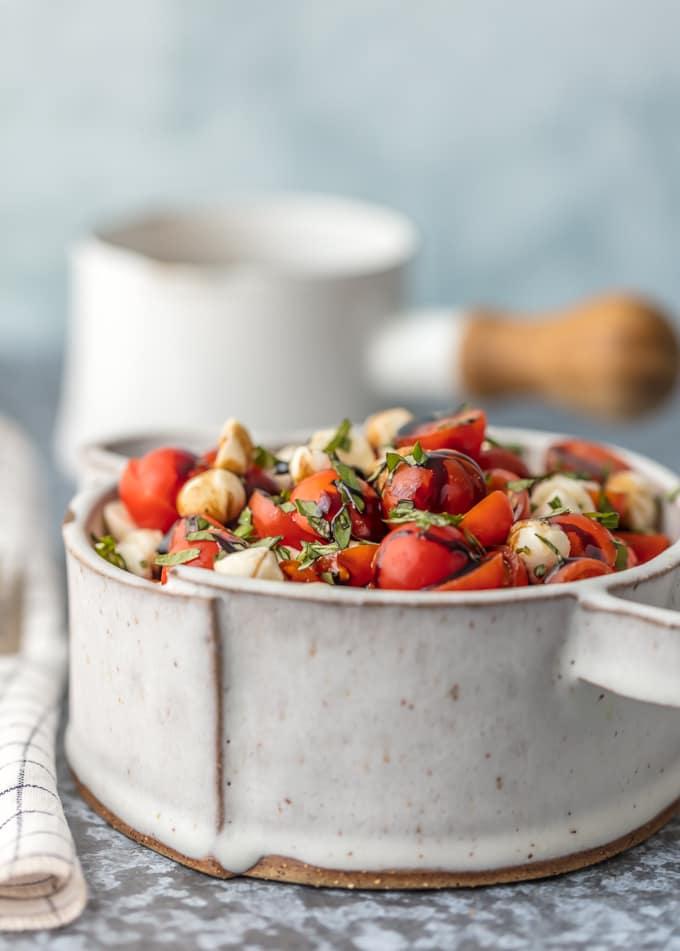 What is Caprese Salad? It's usually tomato, mozzarella cheese, fresh basil, and balsamic dressing. We have changed things up a bit but kept it classic. It's one of my very favorite recipes on the site!
I originally published this recipe back in 2015 right after we had returned from a trip to Italy and Spain. I have never loved the photos so I decided it was in need of a reboot! You could find the flavors of cheese, tomatoes, and fresh herbs on every corner and I was so in love. Well, with that and gelato. I didn't come back lighter!
I always get asked if this Caprese Salad can be made ahead and the answer is YES! Chop up the cheese, basil and cherry tomatoes and keep in the fridge until ready to serve. Drizzle on the balsamic dressing (in this case the BALSAMIC REDUCTION that is TO DIE FOR) and you're in (quick) business!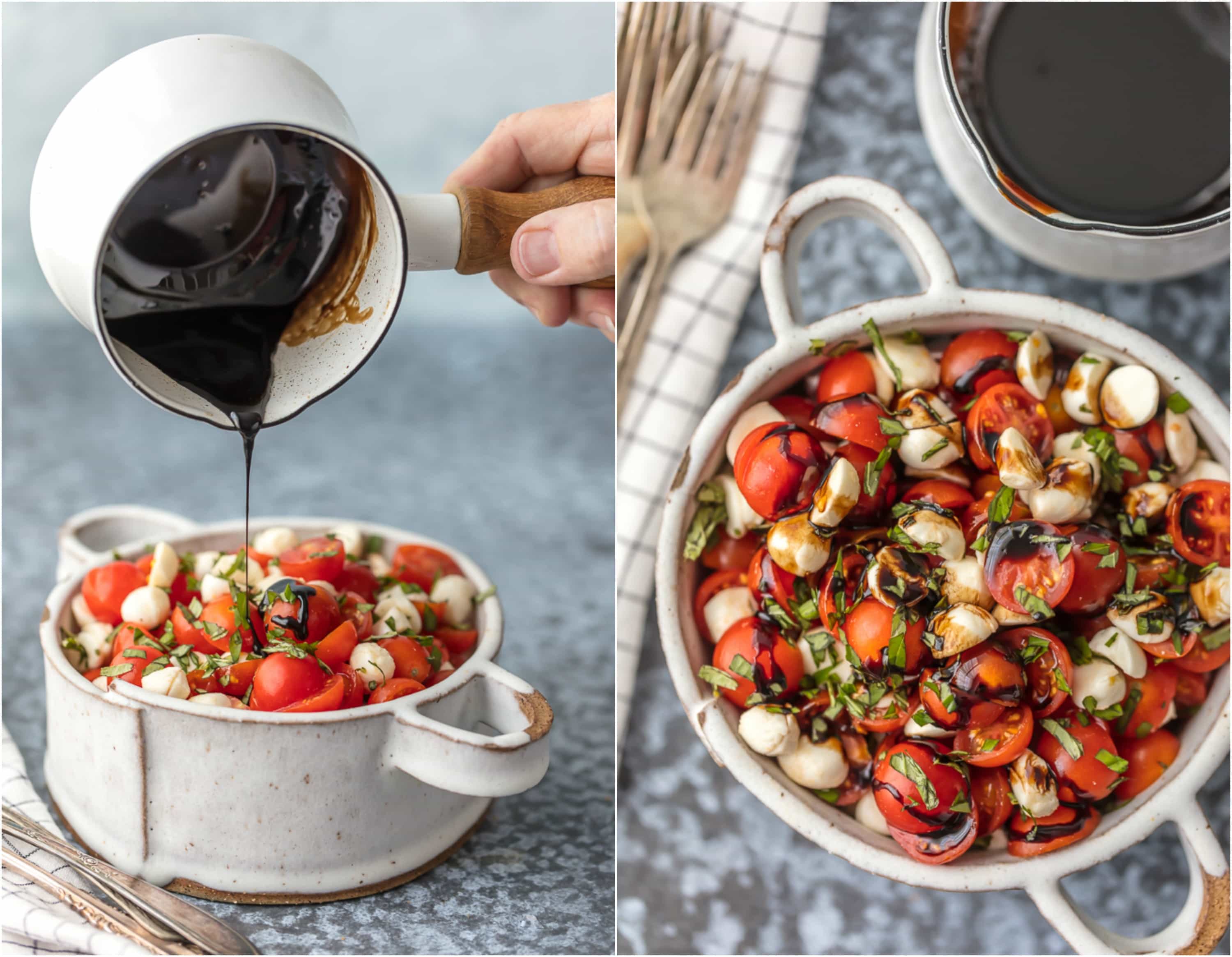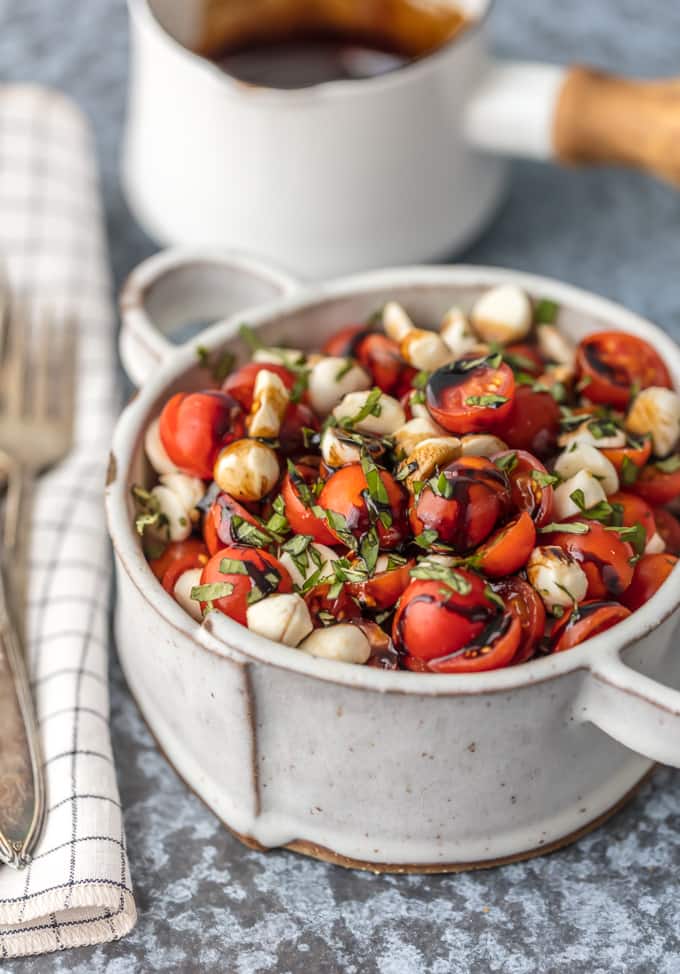 Next time I make this I plan to make Caprese Salad for a crowd! It would be so so easy to quadruple this recipe and serve the masses. Delish and loved by all! I also want to try Caprese Salad Skewers and Caprese Salad Pasta! Can you imagine how good??
We ordered it in different variations at almost every meal on our trip. Now that we have a baby, this Chopped Caprese Salad is such a quick side or even meal to whip up in no time while still having all the flavor. The fresh basil is a MUST so don't let me catch you using dried basil on this!! Pinky promise?
How to Make Chopped Caprese Salad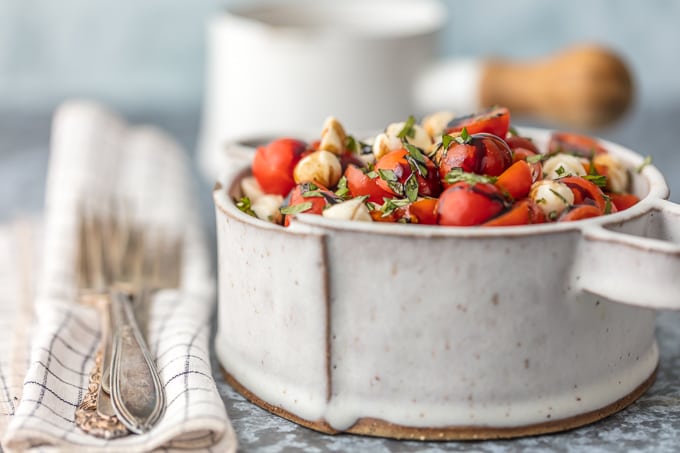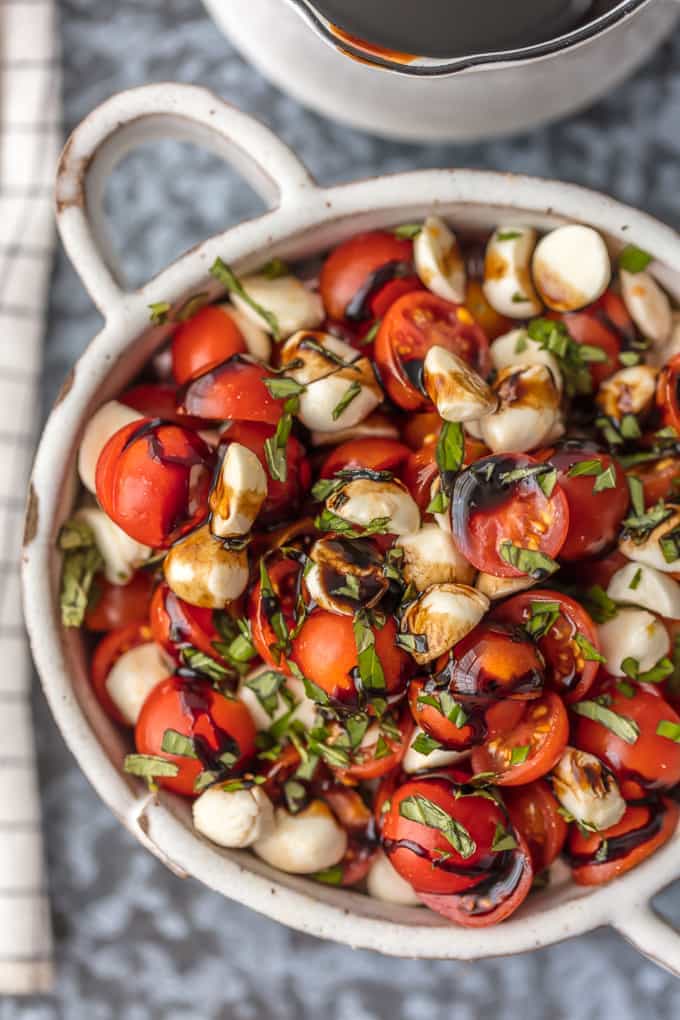 This tomato and mozzarella salad is great on its own or even used as a fresh salsa for chicken or fish! Balsamic chicken anyone?? Save some of this and throw it on a burger…YUM! You get the idea, the possibilities are endless.
Caprese Salad is GLUTEN FREE and LOW CARB, making it a healthy recipe you feel great about eating and serving to your family. This Chopped Salad version is super easy to eat, making it the favorite version at our house!
What are your favorite Summer flavors? I would love to hear about them so I could maybe spice up our dinner routine.  But for now, I'll stick with my chopped caprese salad. Works great for me. :)
Enjoy!
Chopped Caprese Salad
5 minPrep Time
5 minTotal Time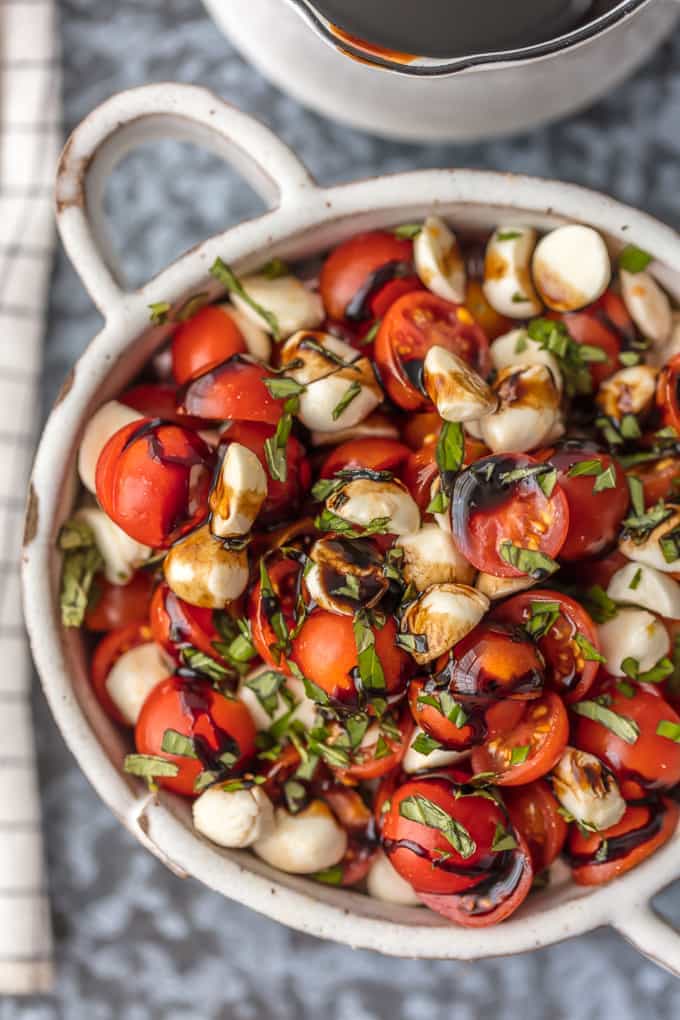 Ingredients
10 ounces cherry or cherub tomatoes, chopped in half
8 ounces whole milk mozzarella, cherry sized. Chopped in half or fourths
1/4 cup fresh basil, chopped
1/2 cup good quality balsamic vinegar
2 tablespoons honey
salt and pepper to taste
(note: you can also add 1 tablespoon of olive oil if you'd like the added flavor, but it's not necessary)
Instructions
Add the balsamic vinegar and honey to a small saucepan over high heat. Bring to a boil and then reduce to a simmer. Once it's reduced by approximately half and thickened to your liking (about 10-15 min), remove from the heat. Be careful it doesn't get too thick, but a bit syrupy is good.
Toss all ingredients except for the reduction in a bowl. Drizzle with the reduction, adding a little at a time, tossing, tasting, and then adding more to your liking.
Enjoy!
7.6.7
2114
https://www.thecookierookie.com/chopped-caprese-salad/
If you love this easy Italian recipe, I'm sure you'll love these other classics from one of my fave sites, Eggplant Parm, Italian Wedding Soup, and Tomato Risotto!