Balsamic Reduction is an element in many recipes, and it has unlimited delicious uses. While it may sound mysterious and complicated, it's really quite easy to learn!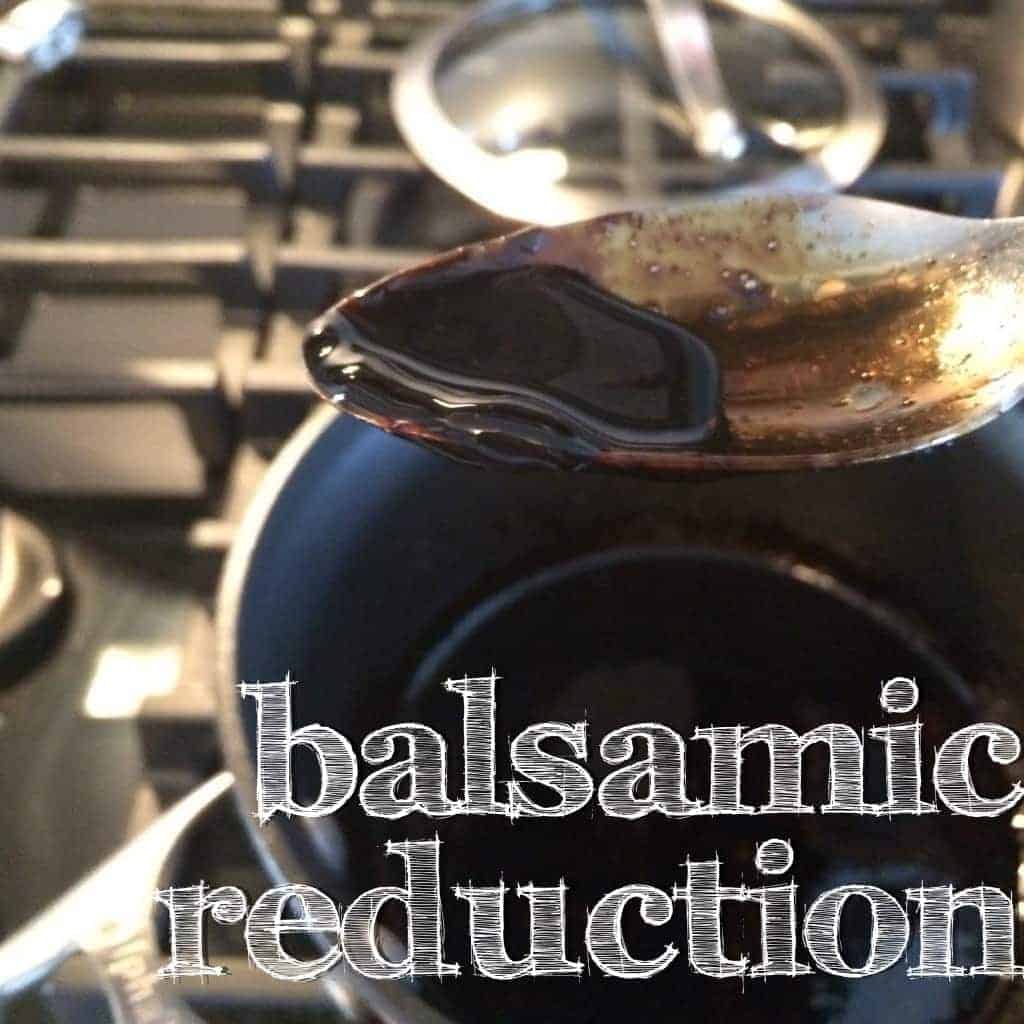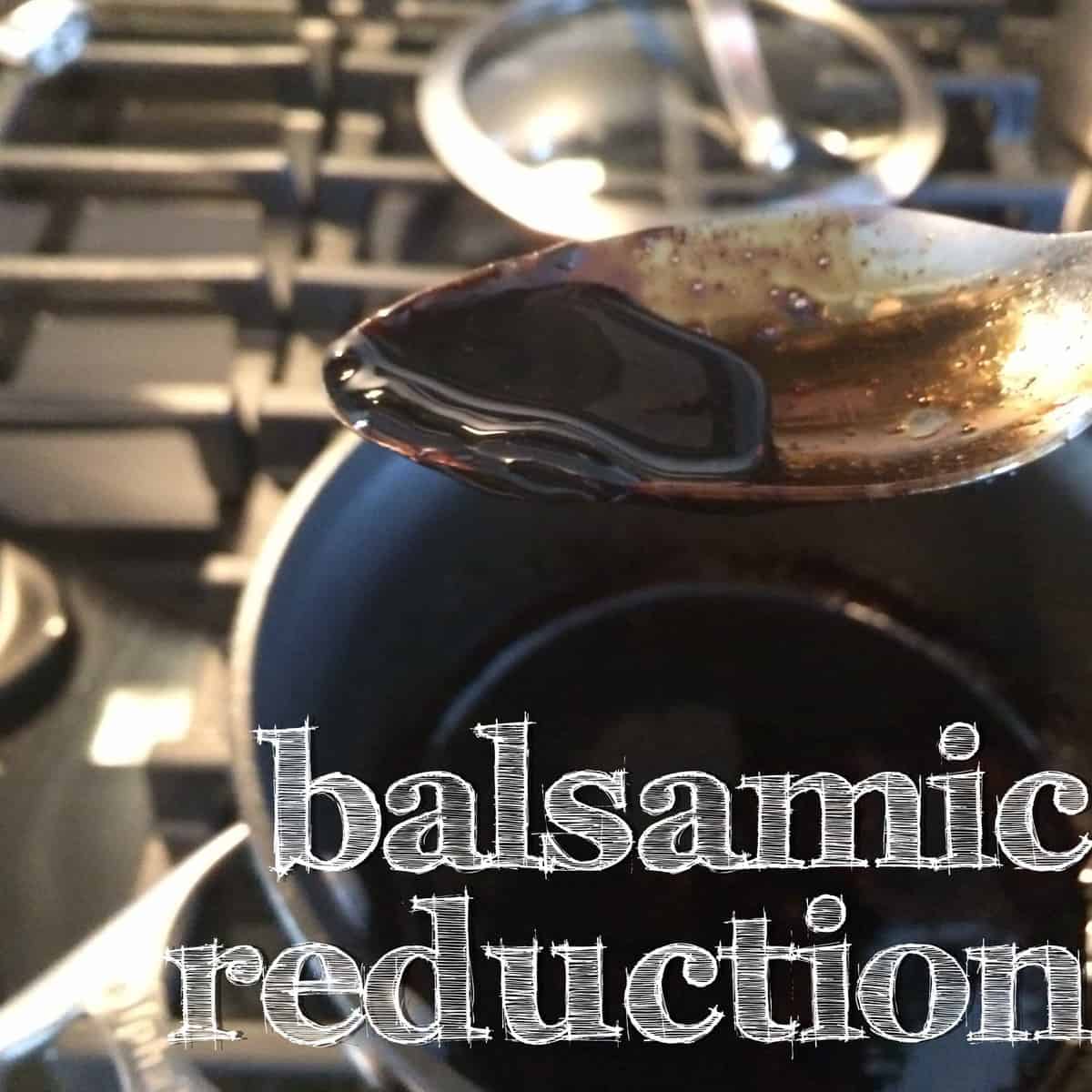 Balsamic Reduction Recipe
Learn to make this savory balsamic glaze and you'll be able to jazz up a recipe anytime you need it. Plus, I'm sharing tons of interesting ways to use it!
Balsamic Reduction is a must-learn technique for all home cooks. It's one of those cooking building blocks that are part of so many delicious recipes, so learning how to make this savory balsamic vinegar sauce will boost your cooking skills.
This recipe is really quick and easy. All you need is balsamic vinegar; however, I like to mix in a bit of honey to make it even sweeter. This is totally optional, but if you want to use this on fruits or desserts it adds the perfect element.
Balsamic Reduction serves as a sauce, as a glaze, as a syrup, or as a dressing. Use it with salads, vegetables, fruits, meats, cheese, desserts, appetizers, dinner…you'll have a million uses for this, and it's easy to make and store ahead of time!
In various recipes, you might see this called balsamic reduction, balsamic vinegar reduction, balsamic glaze, etc. They're all referring to this, so you can use it in lots and lots of recipes!
Why you'll love this Balsamic Reduction Recipe:
Elegant simplicity: This reduction adds a touch of beautiful sophistication to whatever it accompanies.
Everyday ingredients: No need to pick up exotic products that you'll never use again.
Customizable: Create your own signature blend of herbs!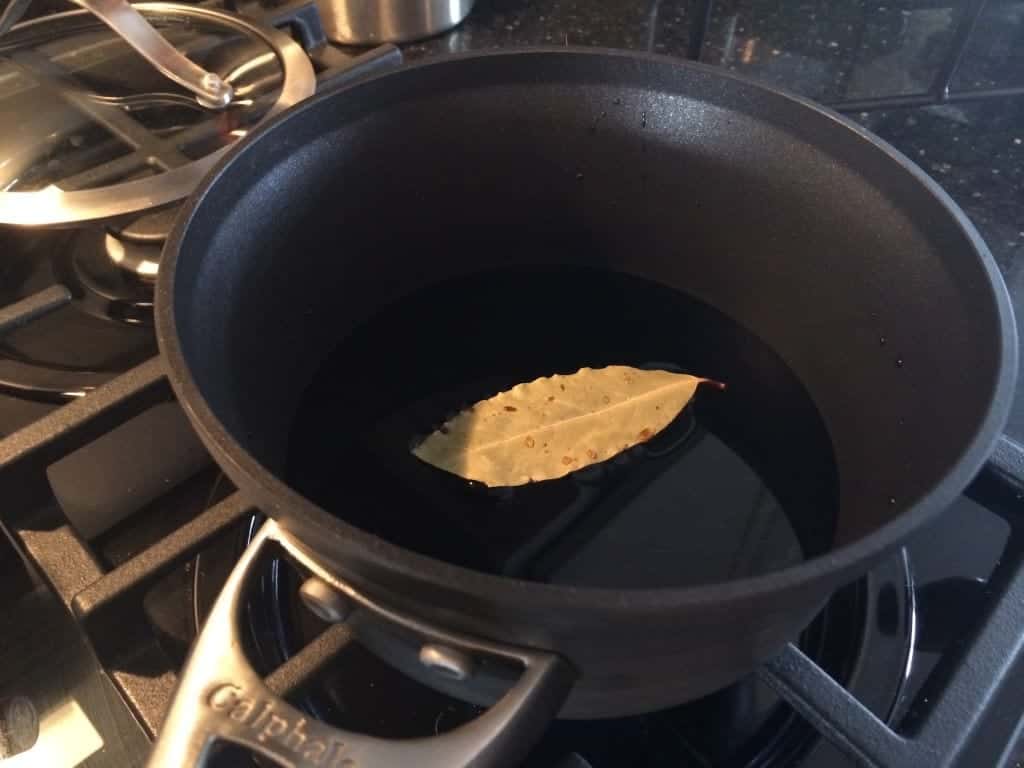 How to Make Balsamic Reduction
Sometimes the simplest things create the biggest impact. That's how it is with Balsamic Reduction! Follow this step-by-step recipe and you'll have one important technique checked off the "learn how to do that" recipe bucket list.
Ingredients:
Balsamic vinegar
Honey (optional)
Bay leaf (optional)
Note: You really only need the vinegar to make a reduction, but these extra ingredients go a long way to add flavor. You can also add thyme, rosemary, cinnamon, clove, or other herbs, depending on your flavor preferences.
How to Make it:
Be sure to see the recipe card below for full ingredients & instructions!
Pour balsamic vinegar into a saucepan.
Add optional honey and herbs. Stir to make sure honey is fully dissolved.
Bring to a boil, then reduce heat and let it simmer until it turns into a syrup. The longer it simmers, the thicker it will become, and it will also thicken a bit more as it cools. Keep an eye on it and remove the pan from the heat just before it reaches the desired consistency.
Note: if you use herbs, pour the reduction through a fine-mesh sieve before using or storing.
Watch the video to see the step-by-step process!
How to Store Balsamic Reduction
Let the syrup cool completely before storing.
Because of the vinegar's acidic content, you can store it at room temperature for up to about a week, but past that, refrigerate it.
Pour into an airtight container or jar and store it in the refrigerator.
How long does balsamic vinegar reduction last?
Balsamic Reduction is the ultimate fancy convenience food! Keep a batch in the fridge and pull it out anytime you have a recipe that could benefit from a touch of flavor. It doesn't go bad as long as you store it properly.
Sure, it's simple enough to make fresh, but it's nice to have it on hand, ready to go!
Can I Substitute Another Type of Vinegar in This Recipe?
In a word: no. Balsamic vinegar is quite different from apple cider vinegar or any of the other types: red wine, distilled white, rice vinegar and all the other varieties are quite astringent and lack the sweet undertones you'll find in balsamic vinegar.
Trust me on this one. Stick with balsamic vinegar!
Can You Reheat Balsamic Reduction?
Gently warm the glaze before using, either in a saucepan or in the microwave.
Add a small bit of water to help make it easy to pour or drizzle.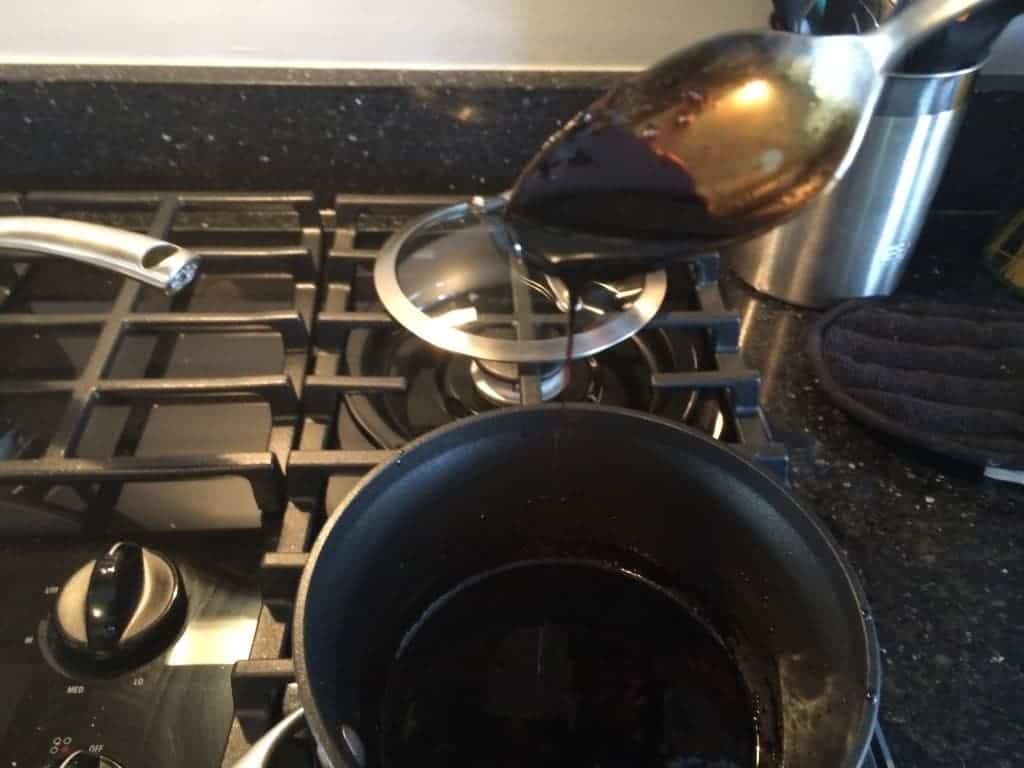 How to Use Balsamic Reduction
You might not think you'd ever want to drizzle vinegar over ice cream, but once it's been reduced into a syrup, balsamic vinegar takes on a whole new personality! Use it as a sauce, a glaze, a dressing, or just as a drizzle for a little extra flavor.
The flavor brings out the sweetness in different ingredients and dishes, so it pairs with sweet foods just as well as more savory foods.
Here are my favorite ways to use it!
15+ Ways to Use Balsamic Reduction:
Dizzle it over a classic Caprese salad, or this chopped version.
Use it as a glaze for chicken breast or salmon.
Pair it with cheeses, tomatoes, crackers, and sausages on a charcuterie board. You can use it as a sauce or spread.
Use it in this Balsamic Baked Chicken recipe.
Make incredibly flavorful roasted veggies by tossing them in Balsamic Reduction before roasting.
Drizzle it over ice cream and grilled peaches for a great summer treat!
Make Balsamic Brussels Sprouts (with bacon!).
Use it as a simple salad dressing with any mix of greens (it's especially tasty with spring mixes, arugula, and romaine).
Peaches + mozzarella + tomatoes + basil, drenched in Balsamic Reduction…can you tell I have a thing for Caprese flavors?
Make this Ham and Cheese Frittata for brunch and drizzle the balsamic on top.
Balsamic Reduction and tomatoes are a match made in heaven; grill or roast fresh tomatoes and then cover them in this glaze!
Make Balsamic Roasted Carrots as a holiday side dish.
Drizzle it over bruschetta for a simple gourmet appetizer.
Mix it into tomato sauces to pair with pasta.
Use it as a sauce with steaks.
Drizzle over fresh strawberries (or any berry or fruit) for a light and sweet snack.
If you make this recipe be sure to upload a photo in the comment section below or leave a rating. Enjoy!