Balsamic Reduction is called for in many recipes, and it has many simple uses. This Easy Balsamic Vinegar Reduction Recipe will make this basic cooking technique easy to learn, so you can make a simple balsamic glaze any time you need it. Plus I'm sharing tons of interesting ways to use it!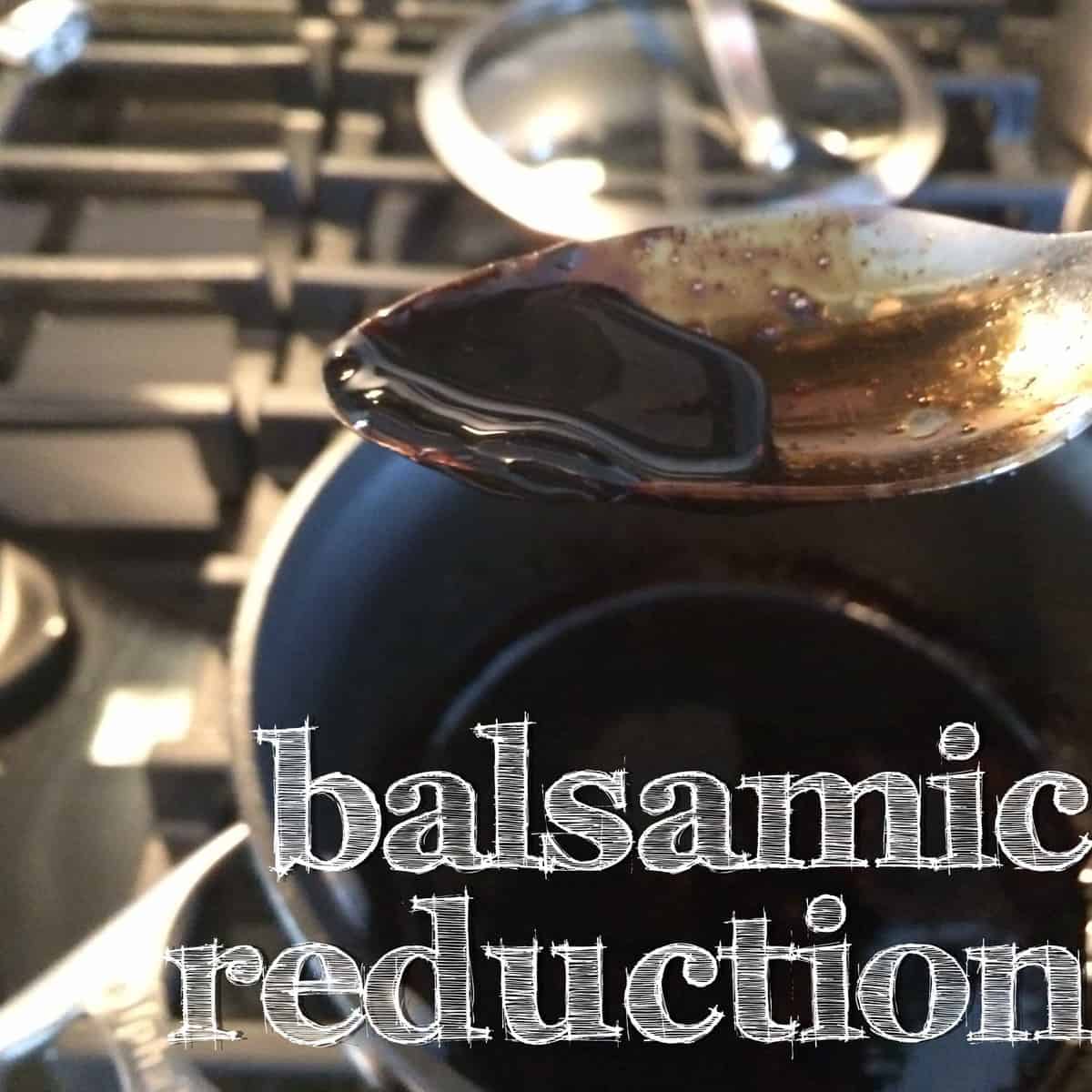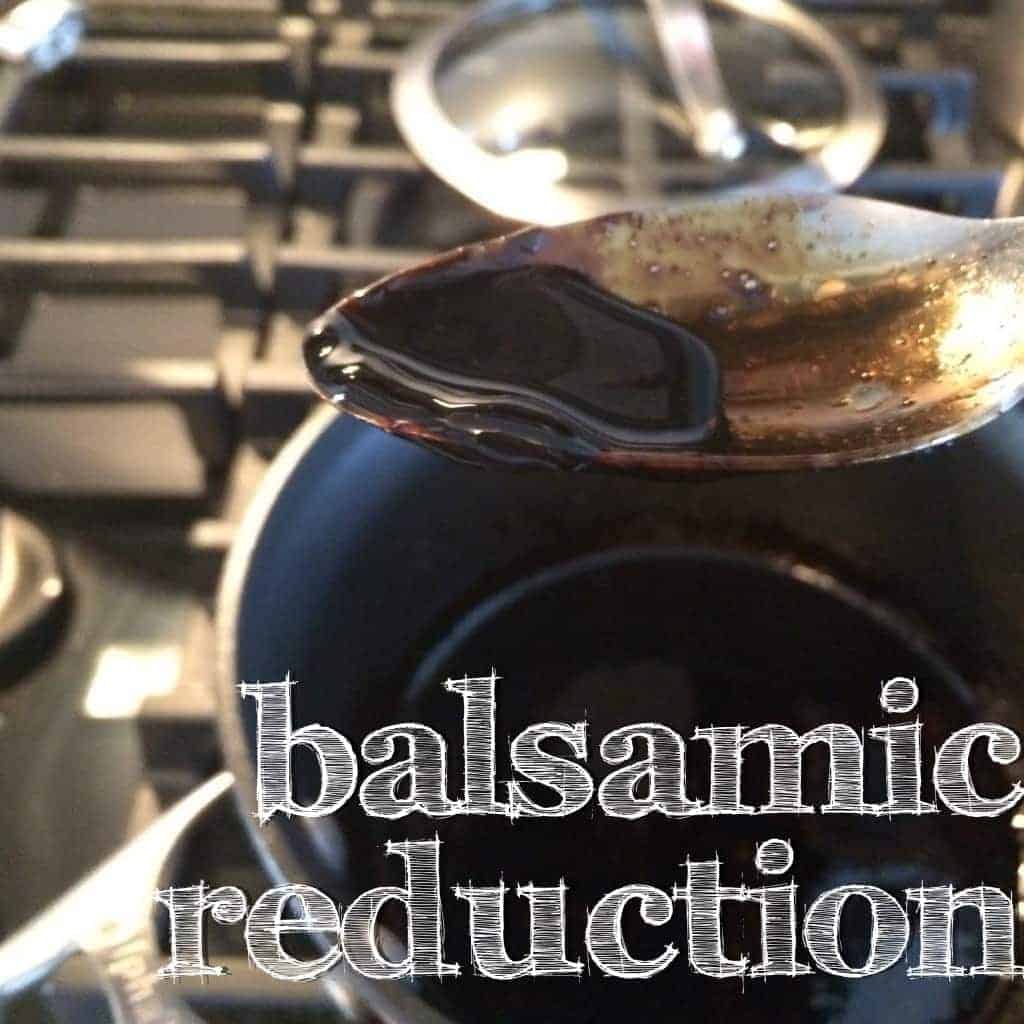 Balsamic Reduction
This simple balsamic reduction recipe is a must-learn for all home cooks. It's one of those cooking techniques you'll come across in all kinds of recipes, so learning how to make balsamic vinegar reduction early on will save you a lot of stress.
This recipe is really quick and easy! All you need is balsamic vinegar, however I like to mix in a bit of honey to make it even sweeter. This is totally optional, but it makes a difference. Especially if you want to use this on fruits or desserts!
You can use this as a sauce, as a glaze, as a syrup, or as a dressing. Use it with salads, vegetables, fruits, meats, cheese, desserts, appetizers, dinner…you'll have a million uses for this, and it's easy to make and store ahead of time!
In various recipes, you might see this called balsamic reduction, balsamic vinegar reduction, balsamic glaze, etc. They're all referring to this, so you can use it in lots and lots of recipes!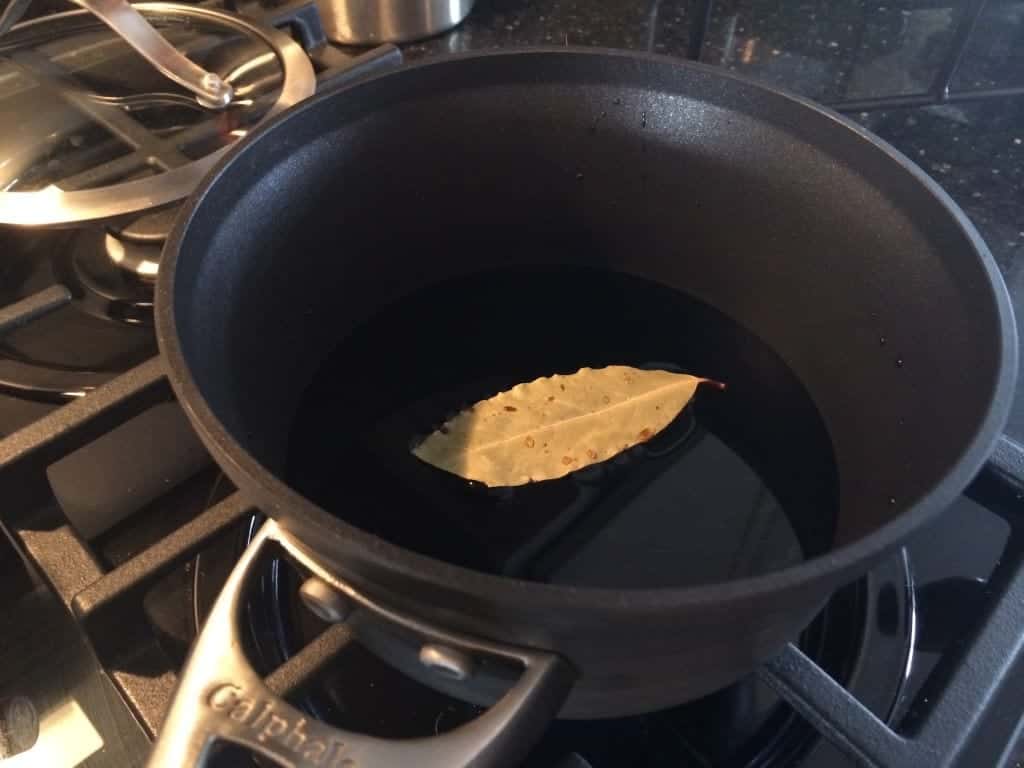 How to Make Balsamic Reduction
This is such an easy thing to make, and it really is a cooking essential. It's called for in so many recipes, and it can be used in so many ways. So follow this simple step-by-step recipe and you'll have at least one important technique checked off the "learn how to do that" list.
Ingredients:
Balsamic Vinegar
Honey
Bay Leaf
Note: You really only need the vinegar to make a reduction, but these extra ingredients go a long way to add flavor! You could also add thyme, rosemary, cinnamon, clove, or other herbs, depending on how you want it to taste.
How to Make it:
Pour balsamic vinegar into a saucepan.
If using honey and/or herbs, add them in now. Stir to make sure honey is fully dissolved.
Bring to a boil, then reduce heat and let it simmer until it turns into a syrup.
The longer ii simmers, the thicker it will become, but it will also thicken as it cools. So watch it closely, and remove it from heat just before it reaches your desired consistency.
Note: if you use herbs, pour the reduction through a fine mesh sieve before using or storing.
Be sure to watch the video to see the step by step process!
How to Store Balsamic Reduction
Let it cool completely before storing.
Pour any extra in an airtight container or jar, and store it in the refrigerator.
It will keep indefinitely when stored properly.
It will actually keep fine at room temperature for up to about 1 week, but past that, refrigerate it.
How long does balsamic vinegar reduction last?
Instead of going through this process every time a recipe calls for it, you can make this and store it for…a really long time. It doesn't go bad as long as you store it properly.
Sure, it's simple enough to make fresh, but it's nice to have it on hand, ready to go!
Can you reheat balsamic glaze?
Gently warm the reduction before using, either in a saucepan or in the microwave.
Add a small bit of water to help thin it out and make it easy to pour or drizzle.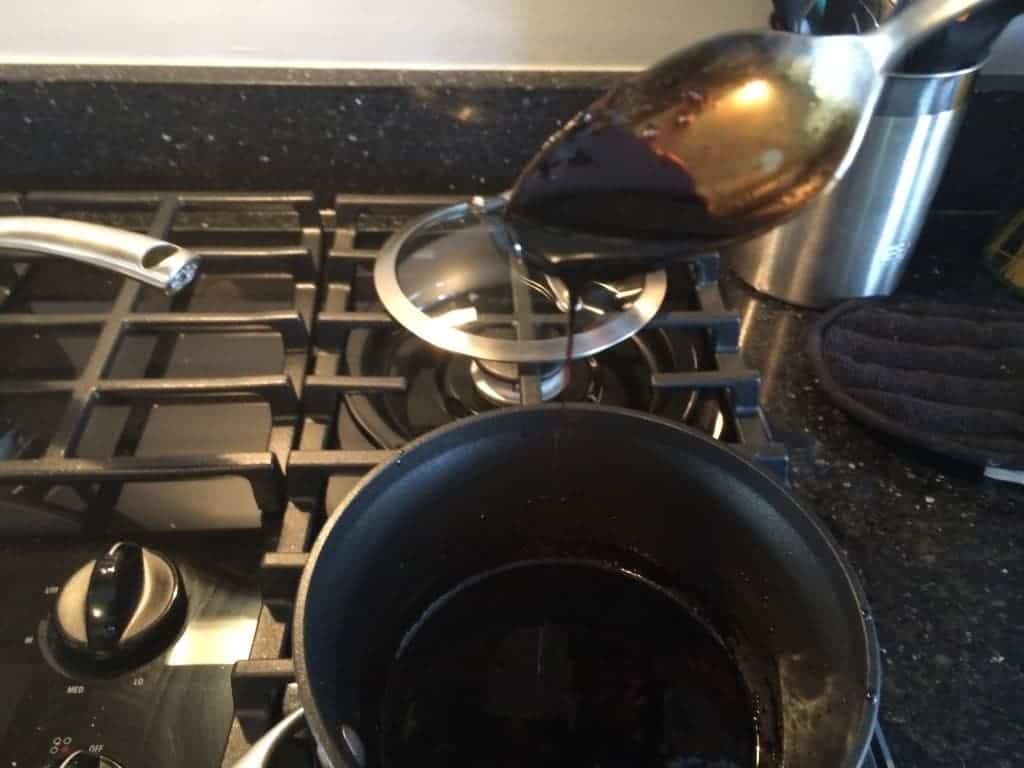 How to Use Balsamic Reduction
Balsamic Vinegar Reduction is such a versatile thing. Use it as a sauce, a glaze, a dressing, or just as a drizzle for a little extra flavor.
The flavor brings out the sweetness in different ingredients and dishes, so it pairs with sweet foods just as well as more savory foods.
Here are my favorite ways to use it!
15+ Ways to Use Balsamic Vinegar Reduction:
Drizzle it over a classic Caprese salad, or this chopped version.
Use it as a glaze for chicken breast or salmon.
Pair it with cheeses, tomatoes, crackers, and spreads on a cheeseboard. You can use it like a sauce or spread.
Use it in this Balsamic Baked Chicken recipe.
Make the best roasted veggies by tossing them in balsamic before roasting.
Drizzle it over ice cream and grilled peaches (a great summer treat!).
Make Balsamic Brussels Sprouts (with bacon!).
Use it as a simple salad dressing with any mix of greens (it's especially tasty with spring mixes, arugula, and romaine).
Peaches plus mozzarella plus tomatoes plus basil, drenched in balsamic reduction…can you tell I have a thing for Caprese flavors?
Make this Asparagus & Gruyere Tart, and drizzle the balsamic on top.
Balsamic and tomatoes are a match made in heaven; grill or roast fresh tomatoes and then cover them in this glaze!
Make Balsamic Roasted Carrots as a holiday side dish.
Drizzle it over bruschetta for a simply gourmet appetizer.
Mix it into tomato sauces to pair with pasta.
Use it as a sauce with steaks.
Drizzle over fresh strawberries (or any berry or fruit) for a light and sweet snack.
Watch the video and check the recipe card for details on how to make balsamic vinegar reduction.