This balsamic glaze recipe is a must-learn cooking skill. Luckily, learning how to make balsamic reduction is really quick and easy. Use this balsamic vinegar glaze to add flavor to all kinds of dishes. You'll never run out of uses for this sauce!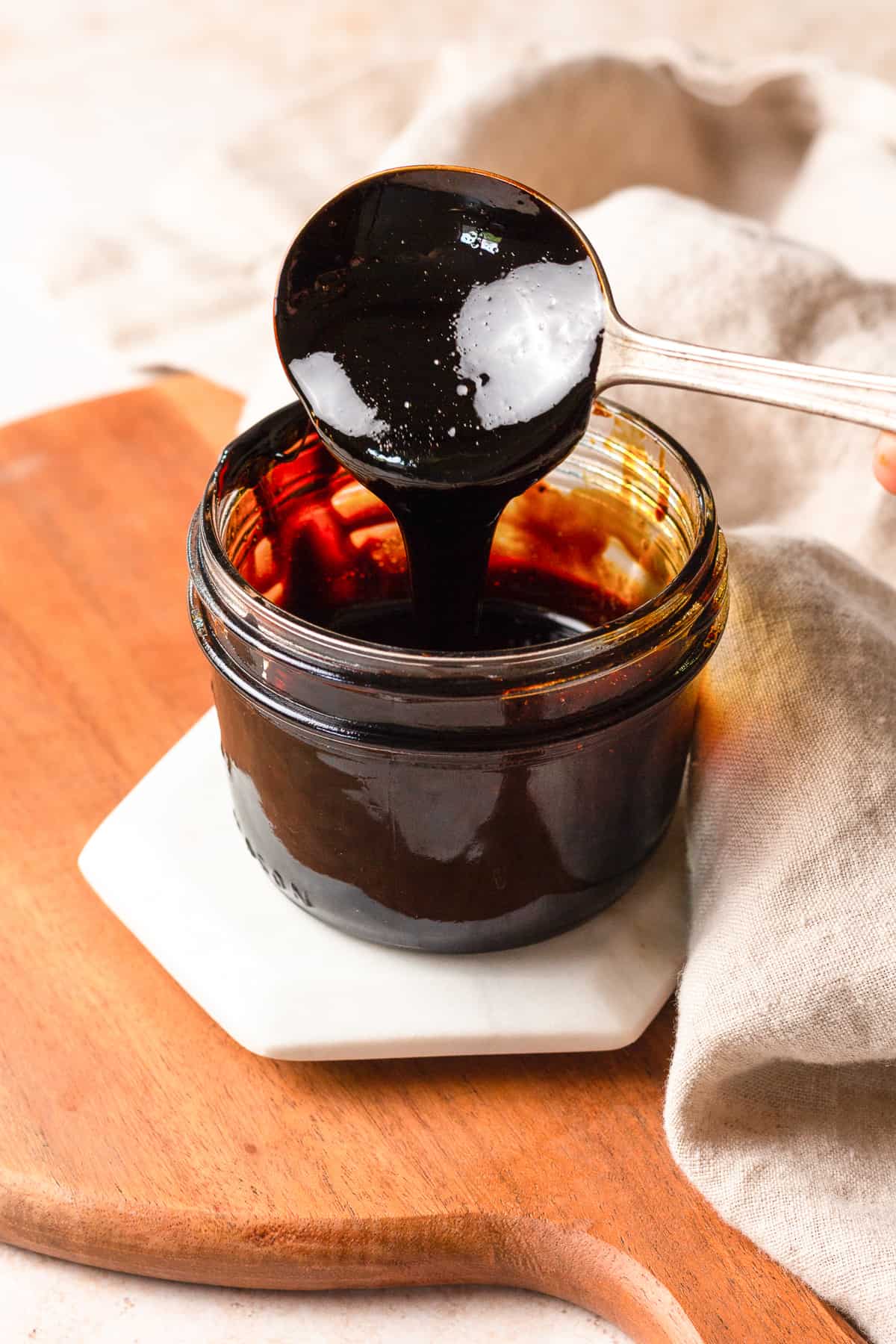 Balsamic Glaze for Cooking and Beyond
Balsamic reduction is a common ingredient used in all kinds of recipes. It adds a richly sweet flavor to any dish, and can be used as a sauce, dressing, syrup, or marinade.
It's also referred to as a balsamic vinegar reduction, or a balsamic glaze. So don't be confused if a recipe uses a different name for it–it's all the same as this recipe!
Learning how to make balsamic reduction is an important cooking skill, but luckily it's really easy. You actually only need one ingredient (balsamic vinegar), but sometimes I like to add extra things for more flavor.
Keep a jar of this in your fridge, and it'll be ready to use to jazz up your dishes.
Why you'll love this Balsamic Glaze Recipe:
FLAVOR BURST: This balsamic vinegar reduction adds a touch of beautiful sophistication to any dish. It always adds an extra burst of flavor!
EASY: All you need for this recipe is one main ingredient and a few minutes on the stovetop.
CUSTOMIZABLE: Add other ingredients (like honey, herbs, or red wine) to create the perfect flavor for whatever dish you're cooking.
Balsamic Reduction serves as a sauce, as a glaze, as a syrup, or as a dressing. Use it with salads, vegetables, fruits, meats, cheese, desserts, appetizers, dinner…you'll have a million uses for this, and it's easy to make and store ahead of time!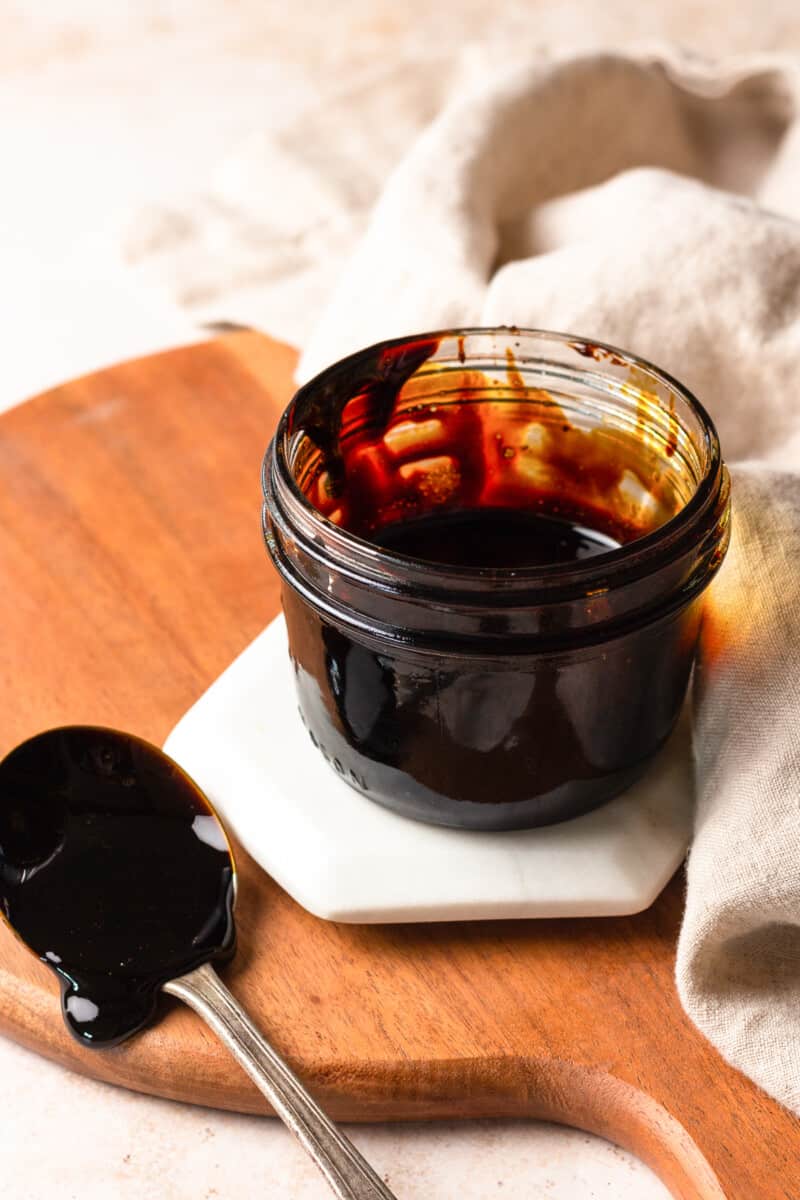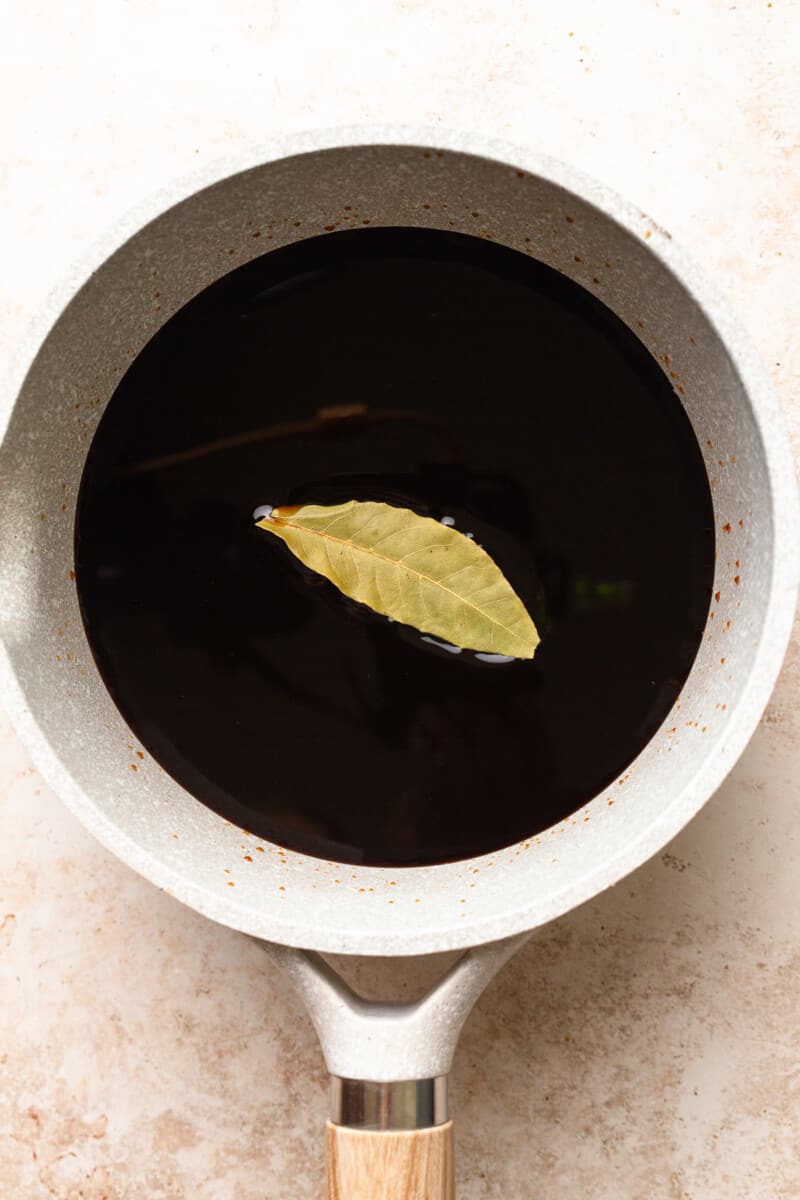 What is balsamic reduction?
A balsamic vinegar reduction is such a simple sauce. It is literally a reduction of balsamic vinegar, which means cooking or heating the vinegar to remove the water. This process concentrates the sugars, which creates a sweeter, more intense flavor. Reducing also leads to a thicker, more syrupy consistency.
This useful ingredient is also called a balsamic glaze, so if a recipe calls for that, this is what it's talking about.
What is balsamic glaze made of?
As mentioned above, balsamic glaze is just a reduction of balsamic vinegar, so you really only need the one ingredient. However, you can add extra ingredients to help change the flavor and make it taste exactly how you want it.
Try adding honey, bay leaf, rosemary, thyme, cinnamon, or a number of other herbs and add-ins.
Here's what I like to use:
Balsamic vinegar
Honey
Bay leaf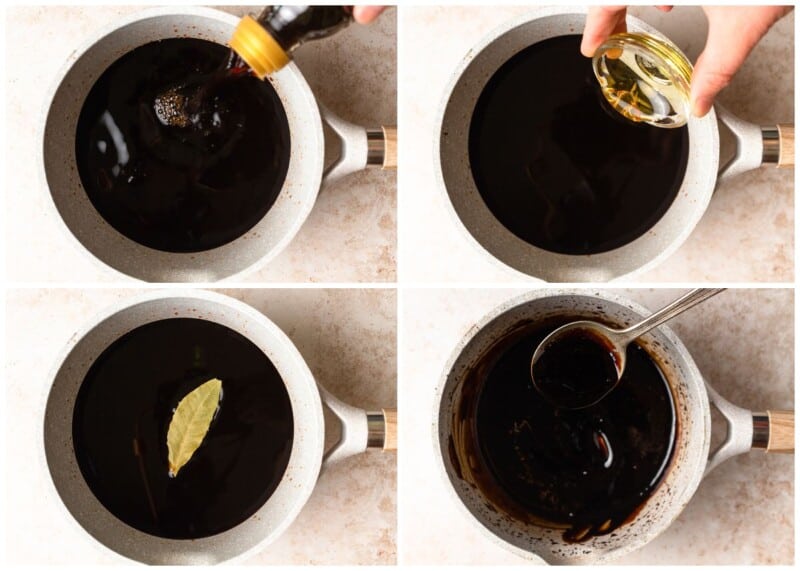 How to Make Balsamic Reduction
Sometimes the simplest things create the biggest impact. That's how it is with this Balsamic Reduction recipe! Follow this step-by-step recipe and you'll have one important technique checked off your cooking basics bucket list.
You can jump to the recipe card for full ingredients & instructions!
Pour balsamic vinegar into a saucepan.
Add in the honey and herbs. (optional) Stir to make sure honey is fully dissolved.
Bring to a boil, then reduce heat and let it simmer until it turns into a syrup.
Remove the pan from heat just before it reaches the desired consistency.
Note: if you use herbs, pour the reduction through a fine-mesh sieve before using or storing.
How to Store Balsamic Reduction
Let the syrup cool completely before storing.
Pour it into an airtight container to store. I like using a mason jar, but anything with a tight seal is fine.
Because of the vinegar's acidic content, you can store it at room temperature for up to about a week. But after that, you should refrigerate it.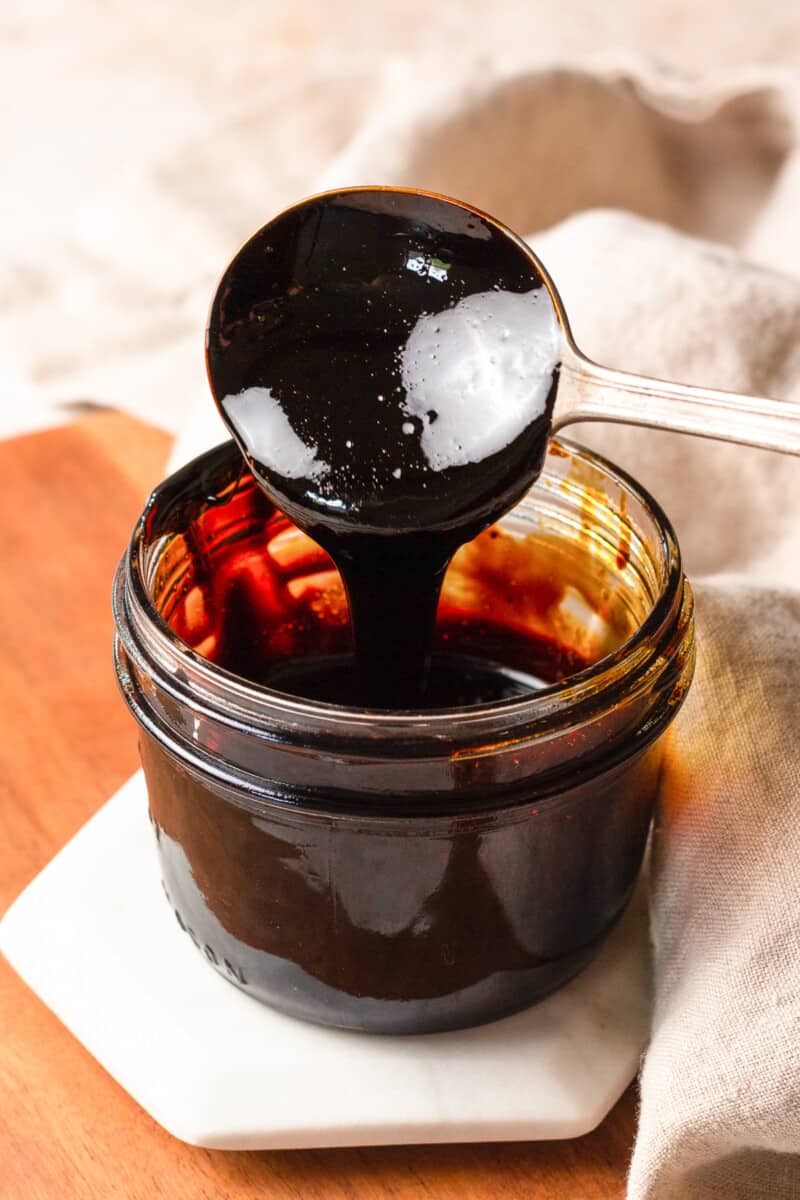 Is balsamic vinegar the same as balsamic reduction?
While they are technically the same ingredient, they are not quite the same. Be sure to use what the recipe calls for. As long as you have balsamic vinegar on hand, you can easily make a reduction as needed.
What does balsamic reduction taste like?
It tastes like a more intense, sweeter, more flavorful version of balsamic vinegar. It's sweet, rich, and just a little bit tangy. You can play with the flavor a little bit by adding honey, herbs, and other ingredients.
How long does it take to reduce balsamic vinegar?
It should only take about 8-12 minutes, but the exact time will depend on your desired consistency (thicker consistency = longer simmer time).
Does balsamic glaze need to be refrigerated?
Initially, no. You can keep it at room temp for about 1 week. For longer term storage, refrigerate it.
Can you reheat it?
Yes. Gently warm the glaze before using, either in a saucepan or in the microwave. Add a small bit of water to help make it easy to pour or drizzle.
How to Use Balsamic Glaze
There are SO many ways to use a balsamic vinegar reduction! It's a great glaze for meats and poultry, or it can be used as a syrup for ice cream and desserts. It's a delicious sauce for all kinds of vegetables, chicken, caprese salads, and so many other things. Use it as a sauce, glaze, syrup, marinade, or dressing.
Here are a few quick ideas:
Recipes to Try
These recipes all use balsamic glaze, or make their own version with extra ingredients to create even more flavor!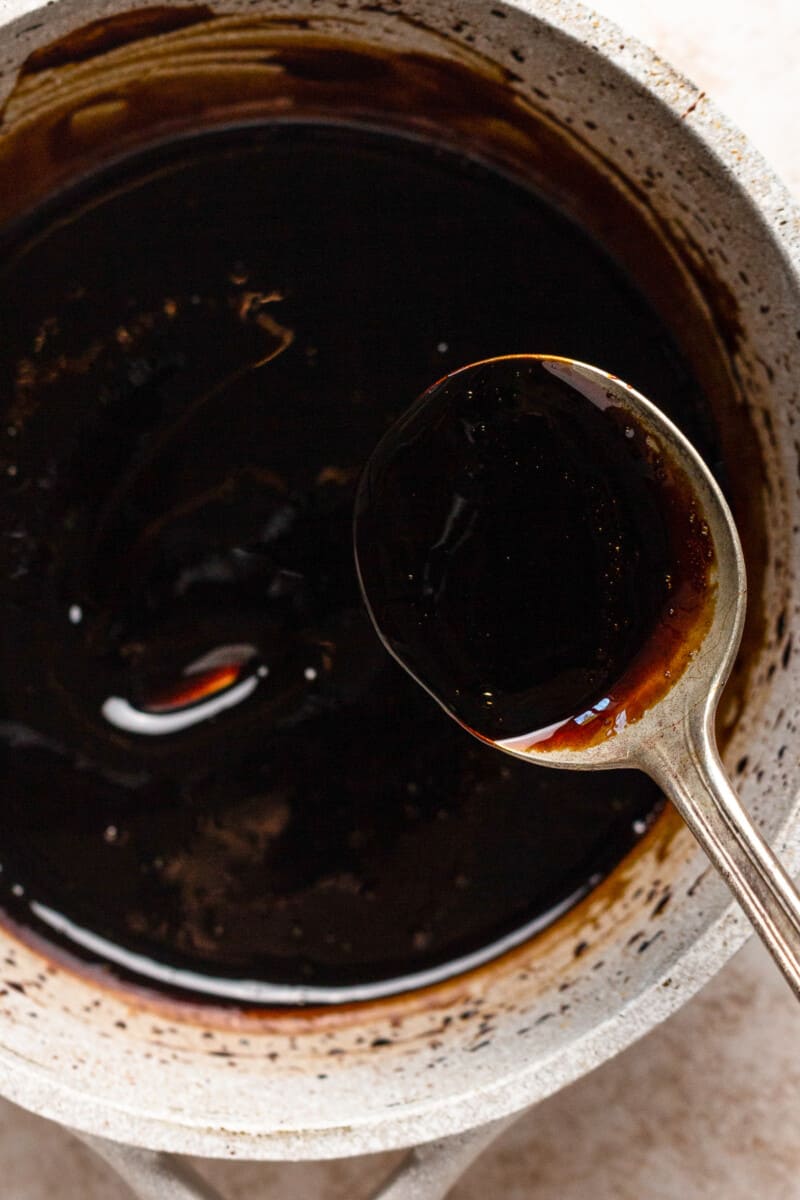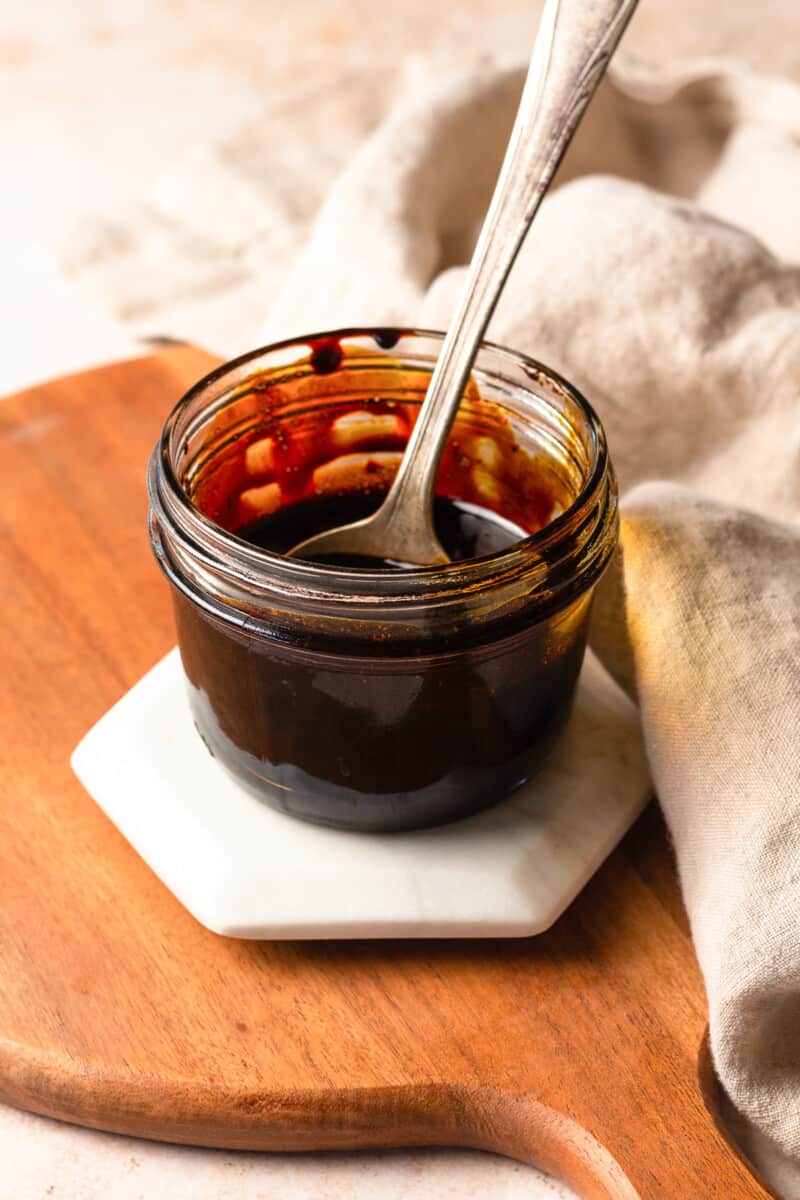 Tips!
Be sure to reduce the heat and let it simmer instead of boil. Keeping it at a boil point will heat the vinegar too quickly, and can ruin the overall flavor and consistency.
If the syrup becomes too thick, add a few drops of water and continue heating until it's more pourable.
Some other herbs you can add include rosemary, whole cloves, thyme, basil, cinnamon, or ginger.
This is such a good sauce and has innumerable uses. Keep a jar on hand for all kinds of recipes!
How long does balsamic vinegar reduction last?
As long as you store it properly in an airtight, well-sealed container, it will keep in the refrigerator up to 3 months. So feel free to whip some up anytime you run out, so it's ready to use in all of your favorite recipes.
At room temperature, it will keep for about 1 week.
Can I substitute another type of vinegar?
In a word: no. Balsamic vinegar is quite different from apple cider vinegar or any of the other types. Red wine, distilled white, rice vinegar and all the other varieties are quite astringent and lack the sweet undertones you'll find in balsamic vinegar. So they just won't taste as good.
How do you thicken balsamic glaze?
The longer you let the balsamic vinegar simmer, the thicker it will become. So if you want a really thick consistency, just keep simmering. But if you want something lighter, take it off the stove a little earlier.
The glaze will also thicken a bit more as it cools, so keep that in mind. Just keep an eye on it as it reduces, and remove the pan from heat a little before it reaches your desired consistency.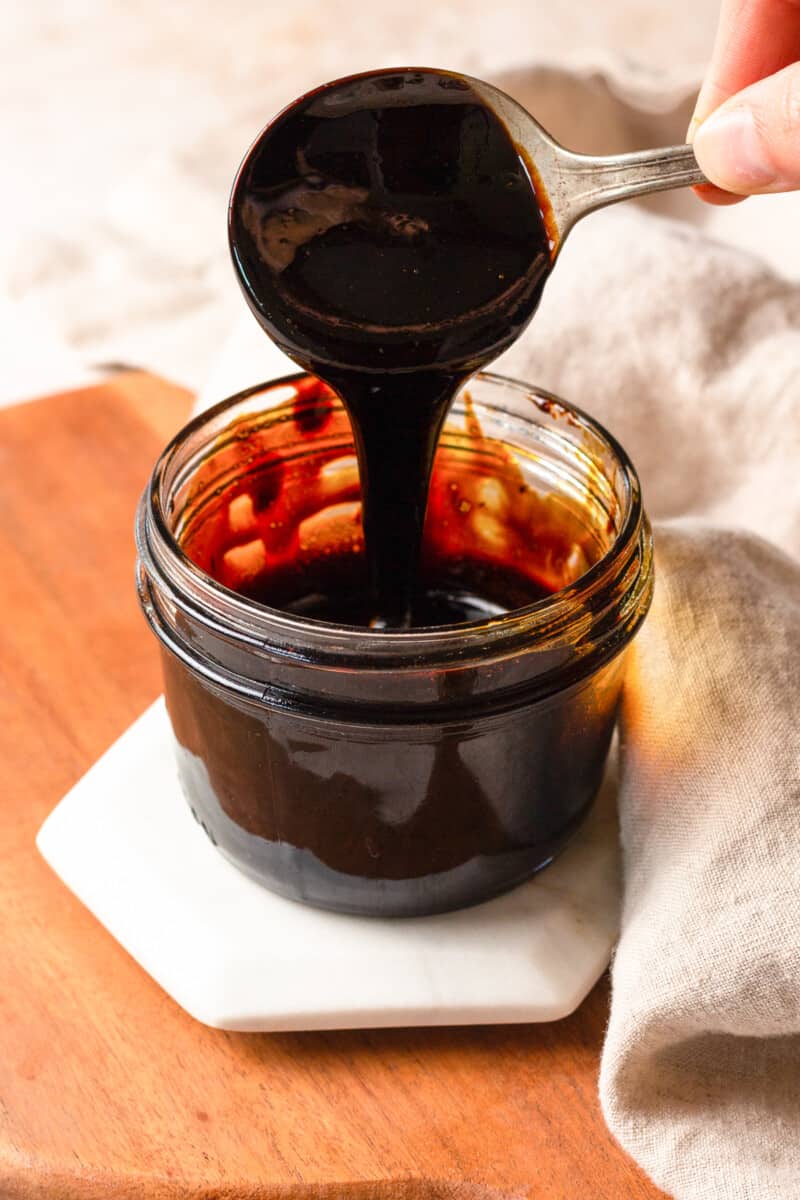 This balsamic reduction recipe is so easy and delicious. And now that you know how to make balsamic glaze, you'll be adding it to recipes all the time!
More Homemade Sauces to Add Flavor to Your Recipes
If you make this recipe be sure to upload a photo in the comment section below or leave a rating. Enjoy! You can also jump to recipe.