Shrimp Dip is the best party appetizer ever! This hot shrimp dip recipe is a hot, cheesy version of an shrimp cocktail and it is SO good. This baked dip is made with shrimp, cocktail sauce, cream cheese, sour cream, mozzarella, mayo, and green onion! It's such an easy dip recipe for any party.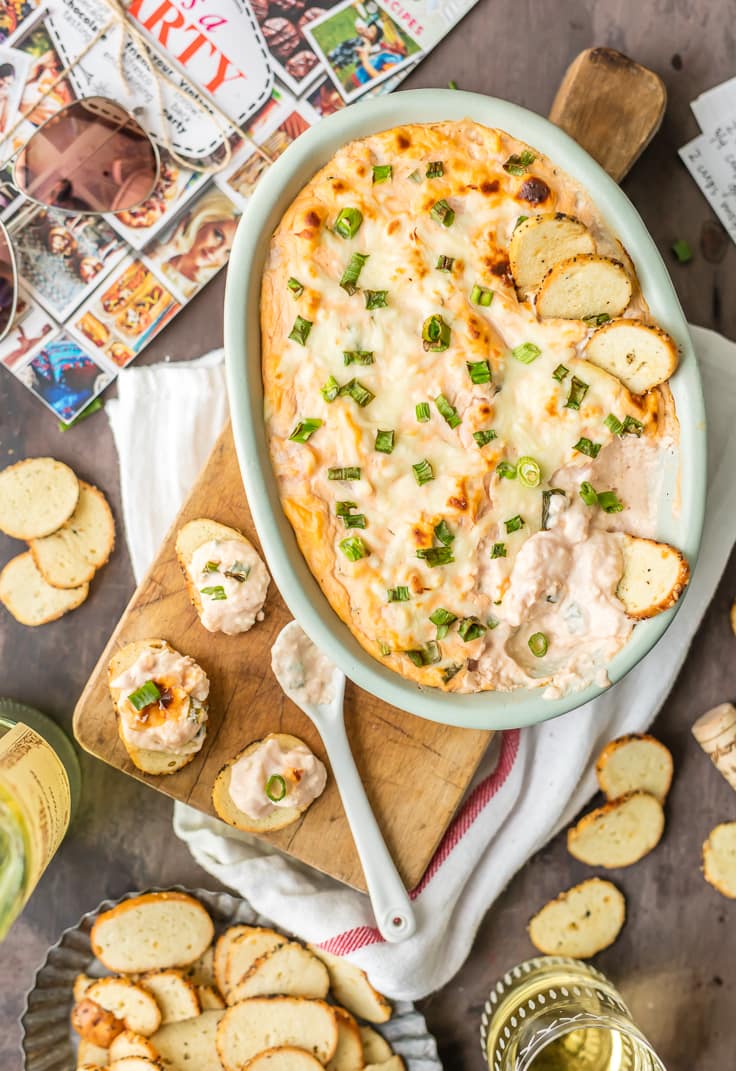 Shrimp Dip
This shrimp dip recipe is a twist on classic shrimp cocktail, with plenty of creamy ingredients, cheese, cocktail sauce, and of course, SHRIMP!
Growing up, I remember shrimp cocktail being at so many family get-togethers. And to be honest, it kinda grossed me out…I was never a big fan of picking up the cold shrimp and dipping it into cocktail sauce.
But as an adult, I have really come to love the flavors of shrimp and cocktail sauce. It's a classy appetizer that always makes me think of my grandparent's house. A simpler time filled with family, laughter, and good food!
To deal with my whole cold shrimp aversion, I've put my own spin on this throwback recipe, and of course, added cheese! I turned it into a HOT Shrimp Dip recipe, baked in the oven and turned into the perfect appetizer. It's like the old and new world colliding into one creamy, melty, HOT, delicious dip.
Turn shrimp cocktail into a hot shrimp dip that everyone will love. This will definitely go fast at your next party!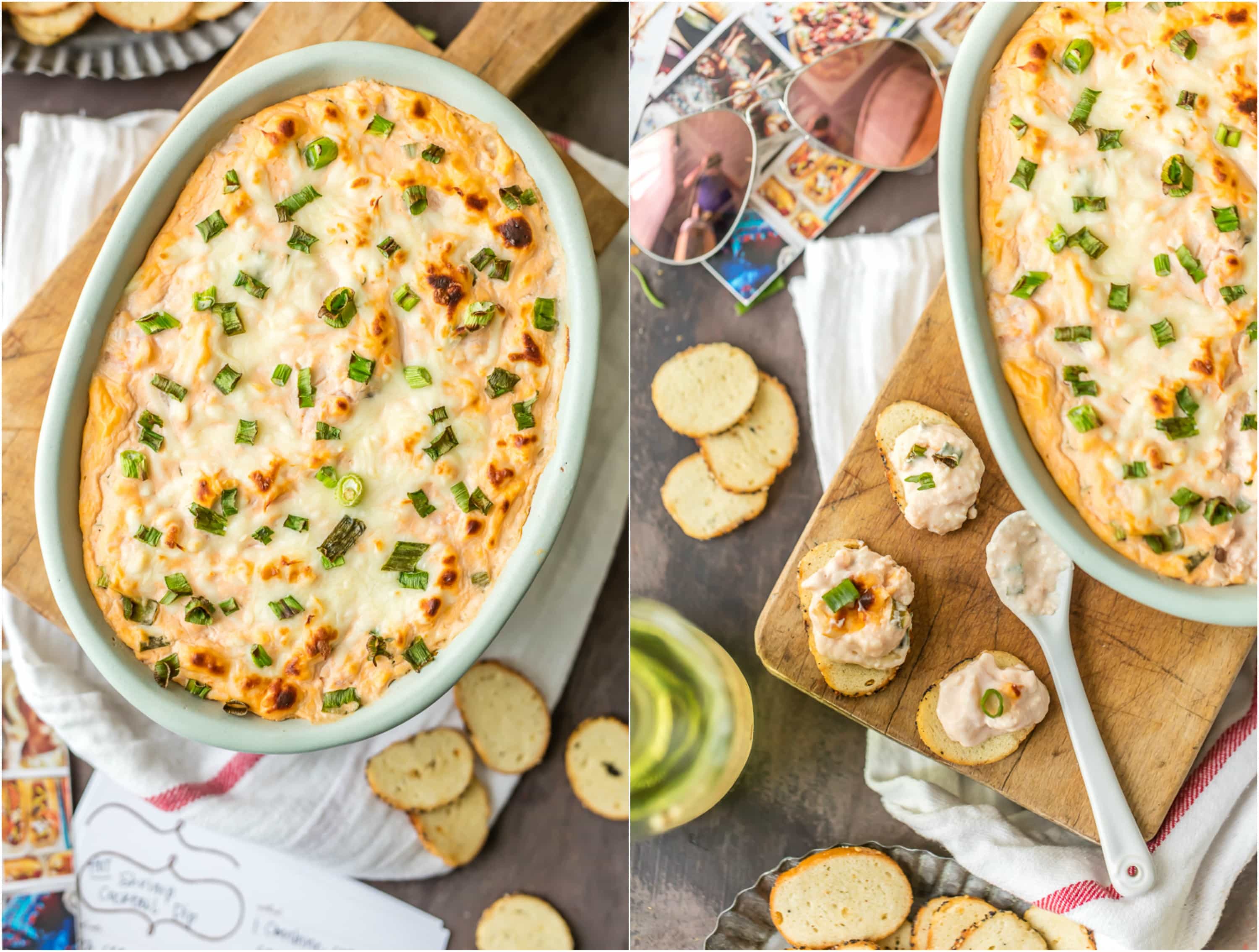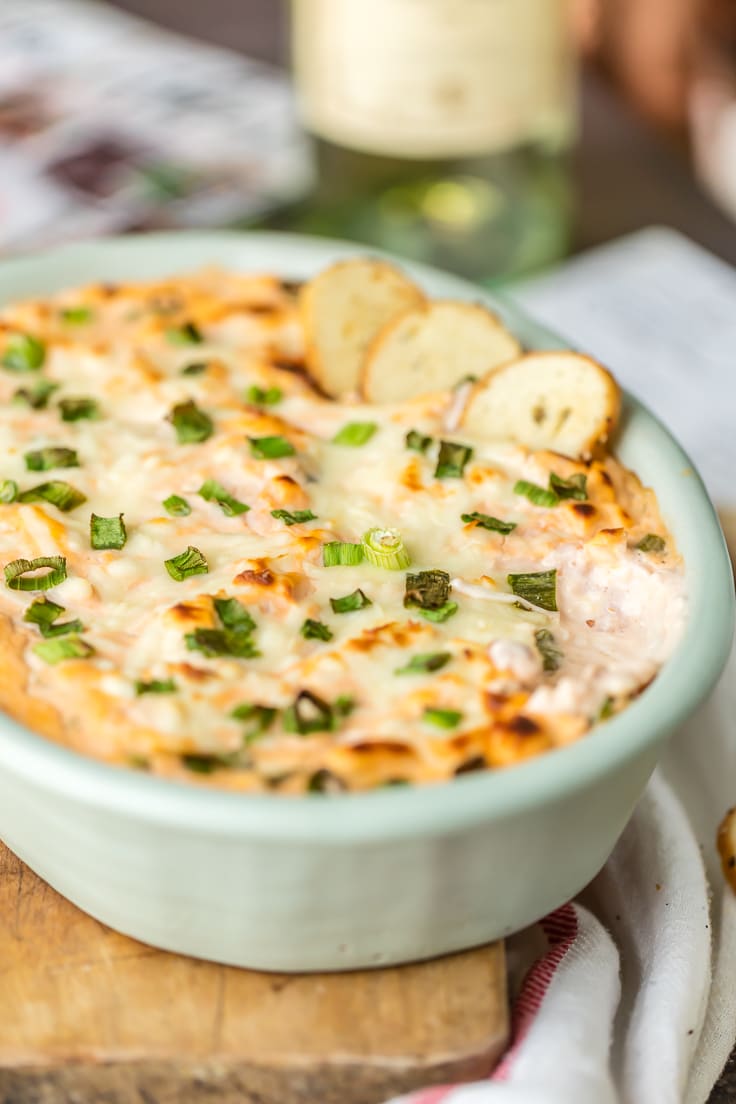 Perfect Party Dip
I was honored to be asked by Better Homes and Gardens to participate in their #TBT Party by reinventing a classic appetizer from the past. I hope I did their party justice with this shrimp dip recipe with cream cheese and sour cream! They recently hit newsstands with their new edition, Get Together!, and it is TO DIE FOR!
It's filled with all the recipes you will EVER need to host the perfect party. Drink, apps, mains, and tons of entertaining hacks to make you look like the entertaining God or Goddess that you are! Search social media with the hashtag #BHGParty to see tons of other submissions from blogs across the country. I can't wait to see what everyone reimagines!
How to Make this Baked Shrimp Dip Recipe
I just love dips of every kind, but I especially love warm, cheesy dips like this one. This baked shrimp dip is so simple, and so good!
Step-by Step Recipe:
Preheat oven to 350°F

Combine cream cheese, sour cream, mayo, and mozzarella in a high powered blender or food processor. Pulse until combined and creamy.

Pour into a large bowl and stir in the cocktail sauce and green onions.

Stir in the shrimp. Pour into an oven safe bowl sprayed with nonstick spray. Sprinkle with a bit more shredded cheese if desired.

Bake for 15-20 minutes or until fully heated through.
Easy easy easy! Serve with pita chips, bagel chips, wonton chips, or tortilla chips. Basically, any of your favorite chips will do. You could also serve with hearty crackers, toasted bread, or even some veggie sticks.
Note: The shrimp should be fully cooked before adding it into the mix. You can be pre-cooked/frozen shrimp for this recipe to make it simple. But if you have fresh, uncooked shrimp, just saute it on the stove for a few minutes and you're good to go.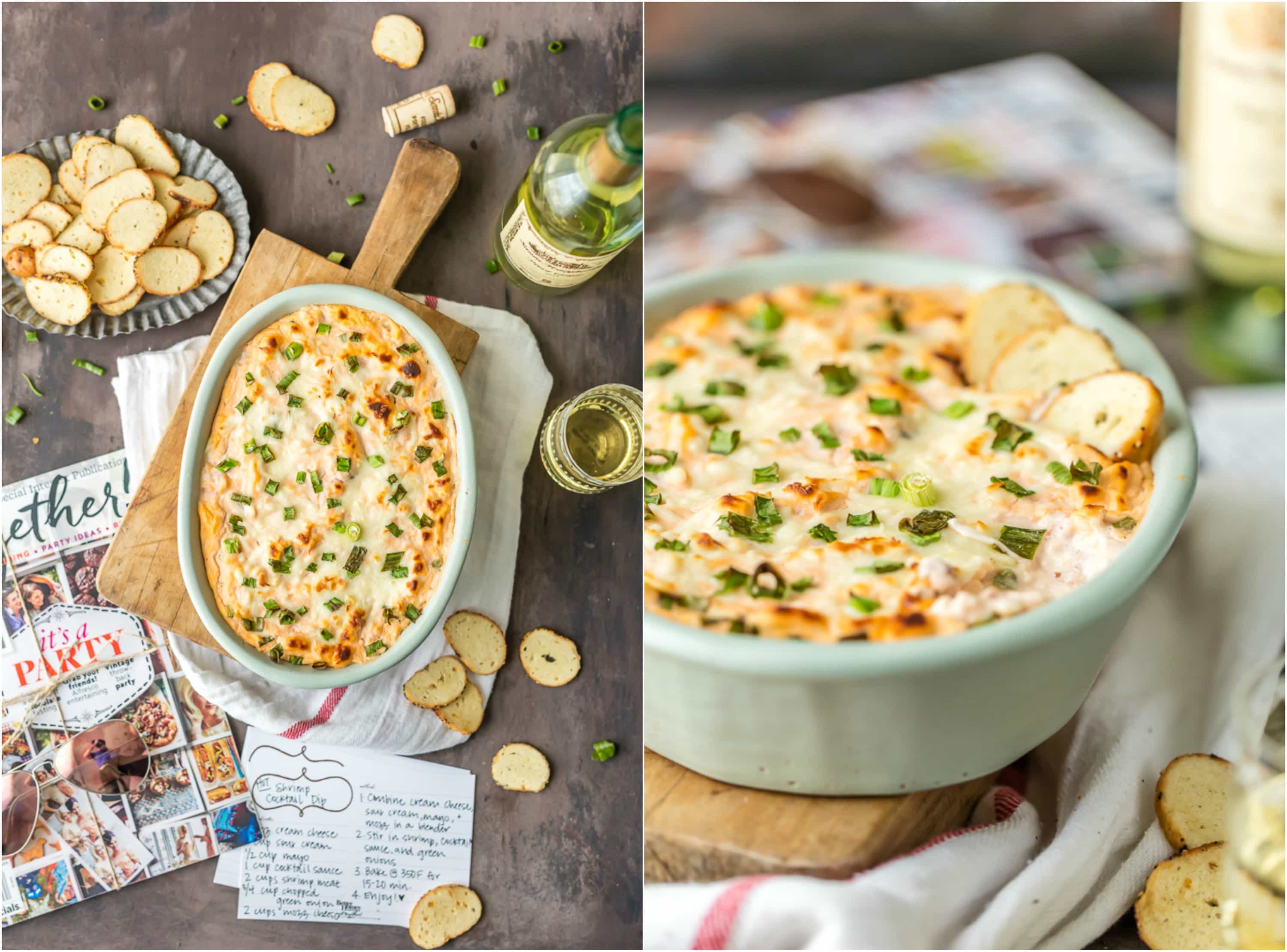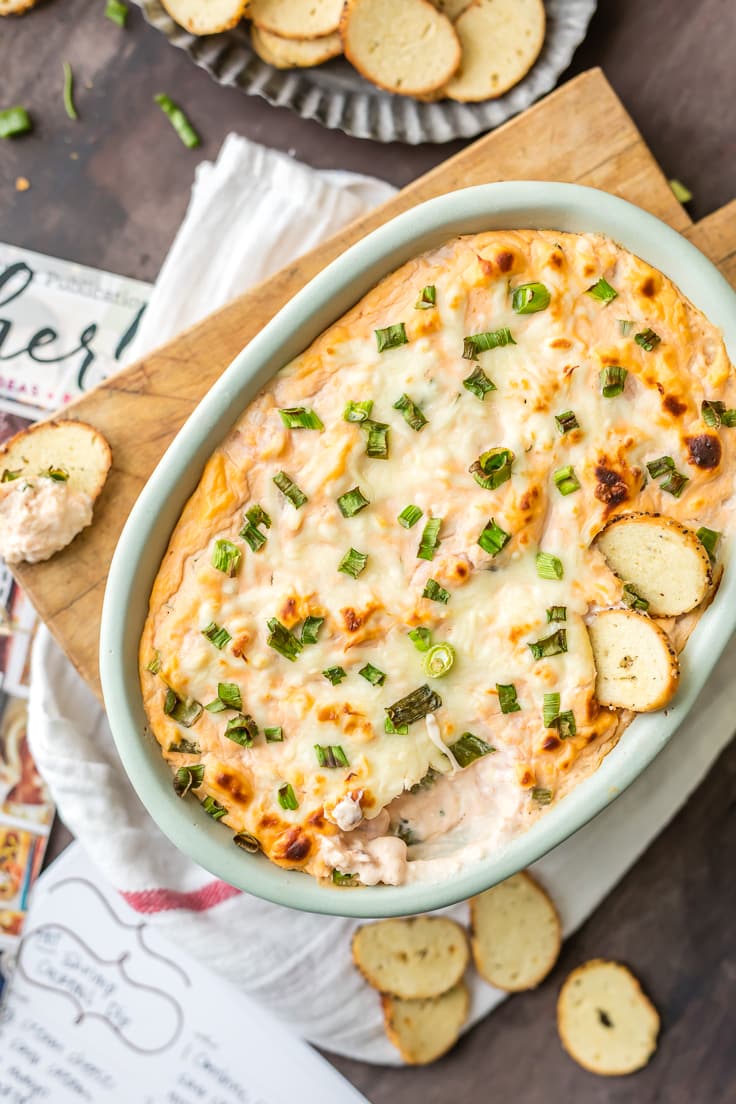 How long can you keep shrimp dip?
This dip will keep in the refrigerator for up to 2 days (if you don't eat it all first!).
Can you freeze dips with cream cheese, sour cream, or mayo?
This shrimp dip recipe is made with all the dairy products: cream cheese, mayonnaise, and sour cream. It makes it super delicious, but dips with these ingredients generally don't freeze well. The problem is when you thaw/reheat it, the texture will be a little bit different.
However, you CAN freeze this dip if you need to, and it will keep and be perfectly safe to eat after reheating. Just be prepared for a slightly different texture.
I hope you love this twist on shrimp cocktail as much as we do. Definitely one of our favorite party dips, especially for New Year's Eve.
See the recipe card for details on how to make Shrimp Dip. Enjoy!
Be sure to try all of our best hot dip recipes for your next party: