Savory, spicy, and slightly sweet, this spicy Mexican Shrimp checks all the right boxes! It's a super simple one-pan meal that's packed with bold flavor. It doubles as an easy weeknight meal or a party dish. Serve it with your favorite sides for a seafood dish that creates a fiesta for your taste buds!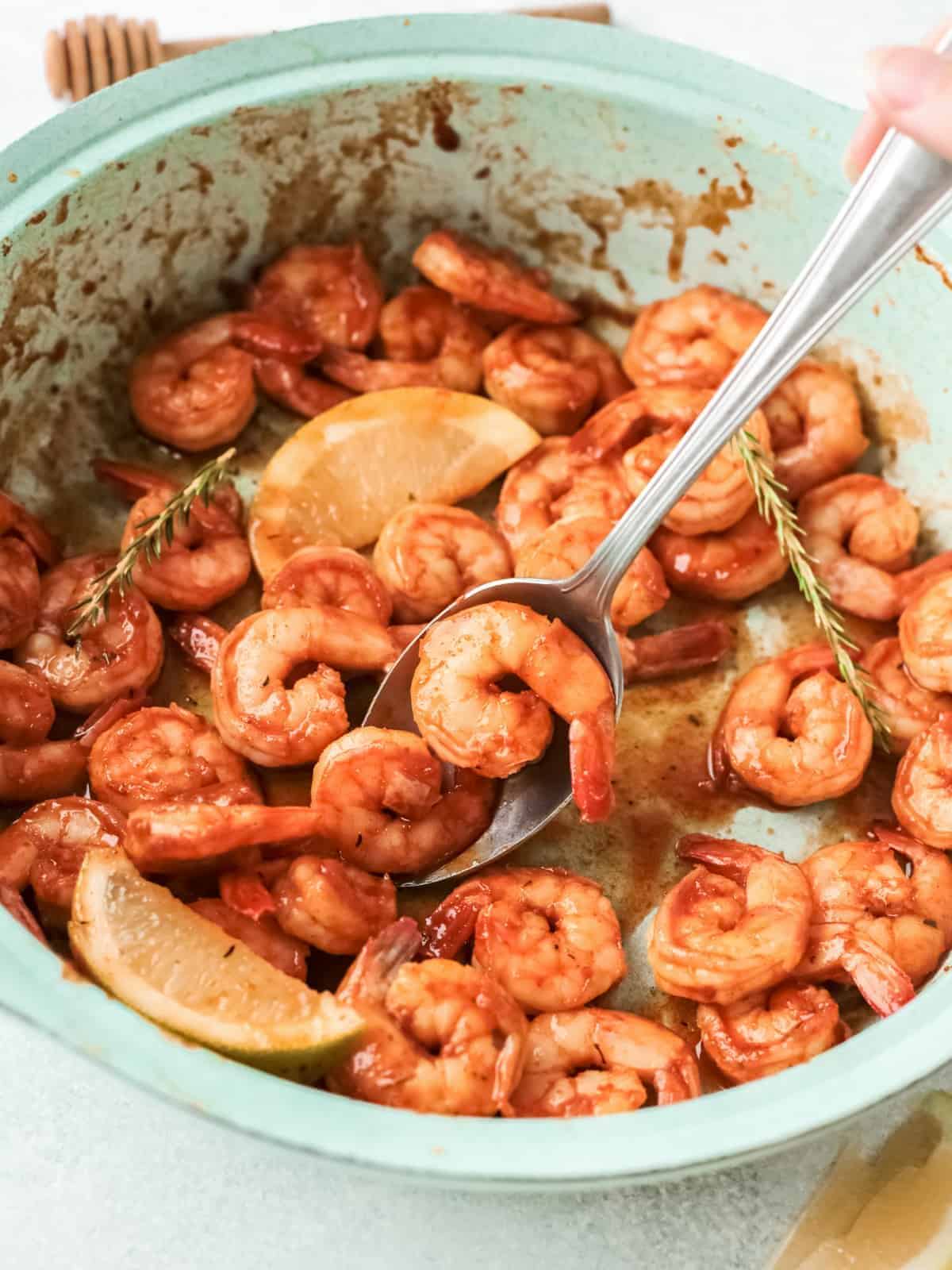 What's in Mexican Spicy Shrimp
The mix of agave syrup and chili gives these shrimp a sweet and spicy hit!
Shrimp: Any size of shrimp will work. Your cooking time will vary depending on how large your shrimp are, so keep a close eye on them.
Smoked Paprika: You can swap this with regular paprika, but you'll lose the subtle smokey element.
Garlic Powder: Be careful! A little garlic powder goes a long way, and you don't want it to overpower the other ingredients.
Onion Powder: This helps to balance out the more pronounced ingredients.
Ground Cumin: Cumin makes everything a little more earthy and savory.
Chili Powder: This is what gives the shrimp their slightly spicy flavor.
Black Pepper: Freshly ground black pepper always yields the most potent flavor.
Butter: Salted butter is what I like to use, but you can always use unsalted instead if preferred.
Dark Agave Syrup: Balance out all of that heat with this natural sweetness! You can use honey instead if you'd like.
Lemon: The juice of one ripe lemon gives the entire dish a mouthwatering zesty kick.
Pro Tip: Don't use bottled lemon juice. The real deal lends so much flavor!
Are these shrimp super spicy?
This spicy Mexican shrimp recipe packs a punch of flavor! It's slightly sweet thanks to the agave syrup and slightly spicy thanks to the chili powder. Overall it has a great balance of flavors. If you prefer dishes that are less spicy, start with ½ teaspoon of chili powder and add more if you feel like it needs it at the end of the cooking.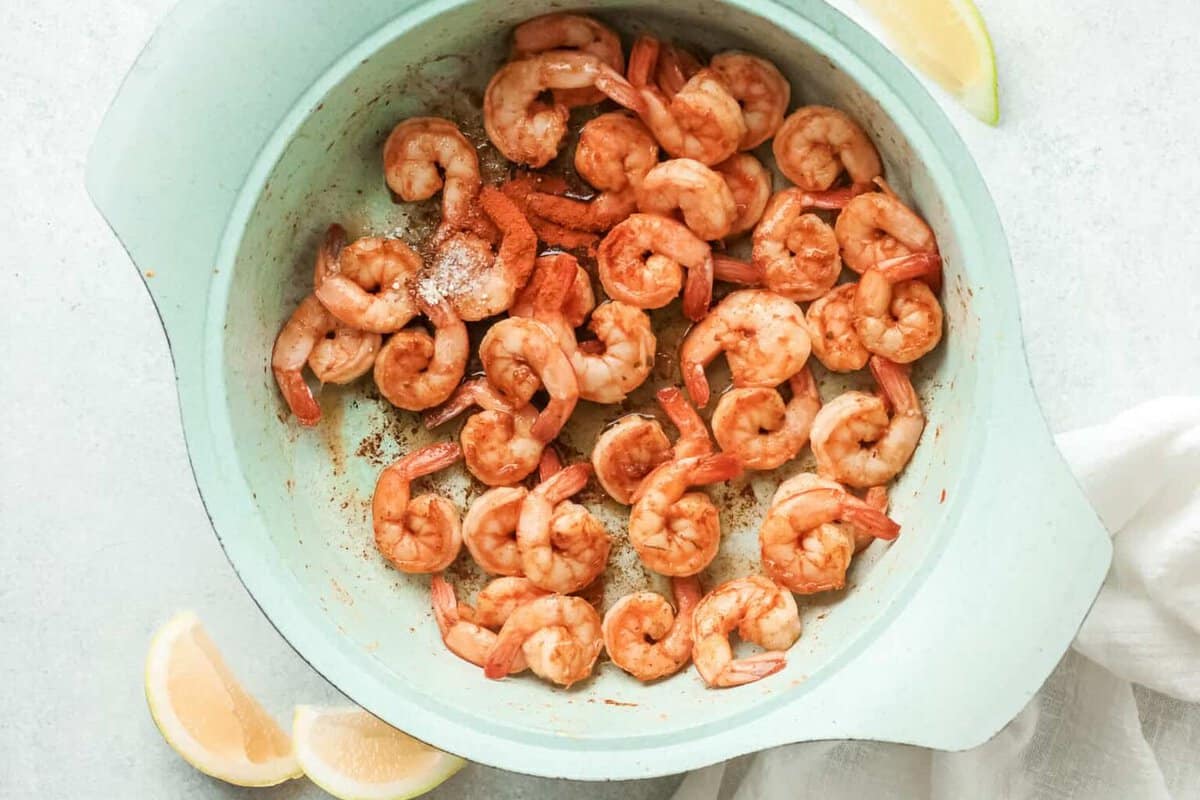 Should I marinate spicy shrimp before cooking?
There's no need to marinate these spicy shrimp. The spices will add plenty of flavor.
How do I keep shrimp tender?
To keep these shrimp tender, cook them quickly over high heat. It only takes a minute for shrimp to go from tender to rubbery, so keep a close eye on them.
Can I use frozen shrimp?
Yes, you can use frozen shrimp but be sure to let them thaw overnight in the refrigerator before cooking.
How to Store and Reheat Spicy Shrimp
Store leftover spicy Mexican shrimp in an airtight container in the refrigerator for up to 3 days. Gently reheat in the microwave or on the stovetop.
How to Freeze Hot and Spicy Shrimp
Freeze spicy Mexican shrimp in an airtight container or Ziplock bag for up to 3 months. Let thaw overnight in the refrigerator before reheating.
What to Serve with Sweet and Spicy Shrimp
These hot and spicy Mexican shrimp are delicious to use as a taco filling or when placed over some cilantro lime rice. They also make a great Cinco de Mayo appetizer to pair with margaritas!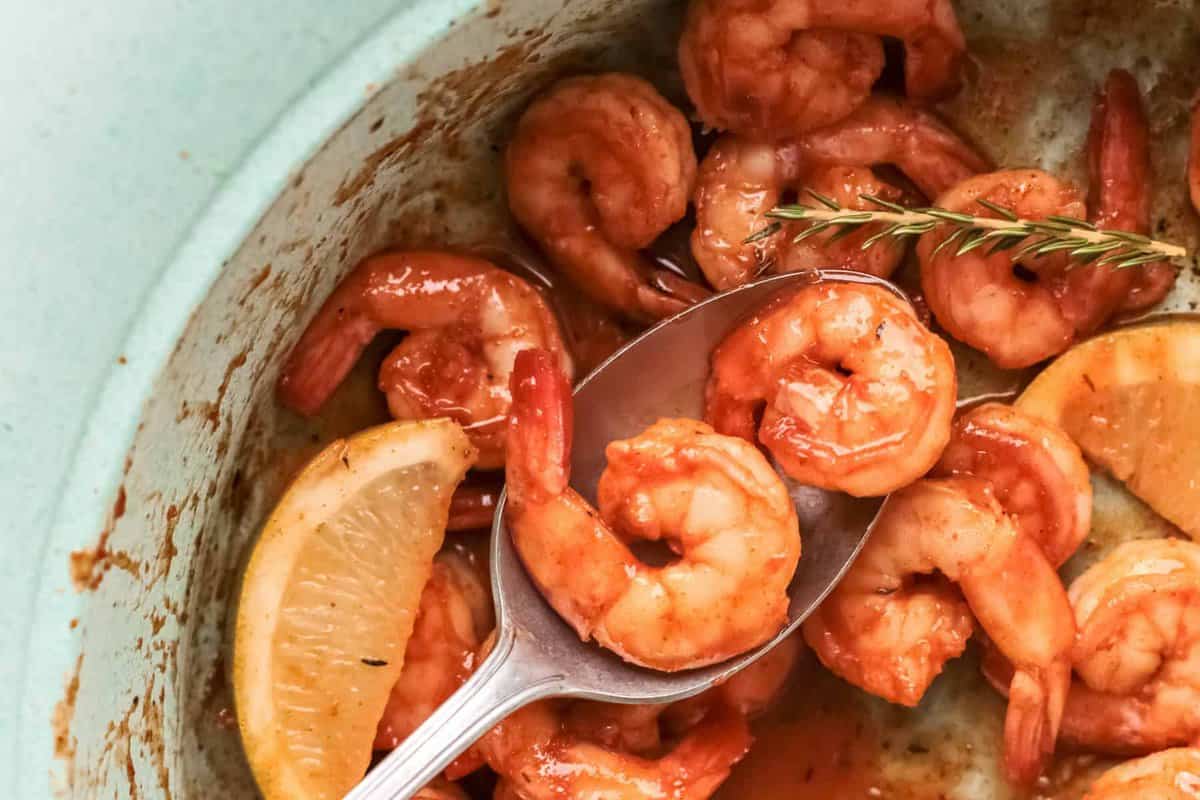 More Shrimp Recipes We Love