Pomegranate Champagne Sorbet is an easy recipe perfect for New Years Eve, Christmas, and the holidays! Isn't it so pretty and festive?!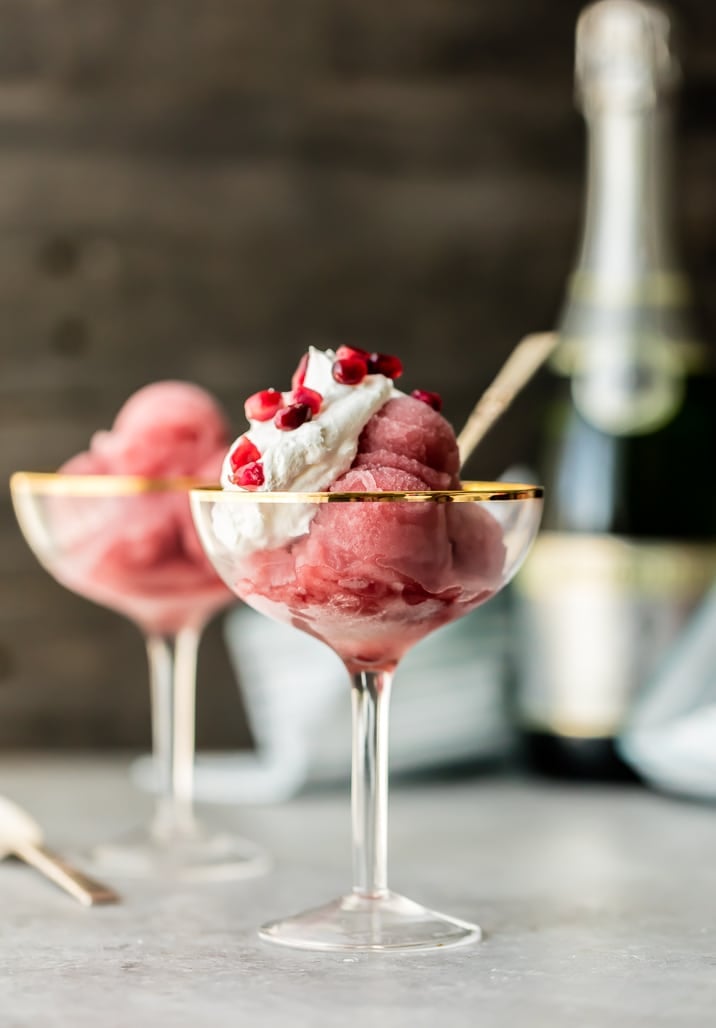 Let's toast to Christmas being in 2 WEEKS and New Years Even being in only THREE WEEKS with a Pomegranate Champagne Sorbet recipe! I love to cheers in frozen dessert form…don't you! So let's raise our coup glasses and toast to a fabulous 2015 with this delicious frozen treat; Pomegranate Champagne Sorbet!
I have really fallen in love with my ice cream maker lately. I have a super fun recipe to post on Friday, but lucky you, you get TWO in one week! I love that this is made with champagne and I love that it is pink. It's perfect for the holidays but also perfect for bridal showers or baby showers…RIGHT??!! Well really it could be perfect for anything, it's so tasty and fun.
I adapted this recipe from one of the greats, Elise from Simply Recipes. Her site is such a gift to the internet. Her recipes are FLAWLESS and she has something for everyone. She posted a Champagne Sorbet recipe back in 2007 and I have wanted to try something similar for so long. She is a genius and realized that boiling the champagne before throwing it in the ice cream maker reduces the alcohol and allows the sorbet to freeze. Mind. Blown. Thank you Elise! You can see her original recipe HERE.
I topped mine with some whipped cream and pom arils and DANG it was good. New fave holiday dessert. And bridal shower dessert. And birthday dessert. You get the picture.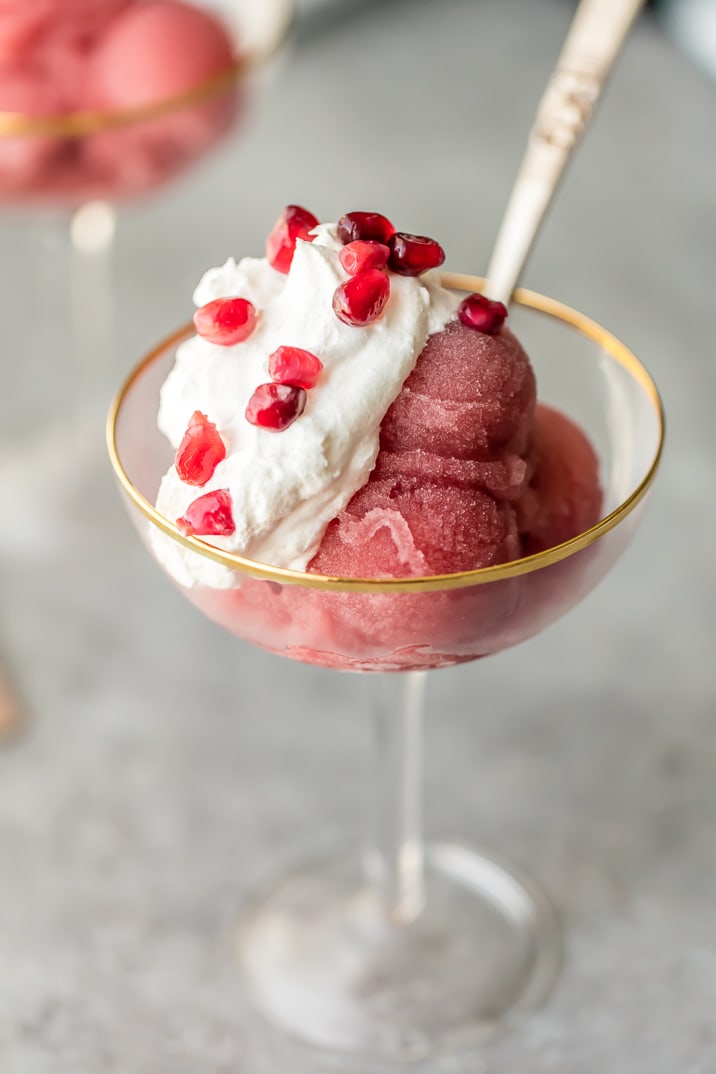 Bring in 2016 with this yummy Pomegranate Champagne Sorbet!
Enjoy!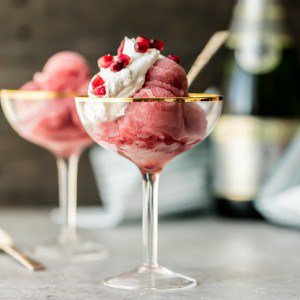 Pomegranate Champagne Sorbet
Ingredients
1 1/2

cups

brut champagne

1

cup

sugar

1

Tbsp

light corn syrup

1 3/4

cups

pomegranate juice

whipped cream and arils for garnish

optional
Instructions
Heat champagne, sugar, and corn syrup in a small saucepan on medium/high heat. Bring to a rolling boil, making sure all the sugar dissolves and stirs in.

Remove champagne from heat and stir in pomegranate juice. Place in the freezer for 2 hours to chill completely, (or place in the fridge overnight)

Once cold, pour the mixture into your ice cream maker and use according to package instructions. Mine took about an hour to be done.

Spoon completed sorbet into a freezer friendly container and freeze until ready to serve. It's best to freeze 4-6 hours so it firms up enough.

Serve with whipped cream and pom arils if desired.

Enjoy and CHEERS!