Pomegranate Champagne Sorbet is an easy sorbet recipe perfect for New Year's Eve, Christmas, and the holidays! Isn't it so pretty and festive? This pomegranate sorbet is a classy treat for the season!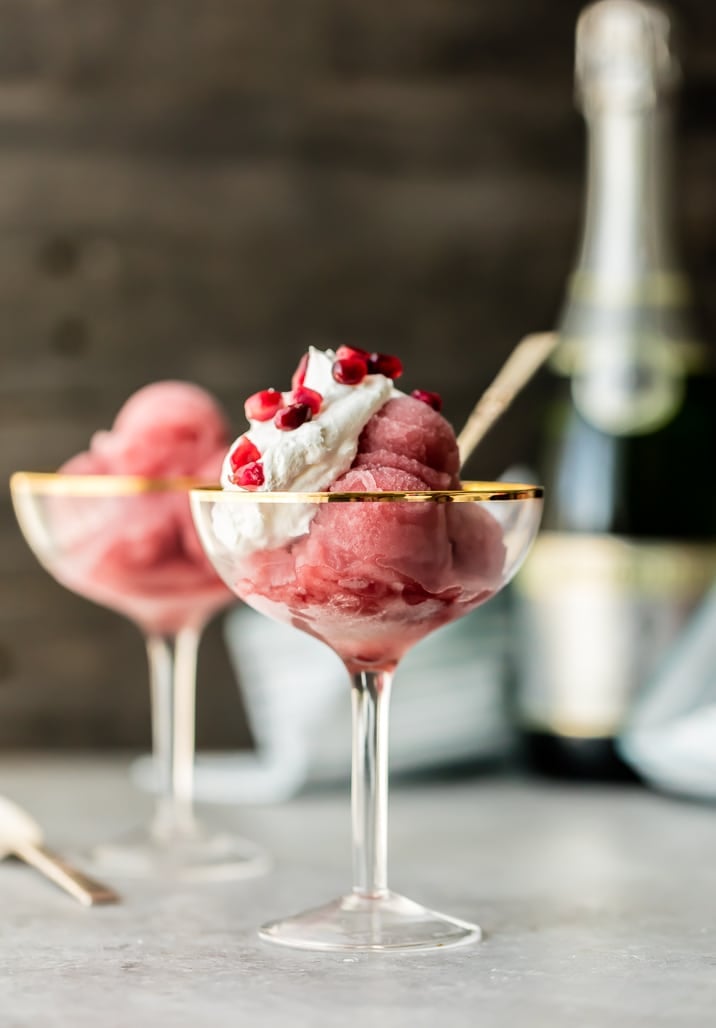 Pomegranate Champagne Sorbet Recipe
This sorbet recipe is the perfect treat for the holiday season. Pomegranate Champagne Sorbet is simple to make and it's just beautiful!
Christmas is in just TWO WEEKS, and New Year's Eve is coming in only THREE WEEKS…where did the year go? I can't believe the holiday season is here already, but let's toast to it with this Pomegranate Champagne Sorbet! I love to cheers in frozen dessert form…don't you?
You can't ring in the new year without a little champagne, but who says it has to be in liquid form? This fun sorbet recipe is the perfect New Year's Eve dessert since it's tasty, pretty, and it's made with bubbly. I just love this Pomegranate Sorbet recipe. It's just perfect for any NYE party!
So let's raise our coup glasses and toast to a fabulous new year with this delicious frozen treat: Pomegranate Champagne Sorbet! Hooray!
This Pomegranate Champagne Sorbet recipe is the ideal dessert for New Year's Eve and beyond!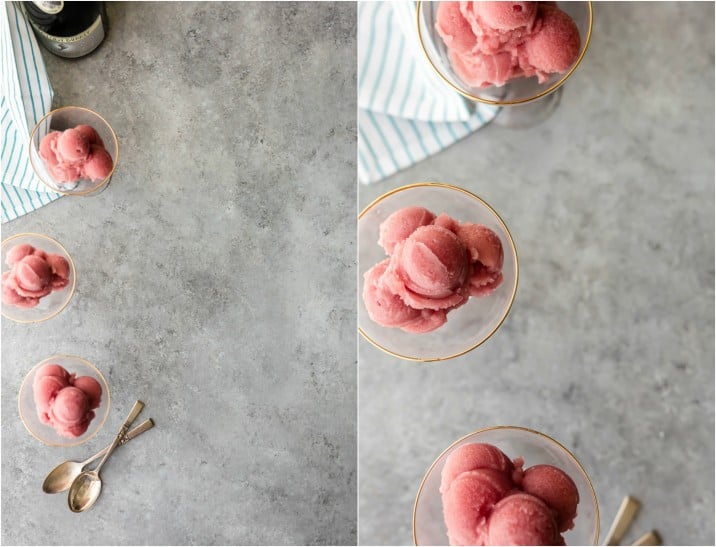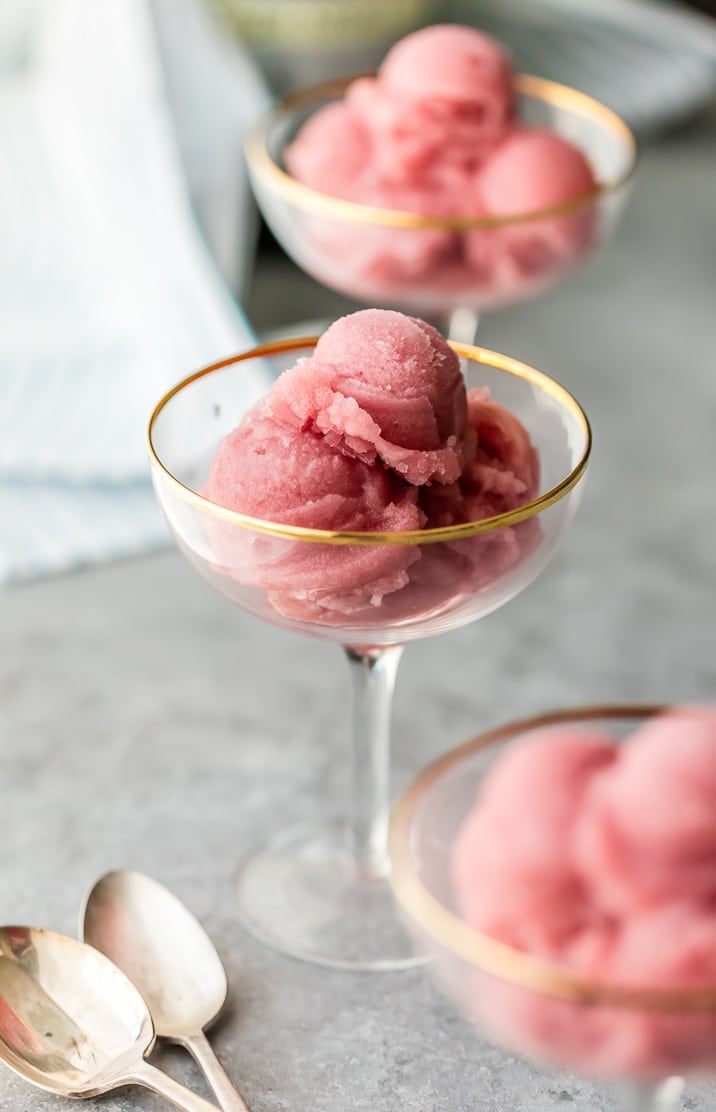 Easy Sorbet Recipe
This easy sorbet recipe can be made with an ice cream maker! I have really fallen in love with my ice cream maker lately, as you may notice with all of the frozen treat recipes. There is a super fun recipe ready to post on Friday, but lucky you, you get TWO frozen desserts in one week!
I love that this pomegranate sorbet is made with champagne, and I love that it is pink. It's perfect for the holidays but also perfect for bridal showers or baby showers…RIGHT? Well, really it could be perfect for anything, it's so tasty and fun.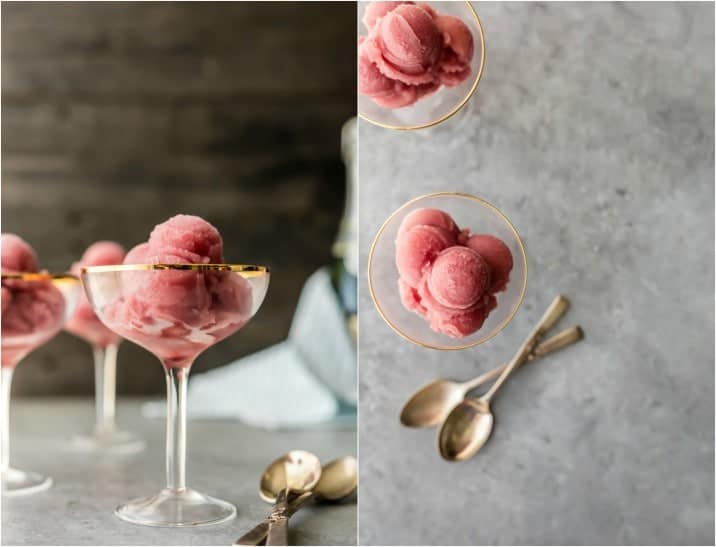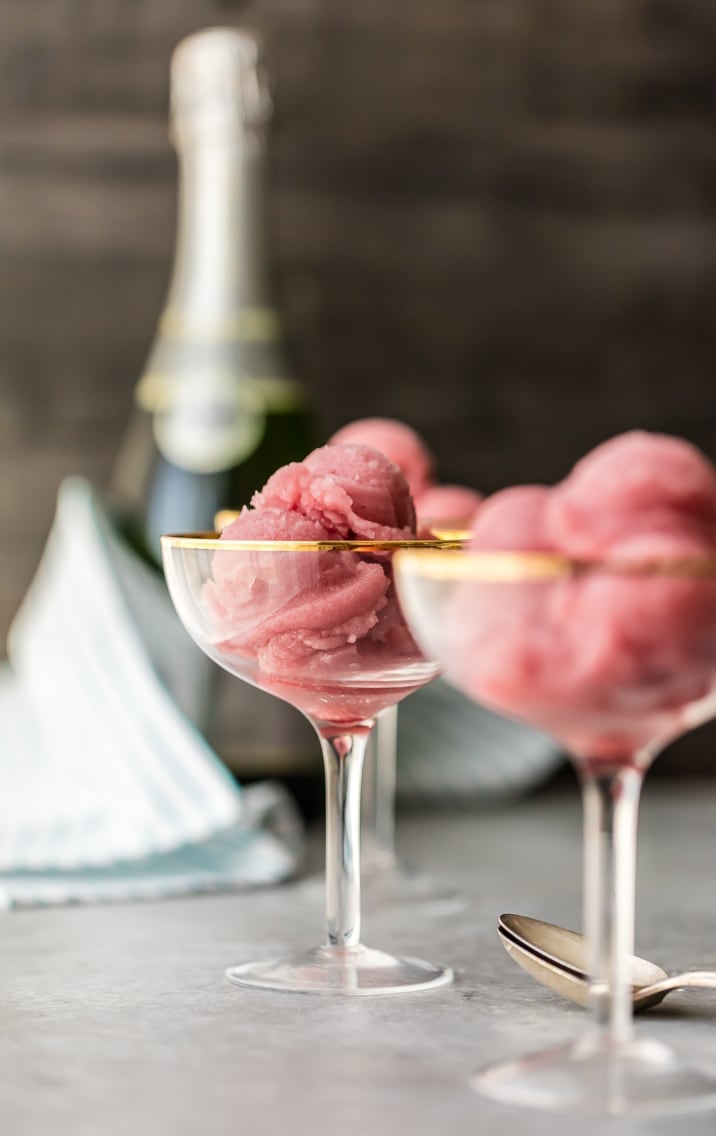 Pomegranate Sorbet
I adapted this pomegranate sorbet recipe from one of the greats, Elise from Simply Recipes. Her site is such a gift to the internet. Her recipes are FLAWLESS and she has something for everyone. She posted a Champagne Sorbet recipe back in 2007 and I have wanted to try something similar for so long.
She is a genius and realized that boiling the champagne before throwing it in the ice cream maker reduces the alcohol and allows the sorbet to freeze. Mind. Blown. Thank you Elise!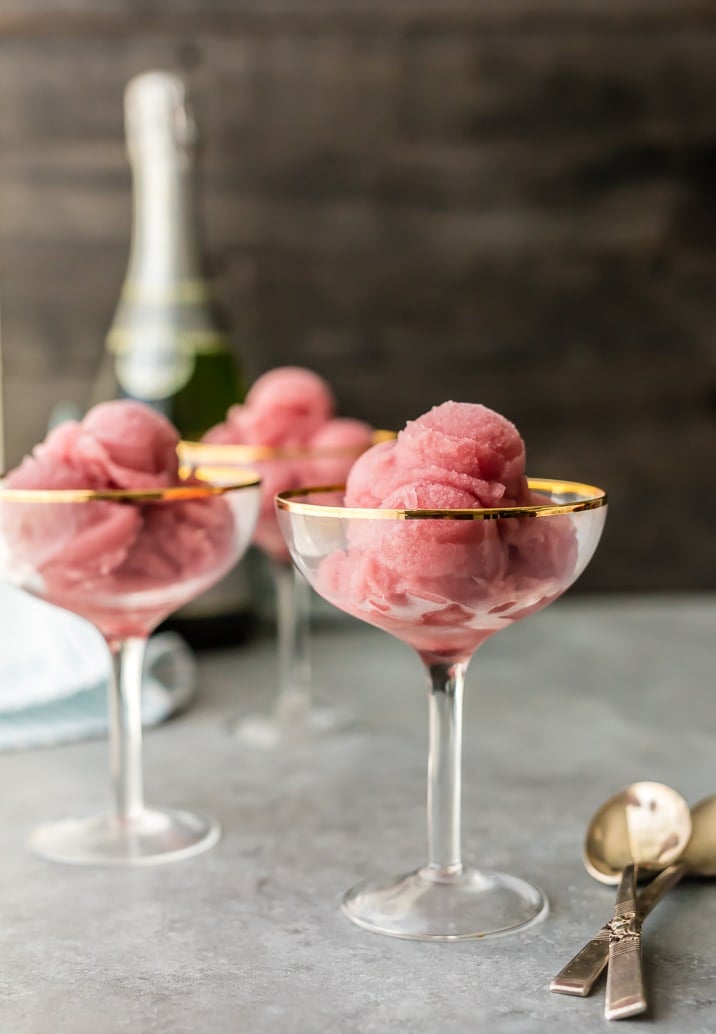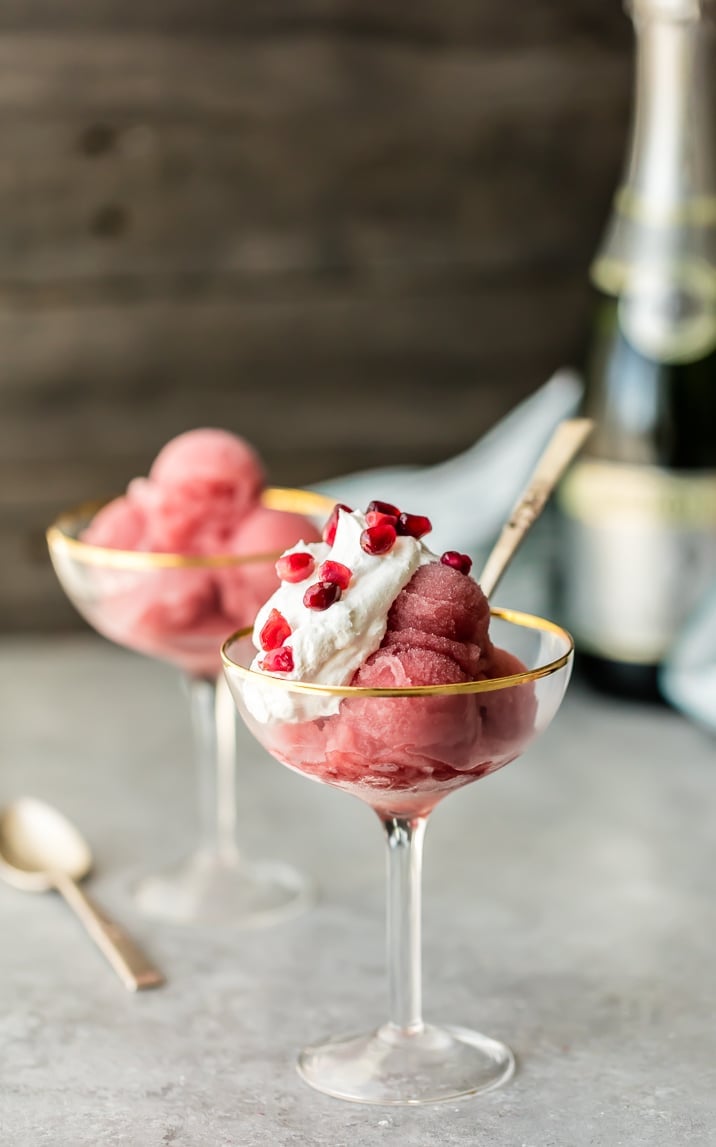 How to Make Pomegranate Champagne Sorbet
This pomegranate sorbet recipe is suuuuuper easy to make. Basically, just throw your ingredients into an ice cream maker, freeze, and enjoy.
Combine champagne, sugar, and corn syrup in a saucepan over medium heat.
Bring to a boil and stir until sugar dissolves.
Remove from heat and stir in the pomegranate juice.
Freeze mixture for 2 hours (or refrigerate overnight). It should be completely cooled before moving on to the next step.
Pour the champagne mixture into your ice cream maker, and follow instructions that came with the maker to finish this part of the process.
Once it's done, scoop it into a freezer-safe container. Freeze 4-6 hours before serving.
I topped our champagne sorbet recipe with some whipped cream and pom arils, and DANG it was good. New fave holiday dessert. And bridal shower dessert. And birthday dessert. You get the picture!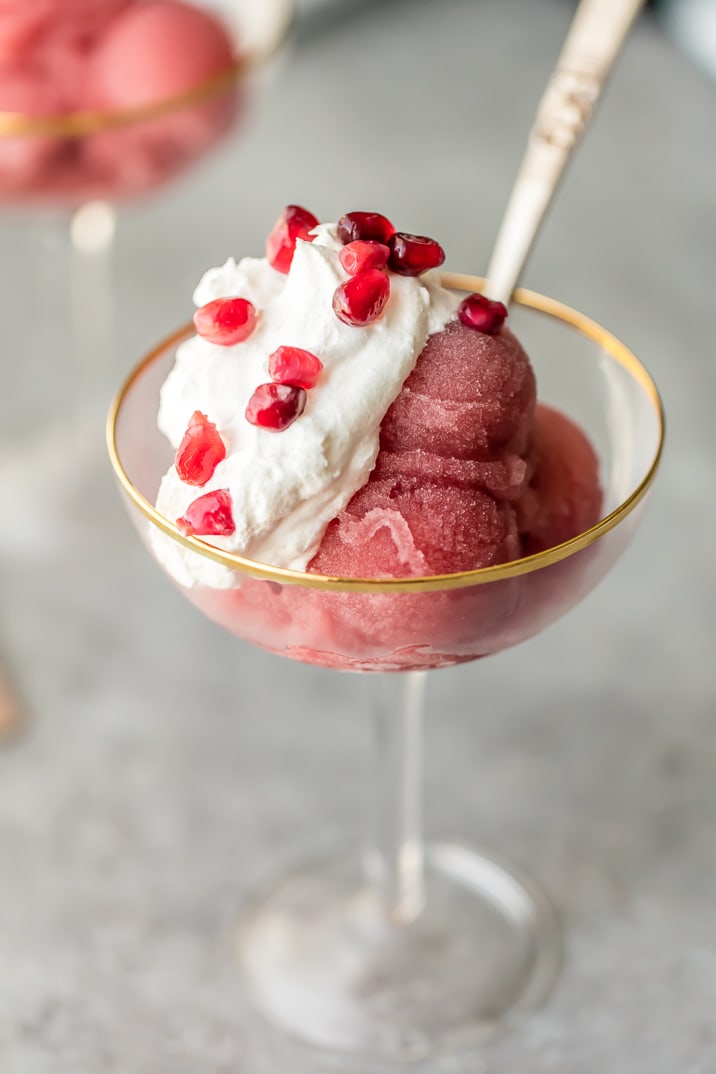 Ring in the new year with this yummy Pomegranate Champagne Sorbet recipe!
See the recipe card below for details on how to make Pomegranate Champagne Sorbet. Enjoy!
If you like this recipe, you'll love these other amazing recipes too: