Chicken and Sausage Gumbo is a super flavorful stew served over our okra rice pilaf. This tasty chicken sausage gumbo recipe is filled with onions, celery, bell peppers, chicken, sausage, and the perfect Cajun seasonings. The okra pilau adds in that traditional okra flavor and finishes off the chicken gumbo beautifully!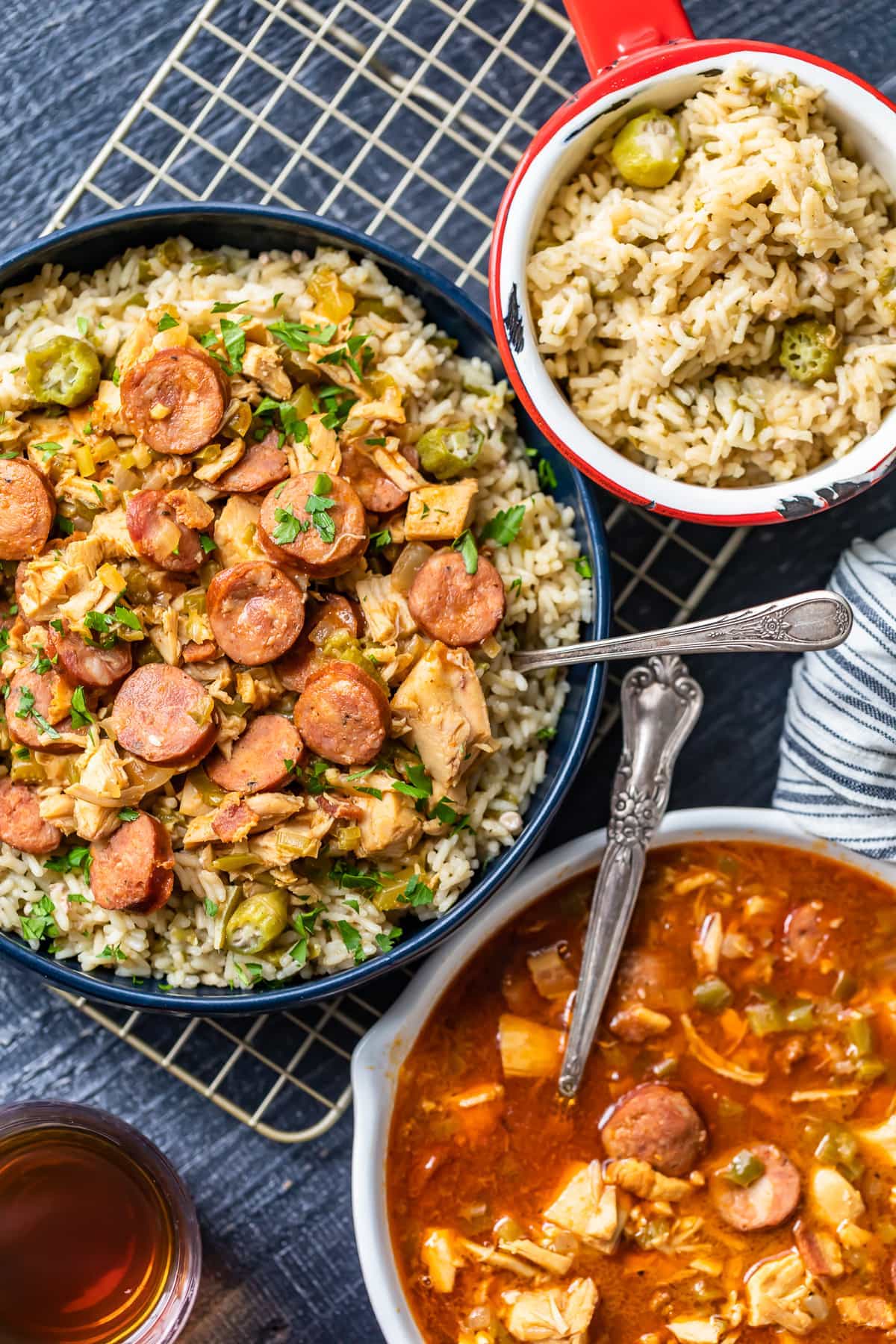 Chicken and Sausage Gumbo
This chicken and sausage gumbo recipe is Cajun comfort food at its finest! Our easy chicken gumbo is served over the most delicious okra pilaf for even more flavor.
Are you guys ready for a super FLAVORFUL dish that's going to give you all the comfort food feels? I'm sharing this amazing Chicken and Sausage Gumbo recipe along with a tasty Okra Pilaf for the perfect cajun food pairing.
If you've never had gumbo, then you're in for a real treat. This hearty chicken sausage gumbo is a delicious mix of a spicy flavorful stock, chicken, sausage, onions, bell peppers, and onions. And the okra pilau rice (aka okra rice pilaf) is the perfect complement as it's filled with okra, onions, rice, and BACON. Yeah, bacon makes everything a little bit better…
I absolutely love this chicken gumbo recipe and I know you will too. I made this easy gumbo recipe so that you don't have to let it sit for hours and hours before it's ready, because who has the time? This stuff is just so delicious, and it's a great thing to freeze for later use, so don't throw out those leftovers!
This easy Chicken and Sausage Gumbo recipe is absolutely FILLED with flavor. It's so delicious served over the okra pilaf!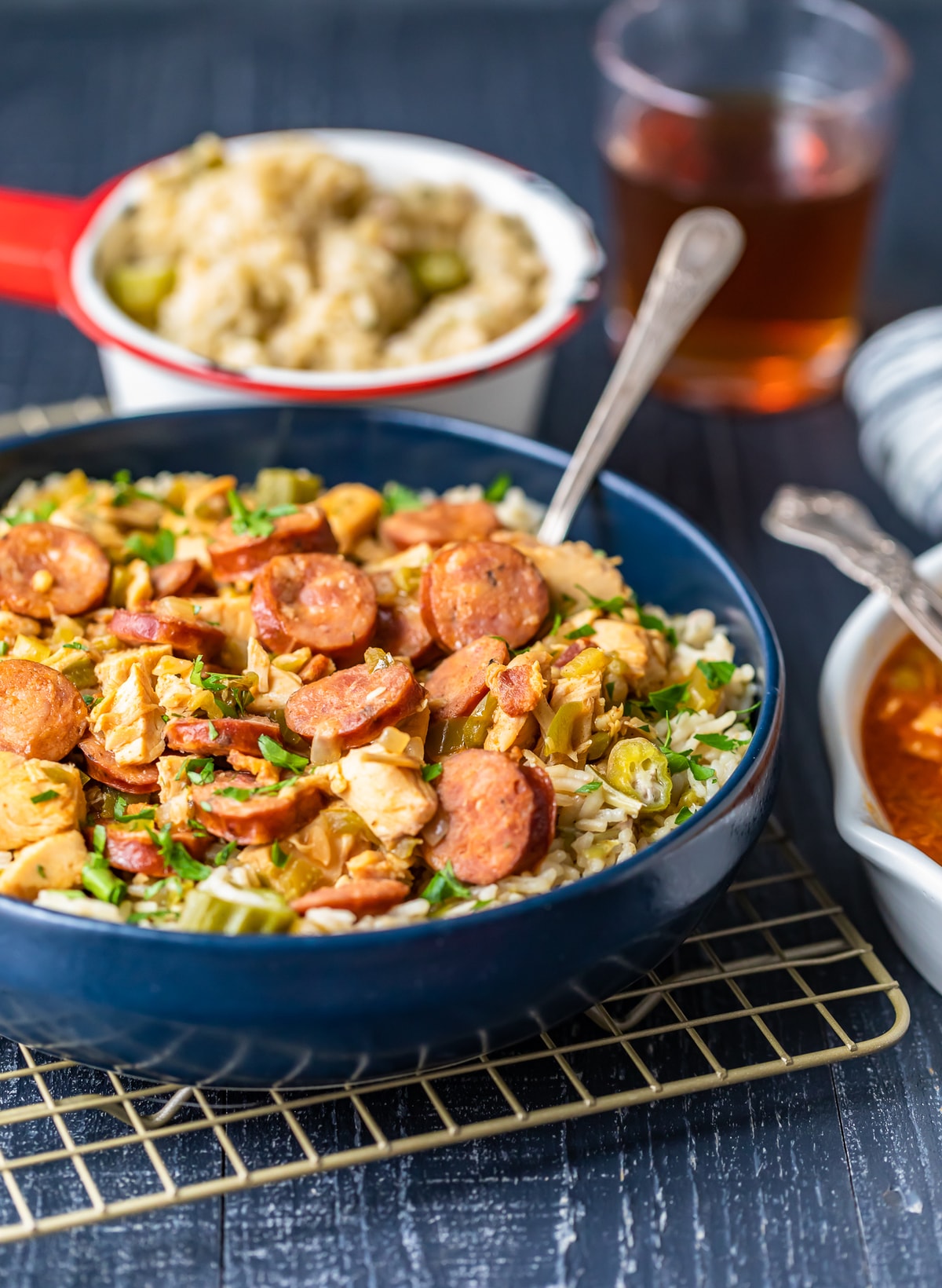 What is Gumbo?
Gumbo is a traditional Creole stew filled with meat or shellfish, vegetables (usually onions, celery, and bell peppers), and a thickened stock as the base (which is often more like a gravy or sauce). It's a thick and hearty dish with lots of spice and lots of flavor! You will generally find gumbo made with shrimp, chicken, or sausage. We're using both chicken and sausage for this gumbo, and it's so tasty!
Gumbo vs Jambalaya
What's the difference between gumbo and jambalaya? It's a common question since the two dishes seem quite similar. Both are popular in Cajun cuisines, both are typically a combination of meat/shellfish, rice, stock, and veggies…so what IS the difference?
Gumbo is more of a stew, in which the dark roux/thick stock is an important component. And while it is often served with rice, it is cooked separately from the rice. For example, in this recipe we are making the chicken sausage gumbo and the okra pilaf separately, and then serving them together.
Jambalaya on the other hand, is considered a rice-based dish. The rice, veggies, meat, and stock are all cooked in one dish. It's a lot like Spanish Paella!
So the differences are small, but the preparation does differ.
Chicken Sausage Gumbo Ingredients
What's in gumbo? This recipe is so flavorful and so amazing, and that's because this chicken and sausage gumbo recipe is FILLED with delicious ingredients. It's such a comforting mix!
Ingredients:
Chicken (shredded or cubed)
Sausage
Yellow Onion
Green Bell Peppers
Celery
All-Purpose Flour
Salt & Pepper
Paprika
Thyme Leaves
Bay Leaves
Gumbo Seasoning
For our chicken and sausage gumbo recipe, we're using a pre-mixed cajun seasoning. It's got all of the typical spices for gumbo seasoning:
Paprika
Garlic Powder
Cayenne Pepper
Thyme
Onion Powder
Salt & Pepper
Oregano
Any "Cajun Seasoning" mix will work for this dish, or you could try making your own mix with the above ingredients.
What is a good substitute for okra in gumbo?
While we are using okra in our rice pilaf recipe, we're not using it directly in the chicken sausage gumbo recipe. Traditionally, okra and filé powder (dried & ground sassafras leaves) are used in gumbo to help thicken the stew. However, you can also use a gumbo roux instead. This is essentially a mixture of flour and oil.
How to Make Roux for Gumbo
For this recipe, we are making a gumbo roux to thicken the stew. It's a super simple process. All you do is heat up oil in your pot, then stir in the flour and let it cook about 4-5 minutes. This will create the thickening agent as a base for the rest of the chicken gumbo. Once that part is done, you'll just continue to add in ingredients and make the rest of the dish in the same pot.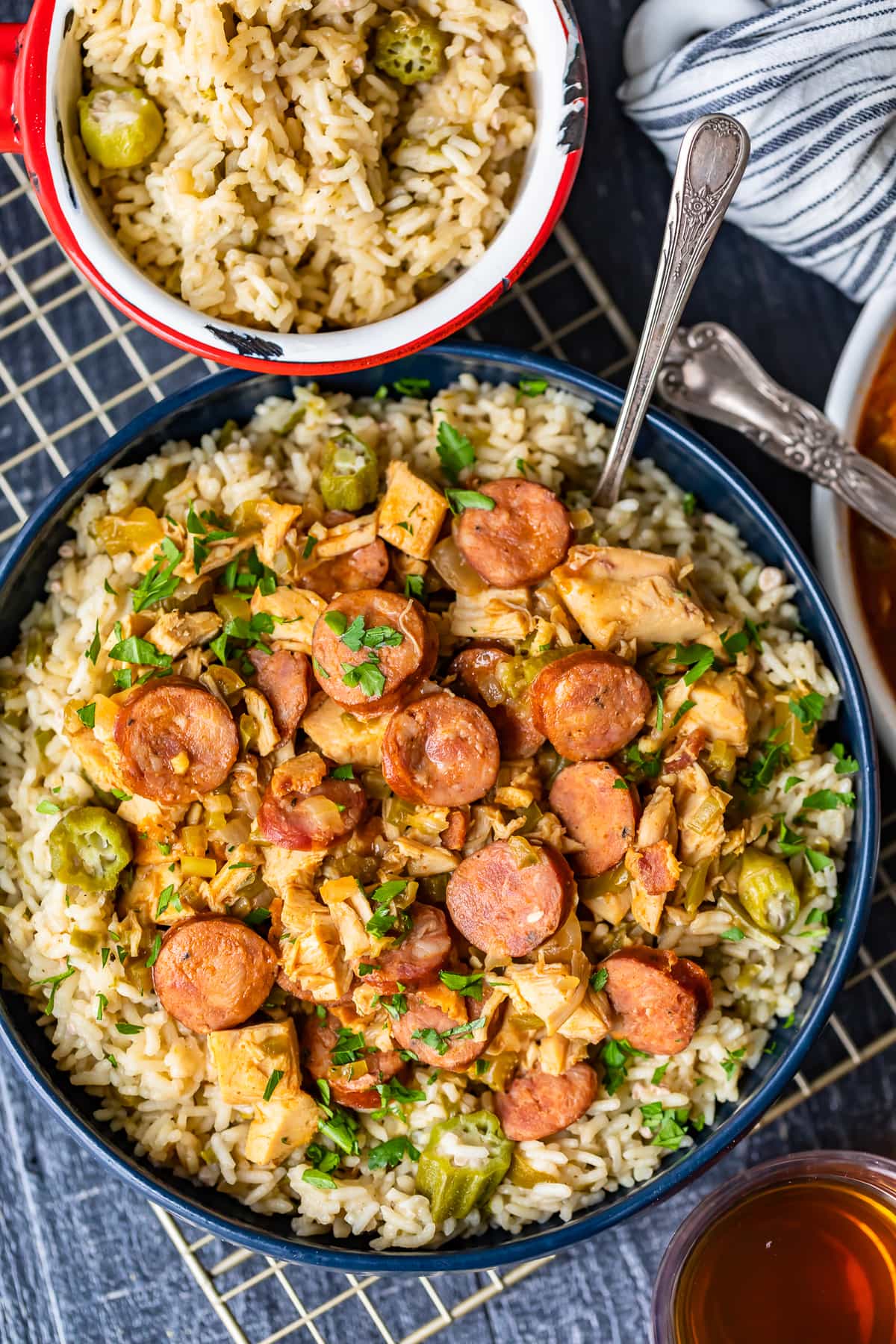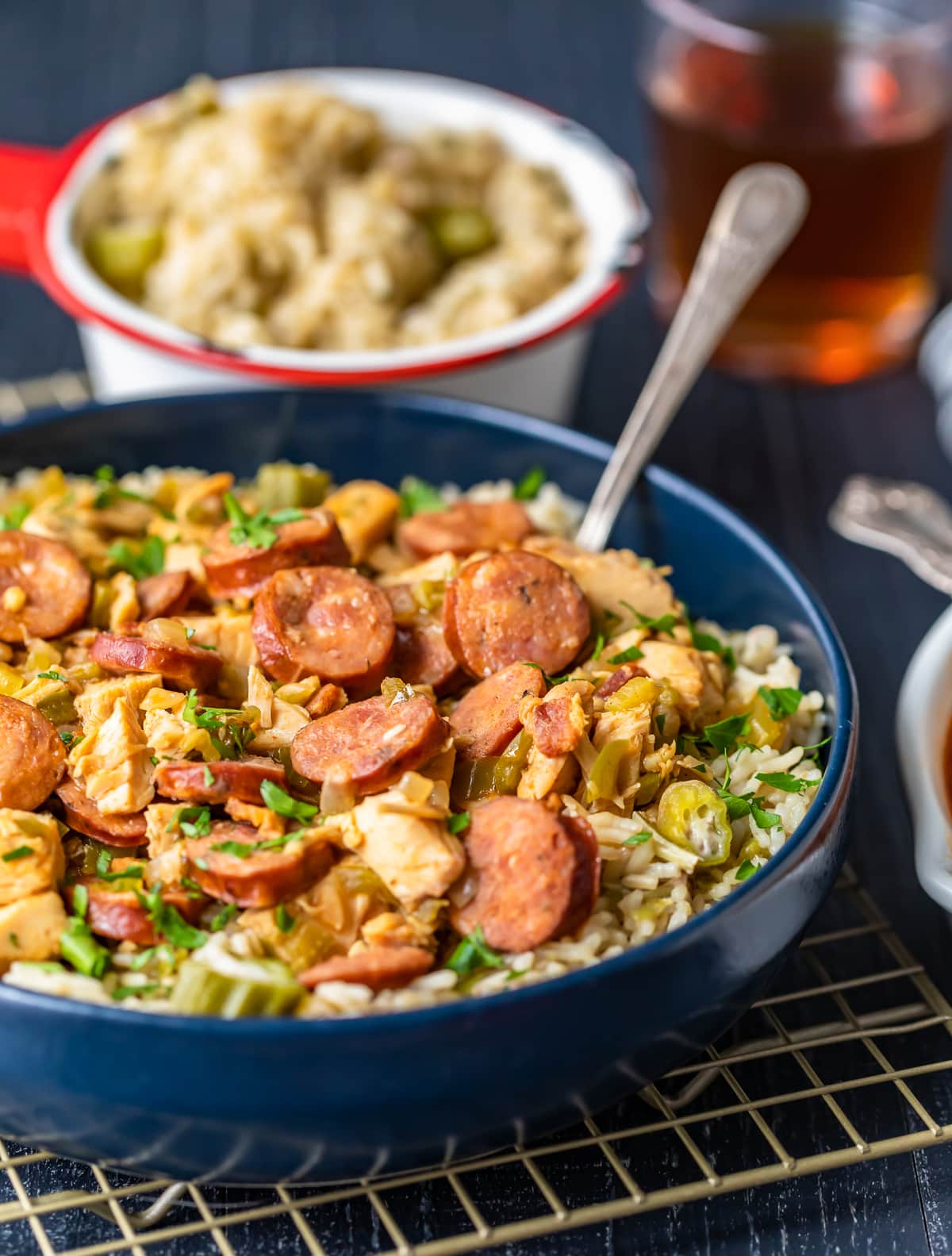 How to Make Chicken Sausage Gumbo
This easy gumbo recipe will give you all the flavor without all the time. You can make this chicken gumbo recipe in less than an hour, ready to go for dinner along with the okra pilaf. Note that the chicken should be cooked and cubed or shredded before starting.
Start by heating the oil in a dutch oven (or deep-sided pan) and cooking the vegetables (onions, bell peppers, and celery). Cook them for about 4-5 minutes until they become soft, then transfer them to a plate (leave the oil).
Now add the flour into the pot along with the oil to make the gumbo roux. Cook for 4-5 minutes, whisking continuously. It will turn a medium-dark brown color.
Whisk in the chicken broth, then add in salt, pepper, Cajun seasoning, paprika, thyme leaves, bay leaves, and sliced sausage.
Bring the mixture to a boil, then reduce heat and let the gumbo simmer for 20 minutes. (Make the Okra Pilaf while it simmers.)
Next, add in the pre-cooked chicken and let the gumbo simmer for another 5-10 minutes.
Remove and discard bay leaves before serving.
Full recipe and details can be found below in the recipe card.
How to Make Okra Pilaf
This okra pilaf is the perfect complement to the chicken and sausage gumbo. This rice pilaf would actually be really great served with other dishes as well, as a regular side dish for chicken or fish. It's easy to make and so tasty. Those little bits of bacon make all the difference!
Cook the bacon until crisp, and then remove it from the skillet, leaving some of the bacon drippings in the pan.
Add the okra, onion, and bell pepper into the skillet, and cook about 5 minutes.
Then add in the rice, water, salt & pepper. Bring the mixture to a boil and cover it with a lid.
Reduce heat and let it simmer about 15 minutes (or until all water has been absorbed by the rice).
Remove from heat and stir in the bacon, then let the okra pilaf rest until the gumbo is done.
What to Serve with Chicken and Sausage Gumbo
Chicken and Sausage Gumbo is such a hearty dish, so you can keep the side dishes pretty simple. White rice is the most traditional thing to serve with gumbo, and for this recipe we went with the okra and bacon filled rice pilaf recipe. Just fill your bowl with the okra pilau and then scoop a serving of the chicken gumbo on top.
A really simple side salad is another good option for a gumbo side dish. I like serving bread as well; either a hearty piece of baguette or cornbread pairs well with the dish.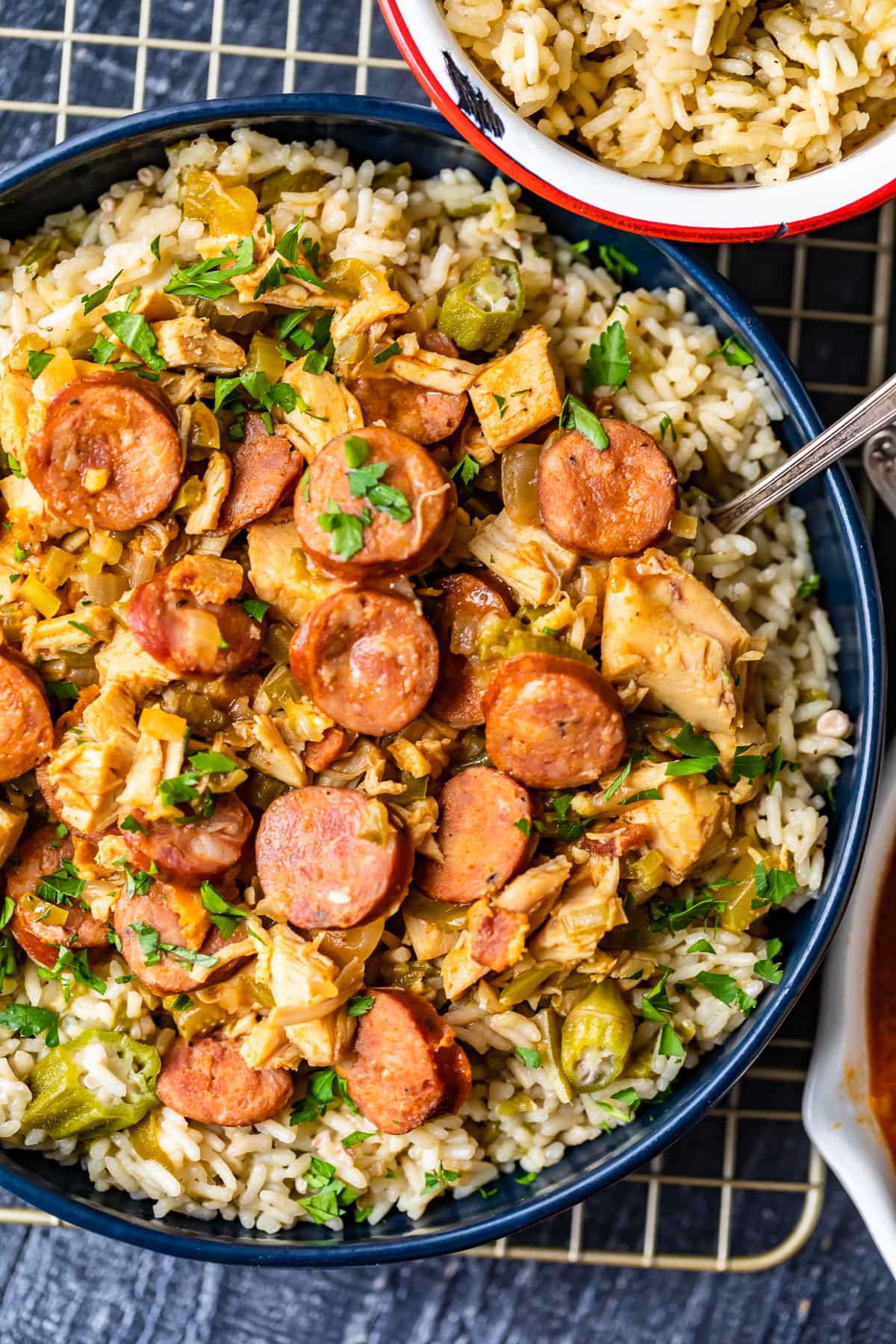 How long does gumbo last?
You can save any leftover chicken sausage gumbo in the refrigerator or freezer. Be sure to store it within about an hour to make sure it doesn't spoil. If you have a large amount leftover, separate it into smaller portions and place it in airtight containers or resealable bags. This chicken gumbo will be good to eat for a couple of days if stored in the fridge. Stored in the freezer, you can save it for up to 3 months, thaw it, reheat it, and enjoy it again!
See the recipe card for details on how to make Chicken and Sausage Gumbo with Okra Pilaf. Enjoy!
If you like this chicken gumbo recipe, try these other delicious recipes: