Make this Shrimp Creole recipe for a flavorful dinner that everyone will love. This classic dish is spicy, filling, and unbelievably delicious!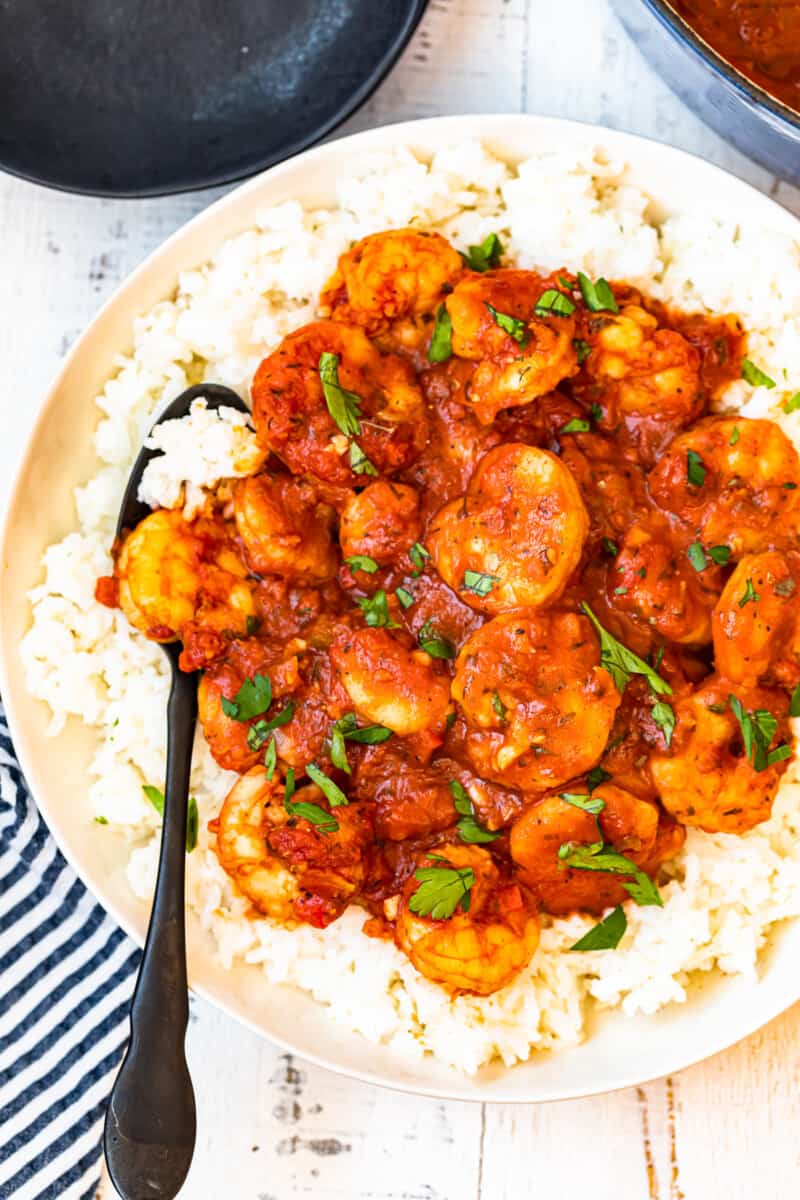 Easy Shrimp Creole Recipe
Shrimp Creole is a rich, traditional dish that's sure to delight everyone who tries it. This hearty recipe can serve the whole family, or make plenty to save for leftovers.
The thick, flavorful sauce coats the shrimp perfectly, and there's just enough heat to light up your taste buds. Served along with rice, this recipe makes a full meal on its own.
Why you'll love this Creole Shrimp recipe:
FLAVORFUL: There's no lack of flavor in this classic Creole dish! Your taste buds will thank you.
SPICY: The spice isn't overwhelming, but there's plenty of heat thanks to the Creole seasoning.
FEED THE FAMILY: There's plenty of food to go around with this recipe, so don't skimp on the servings.
You'll also love this Chicken Sausage and Gumbo and this Red Beans and Rice recipe.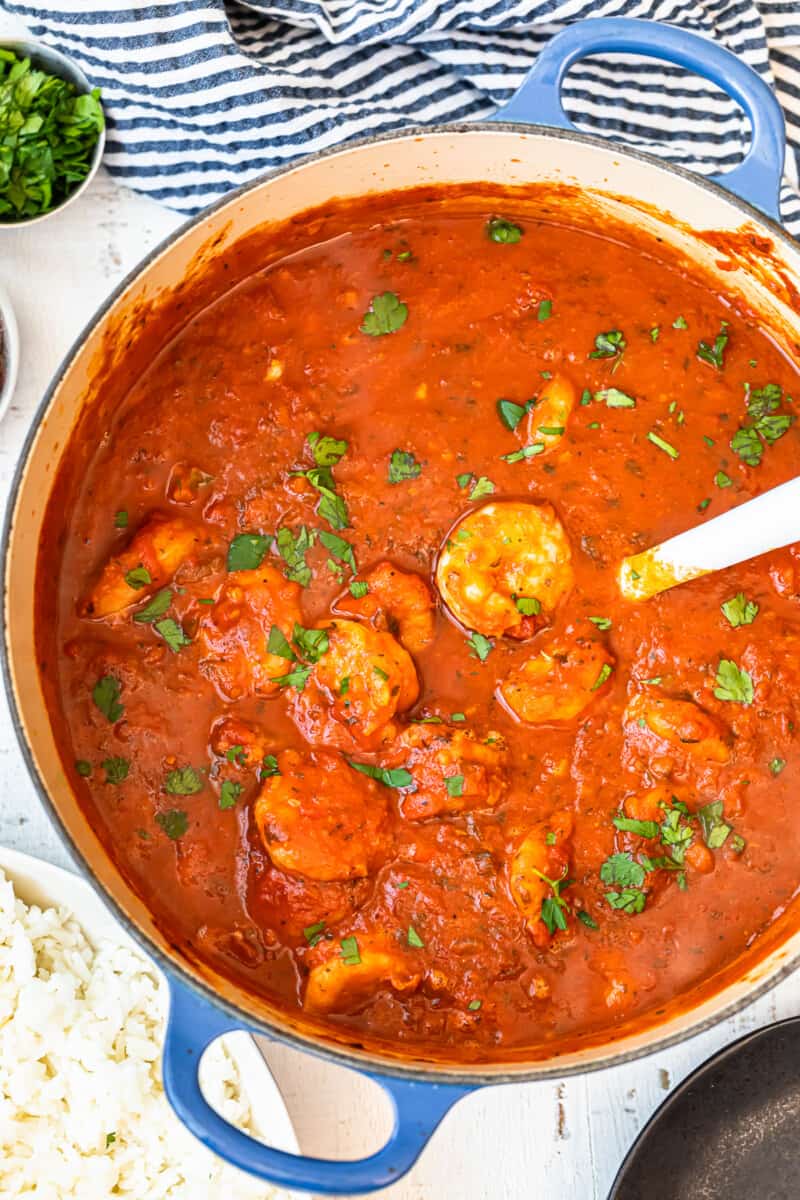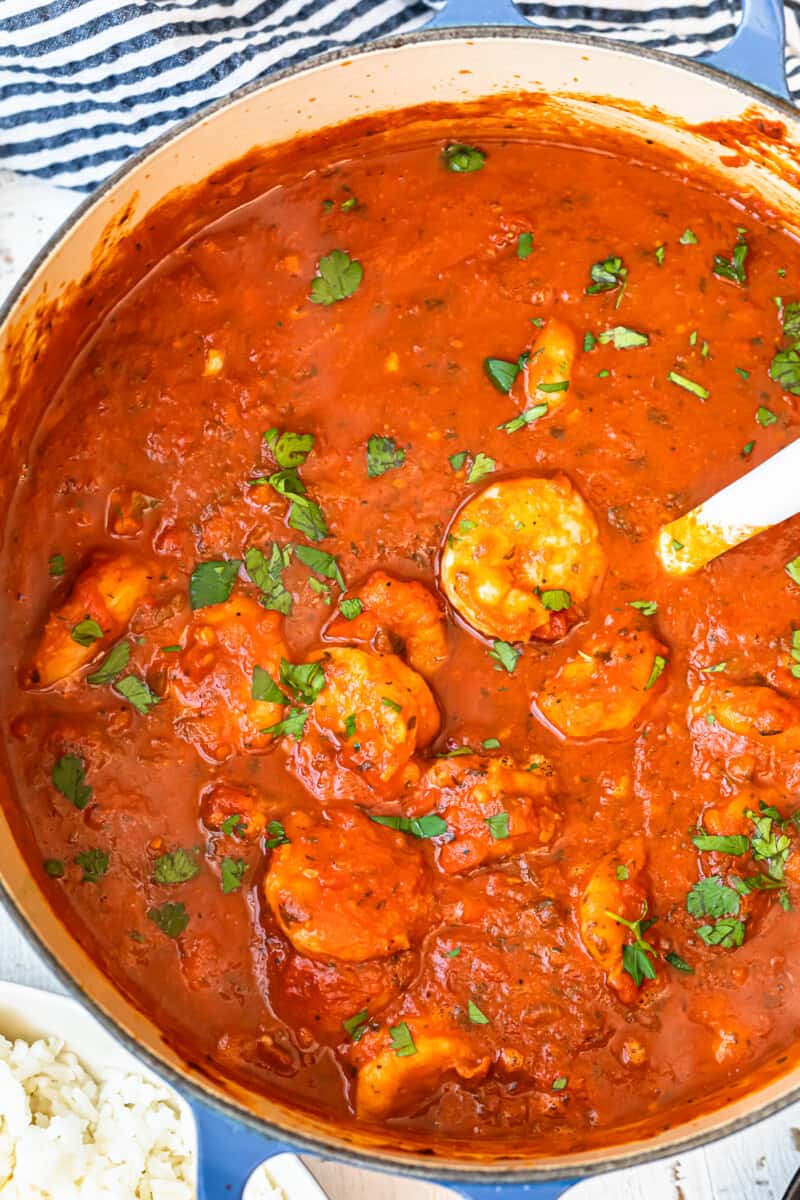 How to make Shrimp Creole
You can jump to the recipe card for full ingredients & instructions!
Begin by seasoning the shrimp, then store it in the refrigerator until later.
Heat oil and butter in a large skillet, then cook the onions and peppers briefly, just until slightly softened. (2 minutes)
Add garlic, flour, tomato paste, and Creole seasoning, and continue cooking until vegetables have softened. (4-5 minutes)
Add in the rest of the sauce ingredients, reduce heat, and let it simmer until it thickens. (1 to 1 1/2 hours)
Cook the rice according to package directions while the sauce is cooking.
When the sauce is almost done, briefly cook the shrimp in another skillet. (1 minute)
Add the shrimp into the skillet with the sauce and continue cooking. (3-5 minutes)
Add in lemon juice and parsley, and season to taste.
Serve the Shrimp Creole over a bed of the white rice, and season or garnish as desired. Enjoy!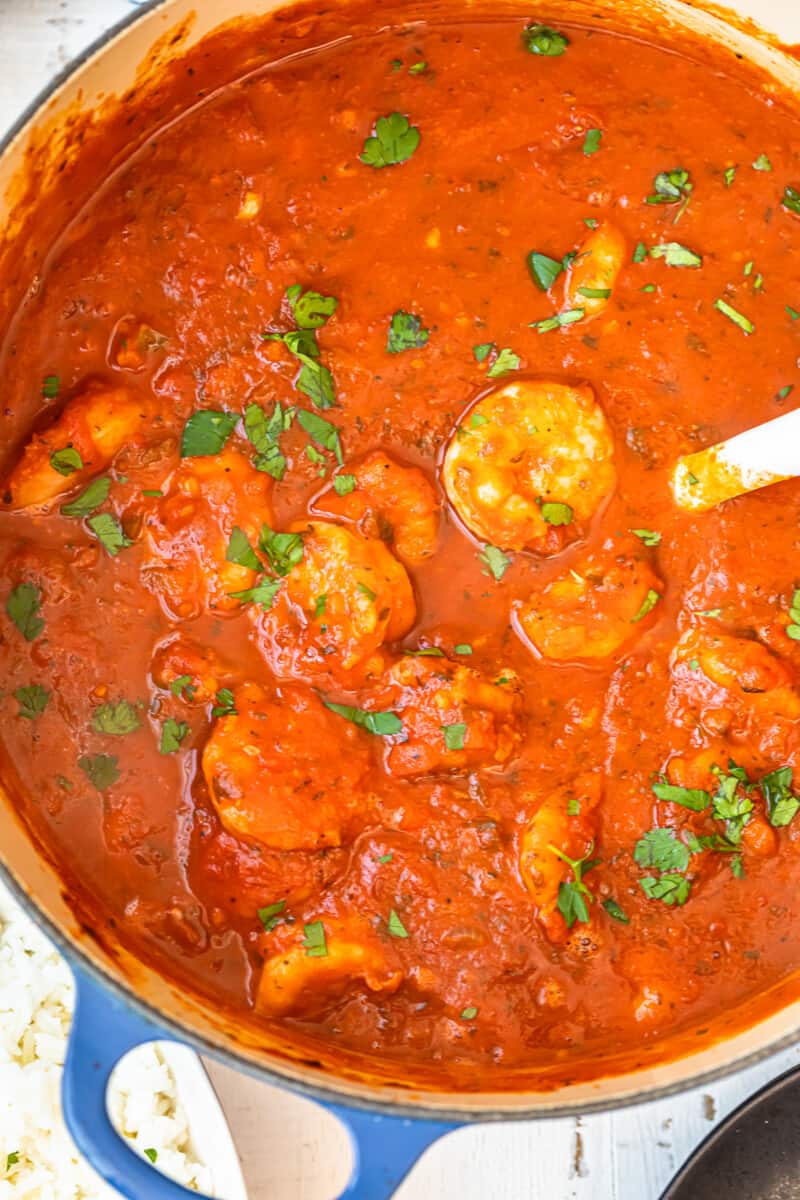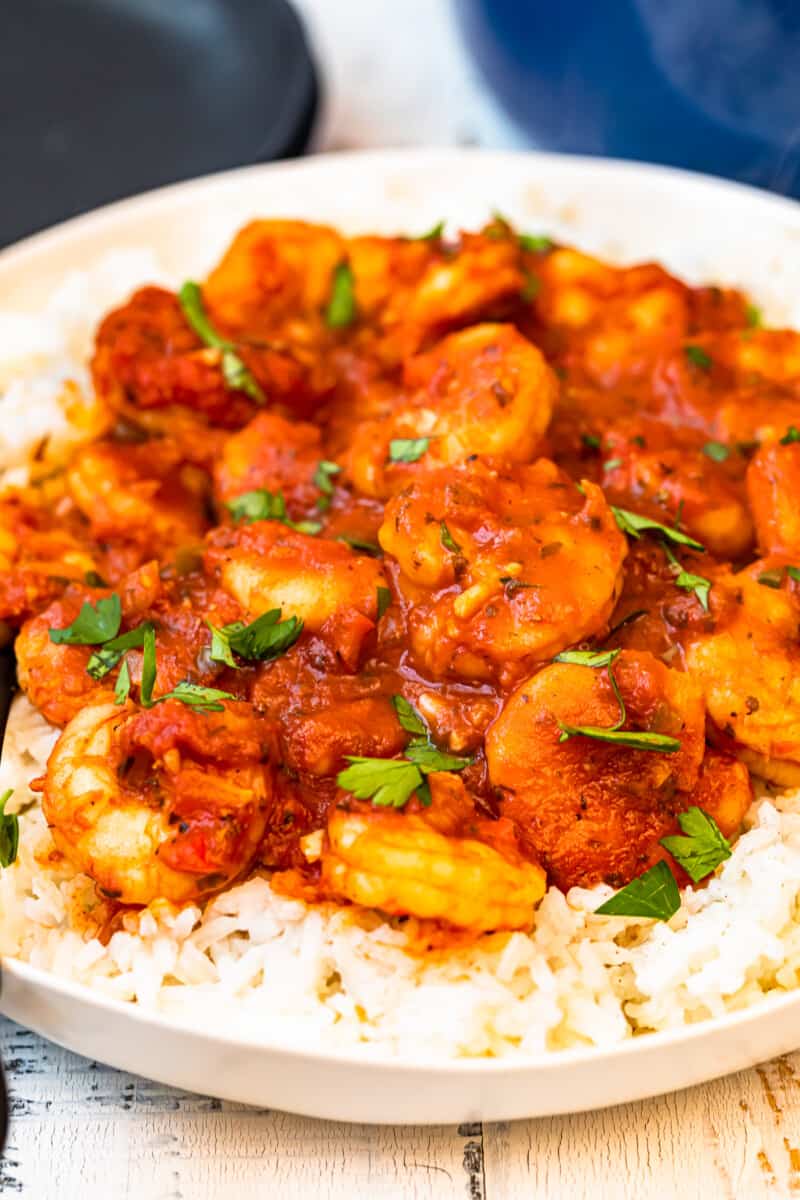 What is Shrimp Creole?
Shrimp Creole is a classic Creole dish originating in Southern Louisiana. Shrimp is served in a thick tomato-based sauce filled with peppers, onions, and plenty of spice. It's traditionally served over a bed of rice.
Can I use frozen shrimp?
Yes, you can use frozen shrimp in this recipe. Let it fully thaw in the fridge before cooking and mixing it into the sauce.
What can I serve with this dish?
Because Shrimp Creole is served on a bed of white rice, you don't need much else to fill out this meal. However, some bread (great for dipping) or another simple side dish can definitely be added for dinner.
I recommend serving it with these delicious cornbread muffins, skillet creamed corn, black eyed peas, or sauteed molasses green beans.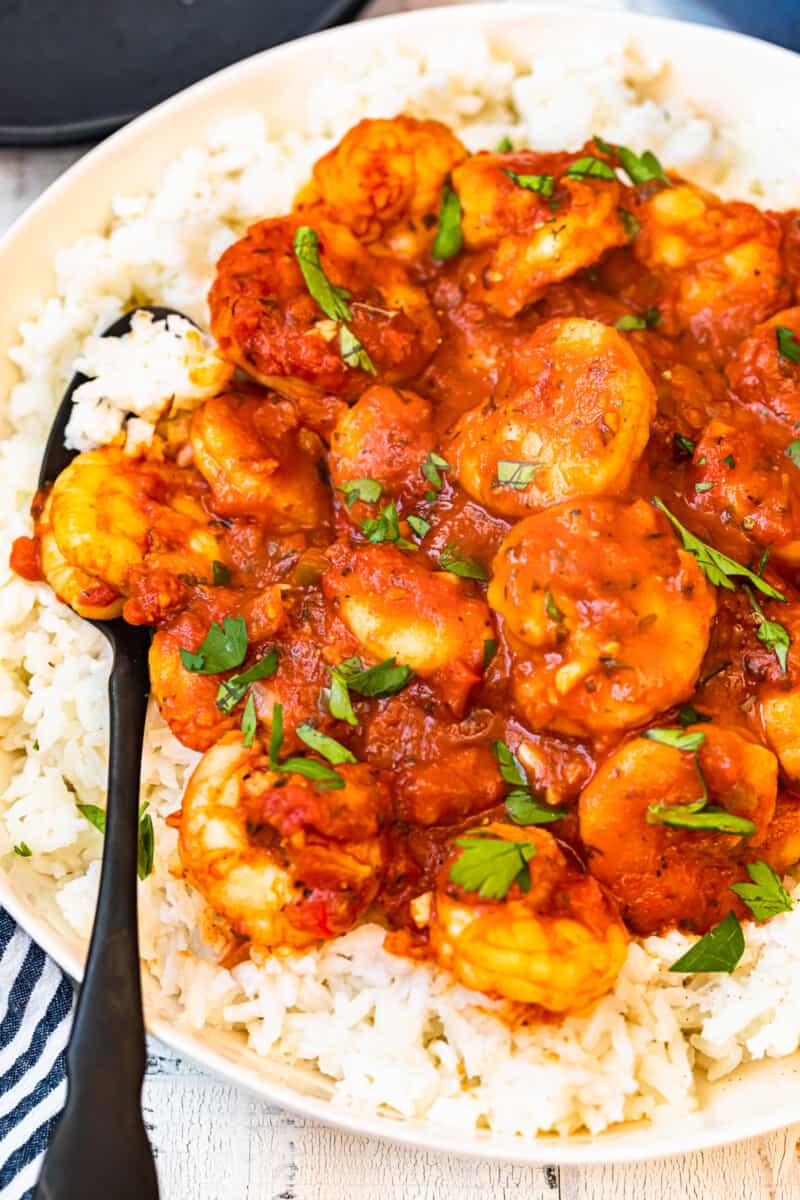 Tips!
The shrimp only needs a few minutes to fully cook, so keep it refrigerated while the sauce cooks.
Try making your own Creole seasoning for this recipe (although a store-bought spice mix works as well).
The sauce will need about 1 to 1 1/2 hours to thicken, so give it plenty of time.
The base recipe has a pretty manageable spice level for most people, so feel free to add some hot sauce or more Creole seasoning if you prefer.
Ladle the Shrimp creole over a bed of rice to serve.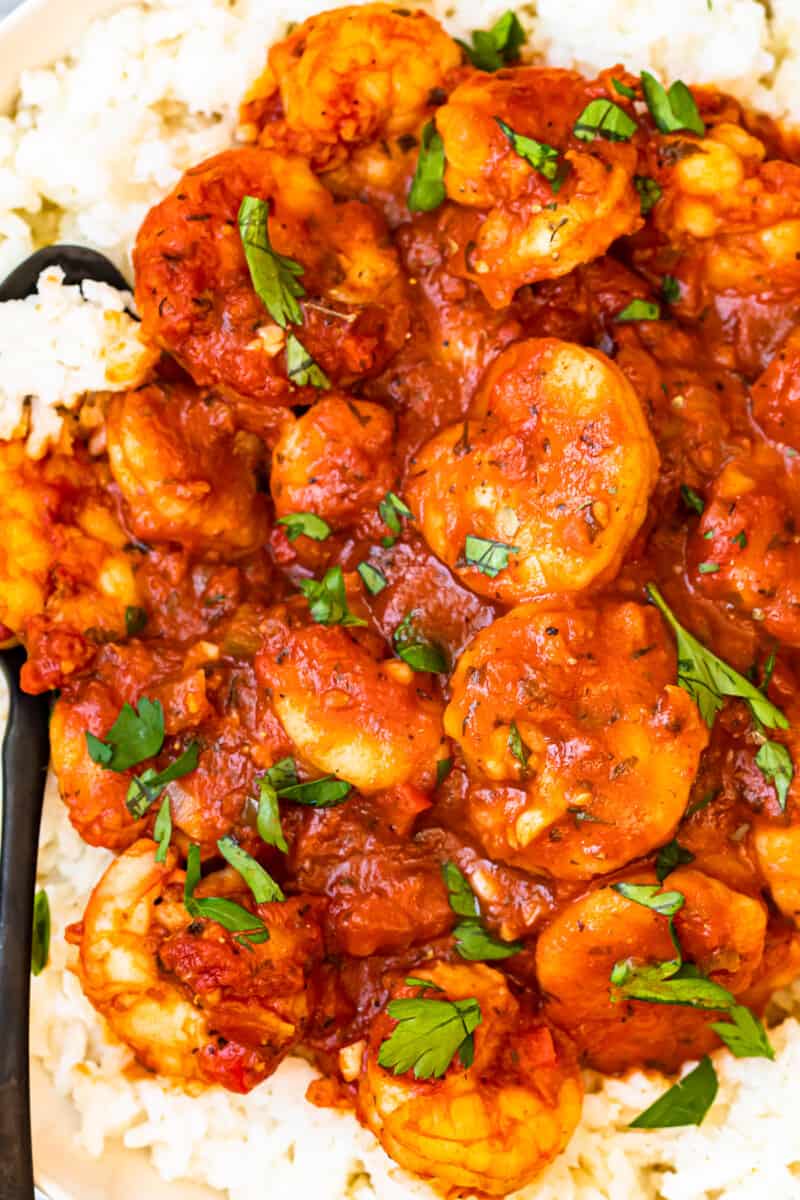 This easy Shrimp Creole recipe is just so good and it makes such a great dinner, any time. And don't be afraid to make it as spicy as you like!
If you make this recipe be sure to upload a photo in the comment section below or leave a rating. Enjoy! You can also jump to recipe.