Cheese Grits are a classic Southern staple perfect for a quick breakfast, snack, or side dish. I combined them with another staple to create this delicious Pimento Cheese Grits recipe! They're cheesy, creamy, and oh so tasty. Eat them on their own on pair them with pork or chicken. You're going to love these easy cheese grits!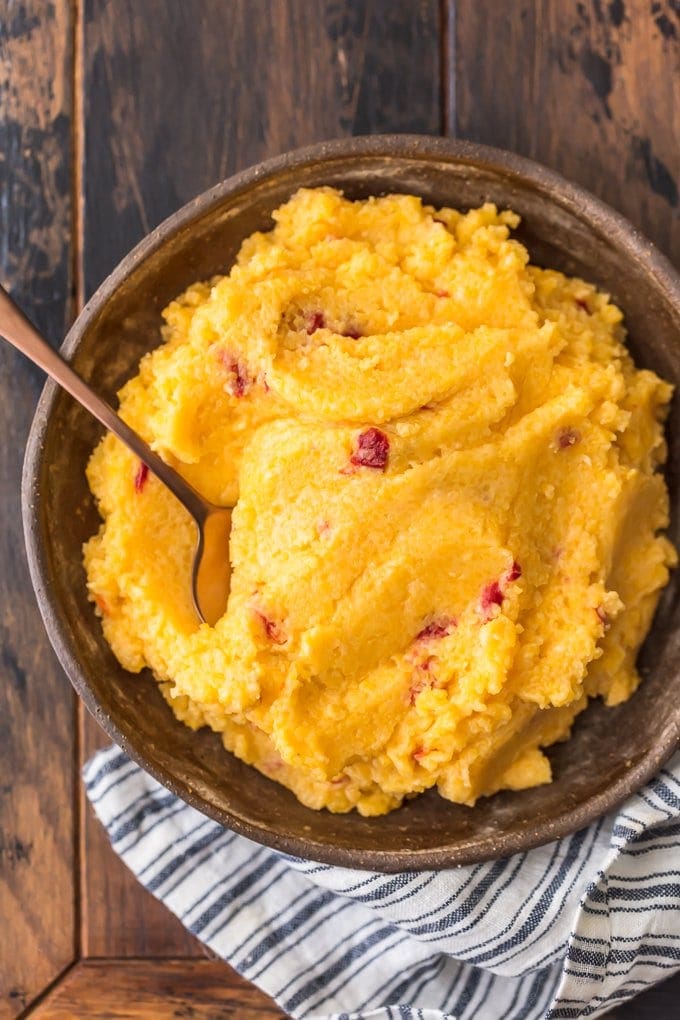 Pimento Cheese Grits
Cheese Grits and Pimento Cheese are a match made in Southern heaven. These two things are staples in Southern cooking, so combining them to make one delicious dish seemed obvious.
Hot grits are SO GOOD when they're made right, and especially when you add some cheese! I love this Pimento Cheese Grits recipe because it's cheesy, creamy, and has just a hint of sweetness from the Pimento peppers. This is the perfect pairing for my Sweet Tea Pork Tenderloin recipe, but these cheese grits are great with chicken and other meats too. They also make a quick and savory breakfast or snack to fill you up in a hurry.
Try these Pimento Grits for dinner and you won't be disappointed!
This Pimento Cheese Grits recipe combines two Southern classics to create one quick and savory dish.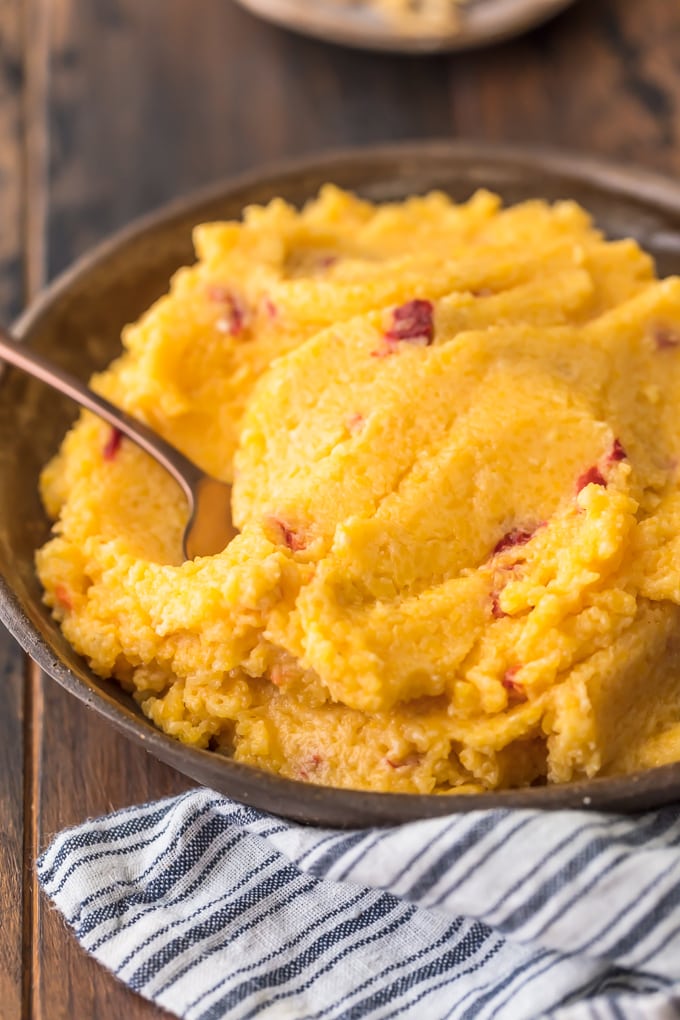 Easy Cheese Grits Recipe
This easy cheese grits recipe is the perfect thing to serve alongside pork tenderloin, chicken, or another meat dish. It only takes a few minutes to make, so you can easily cook these up just before serving the rest of your meal. Or if you need a quick breakfast, these savory cheese grits will do the job.
How to Make Pimento Grits:
Bring chicken broth & water to a boil over medium-high heat
Reduce heat to low & mix in butter
Stir grits continuously while cooking, for 1-2 minutes
Mix in the Pimento Cheese & salt to taste
Homemade Pimento Cheese Recipe
You can buy Pimento Cheese at the store to use in this cheese grits recipe, but making your own homemade Pimento Cheese is just as easy and tastes much better. Just mix together colby cheese, Pimento peppers, sugar, apple cider vinegar, and mayonnaise. You can also use this cheese to make a Pimento Cheese Sandwich!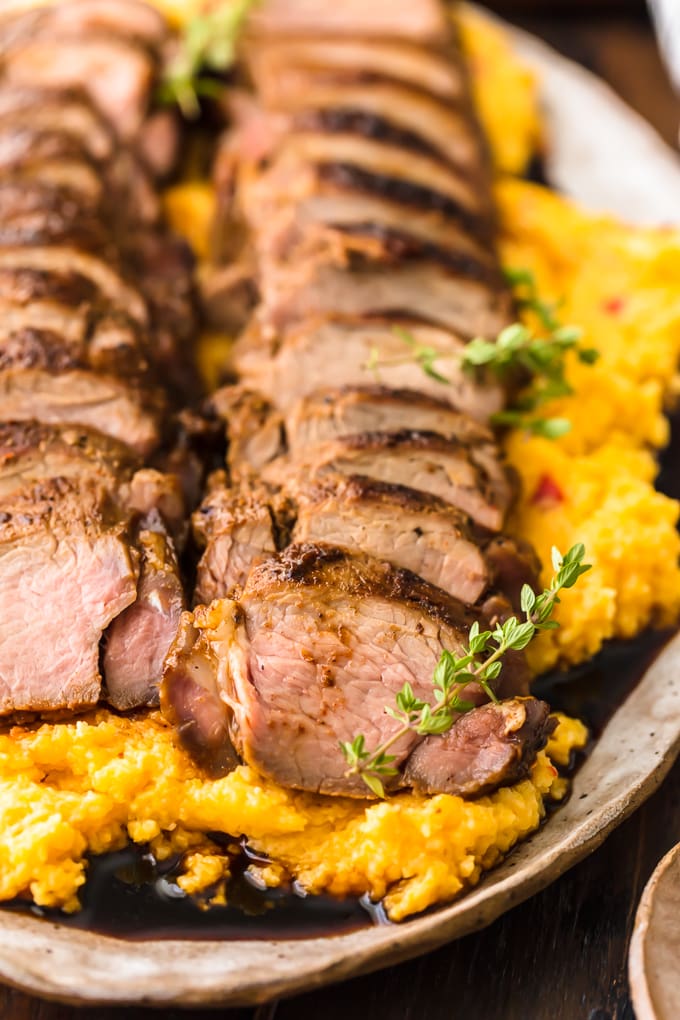 Are grits and porridge the same thing?
Grits are a type of porridge, but there are many other types of porridge. It's any kind of hot cereal made from various grains, or from corn in the case of grits, usually cooked in hot water or milk.
Are grits a healthy food?
Plain grits are quite healthy for you, similar to eating oatmeal. They are naturally low in fat calories, they're filling, and they are a good source of some vitamins. However, these pimento cheese grits have added calories and fat from the cheese and chicken broth.
What do you put in your grits?
You can make grits with water, milk, or any hot liquid. Most people add in butter, salt, or cheese to flavor their grits. This Pimento Cheese Grits recipe have the added flavor of sweet & mild Pimento peppers.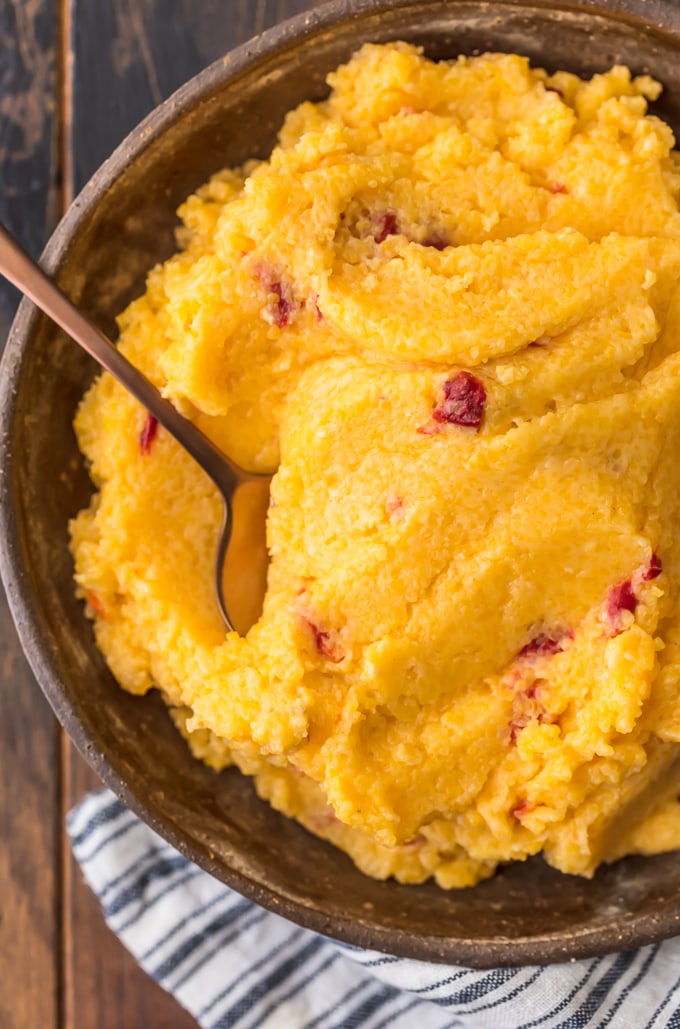 Try this delicious, easy Pimento Cheese Grits recipe as soon as possible for breakfast, snack, or a side dish. You're going to love how cheesy these are!
See the recipe card below for details on how to make this Pimento Cheese Grits recipe. Enjoy!
If you like this recipe, try these other recipes too: