Chicken Stew is such a delicious comfort food. This White Wine Chicken Stew recipe has all of the flavor and none of the fuss! The perfect soup for a cold winter night. The flavors in this easy stew recipe are just INCREDIBLE!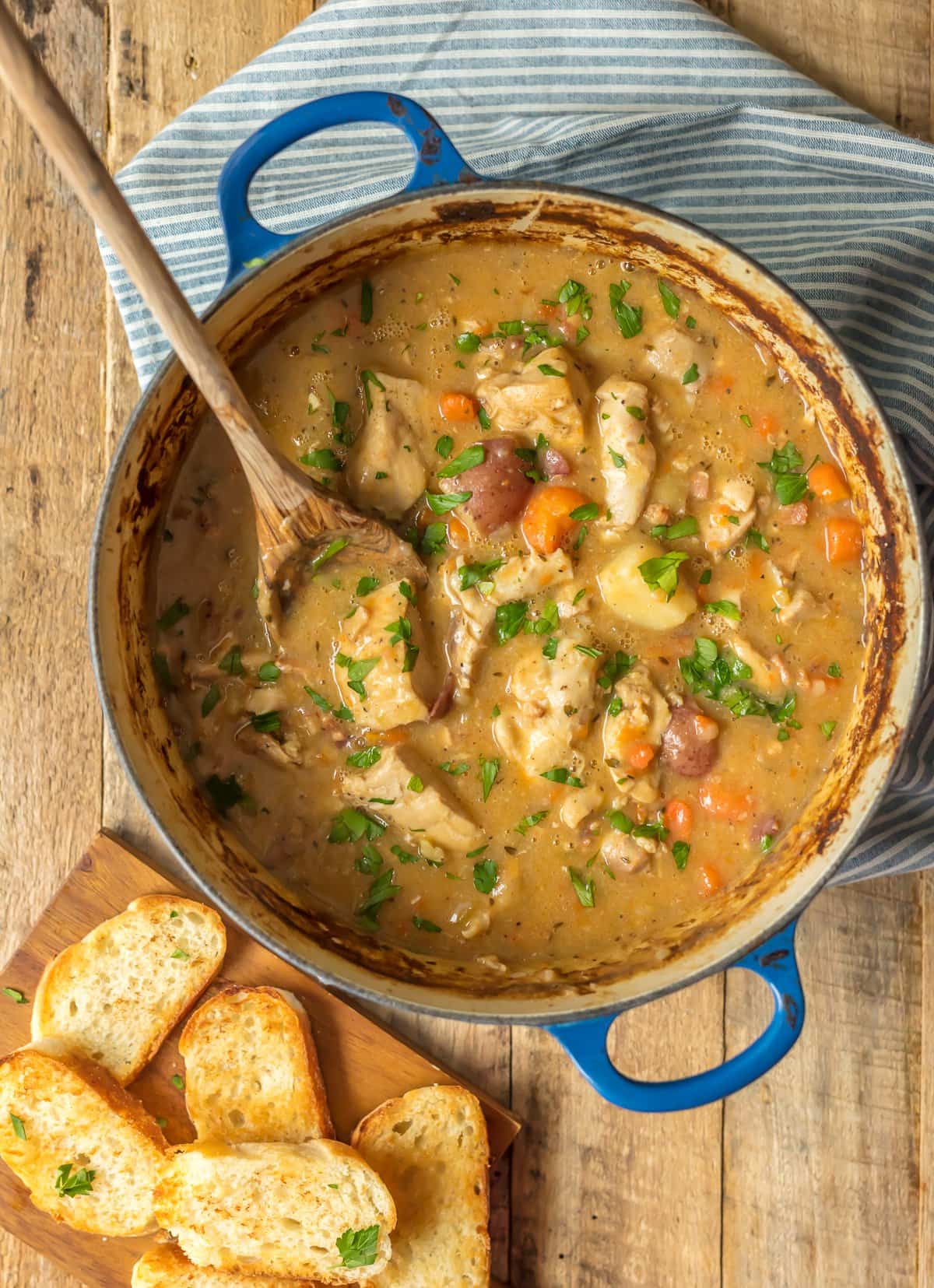 Chicken Stew
White Wine Chicken Stew is a delicious and comforting meal with incredible flavor. Make this chicken stew recipe all winter long for easy dinners!
Some days just call for rustic and delicious meals on the table. There's nothing like the smell of this White Wine Chicken Stew boiling on the stove, ready to be devoured! We have posted so many favorite soup recipes this winter, and this chicken stew recipe is no exception! It's hearty, SO flavorful, and an instant favorite.
I love the addition of the white wine flavor…it just adds a bit of a kick to this pot of goodness. Serve this easy stew recipe with crusty bread and you cannot go wrong. Prepare for this dish to be requested again and again from your family. I know it is from ours!
This White Wine Chicken Stew Recipe is so delicious, so warm, and so comforting during the cold winter months.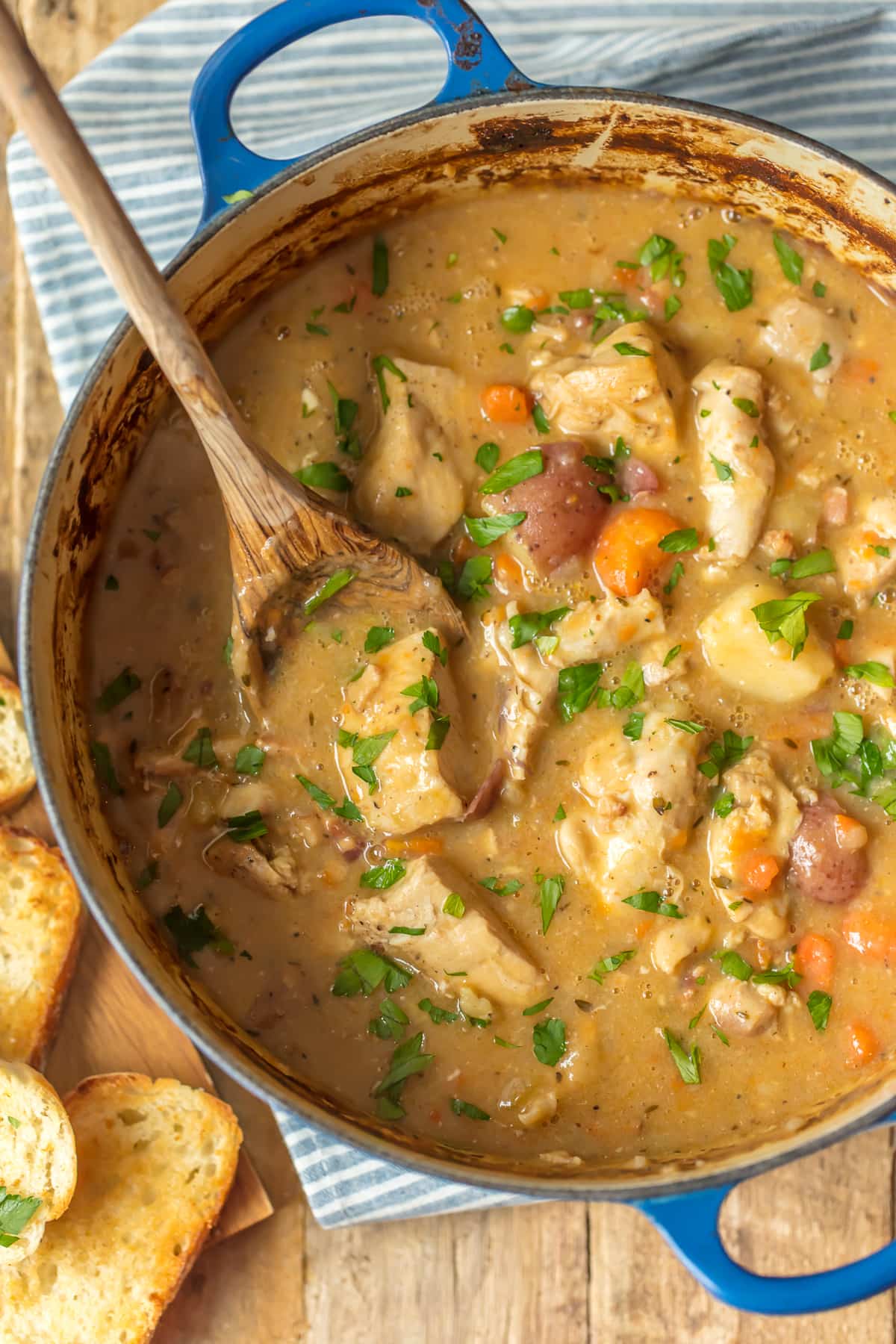 White Wine Chicken Stew Recipe
I just love how hearty this chicken stew recipe is. It warms the belly and the soul! It's filled with potatoes, carrots, chicken, and of course white wine. This hearty stew is rustic and classic and all kinds of delicious. Eating spoonfuls of this next to a fire makes for just about the best comfort food ever. And you guys know I love me some comfort food. If you're not a fan of hearty food…this might not be the right food blog for you.
If you like stew as much as I do, don't forget to try our Instant Pot Beef Stew and Slow Cooker Guinness Beef Stew!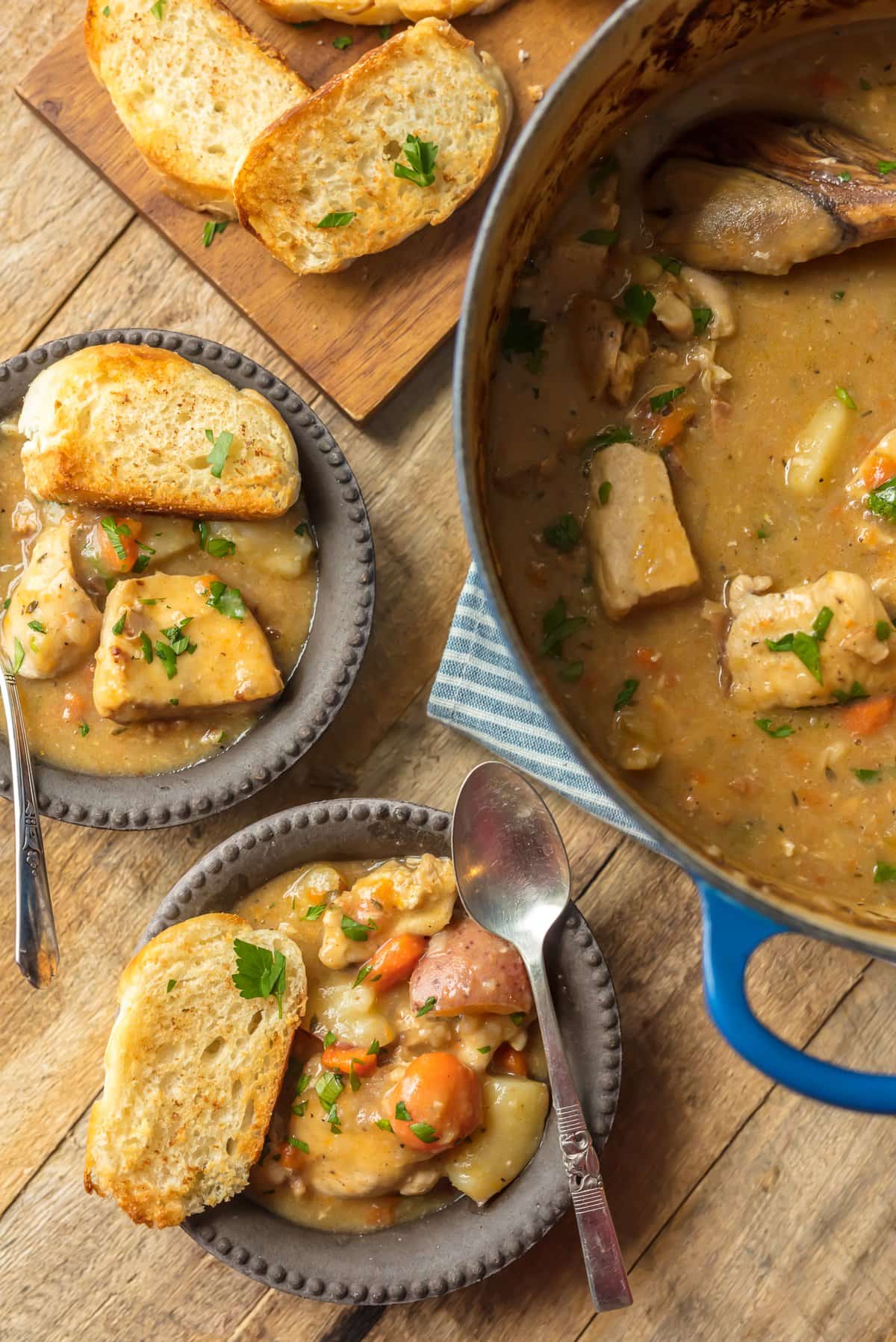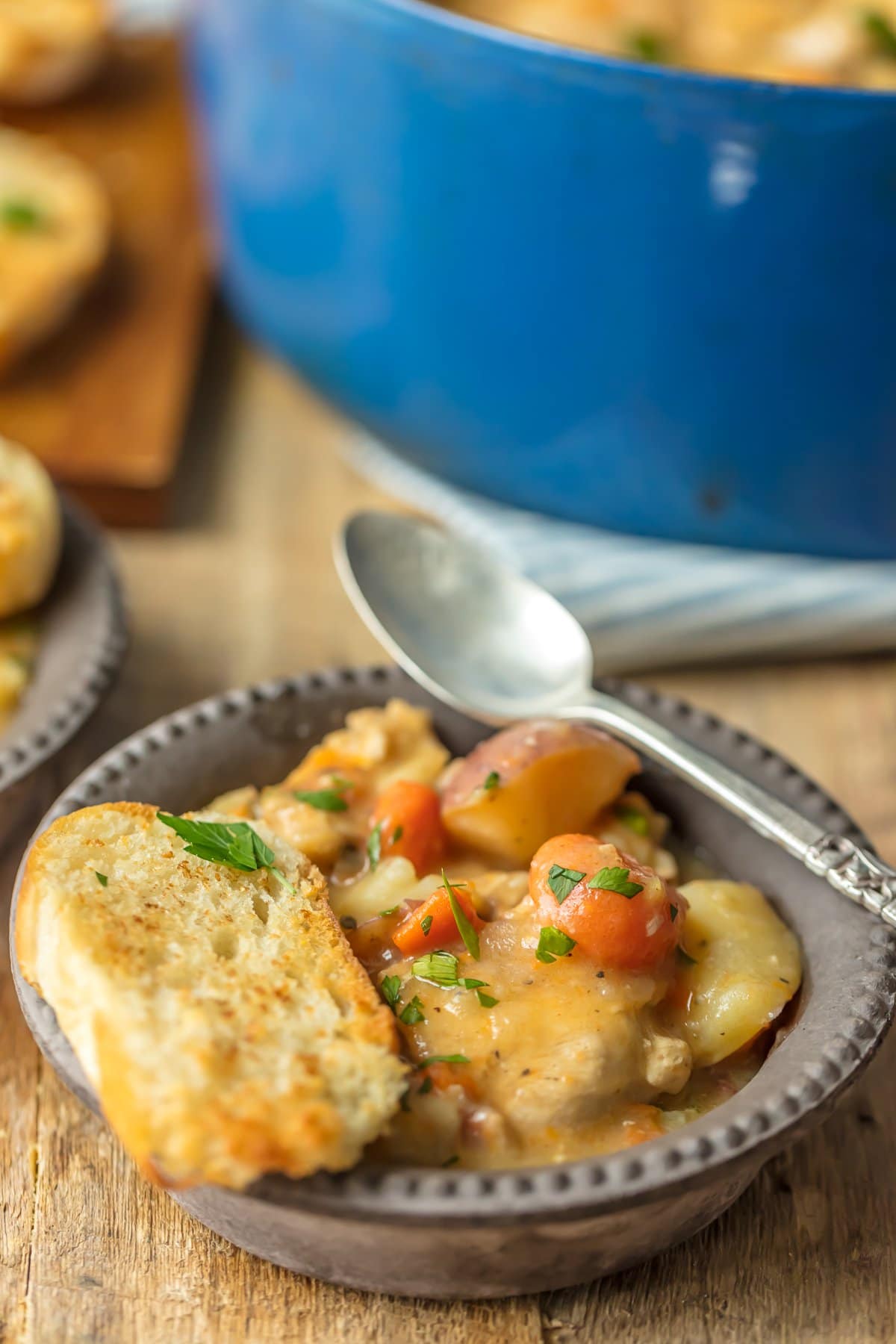 How to Make White Wine Chicken Stew
This White Wine Chicken Stew recipe is soooo delicious. This isn't a 30 minute meal, but it's well worth the time.
Start by cooking up the bacon and chicken wings on the stove top
Then we'll cook the vegetables and make the liquid for the stew
Once we're done on the stove top, cook the stew in the oven (uncovered)
After about 30 minutes, add the chicken wings & bacon, and return to oven to cook another 45 minutes
When the chicken stew is done cooking, remove the wings before serving (but you can keep the meat in if desired) and add a bit more wine
Another great thing about this chicken stew is that it's easy to make ahead of time, or to save leftovers. You can easily refrigerate this for a couple of days after cooking. It's easy to reheat for quick meals throughout the week!
Be sure to watch the video to see the step by step recipe!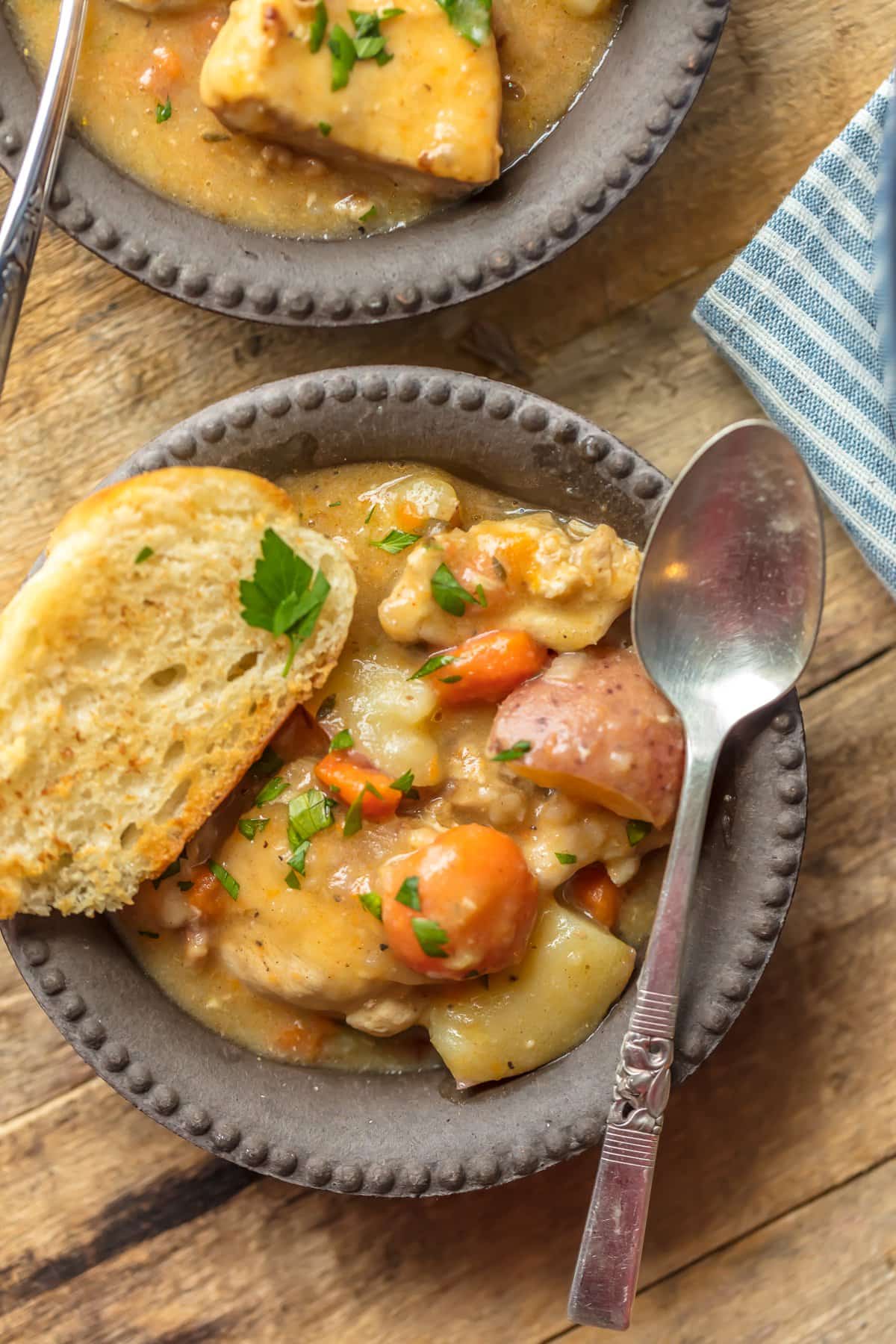 This White Wine Chicken Stew recipe is the perfect thing to make for a crowd, or even for a quiet night at home. It's sure to please the masses, or just yourself! A great easy stew recipe is an awesome thing to have on hand for chilly nights or any time of year. Yum yum!
See the recipe card below for details on how to make White Wine Chicken Stew.
If you like this recipe, try these other tasty soup recipes: