An Easy Cannoli dip that's creamy, fluffy and utterly addictive. Made with ricotta cheese and chocolate chips, this dessert dip pairs up beautifully with my golden crispy wonton chips!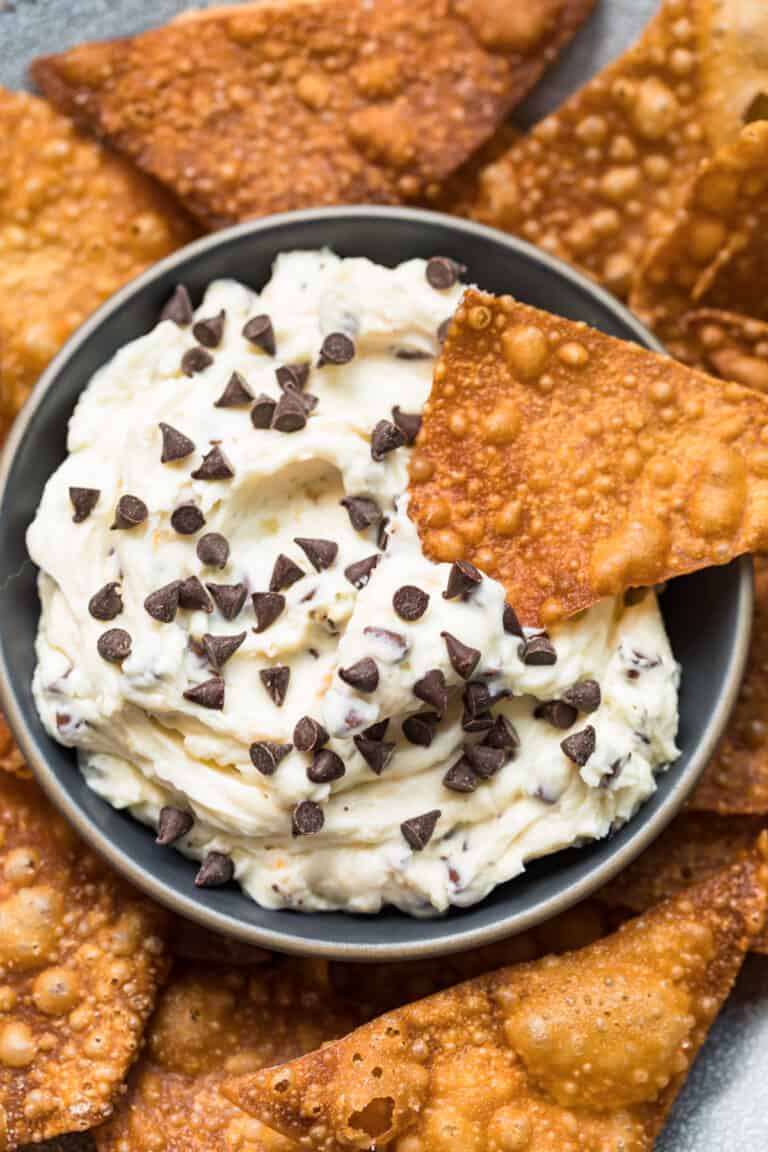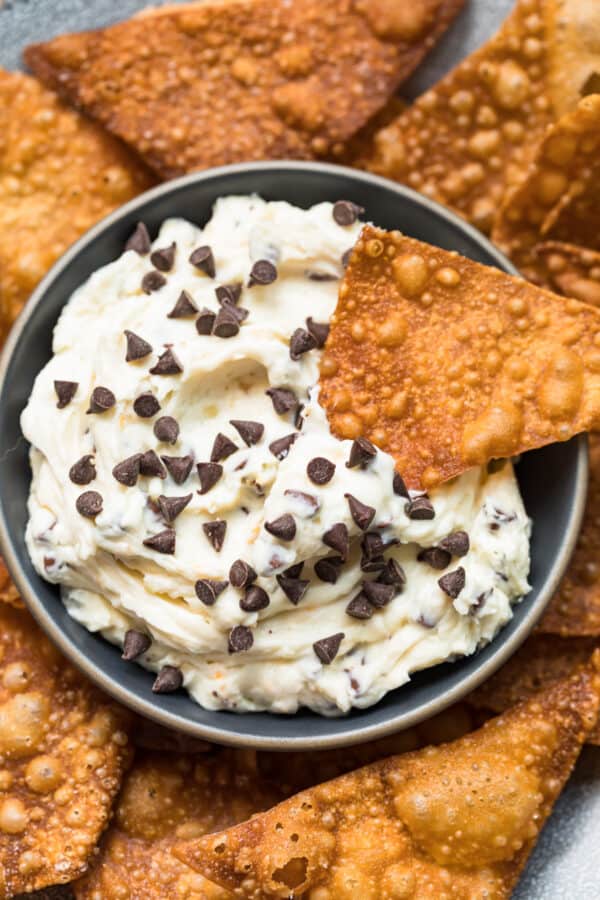 Be it sweet or savory, we love a good dip! Great for parties, movie night, game day or just as a treat after a hard week – this Chocolate Chip Cannoli Dip is super flavorful and perfect to adorn my crispy wonton chips.
If you're after other delicious dips, why not also try this Fruit Salsa with Cinnamon Chips or Strawberry Salsa!
Why you'll love this Cannoli Dip
An easy dip recipe. The chips and dip both come together in a flash, it's a foolproof dessert dip.
Packed with flavor. Move over bland 'ol cream cheese, ricotta's in town! This is rich, creamy, a touch zesty with a hint of ginger and – of course – loaded with choc chips…divine!
Super crispy wonton chips. Made from wonton wrappers, these chips are made for dipping. They're ultra crispy with a sprinkle of salt and hold up perfectly for scooping all that gorgeous Cannoli Dip.
A versatile dessert dip. This is a great base recipe and can be adapted in all kinds of ways – but just as delicious as is.
How to make this Cannoli Dip with Wonton Chips
Be sure to see the recipe card below for full ingredients & instructions!
Make the wonton chips – Fry the wonton wrappers in a dutch oven, transfer to a wire rack and sprinkle with sea salt.
Make the filling – In a mixer, add your filling ingredients (except for the ginger and chocolate chips), mix for 2 mins. Then add in the ginger and chocolate chips, stir to combine.
Serve with your wonton chips/fave dipper and enjoy!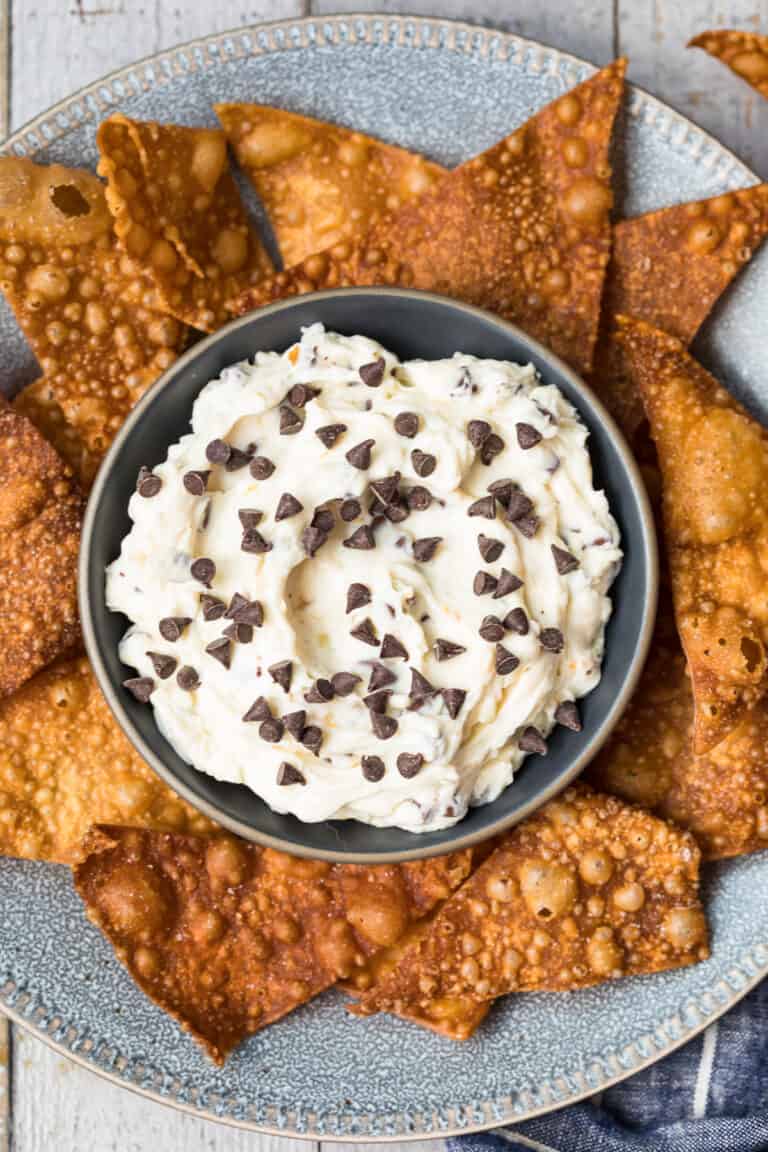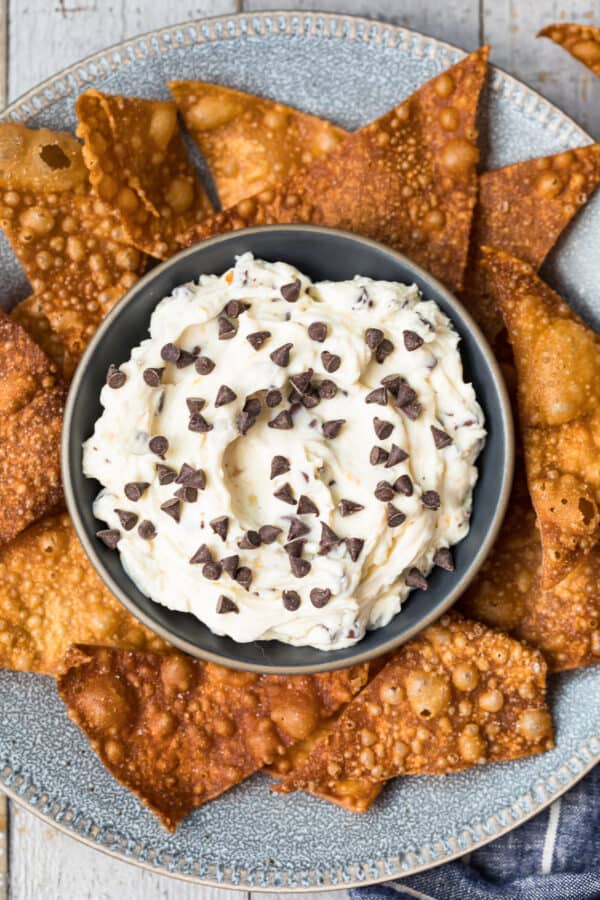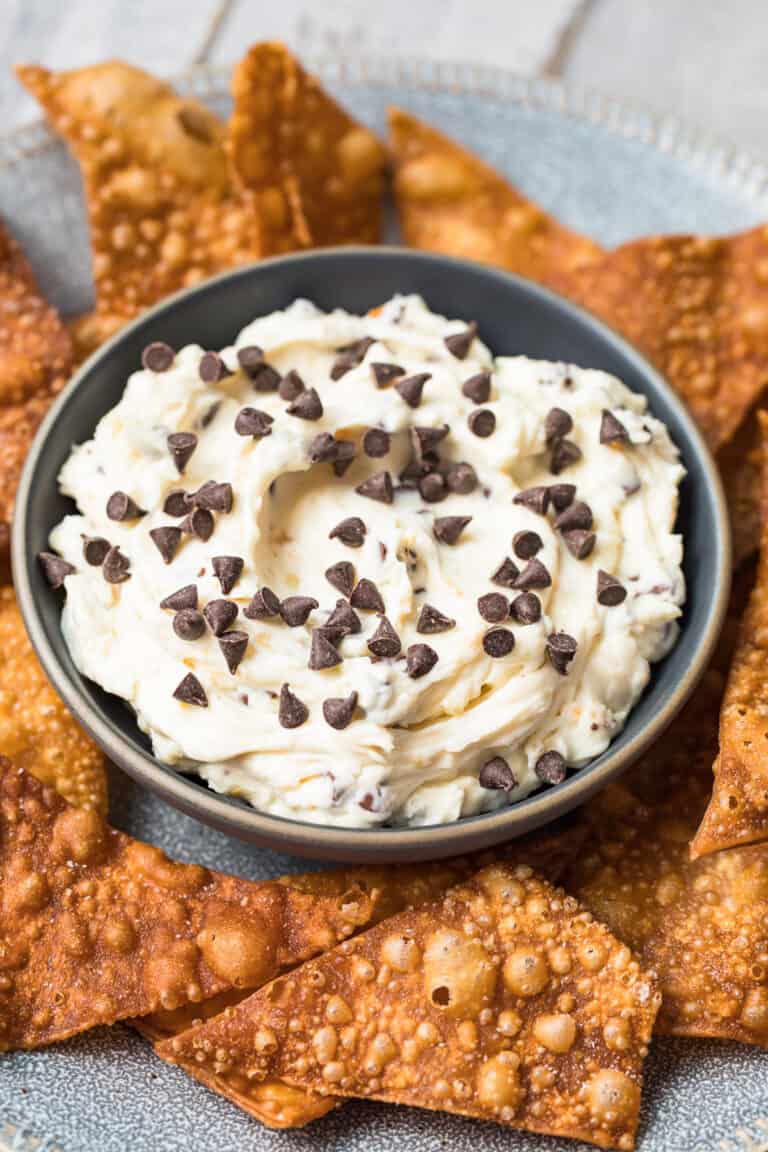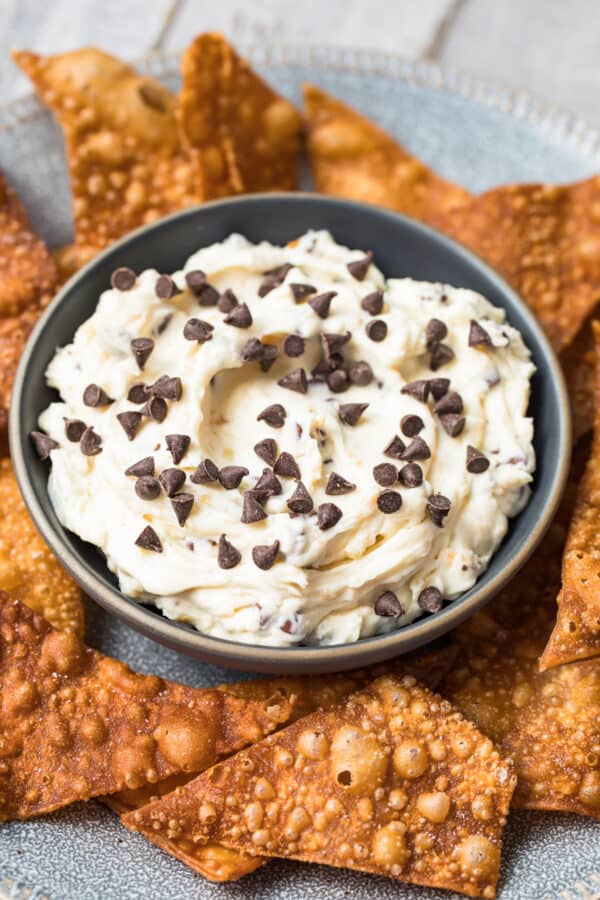 Why is my Cannoli Dip runny?
It's essential you drain you ricotta! If the ricotta is too wet the dip will be grainy and won't have that lovely creamy texture to it. Make sure to strain it. To do this, place a paper towel over the ricotta while still in the container. Turn the container upside down and set it in a wire mesh sieve for 30 minutes. Discard the excess whey.
You'll want to remove enough moisture so the Ricotta should hold it's shape pretty well.
Can I make this dessert dip in advance?
You can whip this dip up 3-5 days in advance, make sure to store in an airtight container in the fridge. When ready to use, allow the dip to soften on the counter until it has a firmness you'd like for dipping!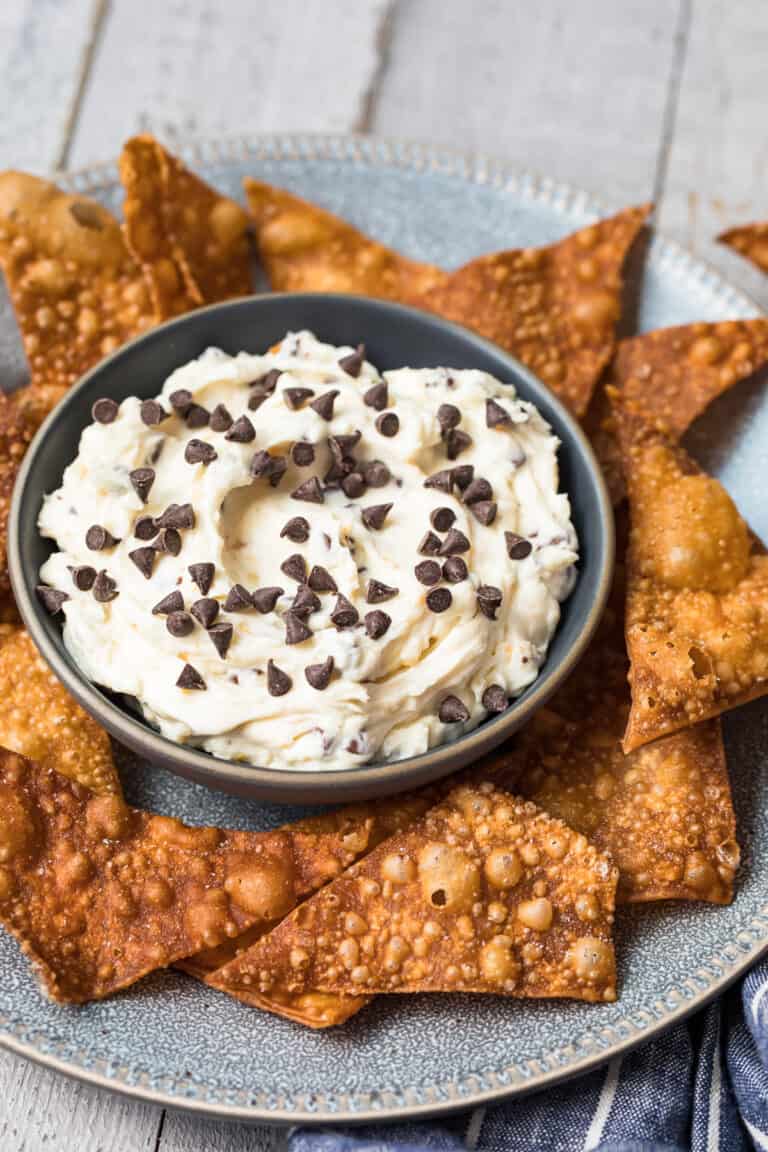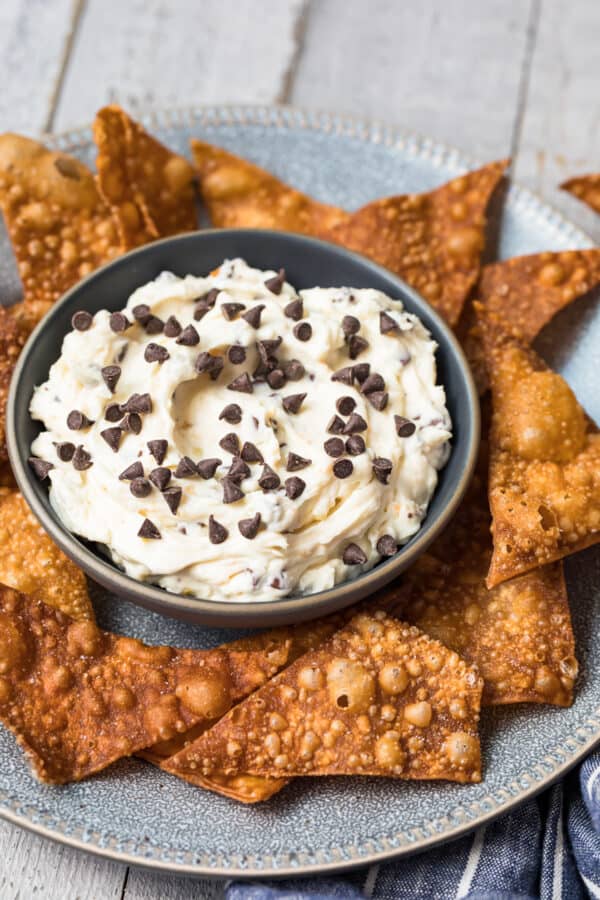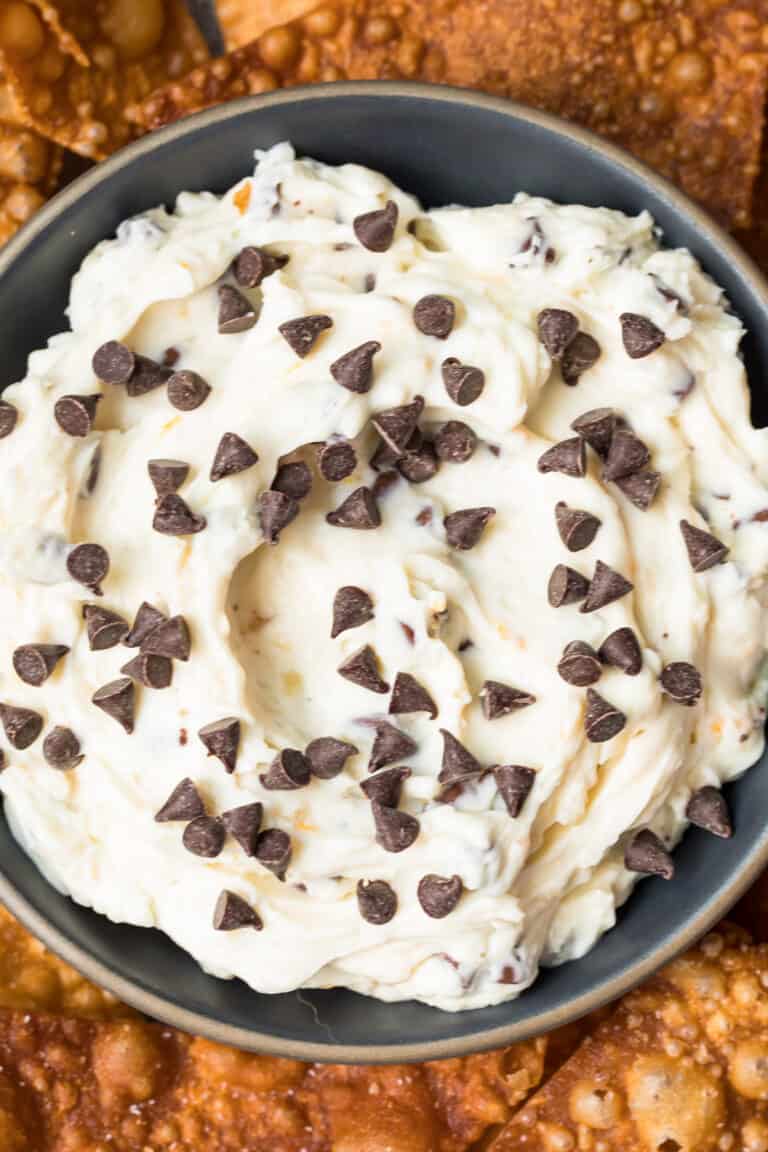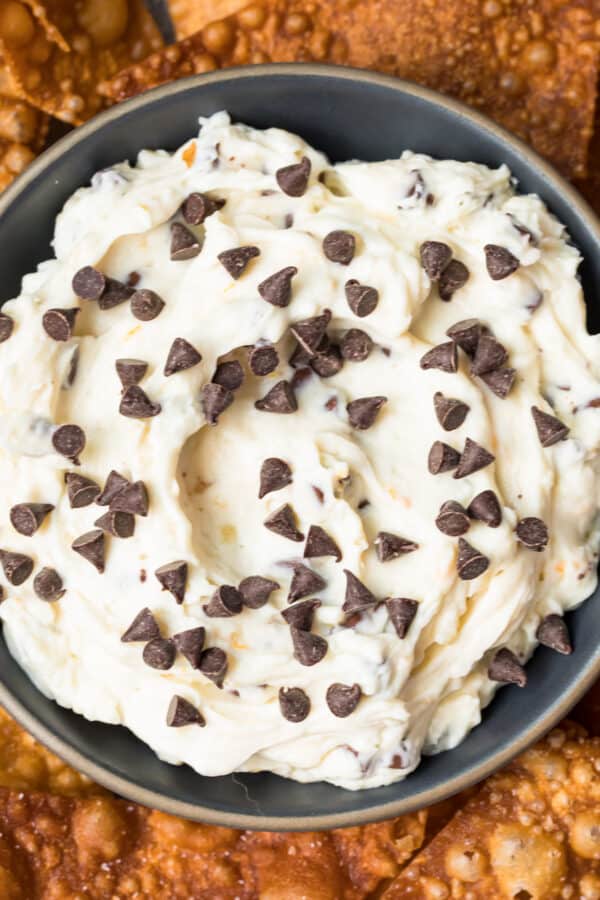 What to dunk in this dip?
Well, the wonton chips work great! They are crispy and lightly dusty in flaky sea salt. The sea slat gives a lovely counter-punch to the tangy sweet dip. Plus they are so easy to make!
Other than that the sky's the limit! Lightly salty snacks work well for that rounded flavor, things like pretzels would be nice and hold up well to dipping. Of course you can use fruit too!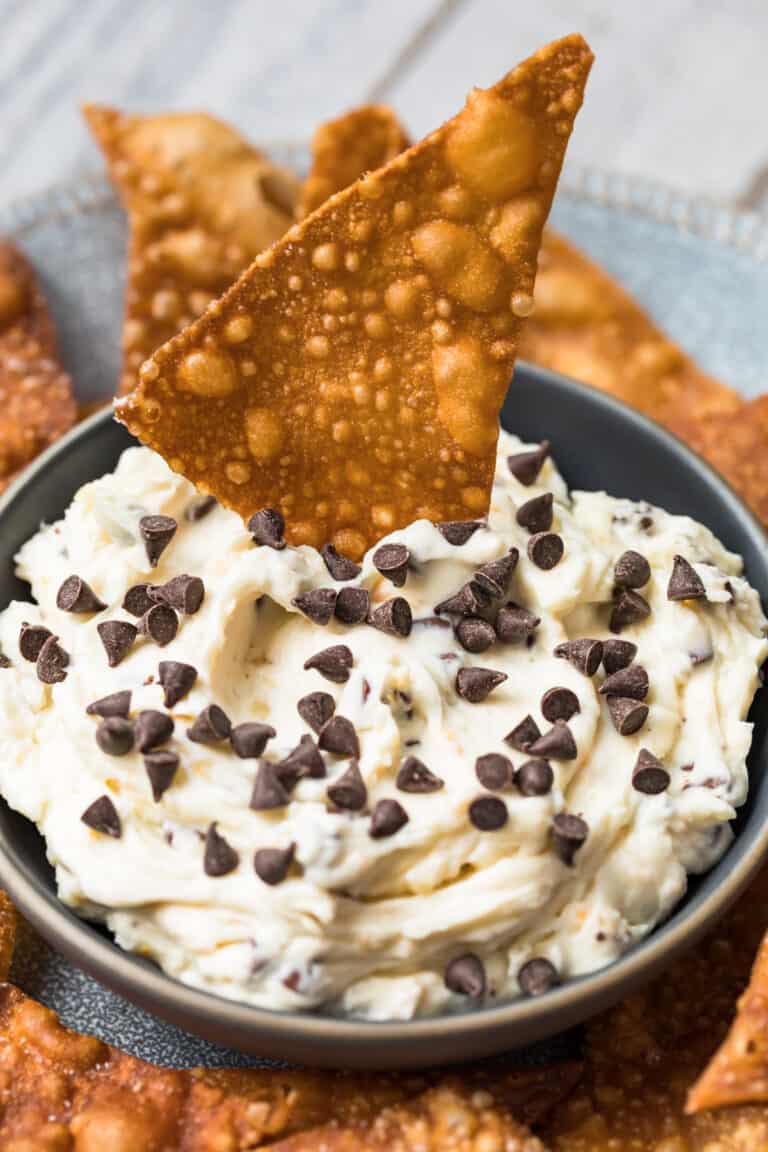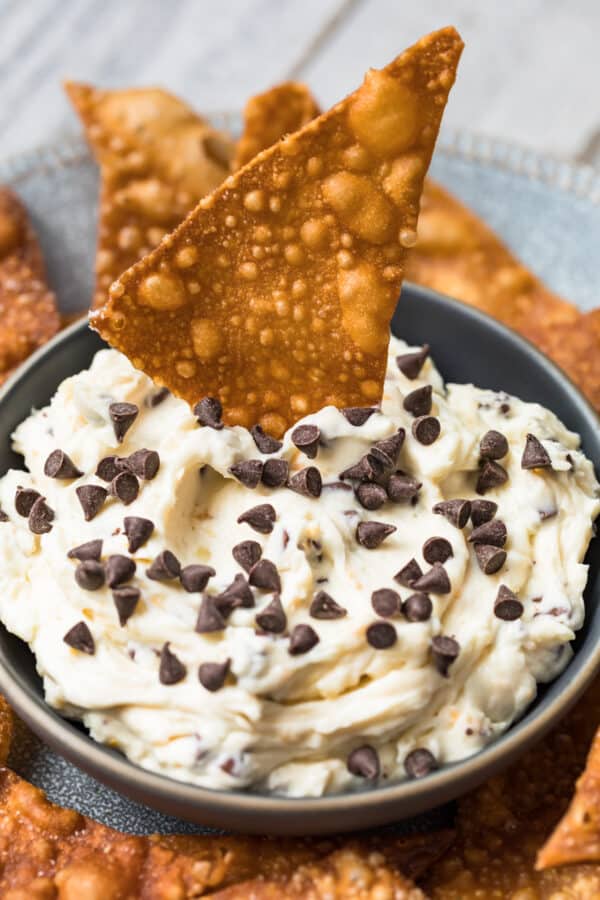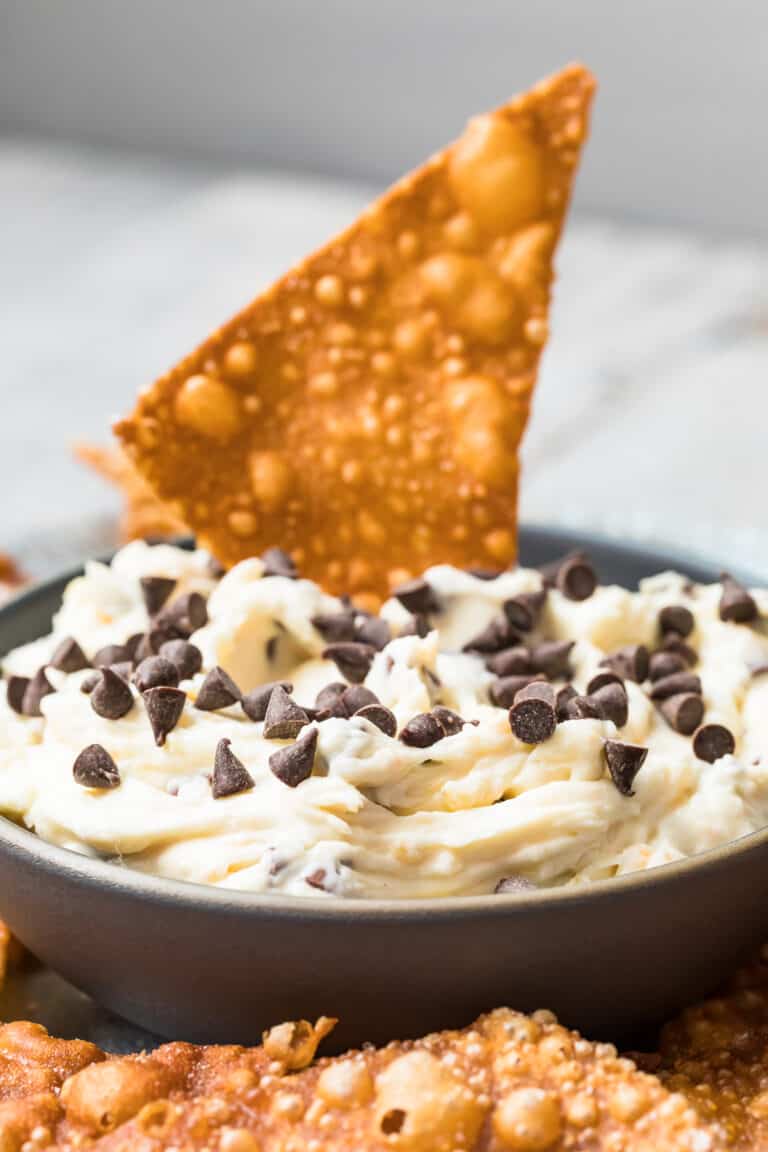 Tips!
Make sure to strain your ricotta – very important!
For mixing this dip, I recommend using a stand mixer or a hand mixer, it isn't a recipe you can make with a hand whisk.
Halve your wonton wrappers diagonally before frying, so you get the perfect dipping chips.
If you have any leftover dip, store in the fridge and allow to come back up to near room temp, for the right dipping consistency.
You can also use the dip as cannoli filling – just pipe into shells.
This dip is a favorite and can be adapted in multiple ways. Adjust with your favorite flavorings to make it your own.