STRAWBERRY SALSA with CINNAMON TORTILLA CHIPS is such a fun BBQ treat, perfect for any party! This strawberry basil fruit salsa is so fresh, healthy, and delicious. And the homemade cinnamon sugar tortilla chips are the perfect level of sweetness to go along with the salsa. Serve this on 4th of July, at a pool party, or on any summer day!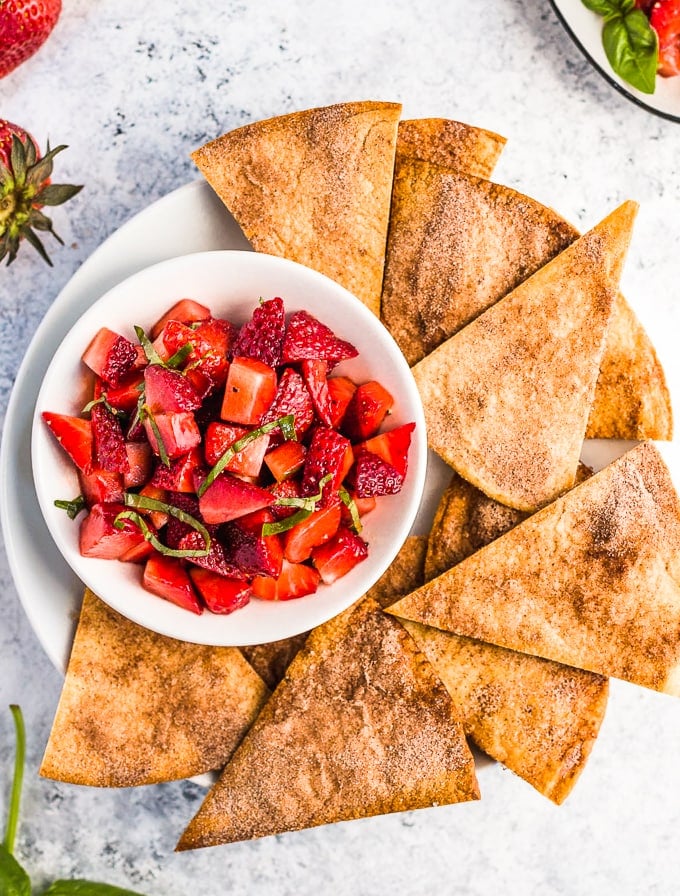 Strawberry Salsa with Cinnamon Sugar Tortilla Chips
Strawberry Salsa with Homemade Cinnamon Tortilla Chips is one of our favorite appetizers for Memorial Day! Or for Fourth of July, or Labor Day….really for any day! Delicious, fresh, easy, and light!
Strawberry Salsa combines some of my favorite flavors (strawberry and basil) to create a unique and delicious fruit salsa. Combined with these homemade cinnamon tortilla chips, it makes the best summer appetizer.
Summer calls for light and easy recipes, and this fruit salsa is no exception. It's perfect for pool parties, BBQs, or a simple picnic with your family or friends. It light, sweet, and fresh, my favorite summer combination! And the cinnamon sugar tortilla chips are so addicting, with or without the strawberry basil salsa.
Make this fruit salsa and cinnamon chips appetizer for your next get together, and pair it with a fresh cherry limeade, peach lemonade, or sweet tea sangria!
Strawberry Salsa and Cinnamon Tortilla Chips are the perfect summer appetizer. Light, sweet, and oh so delicious!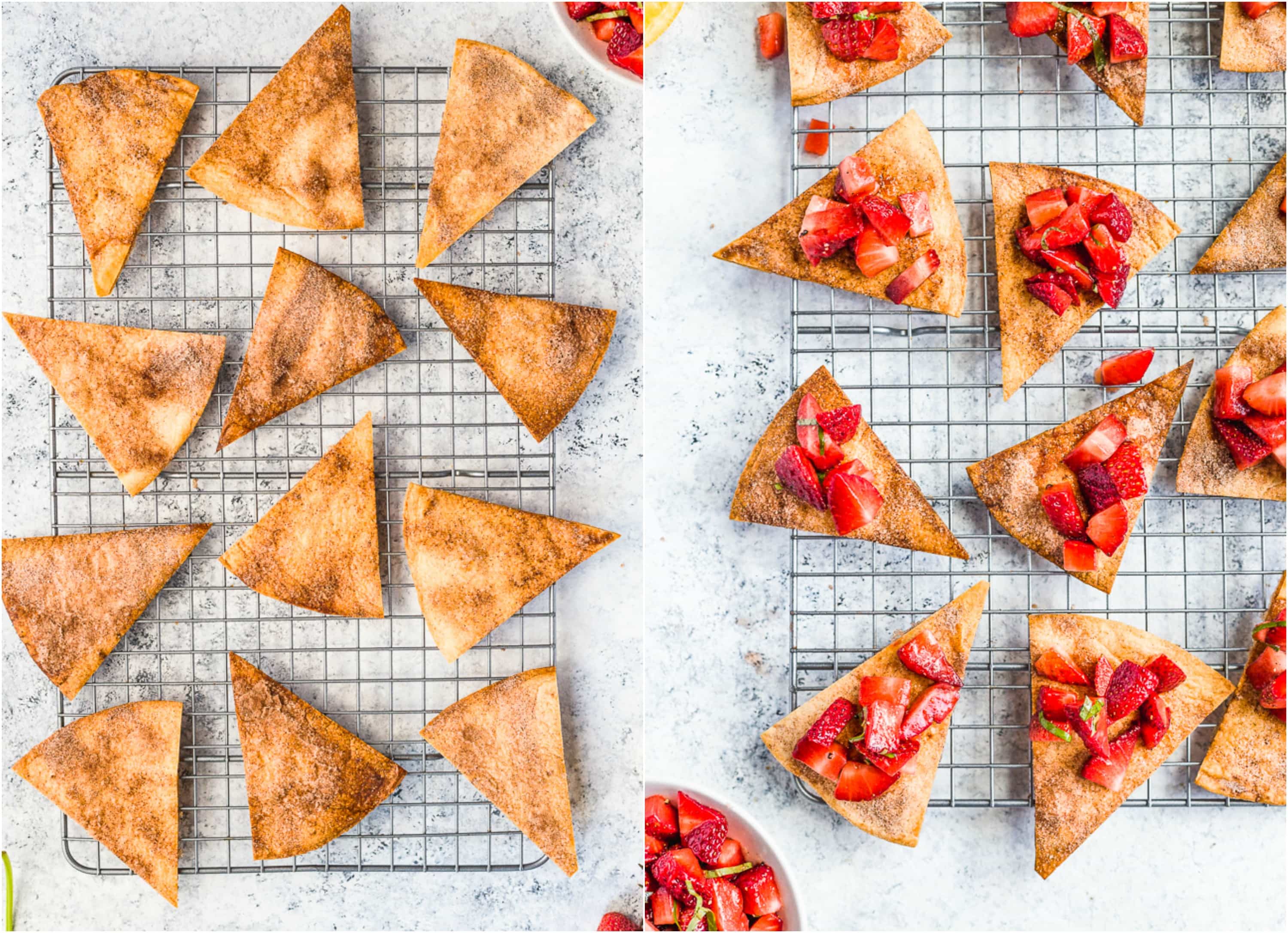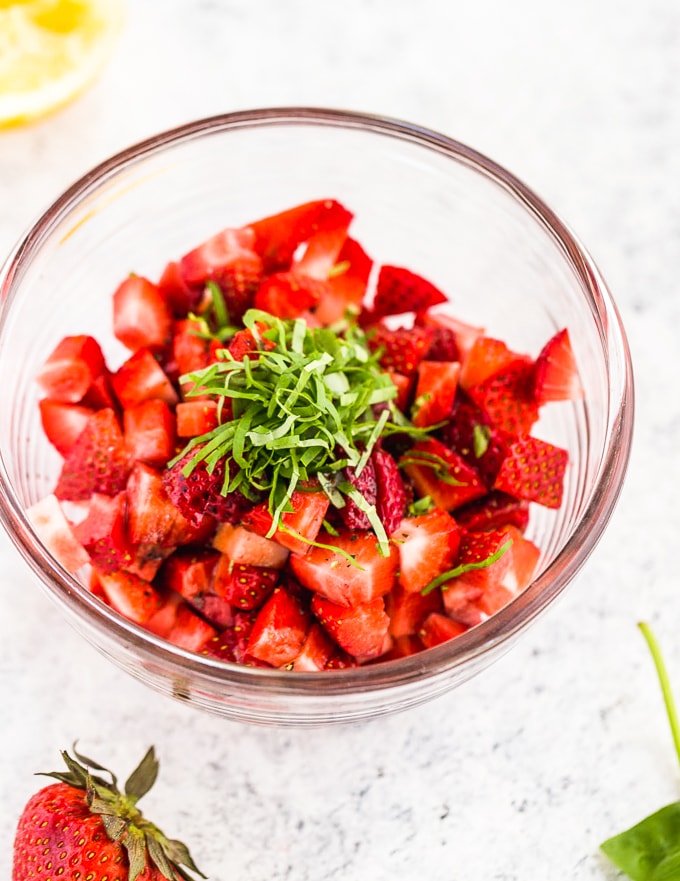 Strawberry Basil Fruit Salsa Recipe
I LOVE strawberry salsa in the summertime. It's just so fresh, light, and the perfect level of sweet. This fruit salsa recipe is really easy to make and it's always a hit at parties. All you need is strawberries, lemon juice, fresh basil, olive oil, and a bit of salt and pepper. I'm obsessed with this mixture of flavors, and it tastes like a garden fresh recipe.
How to Make Strawberry Salsa:
Combine olive oil, lemon juice, salt, pepper, and basil in a bowl
Add in the chopped strawberries and mix gently
Drizzle a raspberry balsamic reduction over the salsa if you like! This just adds an extra kick to the strawberry basil fruit salsa, but it's not a necessary step.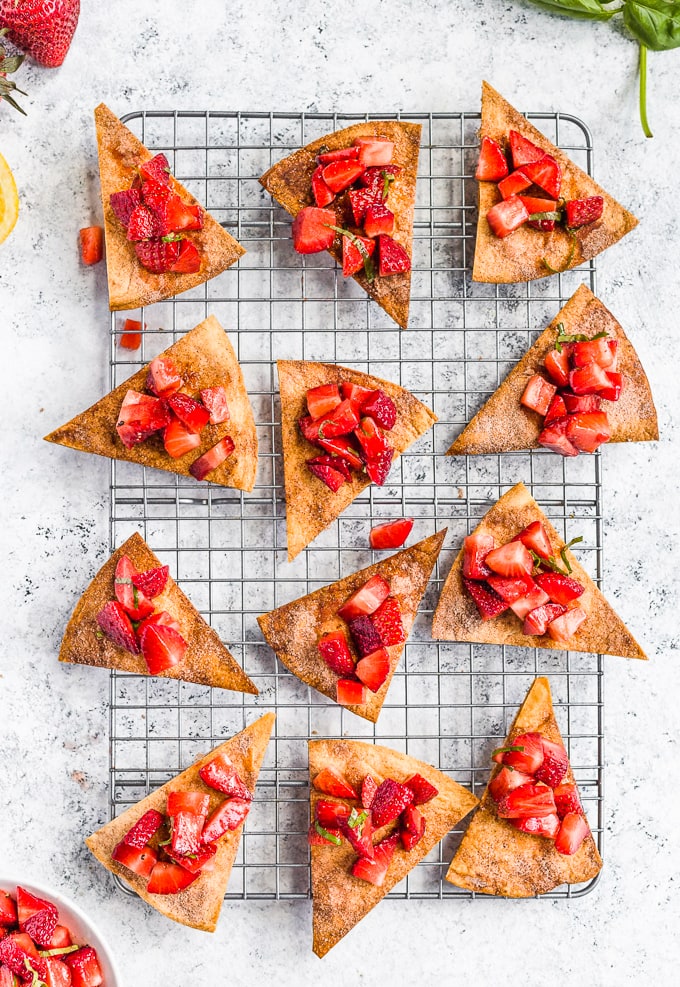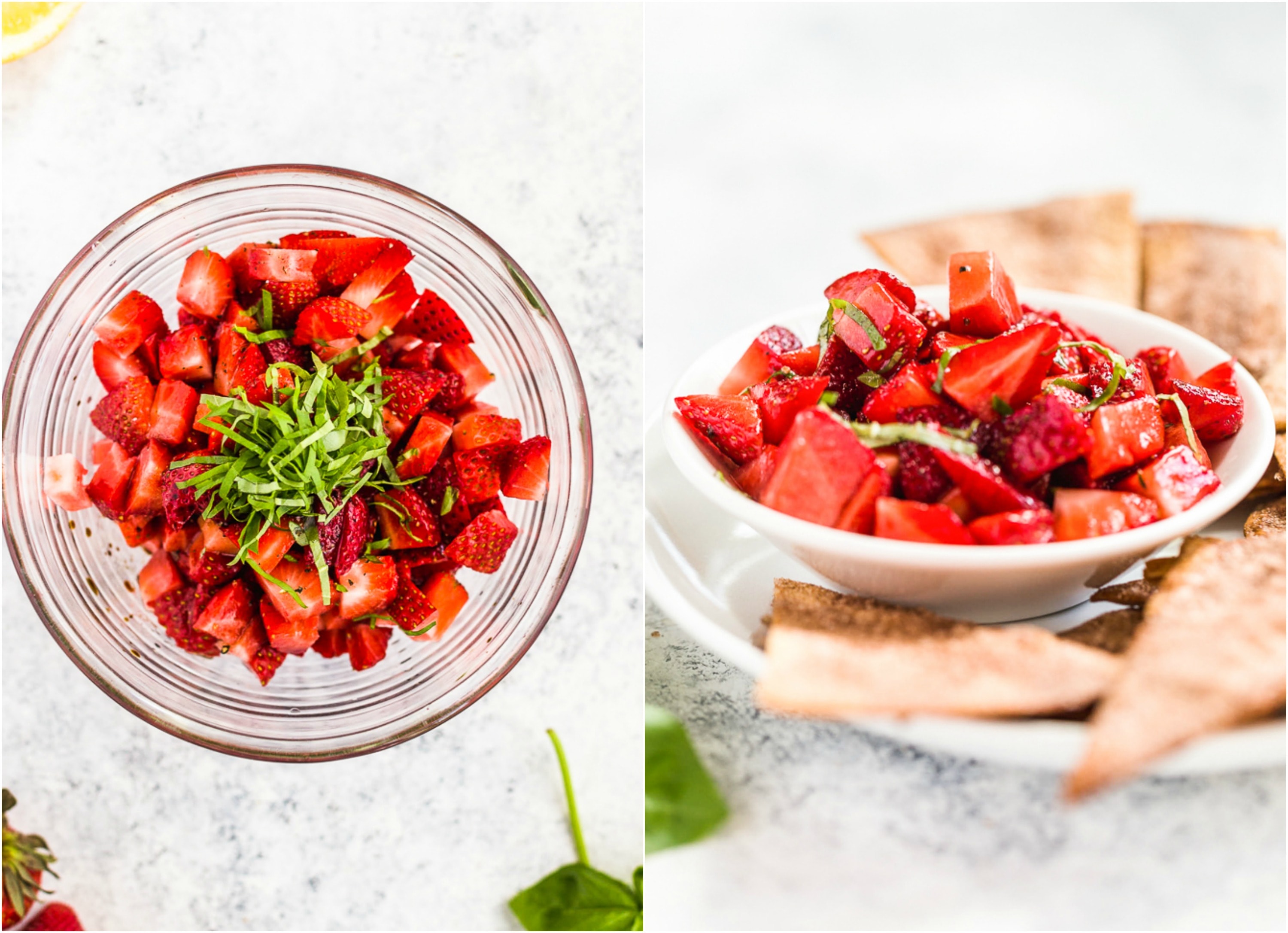 Cinnamon Tortilla Chips Recipe
I never realized how simple it is to make your own homemade tortilla chips. These baked cinnamon tortilla chips are MADE for fruit salsa, and it's a match made in heaven. I used large flour tortillas, but I can't wait to try them using whole wheat or other types of healthier tortillas. These are so easy to make, and they bring out the sweetness in the strawberry salsa.
How to Make Cinnamon Sugar Tortilla Chips:
Preheat oven to 350°F and spray a baking sheet with non-stick spray
Mix together the cinnamon and sugar in a bowl
Stack tortillas on top of each other and cut them into triangles
Lay the chips on baking sheet & lightly cover with olive oil
Sprinkle cinnamon sugar mix over the chips, then flip chips and cover the other side
Bake 10-12 minutes
If you try these cinnamon tortilla chips, let me know! I would love to hear about your flavor combinations or how other types of tortillas turned out. These are the best thing to serve with fruit salsa of all kinds. Try peach salsa or other combinations too.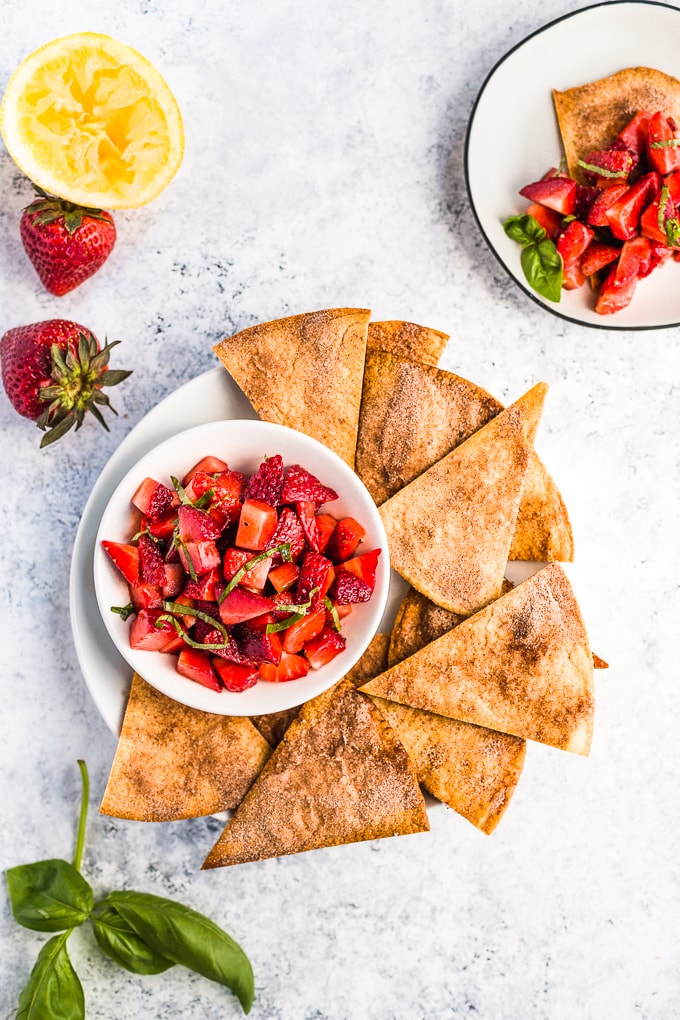 What to eat with strawberry salsa?
These cinnamon tortilla chips are the best thing to eat with strawberry salsa. The bring out the sweetness of the fresh fruit salsa, and the flavors mix so perfectly. You could also try using it as a topping for fish or chicken if you're feeling a fruity dinner. Or just pair the strawberry basil salsa with ice cream, angel food cake, or a tart for something more dessert like.
How long does strawberry salsa last?
This strawberry salsa can be stored in the refrigerator for a few days if you have leftovers.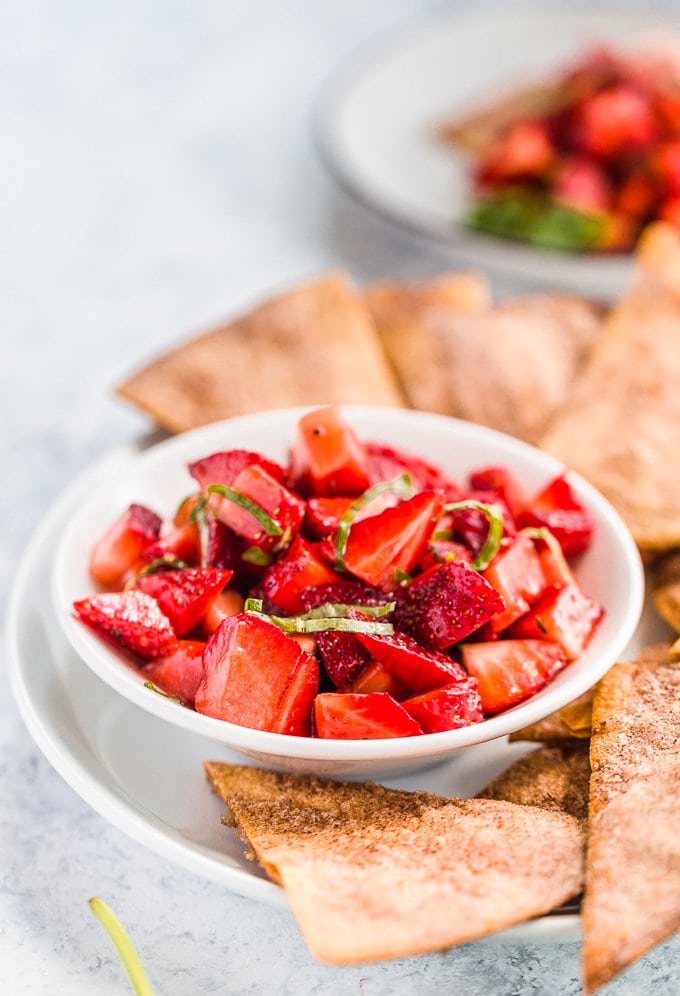 Strawberry Salsa with Homemade Cinnamon Tortilla Chips is the perfect appetizer you need this Summer. Have fun with this fruit salsa recipe and add in some of your favorite flavors! It would be delicious with onion, peaches, or even feta crumbles added to the salsa. If you like dessert dips, try our Cookie Dough Dip or Cannoli Dip.
See the recipe card below for details on how to make Strawberry Salsa with Cinnamon Sugar Tortilla Chips. Enjoy!
If you like this fruit salsa recipe, try these other fruity recipes too: