Make a batch of your own homemade ricotta cheese with this simple recipe. Easy to make and super quick too, it's perfect to use in so many recipes.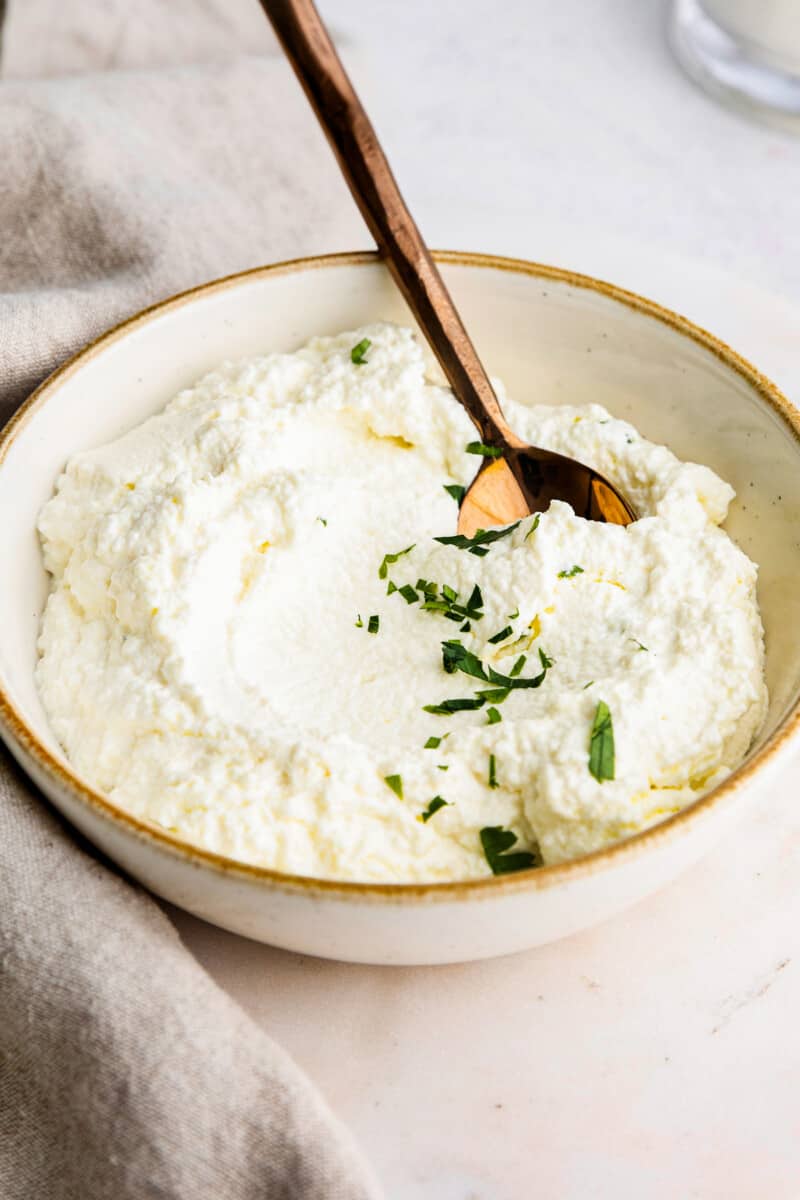 Ricotta Cheese Recipe
Have you tried making your own ricotta cheese at home? It's such a fun process and much easier than you think!
You just need four basic ingredients you will have the most creamy ricotta, trust me, it's so much better than store bought!
Be sure to try my Queso Cheese Dip and Cheese Straws for more cheesy goodness!
Why you'll love this Homemade Ricotta recipe:
QUICK AND EASY: This recipe only requires about 10 minutes of hands on time, so you have no excuses!
MAKE AHEAD: Homemade ricotta cheese has a fairly good shelf life so you can enjoy it throughout the week.
SO CREAMY: We use milk AND cream in this recipe, so you'll be left with the richest and creamiest ricotta. It's seriously delicious!

How to make Ricotta Cheese at Home from Scratch
You can jump to the recipe card for full ingredients & instructions!
Bring the milk, cream and salt to a simmer. Keep stirring so that it doesn't boil over.
Add in the vinegar and keep stirring.
Curdle the mixture.
Strain through cheese cloth and let sit to strain.
Use or store.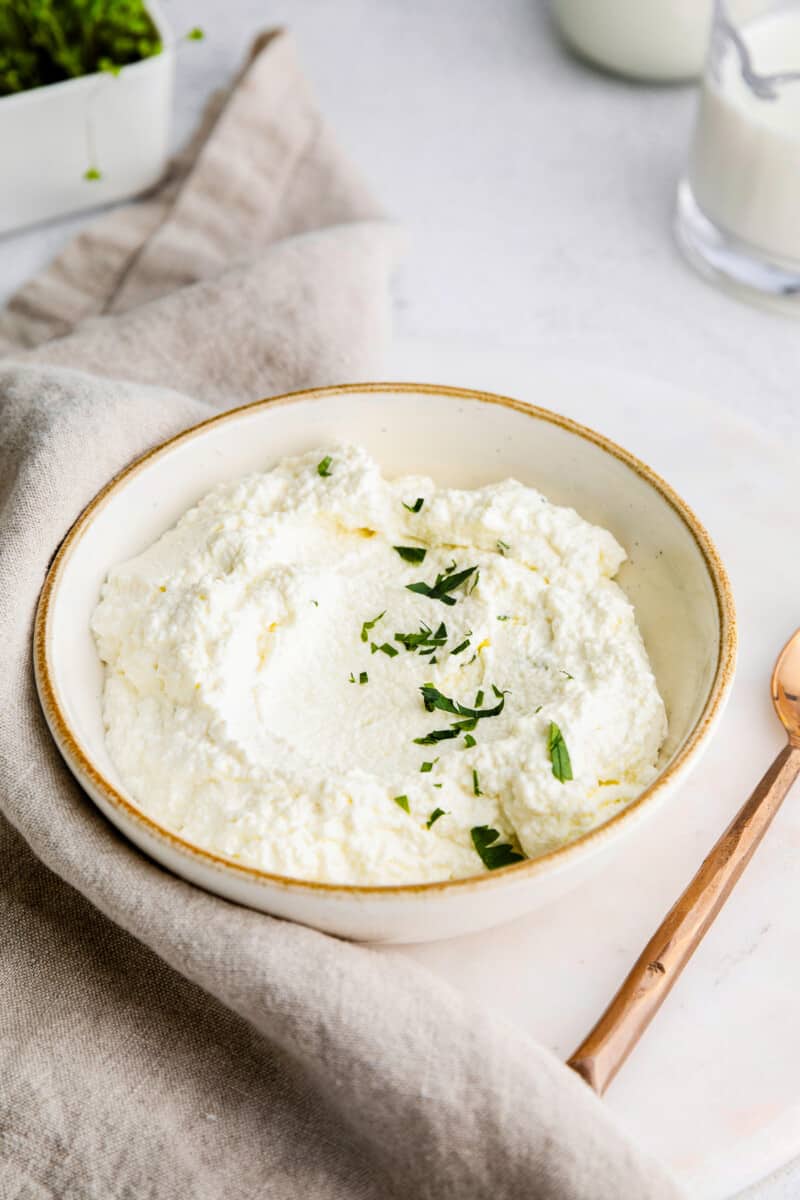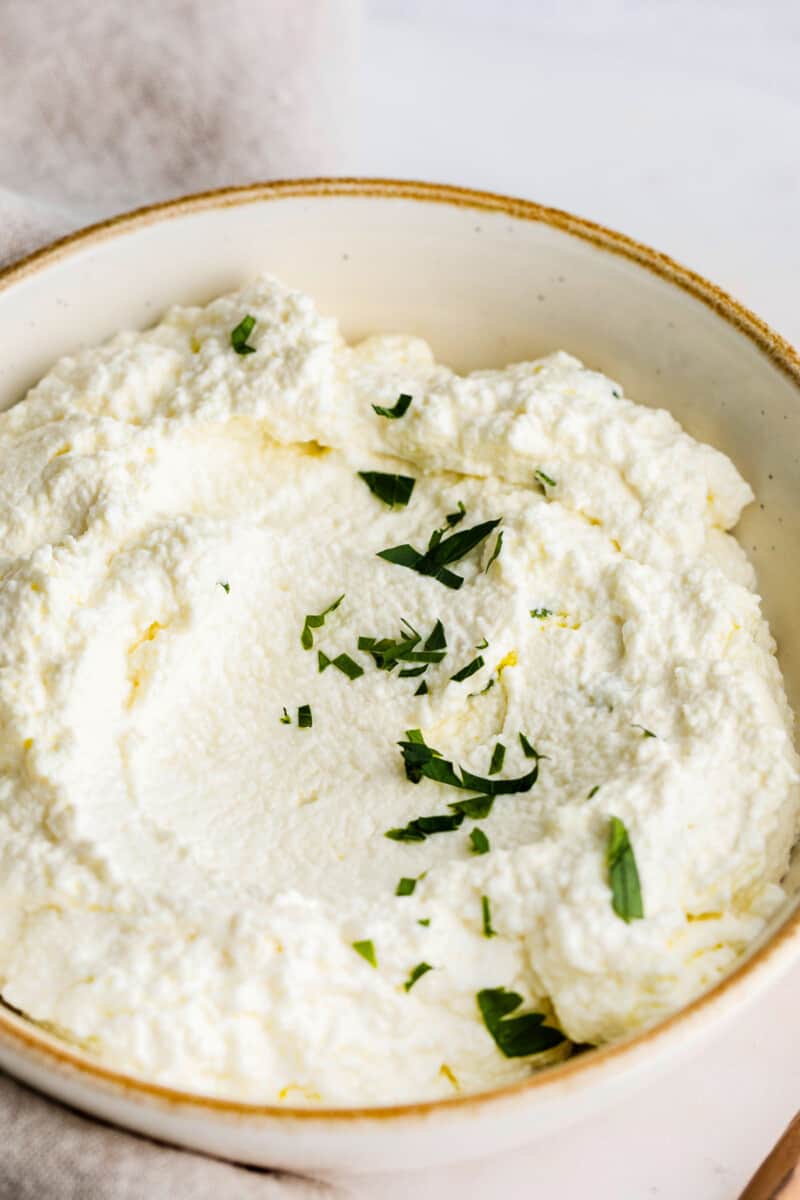 New To Cooking
Check out my comprehensive Beginner's Guide to learn how to make easy recipes, see new techniques, and browse my favorite gadgets!
How long does it keep?
Once your ricotta has fully drained, you can enjoy it straight away, or, transfer it to na airtight container and it will keep fresh for up to 5 days.
Can you freeze it?
Yes! This actually freezes really well, so go forth and make a big batch! The liquid will seperate and the texture will change, but you can thaw it in the ridge and either stir it back together or strain it and it's good to use.
What is ricotta?
Ricotta is an Italian whey cheese and can one made from lots of different milks; sheep, cow, goat or water buffalo. It's made from the leftovers from the production of other cheeses, whey, and is easily recreated at home.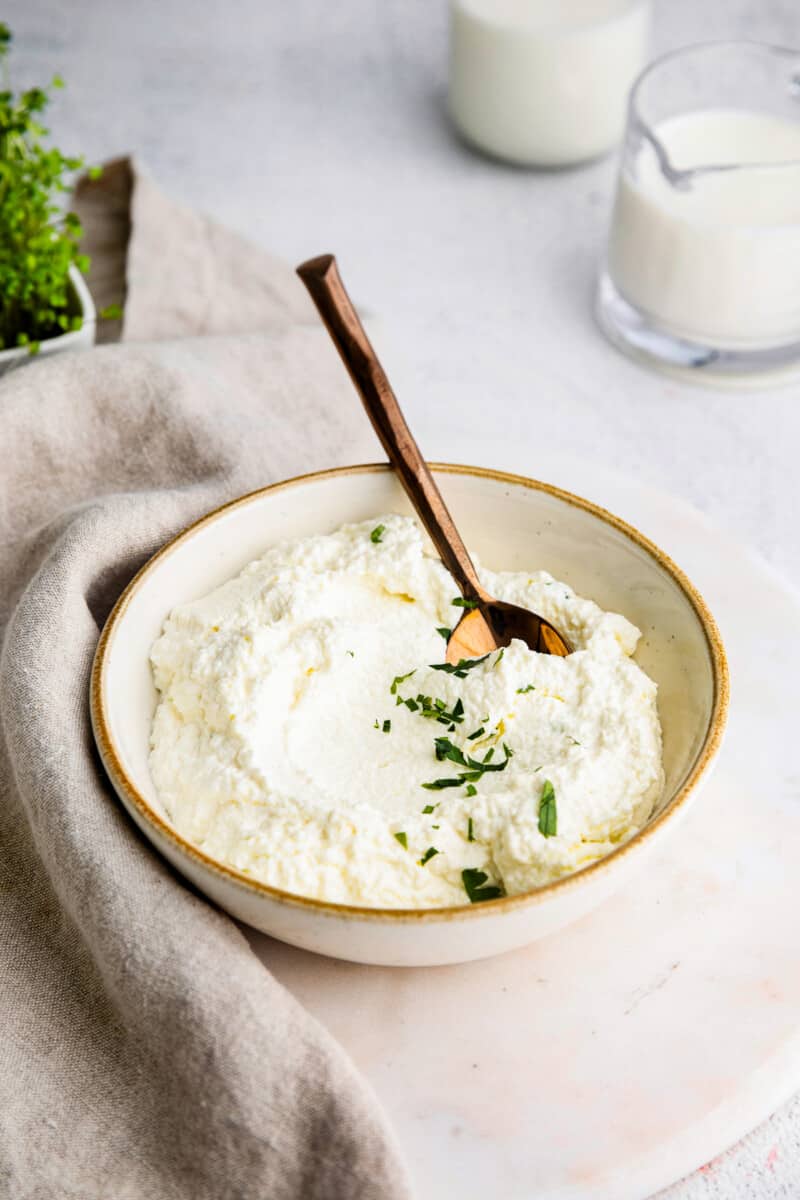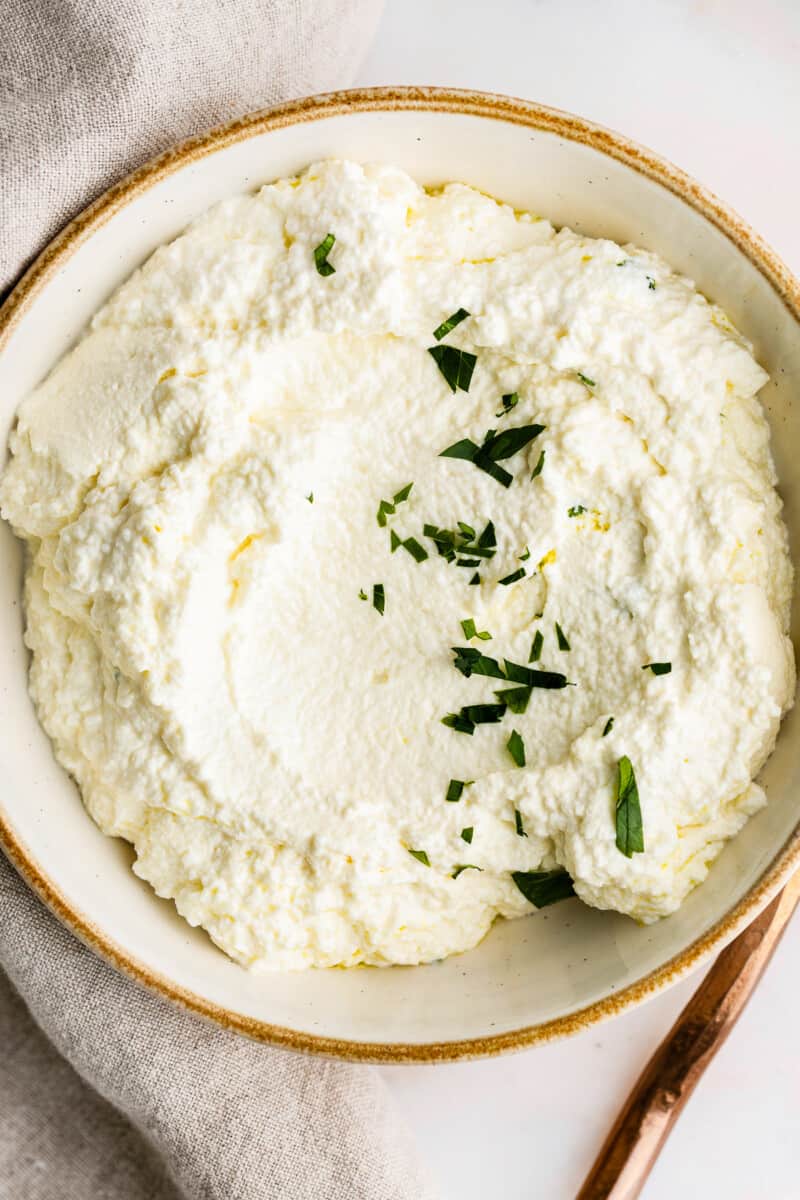 Tips!
If you don't have white wine vinegar, substitute the same amount of freshly squeezed lemon juice.
This combination of milk and cream makes the creamiest ricotta! I highly recommend using both!
The milk needs to get hot enough to curdle— if you have a thermometer, check the temperature to make sure it is at least 190F before adding the white wine vinegar.
Recipes to Make Using Ricotta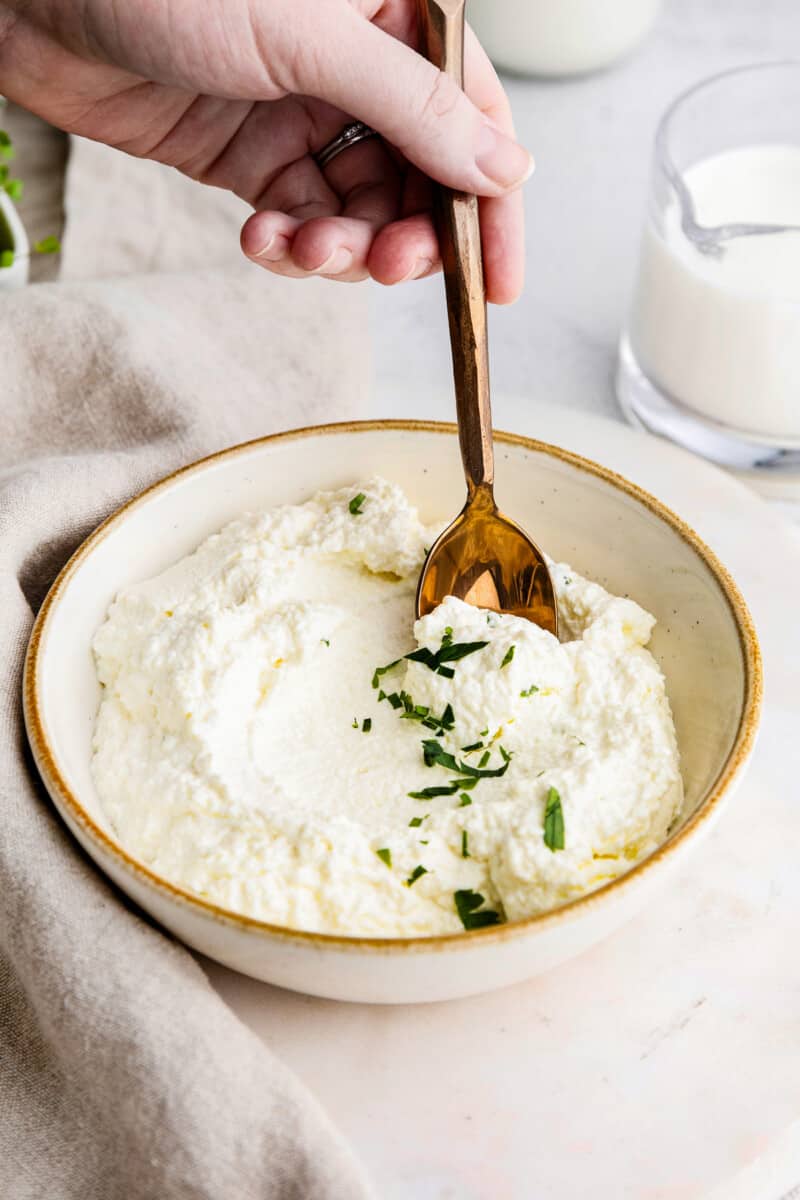 This homemade ricotta cheese is such a fun thing to make instead of buying it. The results are so creamy and delicious, I just know you are going to love it!
If you make this recipe be sure to upload a photo in the comment section below or leave a rating. Enjoy! You can also jump to recipe.