Goat Cheese Dip filled with cherry tomatoes, basil, garlic, and more is my FAVORITE EASY CHEESE DIP APPETIZER! It's classy, it's simple to make, and it's so delicious. Serve this baked cheese dip hot with some crostini, toasted bread, or hearty crackers.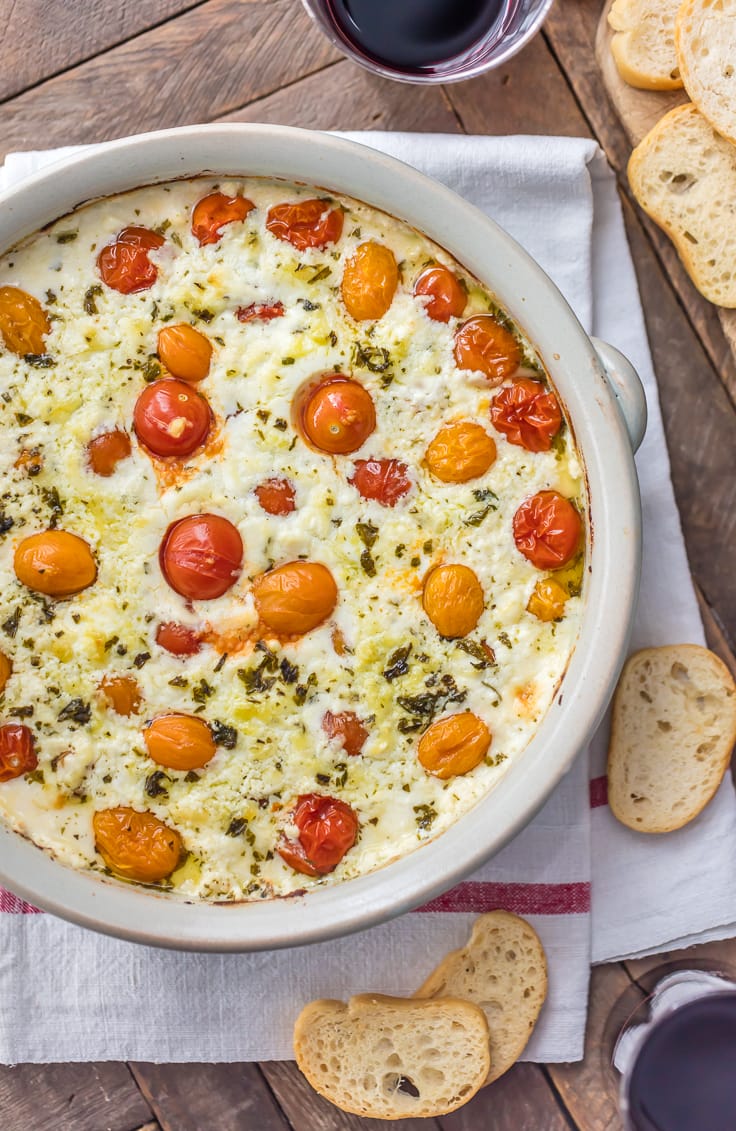 Goat Cheese Dip
This garlic herb tomato goat cheese dip is exactly what dreams are made of! Cheesy, easy, super tasty, and quite nice to look at…I am a food blogger after all!
If you're looking for the perfect easy cheese dip that's both tasty AND fancy (because sometimes fancy cheese dip is an absolute necessity), then this Garlic Herb Tomato Goat Cheese Dip is exactly what you need!
Welcome to my heaven: three types of cheeses, garlic, basil, tomatoes, basically ALL THE GOOD STUFF. Heaven for me will include cats, dogs, Pat (is that bad he's third on the list?), and CHEESE. All the cheese. Cheese dips for every stinking meal. Because a good, cheesy, hot dip recipe is always needed.
Feta, goat cheese, ricotta…I'm drooling. So let's just get to it with this baked goat cheese dip recipe.
This Garlic Herb Tomato Goat Cheese Dip recipe is the classy kind of cheese dip you need for your next party!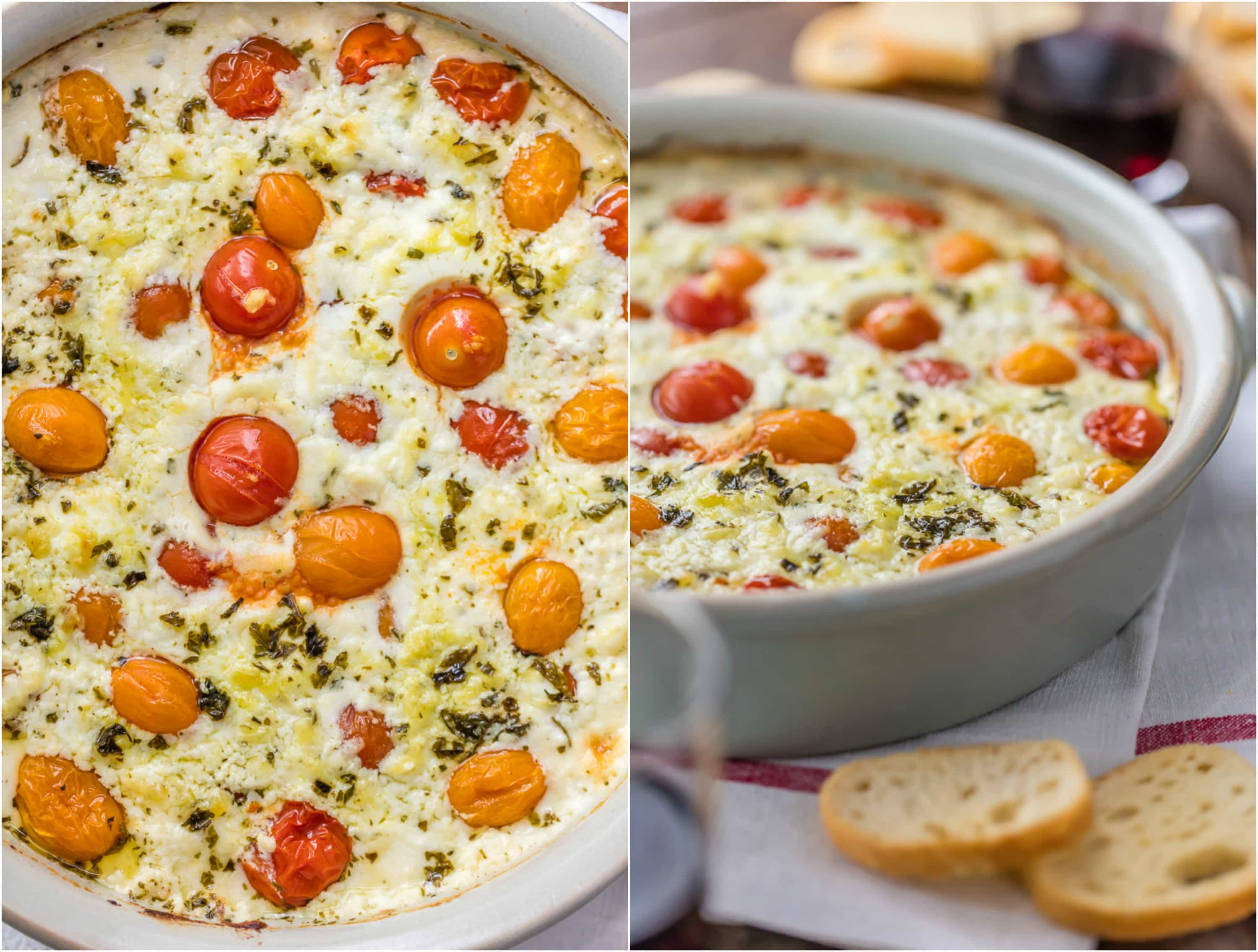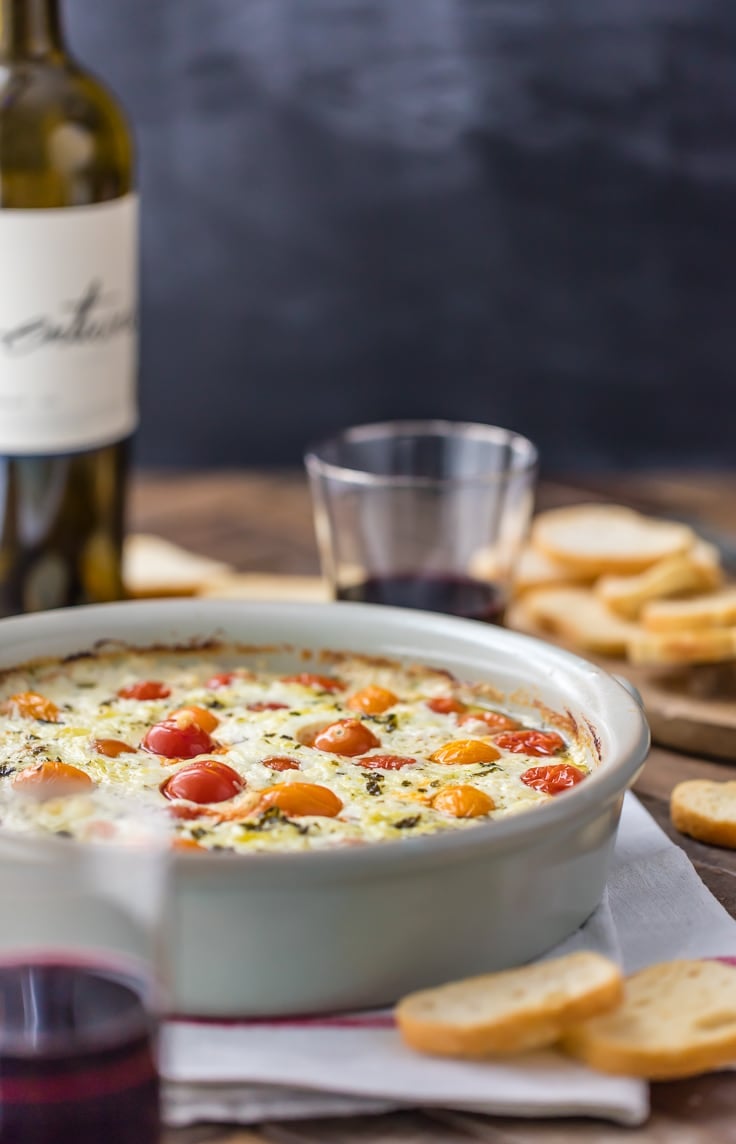 Baked Goat Cheese Dip Appetizer
I know I have a ton of dip recipes on here, because clearly I'm addicted, but this is TRULY one of my go-to party dip recipes. It's no fail, people! Baked goat cheese dip is the perfect appetizer for any occasion.
I adapted the recipe from one of my very very very favorite blog inspirations, White on Rice Couple. Their cookbook, Bountiful, sits on my coffee table and tempts me EVERY.SINGLE.DAY. They are the reason I wanted to get better at food photography, and their recipes are killer every time. I'm telling you, this cookbook. It's a must. You can click HERE to find out more.
Here's what's in this amazing baked dip:
Goat Cheese
Feta
Garlic
Cherry Tomatoes (Yellow and Red)
Lemon Juice
Basil
Salt
Olive Oil
All of that baked into one hot dip…doesn't this sound amazing?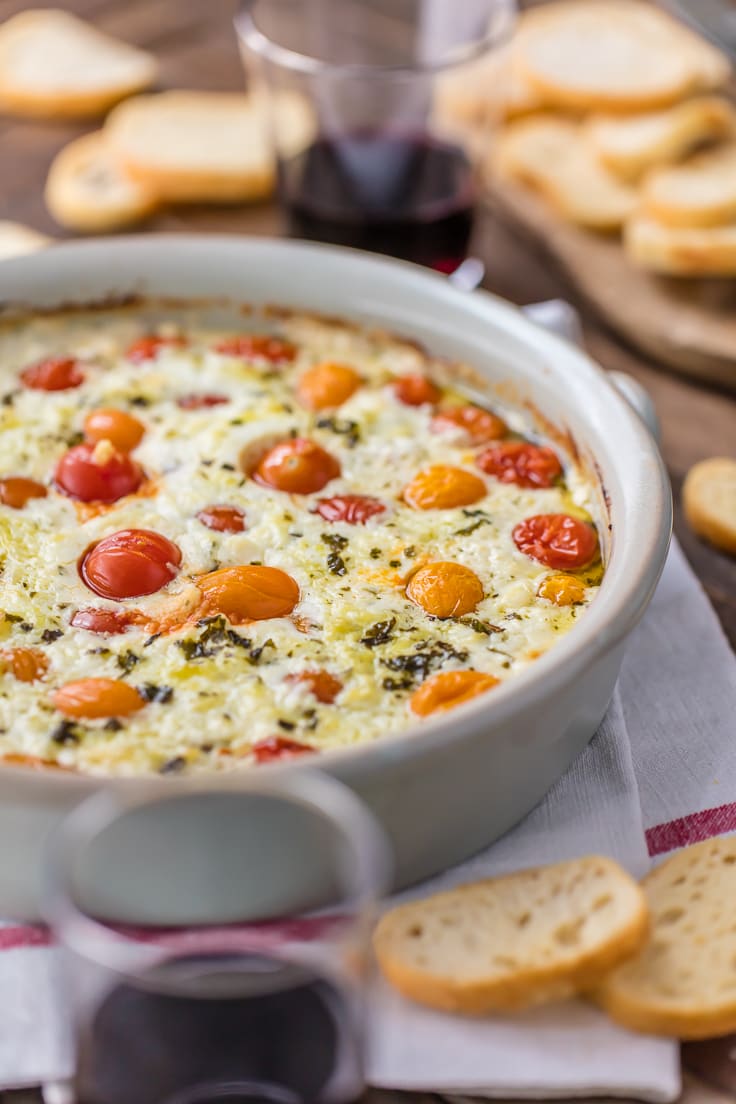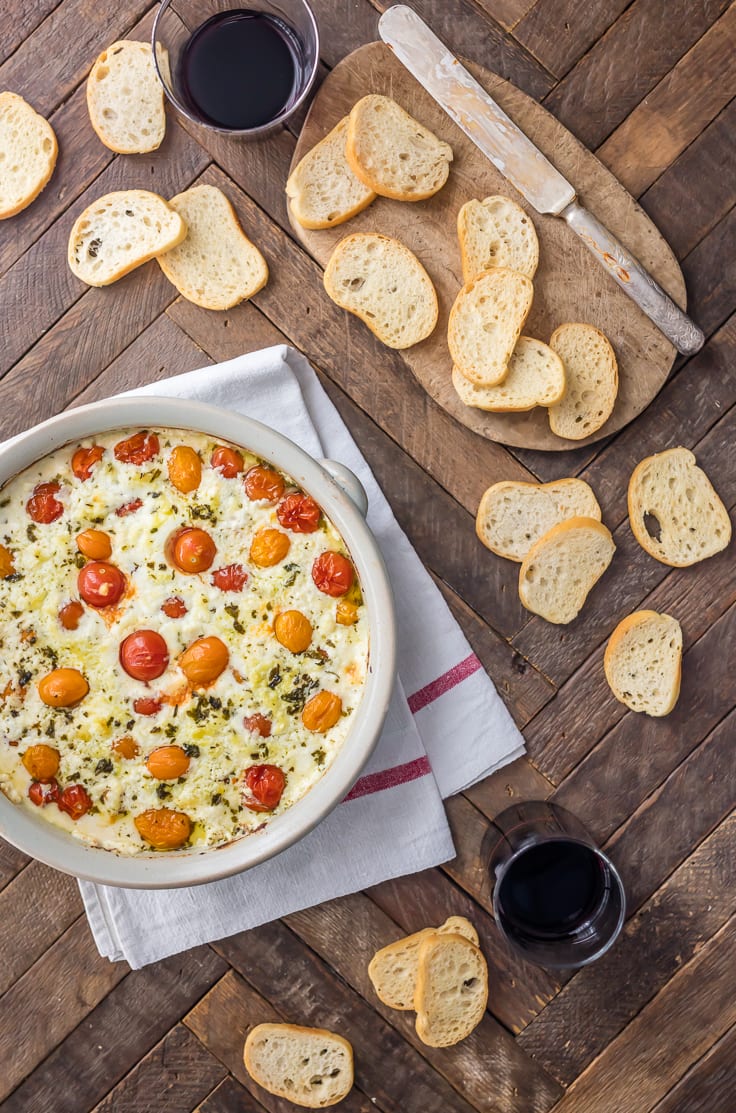 How to Make Goat Cheese Dip
You know my criteria for a good recipe is that it's also EASY. Luckily this Garlic Tomato Baked Goat Cheese Dip recipe is exactly that! It takes about 30-40 minutes to bake, but it comes out perfectly hot and delicious. Everything melts together into something absolutely mouth-watering and irresistible.
How to Make Baked Goat Cheese Dip:
Preheat oven to 350°F and prepare a baking dish with nonstick spray.
In a mixing bowl, combine olive oil, goat cheese, ricotta, feta, minced garlic, lemon juice, salt, and basil. Mix well with a spoon, until everything is well combined.
Then gently stir in half of the cherry tomatoes.
Pour the cheese mixture into the baking dish, and then top with the rest of the cherry tomatoes.
Bake uncovered for 30-40 minutes at 350°F.
Give it about 10 minutes to cool slightly, then serve it along with some toasted bread. Note that the roasted tomatoes are prone to pop when biting into them, releasing hot tomato juice…sounds delicious, but also possibly dangerous. So if the tomatoes haven't split open and deflated themselves, try to poke them and get them to pop open before serving.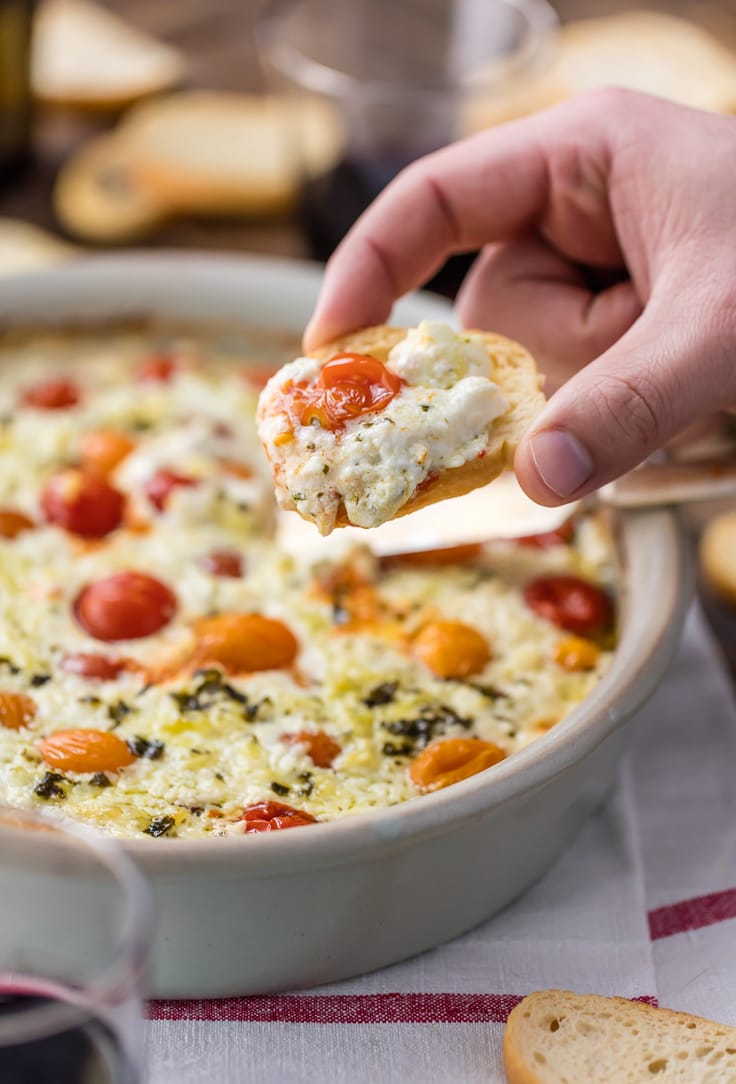 Classy Game Day Appetizer
Tasty enough for game day, classy enough for any fancy party. I made this Garlic Herb Tomato Goat Cheese Dip for an easy Super Bowl snack. Between just myself, my brother and Pat, we ate the entire thing before kick off. And then we ordered pizza. Like I said…SEND HELP! I'm not proud of that moment, but I sure enjoyed it.
It's easy to devour this baked cheese dip in no time, and everyone will want more. So dig in and eat as much as you can while it's still there!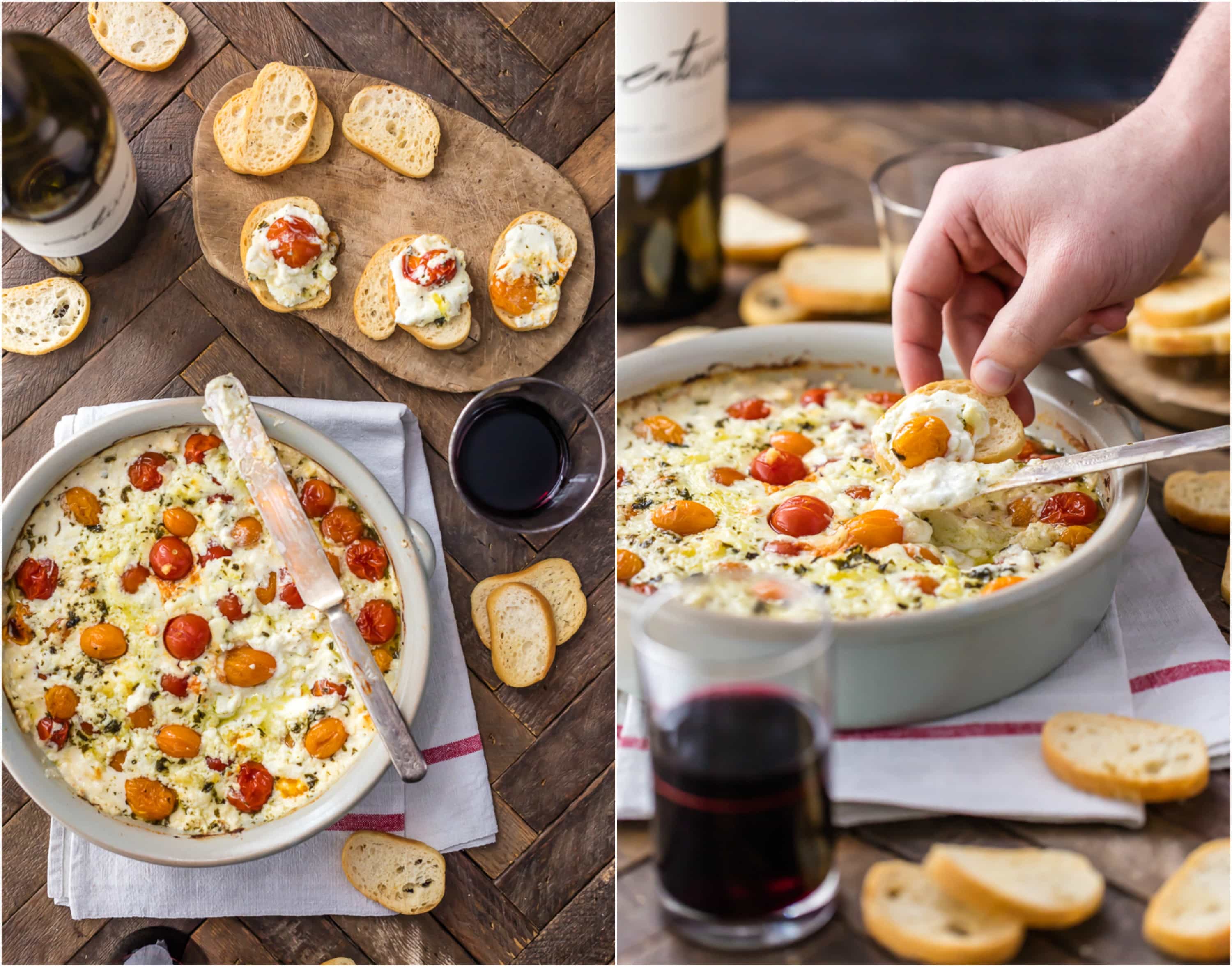 Welcome to tomato goat cheese dip heaven y'all! I promise you're going to love it here. ;)
SIDE NOTE: How much do you love this new Chevron Tobacco Lath background from Erickson Woodworks?? Be still my cheese loving heart! You can find some of my other favorite props and things HERE!
See the recipe card below for details on how to make this Garlic Herb Tomato Goat Cheese Dip. Enjoy!
If you like this baked cheese dip recipe, there are plenty more cheese dips to try out: