Garlic Herb Tomato Goat Cheese Dip is my FAVORITE EASY CHEESE DIP APPETIZER! Classy, simple to make, and so delicious.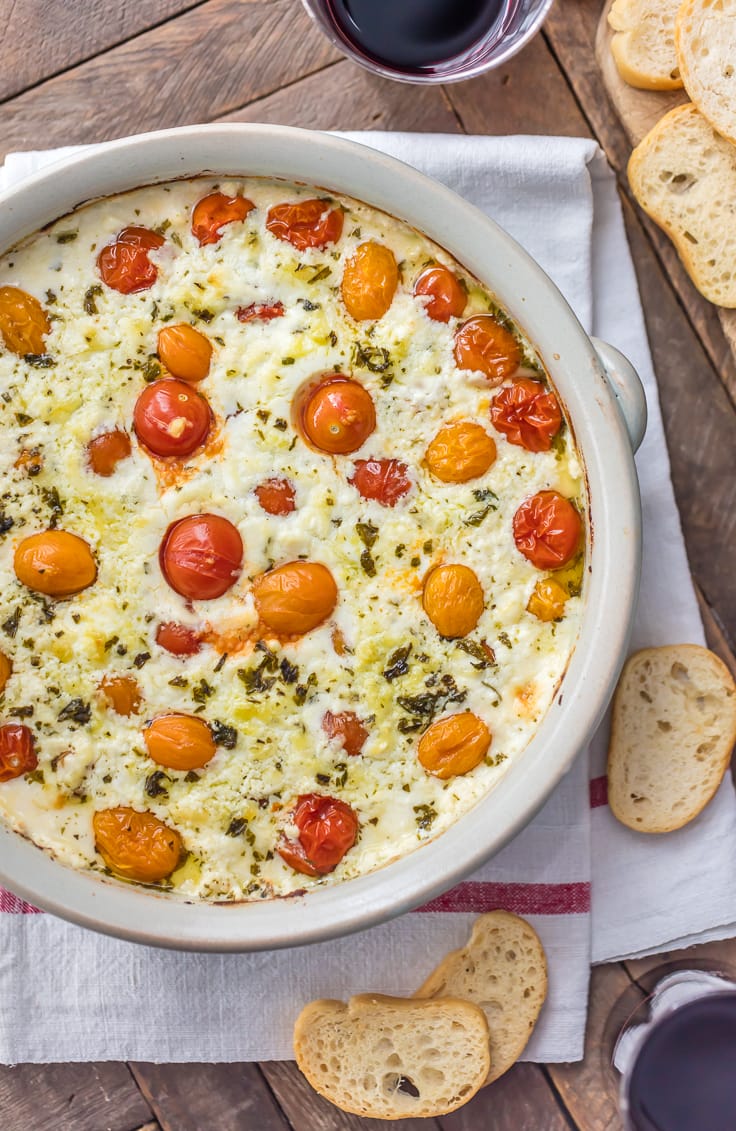 Welcome to my heaven. Three types of cheeses, garlic, basil, tomatoes, ALL THE GOOD STUFF. Heaven for me will/would include cats, dogs, Pat (is that bad he's third on the list?? KIDDING), and CHEESE. All the cheese. Cheese dips for every stinking meal. Because a good, cheesy, hot dip recipe is always welcome!
This Garlic Herb Tomato Goat Cheese Dip is the stuff dreams are made of and I just can't get enough! SEND HELP!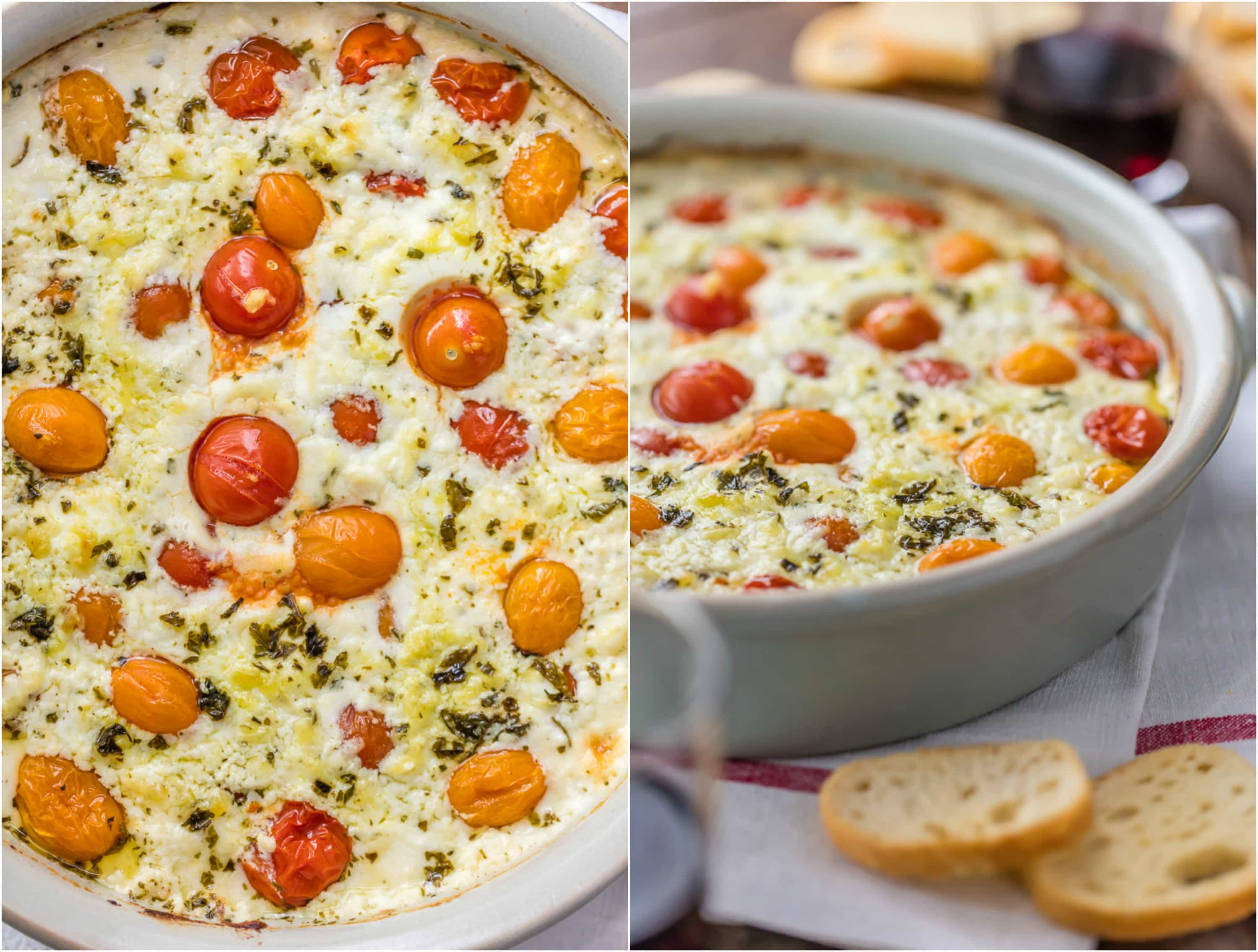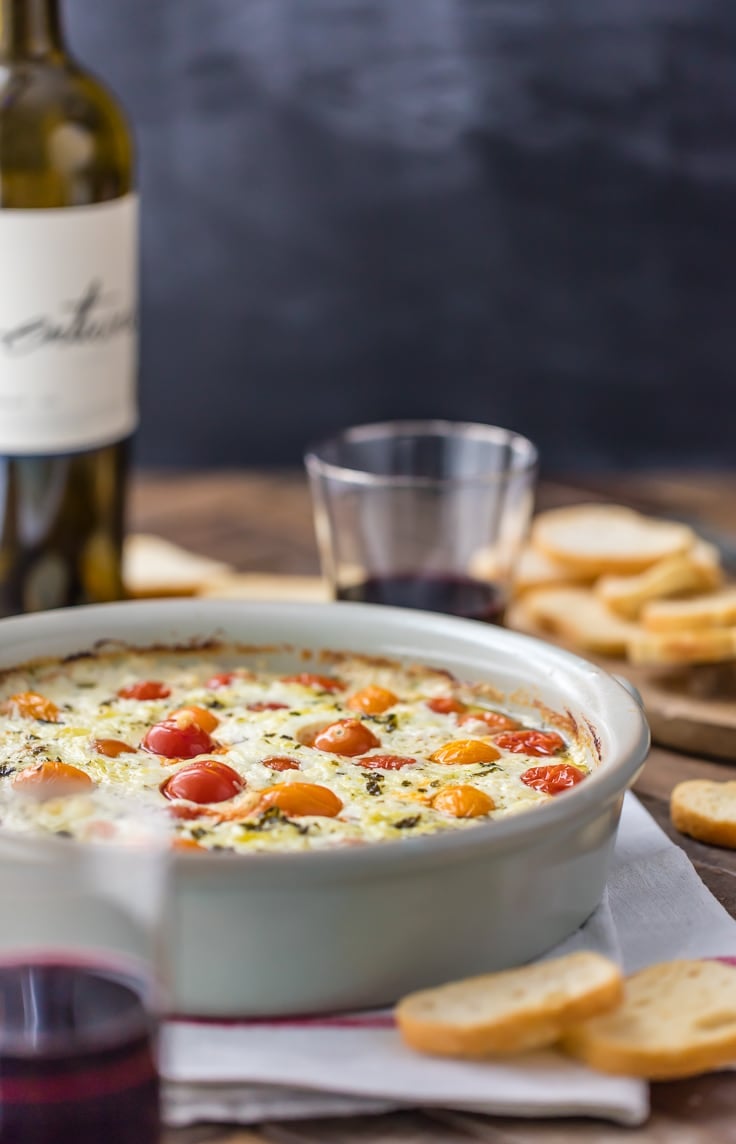 I know I have a ton of dip recipes on here, because clearly I'm addicted, but this is TRULY one of my go-to party dip recipes. It's no fail, people! I adapted the recipe from one of my very very very favorite blog inspirations, White on Rice Couple. Their cookbook, Bountiful, sits on my coffee table and tempts me EVERY.SINGLE.DAY. They are the reason I wanted to get better at food photography, and their recipes are killer every time. I'm telling you, this cookbook. It's a must. You can click HERE to find out more.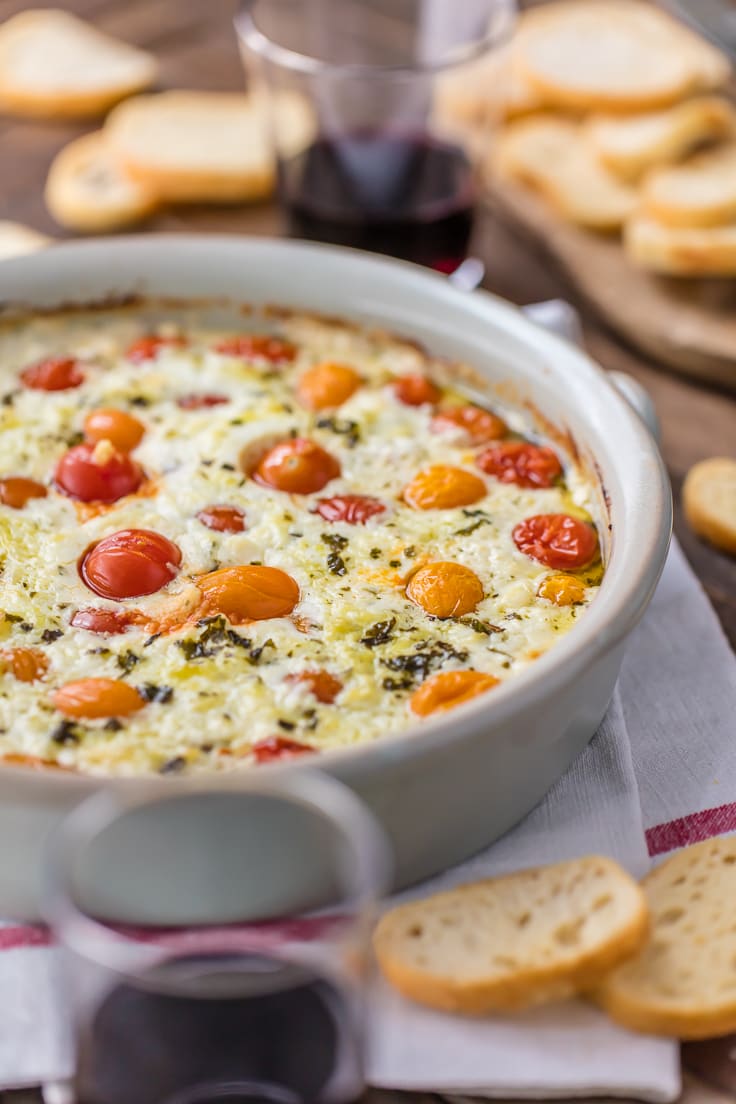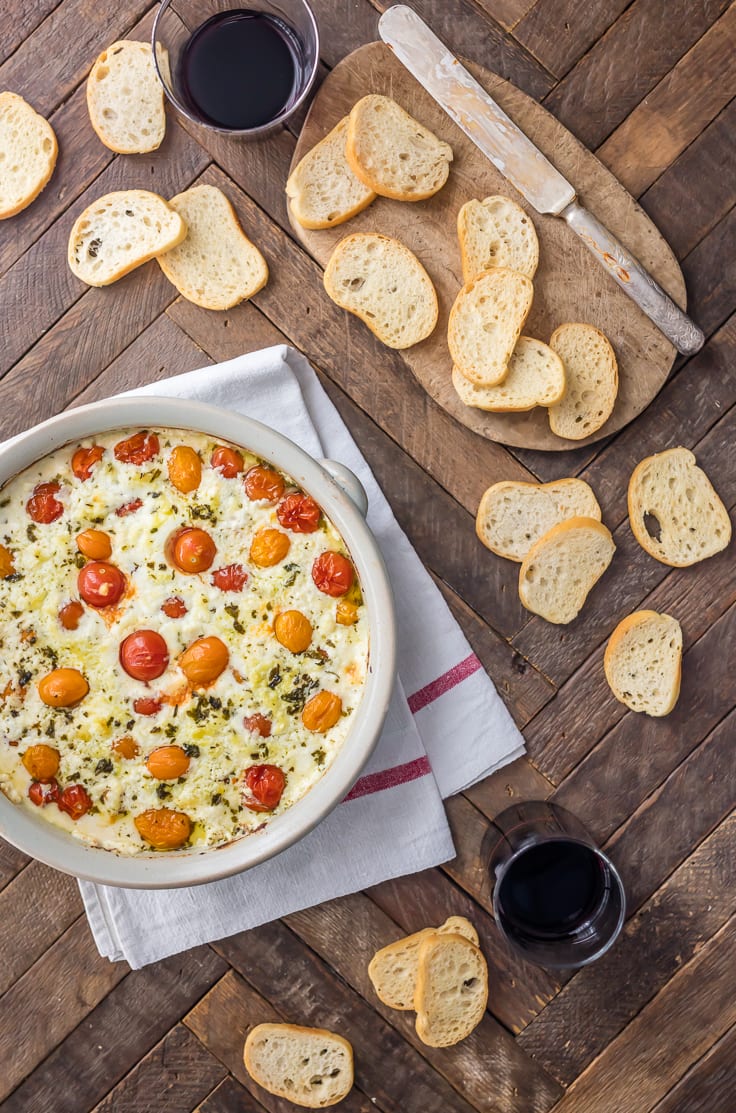 SIDE NOTE: How much do you love this new Chevron Tobacco Lath background from Erickson Woodworks?? Be still my cheese loving heart! You can find some of my other favorite props and things HERE!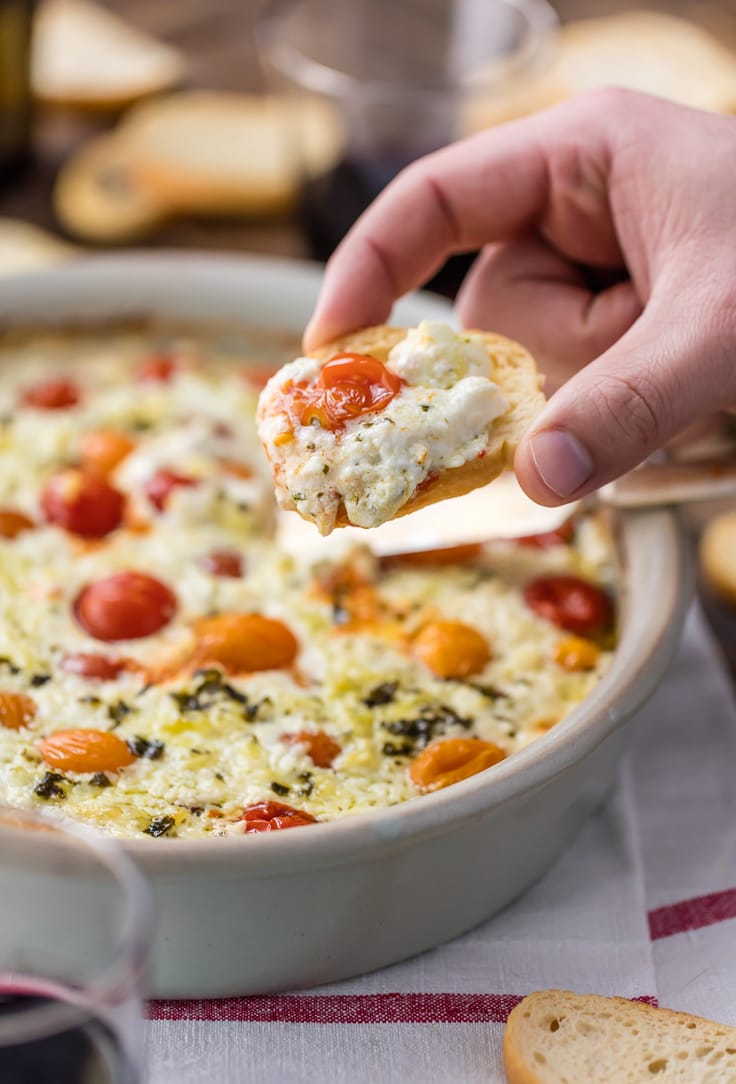 I made this Garlic Herb Tomato Goat Cheese Dip for an easy Super Bowl snack. Between just myself, my brother, and Pat…we ate the entire thing before kick off. And then we ordered pizza. Like I said…SEND HELP! I'm not proud of that moment, but I sure enjoyed it.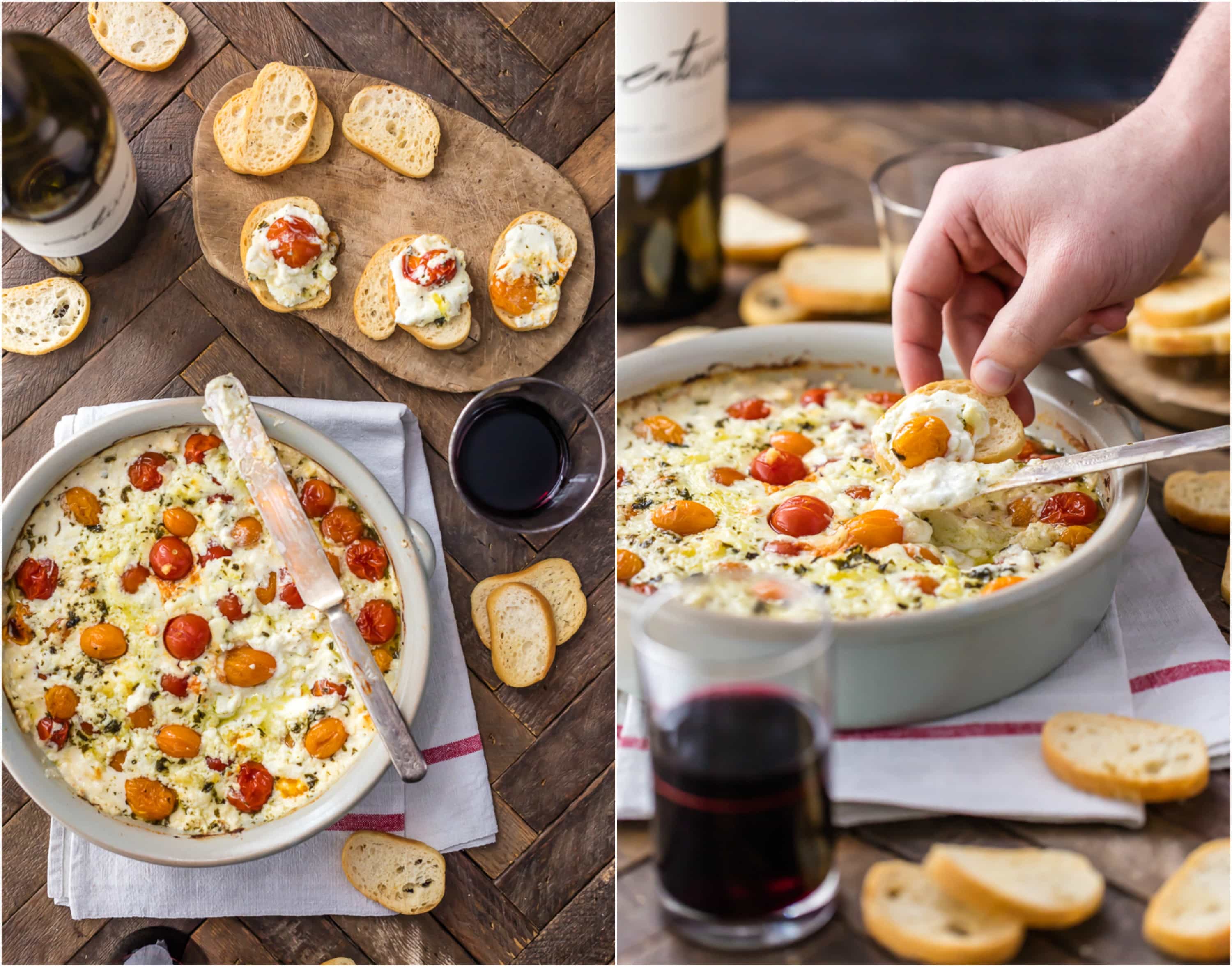 Welcome to tomato goat cheese dip heaven y'all!
Garlic Herb Tomato Goat Cheese Dip
Garlic Herb Tomato Goat Cheese Dip is pure heaven in easy recipe form!
10 minPrep Time
40 minCook Time
50 minTotal Time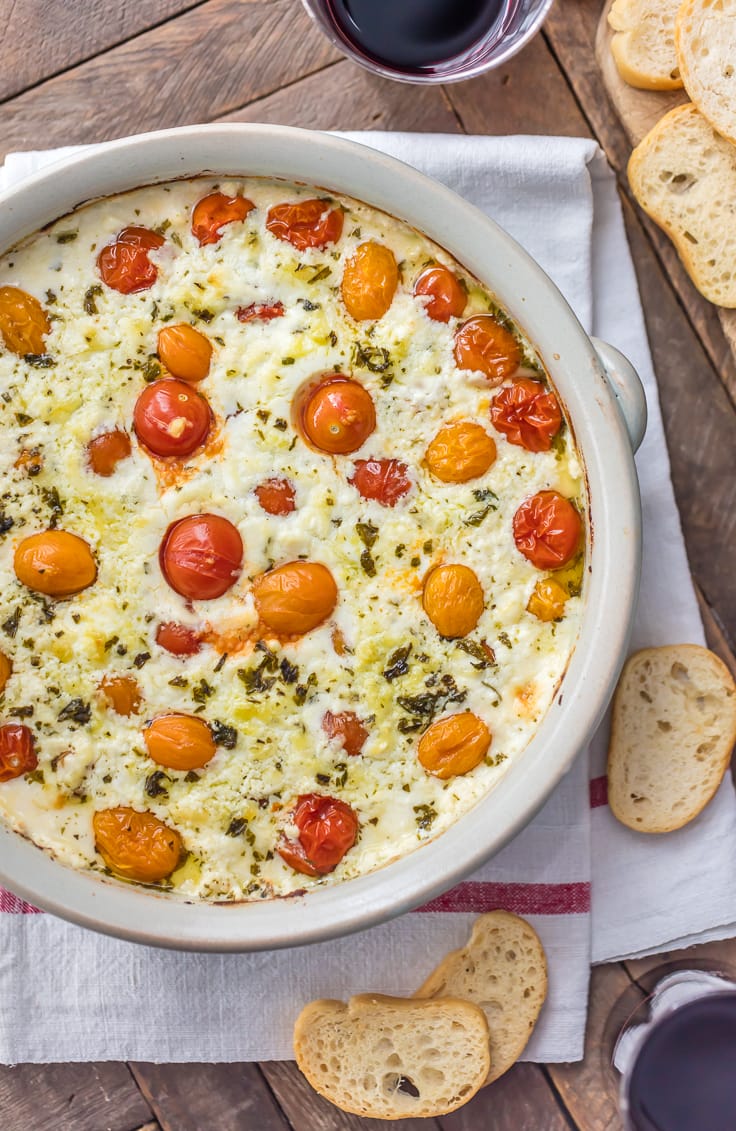 Ingredients
1 tablespoon olive oil
1 cup part skim ricotta
1 (8 ounce) log goat cheese
3/4 cup crumbled feta
1 clove minced garlic
1/4 teaspoon salt
1 teaspoon lemon juice
1/4 cup freshly chopped basil
1/4 pound yellow cherry tomatoes
1/4 pound red cherry tomatoes
toasted bread or crackers for serving
Instructions
Preheat oven to 350F
Spray a small 6 inch baking dish with nonstick spray.
In a large bowl, mix together the olive oil, ricotta, goat cheese, feta, garlic, salt, lemon juice, and basil. Use a spoon to combine as much as possible, although it doesn't need to be perfect. When combined as much as you can by hand, stir in half of the tomatoes.
Pour mixture into baking dish and top with remaining tomatoes,
Bake, uncovered, for 30-40 minutes or until bubbly and slightly browned.
Serve with toasted bread or crackers.
NOTE: The tomatoes will be little bombs of hot liquid! Be careful :) If they haven't split in the oven, it helps to pierce each one to let some steam out once removed from the oven. Wait about 10 minutes before serving.
7.8.1.2
2196
https://www.thecookierookie.com/tomato-goat-cheese-dip/