This recipe for tasty, homemade, chocolate chip pancakes is about to become your favorite! Easy to make, fluffy and light, and drizzled in a rich chocolate syrup. These are the perfect weekend breakfast or brunch treat, and ensures perfectly cooked pancakes every time!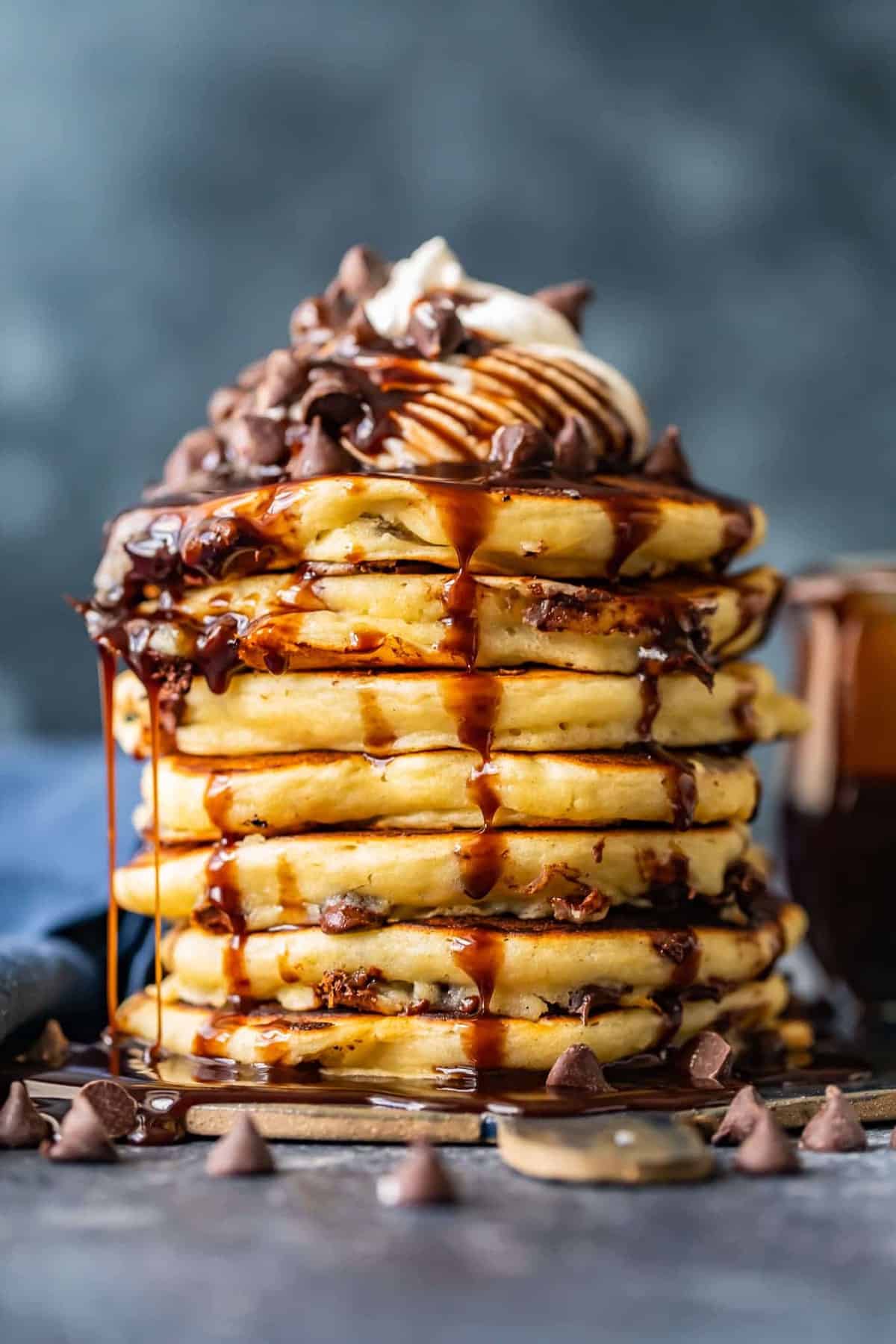 I love lazy weekend breakfasts with the whole family, and these pancakes are a real treat to serve everyone! Super easy to make, but everyone will think you've spent hours slaving over these!
How to Make Chocolate Chip Pancakes
Heat oven to 200°Place a oven-safe, metal rack over a baking sheet to place the pancakes on to keep warm until all pancakes are cooked.

In a medium bowl, beat the egg whites with an electric mixer until stiff peaks form. Set aside.

In another medium mixing bowl, whisk together flour, sugar, baking powder and salt; set aside.

In a large mixing bowl, beat together egg yolks, milk, melted butter, vanilla and almond extract. Mix until fully incorporated, about 2 minutes.

Add the flour mixture the egg yolk/milk mixture and stir just until no dry flour remains. The batter will be lumpy.

Gently fold the beaten egg whites into the batter. The egg whites should NOT be fully incorporated into the batter.

Heat a griddle over medium heat, add 1 tablespoon butter. When butter has melted, pour 2-3 tablespoons batter (per pancake), onto the griddle. There should be room for 4 pancakes on the griddle.

When the batter begins to bubble, sprinkle chocolate chips over each pancake. When the bubbles begin to pop, check to see if the undersides of the pancake are golden brown. If the pancakes are ready, carefully flip them over and cook until the second side is golden and the pancakes are cooked through. (Be sure not to flip the pancakes over until bubbles begin to pop.)

Transfer pancakes to the prepared baking sheet and place in the preheated oven to keep warm.

Repeat the process, adding extra butter when needed.

Enjoy!
Watch the video to see the step by step process!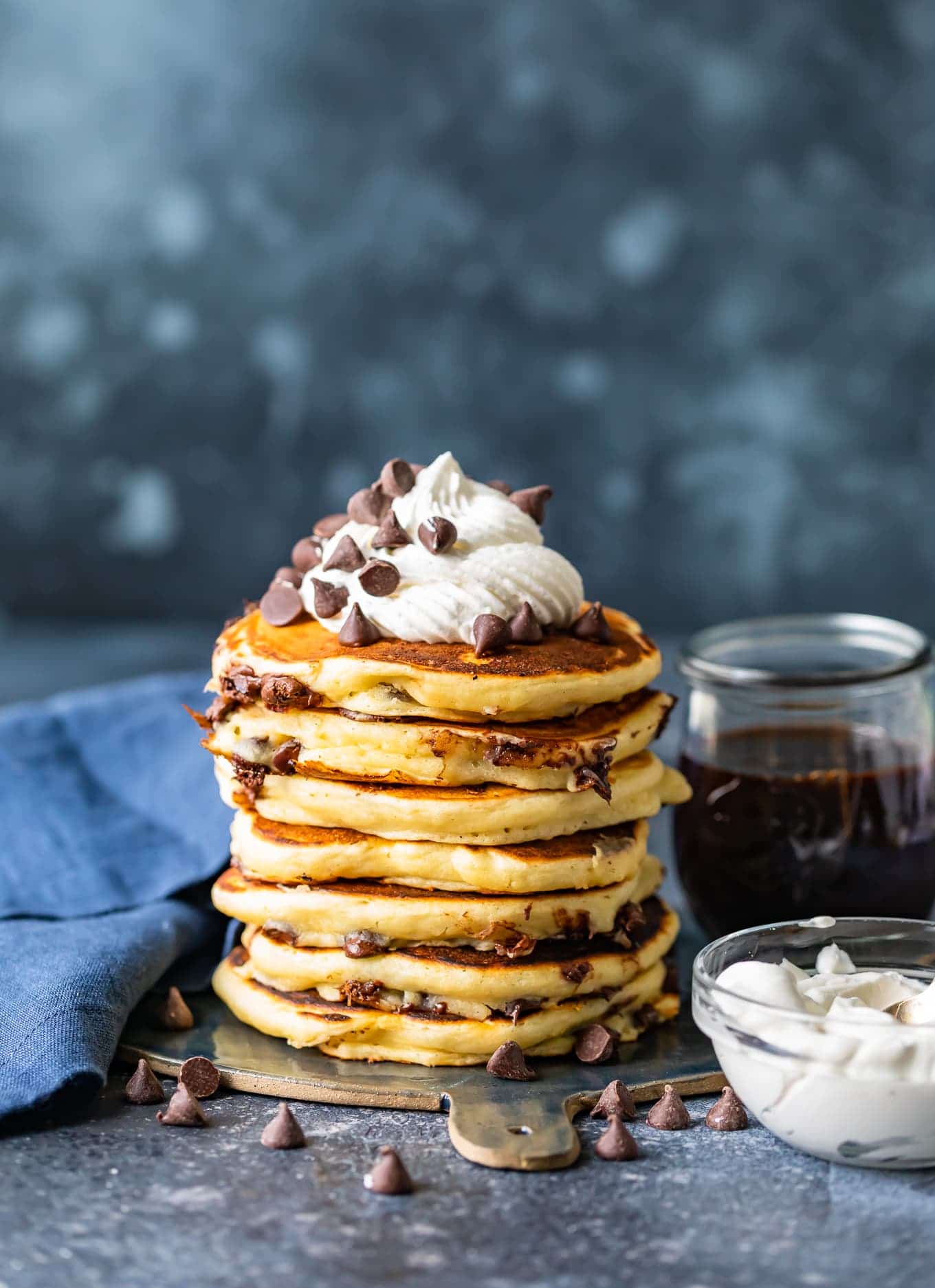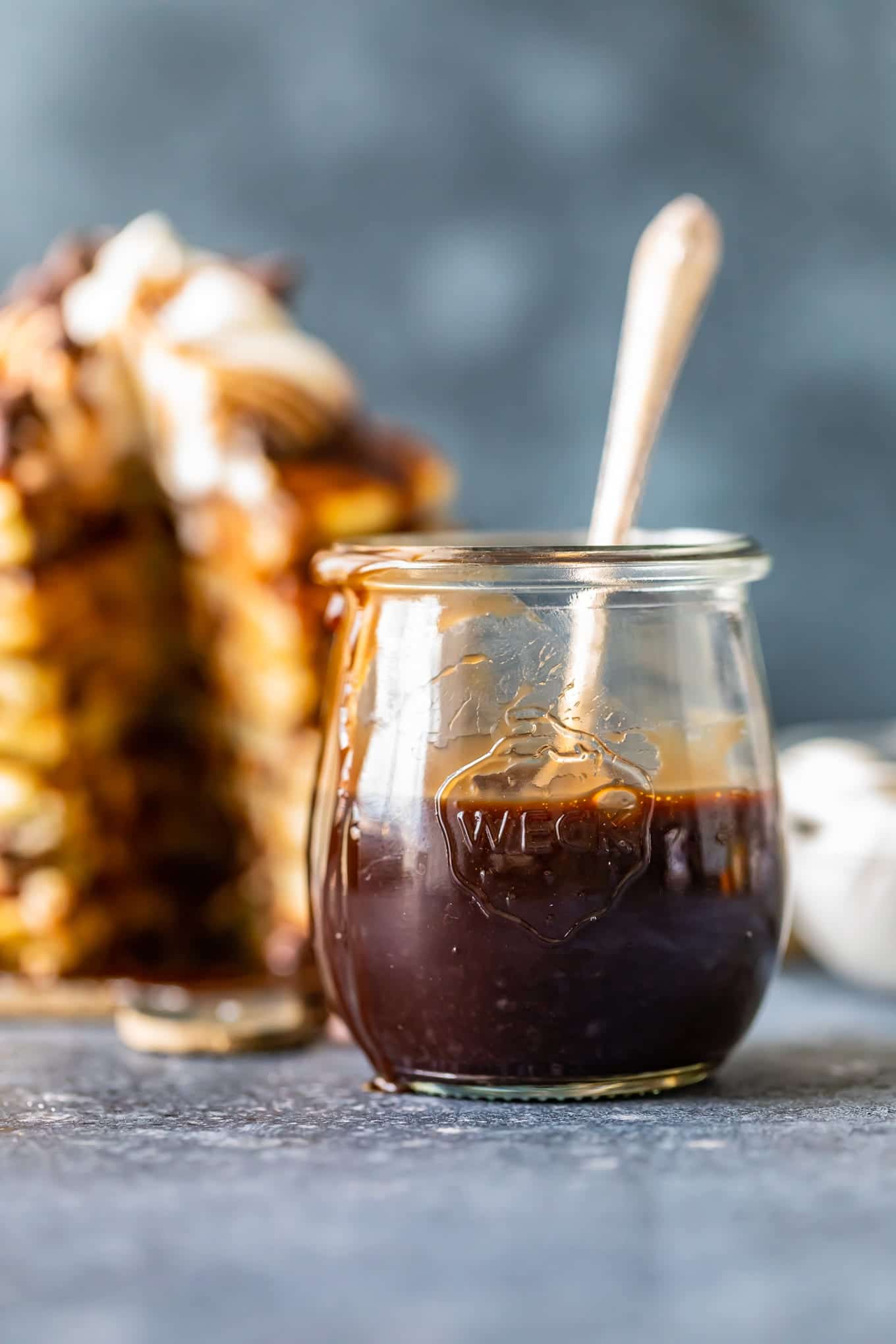 Easy Chocolate Chip Pancake Recipe
I love how easy these delicious pancakes are to make, you can easily make six servings in less than twenty minutes. Healthy they are not, but my goodness they are delicious! This is my go to pancake recipe for when we have guests and they have never disappointed! Go on, treat yourselves!
Chocolate Syrup for Pancakes
The syrup that is drizzled over these pancakes is so rich a delicious, it really pulls everything together. This syrup can be made ahead of time and it keeps in the fridge for up to two months, so be sure to make a big batch! Top the chocolate chip pancakes with whipped cream, chocolate chips, and drizzle over some of this syrup. Heaven on a plate!
Indulgent, delicious and perfect for the whole family!
These homemade pancakes are made from scratch and they are so much better than the ones you will make from a store bought mix. Grown-ups and kids all love these – in fact they go crazy for them!
Other Breakfast Recipes we LOVE: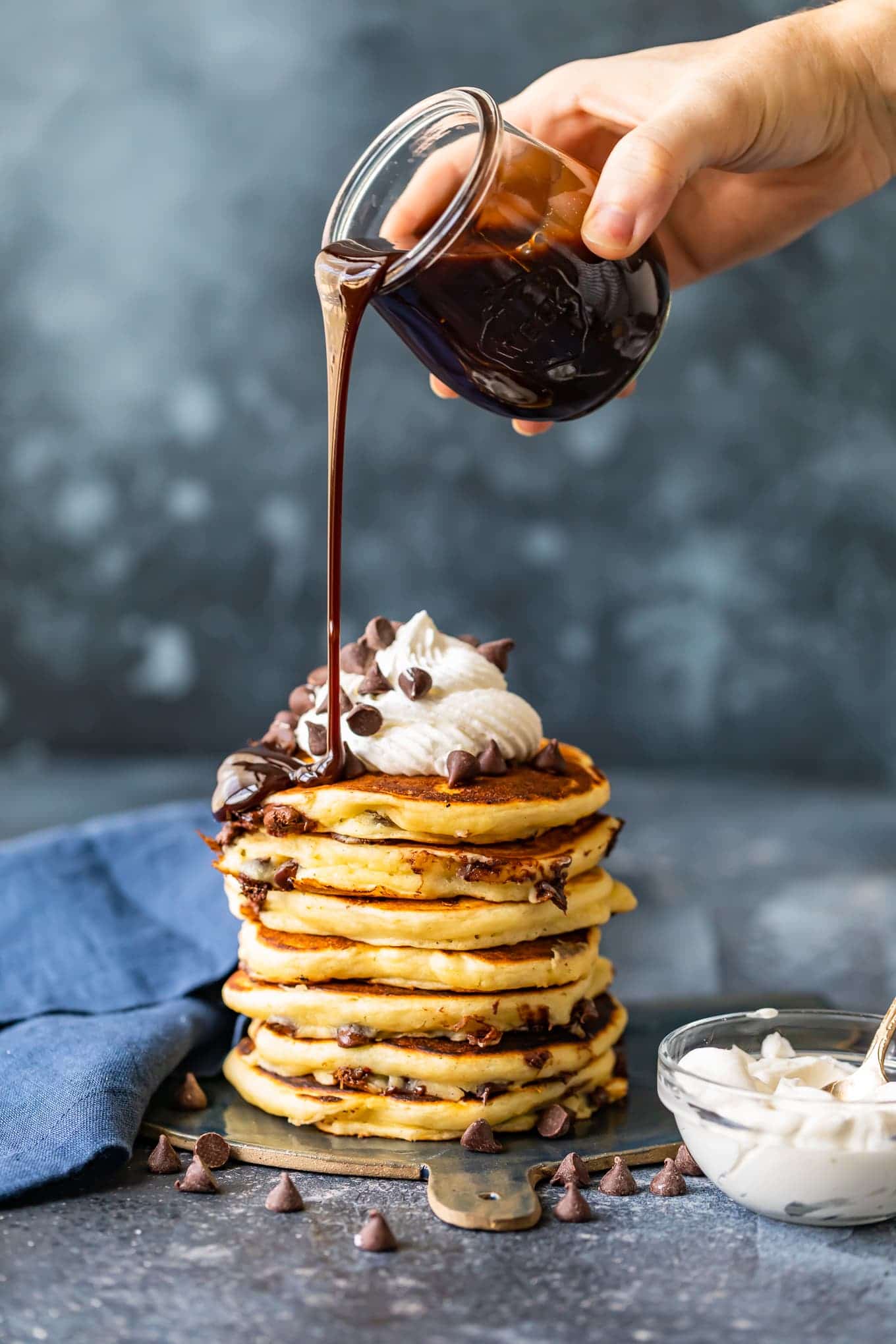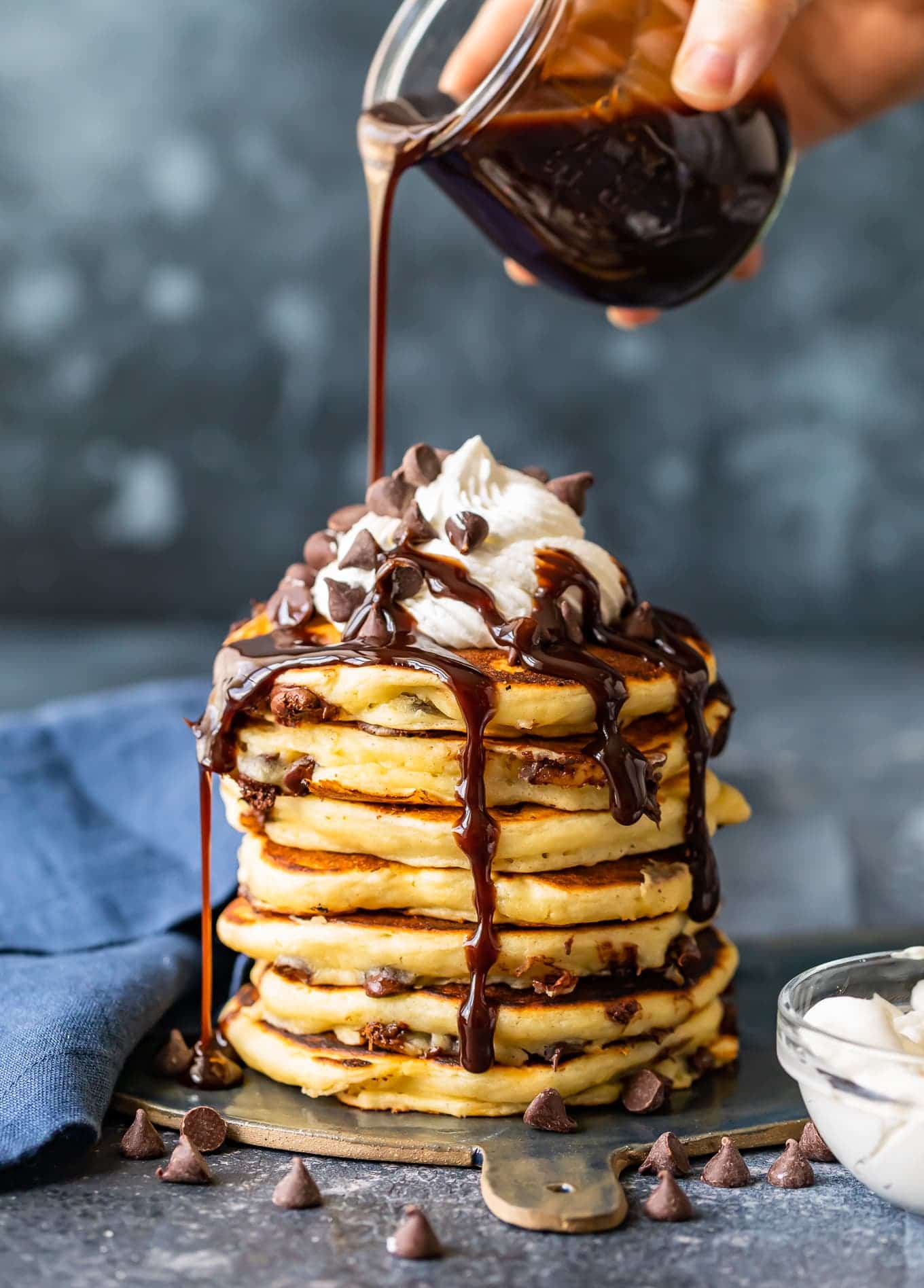 Top tips for making Chocolate Chip Pancakes with Chocolate Syrup
To prevent your chocolate chips from sinking, you can coat them in a little flour before you add them.
You can make these ahead of time, just keep them in the fridge and reheat in a skillet.
Flip your pancakes when they have stopped bubbling.
Feel free to add some fresh fruit toppings!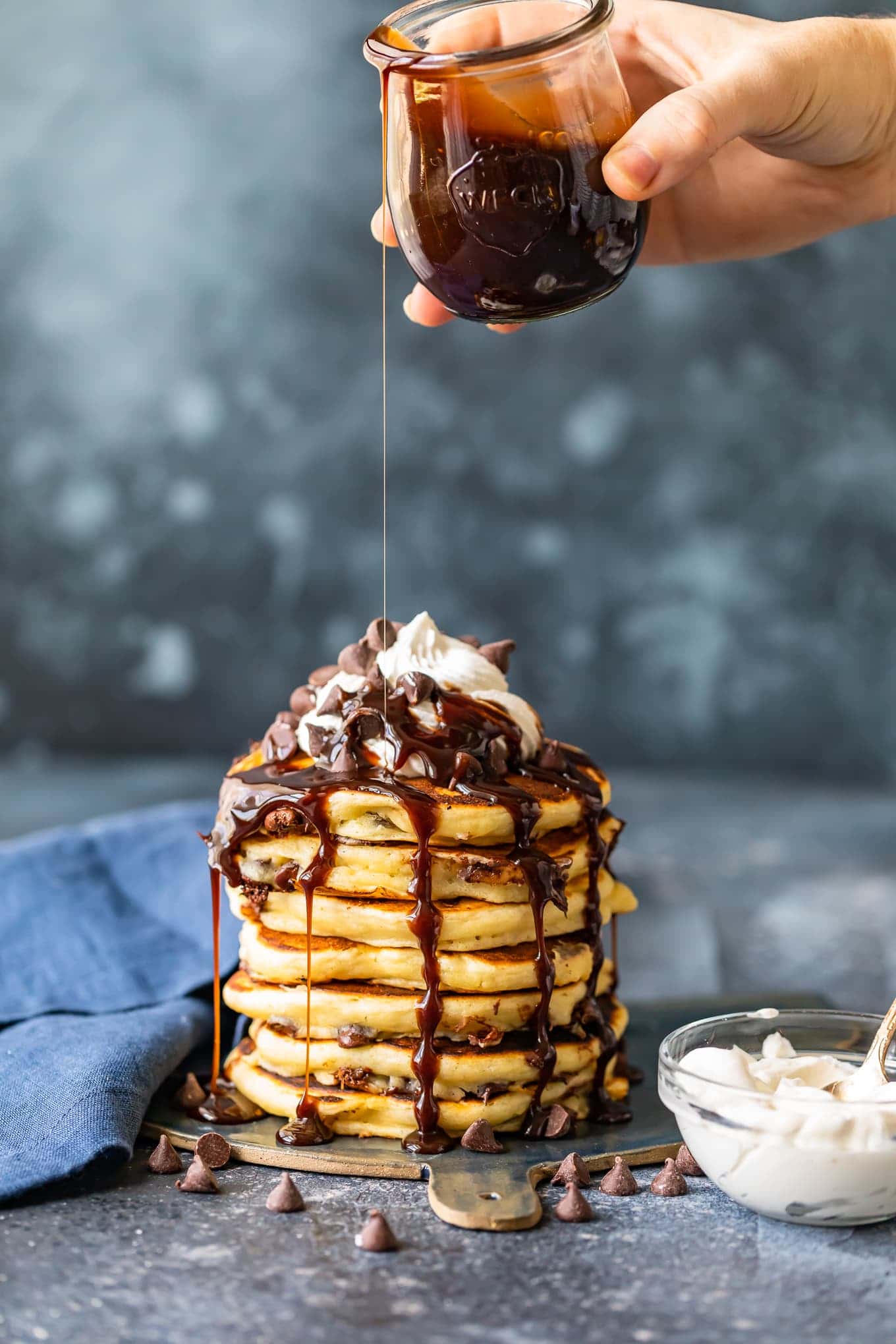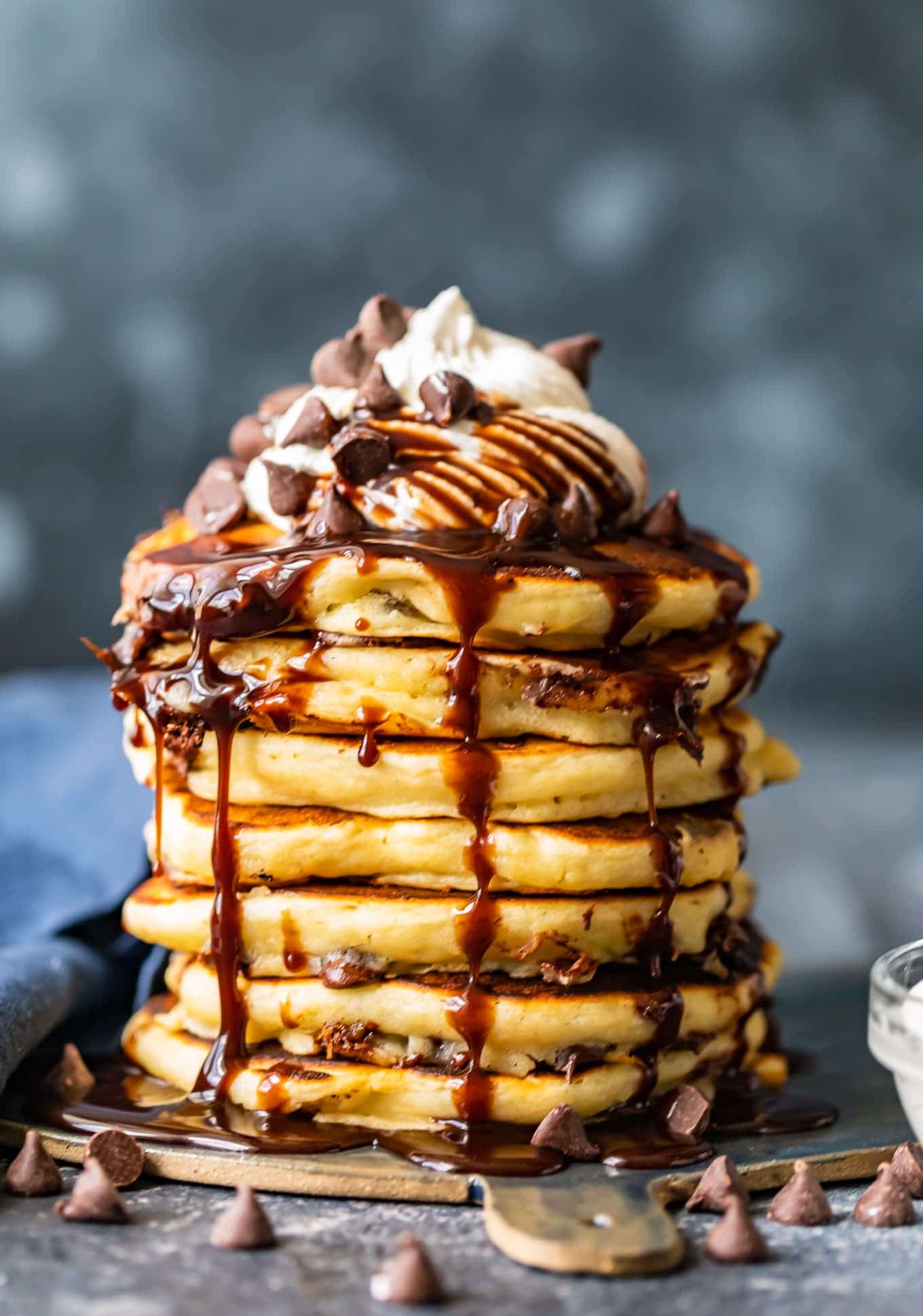 Homemade Pancake Recipes
You can never go wrong with pancakes for breakfast! They're just so delicious, and with different flavors and ways to make them, I never get tired of eating them. After you make these chocolate chip pancakes, try some of our other favorite homemade pancake recipes!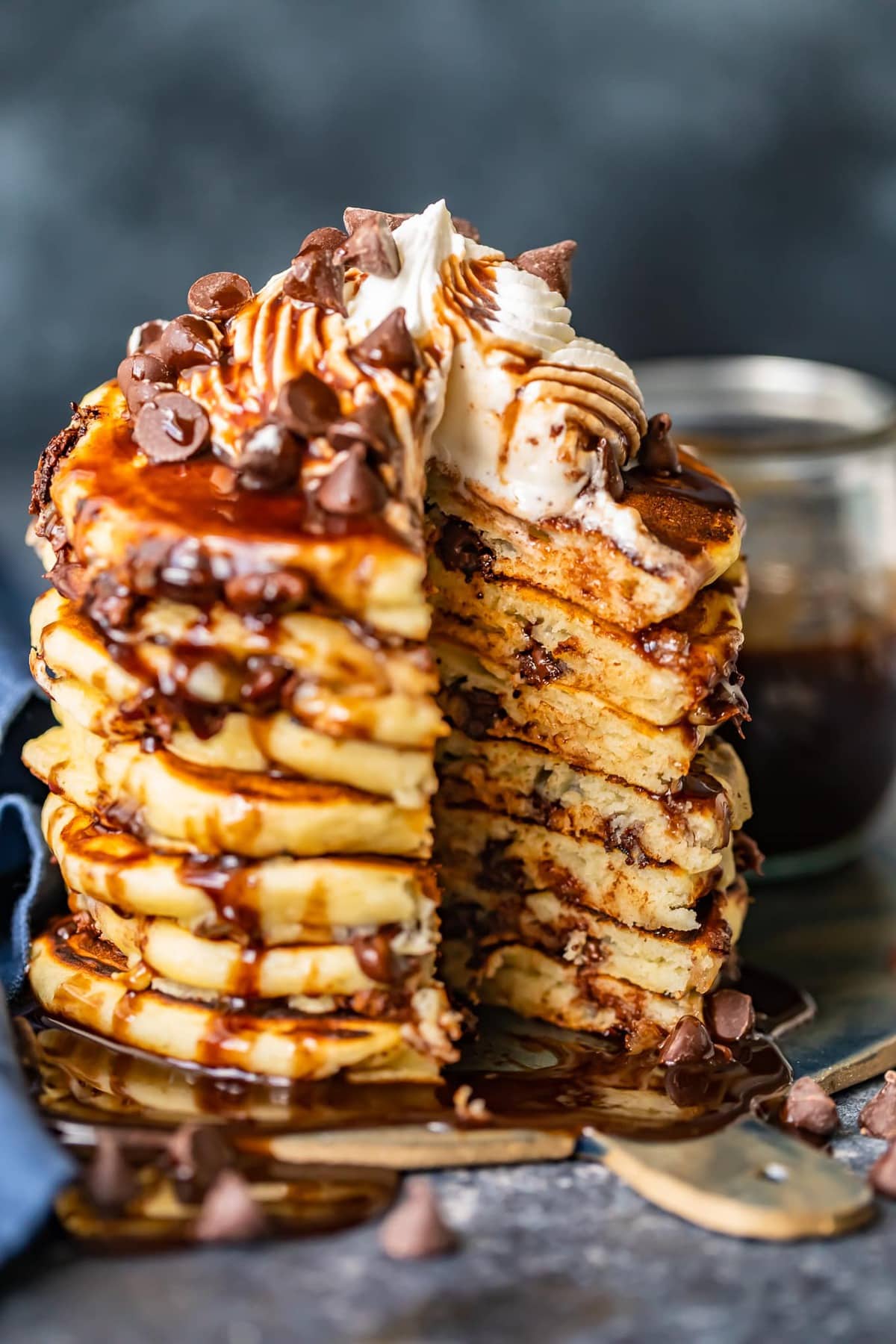 I really can't wait for you guys to make these amazing pancakes for the weekend! You will be in chocolate heaven!! Make them for Christmas morning, Easter breakfast, or any time you need a special treat.
See the recipe card for details on how to make Chocolate Chip Pancakes. Enjoy!