These are by far the best chocolate cupcakes with fudge frosting you've ever tasted! Moist cake iced with the most decadent and smooth chocolate fudge frosting, means you're in for a real treat!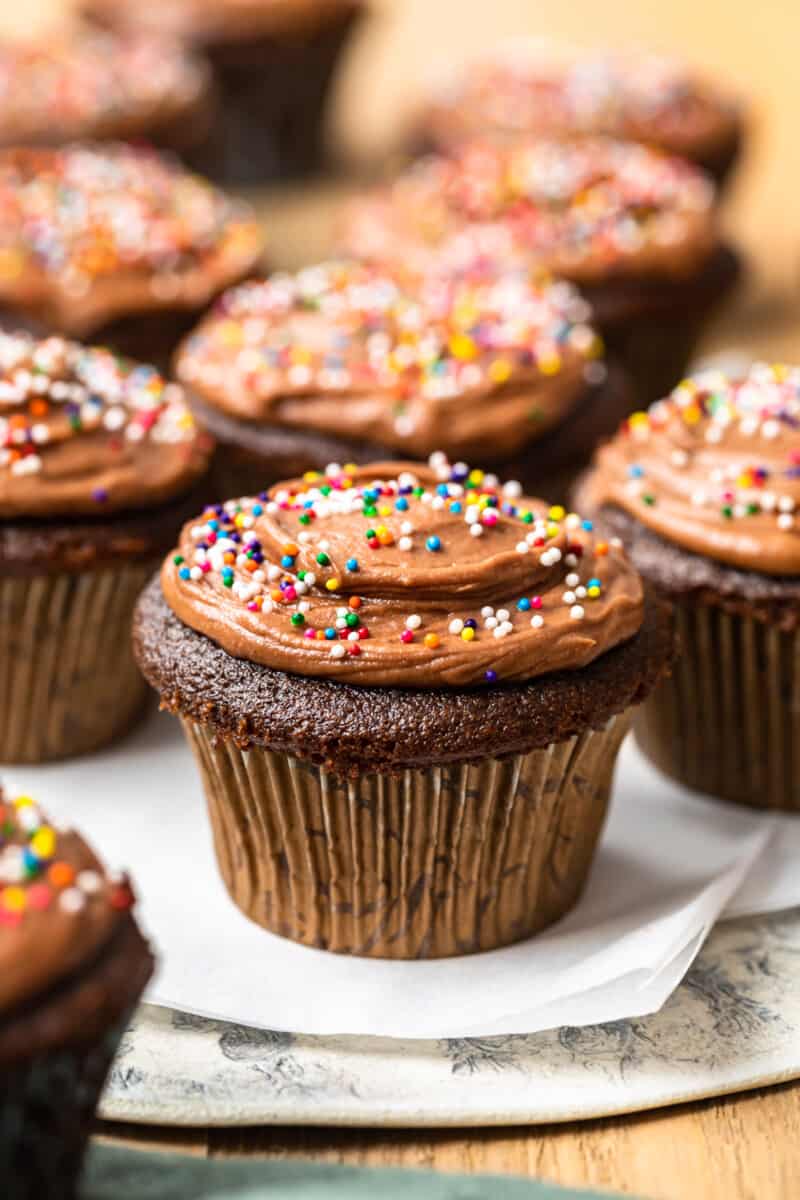 Best Chocolate Cupcakes
Made from scratch, these easy chocolate cupcakes are so moist, fluffy, and delicious! You don't have to be a baker to make cupcakes that taste like you got them from a bakery. The fudge frosting is rich, creamy, and melt-in-your-mouth delicious. You'll want to eat it by the spoonfuls, but try and save it for the cupcakes!
These will be the best chocolate cupcakes you've ever tasted. You can share them with friends and family or keep them all for yourself!
Why You'll Love this Chocolate Cupcakes Recipe:
Deliciously Decadent: Not only are these cupcakes rich and delicious, but they are a decadent treat for any occasion.
Easy to Make: With simple ingredients and simple instructions, this recipe is just as easy to make as a box of cake mix.
Versatile: Because these are simple chocolate cupcakes, you can add sprinkles to make them Christmasey, bedazzle them for a birthday party, share them at an office party, or enjoy them as an afternoon snack.
My chocolate cupcakes with fudge frosting are just as easy as picking up a box of cake mix, but they are so much better!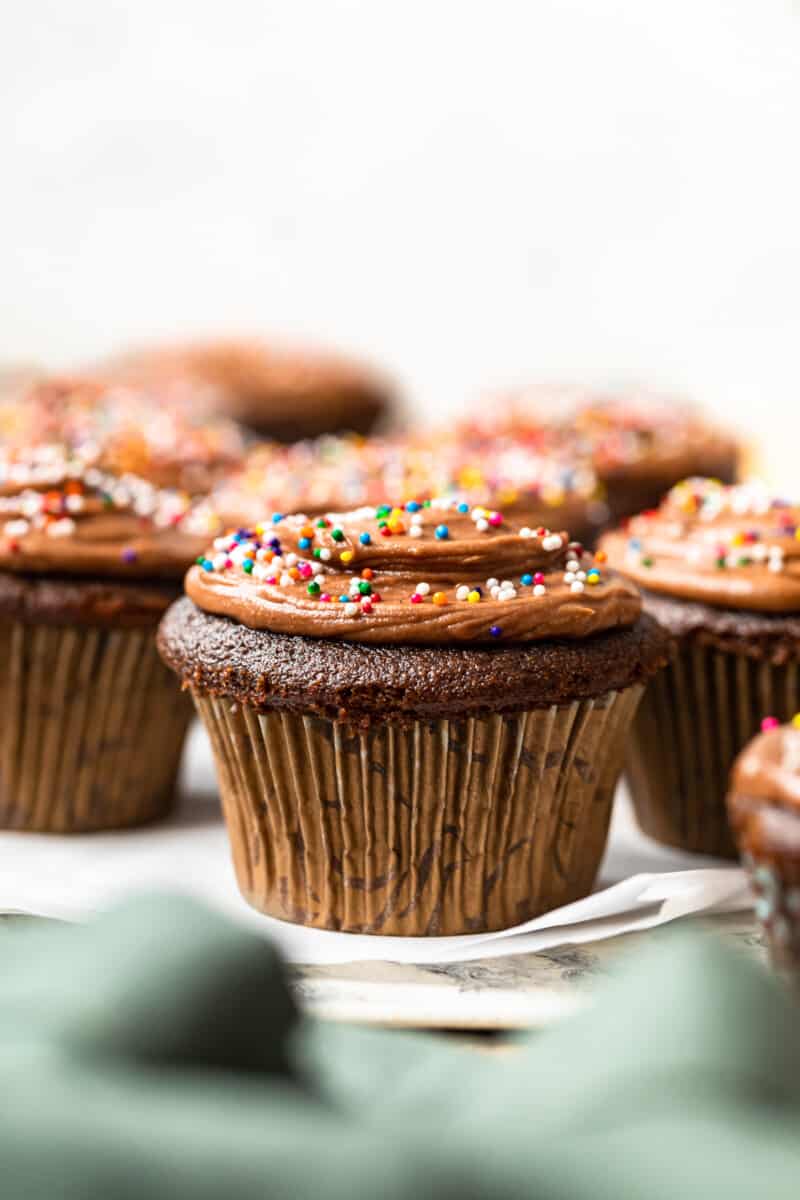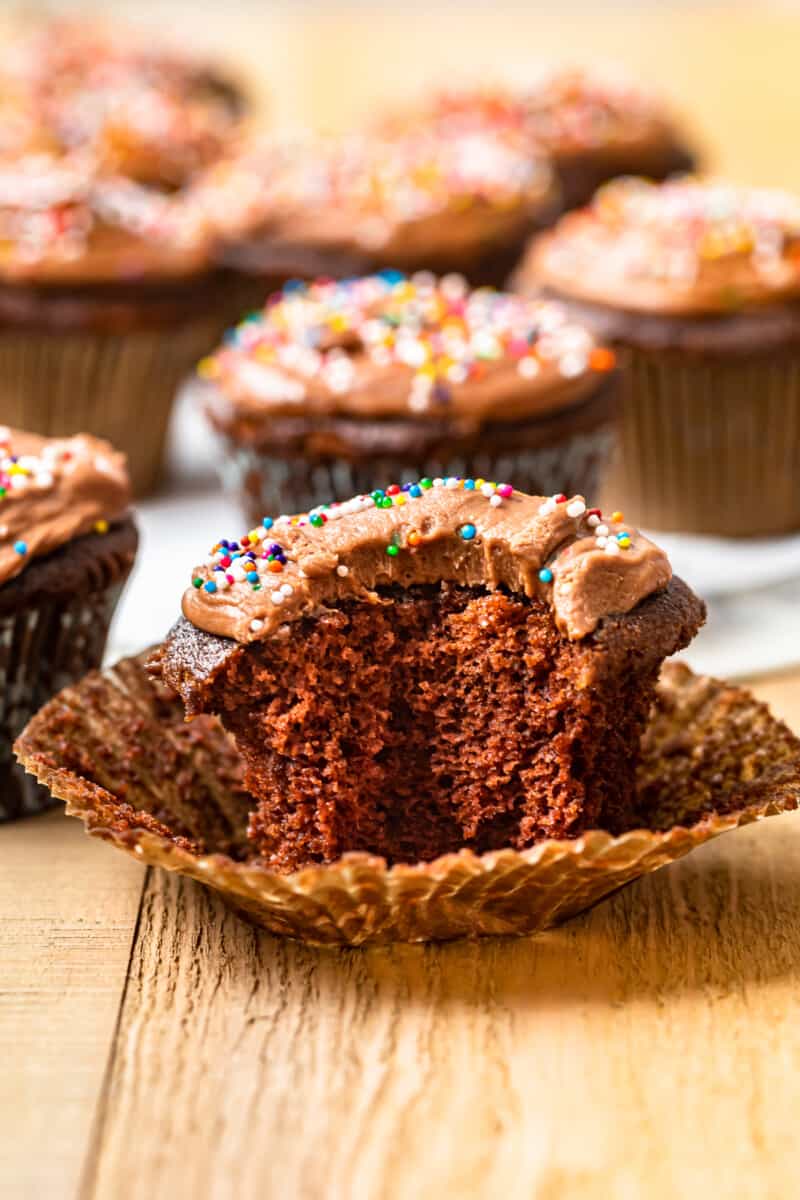 How to Make Chocolate Fudge Cupcakes
You can jump to the recipe card for full ingredients & instructions!
Sift together the flour, baking soda, and salt in a bowl.
Beat the butter and brown sugar in a separate bowl until incorporated.
Add eggs 1 at a time to your butter and sugar mixture.
Next, add your vanilla and melted chocolate, mixing on low speed.
Add the sour cream and dry ingredients, alternately, in 3 additions; starting and ending with the flour.
Then, stir in the hot water and beat just until well-mixed.
Finally, pour your cake batter into the prepared muffin tins.
Bake each cupcake tin separately for 10 minutes.
Rotate the pan and bake for another 5-10 minutes.
Allow the cupcakes to cool completely. Bake the next batch.
Frost each cupcake with chocolate fudge frosting and garnish with your favorite sprinkles.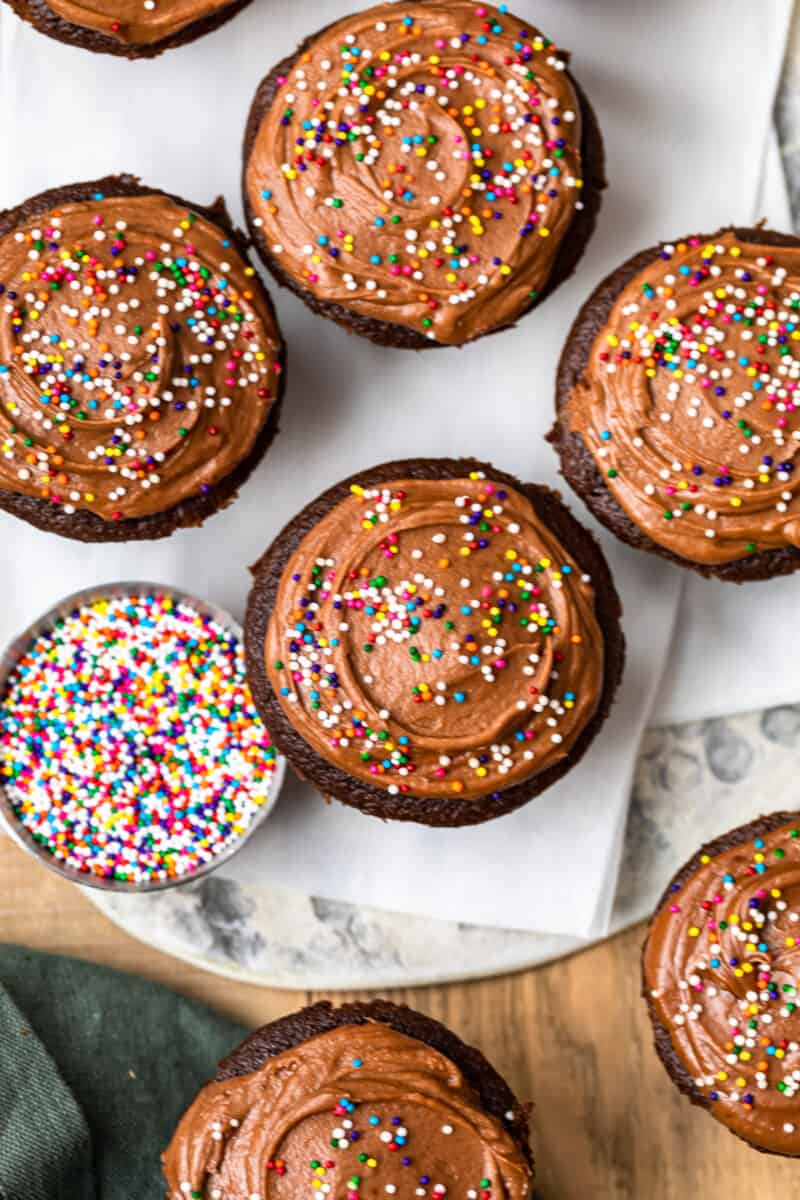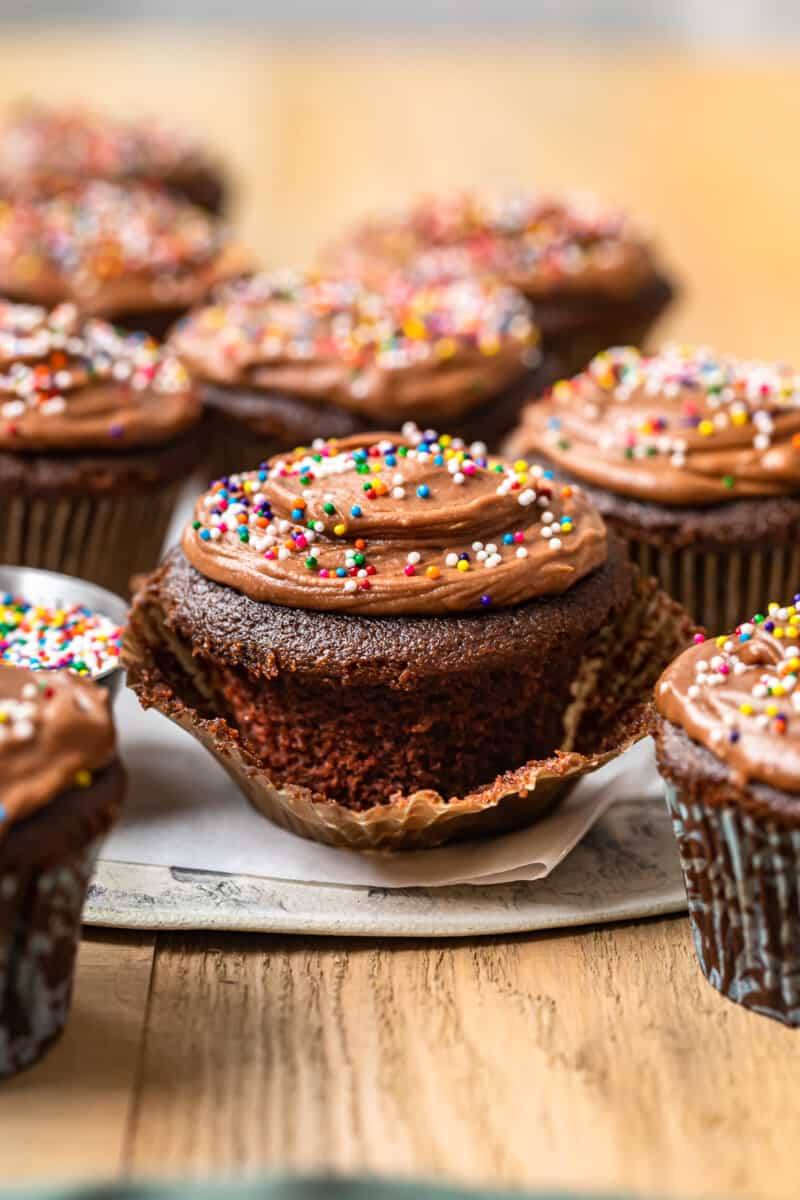 What type of chocolate is best to use for chocolate cupcakes?
Many recipes use cocoa powder to make their cupcakes, but I use melted chocolate instead. I think it makes the cupcakes more moist and chocolatey. I use Ghirardelli Melting Chocolates.
How full should I fill the cupcake pans?
You don't want to fill your cupcake pans all the way full with batter since you want to leave room for them to expand. Only fill your cupcake liners ¾ of the way full.
What is the best way to freeze cupcakes?
If you want to freeze your cupcakes to frost later, you will want to first let them cool completely. Then, wrap each cupcake individually with plastic wrap. Place your cupcakes in a sturdy airtight container and place them in the freezer. They will stay good for 3 months.
Can I use this cupcake batter to make a cake?
Yes. This cupcake batter yields enough batter for 24 cupcakes, one 2-layer (8-inch) cake, or a 9×13-inch single-layer cake.
The cupcakes are decadent and tender on their own, but when you add the fudge frosting on top, they are irresistibly delicious. You can easily make the frosting while you are baking and cooling the cupcakes.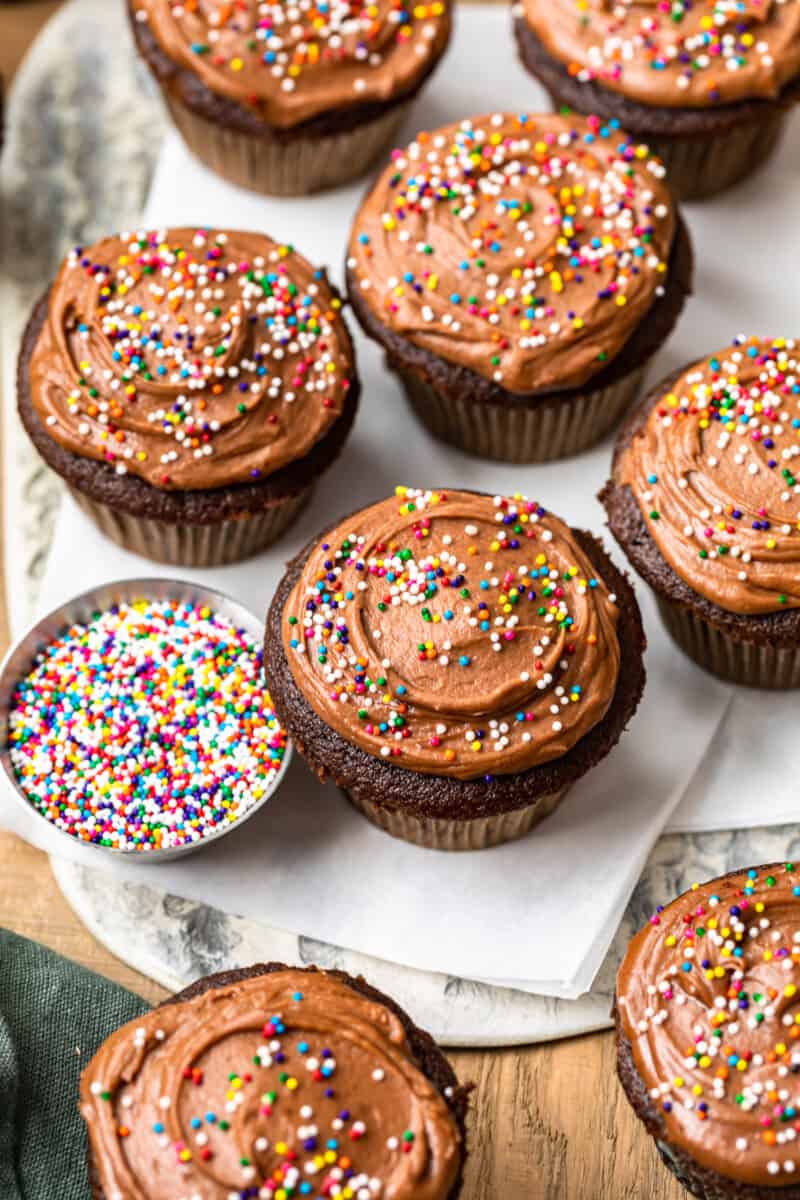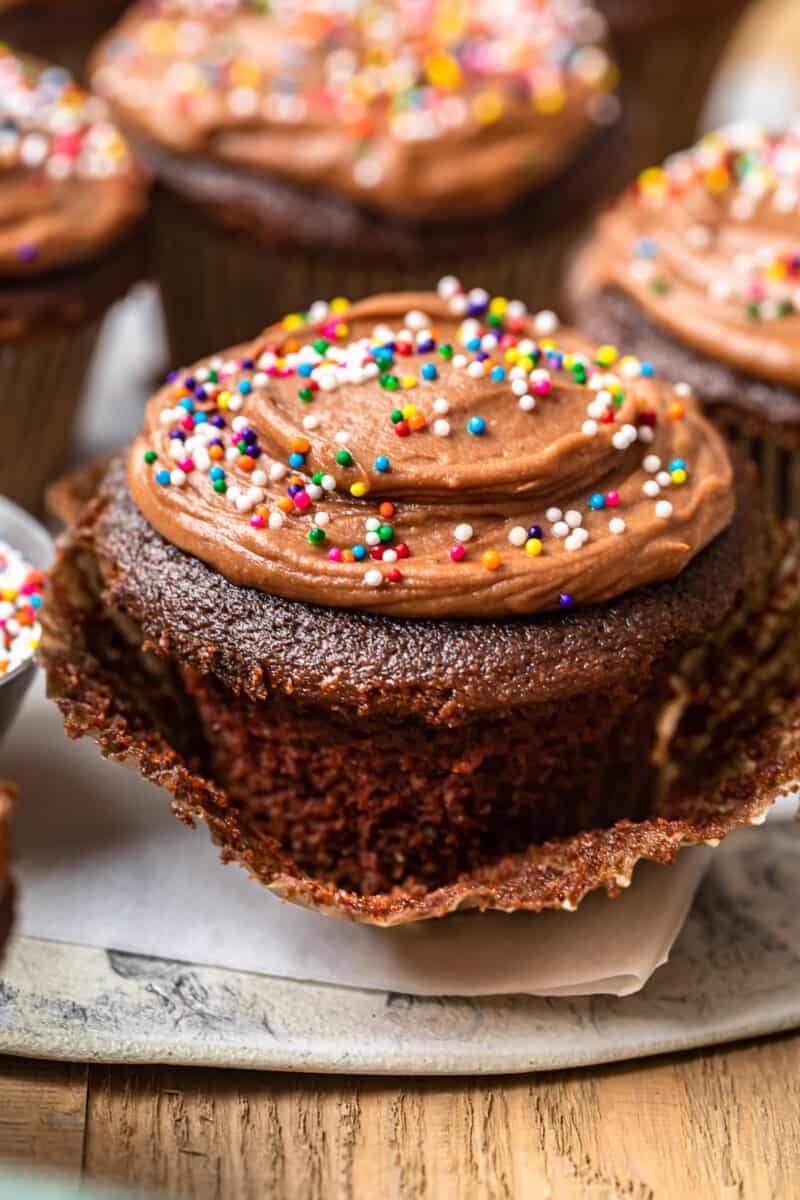 Tips!
If you don't have cake flour, you can use all-purpose or make your own by measuring 2¼ cups of all-purpose flour, removing 4½ tablespoons from the cup, and adding 4½ tablespoons of cornstarch. Whisk together and sift well before using.
You can make these cupcakes into a cake by doubling the recipe. This will make a 3-layer cake using 8-inch round pans.
Be sure to let your cupcakes cool completely before frosting. You don't want runny frosting or destroyed cupcakes.
You can also substitute some of the ingredients to make these cupcakes even better. Keep reading to find out different variations to the recipe!
Can I use hot coffee instead of hot water to intensify the chocolate flavor?
Absolutely! In fact, I prefer to use coffee instead of water. A little bit of coffee goes amazing with the melted chocolate. This is because coffee enhances the flavor of chocolate giving you a rich, chocolatey flavor.
Can I use yogurt in place of sour cream?
Yes, you can! Plain Greek yogurt makes an excellent stand-in for sour cream. Plus, yogurt is a healthier alternative. Keep in mind that baked goods made with yogurt will turn out less tender, lighter in texture, and have a tangier flavor as opposed to the buttery flavor.
Can I use all-purpose flour for these cupcakes?
This recipe uses cake flour. Using cake flour gives you a more tender texture, finer crumbs, and cakes made with cake flour often rise easier. However, all-purpose flour works fine, too. It's all up to your preference.
More Easy Dessert Recipes We Love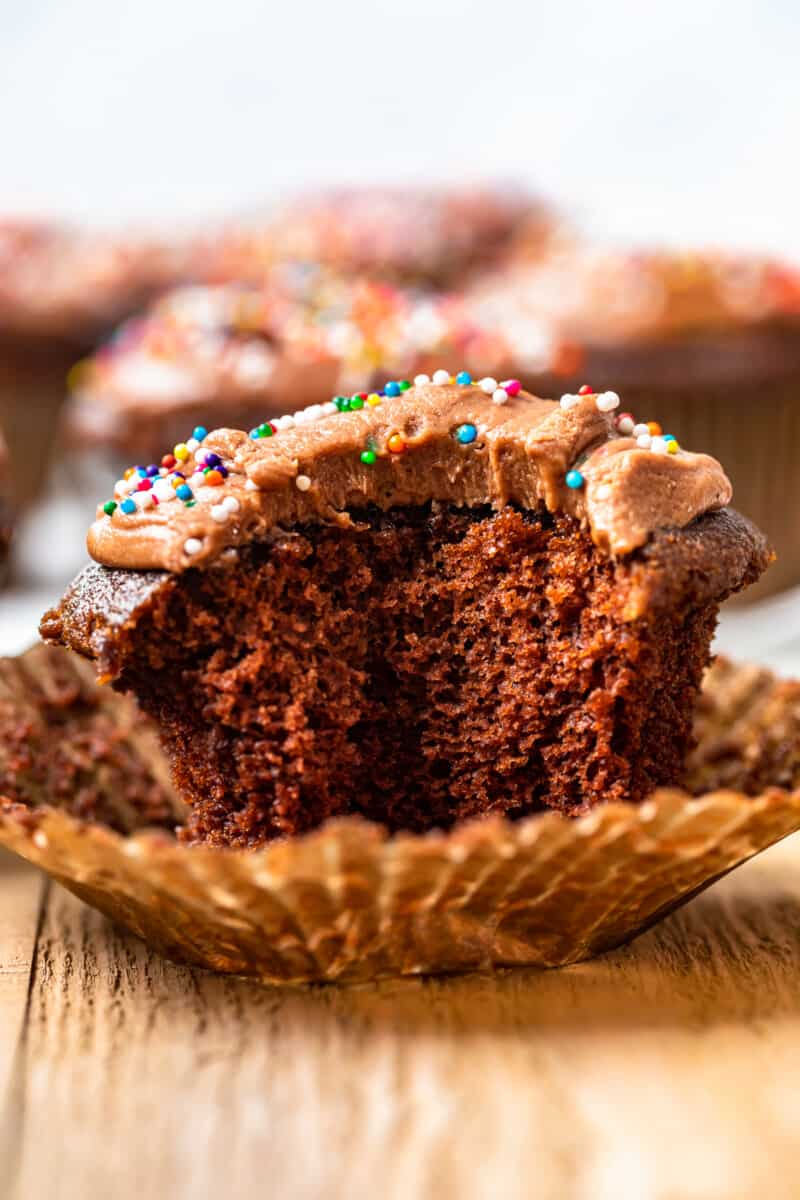 These chocolate cupcakes with fudge frosting are a chocolate lover's delight! Whether you need a quick dessert to bring into the office, or you forgot to buy cupcakes to send in with your child to school, you can easily whip up these delicious chocolate fudge cupcakes.
More Homemade Cupcake Recipes to Try:
If you make this recipe be sure to upload a photo in the comment section below or leave a rating. Enjoy! You can also jump to recipe.