PERFECT RED VELVET CUPCAKES are the ultimate holiday dessert! You haven't lived unless you've tried these classic cupcakes with the most amazing cream cheese icing! Classic, delicious, and perfect.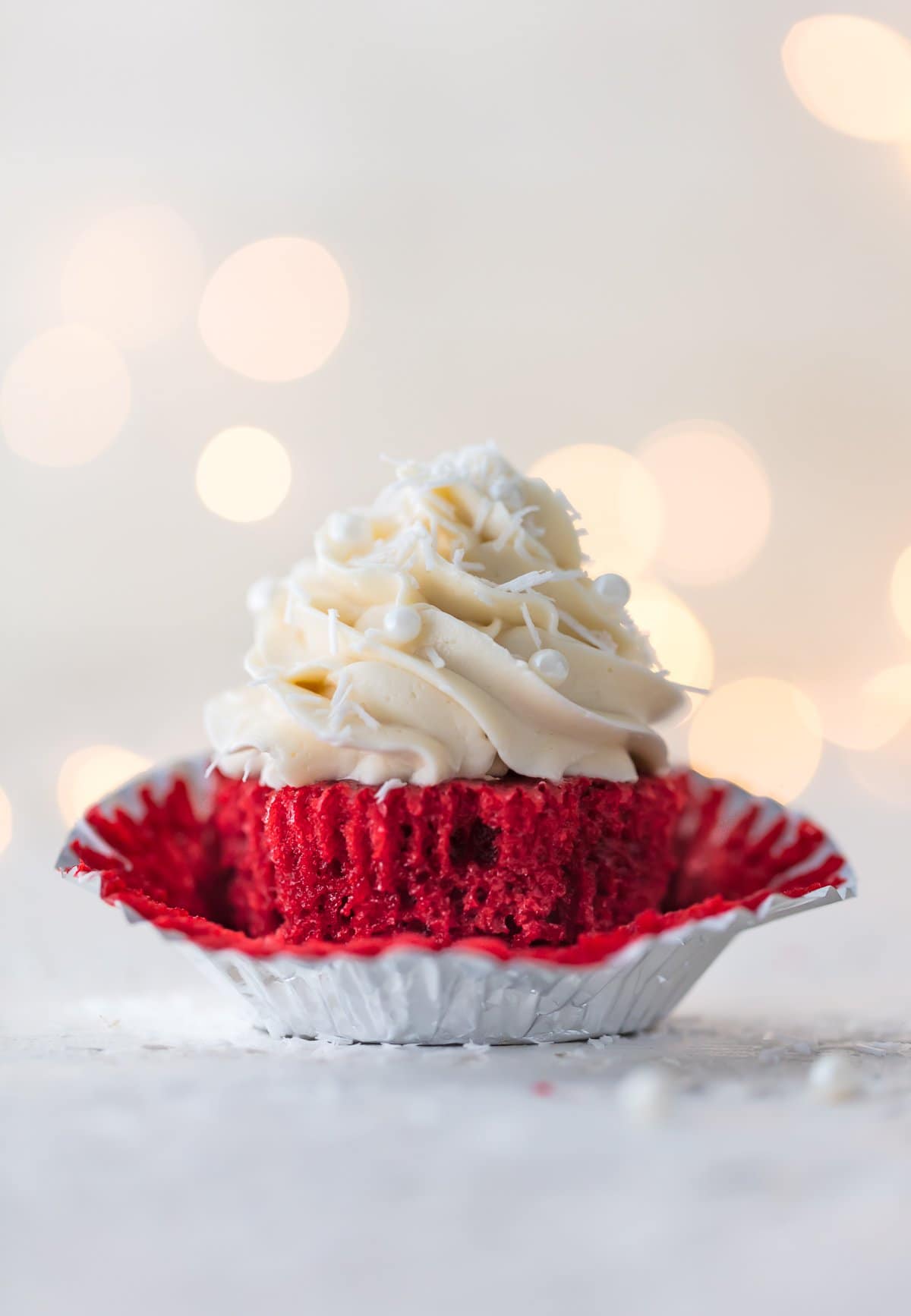 Welcome to my all-time favorite dessert. Yes it's been done. But everyone has their secret recipe. This is my Mom's. If we are friends in real life than you may have had the pleasure of having my mom cook or bake for you. YOU ARE LUCKY. She is the absolute best and has so many amazing recipes (Remember that CREAMY CHICKEN SOUP??). She's great at everything she cooks, but she is especially amazing when it comes to baking. She kicks all of the classics up a notch, just like these Perfect Red Velvet Cupcakes. You simply have to try them to believe how delicious they are. You ready to have a new favorite dessert??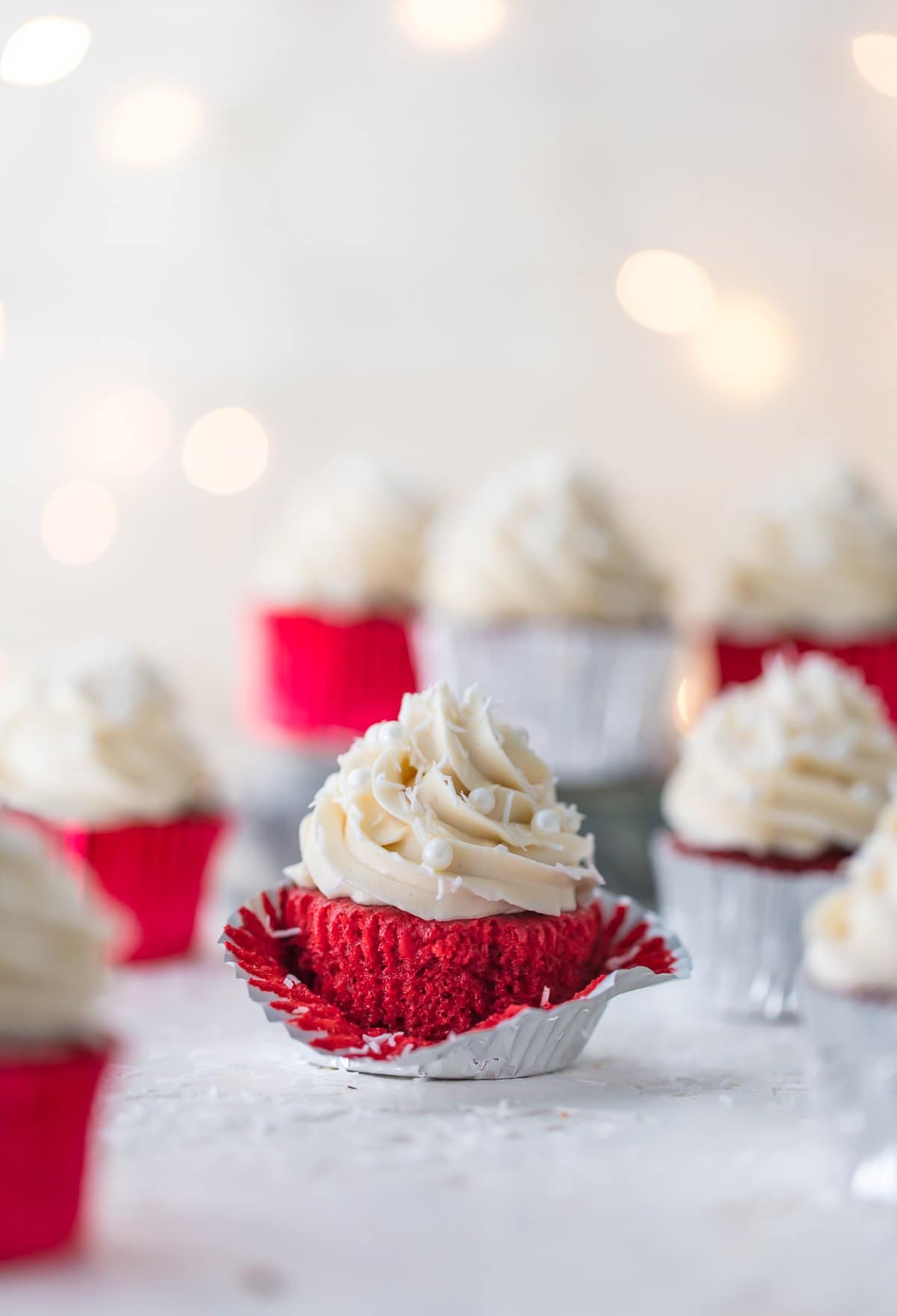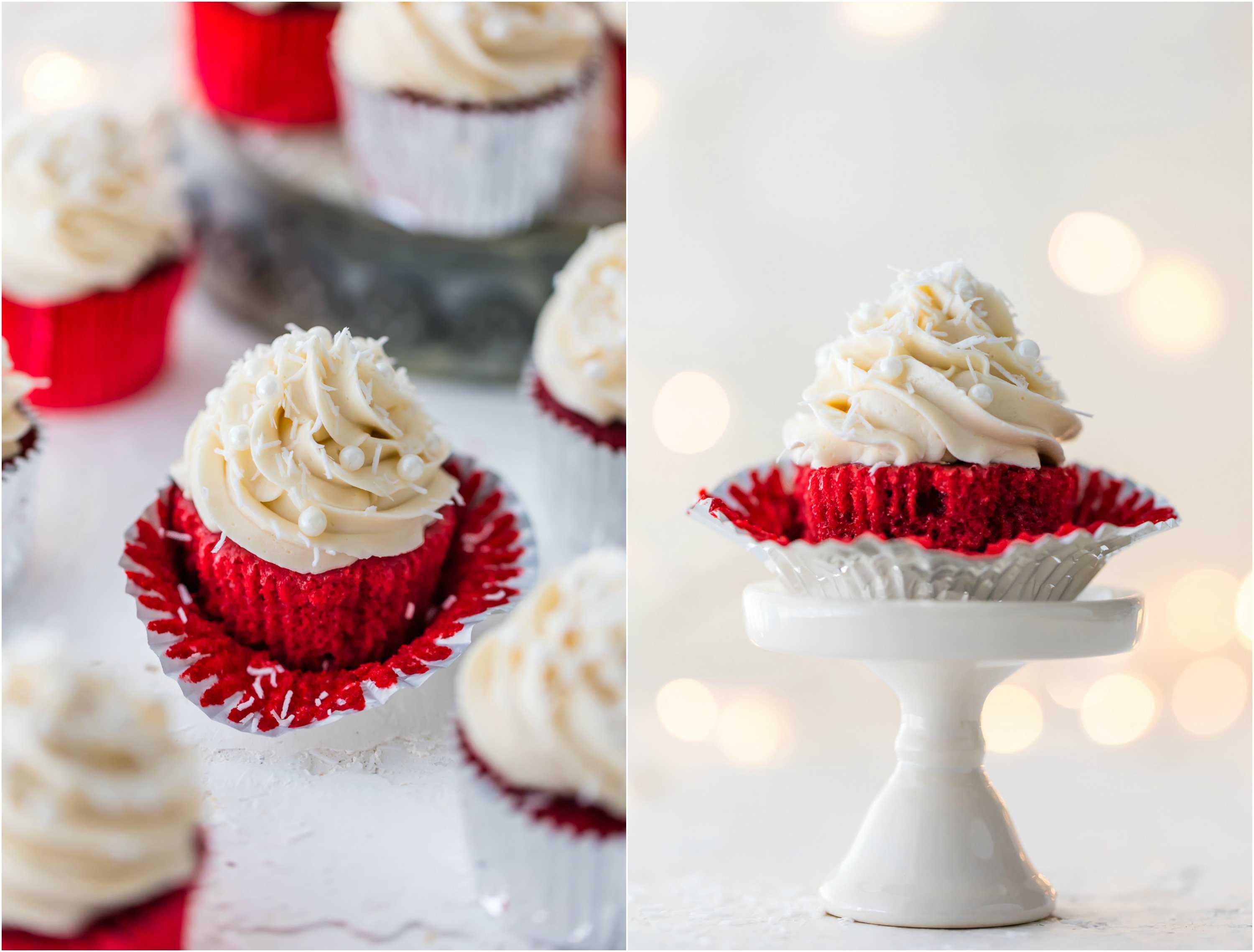 There's simply nothing better than a Classic Perfect Red Velvet Cupcake during the holidays. Christmas and Valentine's Day would be nothing without a little red velvet. It's beautiful, festive, and completely delicious. Topped with THE BEST ICING EVER?! Yes please. If you haven't tried that icing recipe, today is the day!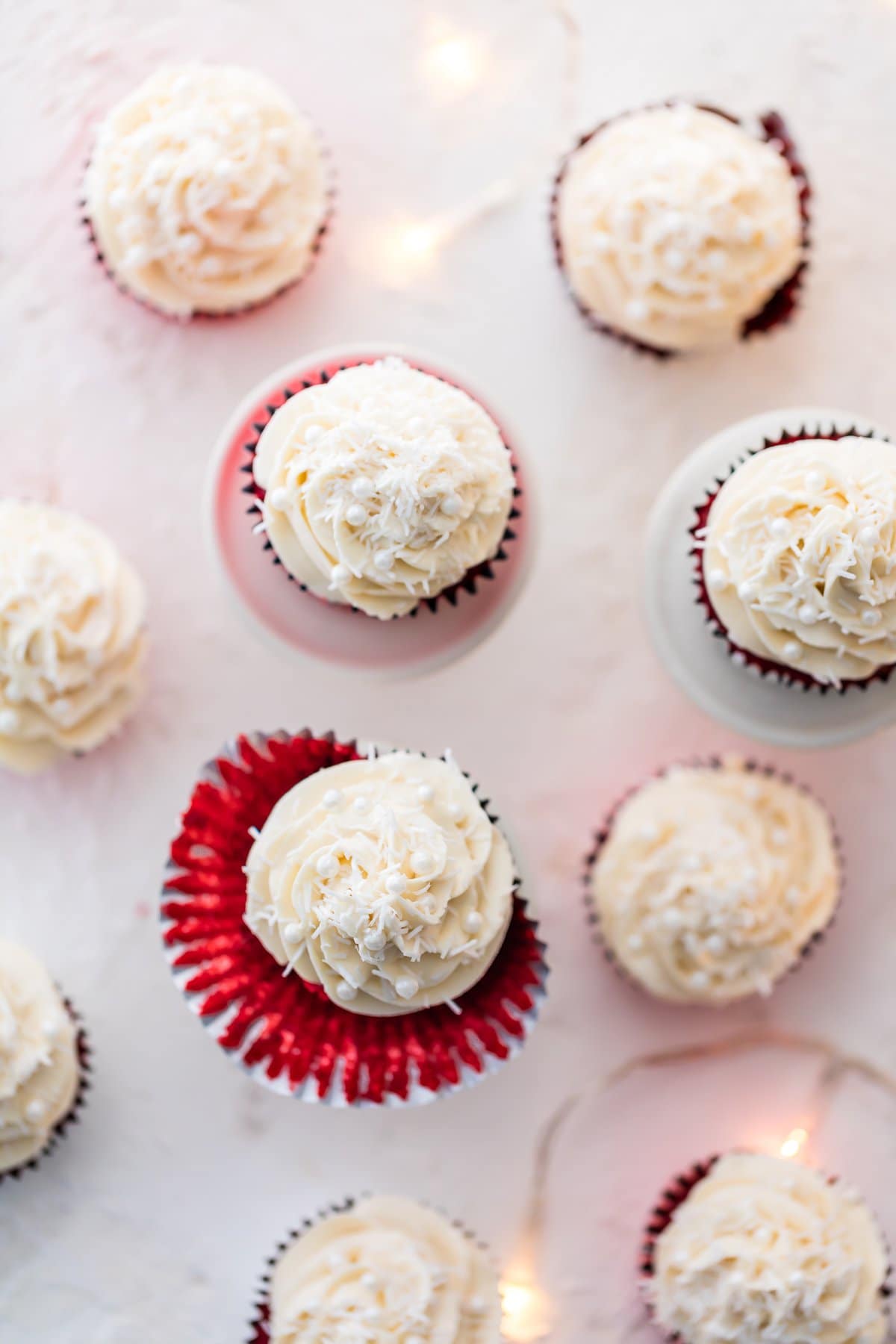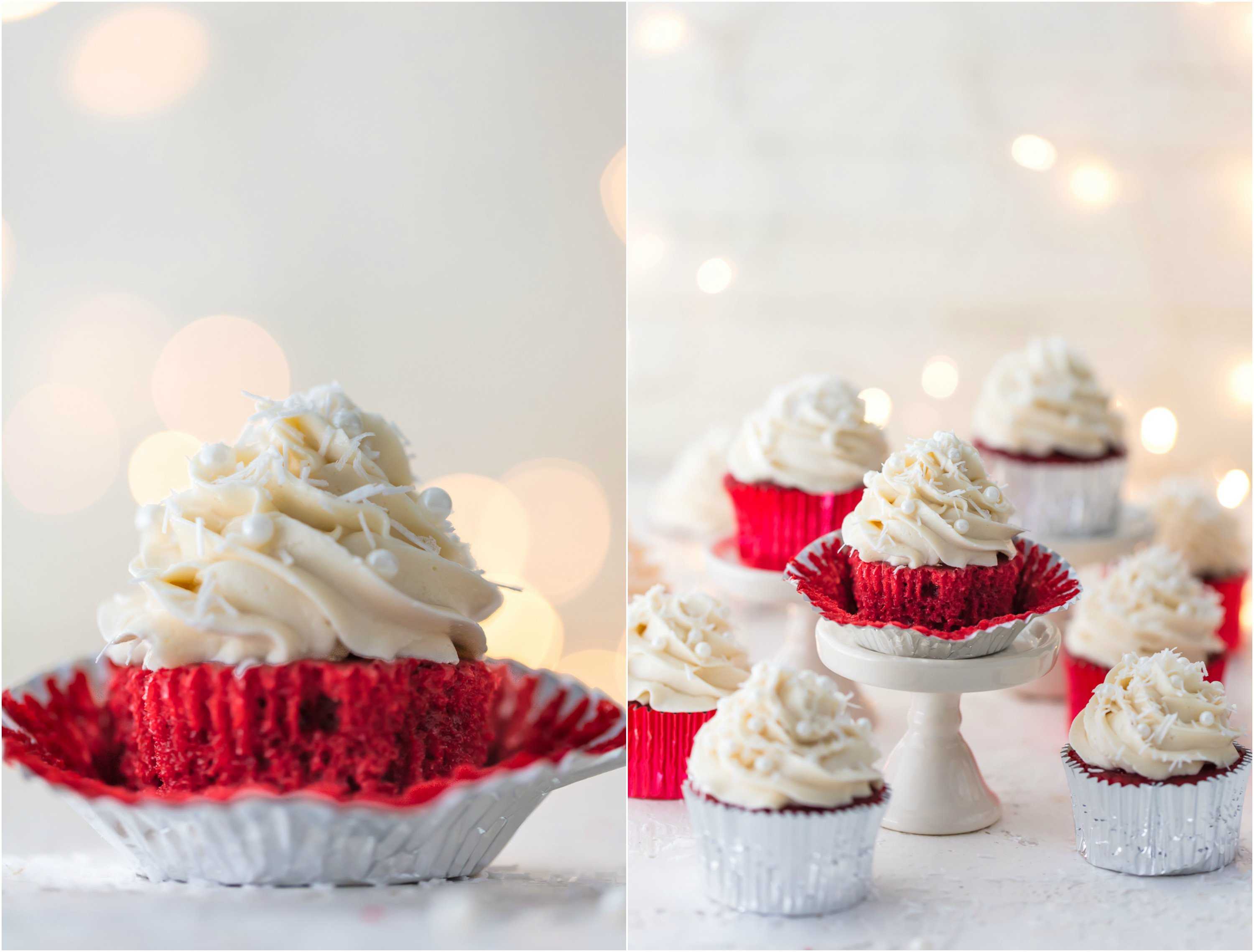 Nothing says I love you like a Red Velvet Cupcake. It's the perfect way to anyone's heart. Try it! You'll see. Best dessert ever, I'm telling you. And aren't they just way too pretty?! They scream Christmas to me. In a couple months they'll scream Valentine's Day to me. I CANNOT GET ENOUGH!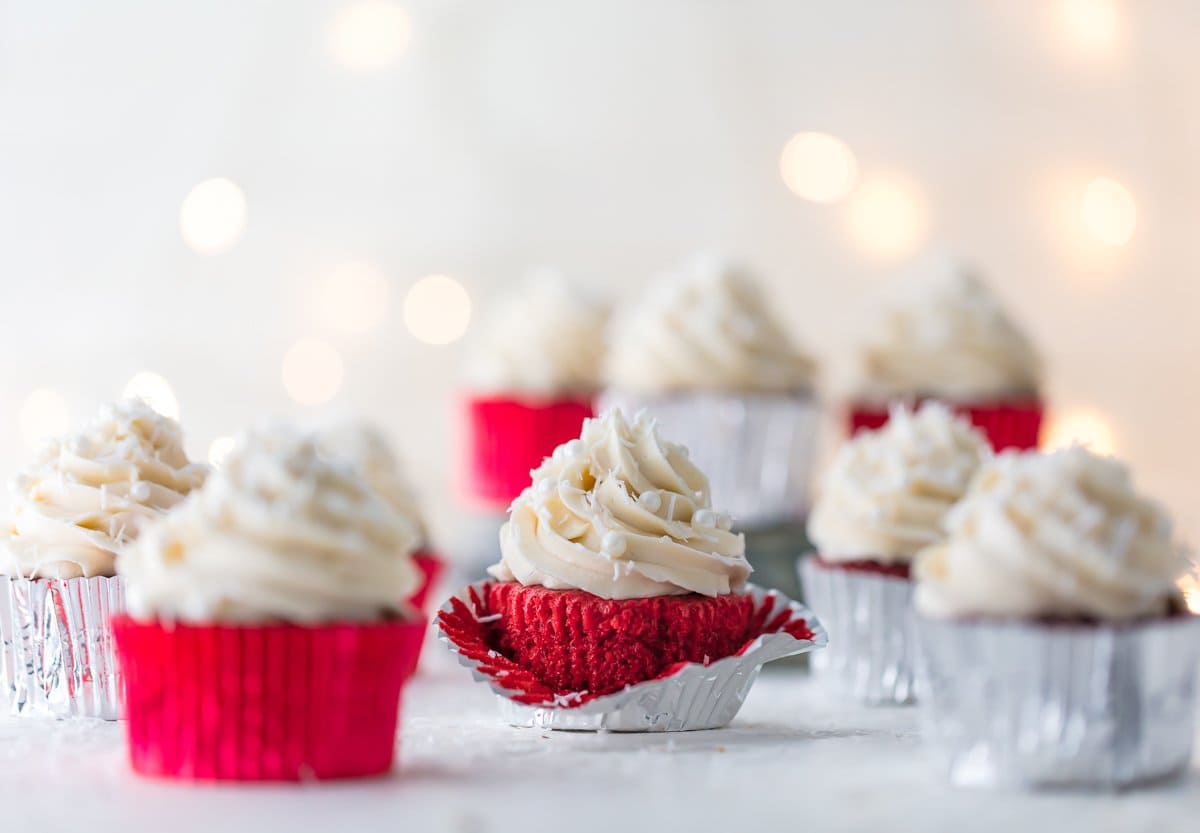 Okay I'm off to enjoy the weekend and eat as many Perfect Red Velvet Cupcakes as I possibly can. Breakfast, lunch, and dinner. Any meal works. Enjoy!
Ingredients
2½ cups all purpose flour
2 cups sugar
1 Tablespoon cocoa
1 teaspoon salt
1 teaspoon baking soda
2 eggs
1½ cups oil
1 cup buttermilk
1 Tablespoon white vinegar
1 teaspoon vanilla
2 oz. red food coloring
Instructions
*The flour/milk mixture for the icing needs time to cool completely in the fridge, so start the icing at least 1 hour before starting the cake. (see notes)
Preheat oven to 350F
Line 3 regular-size muffin pans with cupcake liners.
In a medium bowl, place the cracked eggs and whisk until egg whites and yolks are blended.
Add remaining liquid ingredients and whisk until well incorporated. Set aside.
In the mixing bowl of an electric mixer, place all dry ingredients and mix until completely combined.
Add the wet ingredients to the dry ingredients.
Mix on medium-high speed for 1 minute or until mixture is completely incorporated.
Fill batter 2/3rds up the prepared cupcake liners.
Gently tap the pans on the counter a few times to release any air bubbles from the batter.
Bake 15-20 minutes or until a toothpick inserted in the middle of a middle cupcake comes out clean.
Let the cupcakes rest 10 minutes, then remove from pans and cool completely on a cooling rack.
Optional: If a cake is desired, this cake batter will make a three-layer 8-inch cake.
For THE BEST ICING EVER, click HERE
7.6.4
2344
https://www.thecookierookie.com/perfect-red-velvet-cupcakes/

JOIN OUR MAILING LIST
TO GET COOKING!
Subscibe to recieve all the latest, greatest, and EASIEST recipes sent straight to your email inbox. If we post something yummy, you'll be the first to know.