This is the BEST Red Velvet Cupcake Recipe you will ever try. You haven't lived unless you've tried these classic Red Velvet Cupcakes with the most amazing cupcake frosting! Classic, delicious, EASY and perfect. With the best Red Velvet Cupcakes in hand, you're ready for Christmas or Valentine's Day.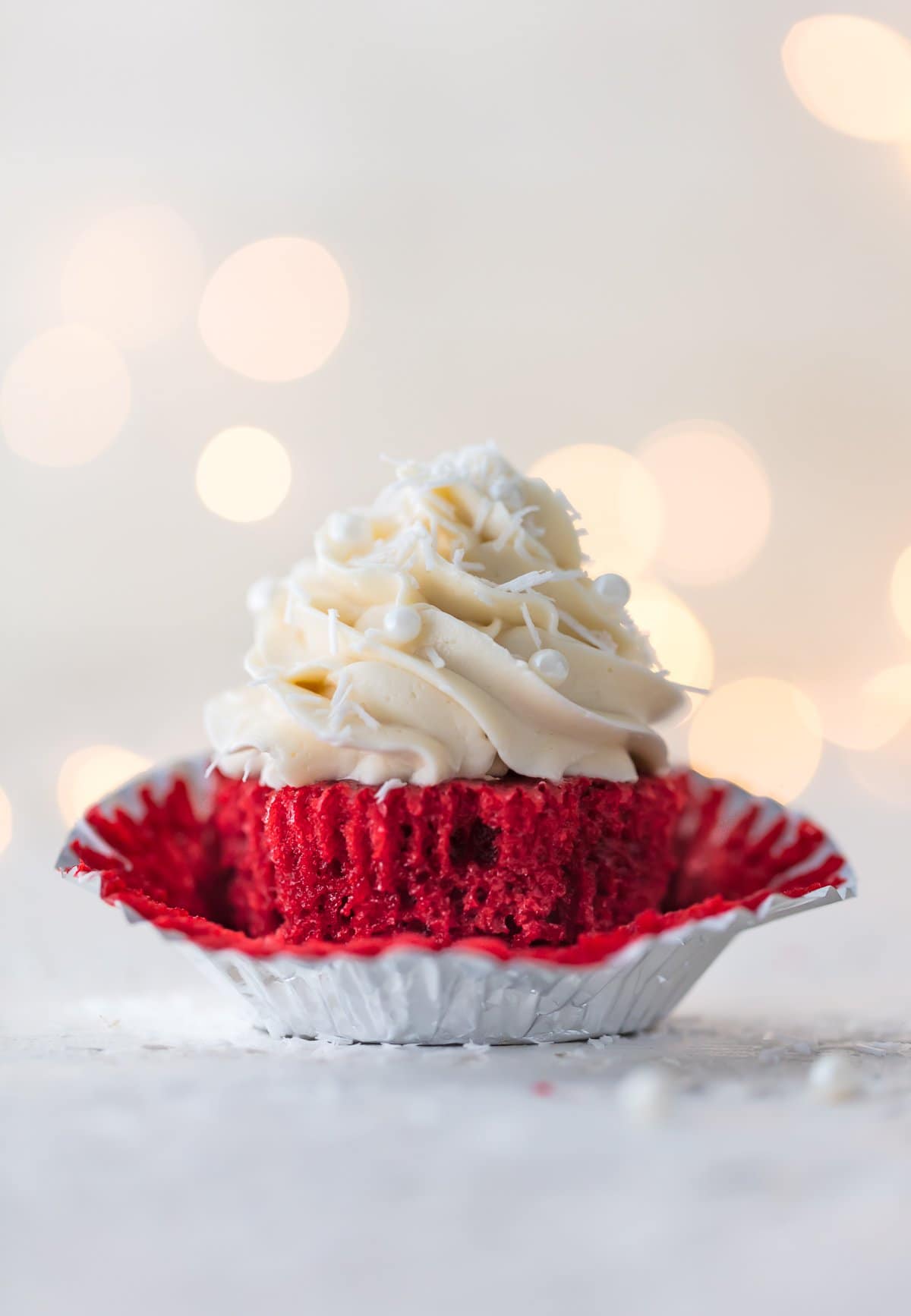 Easy Red Velvet Cupcake Recipe
This is the best red velvet cupcake recipe ever. Once you try it you'll understand! Simple red velvet cupcakes with the best cupcake frosting make the perfect Valentine's treat!
Welcome to my all-time favorite dessert: Red Velvet Cupcakes! Yes, it's been done, but everyone has their secret recipe…and my secret is actually my Mom's. If we are friends in real life then you may have had the pleasure of having my mom cook or bake for you.
My mom is great at everything she cooks, but she is especially amazing when it comes to baking. She kicks all of the classics up a notch, which is why you have to believe me when I say this is the BEST Red Velvet Cupcake recipe.
It just doesn't get any better than this! Red velvet cakes of all kinds are perfect for Valentine's Day of course, but I say red velvet cupcakes should be for every occasion: Christmas, birthdays, Easter, every party ever. You can't go wrong!
You simply have to try them to believe how delicious they are. You ready to have a new favorite dessert? Bake these red velvet cupcakes and don't forget the most amazing icing to go with them!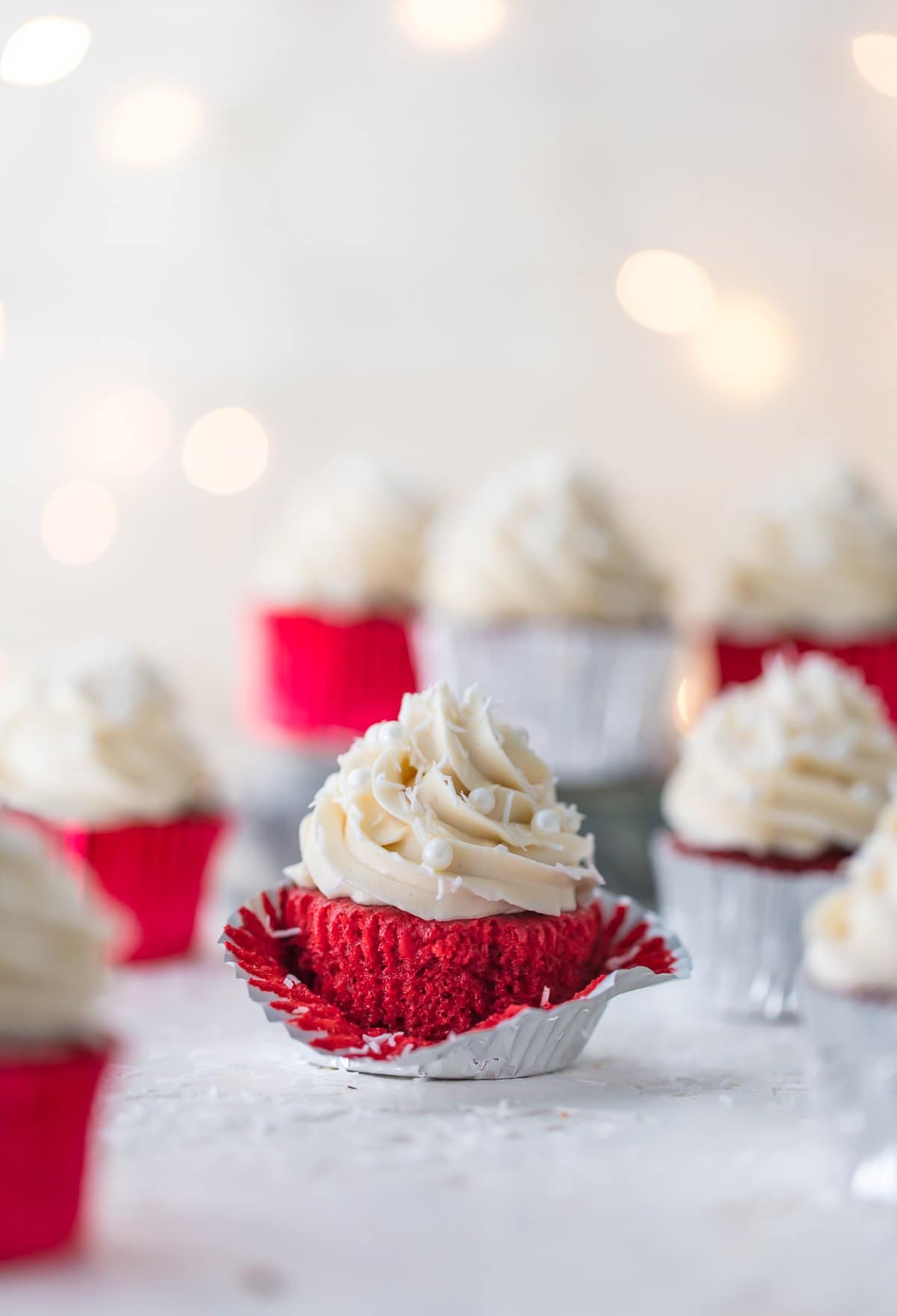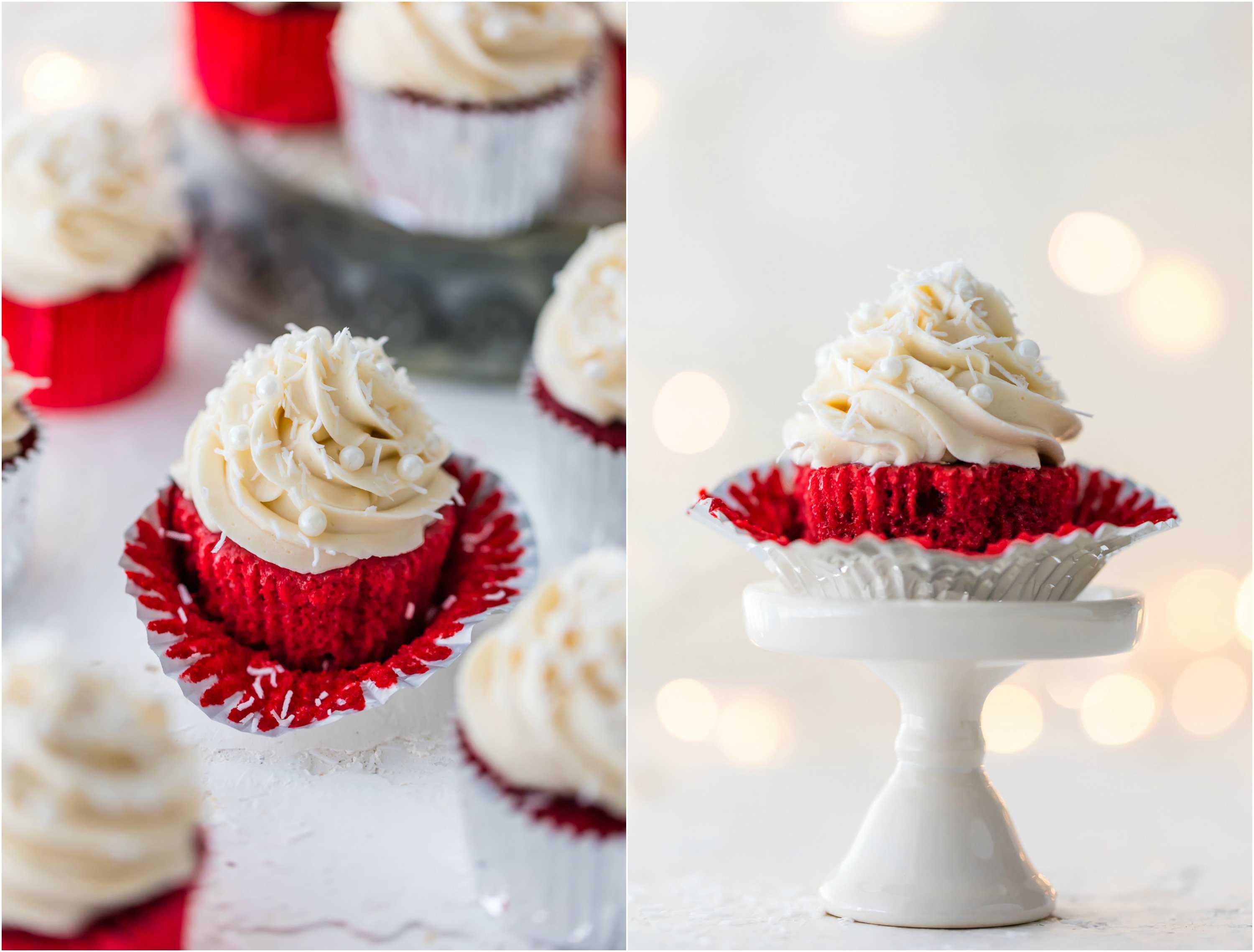 BEST Red Velvet Cupcakes Icing
It wouldn't be the best red velvet cupcake recipe without the best cupcake icing to top it off! This frosting is so sweet, so creamy, and so perfect for these cupcakes. If you haven't tried it yet, today is the day! I could eat it with a spoon allll day long, it's just that yummy. And it works on basically any cupcake, so get to know this icing recipe for all your future baking.
What's in this amazing cupcake icing?
Milk
Flour
Butter
Shortening
Sugar
Vanilla Extract
Powdered Sugar
Find the full recipe for this cupcake icing here. You'll want to make this ahead of time because it needs time to cool off. So start on the icing and then bake the cupcakes.
Red Velvet Cupcakes are Made for Love
My mom makes red velvet cake for my dad's birthday every year. That's true love. Nothing says I love you quite like a Red Velvet Cupcake. It's the perfect way to anyone's heart, which is what makes them so perfect for Valentine's Day, anniversaries, or any special occasion. Try it! You'll see. And they are so pretty too! I also love them for Christmas because they're red and that's just super fun and festive.
How to Make the Best Red Velvet Cupcake Recipe
The best part about this red velvet cupcake recipe is that I can make it too! Yeah, it's easy and comes out totally delicious no matter your baking skills. You've got your typical cake ingredients, and then there's the cocoa, buttermilk, vinegar, and of course the red food coloring to get that beautifully bright red color.
Red Velvet Cupcakes are fun, but if you prefer a cake, you can still use this recipe. Follow the direction as written to make the batter. You can make a 3-layer, 8-inch cake with this recipe.
Be sure to start with the icing to get it prepared before you bake. See the recipe card below for detailed instructions!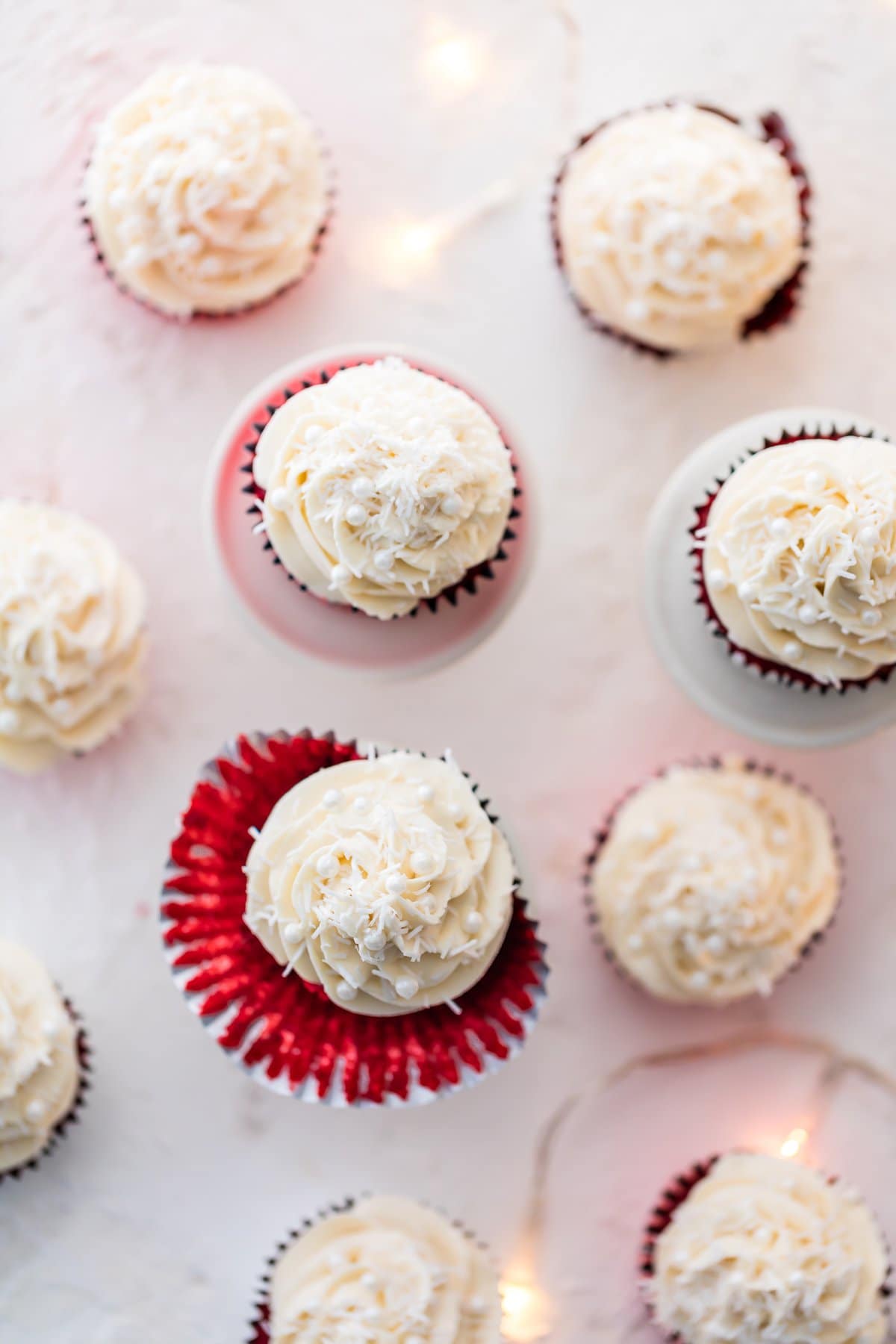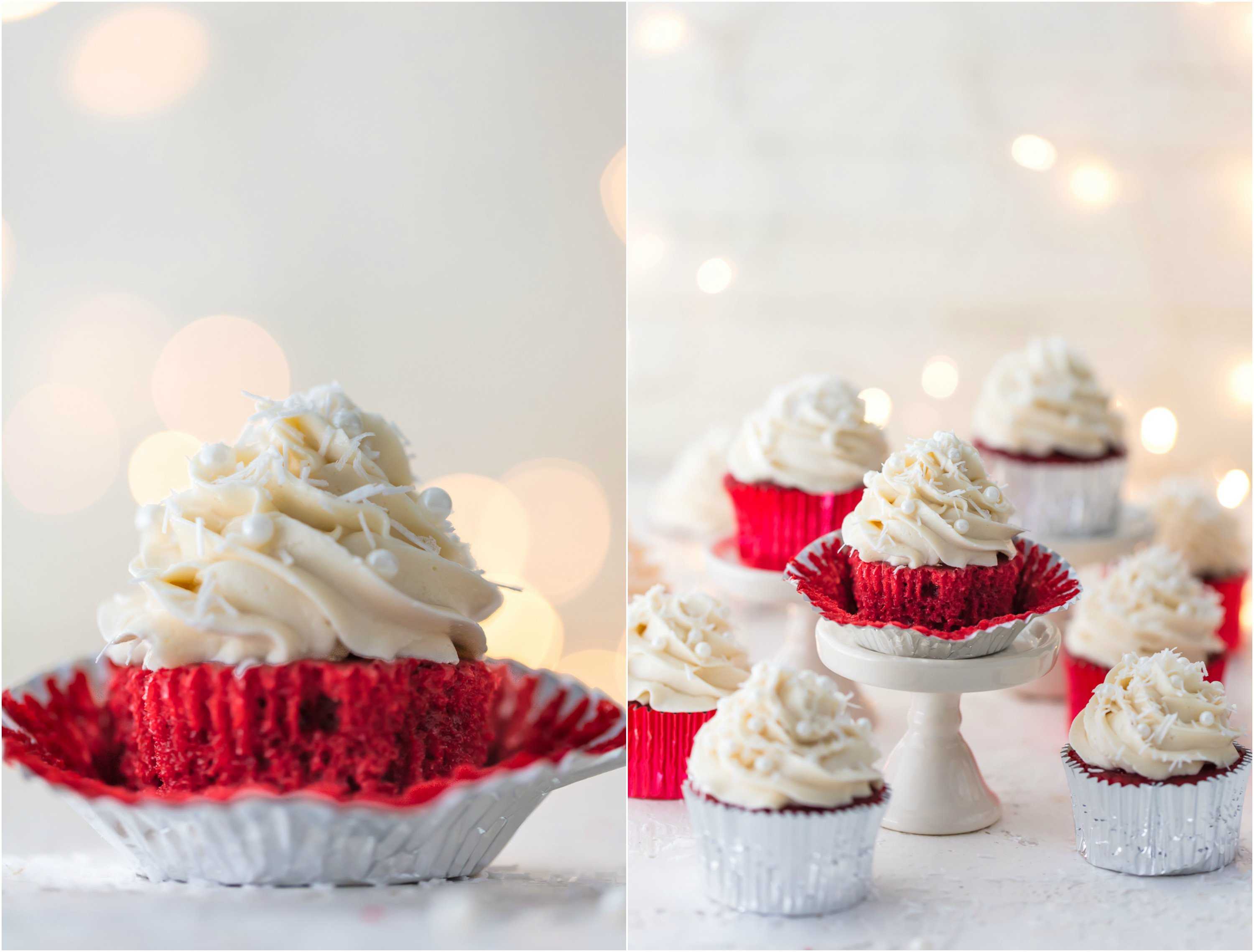 What makes red velvet cupcakes red?
Red velvet cupcakes usually contain red food coloring to enhance the color, but it originally got its name from the natural red tint that occurred from the mix of cocoa and the other ingredients. According to Wikipedia, "The reaction of acidic vinegar and buttermilk tends to better reveal the red anthocyanin in cocoa and keeps the cake moist, light, and fluffy."
What do red velvet cupcakes taste like?
To me, red velvet cupcakes taste like a cross between vanilla and chocolate. Traditionally, most red velvet cupcake recipes contain buttermilk, vanilla, and a touch of cocoa, giving them a distinct yet AMAZING flavor.
Why does red velvet taste different than chocolate?
Red velvet is often just chocolate cake with a red tint, but most people don't seem to think it TASTES like just regular chocolate. Sometimes it's the recipe; not all red velvet cake is made the same!
So it might not be chocolate or it might just have the slightest hint of cocoa. But sometimes it's a psychological illusion…you see something red so your brain doesn't believe it's chocolate. Funny how that stuff works, huh?
Do red velvet cupcakes need to be refrigerated?
The cupcakes themselves don't need to be refrigerated after baking. They can be stored in a container and left at room temperature like most cakes/cupcakes. However, if you are using a cream cheese or cream-based frosting, you might want to store them in the refrigerator.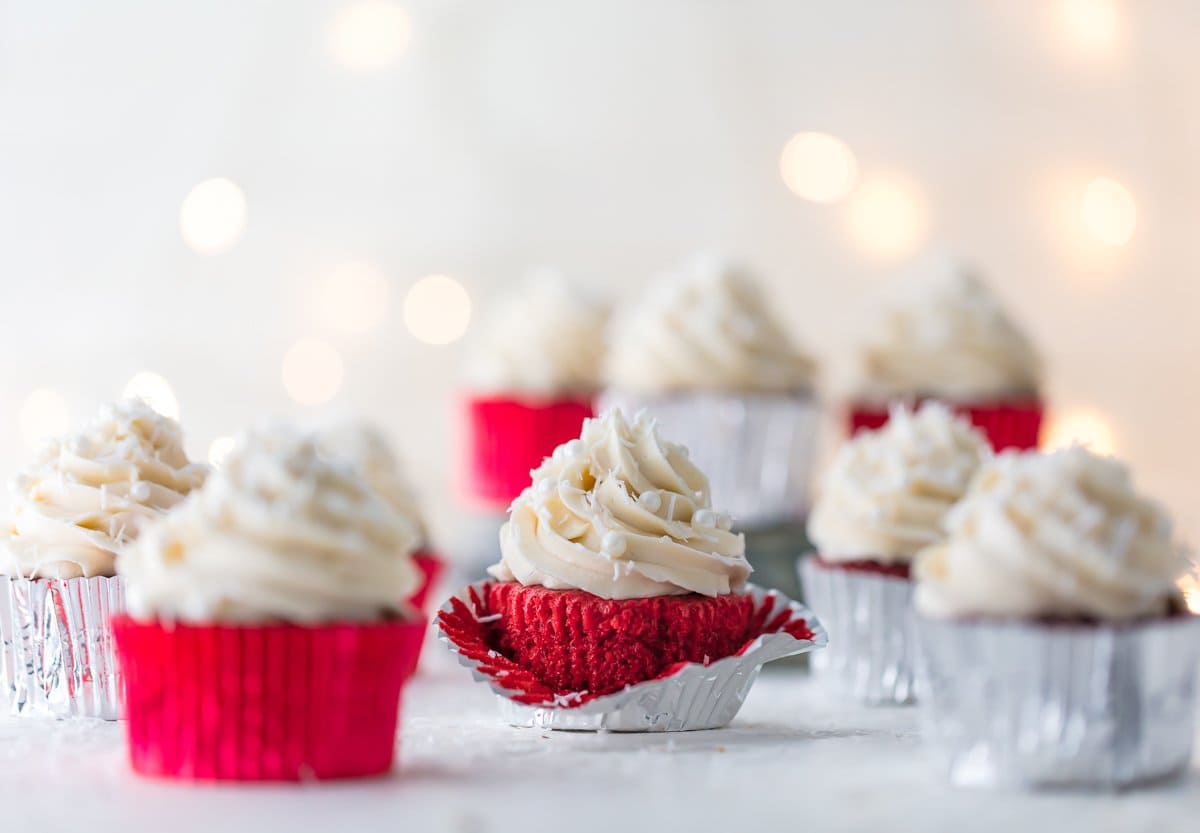 Okay, I'm off to enjoy the weekend and eat as many of these as I possibly can. Breakfast, lunch, and dinner…any meal works. Once you taste the best red velvet cupcake recipe, you'll understand. There's just something comforting about them that makes me think of home. And be sure to try these Stuffed Red Velvet Cookies too!
See the recipe card below for details on how to make the Best Red Velvet Cupcake Recipe. Enjoy!
If you like these red velvet cupcakes, try these other tasty cake recipes: