Apple Pie Cupcakes are one of the most delicious, EASY recipes on The Cookie Rookie. Apple Pie filling is stuffed into a pre-made cinnamon roll base to create the ultimate EASY Caramel Apple Cupcakes. This Cinnamon Roll Apple Pie Cupcakes Recipe has been a winner at our house, especially for Summer and Fall!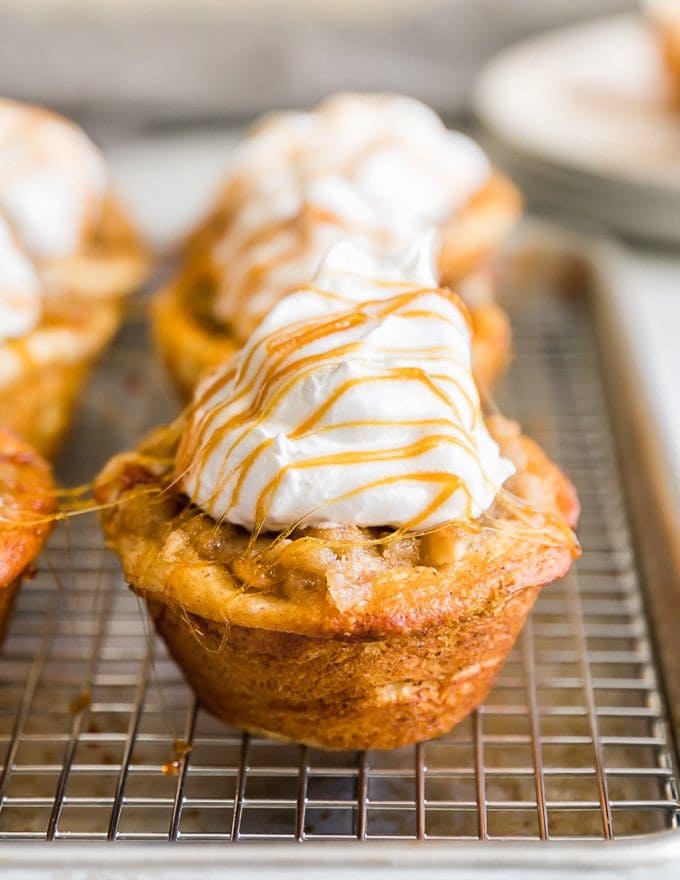 Apple Pie Cupcakes with Cinnamon Roll Crust
This Apple Pie Cupcakes Recipe is the easiest cupcake recipe I've found. You can use pre-made cinnamon roll crust for these tasty Cinnamon Roll Apple Pie Cupcakes!
Apple Pie Cupcakes were one of the first recipes I posted on The Cookie Rookie, back in January 2014! I was still so nervous to bake anything from scratch, so these Caramel Apple Cupcakes made with pre-made cinnamon rolls seemed like the perfect way to dip my toe in the pool of dessert making. These turned out SO DELICIOUS, fun, and EASY that I've made them time and again over the years.
Cinnamon Roll Apple Pie Cupcakes are a recipe I come back to over and over because they're loved by all, perfect for holidays such as the 4th of July or even Christmas, and utterly fool-proof. You'll be the star of the show, and no one has to know how easy these were. Apple Pie Cupcakes for the win!
Bake these easy yet tasty Cinnamon Roll Apple Pie Cupcakes for a sweet and cinnamon-y treat!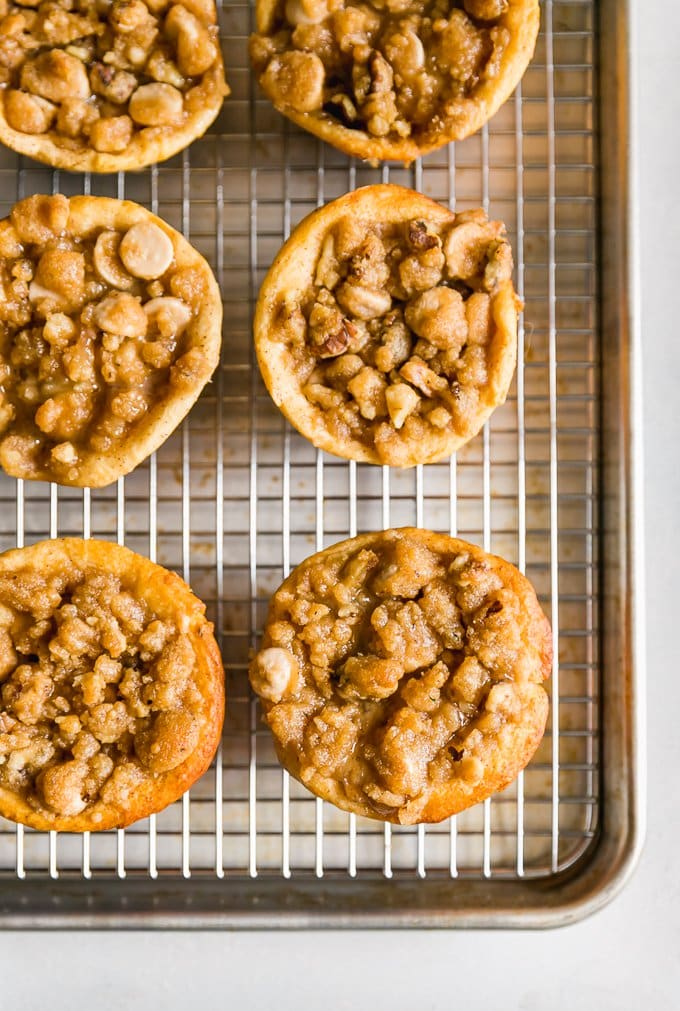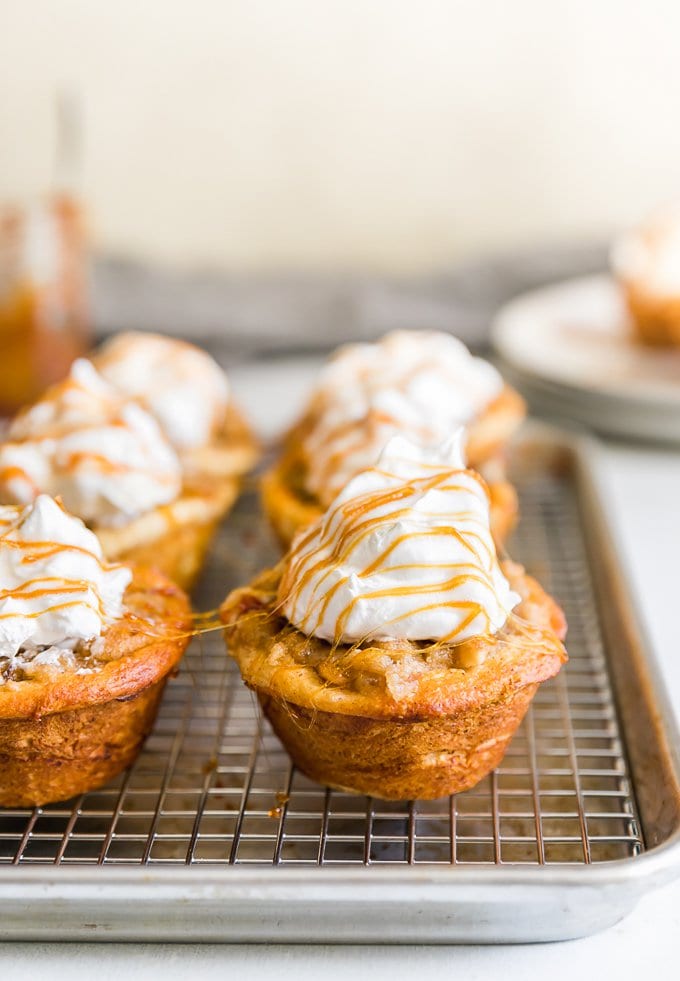 Cinnamon Roll Apple Pie Cupcakes
Cinnamon Roll Apple Pie Cupcakes are made in under 20 minutes with no "from scratch" baking required!
Apple Pie Cupcakes are my kind of dessert. I always liked that Food Network Show "Semi-Homemade" and felt like it spoke to me! I have no desire to make everything from scratch…it's just not me. That's more my Mom. Her recipes are AMAZING, but I look for the hacks to make things easier. These Caramel Apple Cupcakes are one of my favorite Easy Dessert Recipes!
Caramel Apple Cupcakes Ingredients
The best part about this Cinnamon Roll Apple Pie Cupcakes recipe is how simple it is. Like I said before, I'm all about baking hacks here, so we used a few pre-made ingredients to speed up the process.
Pillsbury Cinnamon Rolls
Pre-made Apple Pie Filling
Flour
Butter
Brown Sugar
Cinnamon Baking Chips
Plus a few other optional ingredients for toppings and decoration. But the whipped cream and caramel syrup really bring these Caramel Apple Cupcakes to another level!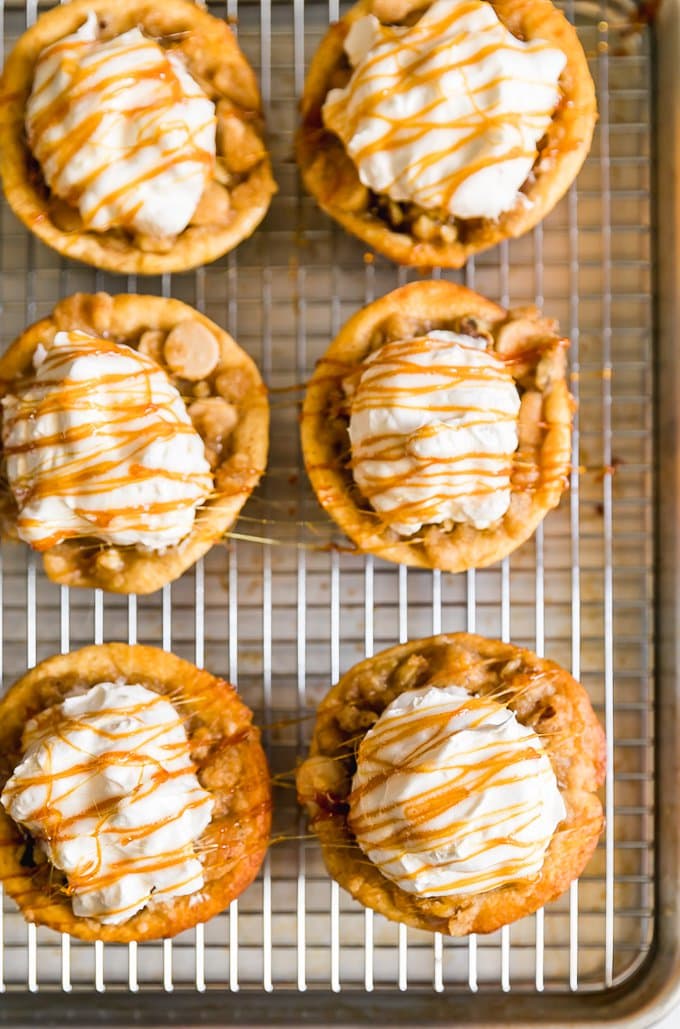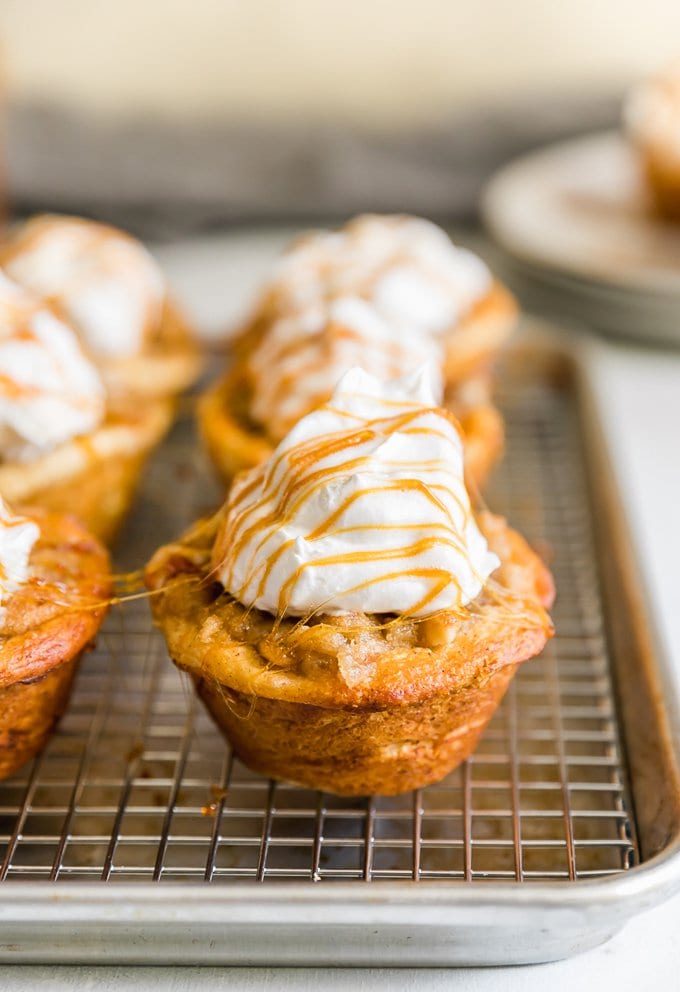 How to Make Apple Pie Cupcakes
If you want to know how to make Cinnamon Roll Apple Pie Cupcakes, trust me, it's easy! Here are a few quick tips to help you make the best cupcakes:
Before removing the pre-made apple pie filling from the jar or can, take a knife and carefully slice through the apples to create smaller bites. This will make it easier to fill the cinnamon roll cupcake base.
The walnuts and cinnamon baking chips are optional but I love the added flavor they bring to this recipe. I definitely recommend using both. If you can't find cinnamon chips, butterscotch chips also work great!
Be sure to flatten each pre-made cinnamon roll as much as possible (without breaking) before placing into the cupcake tin. You don't want to base to be too thick to add that creamy filling!
If you prefer your apple pie a la mode, you can serve these Apple Pie Cupcakes warm topped with vanilla ice cream, skipping the whipped cream. I'd still drizzle with caramel to be safe. :)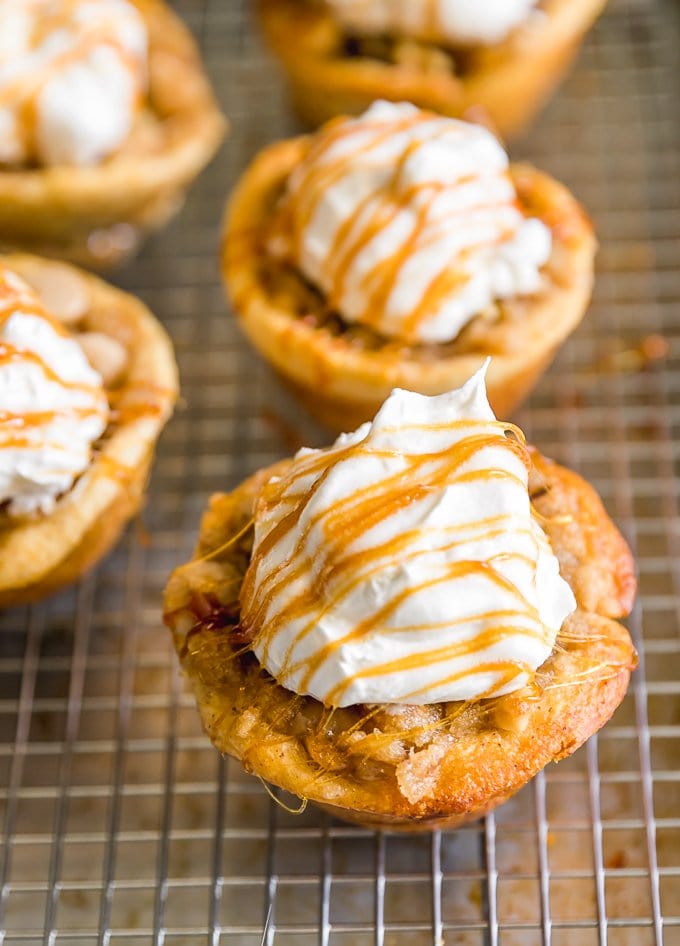 You are going to LOVE the taste of these Cinnamon Roll Apple Pie Cupcakes…and you're going to love how easy they are to make even more!
Watch the video or see the recipe card below for full details on How to Make Apple Pie Cupcakes. Enjoy!
If you're a fan of Apple Pie…we have you covered with SO many fun variations on a classic. Be sure to check out these other apple pie recipes: