NO FUSS APPLE PIE CUPCAKES are so fun and delicious! The base is made with store bought cinnamon rolls and I don't feel the least bit bad about it!
warning: these are EASY and DELICIOUS.  dangerous combination.  you might want to make them every single day.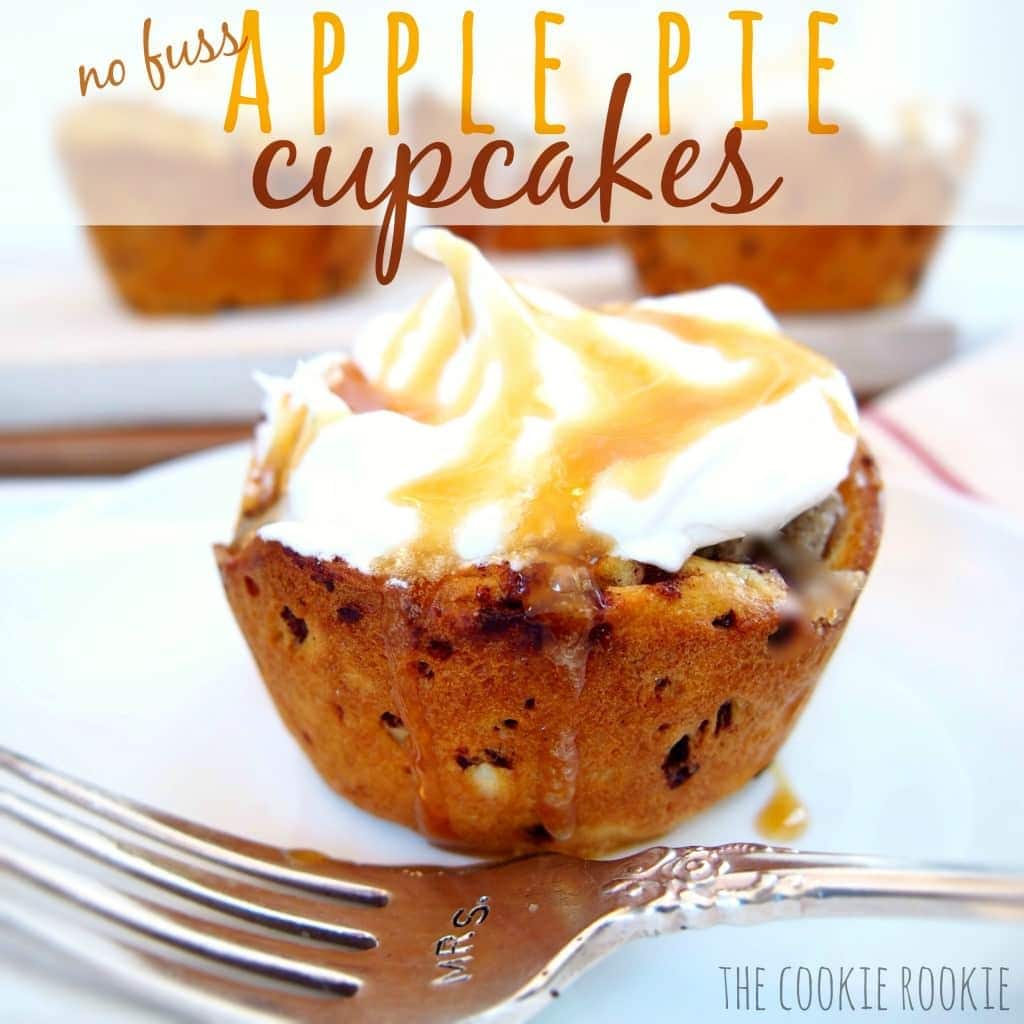 there are days when i want to conquer harder recipes…make things from scratch, and feel like i'm really accomplishing something.  then there are days when i want to watch a "friday night lights" marathon with my husband all day long, make something easy and delicious and hopefully something that looks harder than it is.  i love recipes like that.  THIS is one of those recipes.  not a single part of it is made from scratch and honestly i'm okay with that.  these are for the lazy days, folks.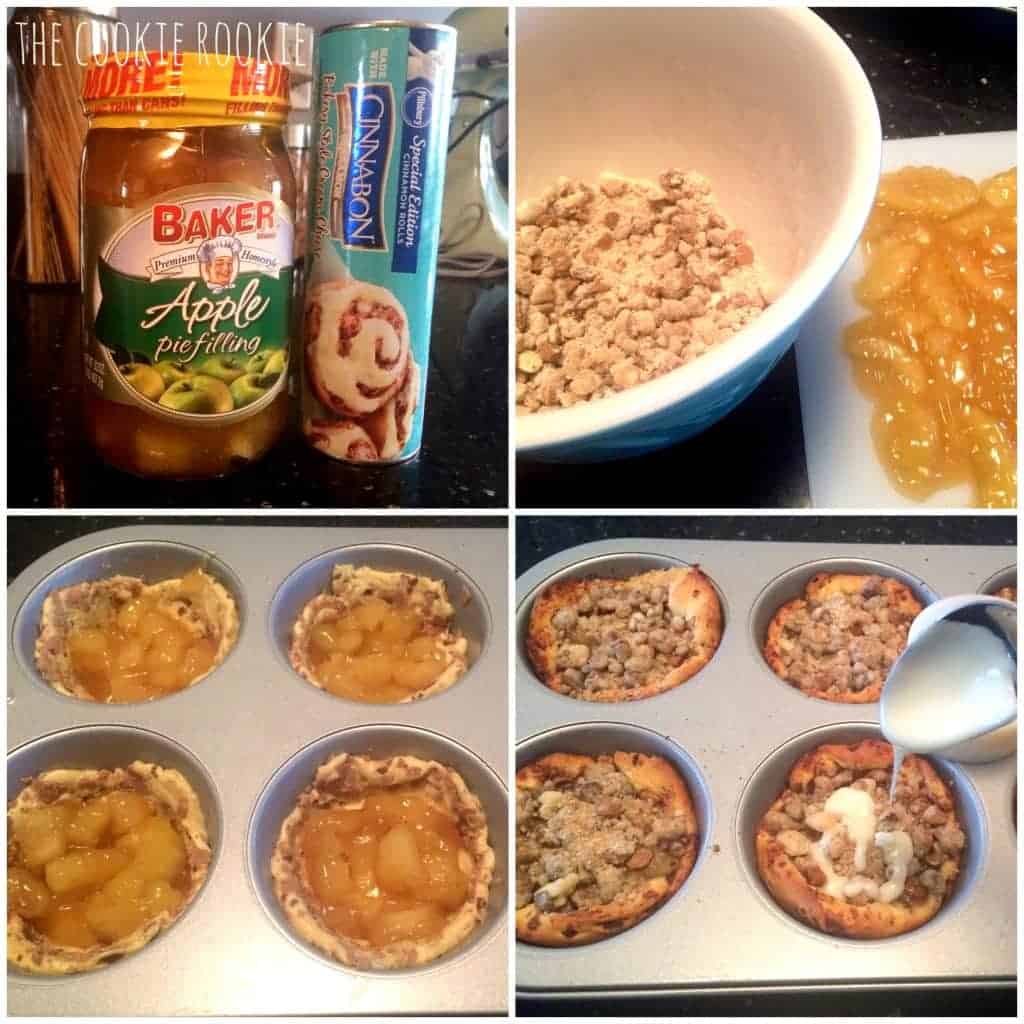 so, these are genius.  i wish i could take credit for the idea, but this one isn't mine.  i got this amazingly brilliant idea from Inspired Taste.  (such a great site, click HERE for the original recipe)  they came up with using store-bought cinnamon rolls as the base of these yummy cupcakes, and i took it a step further by using store bought apple pie filling for the inside.  i told you, nothing in this recipe is made from scratch.  the prep time takes 5 minutes, and then you can get right back to your couch where you belong some saturdays.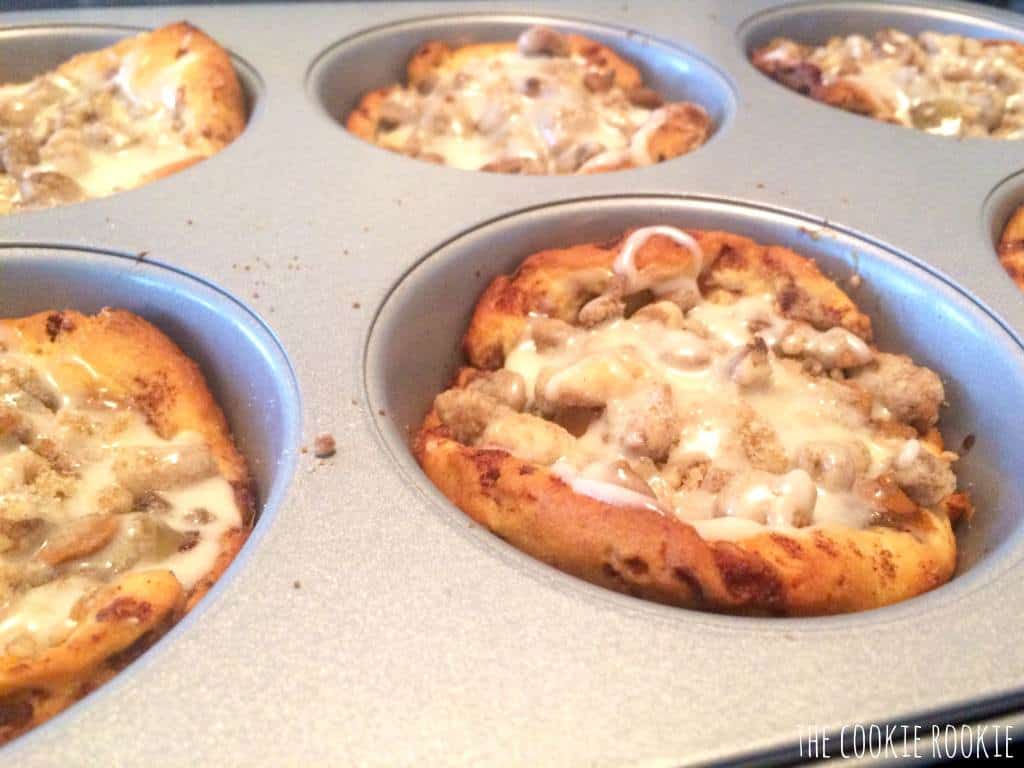 there are a couple ways to finish these cupcakes…you can do either one…or BOTH.  i chose both.  i used the cream cheese icing found in the cinnamon roll package and drizzled each cupcake with just the right amount.  they were delicious just like that…easy breezy, but you can take it up another notch and add whipped cream and caramel sauce.  what?! it was just one of those weeks.  don't judge me. (click HERE for a great homemade caramel sauce recipe)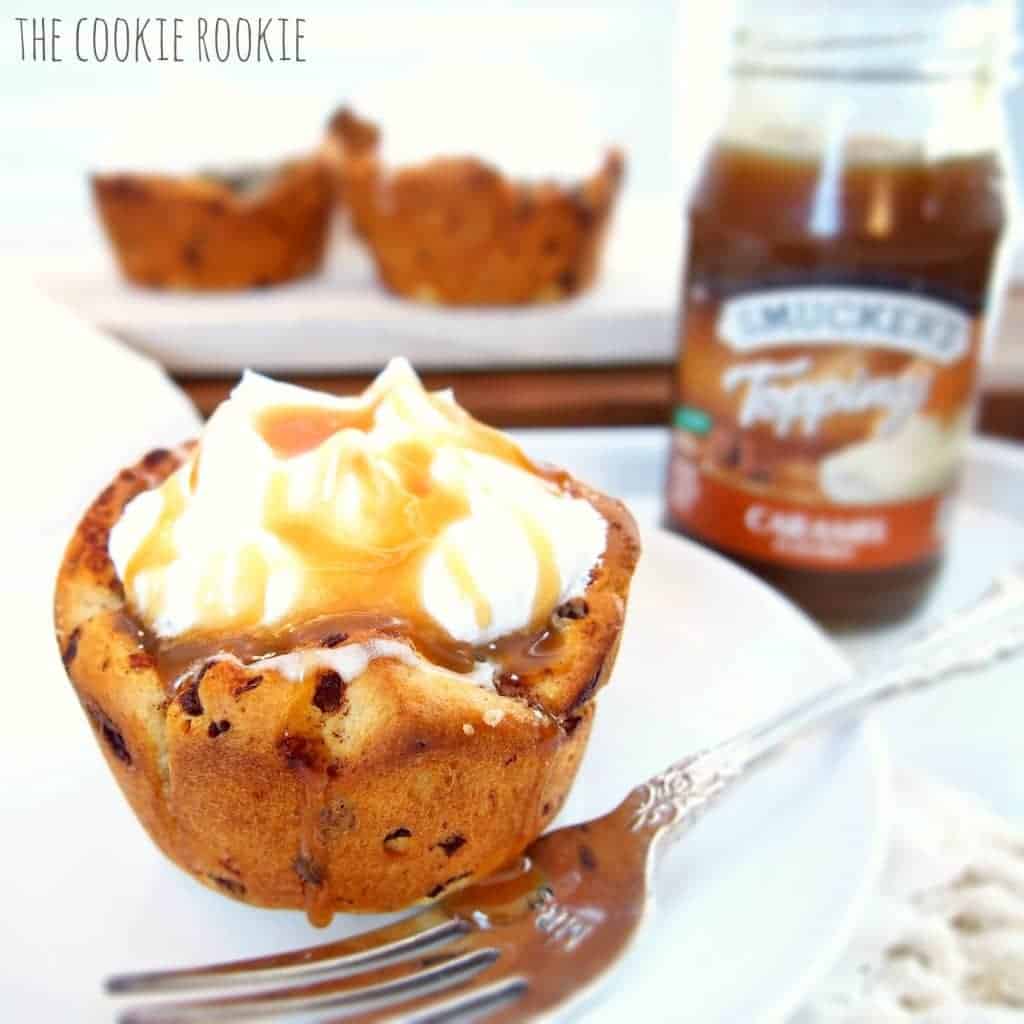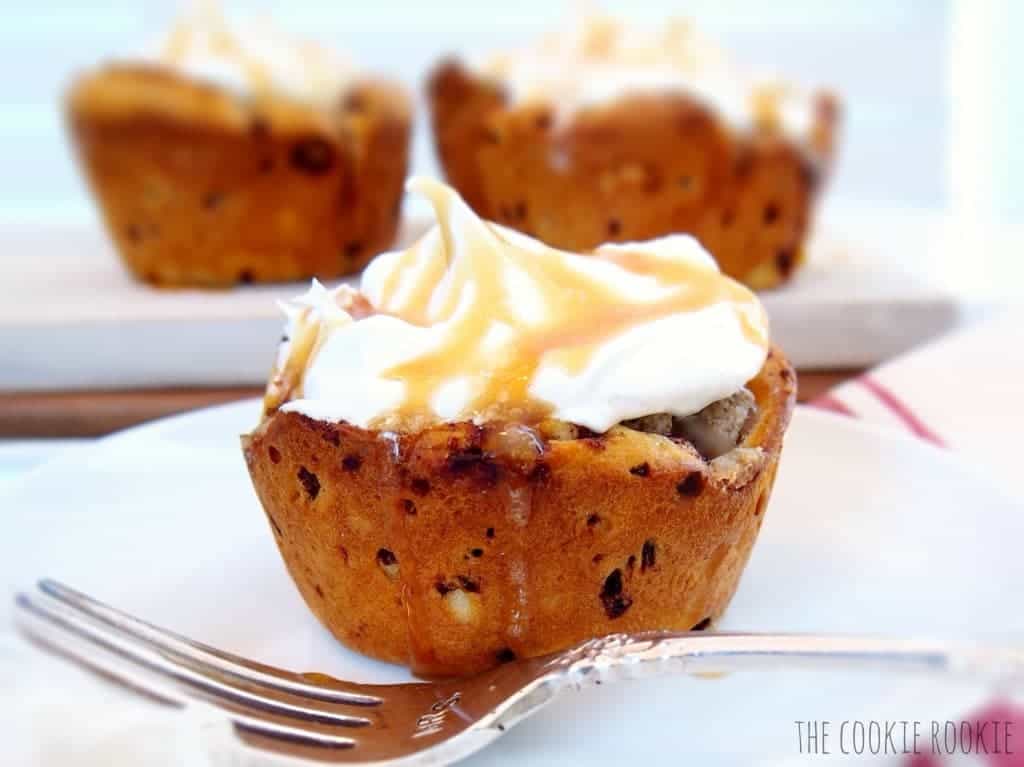 is the indulgence calling your name? i'll be honest, i just heated up one of these bad boys and ate it for breakfast.  DIVINE.  i'm not sorry about it one bit.  there will be other days for making things from scratch.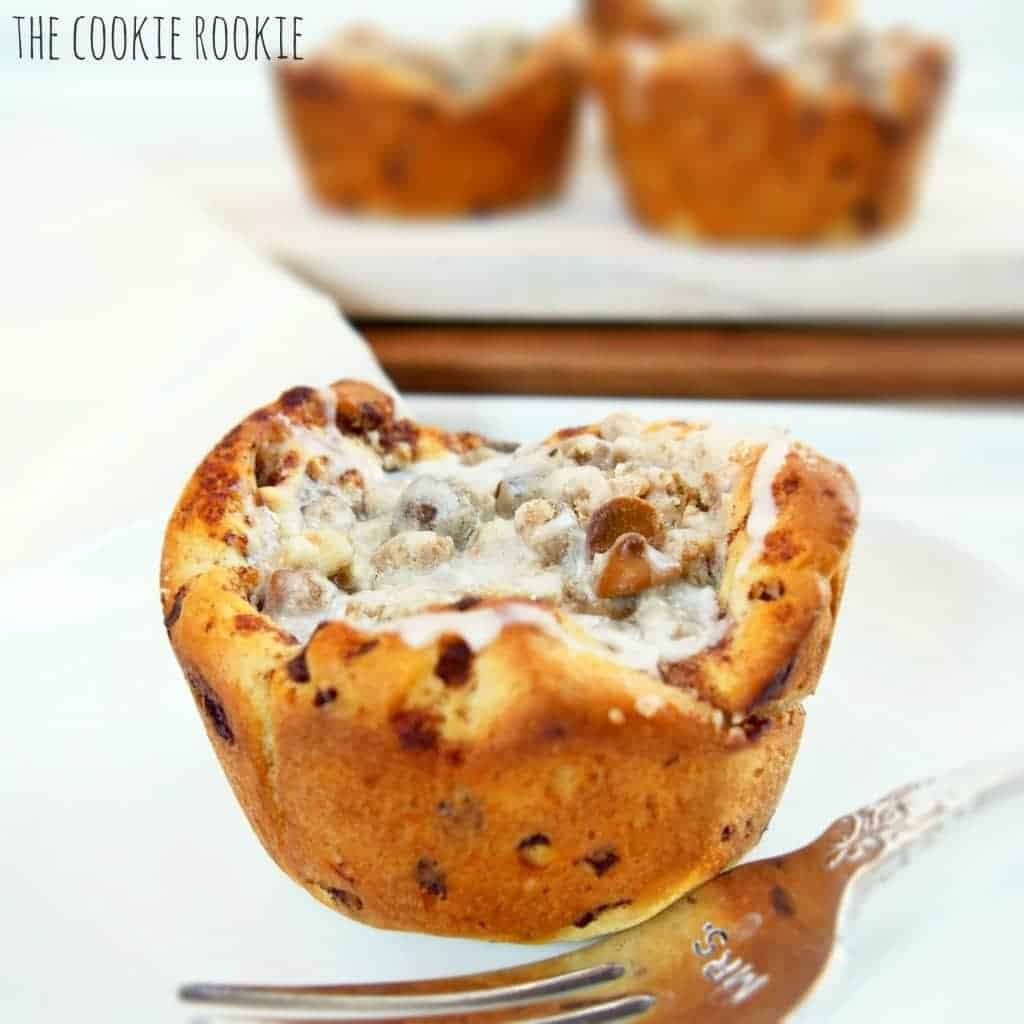 they're also great with just the icing on top.  (yes, i ate more than one.  the life of a food blogger…its tough to taste test everything…:)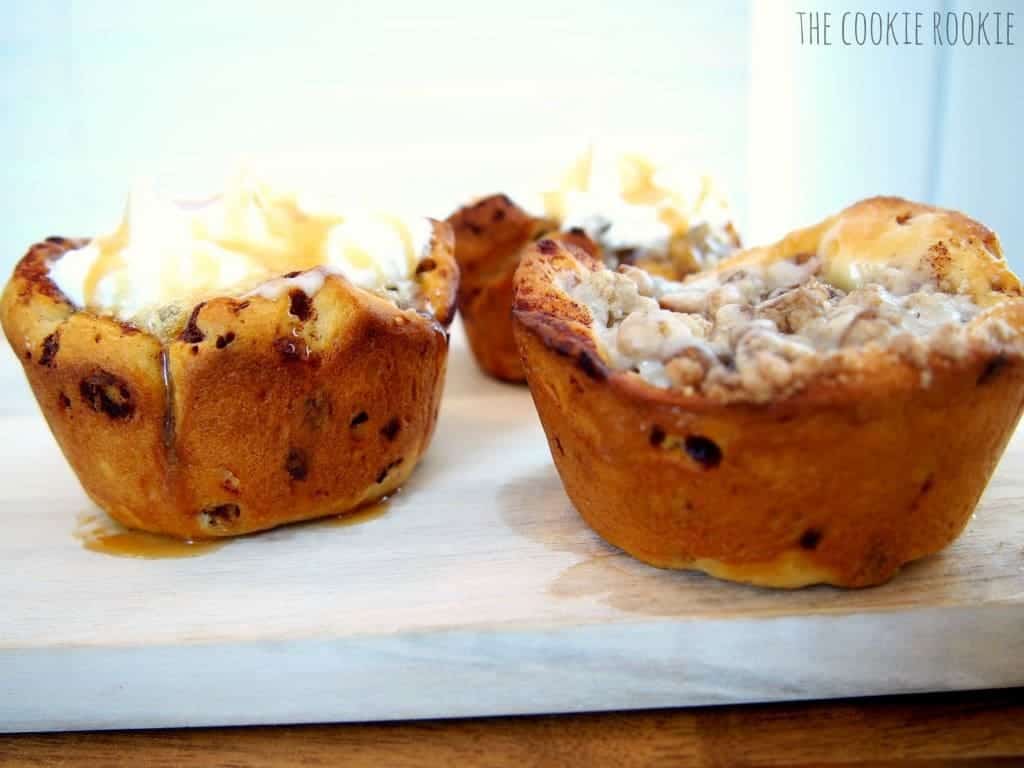 we only have 2 of these left.  which means we ate 4 yesterday.  oops.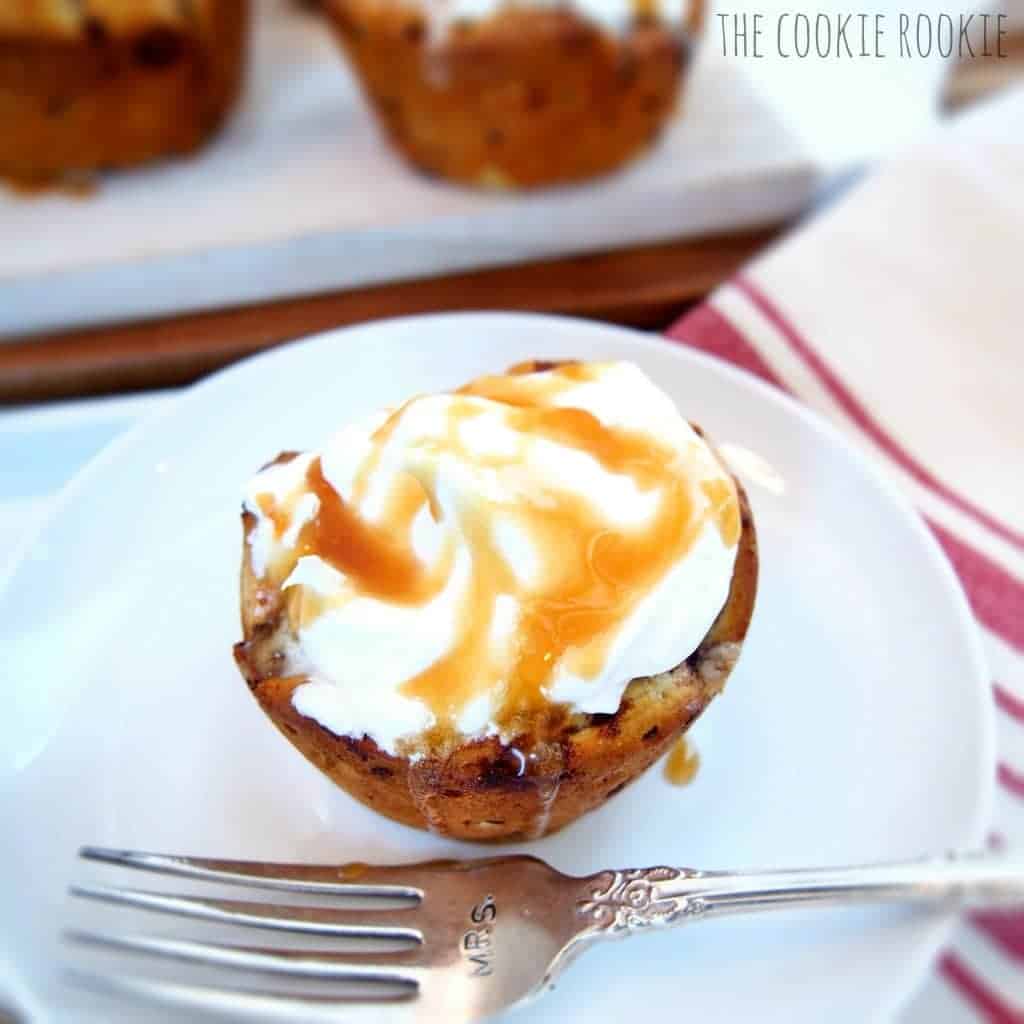 can you blame us?!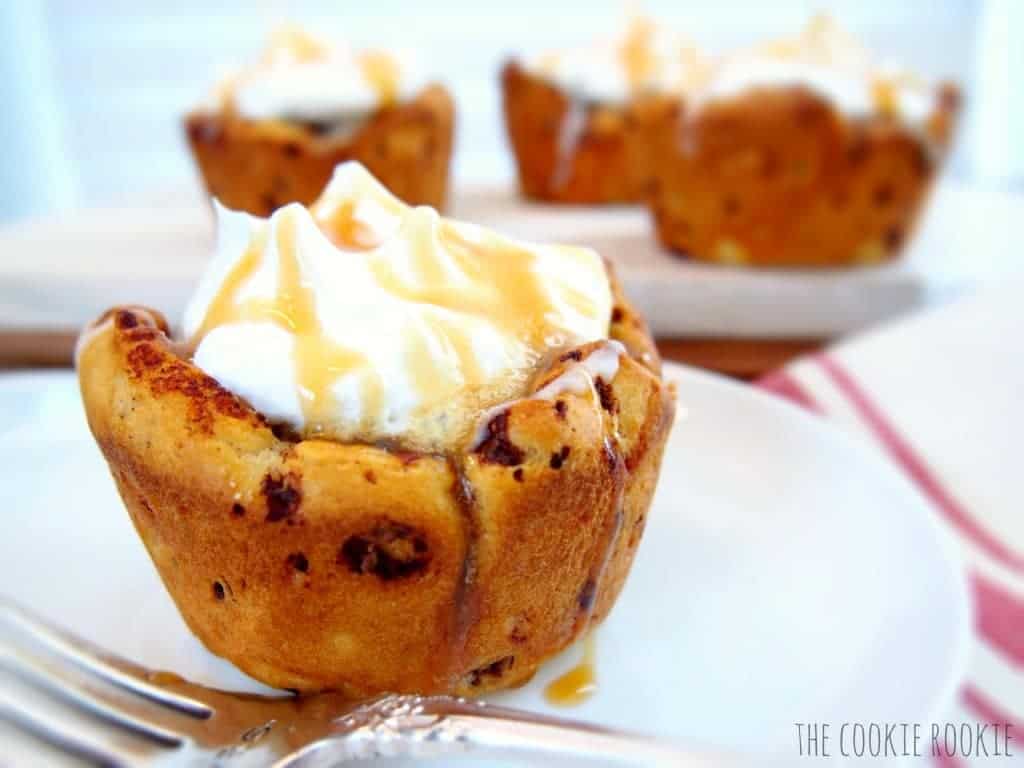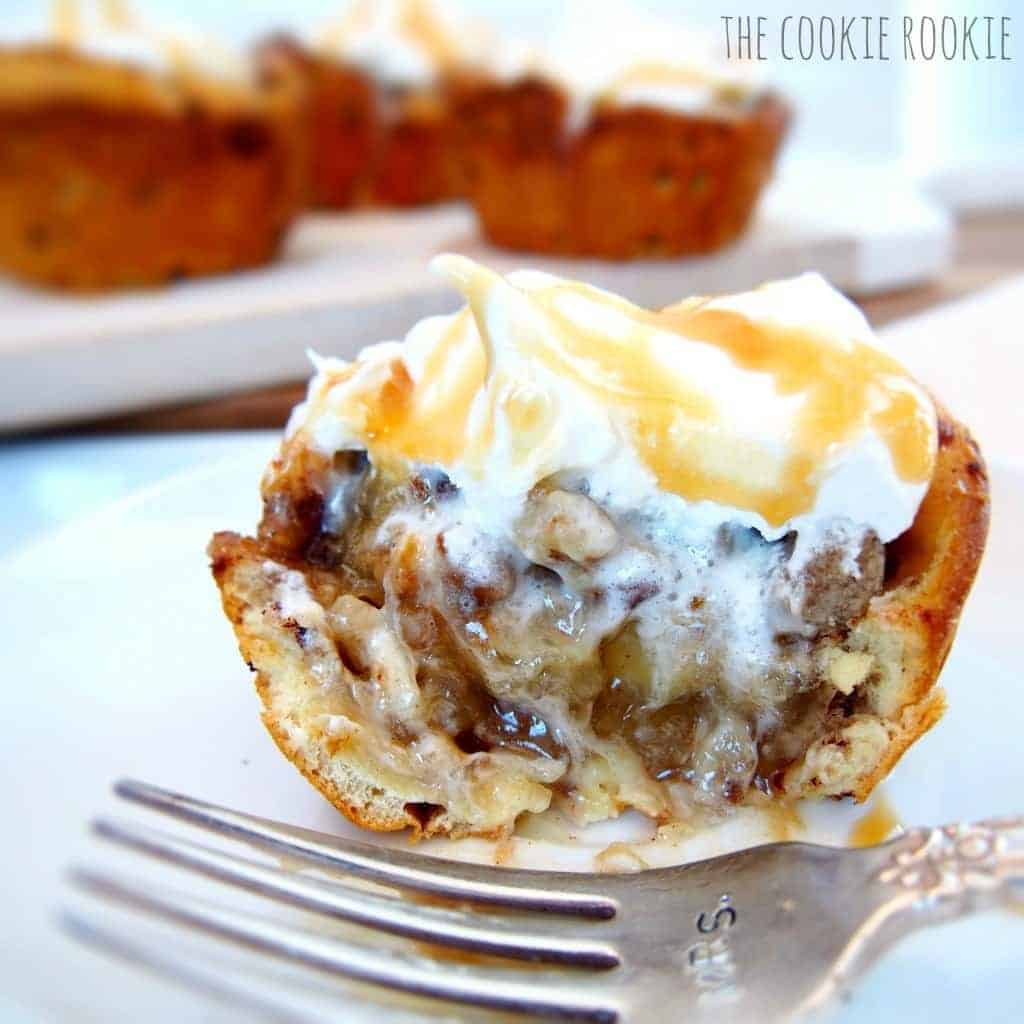 look at all that warm apple pie goodness!! doesn't it look like i'm the ultimate susie homemaker?! i love deceptively easy recipes.  this one is perfect for breakfast, brunch, dessert, snack……anytime :).
i hope you can enjoy these as much as we did on the 'no fuss' days.  thanks so much for stopping by! check out our GIVEAWAY we have going on right now! now thru 1/24/14!
no fuss apple pie cupcakes
made with store-bought cinnamon rolls and apple pie filling...these are no-fuss and delicious!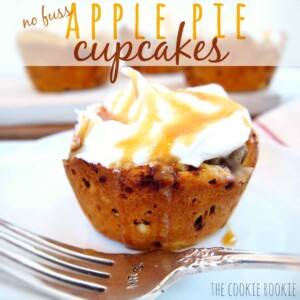 Ingredients
2 1/2 tablespoons unsalted butter, melted
1 1/2 cup store bought apple pie filling
1/4 cup all purpose flour
1/4 cup + 2 tablespoons packed brown sugar
1/4 cup chopped walnuts (optional)
1/4 cup cinnamon baking chips
1 can (12.4 oz) Pillsbury refrigerated cinnamon rolls
icing from the cinnamon rolls package (optional)
whipped cream (optional)
caramel-flavored syrup (optional)
Instructions
preheat oven to 400F. lightly spray muffin or cupcake tin.
mix together butter, flour, brown sugar, walnuts, and baking chips. set aside
take out 1 1/2 cups of apples from the filling container (i don't like a ton of the apple sauce that comes in the storebought filling containers...so i separated the apples as much as i could.) chop into small pieces. set aside
take each cinnamon roll and flatten into a thin disc. place each in a muffin cup. press them down firmly into each muffin/cupcake cup and try to bring them up the sides as much as possible. (see pic above)
place a spoonful of apple filling into each cup
top each with the brown sugar/walnut mixture
bake for 10-15 minutes or until the cinnamon rolls are fully cooked.
take out of the oven and allow to cool slightly before taking out of muffin/cupcake tin
drizzle each with the icing and top with whipped cream and caramel (optional)
7.6.7
1610
https://www.thecookierookie.com/apple-pie-cupcakes/
CHECK OUT OTHER
EASY SWEET TREATS: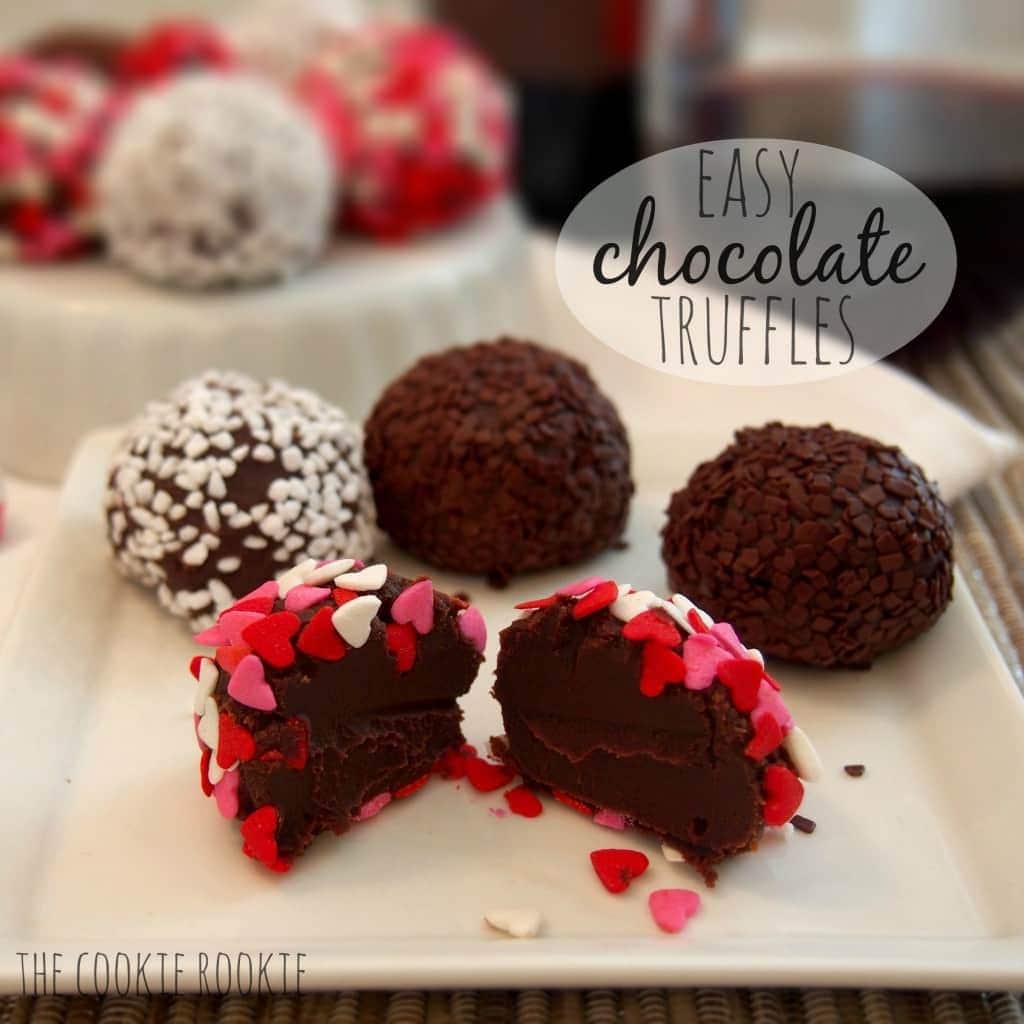 GRAND MARNIER STRAWBERRY HAND TARTS: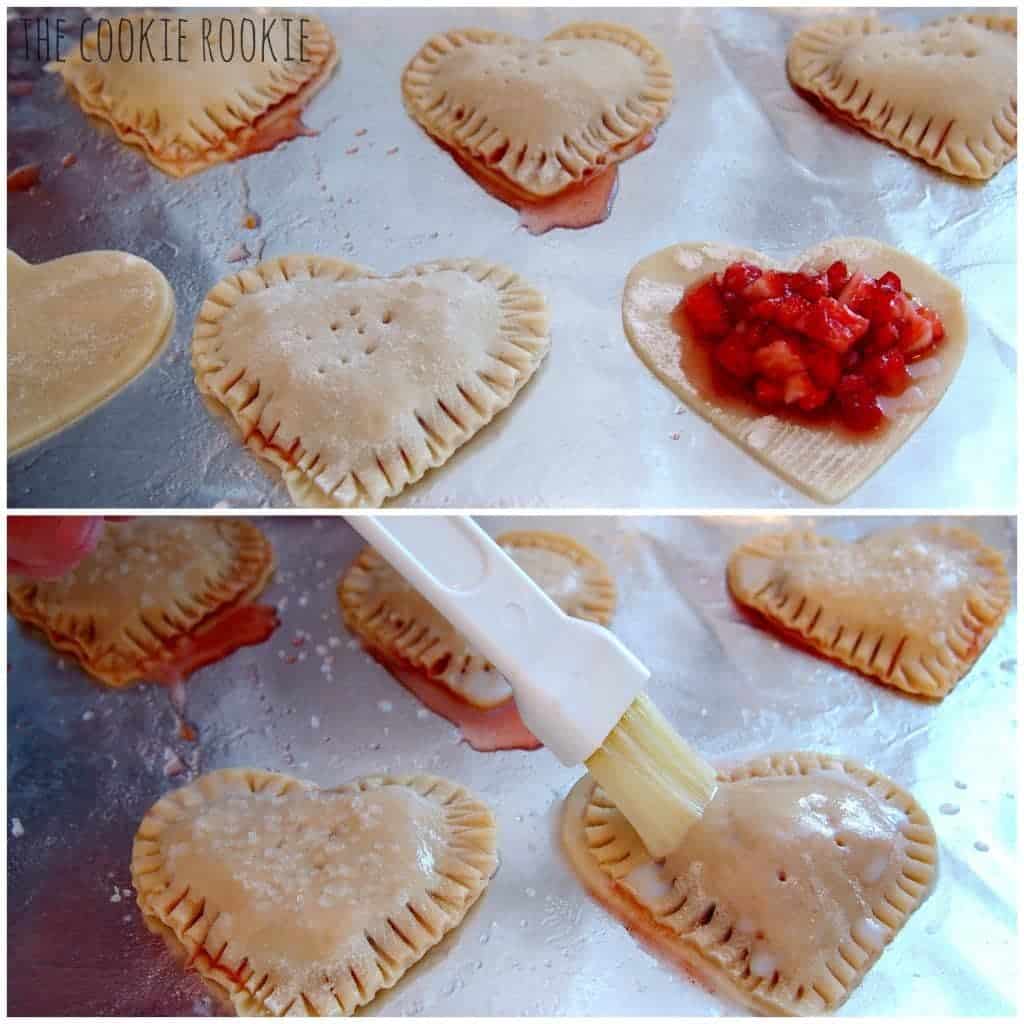 PEANUT BUTTER BROWNIE WHOOPIE PIES: