SALTED CARAMEL EGGNOG! I never knew making eggnog was SO EASY to make at home! Made on the stove in under 15 minutes.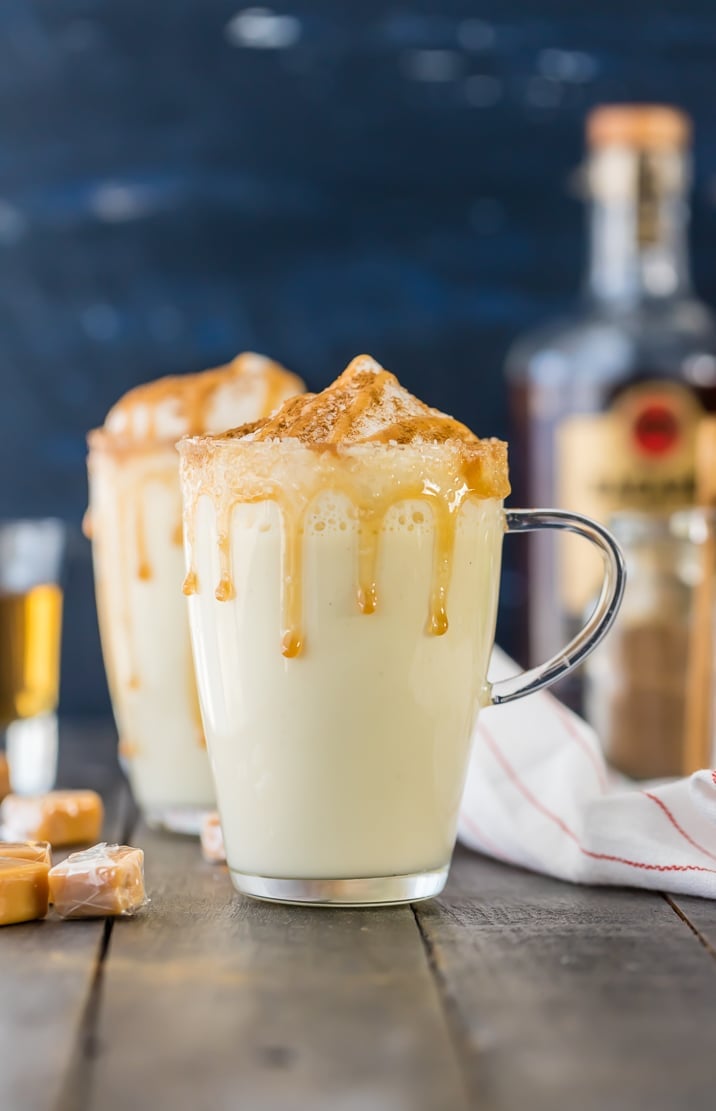 This Salted Caramel Eggnog was originally posted in November 2015 and continues to be a favorite! It deserved a second look. Enjoy!!
I dream about this Eggnog ALL YEAR LONG! Holiday drinks are the best drinks. Period. Eggnog is the best holiday drink. Period. SALTED CARAMEL EGGNOG IS THE BEST EGGNOG. Period. So does that make this Salted Caramel Eggnog the best drink ever?? Well yes. I think it does.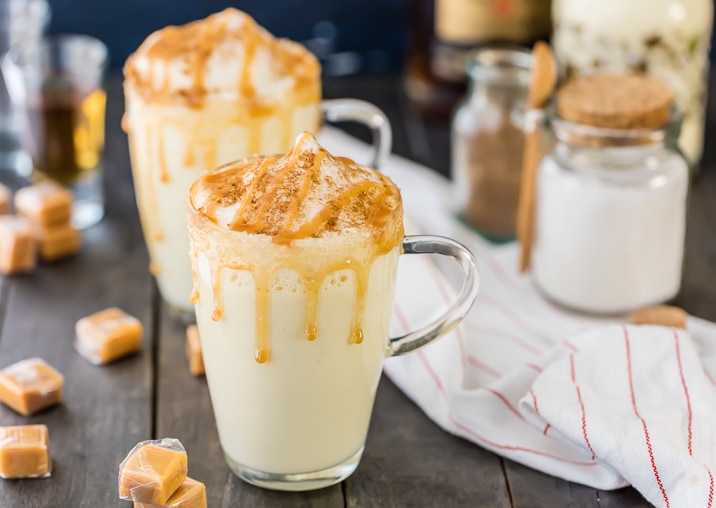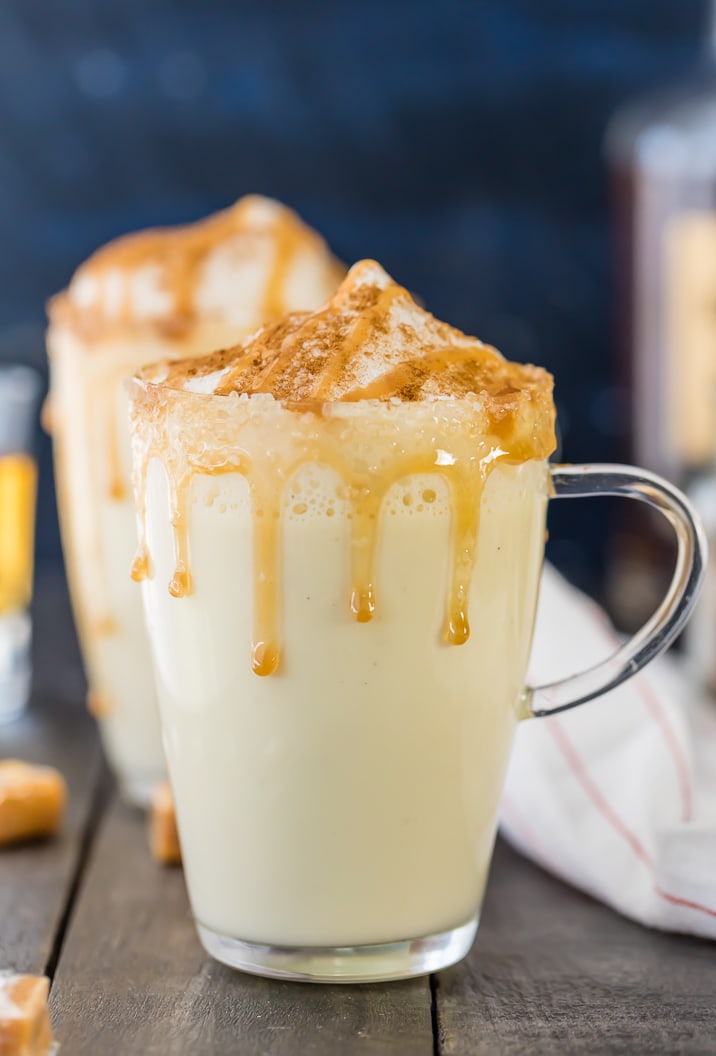 So call me crazy, but I had NO CLUE that making eggnog on the stove was maybe the most super simple thing ever. I assumed eggnog had to be made over hours and hours and could only be bought in stores (I KNOW). Well…good news everyone, it's EASY. Super fast (like, under 15 minutes), and oh so delicious and comforting. Thanksgiving and Christmas in a glass.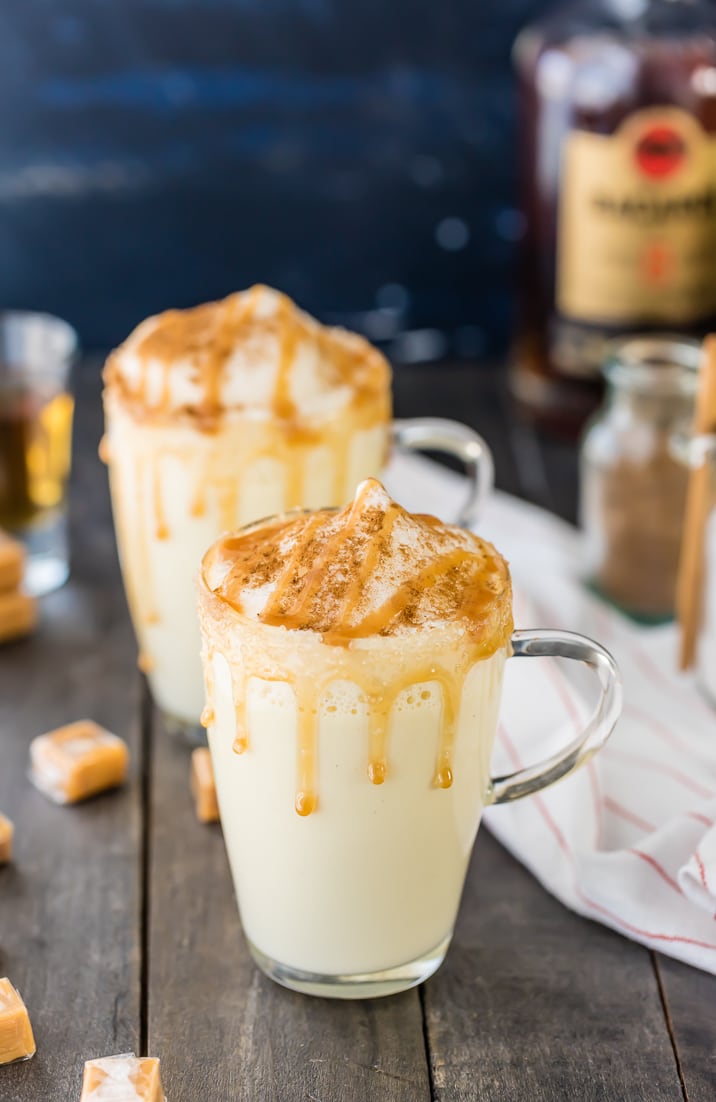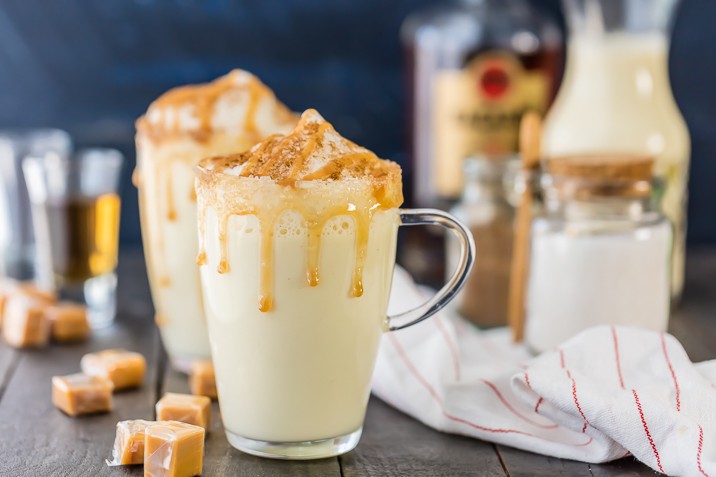 I love the added flair the salted caramel brings to this classic drink. Dangerous actually. It's just too good!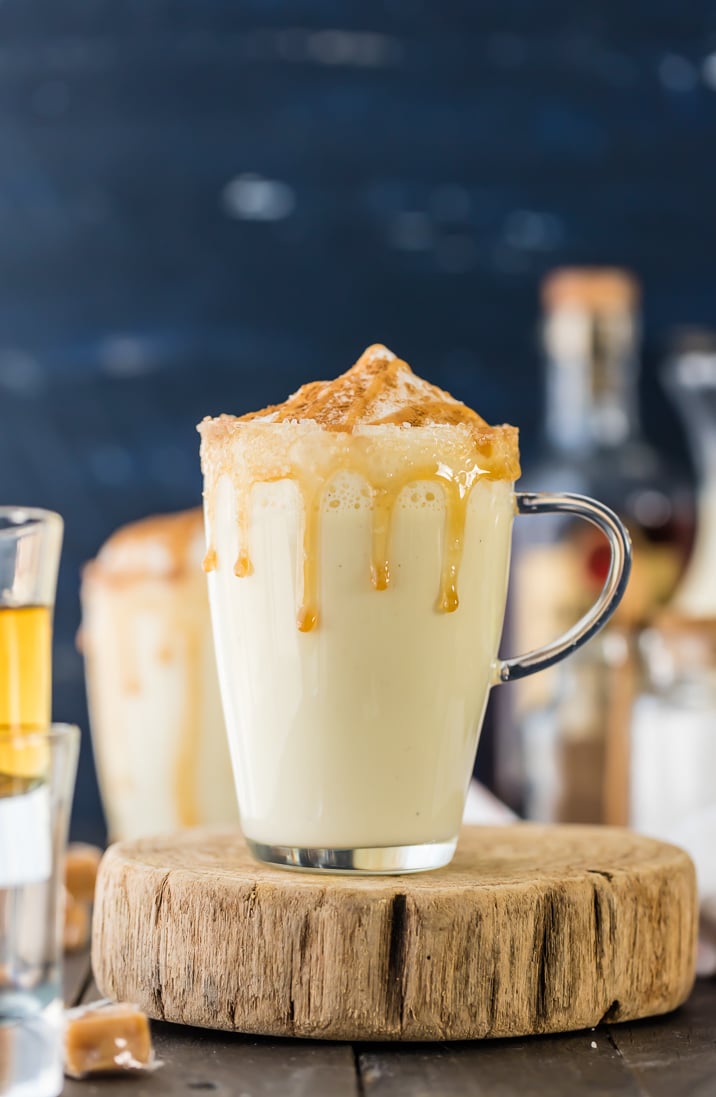 This easy and beautiful drink is made in just minutes, you won't believe it! I always thought I had to buy eggnog at the store…bc clearly I'm not qualified to make something of this class and taste in my own home!! BUT NO! So much easier than I thought, and I'm officially addicted. A little goes a long way, which is awesome; making this drink so sharable for large groups. Party on this holiday season! Make it with or without alcohol for the perfect holiday drink. Cheers!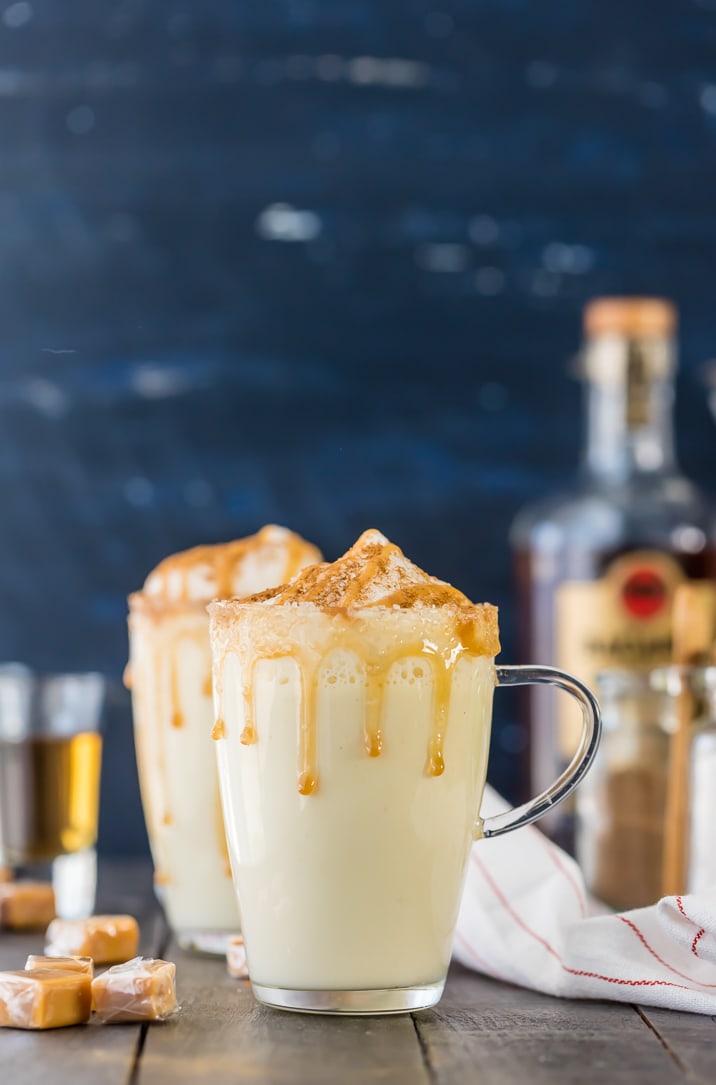 Cheers friends! ENJOY!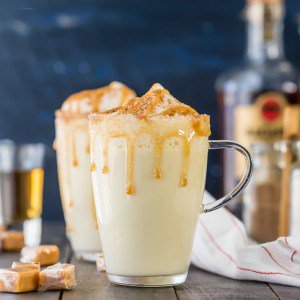 Homemade Salted Caramel Eggnog
SALTED CARAMEL EGGNOG! I never knew making eggnog was SO EASY to make at home! Made on the stove in under 15 minutes.
Print
Ingredients
3

cups

whole milk

1

cup

heavy whipping cream

4

cinnamon sticks

3/4

tablespoon

pure vanilla extract

1

teaspoon

grated nutmeg

5

eggs

2/3

cup

white sugar

1/2

cup

caramel syrup

plus more for garnish

1

tablespoon

sea salt

plus more for garnish

3/4

cup

good quality dark rum

optional

2

egg whites for garnish

optional
Instructions
In a large saucepan, combine milk, cream, cinnamon, vanilla, and nutmeg. Bring to the boil over a medium heat. Be careful when bringing to a boil that the milk doesn't boil over the pan. As soon as you see it bubbling, remove from heat. Allow to sit for at least 5-10 minutes to steep. (you want to make sure the milk mixture isn't hot enough to cook the eggs once added. So allow to sit for a little bit off the heat before the next step) :)

In a large stand mixer, beat eggs and sugar on medium high/high until fully combined.

Pour egg mixture into the milk and whisk quickly until fully combined.

Add caramel, sea salt, and rum (if using). Continue whisking to fully combine.

When you're ready to serve, beat the egg whites on high until foamy peaks form. (this is optional).

Pour the eggnog into the glass leaving a bit of room at the top. Top with fluffy egg whites (optional)

Garnish with nutmeg and caramel sauce.

Enjoy!

***As always, consuming raw eggs is at your own risk and totally up to each individual person.
Nutrition Facts
Homemade Salted Caramel Eggnog
Amount Per Serving
Calories 611
Calories from Fat 297
% Daily Value*
Total Fat 33g 51%
Cholesterol 304mg 101%
Sodium 2023mg 84%
Potassium 400mg 11%
Total Carbohydrates 65g 22%
Protein 14g 28%
* Percent Daily Values are based on a 2000 calorie diet.