Slow Cooker Peppermint Hot Chocolate is the perfect recipe for peppermint lovers! We LOVE this Slow Cooker Hot Chocolate recipe because it's so easy to make. It's made with sweetened condensed milk so this crockpot hot chocolate is SUPER CREAMY!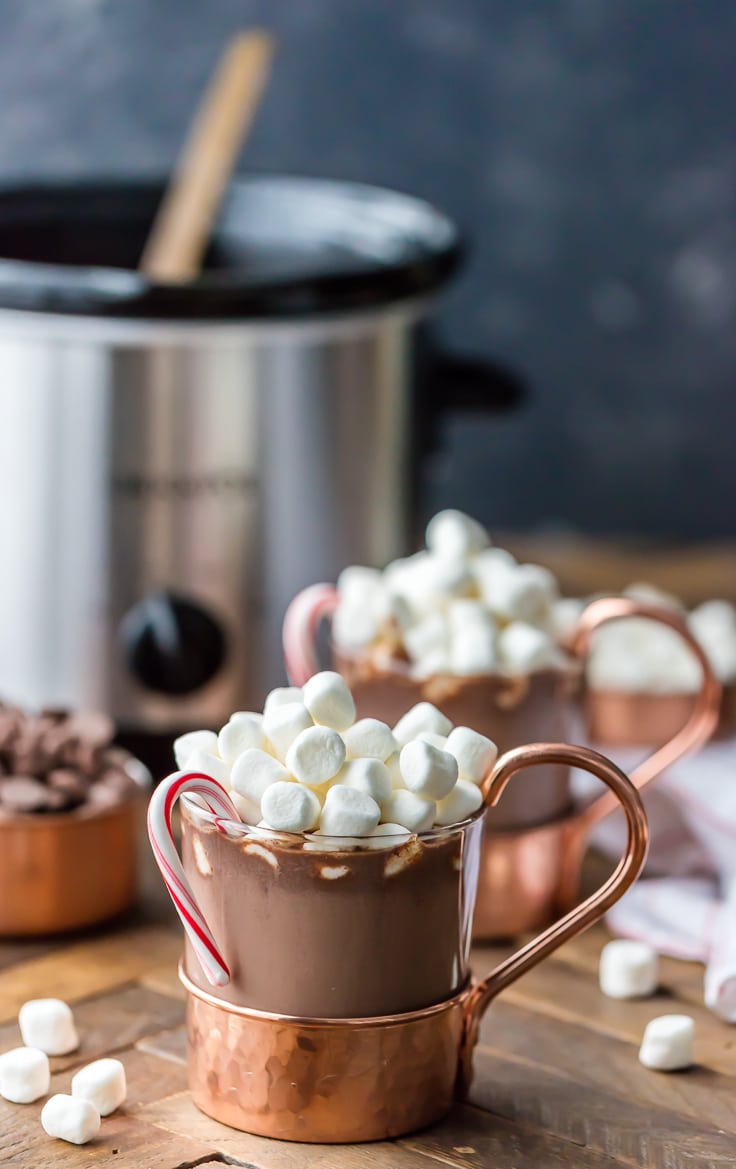 Peppermint Hot Chocolate
Peppermint Hot Chocolate is the perfect Christmas recipe. This slow cooker hot chocolate recipe is so easy to make, and so delicious!
Is today really CHRISTMAS EVE? I cannot believe that. Time really does fly! I have been trying to post up a storm for the holidays, and thought I would squeeze in one more favorite for you before the big day tomorrow. You're going to love this Peppermint Hot Chocolate recipe.
My friend Lissy told me about this amazing way to make hot chocolate in a crockpot and I just HAD to try it. Turns out it's amazing! This peppermint slow cooker hot chocolate is creamy and dreamy and EASY…basically, it's just PERFECT for Christmas.
Peppermint Hot Chocolate isn't just for Christmas though! If you don't make it for the big day, it's also perfect for a fun snow day full of sledding, skating, skiing, or just for any chilly night throughout the year. Crockpot hot chocolate works for any time you need an easy way to create a big batch of hot cocoa for you, your family, your guests, etc.
Make this Slow Cooker Peppermint Hot Chocolate recipe for Christmas Eve, Christmas Day, New Year's, snow days, and beyond!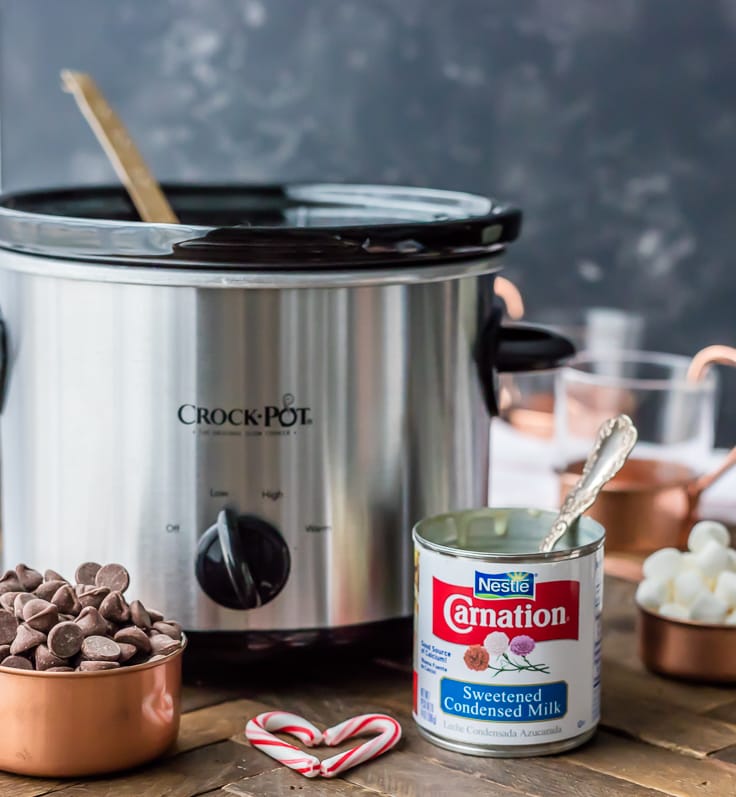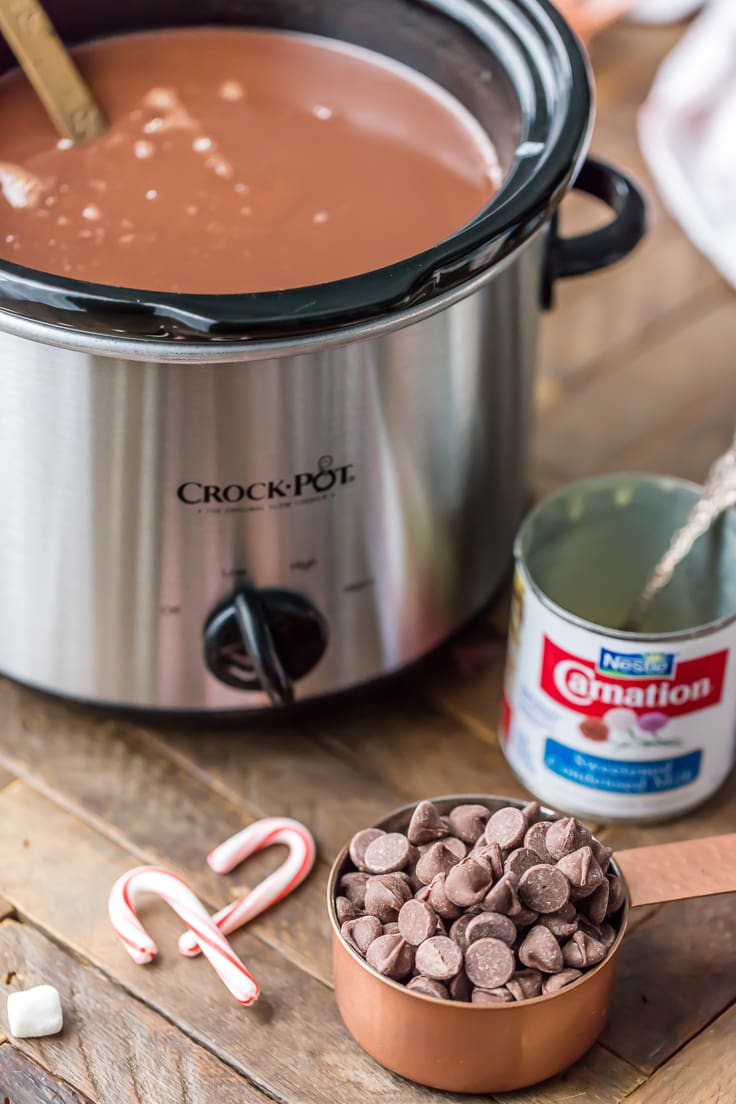 Slow Cooker Hot Chocolate Recipe
I love all things made in a slow cooker, but this peppermint hot chocolate recipe has got to be one of my favorites. It's just so comforting and cozy! Who doesn't love hot chocolate? This peppermint version is just one of the many ways you could make slow cooker hot chocolate your own. Use the base recipe but switch up some of the ingredients to make your favorite flavors!
My blogging friends are super creative with flavor combos for their crockpot hot chocolate recipes. Dorothy made slow cooker peppermint mocha hot chocolate and Melanie made slow cooker Almond Joy hot chocolate! YUM! I have a feeling it would work with so many flavor combos. But Peppermint Hot Chocolate definitely has Christmas written all over it.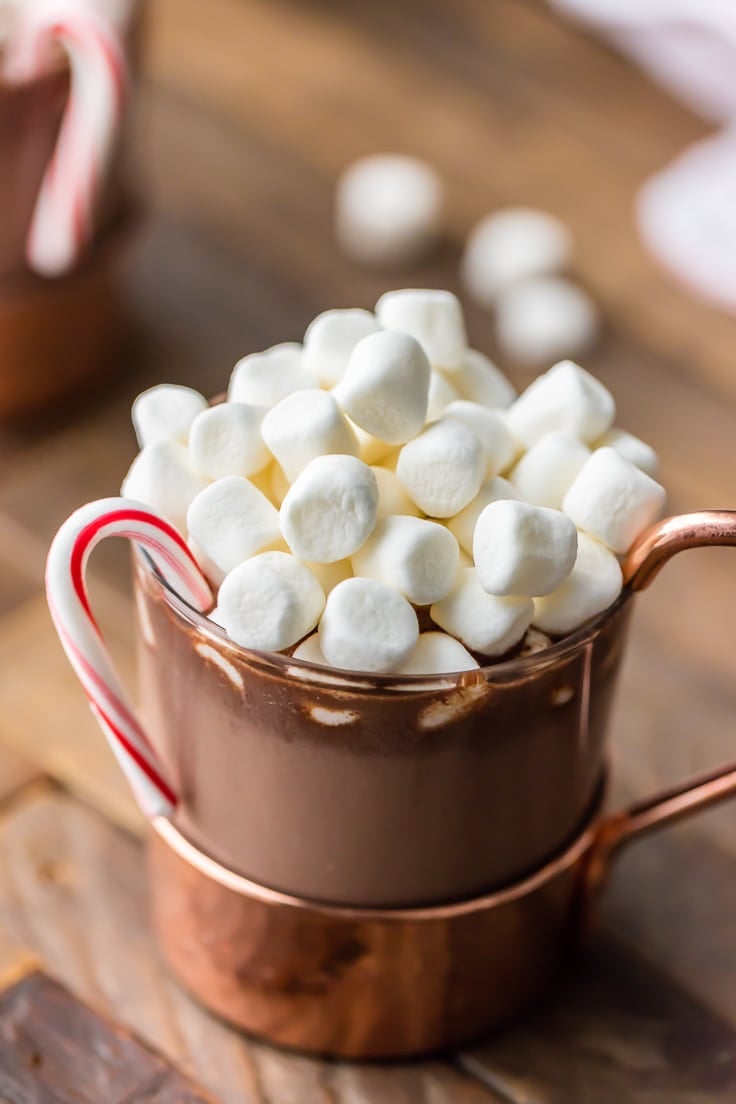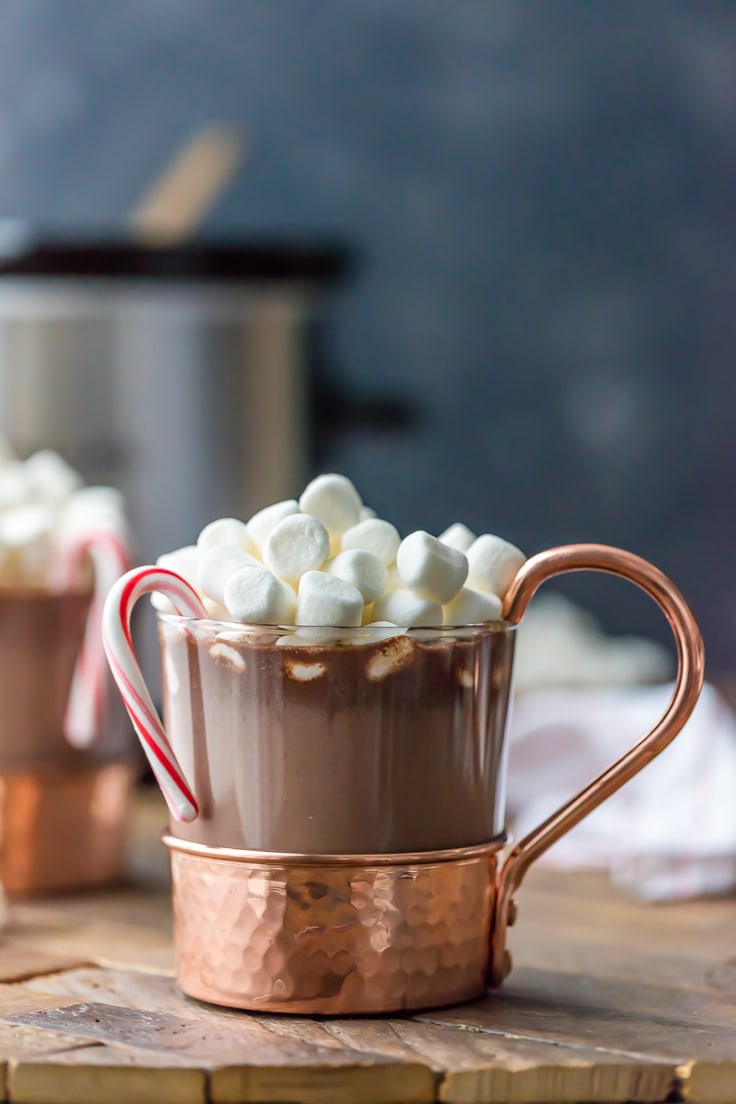 How to Make Slow Cooker Peppermint Hot Chocolate
I wish you could taste how creamy this slow cooker peppermint hot chocolate goodness is…oh wait, you can! With just 5 ingredients and almost no thought whatsoever, you can make this slow cooker hot chocolate for yourself. It's just so simple AND so delicious.
The base for this crockpot hot chocolate recipe is heavy cream, skim milk, sweetened condensed milk, and milk chocolate chips. Then we add in peppermint extract to give it flavor, but you can switch out those extra flavors if you don't want peppermint.
How to make hot chocolate in a slow cooker:
Combine all ingredients in the crockpot.
Set it to low heat.
Let it cook for 2 hours, stirring occasionally.
That's it! It's so easy. Just spoon it into a mug, top it with marshmallows, and add in a candy cane if you want to get super festive! Because why not?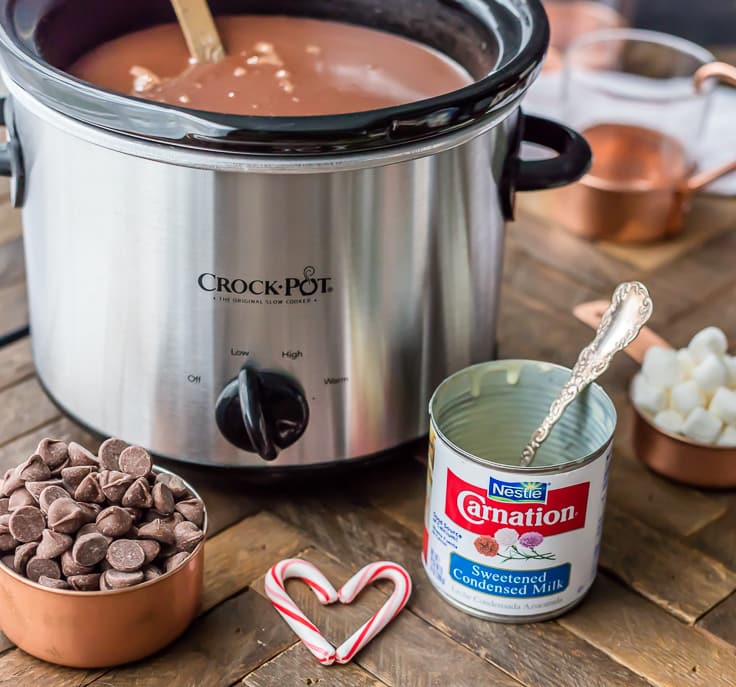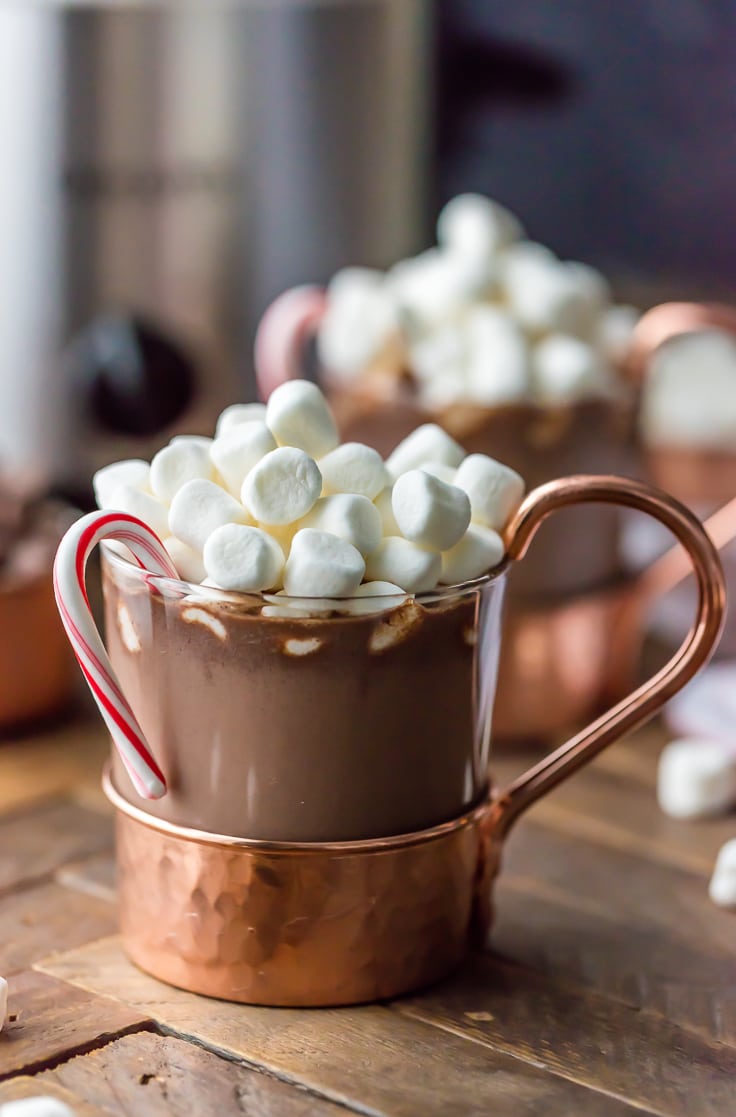 Crockpot Hot Chocolate Recipe
I looooove hot chocolate. I especially love serving it to guests during the holidays. On Christmas Eve when the snow is falling, and family is gathered around the fireplace to chat and get ready for a big day of eating and gifts and celebrations, that peppermint hot chocolate is the perfect way to bring us all together. Serving hot chocolate for a big group though…that can be a bit of a hassle if I'm being honest.
Slow Cooker hot chocolate fixes that, though, because you just set it and forget it. Plus you can easily make enough for everyone in one big batch. Perfect!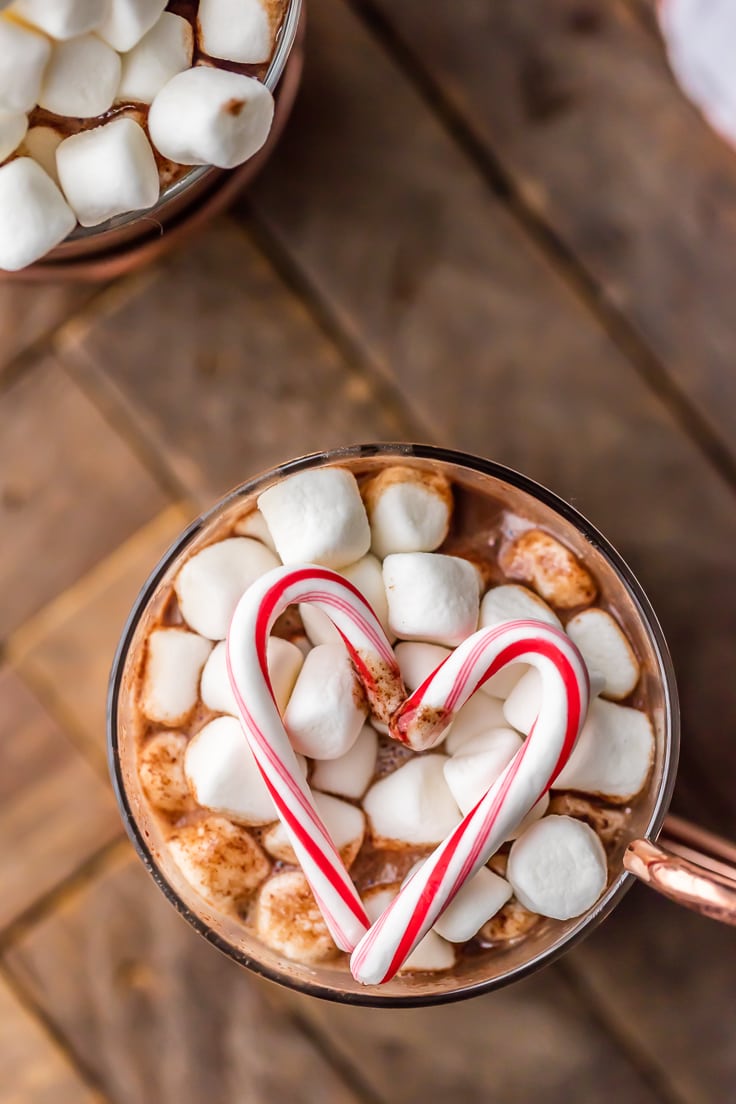 I hope everyone has the absolute best Christmas Eve and Christmas. Love to all!
Watch the Video and See the recipe card for details on how to make Slow Cooker Peppermint Hot Chocolate. Enjoy!
If you like this peppermint hot chocolate recipe, try these other tasty hot drink recipes: