Get dinner on the table effortlessly with this Crockpot Chicken and Dumplings recipe. Requiring minimal prep, this creamy slow cooker chicken and dumplings is topped with simple biscuits for one easy family dinner.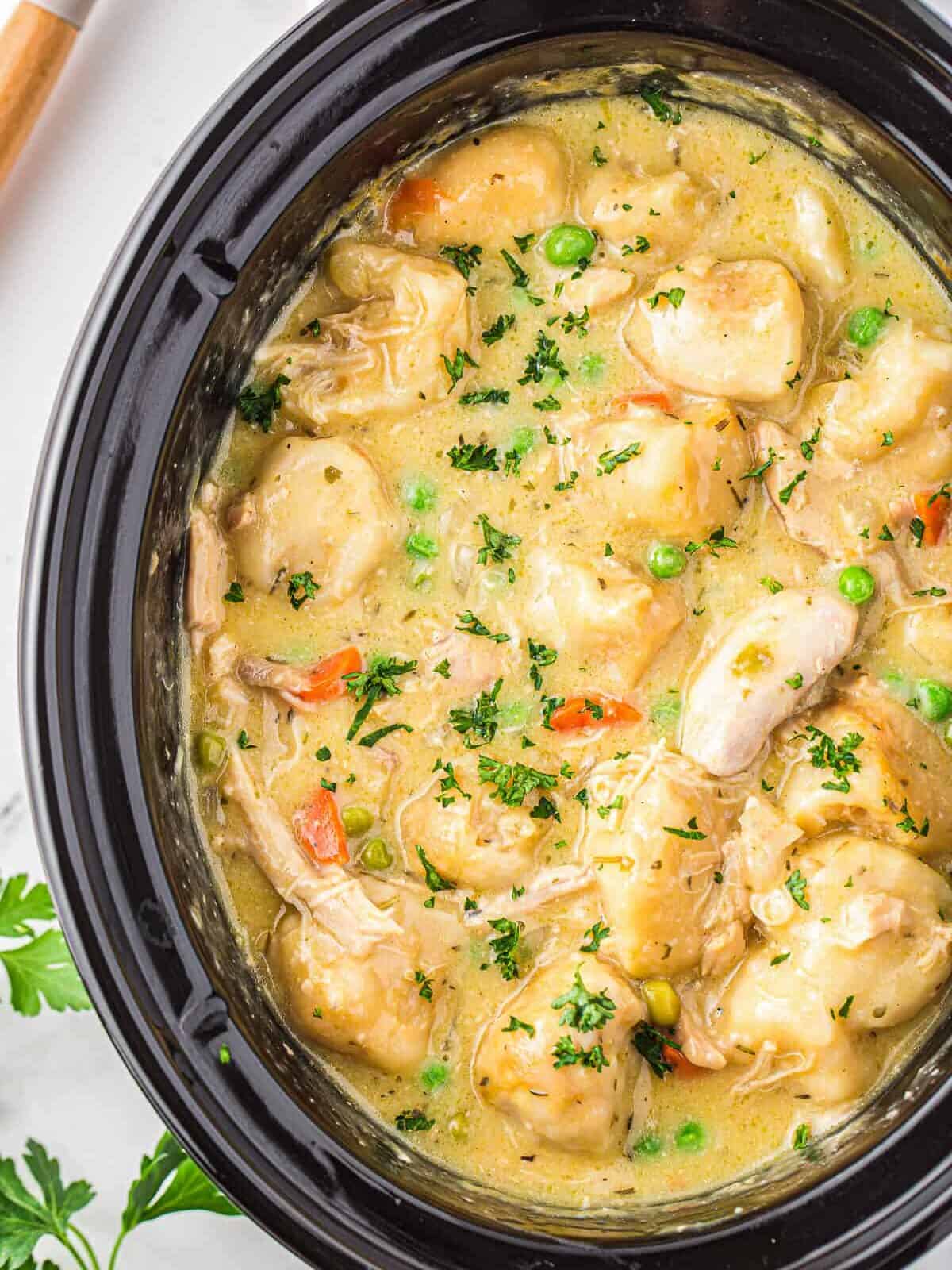 What's in this Crockpot Chicken and Dumplings Recipe?
Chicken and dumplings is such a hearty and comforting meal, and when cooked in the Crockpot, it's so easy! This delicious casserole is full of rich flavors and so creamy. Topped with store-bought biscuit dough, it will make dinner time a breeze.
Chicken: Use chicken thighs rather than breasts for this recipe. They stay perfectly tender and are less likely to dry out.
Salt + Pepper: Enhance the natural flavor of the chicken.
Bay Leaf: Adds an herbal flavor that lightens up this heavy stew.
Dried Herbs: Parsley, rosemary, and thyme deepen the flavor of the stew.
Garlic Powder: Adds an earthy flavor and a pungent aroma.
Chicken Broth: Forms the base of the stew, creating a salty, umami base.
Carrot: Adds a hint of sweetness and a pop of color.
Onion: Enhances the earthiness and sweetness of the soup.
Cream of Chicken Soup: Makes this dish extra creamy and thick!
Frozen Peas: Add a pop of color and sweetness.
Refrigerated Biscuit Dough: Makes this recipe super easy! But you could use homemade biscuit dough if you prefer.
Pro Tip: When you add the dumplings, avoid lifting the lid to check on them. They need the steam to get light and fluffy.
Variations on Slow Cooker Chicken and Dumplings
You can pretty easily modify this dish to create new and exciting variations. Try different kinds of refrigerated biscuit dough, like honey butter or buttermilk. Or try homemade variations, like cheddar bay biscuits, sweet potato biscuits, or cheesy cornbread drop biscuits for a different take. Gluten-free biscuits also work well.
For a different flavor, try adding some different veggies, like roasted mushrooms, sweet corn, or sautéed leeks.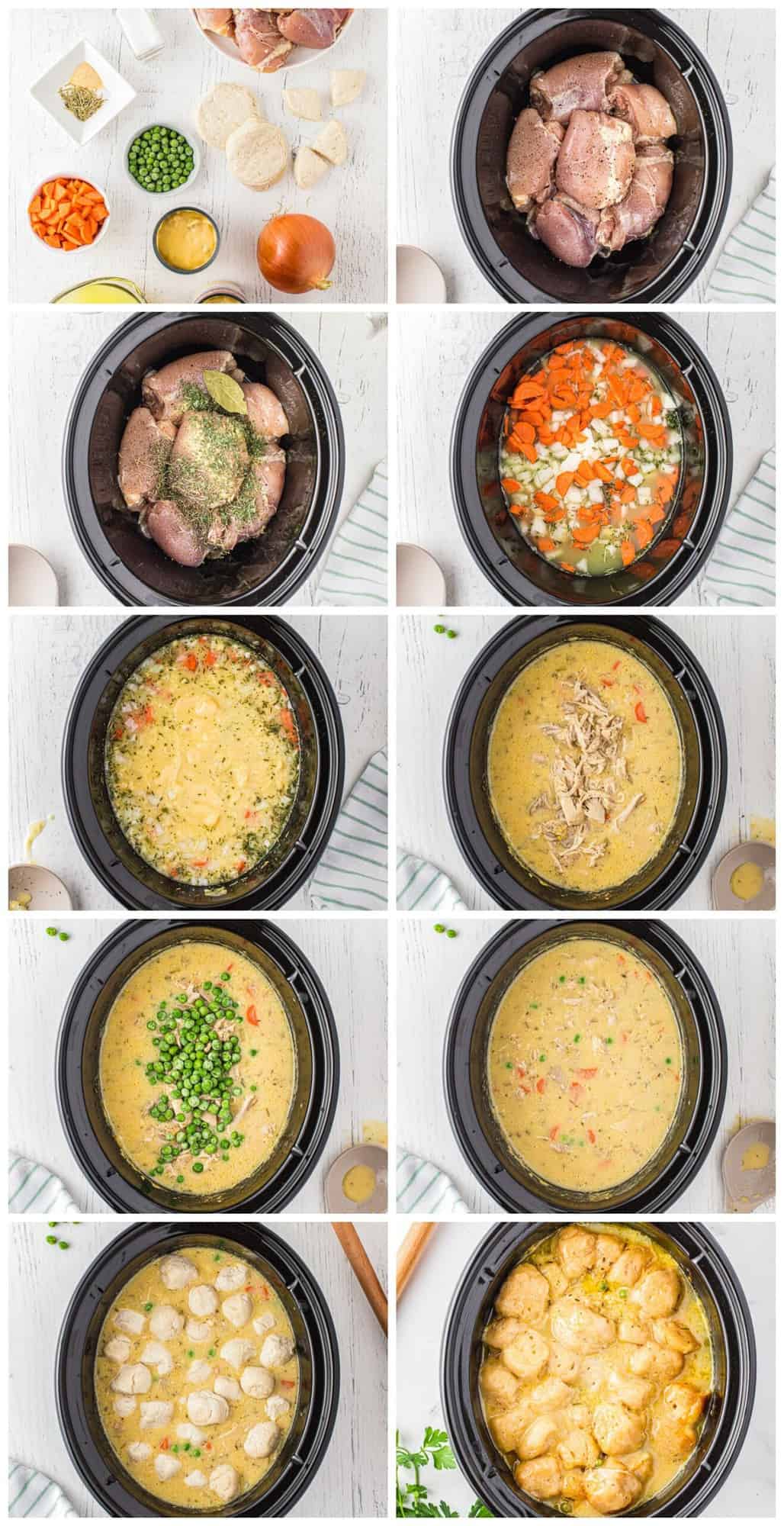 Should chicken and dumplings be covered?
Yes, you should keep the crockpot covered as soon as you add the dumplings so that they can steam and fully cook through.
Why is my chicken and dumplings not thickening?
If your soup isn't thickening, you may have added too much chicken broth. You can thicken it back up by cooking down the mixture on high for a bit.
What can I use to thicken chicken and dumplings?
We use cream of chicken soup to thicken this stew, but you can also add a roux made from 2 tablespoons of butter and 2 tablespoons of flour cooked until foaming, or stir in a slurry made from 1 tablespoon of cornstarch and 1 tablespoon of cold water.
How do I tell when dumplings are done in chicken and dumplings?
Your dumplings are done when they are light, fluffy, and slightly firm. You can insert a toothpick into the center of one, and it should come out clean. The dumplings should be soft, but they should not taste doughy.
Why aren't my dumplings light and fluffy?
It's important to neither under nor overcook the dumplings. Undercooked dumplings will be raw in the middle and dense, while overcooked dumplings will begin to disintegrate. Make sure to keep the lid on tight to seal in the steam so that the dumplings have a chance to cook fully through.
How to Store and Reheat
Store leftover crockpot chicken and dumplings in an airtight container in the refrigerator for up to 3 days. Reheat in the slow cooker or on the stovetop set over medium-low heat.
How to Freeze
It's best to freeze slow cooker chicken and dumplings without the dumplings. Freeze the chicken stew by itself in an airtight container or Ziplock bag fo up to 6 months. Let thaw overnight in the refrigerator before placing in the slow cooker, adding the dumplings, and cooking through.
Serving Suggestions
This Crockpot chicken and dumplings is perfect to serve by itself for a hearty winter dinner. It's also great with some crusty bread or your favorite veggie sides like asparagus or green beans.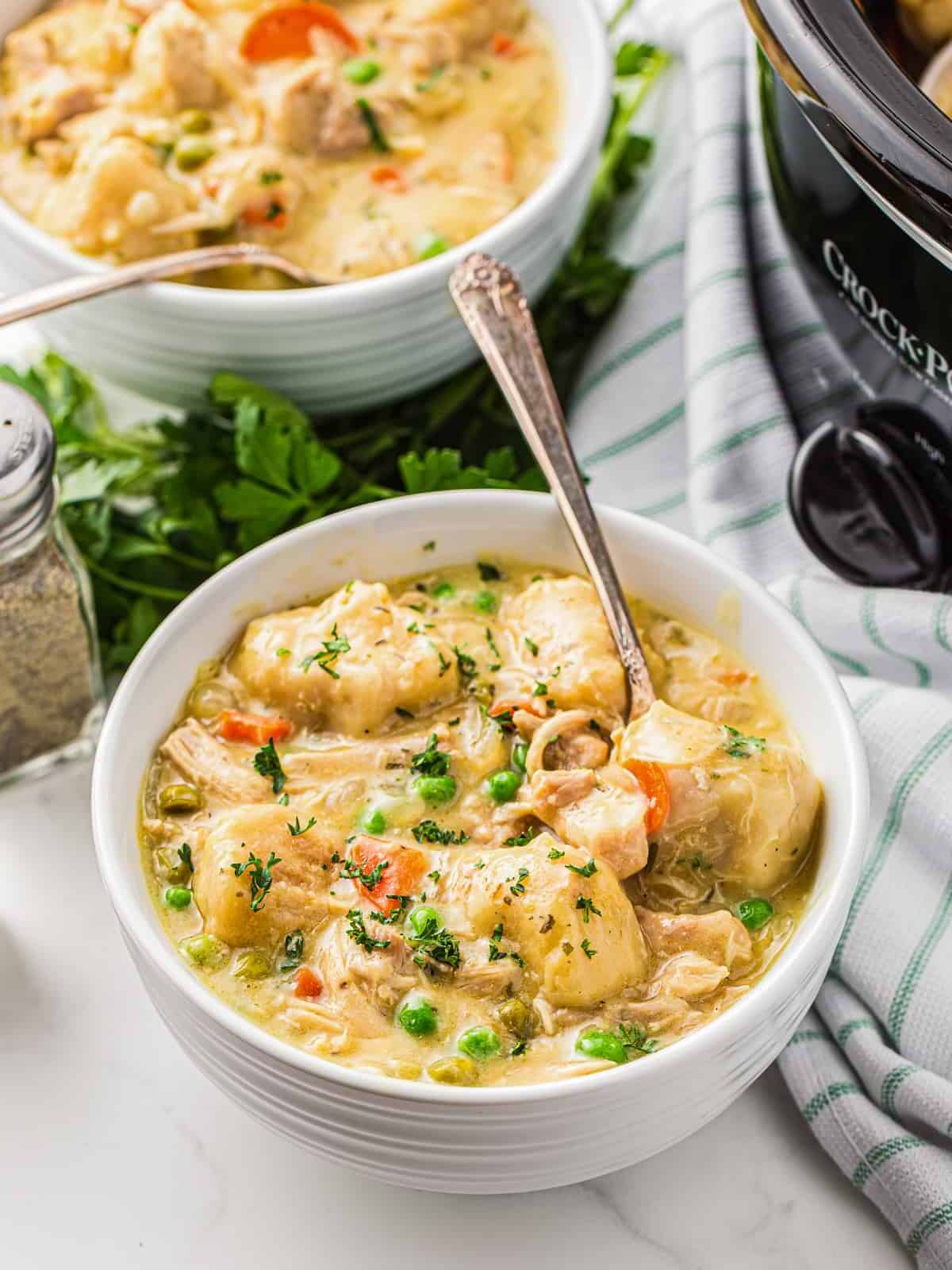 5-Star Review
"So flavorful! This is a keeper! My whole family enjoyed it, and we're pretty picky when it comes to dishes that tend to be bland! This way far from bland!" – Jenn
More Crockpot Chicken Soup Recipes We Love