This is the BEST TWICE BAKED POTATOES RECIPE and I'm going to tell you exactly how to make it. This creamy, cheesy, crispy Twice Baked Potato recipe is just too good and I can't get enough of it. These potatoes are the perfect side dish for any meal. They are filled with all the best ingredients and they're absolutely filled with flavor too!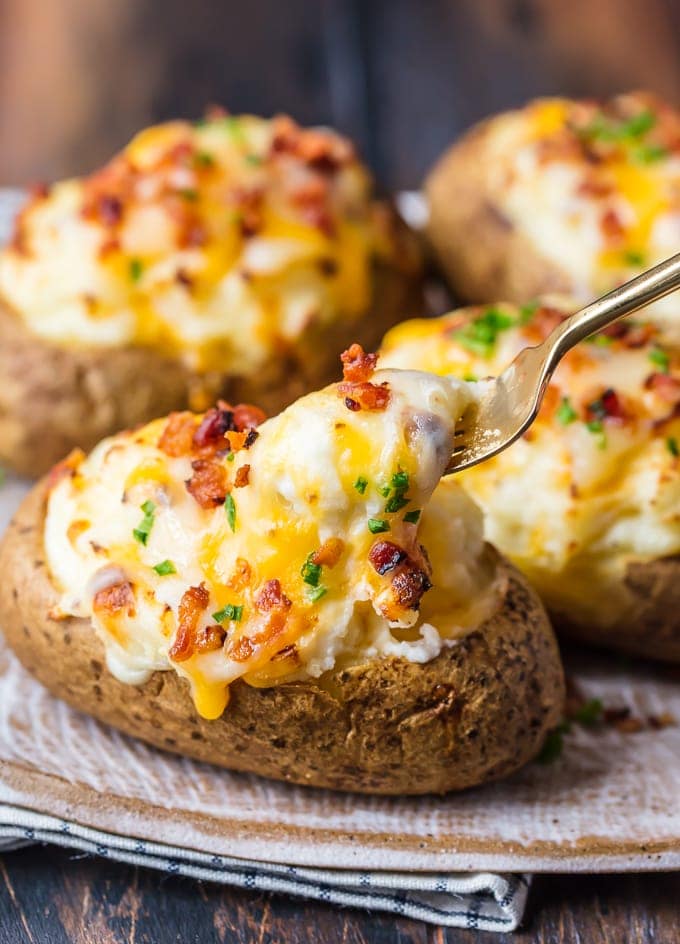 Best Twice Baked Potatoes
Learn how to make twice baked potatoes with the BEST twice baked potato recipe!
I love a good baked potato, but I love Twice Baked Potatoes twice as much! A crispy potato shell filled with mashed potatoes…tell me what's not to love? This is the BEST Twice Baked Potatoes Recipe and I can't get enough of it.
Cheese, sour cream, bacon, and buttermilk are all mixed in with the potatoes, and then scooped back into the baked potato shell. Doesn't that just sound like the most incredible side dish? These are perfect for Thanksgiving, or any holiday feast!
Twice Baked Potatoes just seem a little fancier than regular baked potatoes. Maybe it's just the presentation, with the mashed potatoes overflowing out of the shell, and covered with extra cheese and bacon bits. I love the mix of crispy skin and creamy potato when you bite into a twice baked potato. Okay, I'm drooling now…
This is the BEST Twice Baked Potatoes Recipe. I love the mix of crispy and creamy in a Twice Baked Potato, and I can't get enough of it!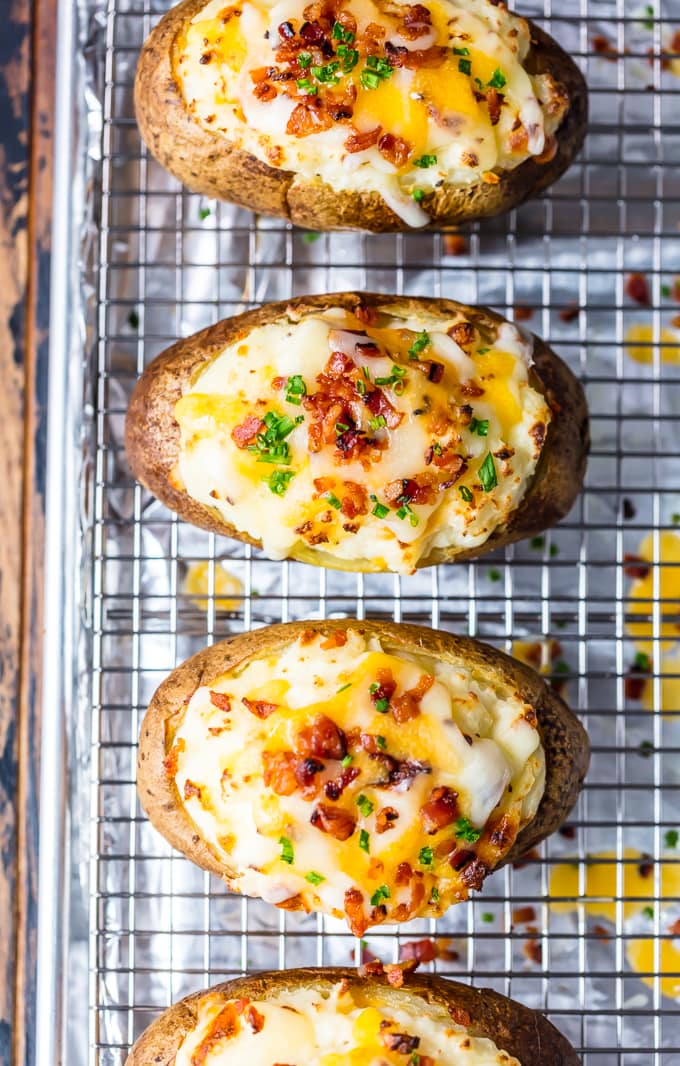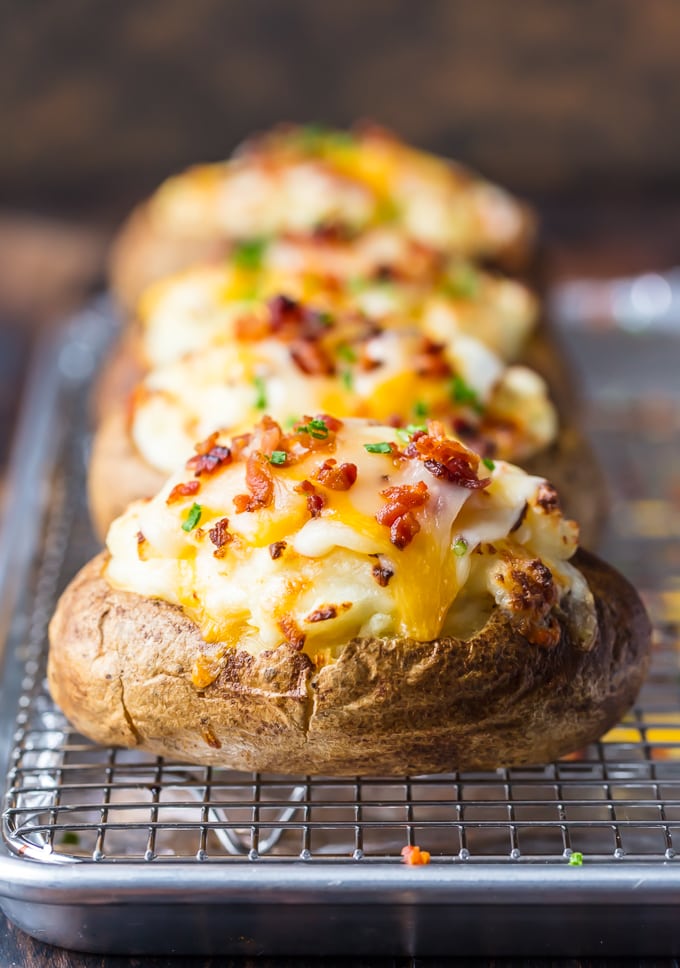 How to Make Twice Baked Potatoes
Twice Baked Potatoes aren't that complicated to make. However, they do take a bit of time. You are baking them twice, after all!
Here's a quick run-down on How to Make Twice Baked Potatoes:
Heat oven to 400°F & place whole potatoes on the middle rack
Bake potatoes for about 45 minutes to 1 hour (until tender)
Remove potatoes from oven & let cool
Cut each potato open and scoop out the inside, leaving the skin in tact
Put the potato shells back in the oven to crisp them up
Mash the potatoes together with sour cream, buttermilk, cheese, & butter
Fill the potato shells with the mashed potato mixture, and add the remaining cheese, bacon, & scallions on top
Now broil the potatoes for about 5-10 minutes
It takes quite a few steps to make these twice baked potatoes, but it's totally worth it! Once you take a bite of the crispy, creamy, cheesy potato, you won't want to make them any other way. This is the best twice baked potato recipe, and the taste will tell you why.
See the recipe card for more detailed instructions before cooking.
How to make Baked Potatoes

If Twice Baked Potatoes aren't your thing and you prefer a classic Oven Baked Potato, you're in luck! We have a post with all of our tips and tricks for How to Cook a Baked Potato, and it's piping hot and ready for you. Enjoy!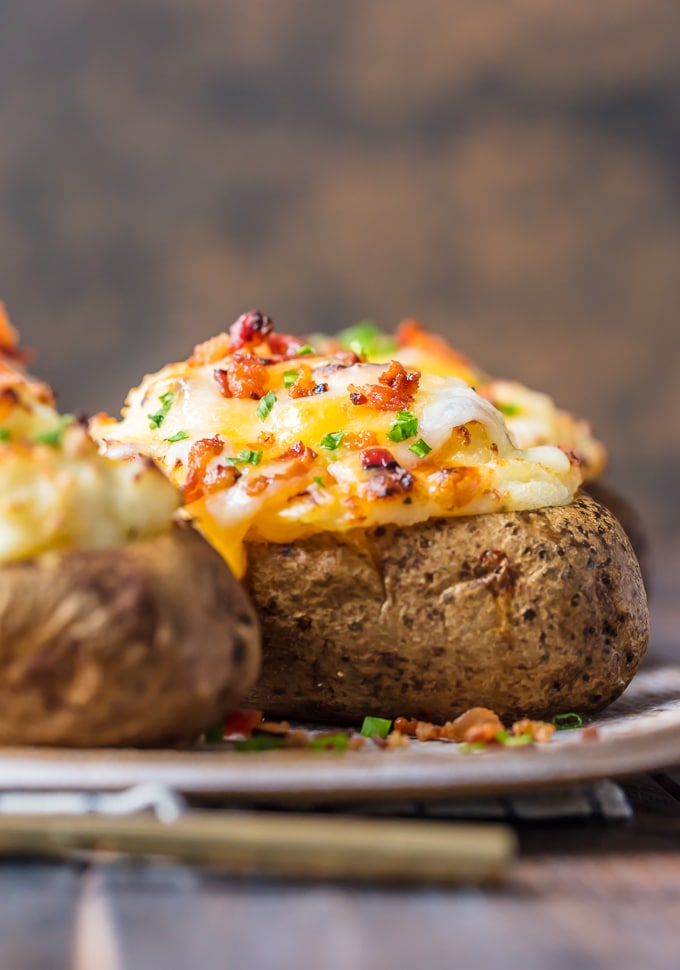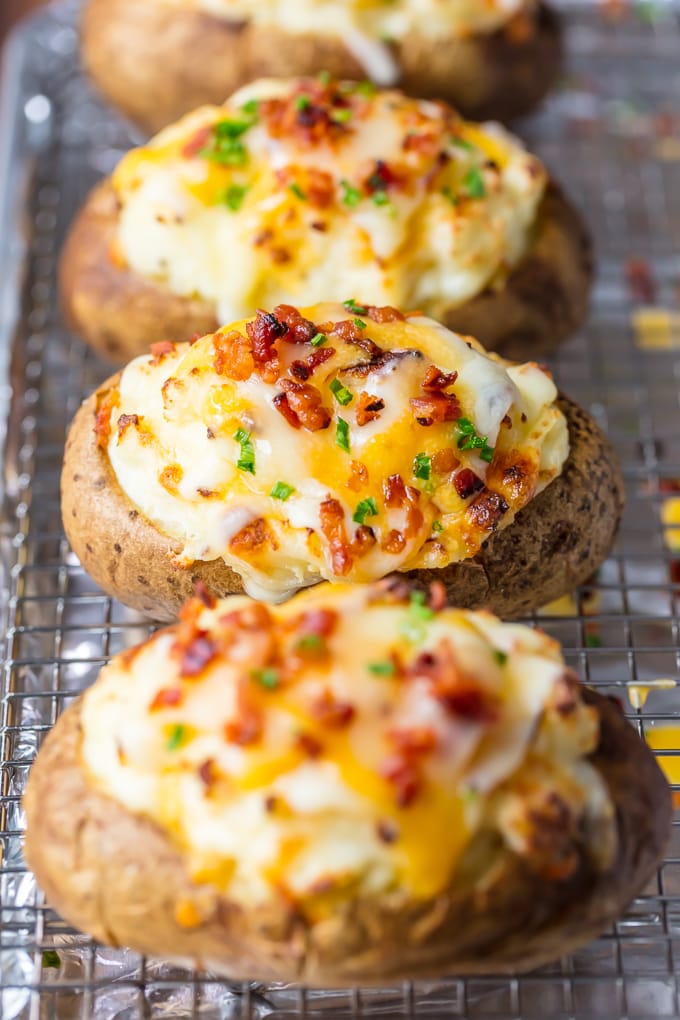 How far in advance can you make twice baked potatoes?
You can make these Twice Baked Potatoes up to 5 days in advance if placing in the fridge (wrapped tightly in plastic wrap and stored in an airtight container), making these potatoes the perfect make ahead recipe! If making ahead of time, wait to add the cheese to the top until right before baking. You can also make them and freeze them before baking.
Can Twice Baked Potatoes be frozen?
YES! I love having a batch of Twice Baked Potatoes waiting for us in the freezer. Here's what you do:
Cool the potatoes fully. You can either cool the cooked potatoes (but not twice baked) or cool the fully twice baked potatoes.
Place baking tray with potatoes directly in the freezer and freeze for one hour. If you haven't already twice baked them, save the extra cheese on top until you're ready to bake.
Wrap each potato in foil and store in an airtight, freezer safe container.
Freeze potatoes. They'll stay good for up to 3 months!
If making potatoes from the pre-twice baked stage, allow to thaw for 24 hours in the fridge before baking. Unwrap, top with cheese, and then bake for 20-25 minutes on 400°F.
If making potatoes that have already been twice baked; simply unwrap, place on baking sheet (still frozen), and cook at 400°F for 1 hour or until heated through and bubbly.
TO REHEAT IN MICROWAVE: Allow the potatoes to thaw for 24 hours in the fridge and then microwave for 2-3 minutes or until hot.
Twice Baked Potatoes can be frozen fro up to 3 months if properly stored!
How to Reheat Twice Baked Potatoes
Twice Baked Potatoes are fabulous reheated. I love to send them with my husband to work the next day after having them for dinner. Here's what you do:
REHEATING IN THE OVEN
Preheat oven to 400°F
Place Twice Baked Potatoes on a baking sheet fitted with rack
Bake for 20 minutes or until heated through and melty.
REHEATING IN MICROWAVE
Place Twice Baked Potato on a microwave safe plate
Cook on high for 2-3 minutes
Enjoy!
How long do you cook a twice baked potato in the oven?
Initially, you will cook the baked potatoes in the oven for about 45 minutes to 1 hour. Once they are cooked, you'll move on to the mashing and broiling of the twice baked potatoes. Once the potatoes have been refilled with the mashed potato mixture, you will broil them for another 5-10 minutes.
How long can you keep twice baked potatoes in the fridge?
If you have leftover twice baked potatoes, you can store them in the refrigerator for a few days. Just put them back in the oven on broil to reheat them.
What do you put in twice baked potatoes?
The best part about twice baked potatoes is the filling! Of course you have the mashed potato that you put back in the shell, but it's the other ingredients that make them so tasty. I added cheese, buttermilk, scallions, bacon, and sour cream to the best twice baked potatoes recipe. But you can get creative and add so many different things to them.
Some more topping ideas:
Try any type of cheese you like
Peppers
Caramelized Onions
Parsley
Cilantro
Chives
Toasted Pecans
The possibilities are endless!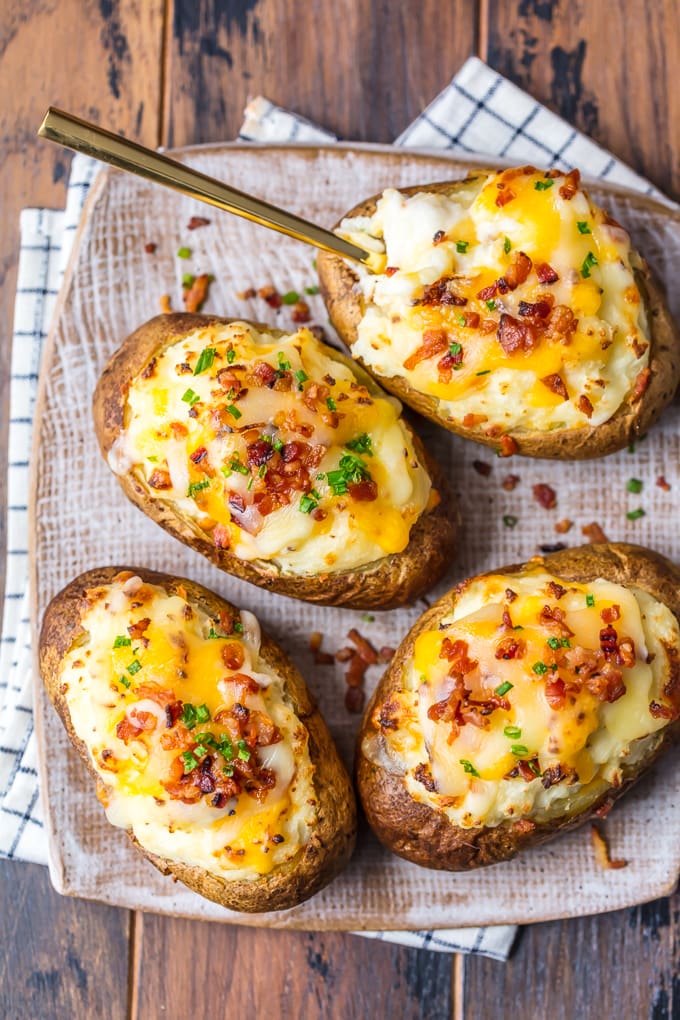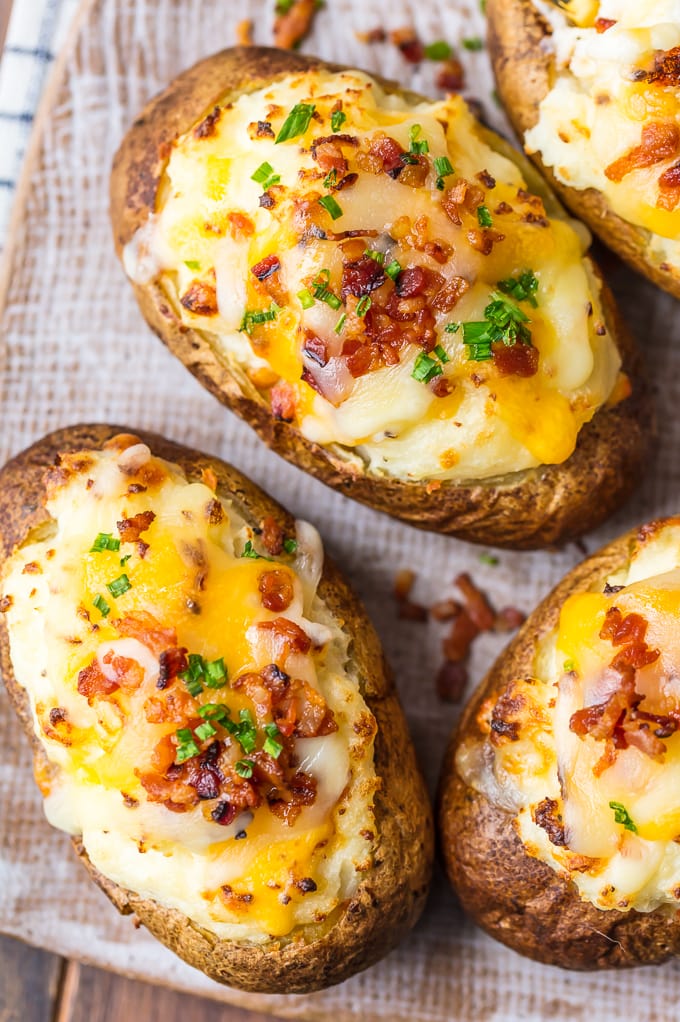 What to eat with a Twice Baked Potato
Twice Baked Potatoes could be a meal on their own since they're stuffed with so much goodness. But they are such a tasty side dish and complement so many main dishes. I love adding these to holiday meals, but they're good any night of the week.
Cook up a Twice Baked Potato with any of these great recipes:
Variations
This is a classic Twice Baked Potato Recipe, but the sky is the limit with how you could jazz it up and make it your own. Here are some ideas for recipe variations!
Buffalo Chicken: We love to add spicy buffalo chicken, ranch, and blue cheese to make a fun twist on a classic.
Spicy Mexican: Add ground beef, taco seasoning, jalapenos, and more!
Caprese: Basil, Tomato, and Fresh Mozzarella make for an incredible twice baked potato!
Chili Cheese: Load on the chili, cheese, and sour cream!
Chicken Bacon Ranch: You heard me!
Are Twice Baked Potatoes Gluten Free?
Yes! If you stick to a classic Twice Baked Potato recipe, it's Keto/Gluten Free. When making variations, just be sure to check all the ingredients to make sure they comply.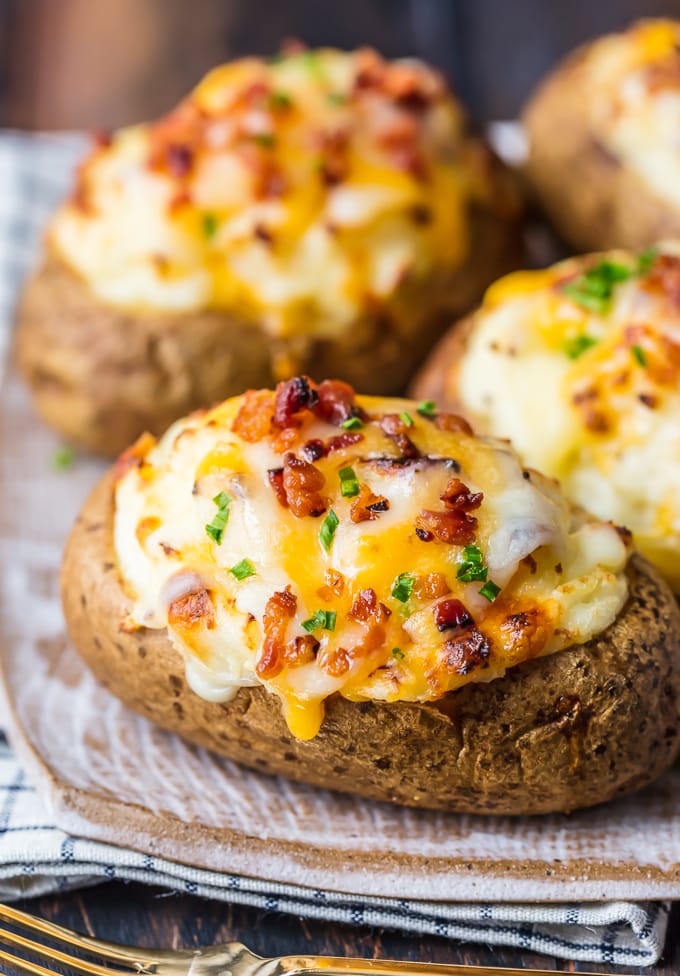 Make the Best Twice Baked Potatoes Recipe for your next side dish. You won't be disappointed!
See the recipe card below for details on how to make Twice Baked Potatoes. Enjoy!