Twice Baked Potatoes are a classic, must make side dish any time of year. This is the best Twice Baked Potatoes recipe – follow this recipe for creamy, cheesy, crispy twice baked potatoes. Made with all of the best ingredients and toppings of your choice, they're absolutely loaded with flavor!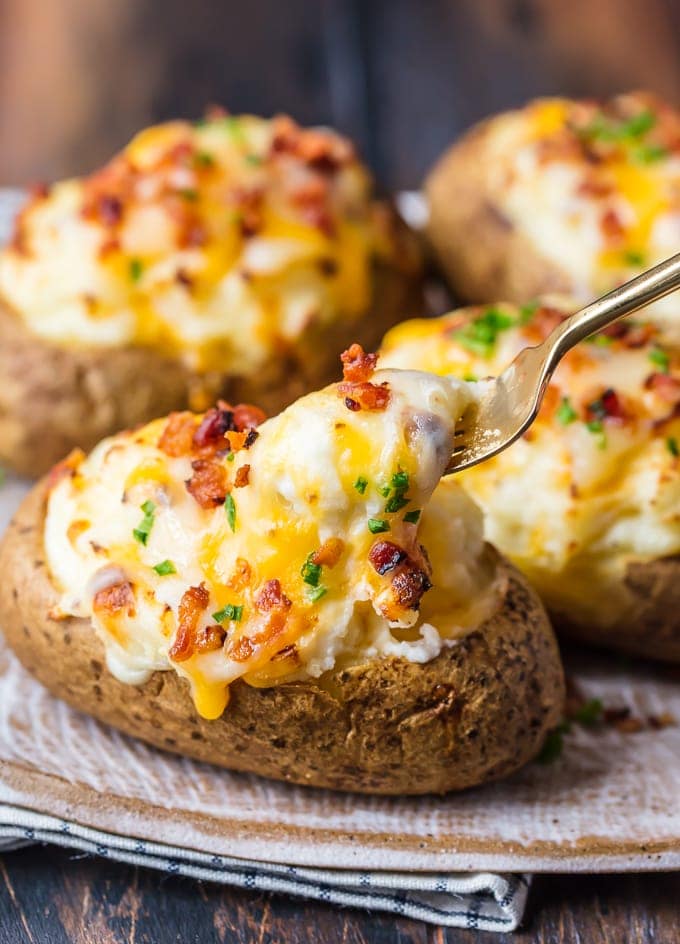 Easy Twice Baked Potatoes
I love a good baked potato, but I love cheesy twice baked potatoes twice as much! What's not to love about a crispy potato shell filled with whipped mashed potatoes and the best toppings?! There's so much texture in each bite.
These are a perfect side dish for Thanksgiving (or any holiday feast) as well as anytime throughout the week. Any time is the right time for twice baked potatoes!
Why You'll Love this Homemade Twice Baked Potatoes Recipe:
ULTRA CREAMY: This twice baked potato filling is made with cheese, sour cream, and buttermilk. 3 power ingredients for the creamiest twice baked potatoes!
A LITTLE FANCY: These seem a little fancier than classic baked potatoes. Each crispy skin is filled with mashed potatoes overflowing out of the shell all covered with more shredded cheese and toppings. A baked potato upgrade, if you ask me!
FAVORITE TOPPINGS: Customize these twice baked potatoes with your favorite baked potato toppings! I love setting up a twice baked potato bar with a bunch of toppings and letting guests build their own epic twice baked potato. So fun!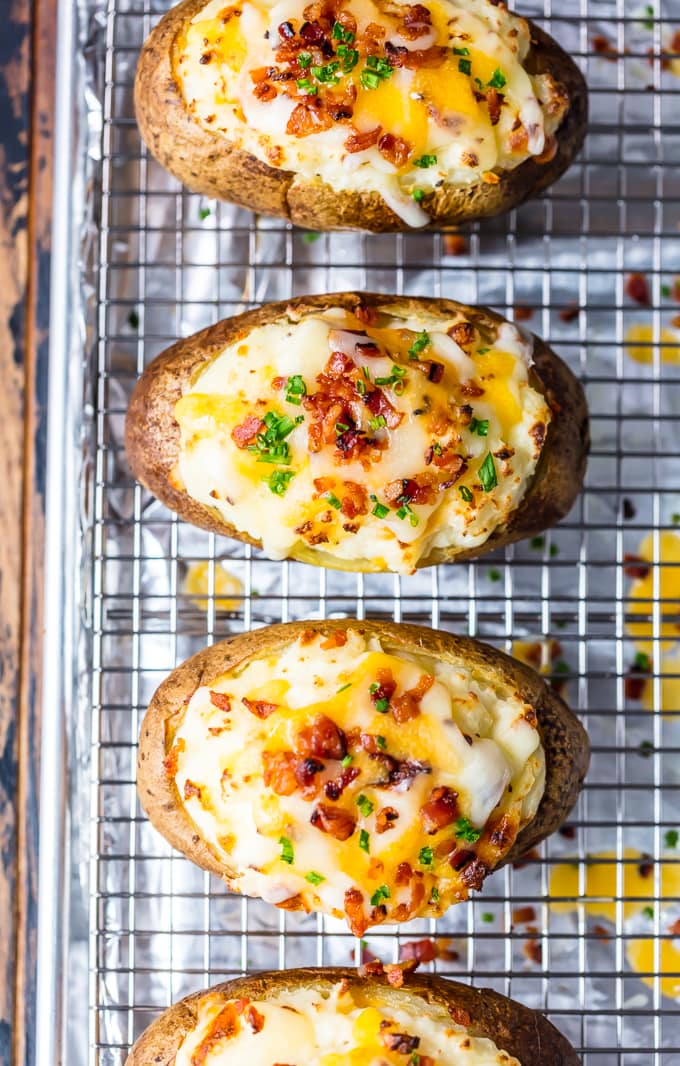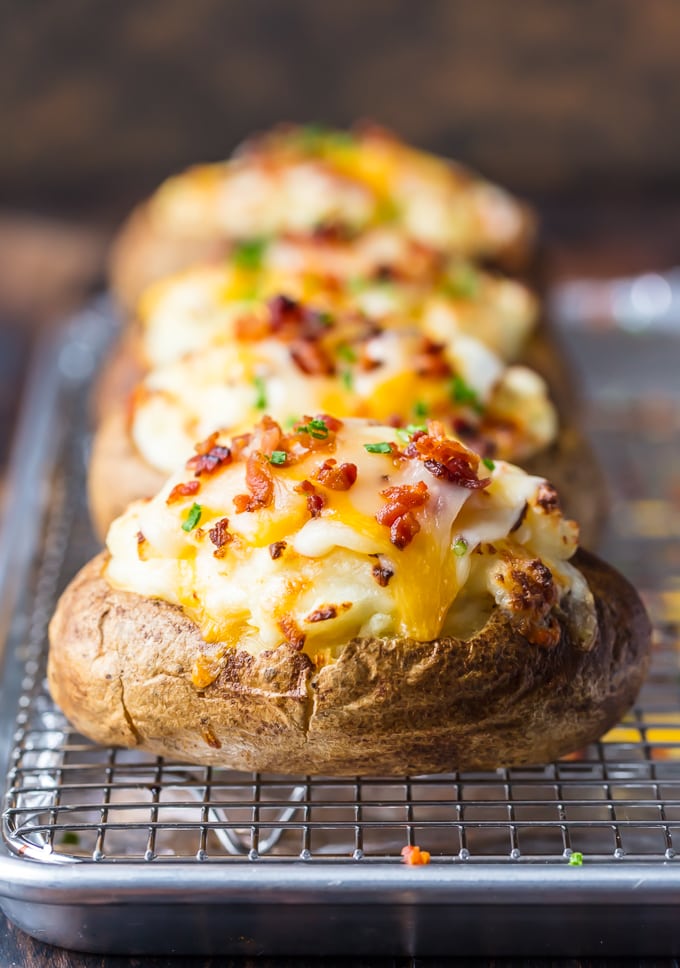 How to Make Twice Baked Potatoes
You can jump to the recipe card for full ingredients & instructions!
Twice baked potatoes aren't complicated to make, but they do take a little bit of time. You are baking them twice, after all!
Here's a quick run-down:
Place whole potatoes on the middle rack of a 400°F oven.
Bake potatoes until tender (about 45 minutes to 1 hour).
Remove potatoes from the oven & let cool.
Slice each potato in half lengthwise & scoop out the inside, leaving the skin intact.
Put the potato skins back in the oven to crisp them up.
Mash the potato filling together with sour cream, buttermilk, cheese, & butter.
Fill the crispy potato shells with the mashed potato mixture, & top with the remaining cheese, bacon, & scallions.
Broil the potatoes for about 5-10 minutes.
Enjoy!
All of these steps are totally worth it! Once you take a bite of the crispy, creamy, cheesy potato, you won't want to make them any other way. If Twice Baked Potatoes aren't your thing or you prefer a classic oven baked potato, you're in luck. I share all of my tips and tricks for how to cook a baked potato – it's piping hot and ready for you!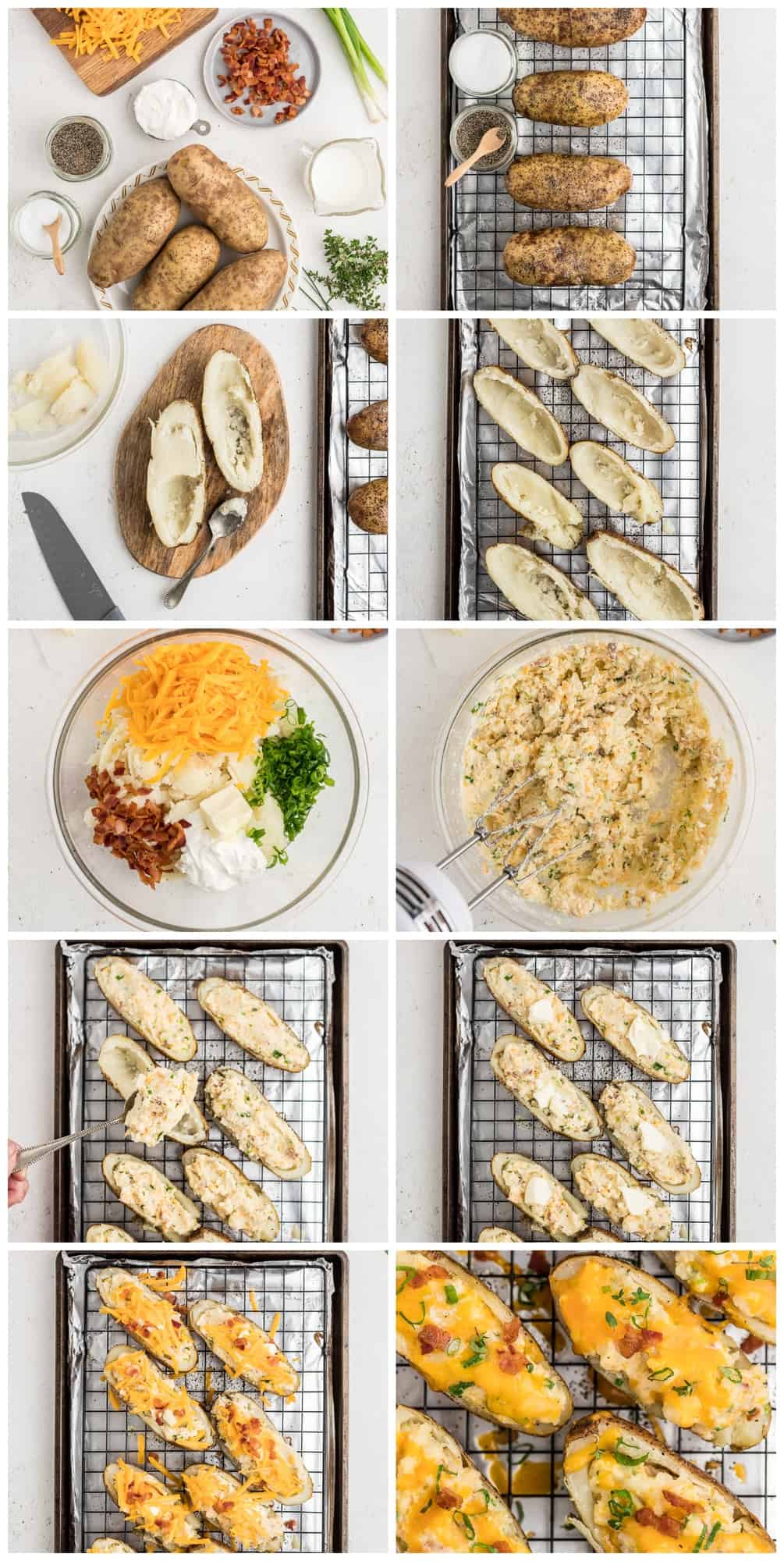 What are the best potatoes for twice baked potatoes?
I love using Yukon Gold potatoes – they are a little more moist and creamy than traditional Russet potatoes, but either are delicious!
How long do these potatoes take to cook?
About 50 minutes to a little over 1 hour. Initially, the potatoes bake for about 45 minutes to 1 hour, until tender. Once the potato skins have been refilled with the mashed potato mixture, broil them for another 5-10 minutes.
Can I make twice baked potatoes ahead of time?
Yes! These are a great make ahead recipe. You can make these potatoes up to 5 days ahead of time. Wrap the potatoes tightly in plastic wrap and store in an airtight container in the refrigerator. Wait to add the cheese on top until right before baking.
How long can I keep leftover twice baked potatoes?
If you have leftover twice baked potatoes, you can store them in the refrigerator for a few days. Just pop them back in the oven on broil to reheat.
Is this recipe gluten free?
Yes! If you make this recipe as written, it's keto and gluten free. When making any recipe variations, check all of the ingredients to make sure they comply.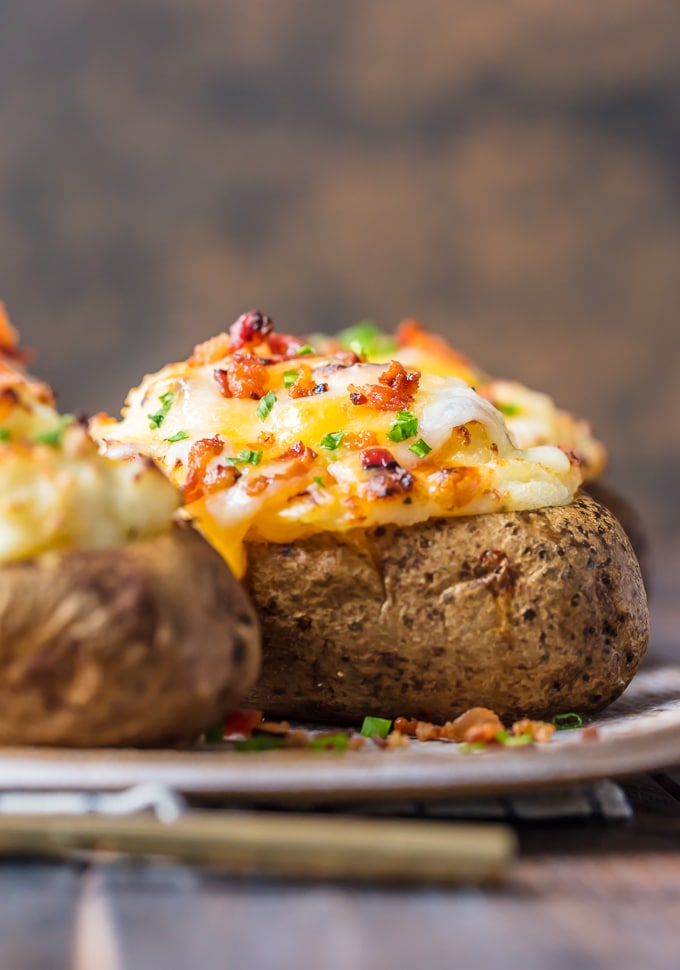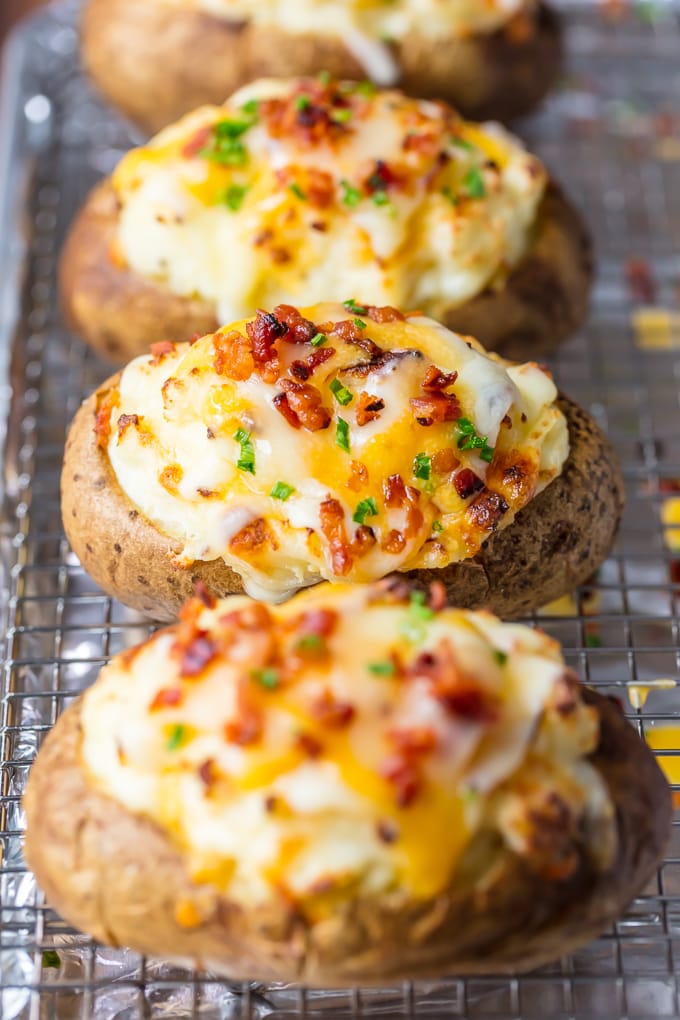 Tips!
Use Yukon Gold or Russet potatoes for this twice baked potato recipe. Personally, I love how creamy Yukon Gold potatoes are!
Get creative with the toppings! Some of our favorites are: a variety of cheeses, sautéed sweet and/or green peppers, caramelized onions, fresh tomatoes, caramelized apples, dried cranberries, and toasted pecans.
Try using softened cream cheese in place of the buttermilk for super decadent twice baked potatoes.
How to Freeze Twice Baked Potatoes
I love having a batch ready to go in the freezer! Here's how to freeze these potatoes:
Let the potatoes cool completely. (Cool the cooked baked potatoes or the fully twice baked potatoes.)
Place a baking tray with the potatoes directly in the freezer and freeze for one hour. If you haven't already twice baked them, save the extra cheese on top until you're ready to bake.
Wrap each potato in foil and store in an airtight, freezer safe container.
Freeze the potatoes for up to 3 months!
Cooking Frozen Twice Baked Potatoes
If the potatoes have not been twice baked yet, allow them to thaw for 24 hours in the fridge before baking. Unwrap, top with cheese, and bake for 20-25 minutes at 400°F.
If making potatoes that have already been twice baked, simply unwrap, place onto a baking sheet (still frozen), and cook at 400°F for 1 hour or until heated through and bubbly. You can also reheat the frozen twice baked potatoes in the microwave: allow the potatoes to thaw for 24 hours in the refrigerator and then microwave for 2-3 minutes or until hot.
How to Reheat Twice Baked Potatoes
These potatoes reheat wonderfully. I love to send them with my husband to work the next day after having them for dinner. You have 2 reheating options:
Reheat in the Oven
Preheat the oven to 400°F.
Place the twice baked potato(es) on a baking sheet fitted with an oven-safe cooling rack.
Bake for 20 minutes or until heated through and melty.
Reheat in the Microwave
Place the twice baked potato on a microwave safe plate.
Cook on high for 2-3 minute.
Ingredients & Toppings for Twice Baked Potatoes
The filling is the best part about twice baked potatoes! In addition to the potatoes, add cheese, butter, buttermilk, sour cream, scallions, and bacon – this combination yields the best twice baked potatoes recipe. Get creative with your filling ingredients and have fun with toppings!
More Topping Ideas:
Any type of cheese you like
Peppers
Caramelized onions
Parsley
Cilantro
Chives
Toasted pecans
…the possibilities are endless!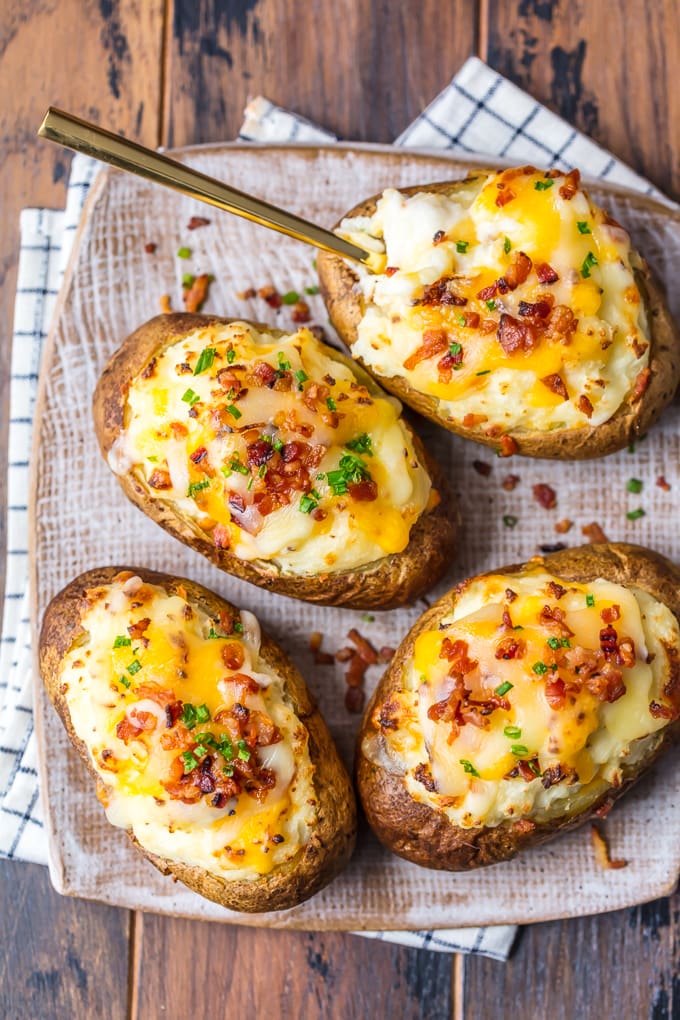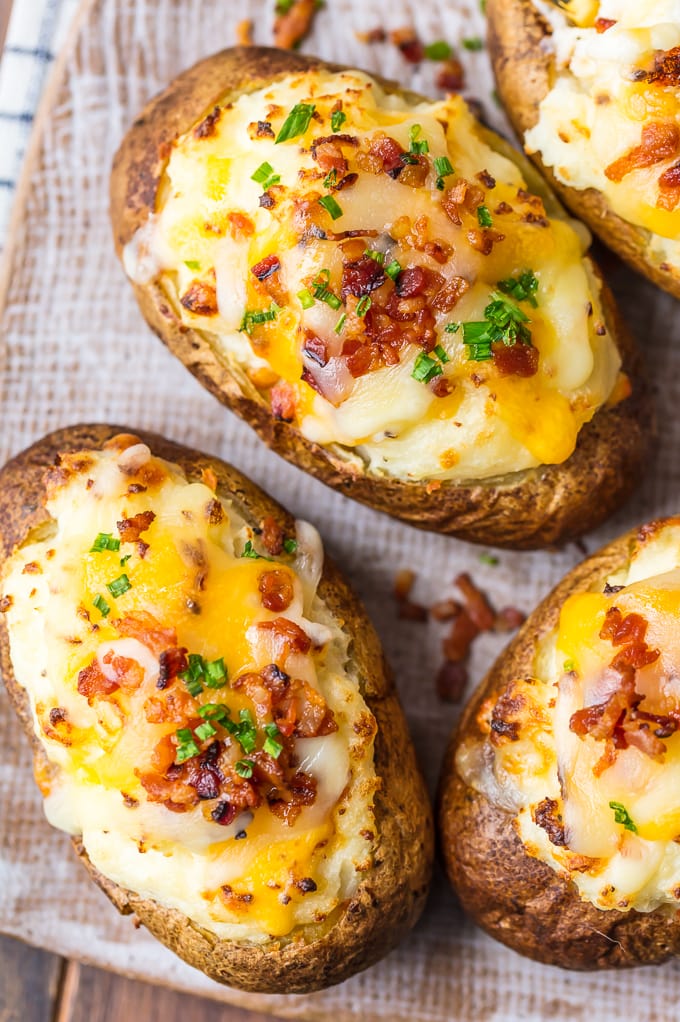 Serving Suggestions
Twice baked potatoes could easily be a meal on their own since they're stuffed with so much goodness. They're also a tasty side dish and complement so many main dishes. I love adding these to our holiday menu, but they're good any night of the week.
Recipe Variations
Starting with this amazing base twice baked potato recipe, jazz it up to make it your own! Here are some ideas for recipe variations!:
Buffalo Chicken: Add spicy buffalo chicken, ranch, and blue cheese for a fun twist on a classic.
Broccoli Cheese Twice Baked Potato: I have a whole recipe dedicated to this one. It's so delicious!
Spicy Mexican: Add ground beef, taco seasoning, jalapeños, and more!
Caprese: Add fresh basil, tomatoes, and mozzarella.
Chili Cheese: Load on your favorite chili, shredded cheese, and sour cream.
Chicken Bacon Ranch: You heard me!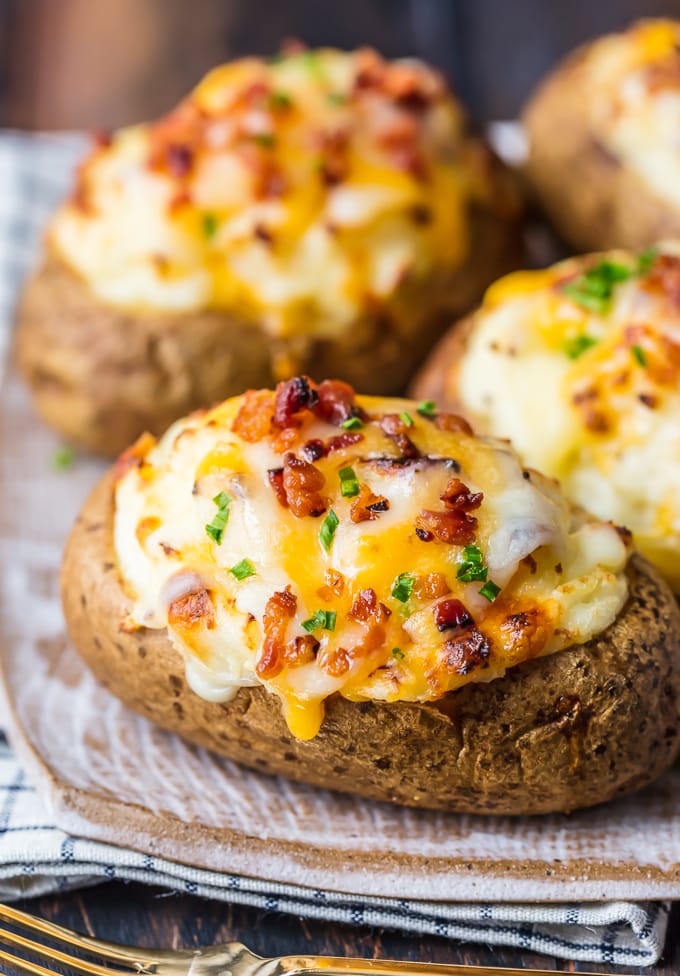 More Potato Recipes We Love
These Twice Baked Potatoes are just one of our must make potato recipes. Once you taste this cheesy goodness, be sure to try these other simple favorites.
Make this reader favorite recipe for next side dish. You won't be disappointed!
If you make this recipe be sure to upload a photo in the comment section below or leave a rating. Enjoy! You can also jump to recipe.