Baked Honey Garlic Chicken is the perfect weeknight dinner! Sweet honey, tangy garlic and spicy red pepper flakes dress up ordinary chicken in this easy dish. Just toss the ingredients together and bake!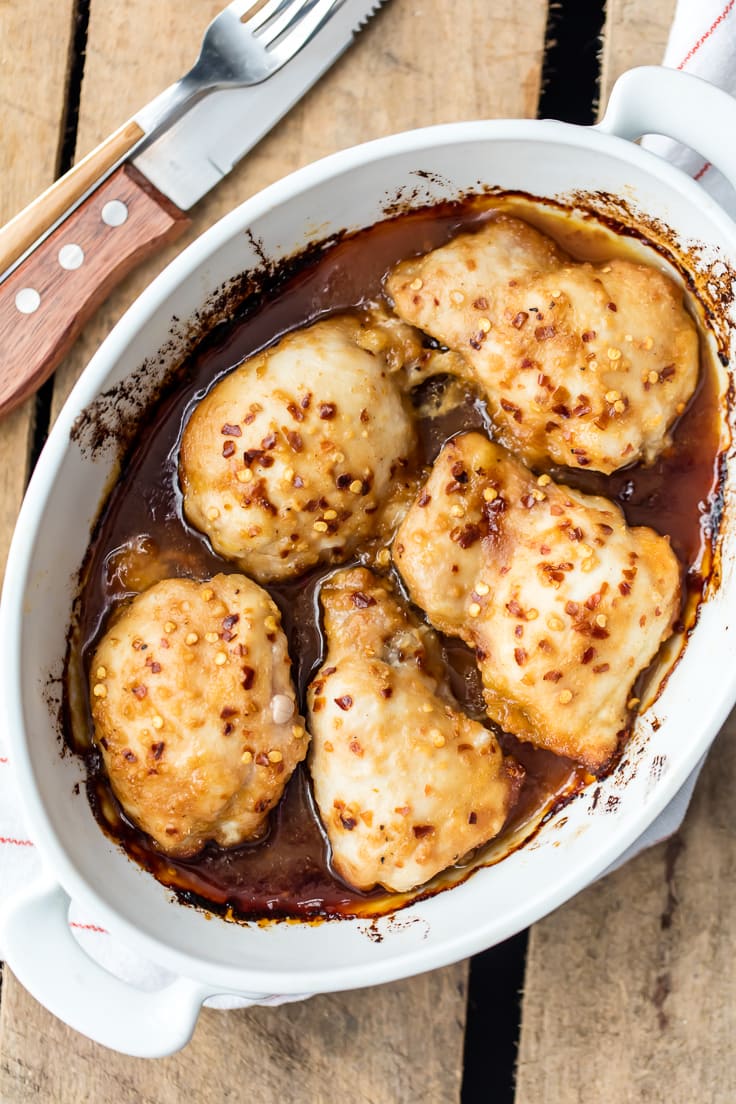 Baked Honey Garlic Chicken
Baked Honey Garlic Chicken is a fan favorite around here! Tender pieces of chicken are covered an unbelievable sauce that whips up in minutes. It's one of the easiest dinners to serve on a busy weeknight when you just don't have time to think of one more thing. The sauce is scrumptious and so easy to make. Hope you love it!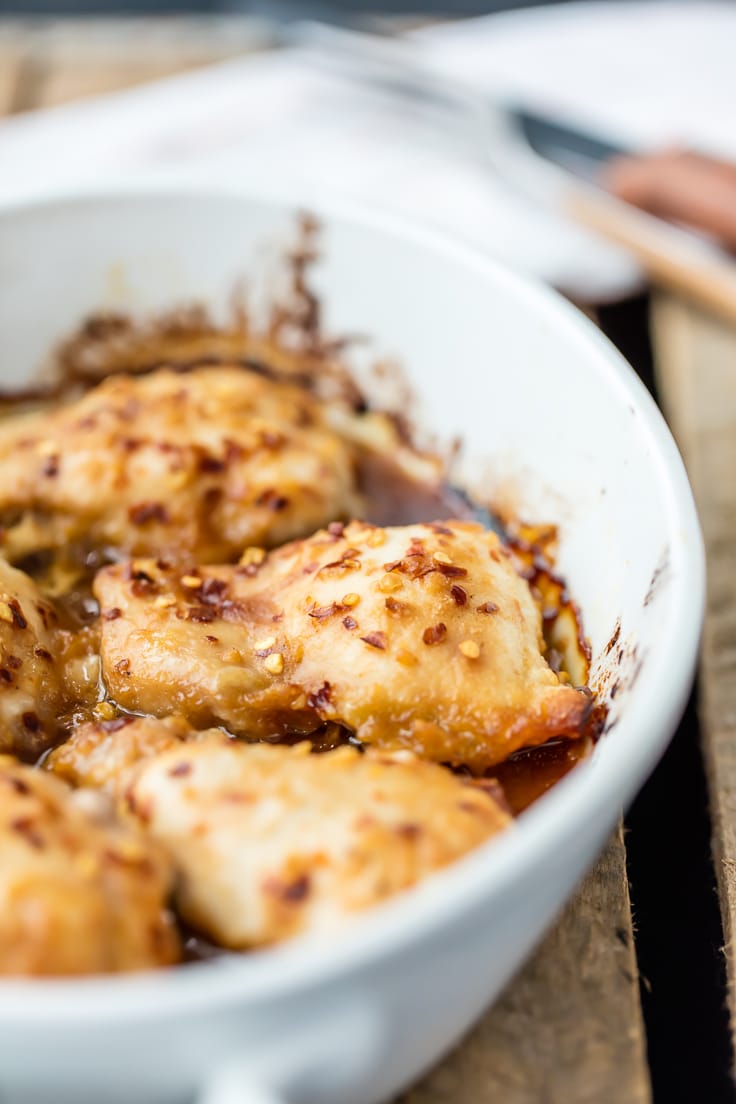 What Kind of Chicken to use for Baked Honey Garlic Chicken
I love making this dish with tender chicken thighs. They're so moist and juicy, and super affordable which is always a plus. But if you don't have any thighs on hand, this sauce is delicious over chicken breasts, wings, or boneless tenders.
Is Baked Honey Garlic Chicken Gluten Free?
Most of the ingredients in this amazing dish are totally gluten free. However, check the labels on your soy sauce! Most soy sauce contains gluten. There are a few great gluten-free options at your grocery store. So read labels and opt for a GF version. Then serve it alongside a crisp green salad and you've got a perfect gluten-free meal to entertain with!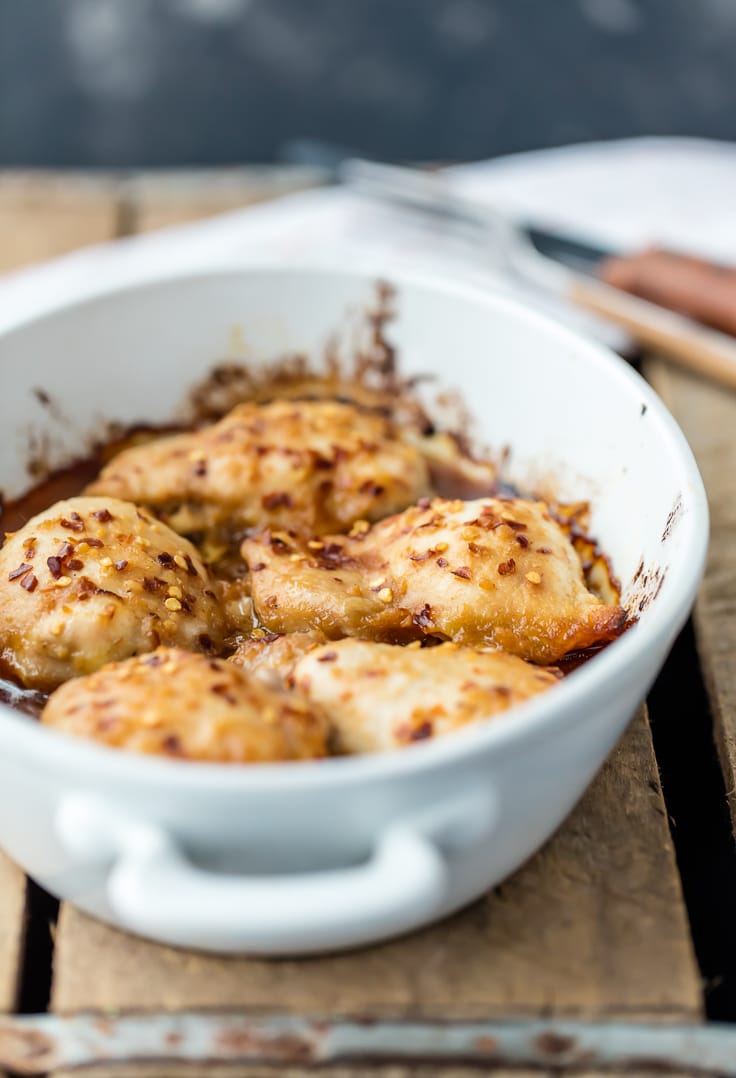 More Chicken Dinner Recipes
Are there ever enough chicken recipes in the world? I don't think so. Call me boring, but my favorite recipes on this site all seem to include chicken. Creamy Chicken Soup, Skillet French Onion Chicken, and Basil Cream Chicken, I never get tired of it. I'm always looking for ways to add to my list of favorites. The recipes must be delicious, versatile, and most of all, EASY. Oh, this Easy Chicken Parmesan could hit the spot, or even this easy balsamic caprese chicken skillet!
This Honey Garlic Baked Chicken is truly a winner winner EASY chicken dinner!
Ingredients for Honey Garlic Sauce
This recipe uses pantry staples that you probably already have on hand! That's the reason it's such a great busy evening supper. Here's all you need:
Honey (or agave nectar)
Garlic
Red Pepper Flakes
Soy Sauce
Paprika
Salt and Pepper
Check out the recipe card below for details on how to make this easy Baked Honey Garlic Chicken. Enjoy!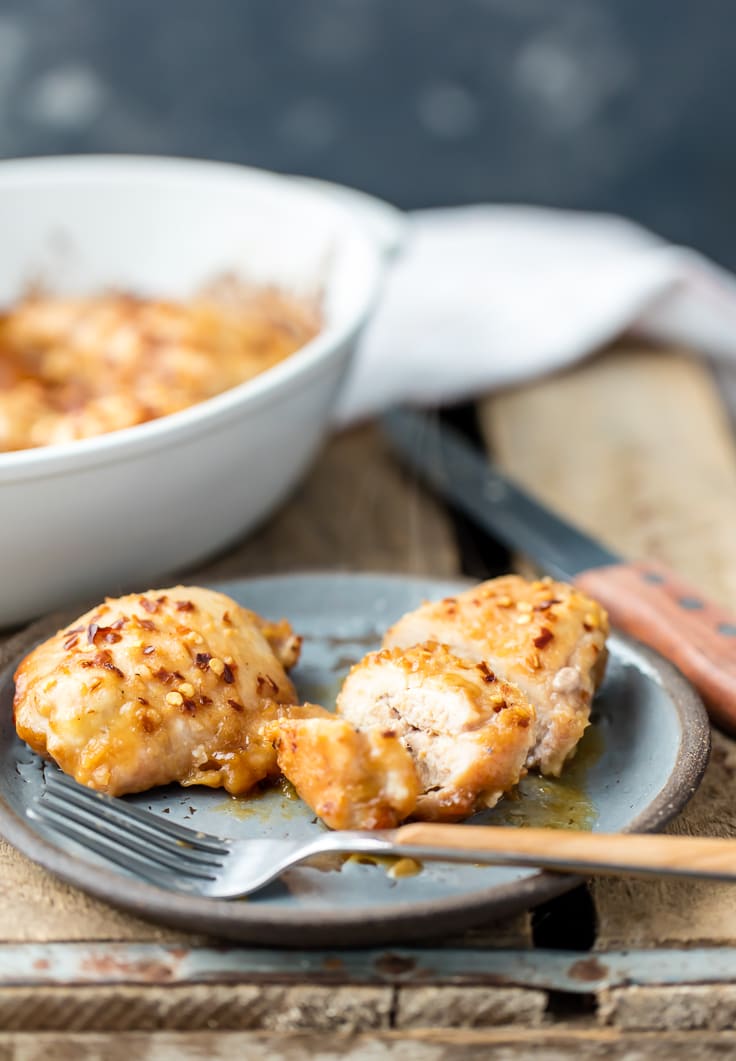 What to Serve with Baked Honey Garlic Chicken
The beauty of this easy recipe is that there's no muss or fuss; just wholesome ingredients that create a delightful dish. Serve up a garden salad and some simple sides and you've got yourself a feast! Here are some of my favorites: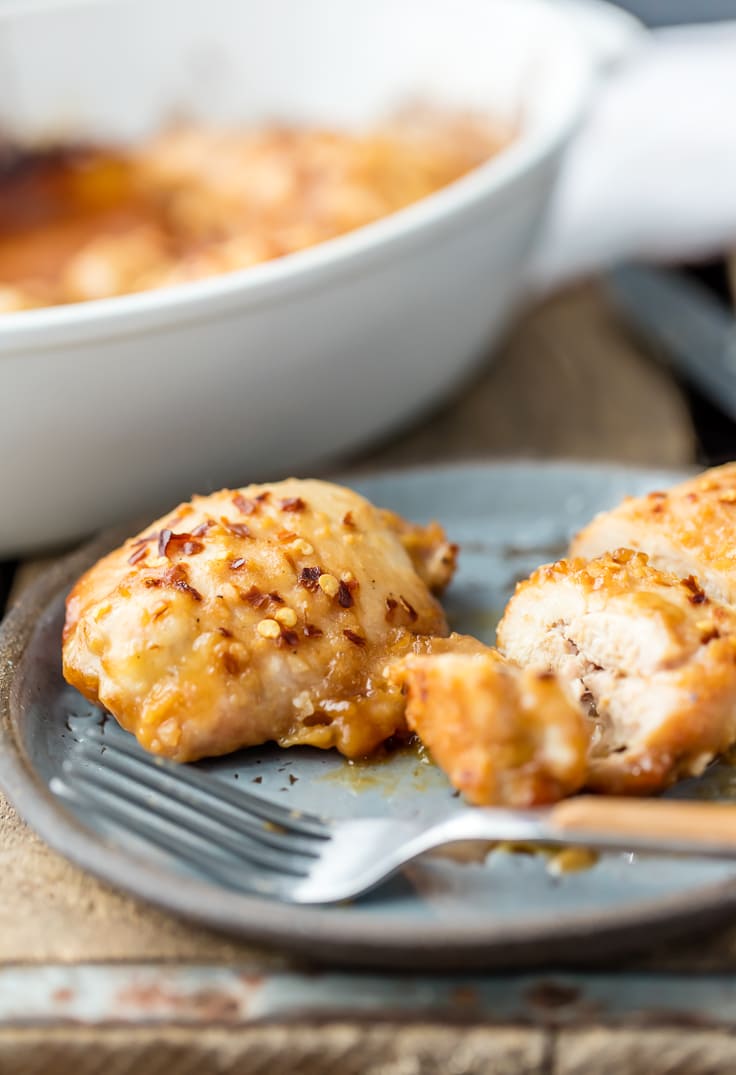 Oven baked goodness made with simple ingredients; your dinnertime routine was never easier! Hope you enjoy this favorite dish of ours!