Honey Garlic Chicken Thighs are the perfect weeknight dinner! Sweet honey, tangy garlic, and spicy red pepper flakes dress up ordinary chicken in this easy dish. Just toss the ingredients together and bake! This is a staple recipe our family makes again and again.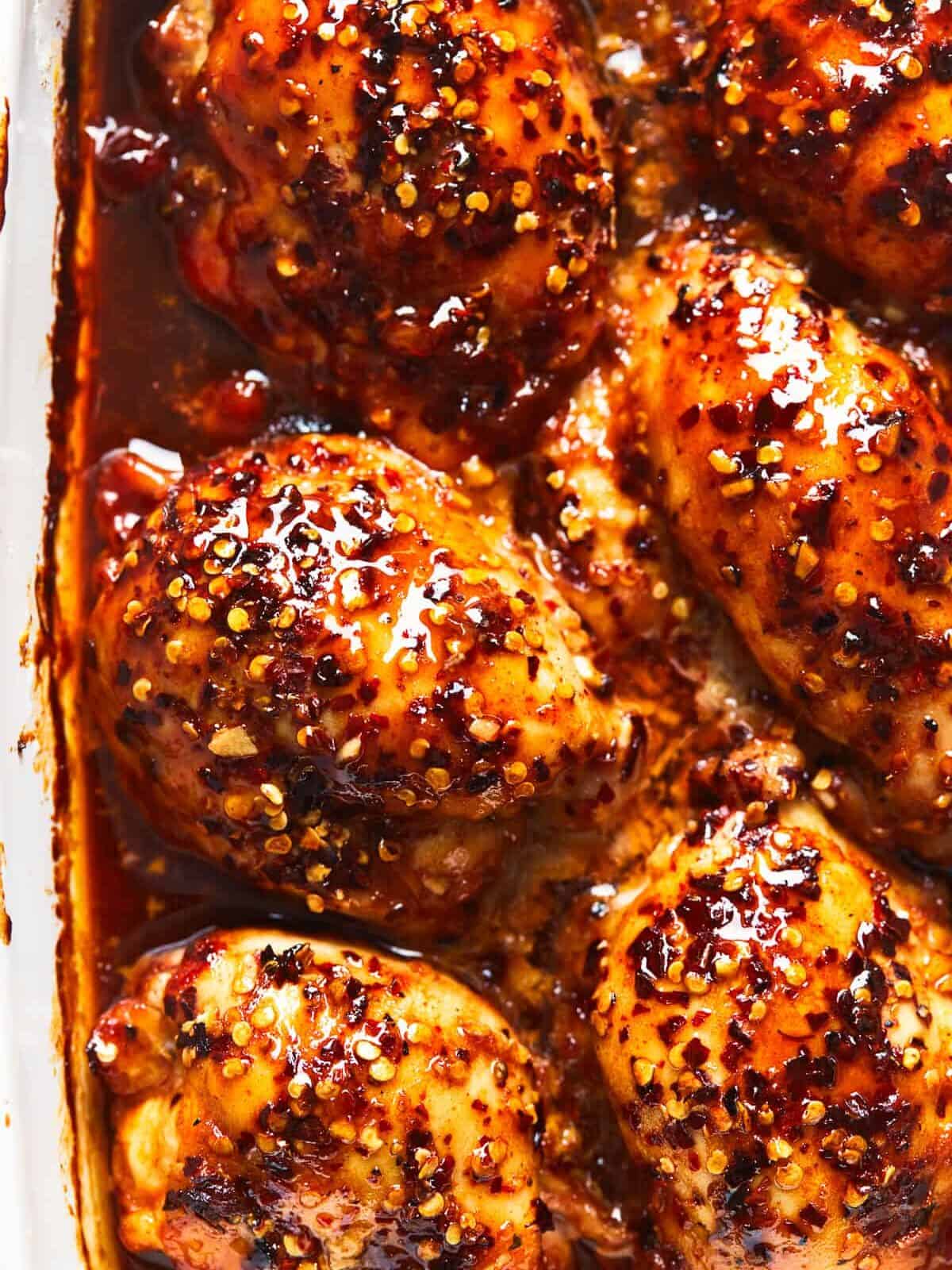 What's in Garlic Honey Chicken Thighs?
Liven up your chicken dinners in the easiest possible way! The honey garlic sauce adds such a wonderful flavor, and the chicken thighs are perfect! You'll be making this recipe more than once!
Chicken Thighs: This recipe uses boneless chicken thighs. Bone-in thighs will require a slightly longer cooking time and breasts will take less time to cook through.
All-Purpose Flour: Helps keep the chicken moist and thickens the sauce as it cooks.
Paprika: This ground spice adds an earthy sweetness to the sauce and helps brighten up the color of the dish too.
Salt + Pepper: Enhances the flavor of the chicken.
Honey: For a sweet and sticky sauce. You can also use agave nectar.
Soy Sauce: This adds a salty and umami flavor.
Garlic: Use freshly minced garlic cloves for the best flavor. In a pinch, you can use a teaspoon of garlic powder.
Red Pepper Flakes: These are optional, but I like to add a bit of spice!
Pro Tip: For super easy clean up, line your baking dish with foil before adding the chicken.
Variations on Honey-Garlic Chicken Thighs
This honey garlic chicken is perfectly balanced as is, but you can make minor adjustments to better suit your personal tastes.
Try using smoked paprika for a slightly smokier flavor. Playing off of the smokiness, you can also mix the honey-garlic sauce with some barbecue sauce to create a spicy, smokey, and slightly acidic dish. For a citrusy twist, try adding a few tablespoons of orange marmalade to the sauce. Yum!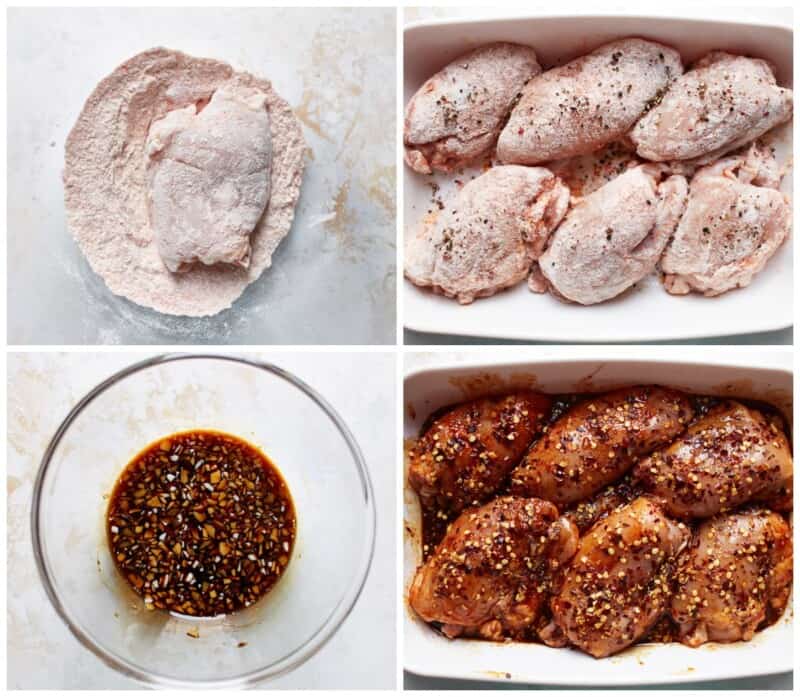 What's the best cut of chicken to use?
I love making this dish with tender chicken thighs. They're so moist and juicy, and super affordable which is always a plus. But if you don't have any thighs on hand, this sauce is delicious over chicken breasts, wings, or boneless tenders. Just be aware that the cooking times may need to be adjusted. Chicken thighs will almost always be juicier and easier to cook without drying. But it truly is whatever you love best!
Is honey garlic chicken gluten-free?
Unfortunately, due to the use of all-purpose flour and soy sauce, this dish is not gluten free. To make it gluten-free, use a gluten-free 1:1 flour and tamari or coconut aminos!
How spicy is the sauce?
The honey garlic sauce itself is not spicy at all. Before baking I like to add a few chili flakes for a bit of a kick, but you can easily omit these if you are sensitive to heat or if your kids don't like spicy foods.
Can you use maple syrup instead of honey?
Sure! Maple syrup will give it a more woodsy and earthy sweetness, but it will work great in this recipe!
How long to bake chicken in the oven?
We are cooking this honey garlic chicken for 45 minutes in the oven. The key is making sure the chicken reaches an internal temperature of 165°F to keep chicken safe to eat. The sauce coating the chicken will keep it nice and juicy!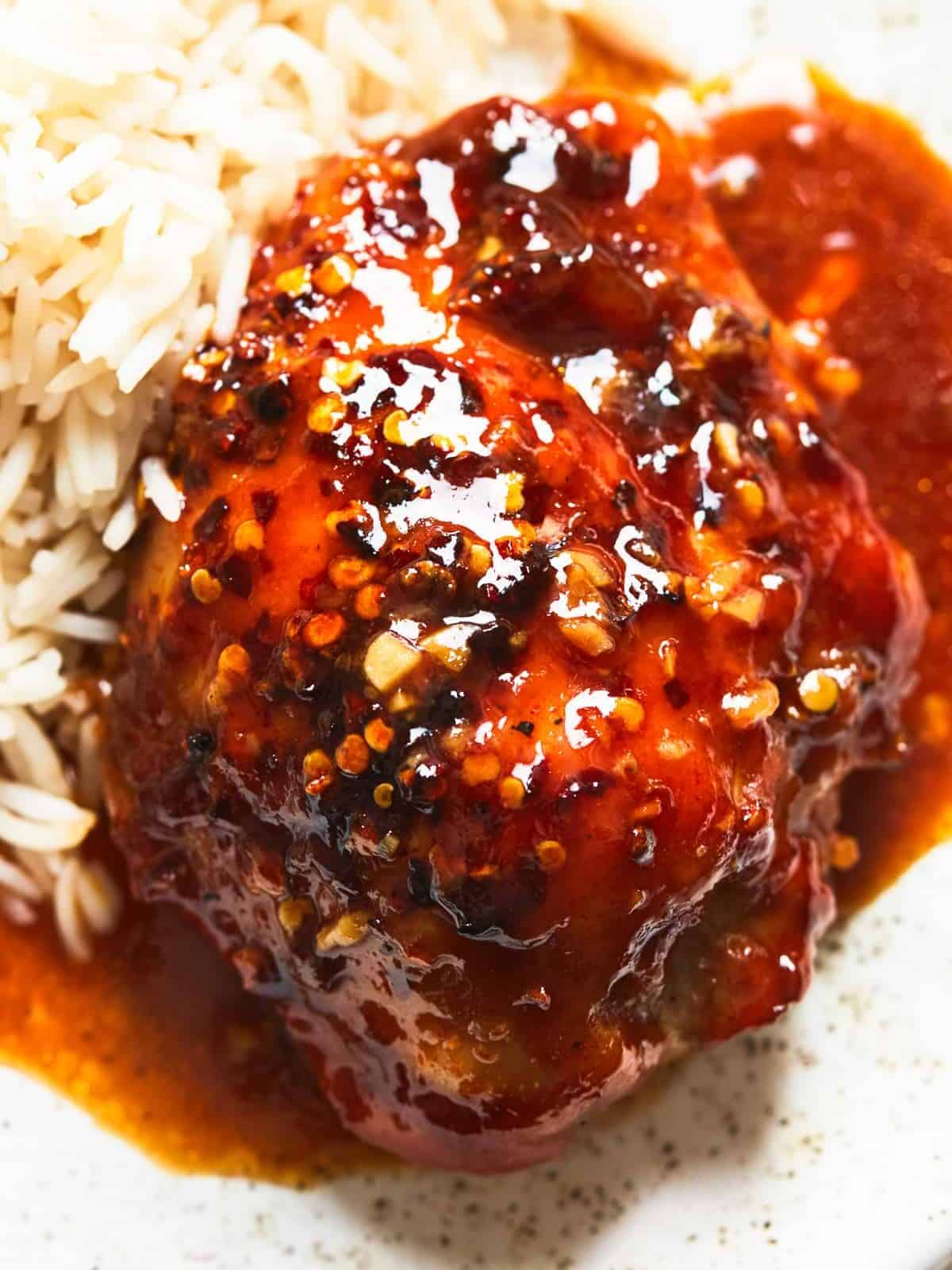 How to Store and Reheat
These chicken thighs are best served as soon as they are cooked so that the meat is tender and juicy. If you do have leftovers, they will keep well, covered in the fridge for up to 3 days. Reheat in the oven at 360°F – add a couple of tablespoons of water to the baking dish and cover with foil so that they don't fry out.
How to Freeze
Freeze honey garlic chicken thighs in an airtight container or Ziplock bag for up to 3 months. Let thaw overnight in the refrigerator before reheating.
Serving Suggestions
The beauty of this easy recipe is that there's no muss or fuss, just wholesome ingredients that create a delightful dish. Serve this honey garlic chicken with basmati rice, a Waldorf salad, mashed potatoes, or some simple sides and you've got yourself a feast!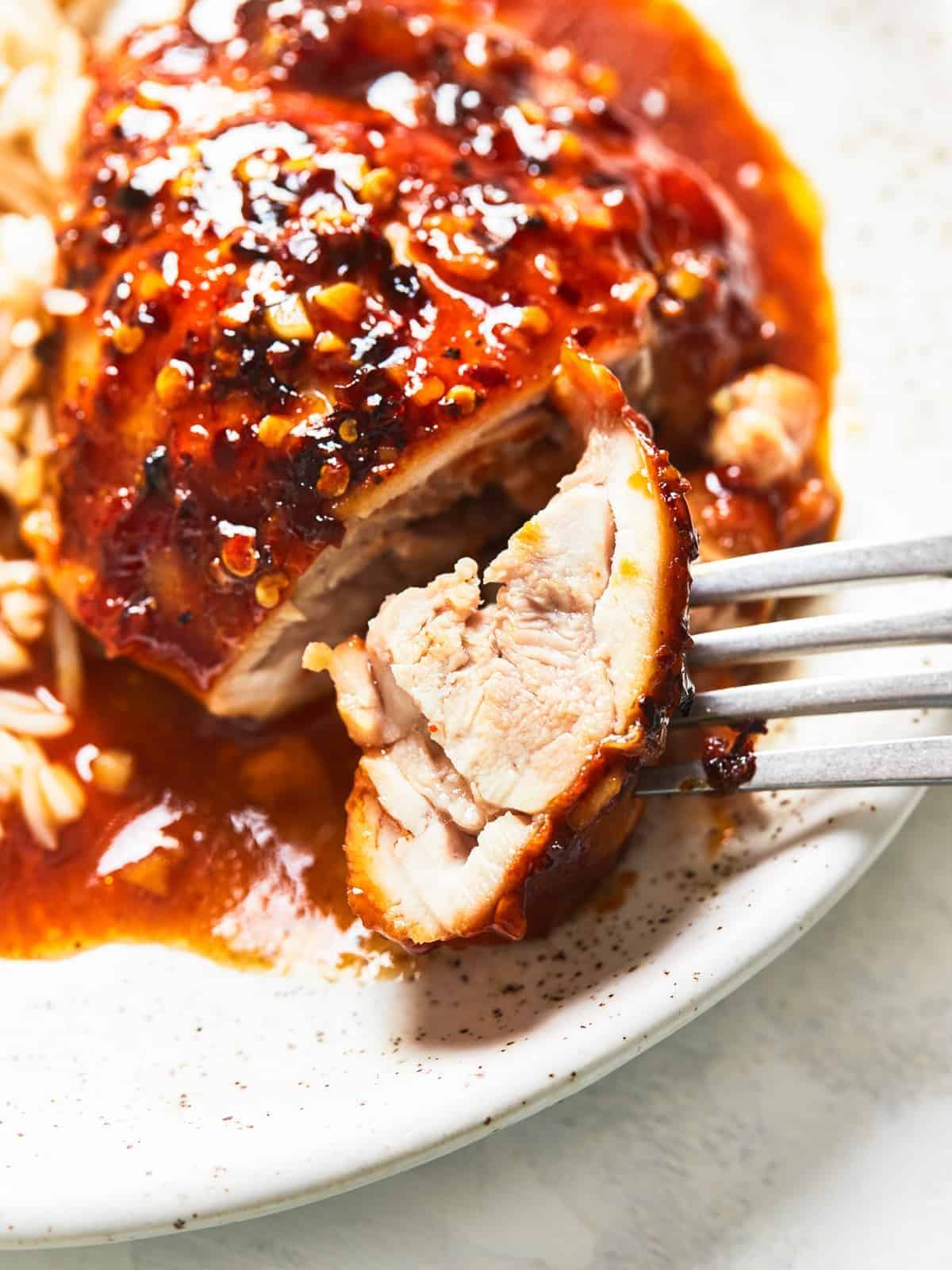 More Honey Garlic Chicken Recipes We Love
Chicken is our specialty! Here are some more Favorite Chicken Recipes: