Honey Garlic Chicken Thighs are the perfect weeknight dinner! Sweet honey, tangy garlic and spicy red pepper flakes dress up ordinary chicken in this easy dish. Just toss the ingredients together and bake! Baked Honey Garlic Chicken is a staple recipe our family makes again and again.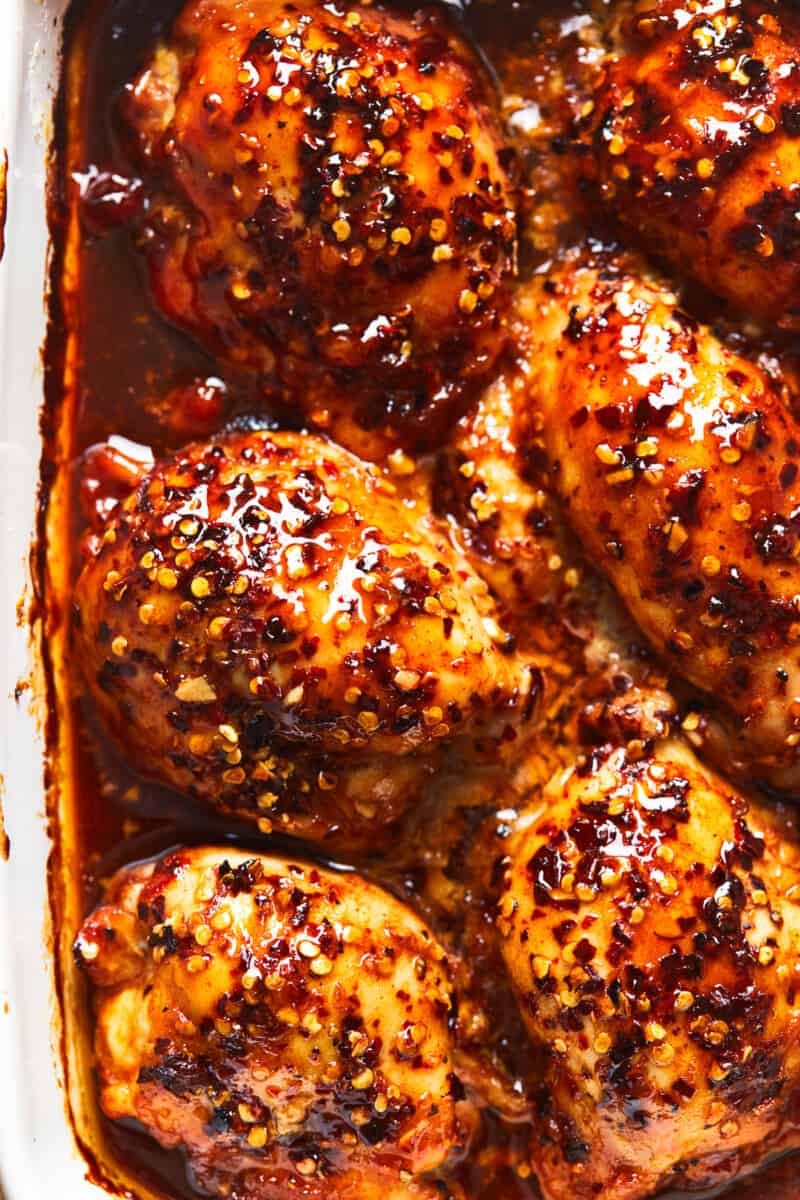 Baked Honey Garlic Chicken Recipe
Baked Honey Garlic Chicken is a fan favorite. Tender pieces of chicken are covered an unbelievable sauce that whips up in minutes.
It's one of the easiest dinner recipes to serve on a busy weeknight when you just don't have time to think of one more thing. The honey garlic sauce is scrumptious and so easy to make.
With minimal prep, the oven baking time is totally hands off, so it's a great go to after a busy day. The chicken thighs are slow cooked in the honey and garlic sauce so they come out super juicy and flavorful.
If you are looking for a new way to fancy up your chicken thighs, I promise that you won't be disappointed with this easy recipe!
Be sure to try my Crispy Chicken Thighs and Yogurt Marinated Chicken Thighs too!
Why You'll Love Honey Garlic Chicken:
Quick: There is very little prep so this recipe could not be easier. Start to finish you're eating in under an hour!
Easy cleanup: I am a huge fan of one pan recipes! Put in the chicken, pour in the sauce, bake, and you're done.
So much flavor: This honey garlic sauce is simply bursting with flavor. Make it as spicy as you'd like, or leave off the red pepper flakes to avoid the spice altogether. The entire family will love this recipe.
Liven up your chicken dinners in the easiest possible way! The honey garlic sauce adds such a wonderful flavor, and the chicken thighs are perfect! You'll be making this recipe more than once!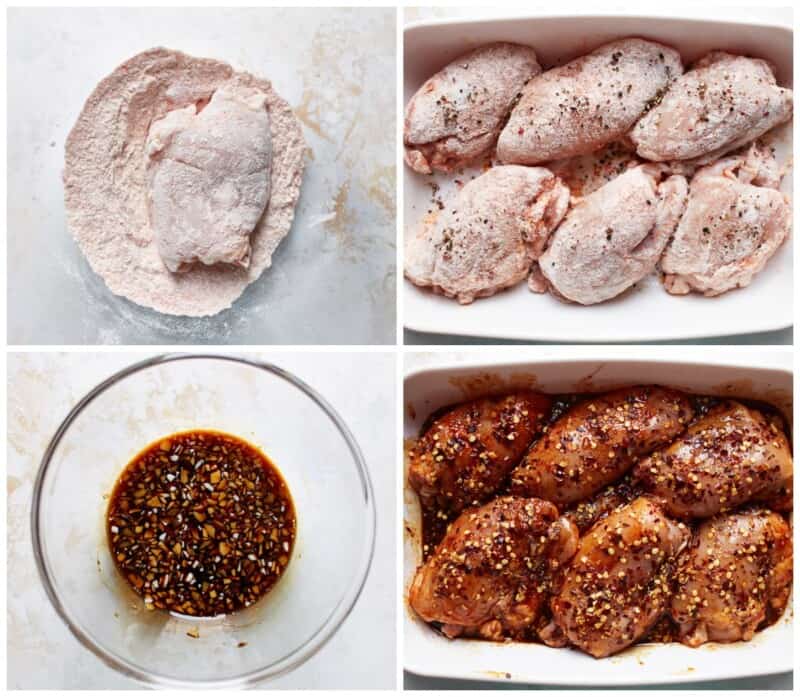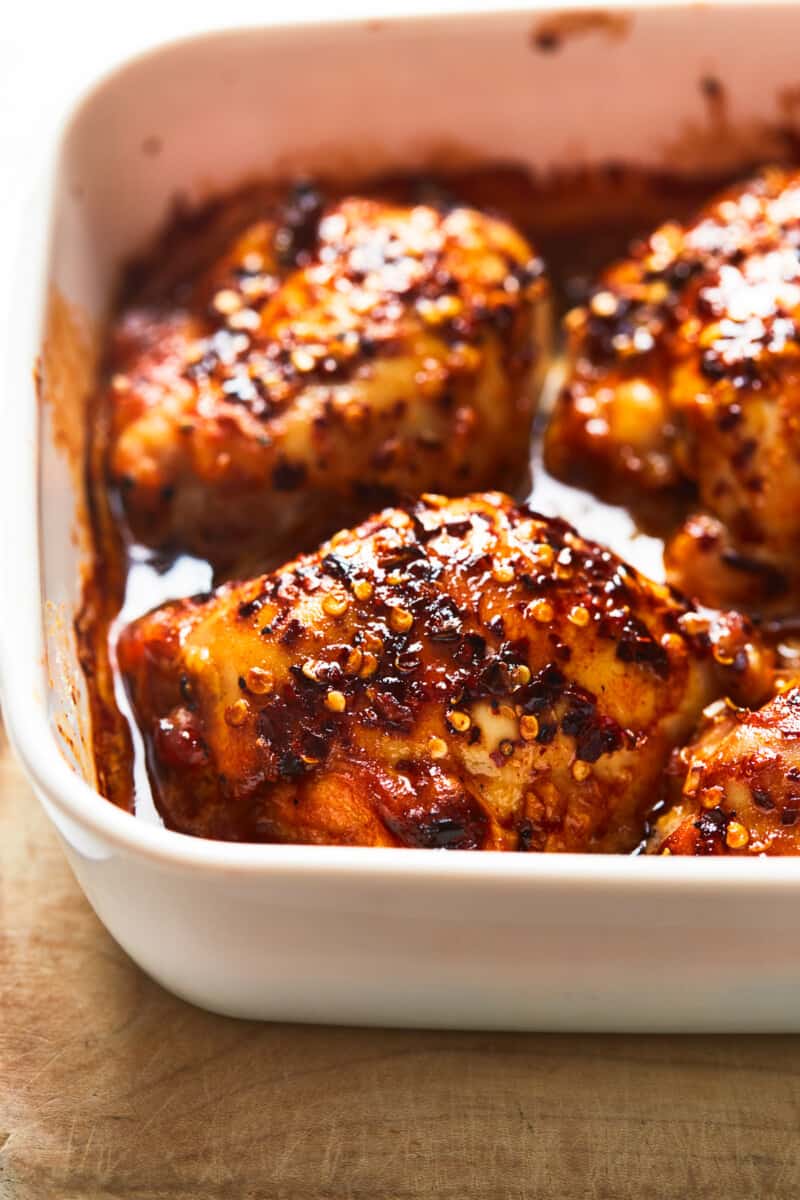 How to make honey garlic chicken thighs
You can jump to the recipe card for full ingredients & instructions!
Mix together the flour and paprika and coat the chicken thighs in it.
Season and place the thighs in a baking dish,
Mix the honey, soy sauce, and garlic together and pour over the chicken to coat them.
Sprinkle with the red pepper flakes if using.
Cover with foil and bake til the chicken is fully cooked through.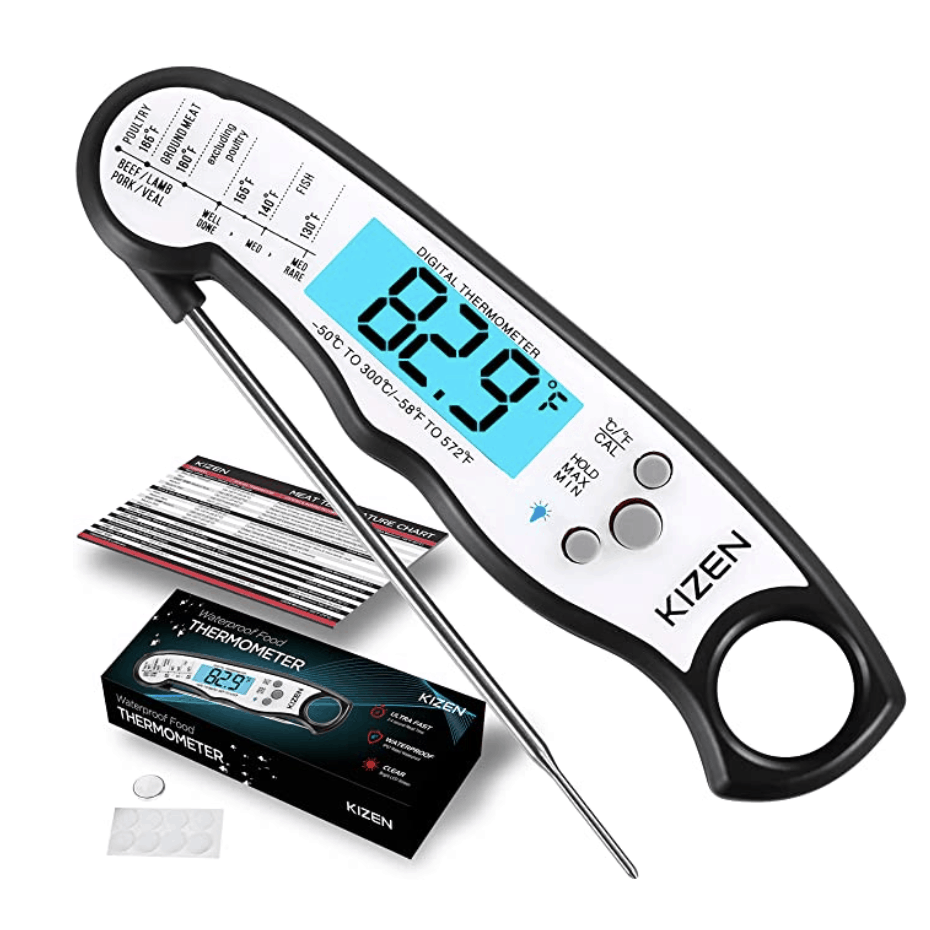 The Best meat thermometer!
I love using this meat thermometer for making sure the meat is at 165 degrees! Easy for beginners & totally worth the $10 cost!
Ingredients Notes
This recipe uses pantry staples that you probably already have on hand! That's the reason it's such a great busy evening supper. Here's all you need to make the honey garlic sauce.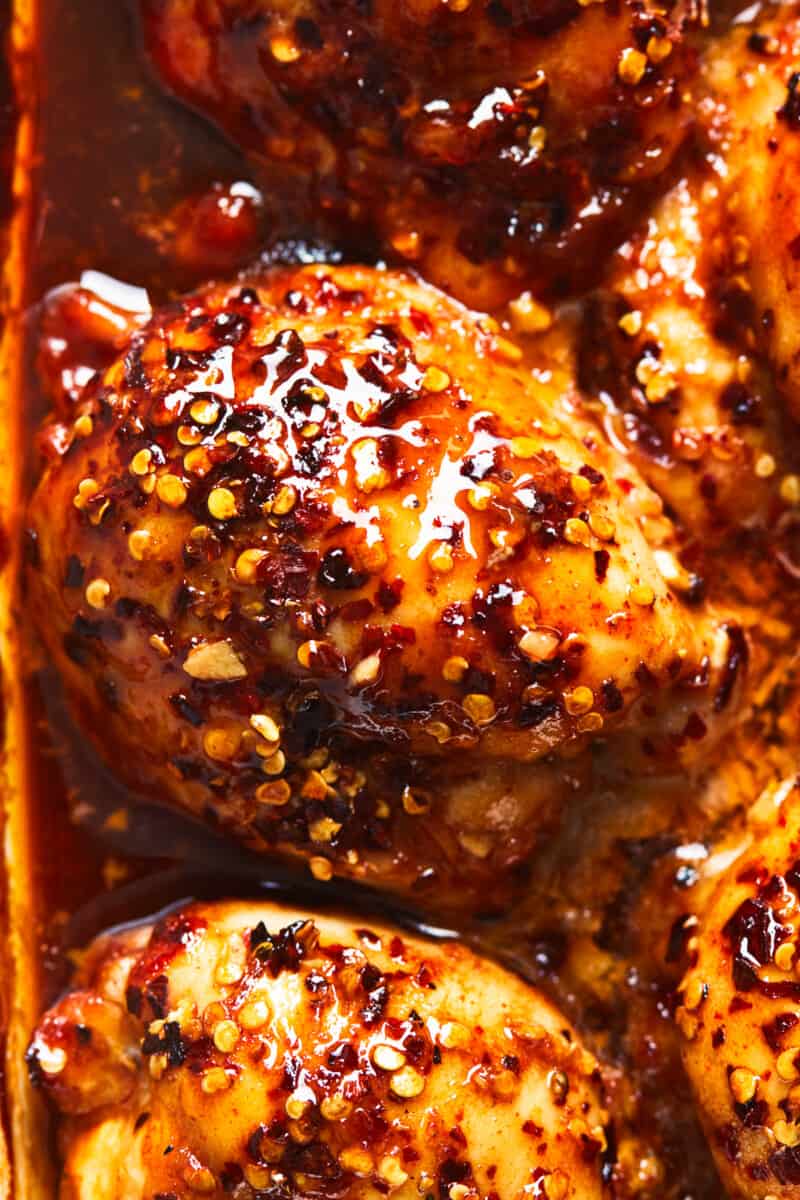 Frequently Asked Questions
What's the best cut of chicken to use?
I love making this dish with tender chicken thighs. They're so moist and juicy, and super affordable which is always a plus. But if you don't have any thighs on hand, this sauce is delicious over chicken breasts, wings, or boneless tenders. Just be aware that the cooking times may need to be adjusted.

Chicken thighs will almost always be juicier and easier to cook without drying. But it truly is whatever you love best!
Is honey garlic chicken gluten-free?
Most of the ingredients in this amazing dish are totally gluten free. However, check the labels on your soy sauce! Most soy sauce contains gluten. There are a few great gluten-free options at your grocery store, like Tamari. So read labels and opt for a GF version.
How long to bake chicken in the oven?
We are cooking this honey garlic chicken for 45 minutes in the oven. The key is making sure the chicken reaches an internal temperature of 165F to keep chicken safe to eat. The sauce coating the chicken will keep it nice and juicy!
Sweet sticky and spicy, this oven baked honey garlic chicken is a must make! Super simple, but easily fancy enough to serve to company too!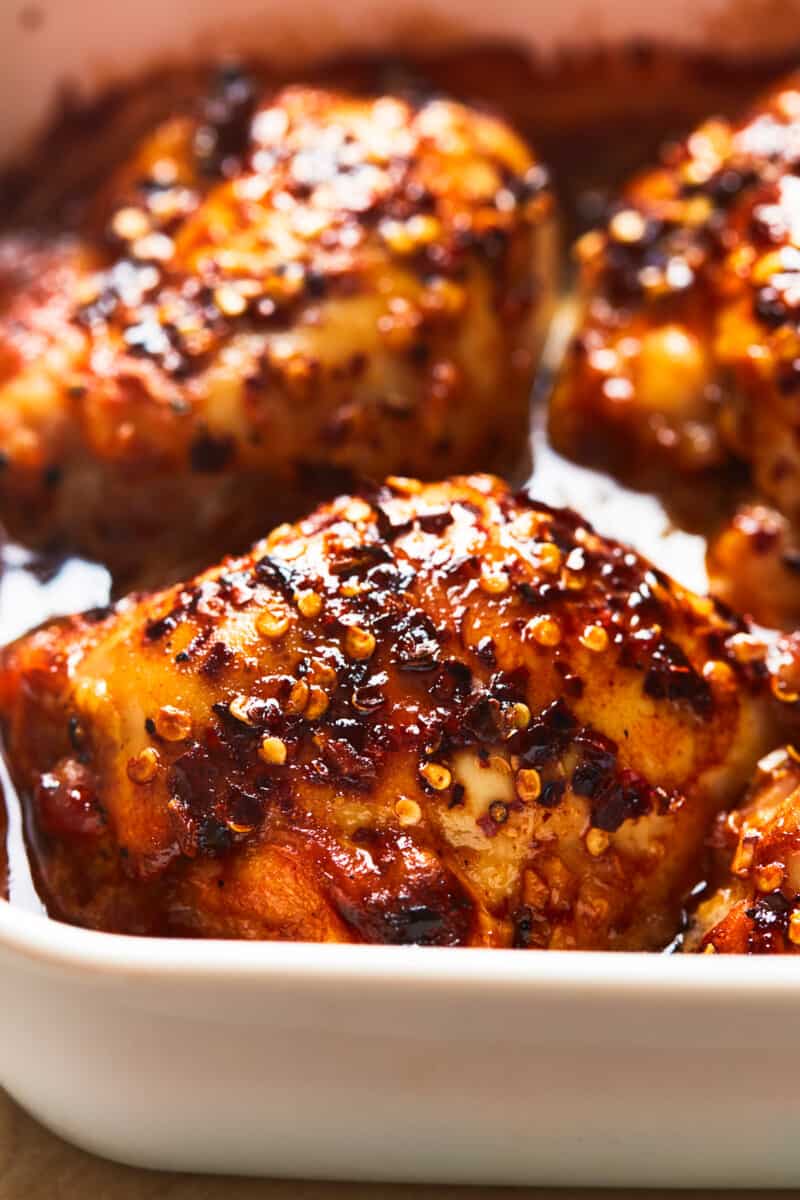 This recipe has quickly become a family favorite. I love that it requires minimal effort and the clean up is virtually non-existent!
How spicy is the sauce?
The honey garlic sauce itself is not spicy at all. Before baking I like to add a few chili flakes for a bit of a kick, but you can easily omit these if you are sensitive to heat or if your kids don't like spicy foods?
Can you make it ahead of time?
These chicken thighs are best served as soon as they are cooked so that the meat is tender and juicy. If you do have leftovers, they will keep well, covered in the fridge for three or 4 days. Reheat in the oven at 360F – add a couple of tablespoons of water to the baking dish and cover with foil so that they don't fry out.
Can you use maple syrup instead of honey?
Sure! Maple syrup will give it a more woodsy and earthy sweetness, but it will work great in this recipe!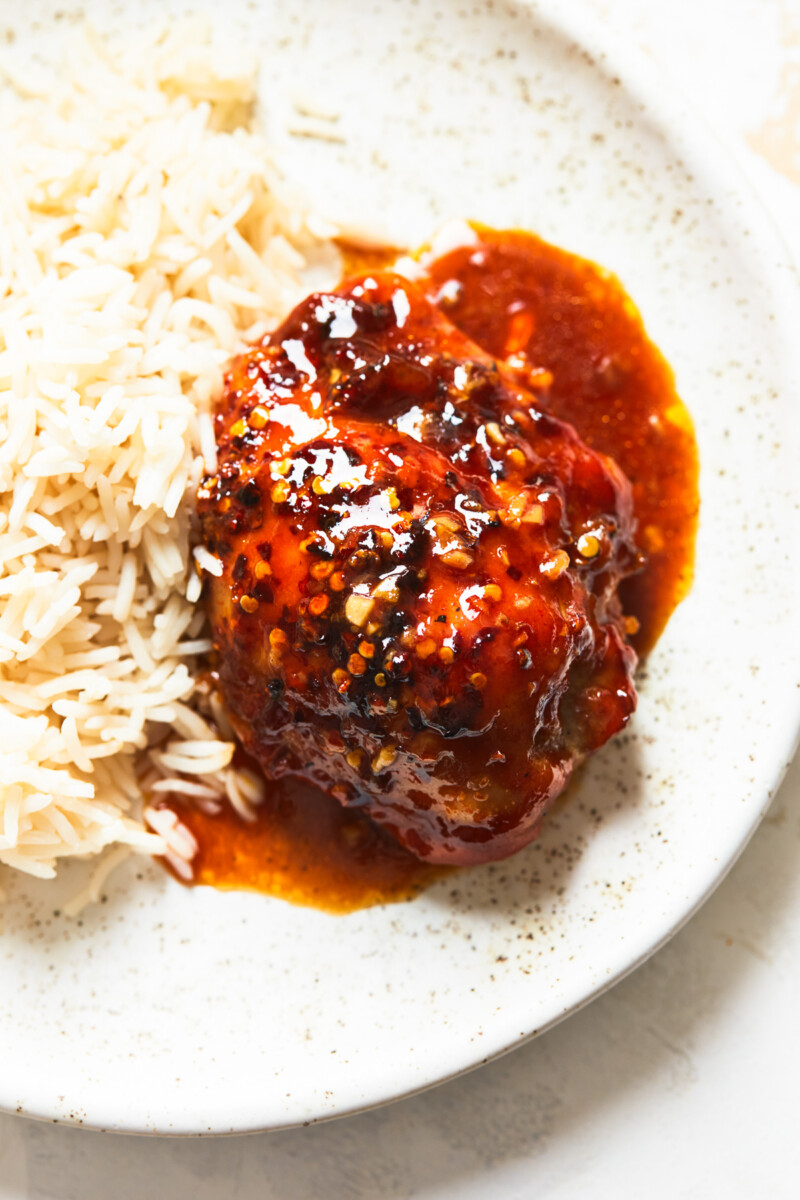 Serving Suggestions
The beauty of this easy recipe is that there's no muss or fuss; just wholesome ingredients that create a delightful dish. Serve up a garden salad and some simple sides and you've got yourself a feast! Here are some of my favorites:
More Chicken Dinner Recipes
Are there ever enough chicken recipes in the world? I don't think so. Call me boring, but my favorite recipes on this site all seem to include chicken. Creamy Chicken Soup, Skillet French Onion Chicken, and Basil Cream Chicken, I never get tired of it.
I'm always looking for ways to add to my list of favorites. The recipes must be delicious, versatile, and most of all, EASY. Oh, this Easy Chicken Parmesan could hit the spot, or even this Easy Caprese Chicken! Here are some additional Chicken Recipes to try!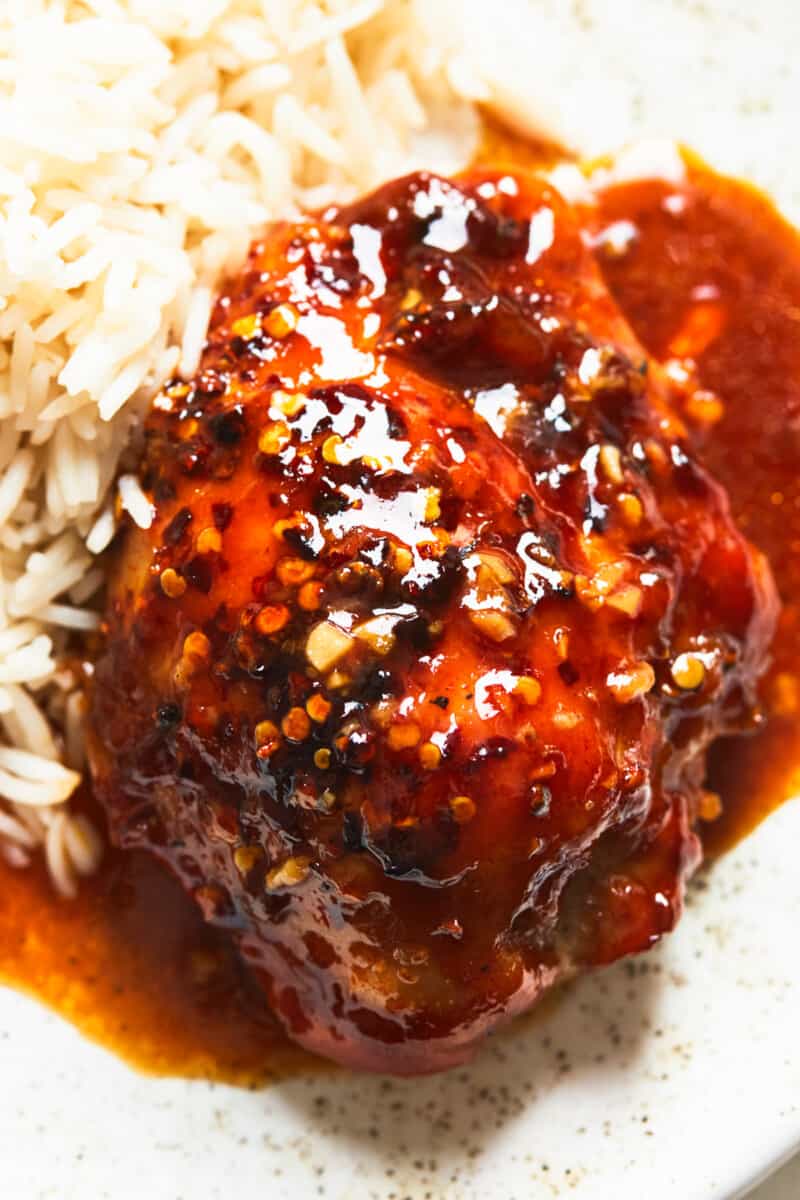 Tips!
This recipe uses boneless chicken thighs. Bone-in thighs will require a slightly longer cooking time and breasts will take less time to cook through.
For super easy clean up, line your baking dish with foil before adding the chicken.
The chicken is cooked through when it reaches an internal temperature of 165F. The thighs should be an opaque white color when cut into.
Once cooked, let the chicken rest for 5 to 10 minutes before serving. This will make sure that the thighs are extra juicy and flavorful!
This is one delicious way to serve up chicken thighs. The source is so flavorful and yummy, and it's one that the whole family can enjoy.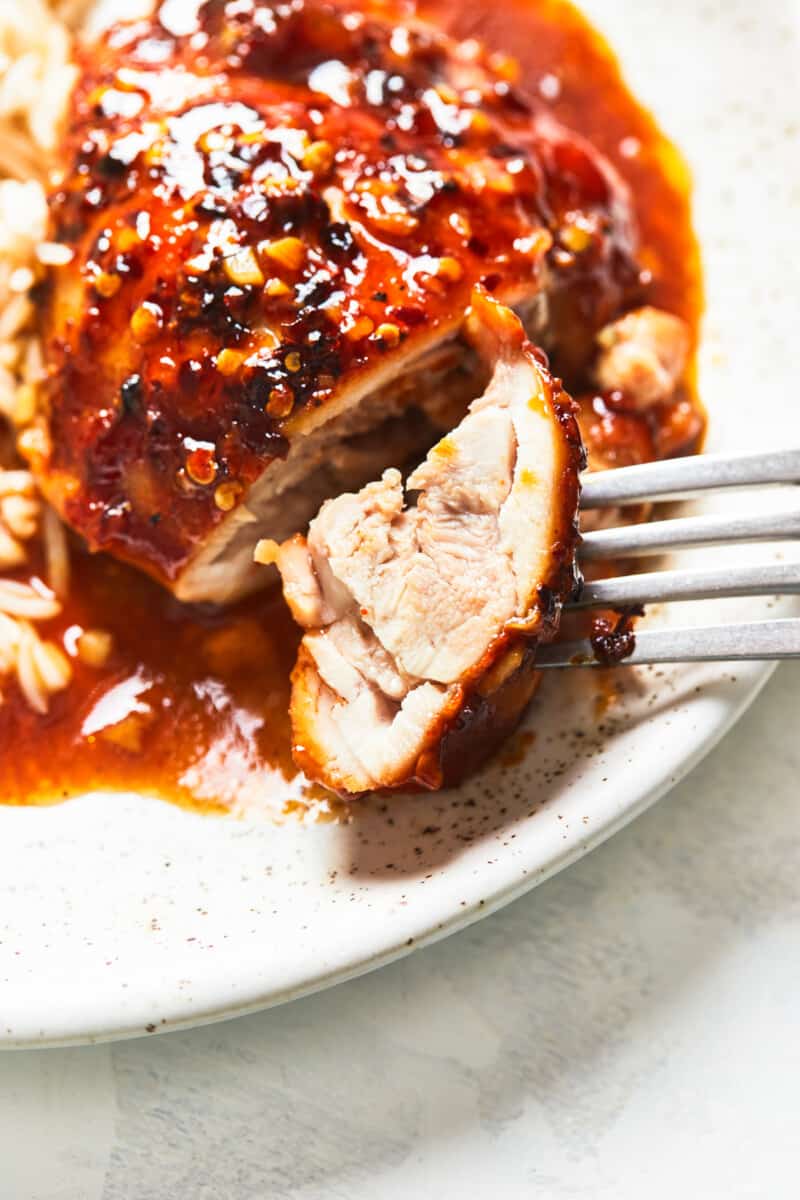 Oven baked goodness made with simple ingredients; your dinnertime routine was never easier! Hope you enjoy this easy baked honey garlic chicken thighs recipe as much as we do!
More Easy Dinner Ideas
If you make this recipe be sure to upload a photo in the comment section below or leave a rating. Enjoy! You can also jump to recipe.