TACO SALAD is one of my favorite weeknight meals. It's simple, fresh, and easy to make. Taco Bowls are like a healthy version of my favorite Mexican dishes! We just love these CREAMY TACO SALAD BOWLS any night of the week. With a homemade tortilla bowl and loaded with all the toppings, this recipe can't be beat.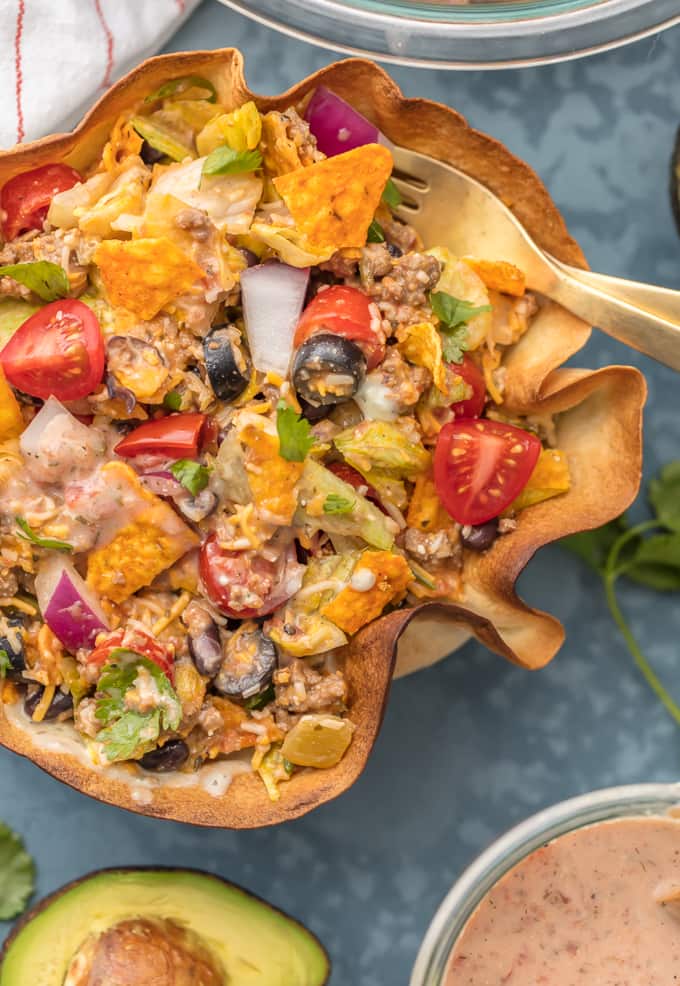 Taco Salad
Taco Salad Bowls are simple, fresh, and easy to make. Learn how to make these taco bowls with homemade tortilla bowls and creamy dressing!
Taco Salad is a healthier option for when I'm craving Mexican food (which is all the time). You get all the delicious ingredients (cheese, beans, salsa, tortillas) in salad form! And with a homemade tortilla bowl, this feels like a restaurant-level taco bowl.
I'm really obsessed with these Creamy Taco Salad Bowls for a quick and easy dinner. The only cooking involved is heating up the tortillas to turn them into bowls and cooking the ground beef. The rest of the ingredients can just be thrown together and tossed into a salad. I love piling the ingredients into the tortilla bowls to fill them with flavor.
I always sprinkle on a little bit of extra cheese, and I just can't get enough of that creamy ranch and salsa dressing. Talk about flavor!
These Creamy Taco Salad Bowls are the perfect weeknight meal. You're going to love how easy it is to make these tasty taco bowls!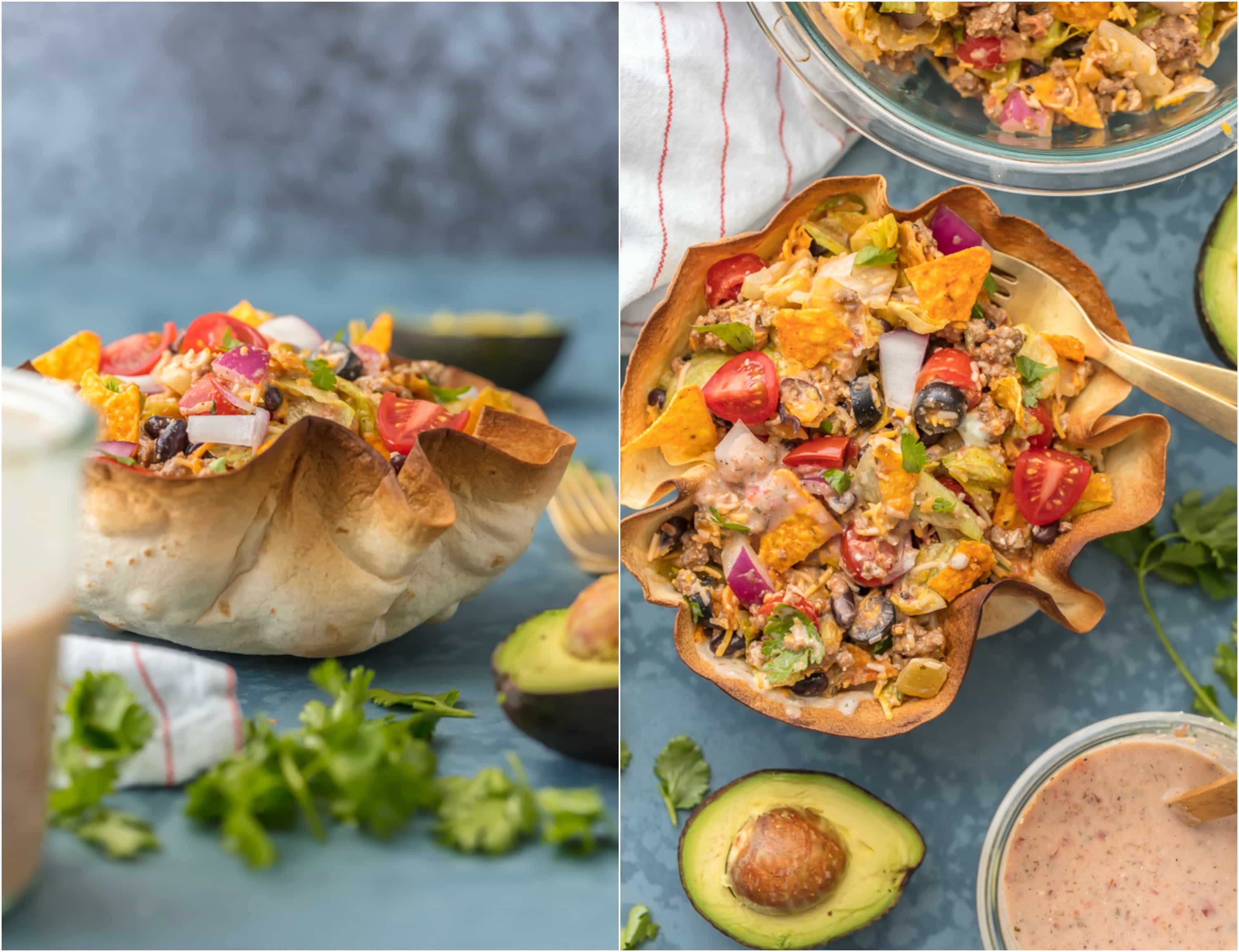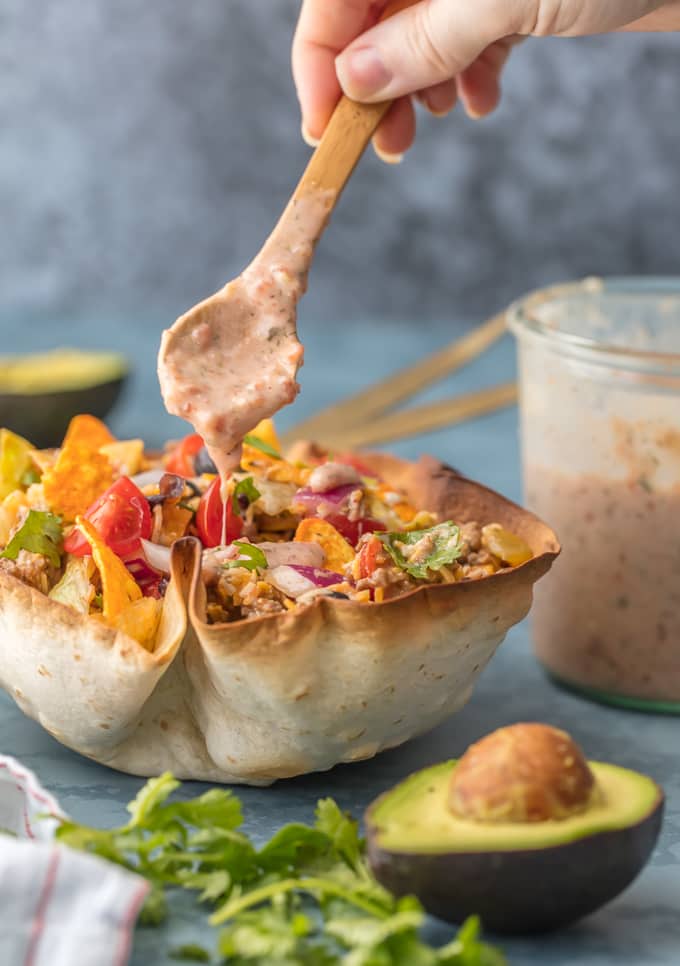 Taco Salad Bowls
Taco Salad Bowls are one of those dishes I always see at restaurants. It's the perfect thing to order for lunch on a Saturday, because it's a salad but it's also filled with cheese and other tasty things.
But why leave those delicious taco bowls for occasional restaurant outings only? Nope. I had to make my own so that I could eat a nice taco salad any time I wanted. And I even figured out how to make tortilla bowls to complete the dish.
As much as I enjoy making actual tacos (or burritos or fajitas or any Mexican dish), I love how simple it is to throw the same ingredients into a taco salad instead of cooking everything up.
How to Make Tortilla Bowls
Tortilla Bowls always looked a little fancy to me. When you get a big taco salad at a restaurant, they always come in those perfect-looking tortilla bowls, and it really completes the salad. Lucky for me (and you), making tortilla bowls at home is actually really easy. All you need are soft tortillas and a bowl!
How to Make Tortilla Bowls:
Preheat oven to 425°F
Brush tortillas with olive oil
Place them into oven-safe bowls (use smaller bowls if you want the tortillas to scrunch up and get that wavy tortilla bowl shape)
Bake 10-15 minutes
Now you've got some crisp, homemade tortilla bowls for your tasty taco salad!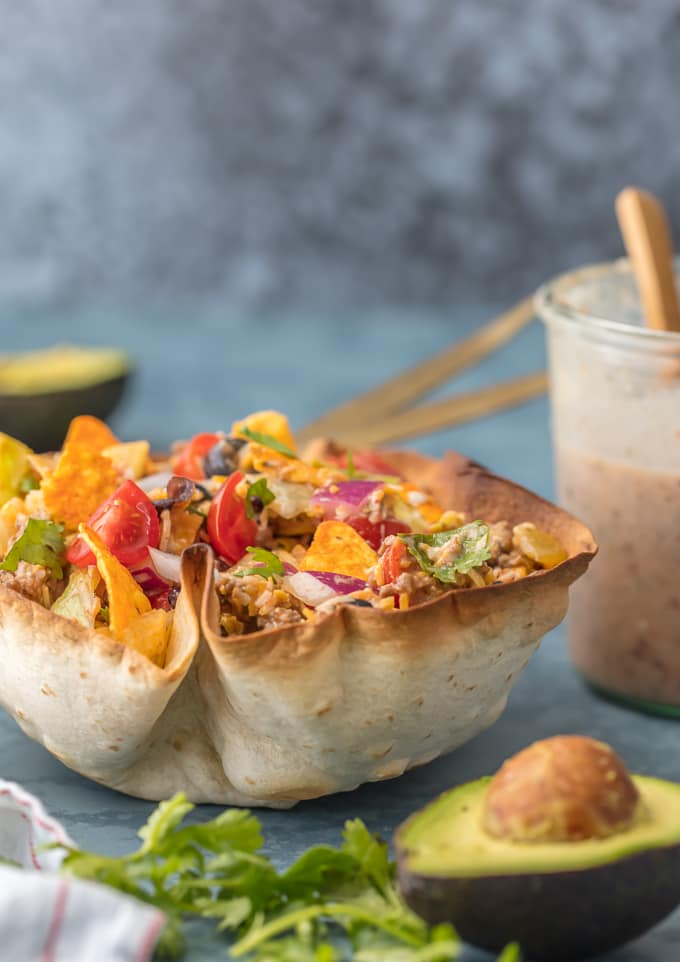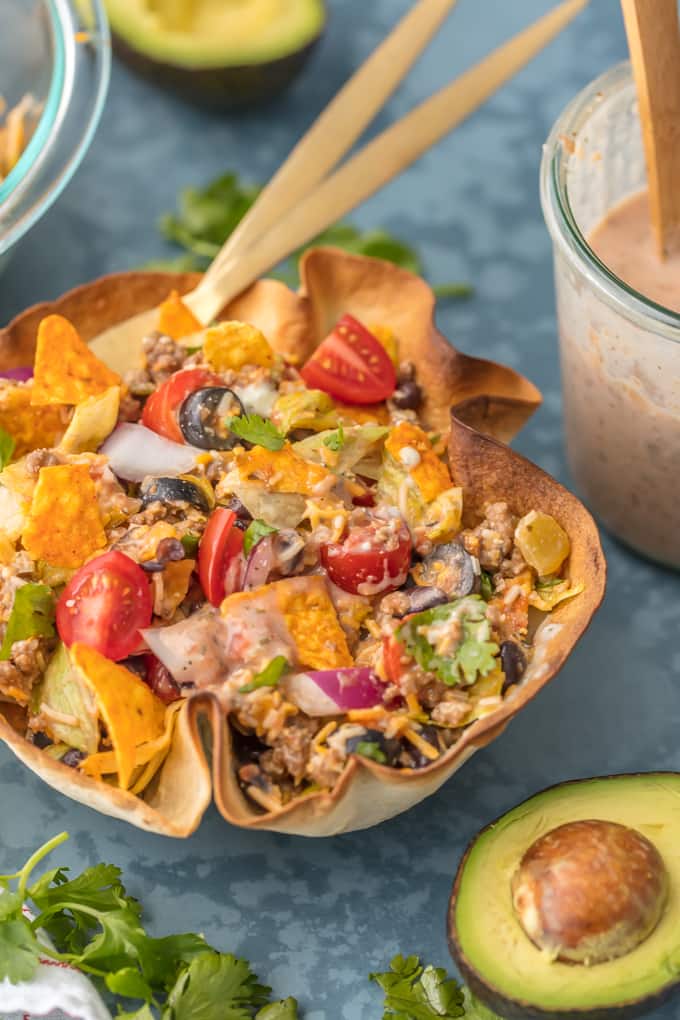 Is a taco salad bad for you?
A taco bowl from a fast food restaurant might not be so healthy, but this homemade taco salad definitely can be! By making your own taco bowl at home (and even making your own homemade tortilla bowl), you have full control over what goes into it.
This bowl is full of fresh produce, hearty protein, and lots of other good things. The creamy ranch sauce may not be the picture of health, but everyone puts a bit of ranch on their salads, right? We've got a nice big, fresh salad here, and that's what I call healthy.
If you really want to make some changes, you can hold off on the cheese and switch out the creamy dressing for something else. You can also replace the ground beef with ground turkey, or hold off on the meat altogether to make a vegetarian version.
What kind of beans are used in taco salad?
I used black beans in this taco salad recipe. They're my favorite type of bean to use in Mexican-inspired dishes, plus they're full of nutrition. And I like them better than refried beans, which can get kind of sloppy when mixing up the salad.
What goes into a taco salad?
You could honestly put whatever you want into a taco salad. This is what I consider a great "clean out your refrigerator" recipes, where you can just take leftover produce that needs to be used up and throw it in. Add whatever you want, and leave out anything you don't like. It's totally customizable!
Here are my favorite taco salad ingredients:
Black Beans
Salsa
Romaine Hearts
Shredded Cheese
Tomatoes
Green Chiles
Onions
Cilantro
There are tons of other things to throw in (like this tomatillo avocado salsa), but these are my go-to ingredients. I'd also suggest making some of this homemade guacamole to put on top. Or if you're really feeling crazy, why not drizzle some queso in there? Get creative!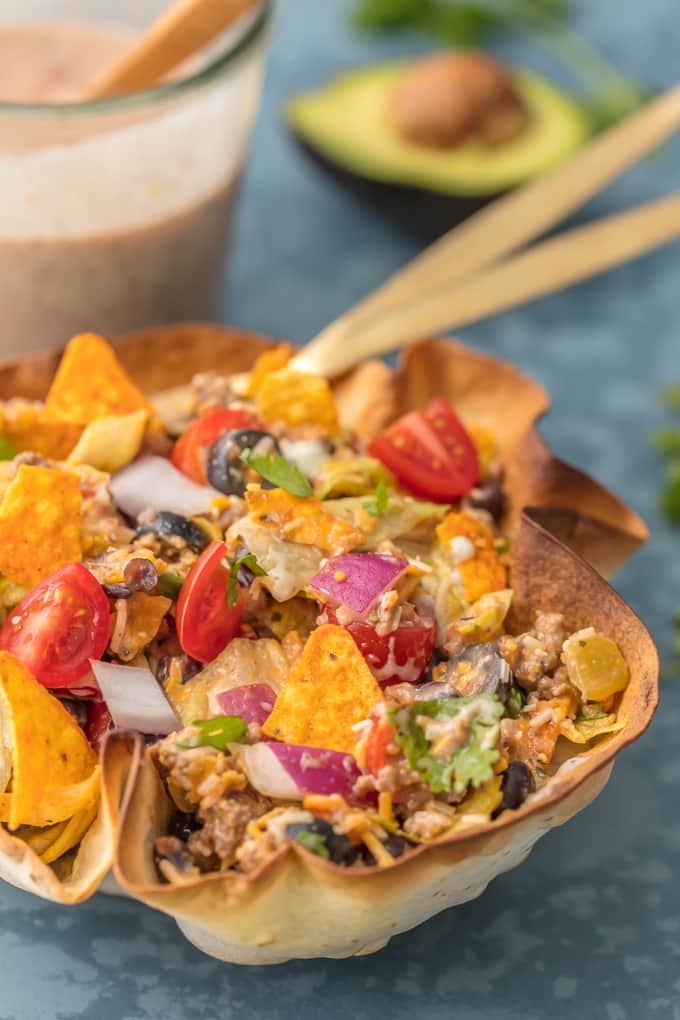 If you're as big a fan of Mexican food as I am, then you're going to love these Creamy Taco Salad Bowls! Make a tortilla bowl, throw your ingredients in, and devour that tasty taco bowl.
See the recipe card below for details on how to make Taco Salad Bowls. Enjoy!
If you like this recipe, try these other Mexican-inspired dishes: